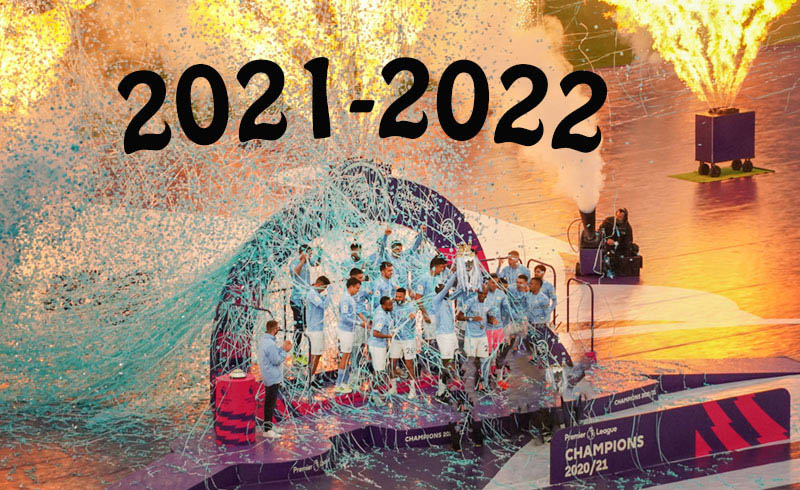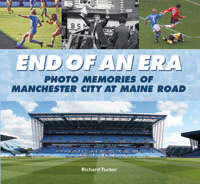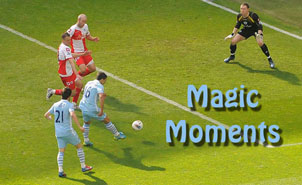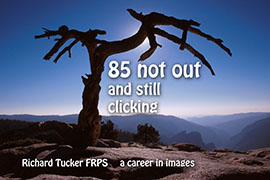 After three fairly comfortable wins against Championship clubs in pre-season friendlies City met Leicester at Wembley in the Community Shield and I was very pleased I did not go to Wembley for once. It was not the best of games and City were without many of their star players. Only keeper Steffen was the one to really shine. He made several good saves while at the other end ex City Kasper S hardly had to make a save. Some of the youngsters did not look too out of place and Mahrez who had played in all the pre season games looked really tired at the end of the game.
The player we were all looking forward to seeing was new signing Jack Grealish. He did have some minutes late in the game and showed some nice touches. Hopefully he will start against Spurs. Rather worrying are the injuries to Foden and De Bruyne and we also have seen nothing of Ederson! With the late arrivals of Walker ,Stone and Sterling what the team will be for the first league game is a mystery.
Who is coming to take the place of Aguero is another question. Kane from Spurs looks the best bet and his transfer cost will beat the top price paid for Grealish so it looks like some players will depart for a few bob!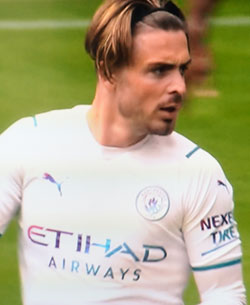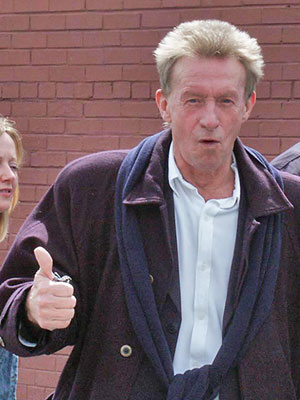 The opening game at Spurs was disappointing but with several key players missing I was not all that surprised. At least Grealish seemed to fit in well and we did see an improvement when De Bruyne came on for the last twenty minutes. Hopefully he will be fit to start in the Norwich match. Alas Phil Foden will still be absent with injury.
I will be absent too! For the first time in many many years I have not renewed my season ticket - this is due to my age -over 91 and medical reasons.
The Kane transfer continues to be a problem and now Lewandowski is a possible alternative target. He is a great goal scorer but is a little older than Kane.
Sorry to hear about the news that Denis Law has been diagnosed with dementia. He joined City twice - the first was in 1960 and I saw his debut against West Ham U - he scored in a 3-1 win. I also saw him play against City for United and once for Torino in 1961. After several seasons with United he came back to City in 1973

The image on the right was taken at the last game at Maine Road and Denis is giving me a thumbs up as he was arriving at the ground!
After the poor result at Spurs City came back with a bang - easily defeating Norwich City five nil at home. Although still without some of their star players City dominated the game and star player on the day was Jesus who played on the right wing. He had several assists with his crosses and looks like an interesting option for Pep.
Grealish got his first goal for City albeit a bit fortunate and Laporte too got on the score sheet. Ederson had little to do giving Walker and Cancelo plenty of opportunities to attack. Overall a splendid display and pity I was not there but at least I did not get wet!
Who needs Ronaldo! City moved to top of the table - for a few hours!- after thrashing Arsenal five nil. The sky blues are only the third team in the Premier League to have scored ten goals in their first two home games in a season.
Man -of -the-match and skipper for the day Gundogan scored number one with a header after just 7 minutes. Torres made it two and just before half time Jesus notched number three.
Arsenal had lost Xhaka for a red card following a foul on Cancelo and the ten men were outplayed for the rest of the game.
Rodri scored number 4 with a great shot from the edge of the penalty area and Torres got his second with a header from a cross by Mahrez.
Before City took over the game Ederson made one or two unusual errors but thankfully Arsenal failed to take advantage and ended up only having 19% possession and only one effort on goal and they go to bottom of the league.
It was the first time Pep had chosen a unchanged team for a long time - so no Kane and no Ronaldo but maybe a defender may be signed with the Mendy problem.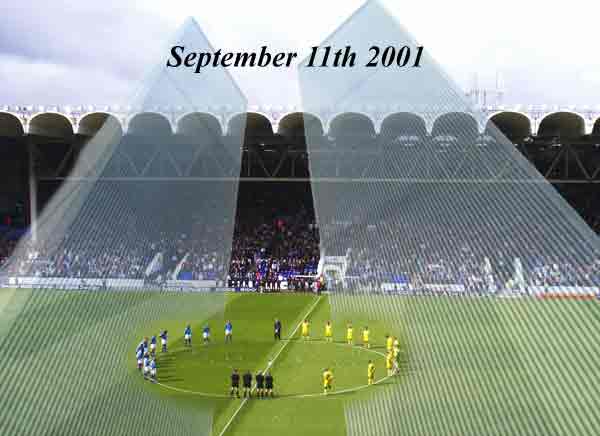 I am sure the events of September 11th 2001 will remain embedded in the memory of all who watched the incredible scenes on TV so it was not surprising that the one minute silence before the Birmingham game was impeccably observed.
The above image and notes are from my web page - citsep01.htm
You will see some pics of some of City's best players


After the tight win against Leicester with only Benardo Silva scoring it was back to goals and more goals at home against RB Leipzig in the Champions League. It was amazing that the visitors managed to get three goals so no doubt Pep will be dealing with that before the Southampton game. Anyway with De Bruyne at last returning to the team City going forward were excellent. The best goals came from Cancelo and Grealish on his Champions League debut. Cancelo's was from well outside the penalty area while Jack Grealish cut in from his dash down the left and cracked the ball past the keeper. Surely he will be one of City's best signings
It was City's 50th win in the Champions League in 91 games -the fastest English team. Real Madrid hold the record with 88.
Late in the game Phil Foden came on and Jesus another sub notched number six from close range.
Interesting that Mahrez became the latest penalty taker and his effort gave the keeper no chance. At the moment I think the biggest problem is at left back. We need to sign one in January.
Roll on Southampton five nil win !!!!??
Alas Pep forgot to tell the City players that you have to shoot to score goals so though City had plenty of opportunities to score they only managed one on target all game. VAR had a mixed day - saving a Walker red card and a penalty and then late in the game canceling a City goal for offside - someone's toe was offside! Was it the lack of a centre forward or would Southampton have blocked his efforts -they came to defend in depth with the odd break - Ederson had little to do and Jack Grealish was easily City's best player on the day. It is not often that a City game is one of the last games on 'Match-of-the-Day'!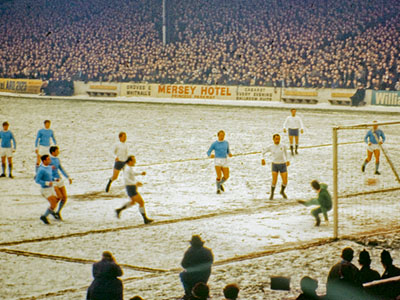 Just heard that Jimmy Greaves has passed away aged 81. I saw him play for Spurs against City many times and for England too.
The pic on the left shows Greaves scoring against City on Dec 9th 1967 . City won this famous snow game 4-1. The City team was - Mulhearn: Book, Pardoe: Doyle, Heslop, Oakes: Lee, Bell, Summerbee, Young and Coleman.
Spurs - Jennings: Kinnear, Knowles: Mullery, Hoy, McKay: Saul, Greaves, Gilzean, Venables, Jones.
About 35,000 were at Maine Road that cold day.
It's Carabao Cup time again and City with ten changes and five debutantes had a bit of a shock when Wycombe took the lead but it was not long before the sky blues hit back and it ended with a very comfortable win 6-1. With vital games to come and injuries it was not a surprise to see four youngsters in the back four and they did not let the side down.
After De Bruyne leveled the scores Mahrez put City ahead and just before half time a short corner came to Phil Foden and he cracked the ball past the keeper from well outside the penalty area. He also had 2 assists as well so it was great to see him back to his best after a long absence with injury. He fed the ball to Torres to make it 4-1 and after Mahrez had scored his second with only a minute or so to go sub Cole Palmer took the ball from the half way line and ended his run with an excellent goal - his first for City - he will remember that.
An outstanding City display overcame Chelsea at Stamford Bridge. It was a game of two halves - Chelsea just defended in the first 45 minutes City having almost 70% of possession and alas Chelsea just blocked everything despite the efforts of Foden and Grealish. Ederson hardly had to touch the ball. It was difficult to realize that Chelsea were at home!
However shortly after the start of the second half City took a short corner and the ball eventually came to Jesus who turned and despite being surrounded by defenders he shot for goal and luckily for City the ball was deflected by a Chelsea player and ended up in the net.
Chelsea then had to change their game and the City defence did really well to keep a clean sheet. Dias and Cancelo played on top form. Benardo Silva too had a good game working his socks off all over the park. Rodri too was back to form in front of the back four. The only player to make the odd bad pass was De Bruyne - I'm sure he is saving his very best for PSG and Liverpool!
With Chelsea having to attack in the second half it gave City more chances to score and Grealish had one good shot brilliantly saved ..Other good efforts were blocked so it might have been more than one nil. City were excellent going forward and relentless in getting the ball back if they lost it. It was Pep's 221st win at the club and it beat Les McDowall's record of 220 in 592 games. Pep has done it in 303
I actually saw Les McDowall play for City in the very first ever City game I saw at Maine Road in 1943 against Blackpool in the war cup. Some bloke called Matthews played in that game too!. I later watched many of the games when he was manager.

Not quite the result we were hoping for in Paris alas. It might have been so different had City not hit the bar from close range twice in a few seconds. Sterling and Benardo Silva were the culprits. There were a few other chances as well as City often had good periods of play but good defending and some excellent saves from their keeper kept PSG in the lead after their early goal. The home side were quick on the break and with forwards like Neymar, Mbappe and Messi to contend with the City defence were often under pressure and it was game over when Messi scored on 75 minutes.
Rodri continued his good form but Grealish often failed to get the better of the right back and I still think we need a centre forward as Sterling in for Jesus failed to make an impression. De Bruyne made some good passes but too often we gave the ball away with too many misplaced simple passes
City will have to raise their game for Anfield and I think both Jesus and Foden will start.
Yet another game of two halves. Goalless in the first half despite City being on top. Benardo had a great dribble and De Bruyne headed over a Foden cross. Foden had one effort saved and Milner got a yellow card for bringing him down.
However the match changed a lot in the second half. Liverpool went ahead on 59 minutes through Mane after help from Salah but ten minutes later good work by Jesus gave Foden a chance and he cracked in a great shot from a narrow angle to level the scores. On 74 minutes Milner brought down Benardo and should have had a another yellow which would have left Liverpool with ten men but all City got was a free kick. A bad decision by the referee.
Then to make matters worse Liverpool went ahead two minutes later with a wonderful solo effort by Salah - a moment of brilliance to follow their lucky escape. Milner was soon to be subbed.
Five minutes later City hit back when De Bruyne who had not been on his very top form shot from the edge of the penalty area and the ball was deflected by Matip into the net to make it two all.
Then we had the block of the season! Ederson missed a cross for once and Fabinho had the goal at his mercy but Rodri flew in from outer space and blocked his shot - brilliant stuff!
What a second half - 2 good teams with Salah and Foden the stars. For once Grealish did not have the best of games and was subbed by Sterling. I think we are still missing a centre forward.as often there is nobody there to crack in a goal. Roll on January and a signing!
Well City did not do all that well against Hungary at Wembley though Foden did help John Stones get his goal from the free kick he took. Sterling missed a couple of chances and Grealish was fouled a few times and did not enjoy being subbed. Walker was not at his best and made a few errors that Hungary failed to make the best of. City had five players playing for England - not quite the record though.
Good job Puskas was not playing for Hungary! I saw him score 4 for Real Madrid at Hampden Park back in 1960 when Real Madrid beat Eintracht 7-3 in the European Cup Final. He was brilliant
Well it was back to business again after the international break and several changes were made for the Burnley game.
In came Steffen, Stones and Ake and with Jesus late back from Brazil Sterling was given a start. No doubt you will have read his recent remarks about not getting enough games!
Alas it was not City at their very best and we had to settle for a couple of goals instead of the usual five against Burnley!
After just 12 minutes a very good passing movement ended with Foden having a good shot saved by the keeper but he failed to hold the ball and Benardo Silva was on hand to tap the ball into the net. A good start but alas Sterling failed to make the most of a couple of chances. Burnley too had a couple of good chances but failed to score.
City managed a second goal with just twenty minutes to go when Kevin De Bruyne cracked home a beauty from the edge of the area. Mahrez shot over the bar when well placed so the sky blues had to settle for the three points and just two goals. Benardo Silva played really well but both Foden and De Bruyne were a little off their best.
Grealish was on the bench for 90 minutes which was a bit of a surprise. However at the start of added time on came Palmer for Benardo and unbelievably right after the game he rushed over the bridge to the Academy ground and played for the under 23's against Leicester and scored a hat-trick in the five nil win - amazing !
I just knew we were going to get five goals somewhere!!
A terrific display by City put paid to FC Bruges The sky blues made several changes from the Burnley win and took over this game from the first whistle. We were a bit frustrated when two city goals were disallowed for close offside decisions. Then de bruyne missed a good chance and we had to wait until the 30th minute for a great Foden pass from the deep found Cancelo who slipped the ball through the keepers legs to give City the lead. Then just before half time Mahrez was brought down in the penalty area and taking the spot kick himself he sent the keeper the wrong way to make it two nil.It might have been even more as Mahrez had a shot saved and De Bruyne shot over the bar.
City added a third on 52 minutes when De Bruyne put Walker through in a great move and Walker made no mistake so both fullbacks had scored! Three nil up City made their first subs and on came Cole Palmer and he had only been on for a few minutes before he smacked in number four with his left foot from the edge of the area. It was his first Champions League goal.
A partial disaster then struck when Bruges actually scored a goal but with 84 minutes played Fernandinho- another sub- passed to Mahrez who scored his second goal and number five for City. It could have been even more but City have to save a few more for Brighton! Ederson had to make a couple of good saves and both fullbacks were excellent. Foden did well all over the pitch and it was great to see Cole Palmer get twenty odd minutes and a bonus with his goal.
Sorry for delay no internet for a couple of days!
Quite an interesting match with City making two changes - Jesus and Gundogan coming in - and without the resting De Bruyne City dominated the first half. Brighton were lucky in the 10th minute when Dunk hooked the ball off the line from a Jesus effort but it was only a short break for the home side as three minutes later an error by keeper Sanchez gave Benardo a chance and Gundogan scored from close range to give City the lead.
A quick counter attack by the sky blues ended with Foden scoring from a pass by Grealish and a few minutes later Foden got his second when he deflected a Jesus shot. He nearly got his third but Sanchez saved well and at the other end Ederson made a good save so at half time City were three nil up.
If we were expecting to carry on scoring in the second half we were in for a shock because Brighton suddenly remembered how to attack properly and Ederson actually had to make more saves. Alas with ten minutes to go Ederson was penalized near the goal-line and a penalty was given despite a possible offside in the build-up to the Brighton attack. So the home side got a goal back though Ederson almost saved the penalty.
City had hardly attacked in the second half but in the final moments of added time Mahrez - on for Jesus- took a pass from Foden and smashed the ball home to make it 4-1.
Phil Foden was man-of-the-match scoring two of his 8 shots and Benardo too did well.. It was really strange to see the change in the Brighton display. It looked like City were going to notch another five plus then Brighton suddenly decided to make a game of it. The Mahrez finale has helped the goal difference as City moved to second place behind Chelsea.


As expected City made 9 changes from the Brighton win with only Walker and Gundogan keeping their places. Good to see the return of Stones and the inclusion of Palmer. However despite City having most of the ball City failed to score and the game went to penalties at full time. West Ham keeper Areola made some very good saves and there were a few bad misses. De Bruyne is still well off his best.
Foden took the first penalty for City and shot just wide so West Ham had that vital lead and though subs Jesus and Grealish and Cancelo scored for the sky blues from the spot Benrahma's final kick ended City's quest for the Carabao Cup.
So City lost to a team in the Carabao Cup for the first time in 1,827 days!!!! We can concentrate on the Premier League title now!
Another 9 changes did not prevent this home disaster against Palace. A bad error by Laporte near the half way line gave the visitors a chance and Zaha took advantage to score and give them the lead after just 6 minutes. It was the first Premier League goal City had conceded this season at home! Though City had a fair amount of possession alas they could not score and in added time before the break Laporte brought down Zaha and got a red card. It was a touch and go decision by referee Marriner. We thought City had leveled the scores when Jesus took a pass from Foden and scored but alas the dreaded VAR
spotted that Foden's toe was offside in the build-up so the goal was ruled out. The ten men could not break the organized Palace defence in the second half and they added a second goal just before the end. I am sure many of you will remember the Townsend goal that Palace scored in their 3-2 win in December 2018 - www.rtfract.com/citdec18c.htm - and guess who the ref was that day - yes Marriner!
Patrick Viera must have been quite pleased with the result. One very worrying factor at the moment is the form of Kevin De Bruyne. He is well off his best form and without David Silva City are not so creative as they used to be. Are De Bruyne's problems more than injury I wonder. The attack are not clicking and I think Stones will come back into the team. I just wish we still had Vincent Kompany to take charge on the pitch.
Well City players scored five goals again - the only slight problem was that one of them was an own goal by Stones - not that he knew much about it! City made just three changes from the last match and for the first 15 minutes they dominated the game and Cancelo hit the post on 14 minutes after a good pass by Grealish. A minute later Foden had the easy task of scoring from a Cancelo cross. Two minutes later the visitors leveled the scores with a bizarre goal when a cross was sliced by Benardo into the face of John Stones and into the net. One all - surely not. Bruges were looking a bit dangerous and City were making the odd passing error. No doubt Pep had a few words at half time and ten minutes after the restart Cancelo crossed to an unmarked Mahrez who easily headed home to give City the lead. City continued to dominate and on 67 minutes on came Sterling for Mahrez and Jesus for Grealish.It was not long before City made it 3-1 Sterling scoring from a Gundogan cross with a simple finish. It was his first goal since August so I bet he was pleased about that.
Later De Bruyne came on for Benardo and Zinchenko for Walker and Palmer for Foden. In added time Jesus made it 4-1 with yet another assist from Cancelo. Palmer nearly scored too in City's ninth consecutive home Champions League win.
With PSG only drawing away at Leipzig City are now top of the group.
Sad to hear that Aguero is out for several months with a heart problem.
Yet another win at Old Trafford by City - this time by two goals to nil. The team from the Salford area barely troubled the sky blues and but for some good saves by De Gea City could have been four up at least by half time. City then kept the ball in the second half with Ederson rarely touching the ball. City dominated possession their movement on and off the ball being of top quality.
The first half started with City well on top and Benardo shot over the bar on 4 minutes. Ater a Maguire header went over the bar too at a free kick City scored at the other end. A great cross by Cancelo surprised the United defence and Bailly sliced the ball past De Gea to give City the lead. If he had missed it two City players were waiting to score.
On 25 minutes we had a shock when Ronaldo shot at goal but Ederson saved well. A few minutes later De Gea saved an effort by De Bruyne and a shot from Foden hit the post. He also saved from Jesus and Cancelo and we almost had another own goal on the half hour but De Gea managed to save with his foot following a Foden cross.
II was almost half time when a great cross from Cancelo was brilliantly put into the net by Benardo- all-over-the-pitch- Silva to make it two nil. It only took 20 odd passes for this goal! United had been outclassed and but for De Gea it could have been at least four at the interval.
City were a little less attack minded in the second half keeping possession well as they were so superior than United. City should have had a penalty when Jesus was brought down but a corner was given. Foden hit the post with one effort and Stones had a near miss but alas no more goals to improve the goal difference.
Pep Made no changes which was not surprising as the team were playing so well with full control of the game.
Cancelo was excellent with both Benardo and Foden having good games. De Bruyne is not 100% and he needs a bit more luck with his passing. One strange thing was the inclusion of 2 keepers on the bench ( Steffen and Carson) - perhaps Pep was going to move Ederson to centre forward if we were five up!
Watching Stockport County's incredible 5-3 win in the FA Cup brought back some memories of Edgeiley Park. I first went there in 1944 to see County beat City 4-1! Les McDowall who later was manager at Maine Road was playing at left half. It was several years later for my next visit and then there used to be two games on Christmas Day. I would go to Edgeley Park in the morning and then dash back to Didsbury for lunch before cycling to Maine Road to watch either City or United ( Old Trafford had been bombed) in the afternoon..
My last visit was in Oct 1961 when I refereed a FA Cup 2nd replay between Hyde United and Stalybridge Celtic

City kept in touch with the League leaders with an easy three nil win over Everton. The game will be remembered for two special events - a magnificent pass and a wonderful goal from well outside the area - more later.
Although without De Bruyne and Grealish City bossed the early stages but we had an early worry when Foden a doubtful starter was injured but he recovered quickly and on 27 minutes put in a good cross that Sterling failed to head properly. Shortly after a header by Gundogan hit the bar and two minutes later a shot by Palmer was saved by the keeper and following up Sterling failed to make the best of the chance.
On 32 minutes Sterling made the news again when he appeared to be brought down just inside the penalty area and the ref gave a penalty. Alas VAR struck again and not even a free kick was given!
However just before half time a wonderful pass by Cancelo with the inside of his foot found Sterling who scored from close range. Well done Cancelo for the pass and well done to Sterling to start the City scoring.
Early in the second half Laporte got a yellow card for a foul on Townsend ( I still remember his goal against City for Crystal Palace in 2018). On 54 minutes Benardo Silva got a kick on his foot in the area but again no penalty!
However we soon got a second goal when Rodri picked up a clearance and from 25 yards out he cracked the ball past Pickford. It was a stunner and a well deserved award for his display in the game.
Mahrez came on for Foden ( no doubt to rest him for PSG) and Axe for Laporte. With five minutes to go a Palmer pass/drive was deflected to Benardo Silva who scored to make it three nil.
A few minutes later we saw the debut of James McAtee and we witnessed some excellent ball skill and a shot in the final minutes from him.
Overall another excellent display from City with Rodri excellent and Sterling having a good game causing lots of problems for the Everton defence.

Jesus saves us! We knew it was not going to be easy especially when De Bruyne, Foden and Grealish were absent through injury and illness but City fought back after going a goal down to win and top their A group table. It was a tough match with City although having more of the ball they had the difficult job of stopping Neymar, Mbappe and Messi.
There was not much between the two sides in the first 20 minutes though Mahrez did have a chance that was well blocked.On 27 minutes Zinchenko had a shot blocked and on 31 minutes we actually saw Benardo cross with his right foot! The nearest City got was when Gundogan hit the post a minute later. However just before half time PSG missed a good chance so it was 0-0 at the break.
Disaster struck 4 minutes into the second half when a good PSG move ended with Mbappe shooting through Ederson's legs to give the visitors the lead. A certain player called Messi played a big part in the move!
A few minutes later Pep brought on Jesus for Zinchenko and that improved things as PSG were begriming to get more dangerous. On 62 minutes a great pass by Rodri found Walker and his excellent cross found Sterling who scored from close range. City were level and it was Sterling's third goal on the run .Is he getting back to his old form??
Ten minutes later Neymar shot wide and just three minutes later Gundogan passed to Mahrez and his cross was taken by Benardo and handed to Jesus and City had done the business and it had been an excellent show by City. PSG are no easy team to beat so full marks to the sky blues.




Snow, snow and more snow hit the Etihad Stadium as City kept up their league record against West Ham winning 2-1 and keeping up the pressure on Chelsea.
Walker who was having his 200th game for City shot just wide on 7 mins then ten minutes later Laporte hit the post with a header from a corner by Gundogan. Then a few minutes later Gundogan himself had a shot saved.
On the half hour Laporte got booked for a foul but there was a better moment a minute or so later when Gundogan put City ahead.with a tap in from a Mahrez cross despite the heavy snow fall. It was a great pass by Cancelo to find Mahrez.
4 minutes later Jesus had a good effort cleared off the line following a good pass from Mahrez and just before half time Mahrez himself hit the post with a good effort so City were one up at half time which was extended to allow City staff to clear the pitch of snow. They did a great job and one could see green again!.
On 56 minutes a shot by Jesus was saved by Cresswell in the centre of the goal and was injured by hitting the post. Sterling shot over on 68 minutes and City were defending well but ten minutes later Rice had a shot from outside the box and Ederson saved thank goodness so was it going to stay one nil?
With three minutes to go on came Fernandinho for Sterling and following a corner 3 minutes later Fernandinho got the ball from Jesus and slotted the ball home - his first since October 2018!
With seconds to go in added time just when it looked City would win by two goals Lanzini hooked the ball from outside the box and scored. However it was a tough win for City but well deserved with Gundogan having a very good game.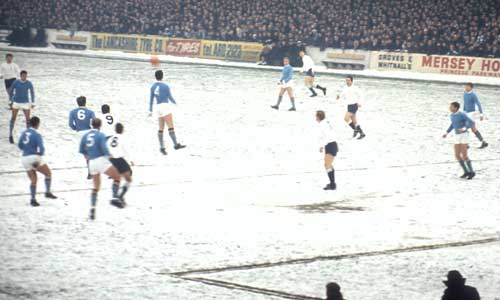 I remember a game back in December 1967 when City beat Spurs 4-1 at Maine Road when snow attacked the pitch
The image I shot shows Mike Doyle heading clear. I hope his relation Tommy now on loan in Germany will be back soon and doing such a good job his granddad did.
More old City stuff
HERE
Despite the presence of Royalty and the absence of De Bruyne, Foden, Stones, Walker, Grealish and Gundogan City continued their Wednesday win record - 16th consecutive win! It was a tough game but remembered for two vital brilliant goals by Dias and Benardo Silva. It was Pep's 150th win in the Premier League.
City started with a blast and Cancelo had a shot saved in the first minute and then Rodri had another effort saved a couple of minutes later. City were dominating and Villa hardly got out of their own half. On 28 minutes Sterling crossed to the edge of the penalty area and Dias became City's 17th different scorer this season with a low shot that found the net and the sky blues were a goal up.
Villa started to get more of the play and won quite a few free kicks and City were coping with Villa attacks. On 42 minutes we had the goal of the season as City defended well in their own penalty area and Fernandinho cleared with a good long pass to Jesus who then crossed wonderfully to the onrushing Benardo who then hit the pass first time with his left foot past the keeper to put City two up. A brilliant goal helped by the perfectly weighted pass by Jesus.
Villa struck back early in the second half when Watkins scored and then the City defence had a lot more to do. The back 4 of Cancelo, Dias ,Ake and Zinchenko and a good save by Ederson helped City to a tough win.
Ex Villa player Grealish came on in the last few minutes to both applause and boos. Foden was the only other senior outfield player on the bench.