City v Swindon Town 2-0
FA Cup January 5th 2002
att 21,581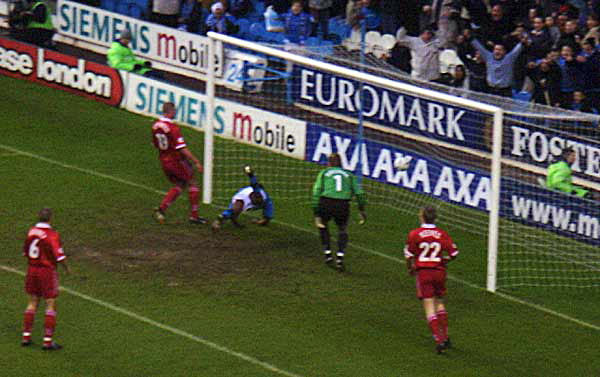 Against an abject Swindon Town team City hardly had to break into a sweat to go through to the fourth round. As early as the 8th minute City took the lead through Wanchope. A long ball by Dunne was poorly headed out to Berkovic whose exquisite chipped centre was headed home by Wanchope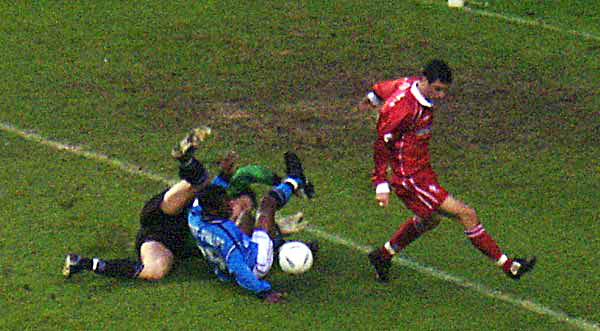 While the Carlo Nash in the City goal had little to do Griemink in the Swindon goal was constantly in action as City had 90% of the play . Above the visiting keeper is saving from the ebullient Shaun Wright -Phillips whose confidence increases match by match. Ali Benarbia and Berkovic were running the midfield but City could just not find the net. Below Paulo Wanchope is shooting over from a good position
We had to wait unit the 62nd minute to make the game safe. Berkovic and Ali B linked up in midfield and the excellent move ended with Berkovic passing to the unmarked Horlock who shot past Griemink- above. City now top of Division One played well , their skill and interpassing being far above anything Swindon could offer. It was often more like a training match at times and not a cuptie.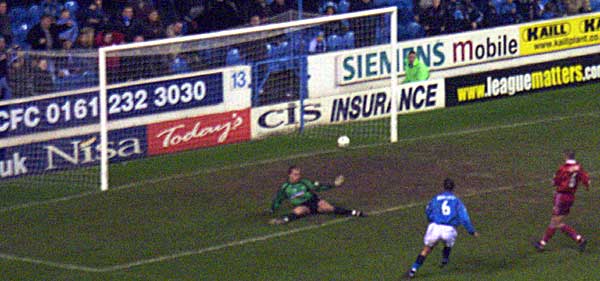 Just when we thought we would have a game without a bad foul let alone a yellow card all hell was let loose. Eyal Berkovic was victim of a late tackle but his exaggerated fall to the turf complete with rollovers raised the anger of the Swindon players and within seconds handbags were being swung in all directions.The referee who had so little to do was quickly awoken from his slumber and the first yellow cards were shown. Later Berkovic was substituted perhaps for his own safety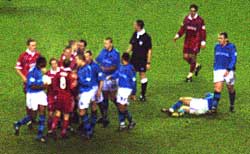 Highlight for me in addition to the Horlock goal was a thunderous tackle by Richard Dunne , very reminiscent of the old days of Dave Ewing and going back even further Bert Sproston and Sam Barkas. I have to quickly add that Dunne's power of recovery and passing far exceeds that of the old timers.
The combination of Ali B and Berkovic is obviously working well so I hope Berkovic will be able to control his sometimes volatile temperament and reduce the spade of yellow cards which will reduce his Availability.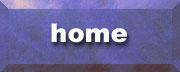 City v Norwich City 3-1 January 13th 2002
att 31,794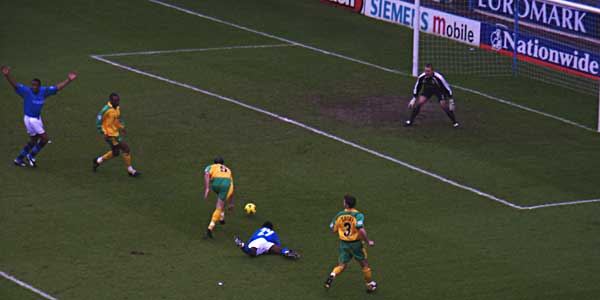 Nash, Edghill, Horlock, Dunne, Howey, Ritchie, Benarbia, Berkovic, Wanchope, Huckerby,Wright-Phillips
Another fine win for City against all the odds after they were down to ten men in the first ten minutes.
There were quite a few refereeing controversies and the first after a few minutes was when Wright -Phillips was blatantly brought down by Fleming (above )after a little chip forward by Benarbia had given Wright -Phillips a run at goal. Referee Pearson from Durham who had booked Horlock for an innocuous tackle minutes earlier waved play on much to the disgust of all and sundry. But there was worse to come !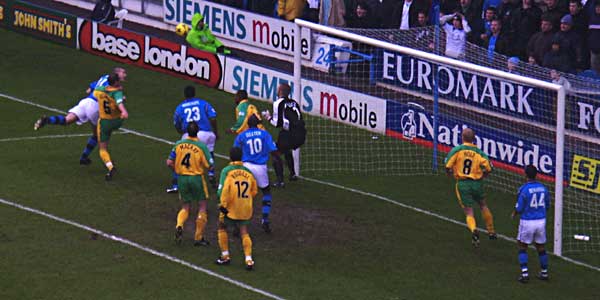 Moments later following a corner Benarbia chipped over again and Howie's header just went wide (above)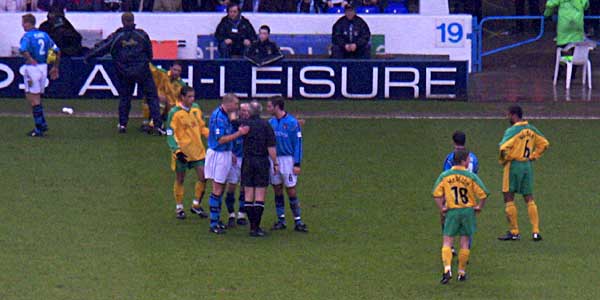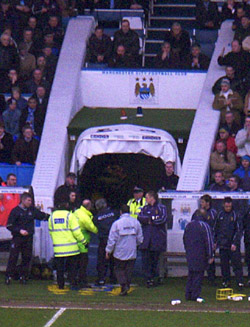 In the 12th minute came another moment of controversy. Tiatto started to make one of his typical runs. He pushed the ball past Steed Nedergaard who then deliberately blocked Tiatto's progress.Tiatto grabbed the Danes shirt and when Tiatto tried to get past the Norwich player went down like a sack of potatoes.The referee was just going to give City a free kick but the '4th official' attracted the referee's attention and Tiatto was sent off for ' raising his hands' to the Norwich player. Tiatto was furious and had to be retrained by Keegan (left) as he stormed off to the dressing room. Hedergaard by his actions had certainly got Tiatto sent off and he was continually booed every time he touched the ball thereafter..
Danny Taitto was certainly not blameless and teams will continue to take advantage of his lack of control in certain situations. We do not want to lose his skill and enthusiasm for too many games.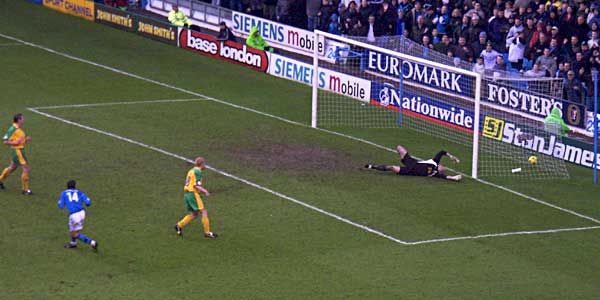 City had to reorganize and had a further blow when Howey went off injured to be replaced by Paul Ritchie ( Thank goodness we have a strong squad). Although City were down to ten men they continued to play well with confidence and it wasn't a surprise when a great move involving a run by Wanchope and a pass from Goater to Berkovic ended with a first time effort by the Israeli international whizzing past Green to give City a one goal lead (above)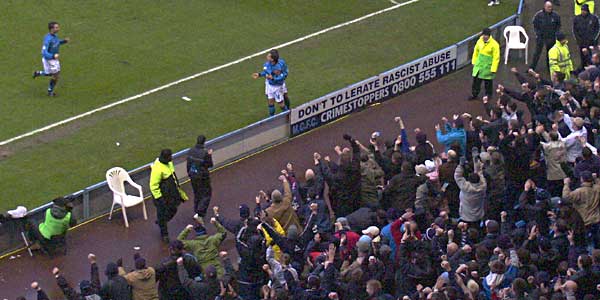 The goal lifted the Maine Road crowd as Berkovic celebrates.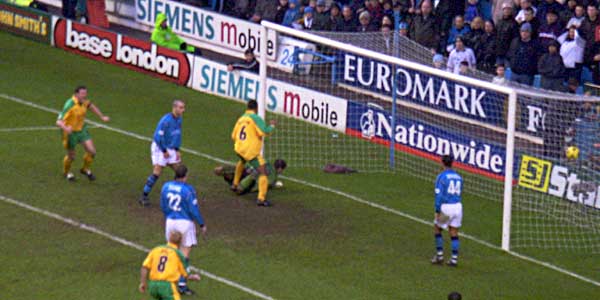 As the second half began City soon lost their lead. A short corner and loss of concentration gave Neilson a free header which gave Nash no chance.1-1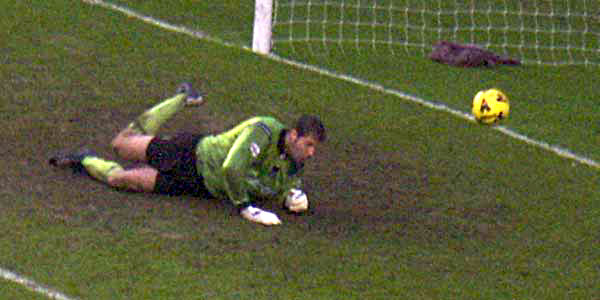 Norwich now had a good spell and Nash was called upon to make several excellent saves - one above.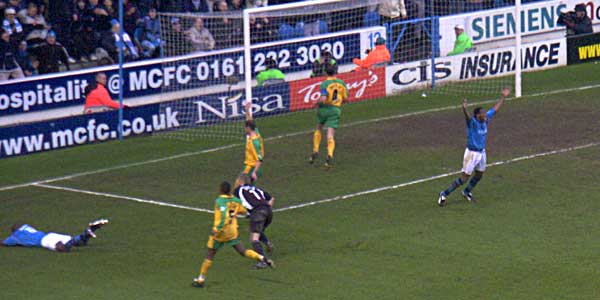 City retook the lead after 60 minutes. Shaun Goater made a run down the left and keeper Green brought him down -above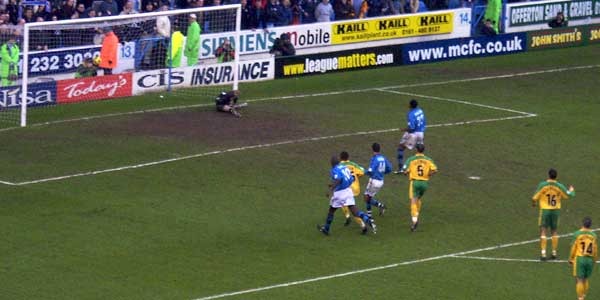 Paulo Wanchope shot home the penalty without too much trouble and City were 2-1 up.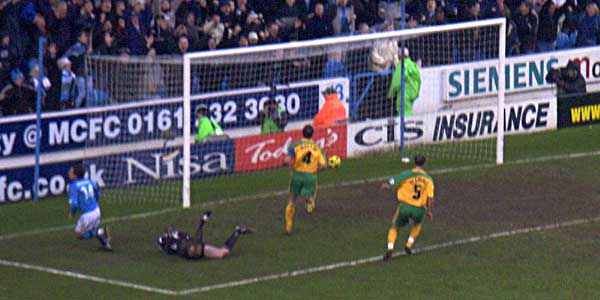 A few minutes later we had a wonderful goal - one to remember. A long throw out by Nash found Berkovic near the half way line - he ran and ran and ran towards the Norwich goal and with the Norwich defenders hanging around like lost sheep at Deerham Market he ended a great run by slipping the ball between Green's legs to put City in the comfort zone at 3-1.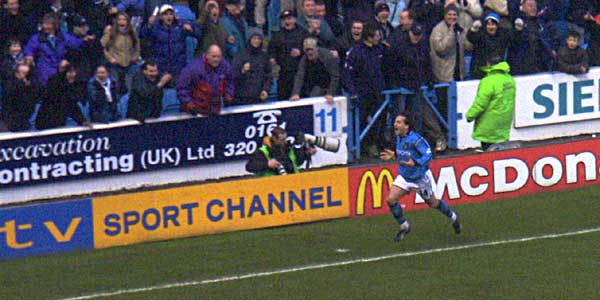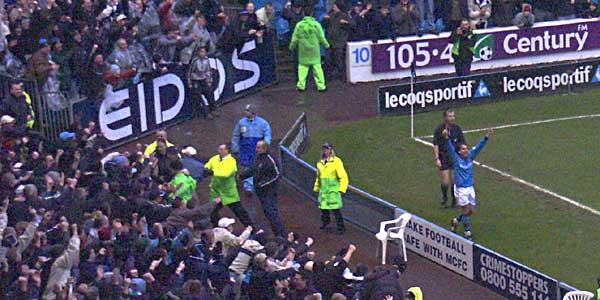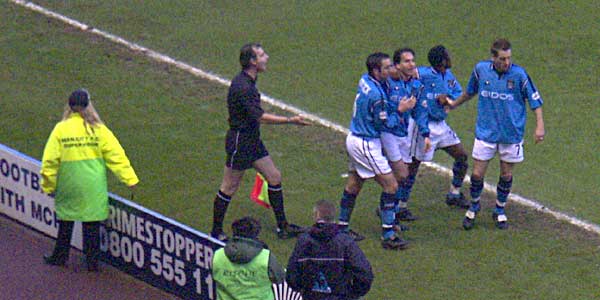 I make no apologies for including three pictures of the celebrating Berkovic who has been an excellent signing for Keegan. What a game. A cracking spirited display by the ten men who were easily better than an average Norwich side. It was a great team performance with plus marks to Dunne in defence and Berkovic and Wanchope in attack Now City have a clear lead at the top with an away game at Watford next.
City v Millwall 2-0
January 30th 2002
att 30,238

In all the years I have watched football at Maine Road I cannot remember another occasion when a team down to ten men have outplayed the opposition so completely from the first minute. For it to happen on two successive home games is amazing - but there again these are amazing times at Maine Road. The action of the Chairman and the board to sack Joe Royle and bring in Kevin Keegan must go down as the best decision made at the club since Joe Mercer was brought in years ago. The whole character, fitness and skill level of the team has risen to a level way above the general of Division One and at last I feel confident of promotion to the Premiership and better still staying there.
Back to the match- Millwall were made to look rubbish and how they had reached the top six was beyond belief. After City's great win at Ipswich in the Cup the previous Sunday and the good win at Watford to keep City at the top there were great expectations. Incidentally the good coverage of the 4th round tie by BBC TV was spoilt by the lack of research on City done by pundits Hansel and Gretel - oops sorry - Hanson and Lawrence.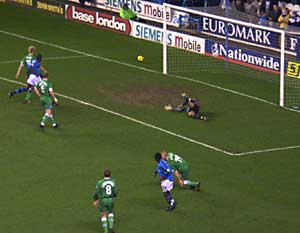 In the first few minutes City could have been two up On the left the irresistible Shawn Wright-Phillips just misses the far post after a break down the right one of a couple of chances that fell to the improving wing back.
However minutes later Benarbia was held back by Bircham and in shaking the defender off was deemed guilty of violent conduct and sent off. Down to ten men again and I was beginning to think referees were doing it deliberately to even out the teams !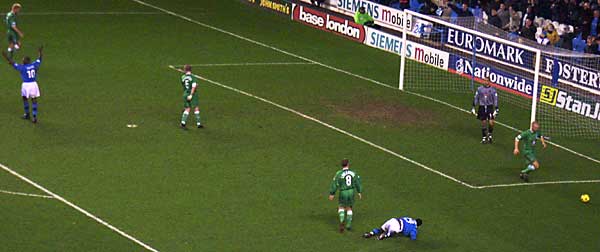 After about half an hour City's dominance should have had a reward when Shawn Wright Phillips was brought down by Livermore in the area. Alas the penalty taken by Pearce was well saved by the busy Millwall keeper Warner - below
As the game wore on and City despite their overall control of midfield were unable to get the ball in the net. Huckerby was playing a blinder, his speed causing chaos down the Millwall left causing them to substitute the original fullback. We were put out of our misery with ten minutes to go. When a shot from Wright - Phillips came off the post Goater was at hand to finish it off- below 1-0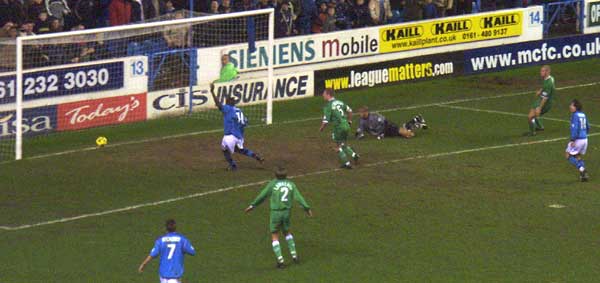 The ten men of City did not rest on defence now they had broken through - oh no - it was back to attack and with a couple of minutes of normal time to go Goater added the icing on the cake by finishing a Huckerby dash down the left - below
What a display - absolutely brilliant - Huckerby and Goater up front played really well - Wanchope will have a job getting his place back. Horlock in his holding role in midfield behind the creative skills of Berkovic and Benarbia has improved beyond recognition from last season. Wiekens and Dunne were magnificent in defence -we still have Mettomo and Howie to return. The home debut of Danish international Jensen was noticeable for the fact that he fitted in so well in the team effort - another good signing. Where will Dannny Tiatto fit in when he returns from suspension - presumably in Benarbia's place when he has to miss three games. Weaver on his home return to the team lost a few points with his erratic kicking but he did make the odd good save following a good display at Ipswich.
Nash, Wright-Phillips, Tiatto, Dunne, Howey, Pearce, Benarbia, Berkovic, Wanchope, Goater, Horlock sub Ritchie
Weaver, Wright-Phillips, Jensen, Dunne, Wiekens, Pearce, Benarbia, Berkovic, Huckerby, Goater, Horlock