City 8 Watford 0
Sept 21st 2019 att.54,273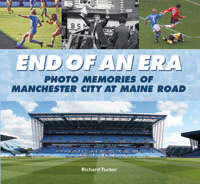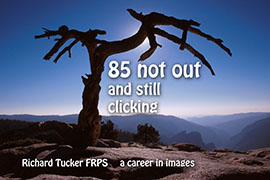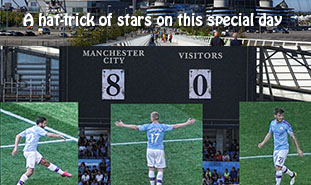 This 8 nil win was City's biggest in the Premiership and what a start it was. Inside the first minute a wonder swerving cross by Kevin De Bruyne found David Silva able to prod the ball home from close range. It was the fastest goal in the Premiership so far this season. Goals then came thick and fast and within 18 minutes City were five up - incredible!. That was another record - the fastest any team have gone five up in the Premiership. Goal number two came from a penalty and when Aguero scored he became the first player to score in 7 consecutive Premier league games since Lukaku in 2015. Aguero also reached 100 goals at the Etihad . No doubt he will soon be passing Rooney (101) and Henry (114) who are the present leaders in scoring at one stadium. The 8-0 win was City's biggest win in the Premiership and I was hoping we would beat the ten we notched against Huddesfield back in Nov 1987 at Maine Road - I was there to see three hat-tricks - Steward, Alcock and White.
Today there were three really great performances by City players against Watford - Benardo Silva got his first hat-trick in the Premiership- In addition to scoring the first goal David Silva was at his best while Kevin De Bruyne as well as providing a brilliant assist for the first goal finished the scoring with a belter in the second half.
We had our first home glimpse of new signing Canelo and it was good to see Garcia and Angelino have some time on the pitch.
It was a brilliant 125th Birthday present for the City fans - a fantastic team performance.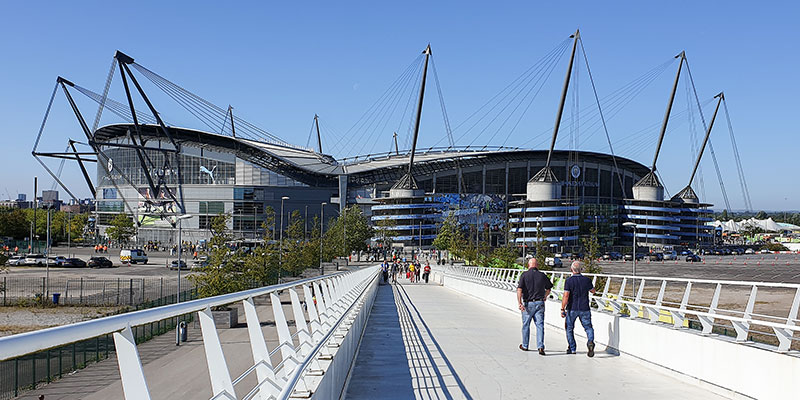 A cloudless sky greeted early visitors to the Etihad Stadium on this very warm day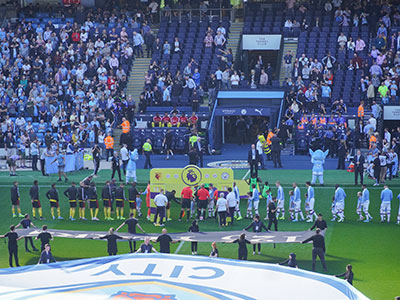 We were surprised to see Sterling warming up with the subs as Pep made several changes from the Shakhtar win. Aguero was back and Mendy was in for Zinchenko. Both Silva's played.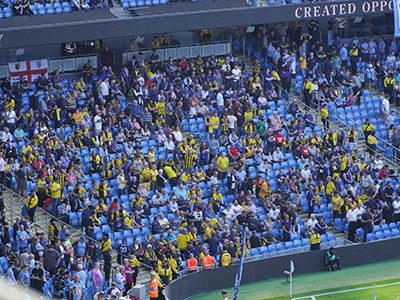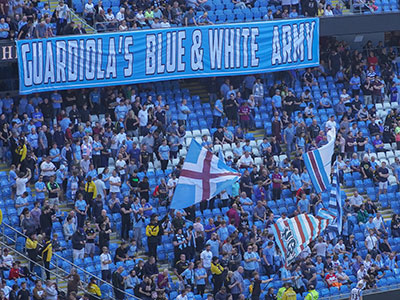 Not many Watford fans today and there were a few gaps in the crowd at kick-off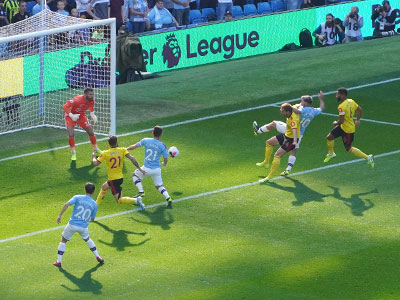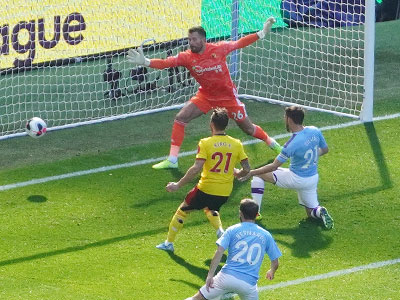 A terrific start - an excellent cross from De Bruyne found David Silva perfectly positioned to slot the ball into the back of the net and City were one up within a minute!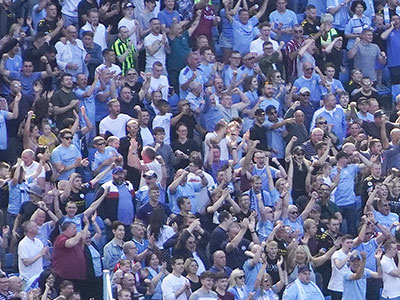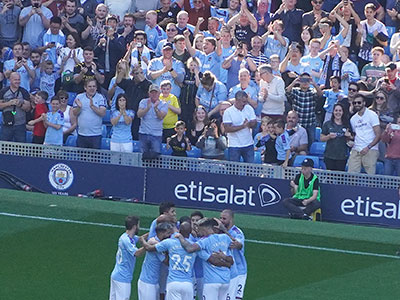 Watford were stunned and City celebrated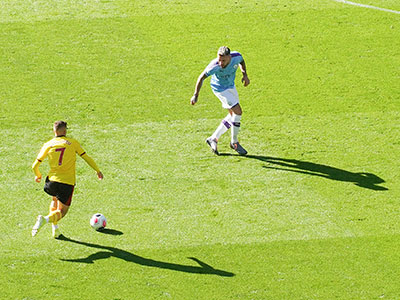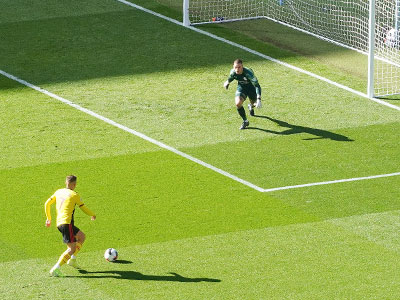 Watford soon hit back minutes later and Deulofeu beat Otamendi and had only Ederson to beat .............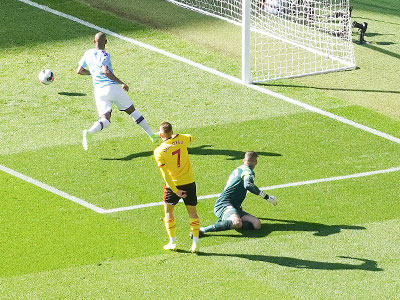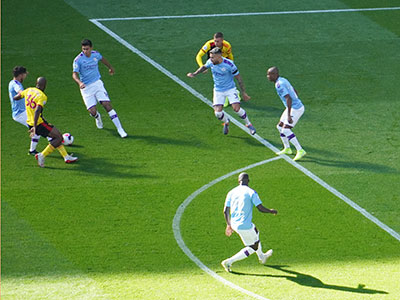 ........but the keeper managed to deflect the effort wide for a corner which City cleared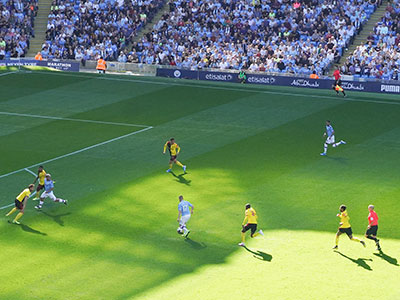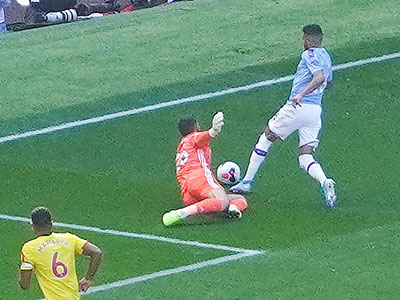 A minute or so later De Bruyne won the ball and passed to Mahrez who was brought down by Foster in the penalty area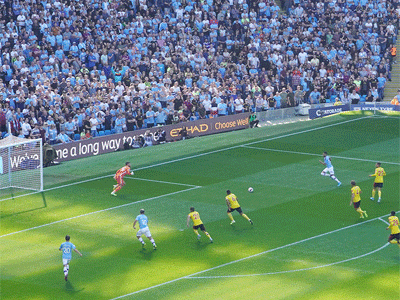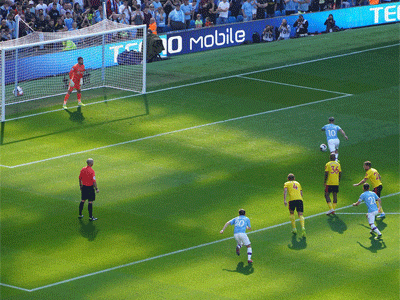 It was a pretty obvious penalty so no VAR and Aguero scored to make it 2-0 nil after 7 minutes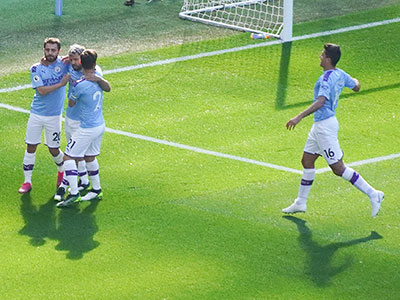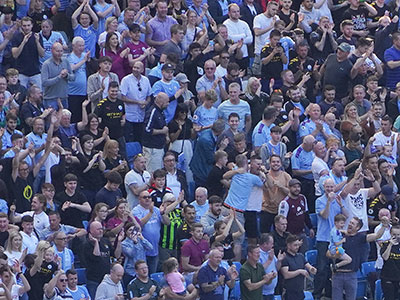 Aguero has scored in each of the first six games of a Premier League season - a bit of a record -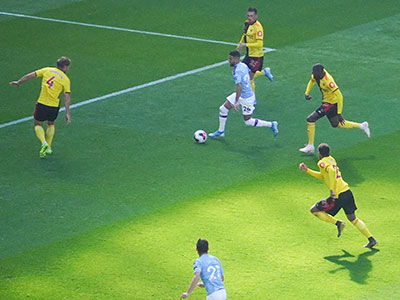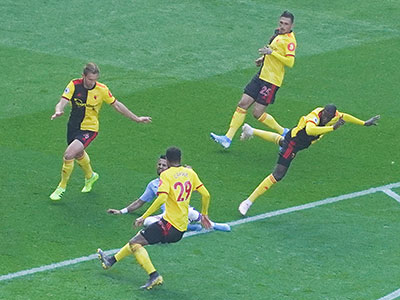 Five minutes later Mahrez went on a dribbling run but got brought down right on the edge of the penalty area

He took the free kick himself and the ball hit Cleverley and was deflected............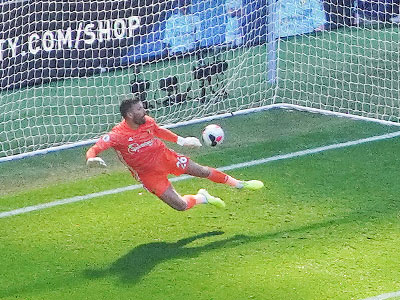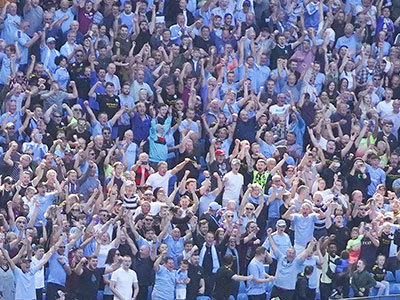 .......past Foster for number three for City - amazing stuff!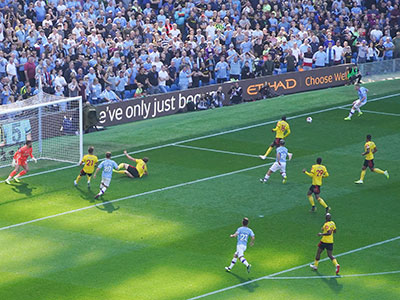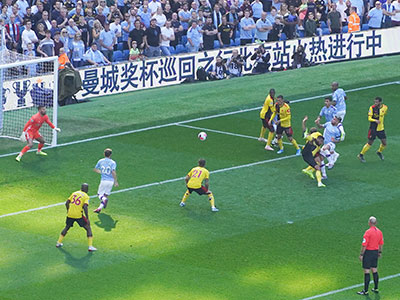 A few minutes later De Bruyne gets in a cross following a corner and Otamendi has a header blocked but the ball runs to........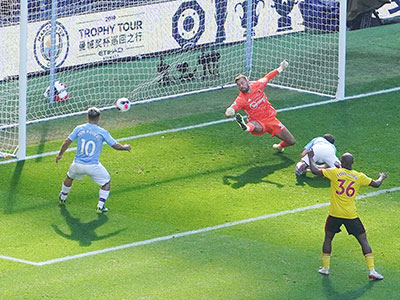 Benardo Silver who makes a diving header to score number four for the sky blues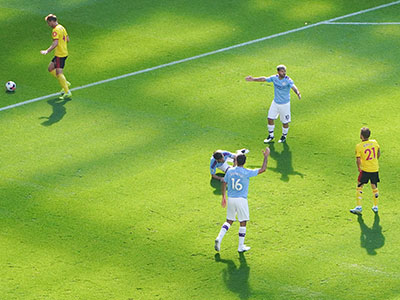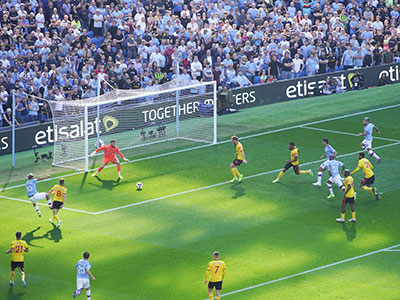 The South Stand have even more to shout about
a couple of minutes later David Silva is brought down but takes a quick free kick......
.....which runs to Aguero who crosses for Otamendi to score at the far ;post -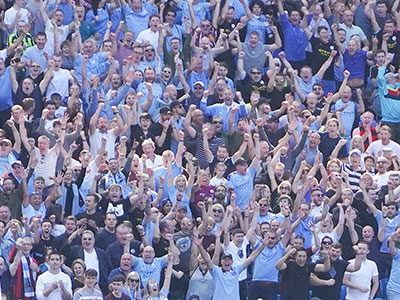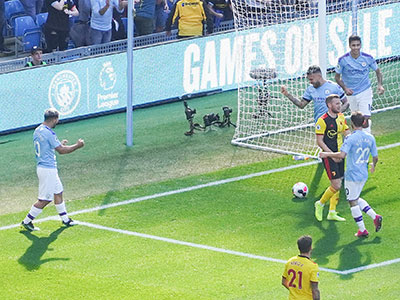 It was his first goal this season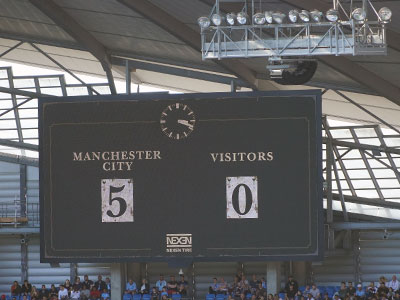 Less than twenty minutes played and we were five up - unbelievable!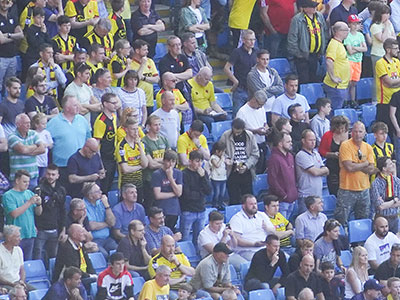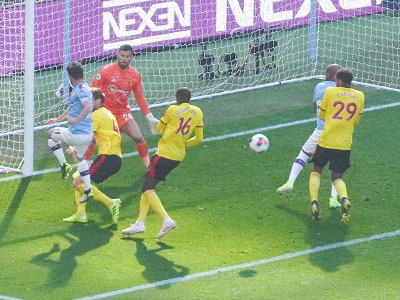 The Watford fans must have been staggered at what had happened as City continued to press for more goals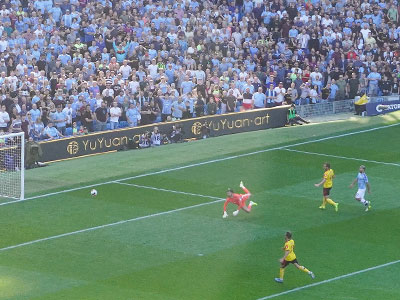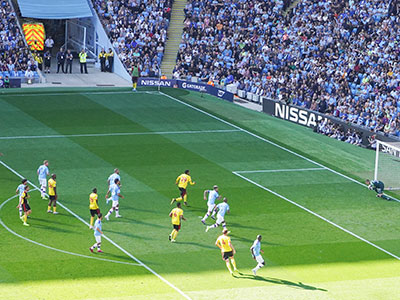 After 25 minutes Aguero shoots just wide of the post
At the other end a rare effort is easily saved by Ederson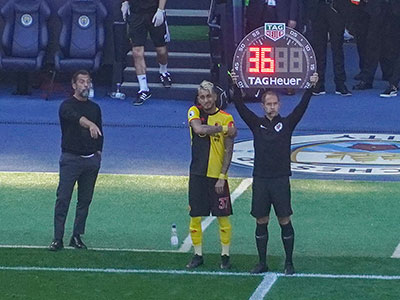 A shot from Aguero hits the post
Watford make their first change after just 37 minutes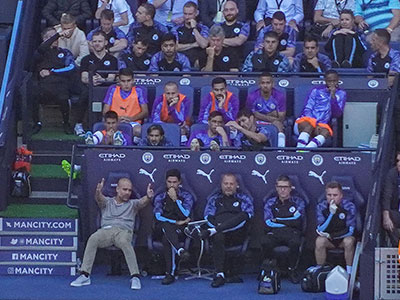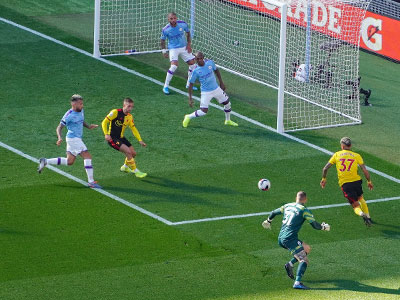 Pep seems quite relaxed on the bench
Pereya fails to take his chance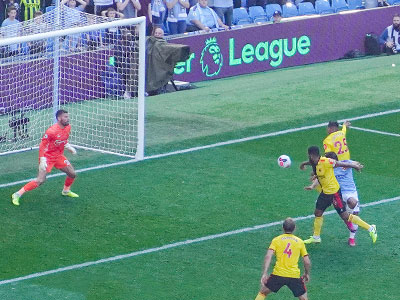 An Aguero header hits the post
Though marked Benardo heads for goal.......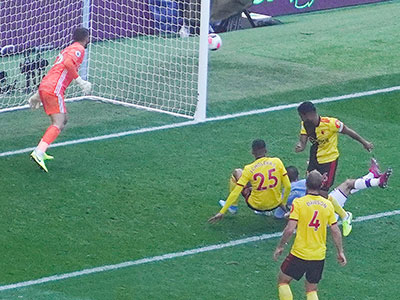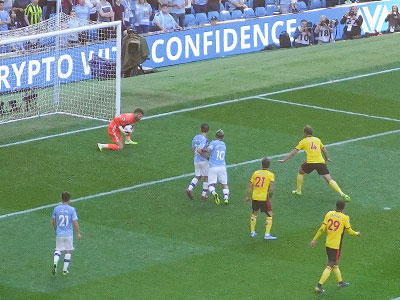 ...but the ball goes wide
Foster saves from Mahrez and it's half time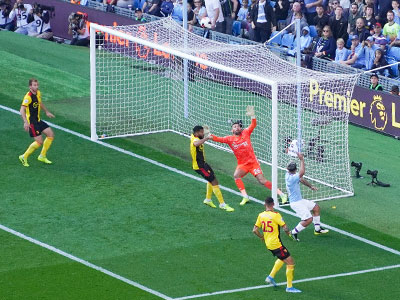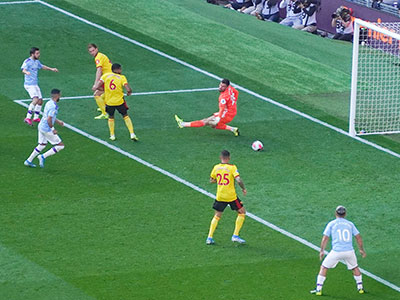 Three minutes into the second half and Benardo Silva shoots past Foster.....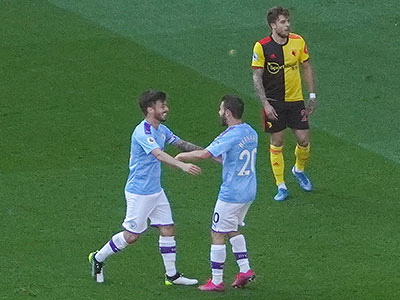 ...to make it six nil and he runs to thank his provider David Silva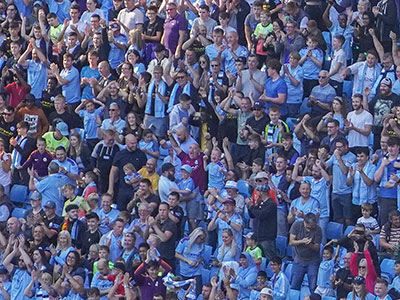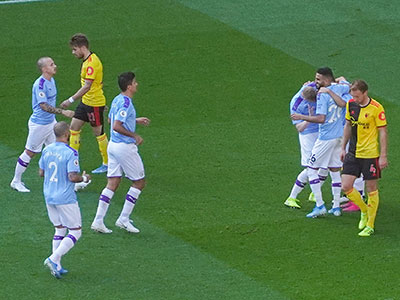 Now it's the turn of the North Stand to celebrate with the players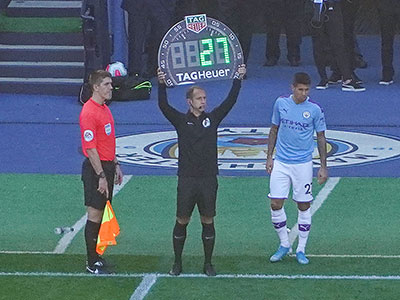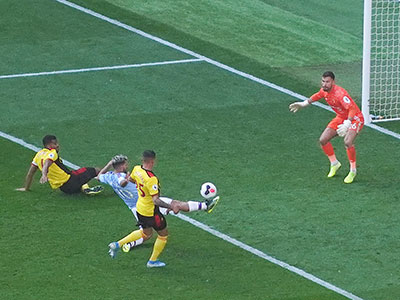 On comes Cancelo to make his home debut
Aguero just fails to score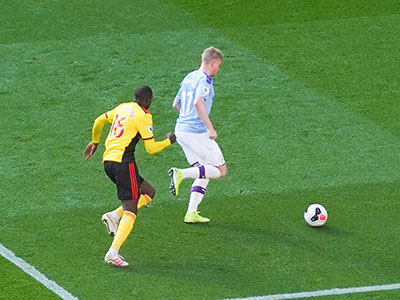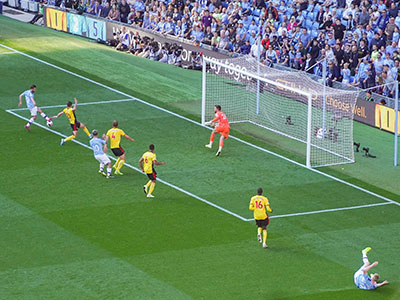 On 60 minutes De Bruyne took the ball down the right wing and crossed ......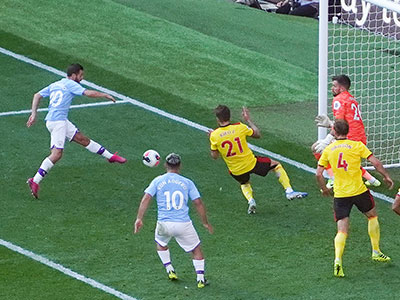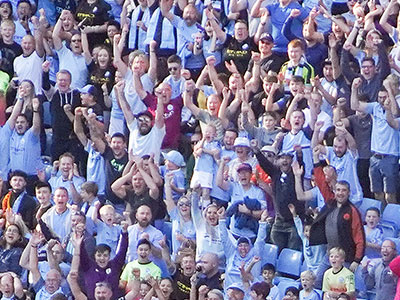 ...and there was Benardo eager to shoot past Foster for his hat-trick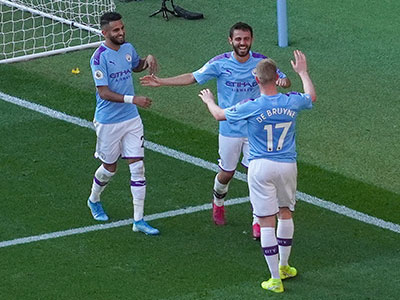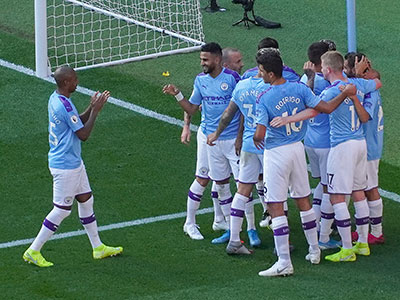 Lots of smiles as the score goes to 7 nil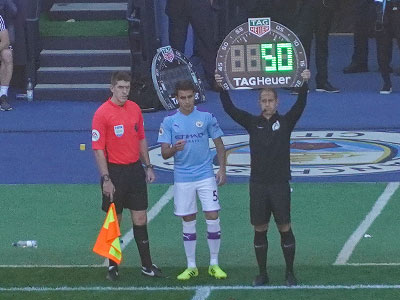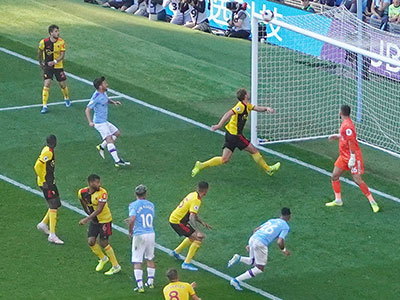 On comes Garcia for Otamendi
Mahrez hits the bar with a header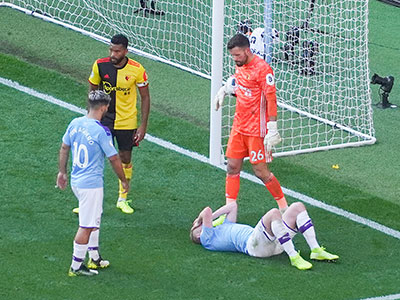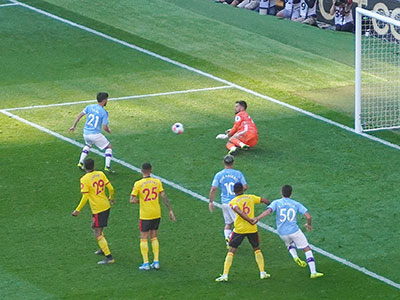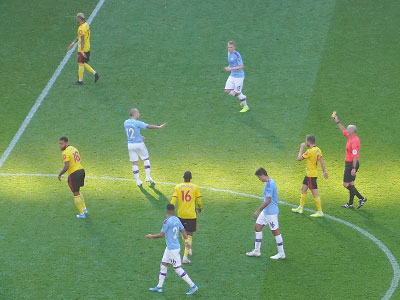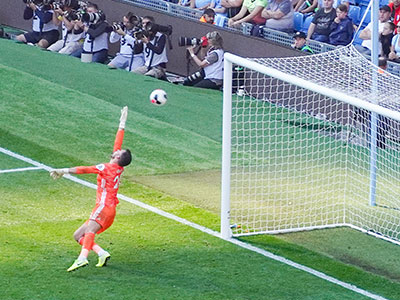 Oh dear! Kevin's down -but not for long
Foster saves from Rodrigo
Angelino gets a yellow card from Mr Dean
Suddenly De Bruyne sends in a cracker which flies into the top corner.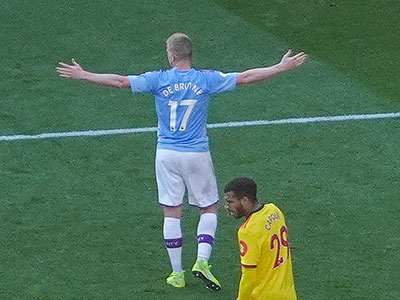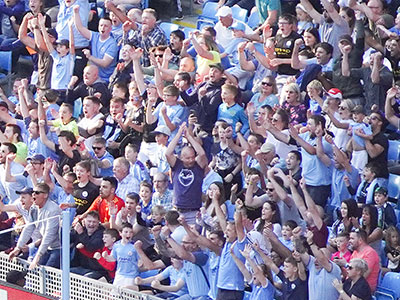 A terrific goal to end an excellent performance by him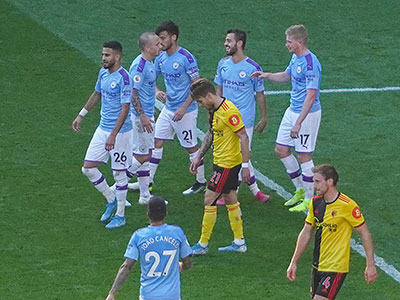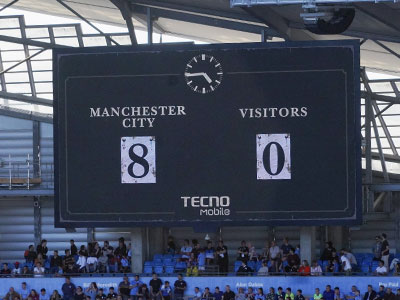 What a score line - eight nil and there is still more time left!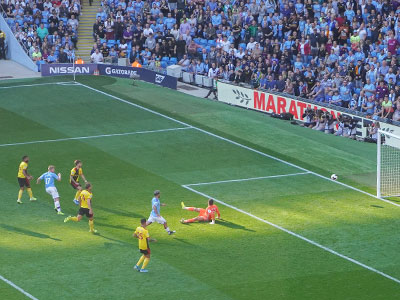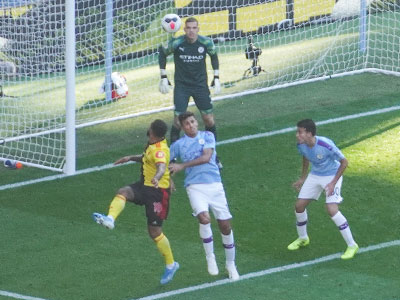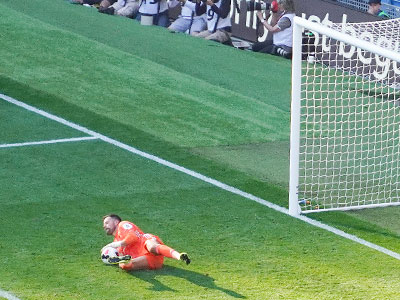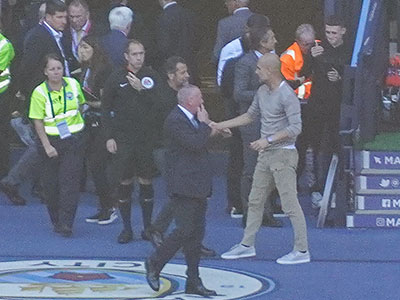 De Bruyne just shoots wide
A final effort by Benardo is saved by Foster
Full time and the managers shake hands
team
Ederson 7: Walker 7.5 (Cancelo) , Fernandinho 8, Otamendi 7.5 (Garcia) Mendy 7 ( Angelino 7), Rodrigo 8, De Bruyne 9.5, Silva 9.5, Benardo 9,5, Mahrez 9, Aguero 8