City 3 Sporting Lisbon 2
March 15th 2012 38,021
Europa Cup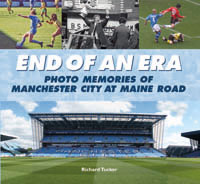 Now available from Amazon ( click on image for link)
WH Smith and the City shop
So we are out of Europe albeit by the tightest of margins - the away goal rule. Maybe that's a good thing so City can concentrate on the Premiership and we have some catching up to do after the poor display at Swansea. I must admit at half time today I thought it was all over with the visitors being two goals up - three on aggregate. Our attack was almost non existent in the first 45 minutes and what possessed the manager to play Yaya Toure in a defensive role was beyond belief. The continuing absence of Kompany and Lescott in defence did not help so it was no surprise that the penny dropped at the interval and Nigel De Jong replaced Johnson allowing Yaya Toure to play in their half for a change. Our passing in the first half was pretty poor at times the long ball rarely reaching its target and their keeper had little to do.
It was a different story in the second half with Aguero scoring a couple of goals and being brought down for a penalty which was converted with ease by Balotelli. Sporting tried every delaying tactic they could and had the match gone a little longer City would have got through. But why oh why did we not attack with the same fervor in the first half? I also felt that Silva was once again below his best.
This patient Italian approach will be our downfall if we are not careful.
Any way I didn't really want to face Dracula in Rumania!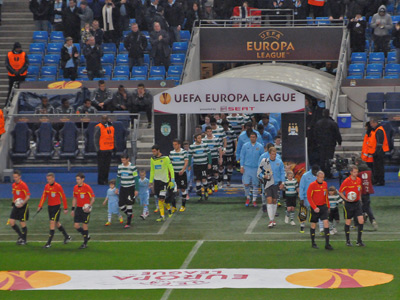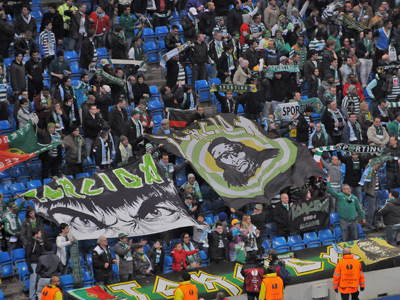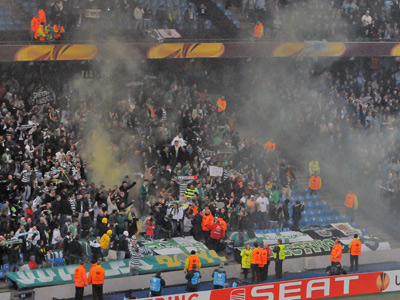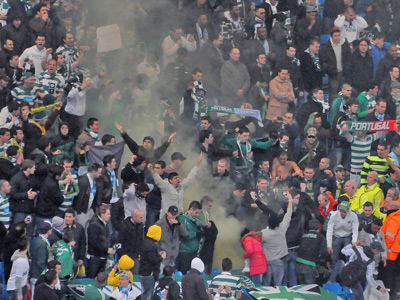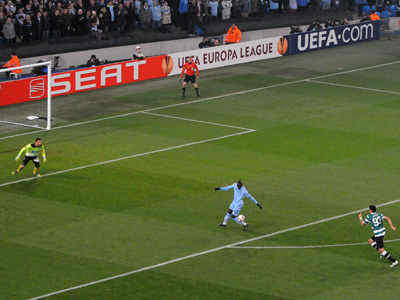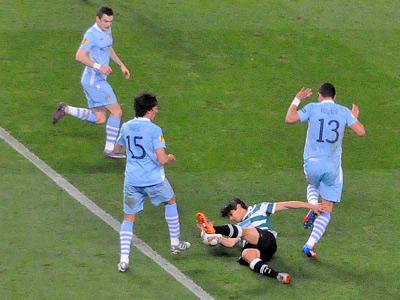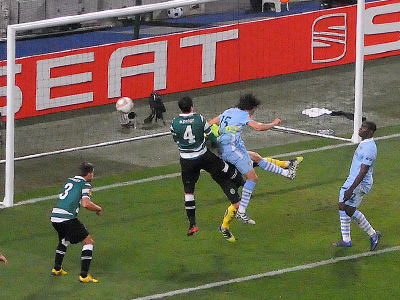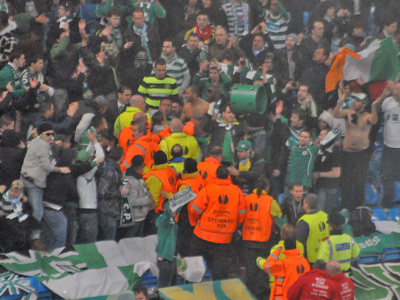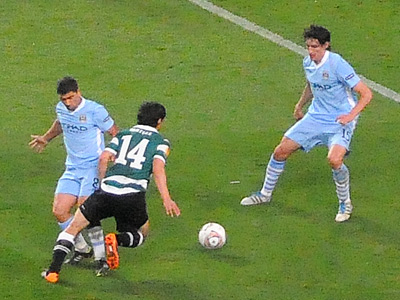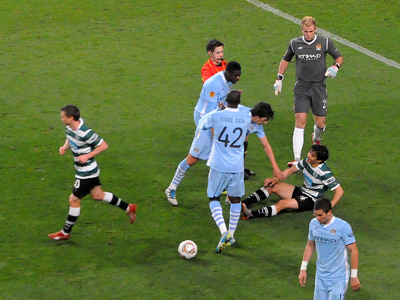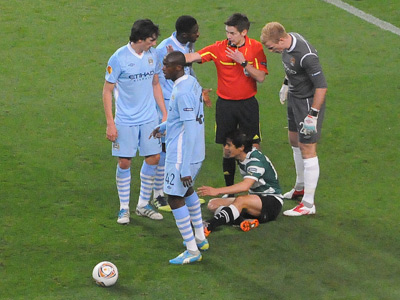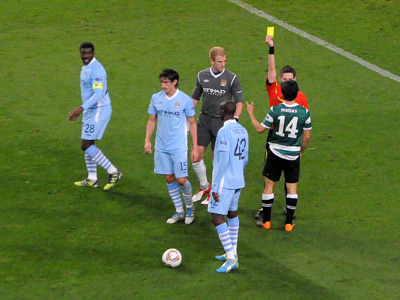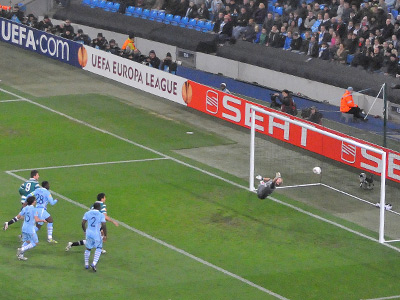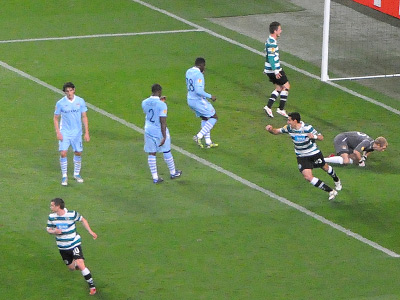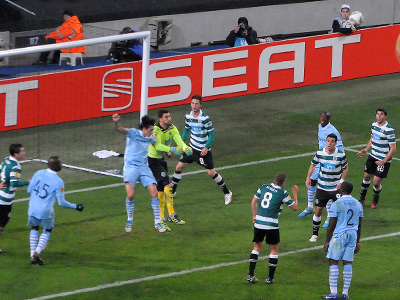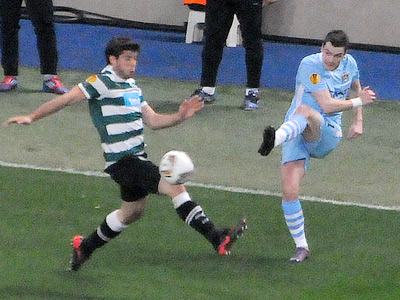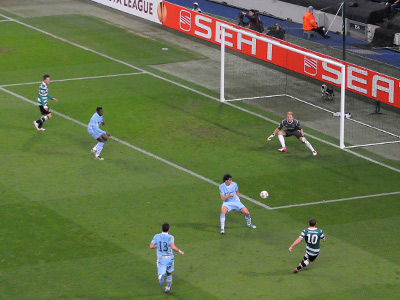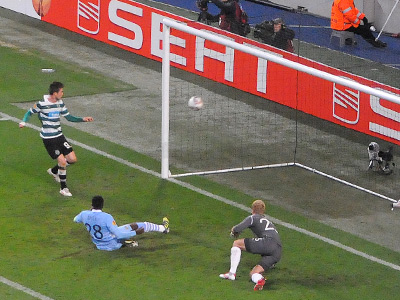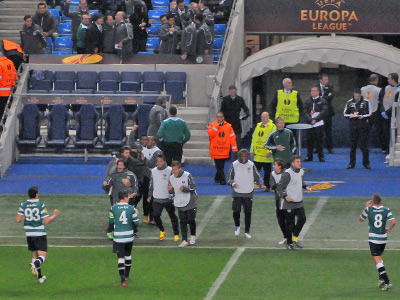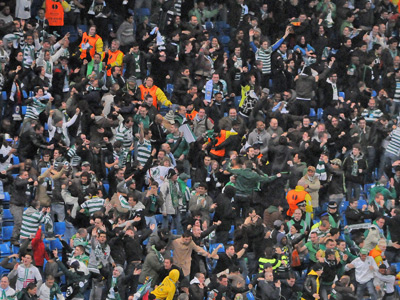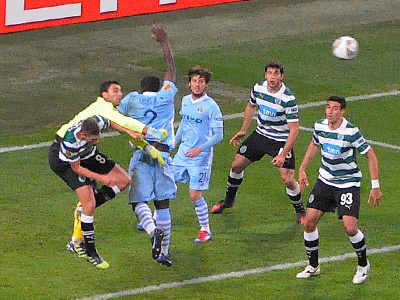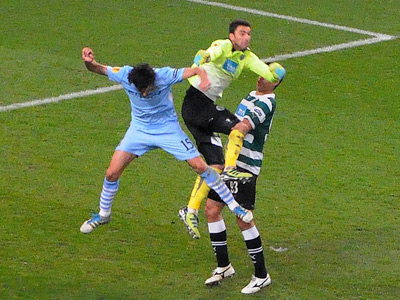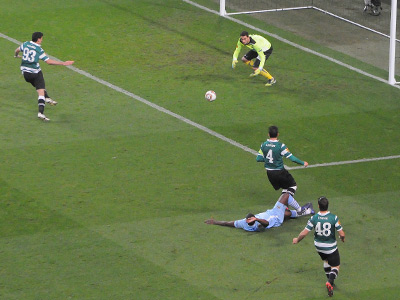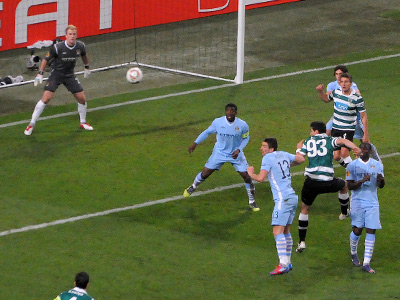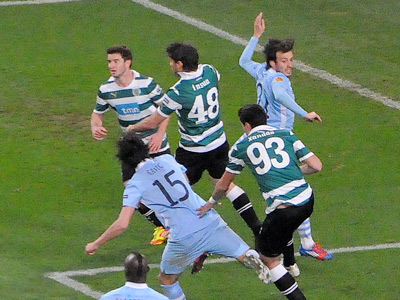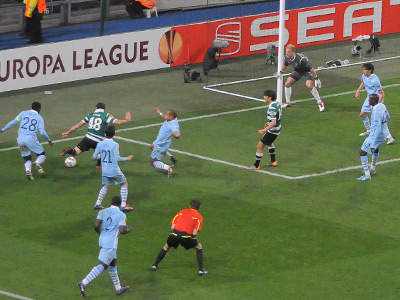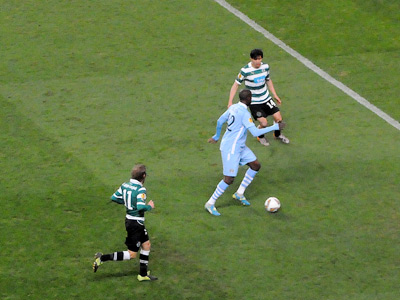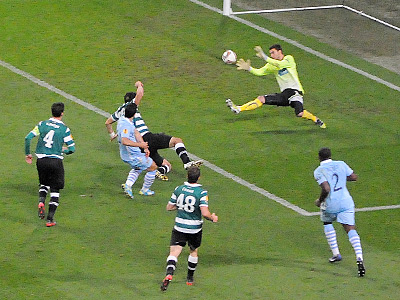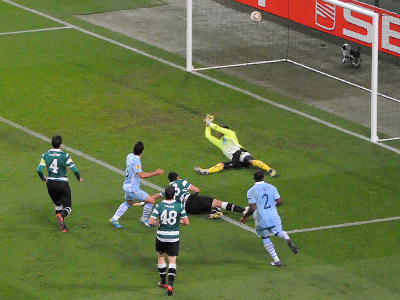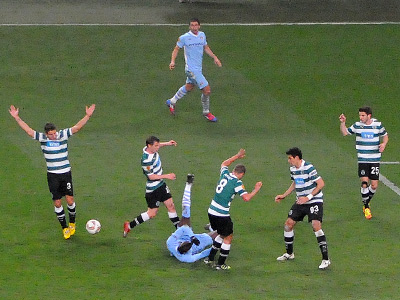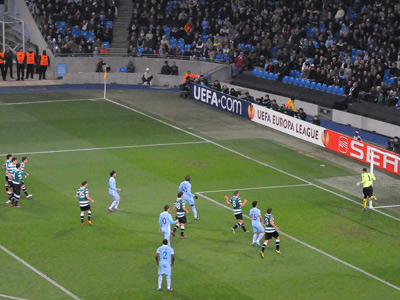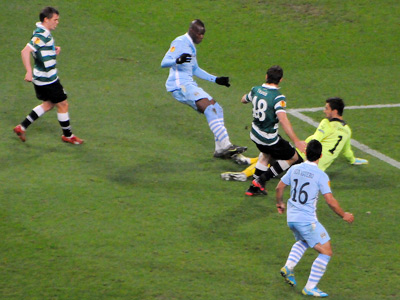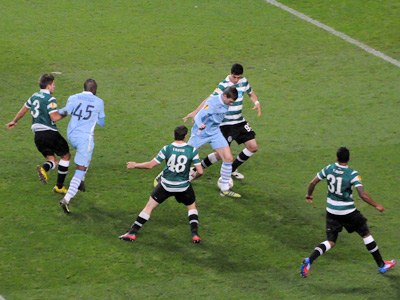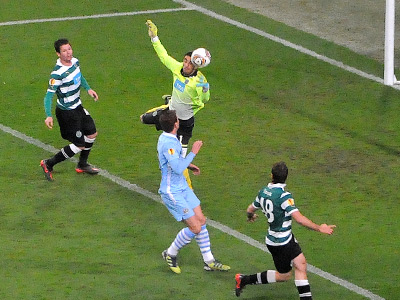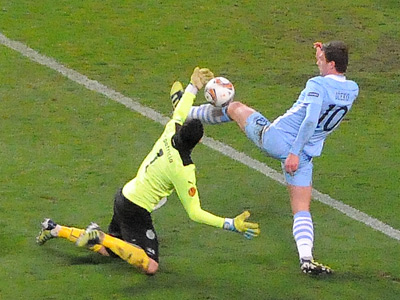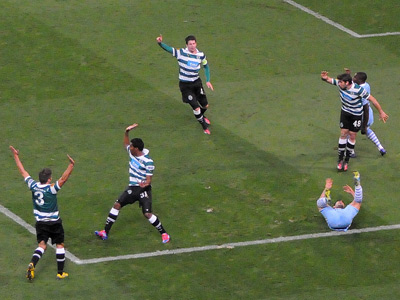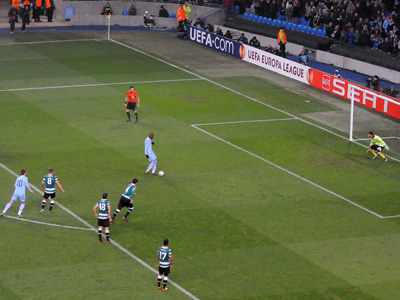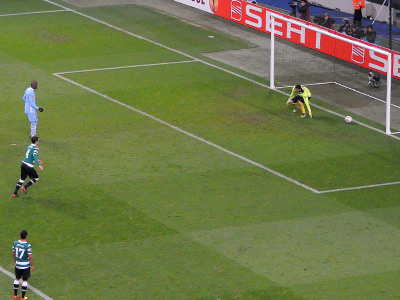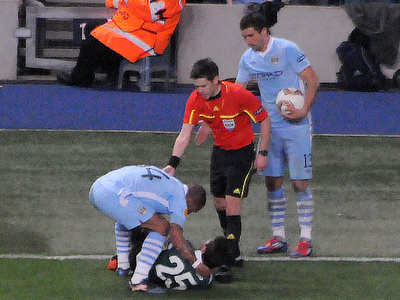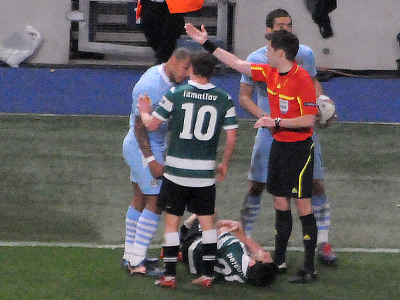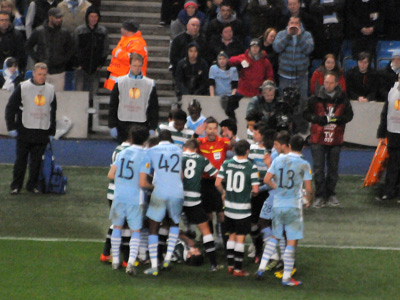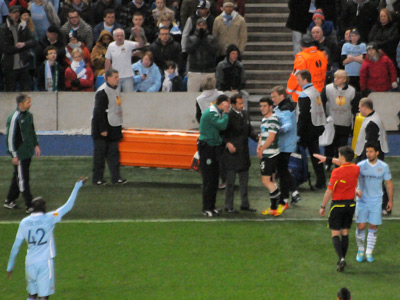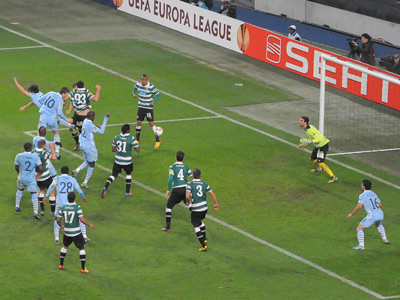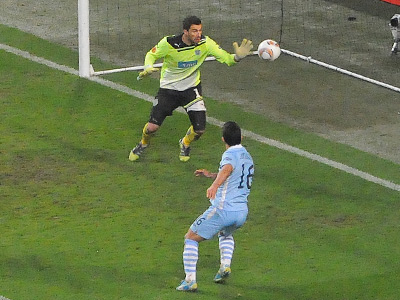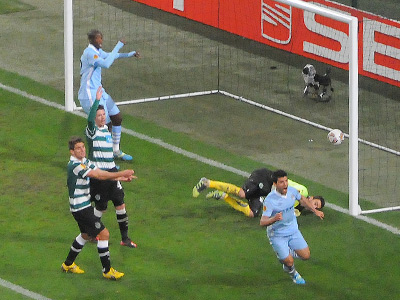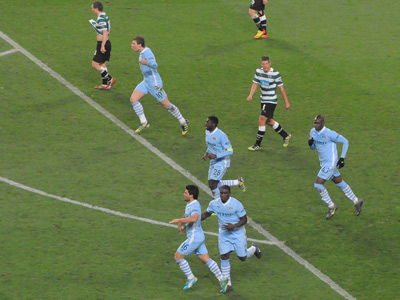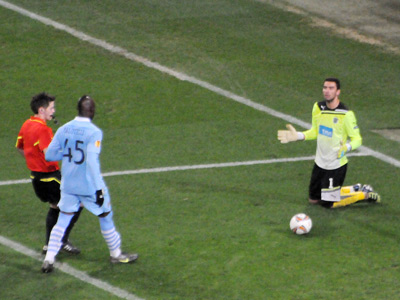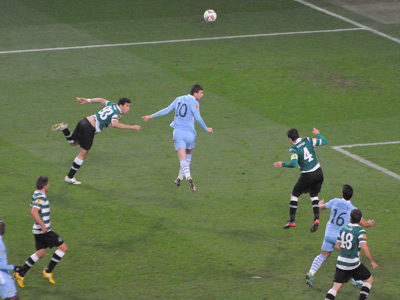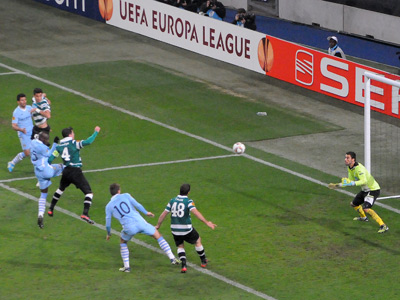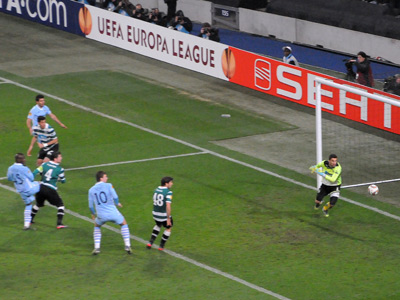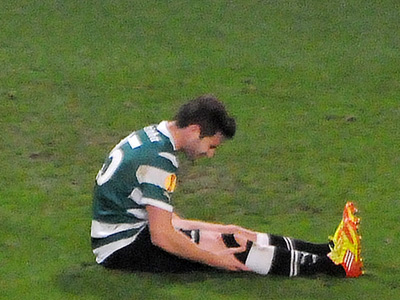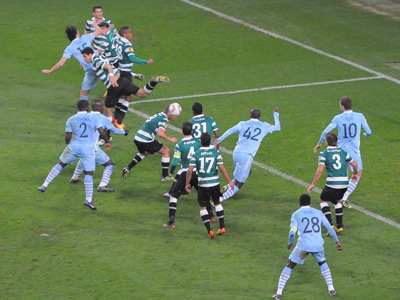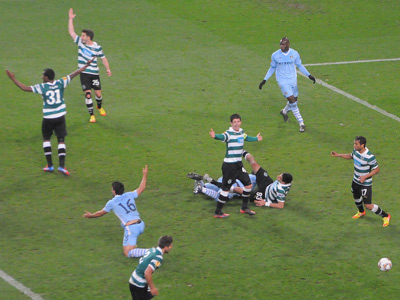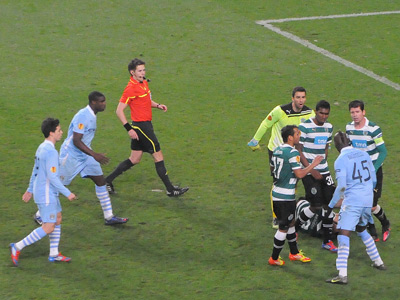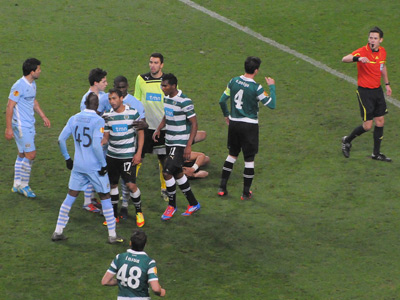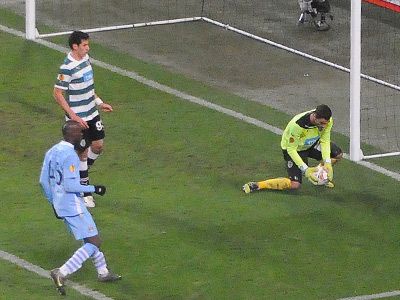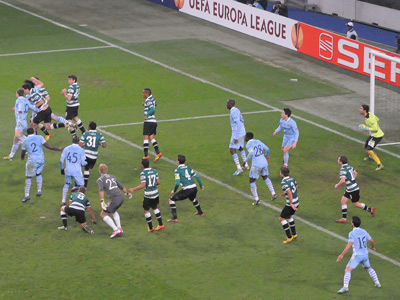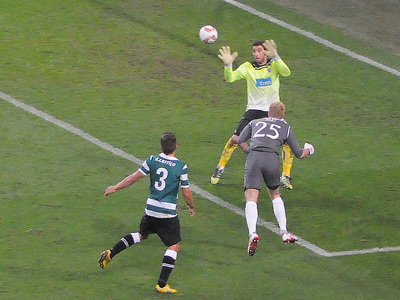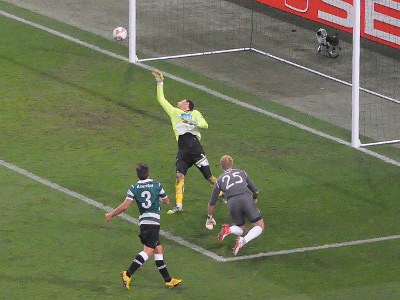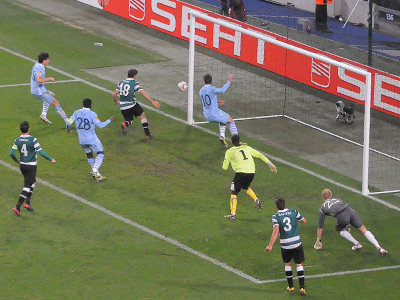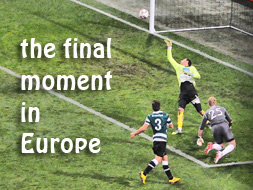 Still no Kompany and Lescott in City's defence but both Aguero and Balotelli were up front supported by Silva and Johnson
The visiting supporters were letting off steam in more ways than one early on
The police and stewards had their hands full and several visitors made an early exit from the game
There were early indications that Sporting had not just come to protect their goal lead
On 16 minutes Balotelli had a chance but his first touch was poor and nothing came of it
Sporting players were soon falling to the ground at every opportunity
Savic goes up with the keeper at a corner
On 25 minutes Fernandez took a dive and got a yellow card for his effort!
However he got his revenge after 32 minutes when he scored direct from a free kick given away by Balotelli outside the area. They had scored a vital away goal!
five minutes before the interval disaster struck. Kolarov let in Izmailov who had the easy job of crossing for the unmarked Wolfswinkel to score from close range. No chance of getting through now - surely
The Sporting bench and supporters were delighted to say the least
City tried to put pressure on the Sporting defence an won some corners but at half time City were town down and three down on aggregate
After 48 minutes Richards broke through but his shot lacked power and the keeper made an easy save
At the other end Hart watches a header go wide
Sporting clear a City corner
Insua almost breaks through down the left wing
On 60 minutes City struck back. Yaya Toure passed to Aguero who......
...... shot past the keeper to score a well taken goal and City were back in the game. There was no time for celebrations as the players dashed back
There was a big show of Sporting hands and arms as Balotelli was brought down but the free kick went well wide
Balotelli clashes with the keeper
Dzeko - on for Pizarro tries to burst through
Dzeko has a close encounter with Patricio
On 75 minutes Aguero was brought down just inside the penalty area by Neto
Balotelli took the penalty and scored with consummate ease to make the score two all.
Sporting were now trying to waste time and when Pereininha pretended to be shot by a sniper near the touch line Nigel De Jong tried to help him as the referee called for CSI Eastlands!
The City players came over -obviously to help - and Yaya Toure gave a friendly wave as he went off with the trainer but wonder upon wonder he came back on moments later. What miracles the magic sponge can perform
On 81 minutes following a Kolarov corner the ball ran to the unmarked Aguero who hooked it past the keeper.....
.... to give City the lead and there was no time for celebrations
Just after a header by Dzeko the visiting keeper suddenly cried help . Was it the invisible sniper at work again ? No just wasting time
A late effort by Balotelli just goes wide
As full time neared we had another defender wasting time as City piled on the pressure
This incident in added time ended with Balotelli getting a yellow card for some reason
In the 5 extra minutes Aguero went on a good run but his effort from a narrow angle was saved
In the very final seconds of time added City won a corner and the ball came to Joe Hart whose header.....
.... was just finger tipped by the keeper and the ball went just wide ending City's run in the Europa Cup
Team
Hart 6.5: Richards 7.5, Kolo Toure 6.5, Savic 6.5, Kolarov 6.5: Pizarro 6 ( Dzeko 7) Johnson 6.5 (De Jong 7) Silva 7 ( Nasri) Yaya Toure 7.5, Aguero 8, Balotelli 7