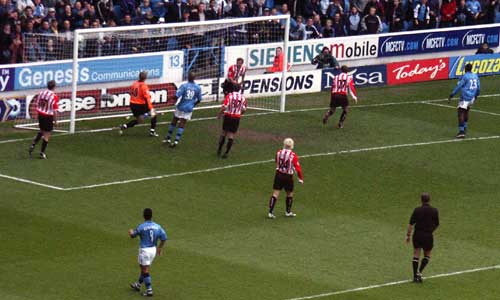 City have had a reputation over the years for having the very best goalkeepers - From Frank Swift , Bert Trautmann, Harry Dowd, Joe Corrigan and Peter Schmeichel. Now for next season we have 39 year old David Seaman from Arsenal . The decision to have Schmeichel for last season worked well with the veteran Danish keeper proving he was well worth his place. Apart from the odd blunder - which keeper doesn't make them - his reputation is second to none and I am sure he will acquit himself well infront of the improving City defence. His experience , like Schmeichels, will be invaluable to both the first team and young keepers .
The second signing of note is of Michael Tarnat who is coming on a one year contract from Bayern Munchen. He is a left-sided midfielder with a reputation for scoring from free-kicks. He was born in Oct 1969 and was a regular player with Bayern since 1997 until he was replaced by Lizarazu. He has played for Germany and scored against Yugoslavia in 1998. He has also scored against Arsenal and Rangers in European games over the last few years. His goal against Arsenal was past Manninger not Seaman.
All we need now is a young creative midfielder to take over from Berkovic and Benarbia. Watch this space.
The great news that we have qualified for Europe next season will add more interest for the younger supporters who will be pouring over their atlas's looking for some remote country in Eastern Europe!
Congratulations to Shawn Goater for his MBE for services to soccer and children in Bermuda. A well deserved award.
Tragic news tonight with the death of Marc Vivien Foe during a game between Cameroon and Columbia in the semi-final of the Confederation Cup. Apparently he suffered a heart attack during the game and was stretched off and the medical staff were unable to save him. He was only 28 years old. Quite tragic really as he had enjoyed his loan stint at Maine Road last season and there was a good chance he would have been playing for City at the new stadium in a few months. Alas that will never be now.
It now appears that he was ill before the game and perhaps never should have played but the full truth will not be known until after the inquest . The dangers of playing under extreme heat should never be ignored but I am afraid commercial interests always appear to have first priority. I remember myself collapsing with heat stroke whilst coaching in Thailand many years ago. I was out for 24 hours!
City supporters will not forget Marc Vivien Foe who gave his best for City in his short stay. I understand the number 23 shirt will not be used again by the club. I hope too they will organise a game - perhaps against Cameroon or West Ham in the New Stadium to give financial help to Foe's family.
He scored the very last goal at Maine Road - against Sunderland - see below
Eventually City got their third when Belamdi who had replaced Dunne just before half time crossed from the left and the unmarked Foe was once more there to side foot home. Three nil and a comfortable win against Sunderland, Foe scoring two.
After a lull in transfer news it would appear that City have had a successful bid for Trevor Sinclair accepted by West ham United . Just over 30 years old, Sinclair played 177 times for West Ham and 10 times for England scoring 35 goals for the London club since his debut in 1998. Previously he played 167 times for QPR scoring 16 goals from aug 1993 to Jan 1998. His first club was Blackpool for whom he played 112 times scoring 13 from 1990 to 93. An attacking midfielder he appears to be a good replacement for the sadly missed Foe.
Another possible move involves the captain of Feyenoord Paul Bosvelt. He is a 33 year old defender and Dutch International. We wait with baited breathe!
With our breathe well and truly bated it looks as though Bosvelt will be playing for City next season and not Rangers which I understand was his first choice. He has a tough reputation and should strengthen the defence which gave away far too many goals last season.

Went to have a look at the new Stadium last Sunday and came away quite impressed with the 'compact' feel of the ground. When filled it should definitely create a good atmosphere with good sound. Any time will tell with only a week or so to go before the Barca match. In the third level we are higher than we were before at Maine Road and I think our view is not as good as it was at Maine Road being further away from the pitch and at a higher level.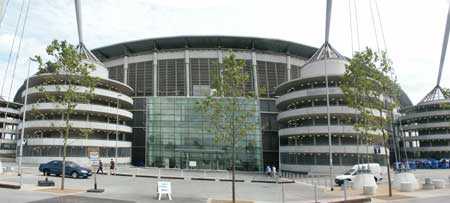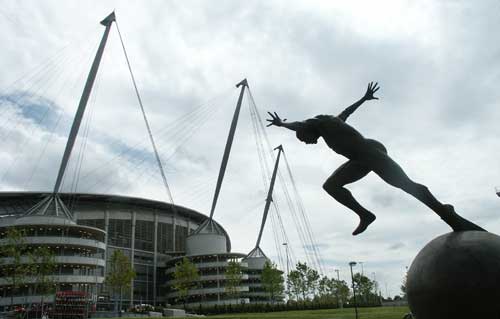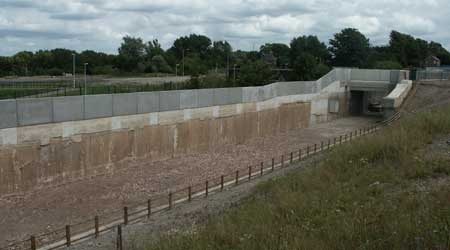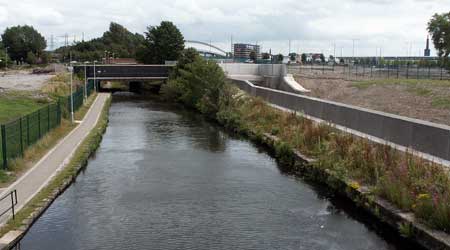 The area around the ground is also in need of cleaning up before the season and none of the stewards had any information on the car parking situation as far as cost and availability was concerned. There are several large areas near to 'Wembley Way' -the wide path from the existing car park towards the City Store- that could be made into car parks. Perhaps this wide path should be called - the Maine Road!
This looks as though it is probably the future tram station but surprisingly it is going to be several years before a tram link will be available. Ideally this should have been sorted before the Commonwealth Games.
I wonder how many referees and visiting supporters will end up in here!
A view from the English Sports Squash Centre.
With the City squad pretty well sorted now for the coming season its time to speculate on the managers first choice for the first game at Charlton and we also have to consider what sort of formation he will put out. Here is my attempt.
Seaman : back three :- Sommeil, Distin (capt) Tarnat: 5 in midfield :- Wright-Phillips, Boswelt, Berkovic, Barton, Sinclair: two upfront :- Annelka, Fowler.
Rest of first team squad - from Wanchope and Macken - Tiatto, Sun ,Dunne and Mettomo . For the reserve keeper it is interesting to note that neither Nash nor Weaver have figured in any of the friendlies. It could be that injuries may play a part in this fact though it is likely Kevin Keegan is grooming the young Dane Ellegaard to follow Seaman. There is still Horlock and Bischoff to consider and with Goater likely to move to Reading and Vuoso having disappeared down Mexican way that leaves Huckerby and Shuker waiting for an opportunity. Negouai too may get a chance but it will be farewell at the Barcelona game to Ali Benarbia who has been brilliant for us over the last few seasons. He probably was not at his best last season but deserves our thanks for his magical efforts.
If City decide to play four at the back then Sun or Dunne may come under consideration unless Bosvelt joins the back four. It was good to see Wanchope back from the injury scare to score the winner in the friendly against Feyeenord and the late equaliser against Lincoln. The Berkovic saga lingers on with the Israeli midfielder asking to be put on the transfer list. What a pity this episode could not have been sorted out without loss of face on either side. It would appear that Berkovic was asking a lot for an extension when there was still two years left on his existing contract. A time to ask would be during the season with him playing well and regularly and City winning! He would then have had a better hand to play! With the loss of Benarbia to Qatar and the possible absence of Berkovic, the creative element in the City team will severely depleted. I understand Boswelt has a fair amount of creative play in his repertoire but as he is suspended for the first two league games another signing is not impossible. Now I also understand our old friend Kinkladze is available on a free transfer . I wonder whether he could be used in small doses! His work rate was never of the highest but his ability to open up opposing defences is beyond argument. If the win against Latics is anything to go by then Keegan has decided on a 442 formation. The good form of Jihai Sun in the right back position is probably one factor. It does mean a fight for midfield places and the first goal of pre-season for Fowler with the continuing form of Annelka and Wanchope augers well. Roll on the Barcelona game when the opposition will be much stiffer.
Well, the signing of Antoine Sibierski from Lens is excellent news. The 29 year old French midfielder ( born 5th August 1974) will add both creativity and goal scoring to the squad. He scored 12 goals last season for Lens F. C. including three penalties in 37 games. His previous clubs were Lille, Auxerre and Nantes with a career total of 65 goals in 278 matches. He was part of the Nantes French Cup winning side in 1999 and 2000 and has played in the UEFA Cup for Nantes scoring 4 goals. He has had very few cautions and was captain of Lens so the fee of £700,000 is good business for Manchester City.
This now gives the manager the option of playing 3-5-2 with Sun dropping out and Sibierski coming into midfield behind the two strikers unless he keeps Barton on the bench and keep to 4-4-2. He may decide to vary the selection and formation depending on whether City are at home or away.

Rochdale v City 0-4
August 4th att 5,500
City put out a strong team for this friendly at Spotland. Having been to most football league grounds it was my first visit to this picturesque ground and I bet it was to several of the City players. Danny Tiatto took the place of the missing Sinclair and it was my first look at the newcomers. The early stages saw City put pressure on the Rochdale defence but were unable to get a clear chance at goal- above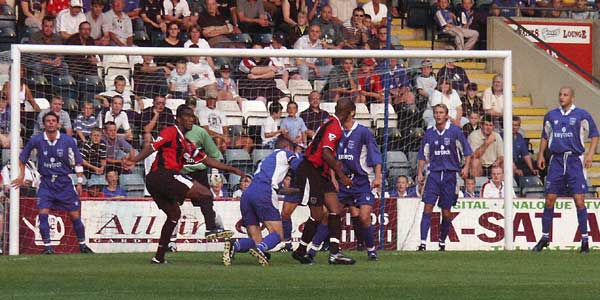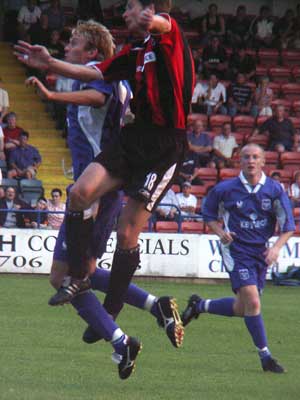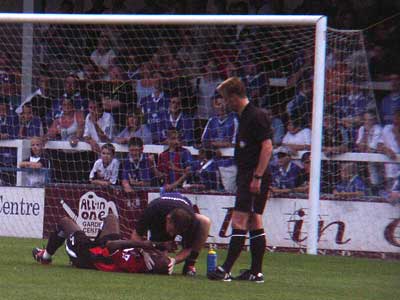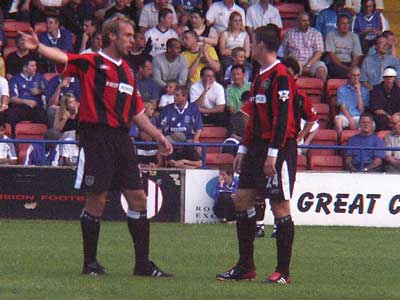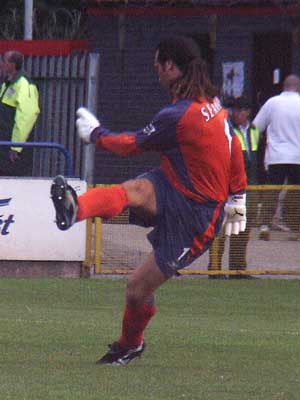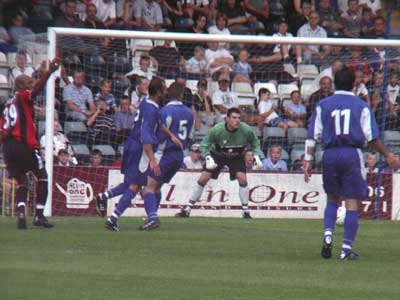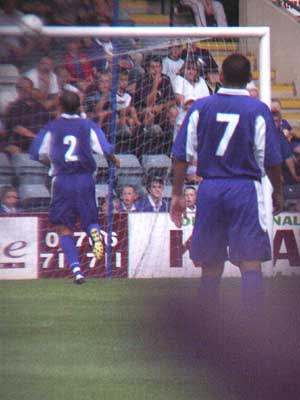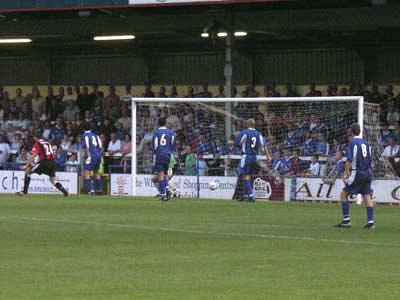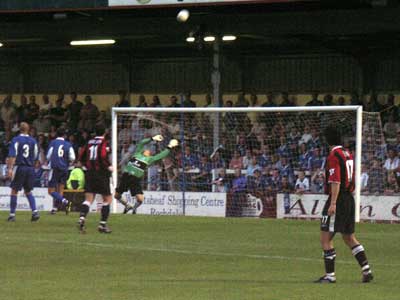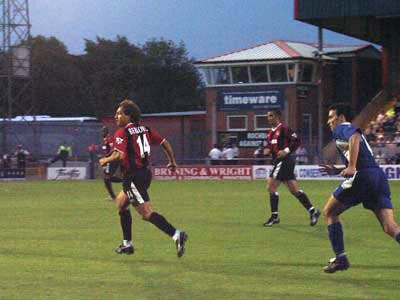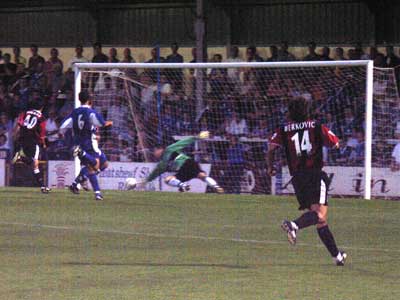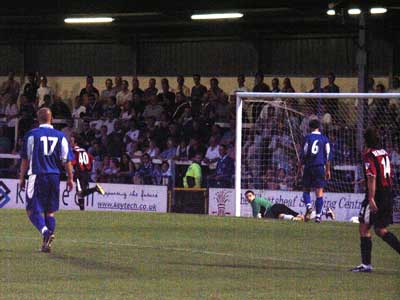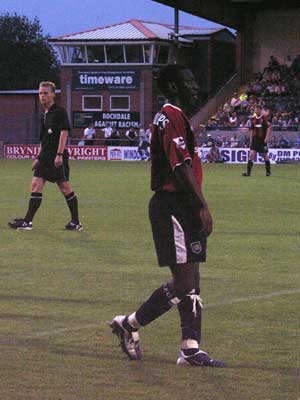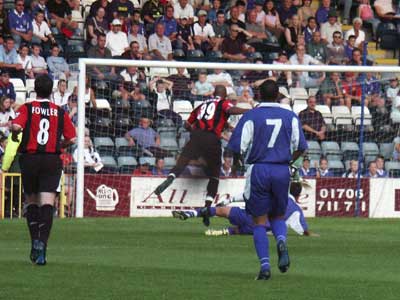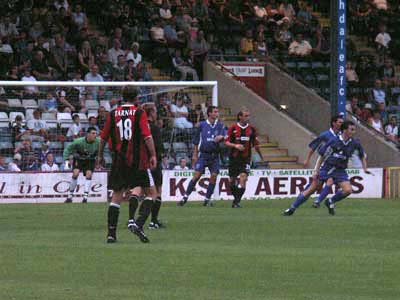 Two newcomers to the City side. On the left Mike Tarnat who made a very good impression clears the ball.
It was really unusual to see David Seaman in goal for City - right.
He didn't have much to do all game. Only one save later in the game.
Sommeil gets some treatment following dangerous play by a Rochdale player.
Paul Bosvelt our new Dutch midfielder gives young Joey Barton a few tips.
Annelka spurns an early chance watched by Fowler.
Two of City's new signings Tarnat and Bosvelt watch the Rochdale defence clear
Moments after the ball was cleared -above from one attack Bosvelt found Wright Phillips who brilliantly lobbed the keeper -the ball just about to enter the net- right
Annelka scores the second City goal 5 minutes later following another good pass from Bosvelt- above
There was the usual change of players at half time and it was substitute Kevin Horlock who cracked in City's third - above. Wiekens passed to Sun whose cross was headed back into the box by Tarnat and there was Horlock to finish it off. A well worked goal.
A few minutes and Wright Phillips almost scored. Fowler beat several defenders in a dribble and the ball eventually ran to Wright Phillips whose shot was brilliantly saved by Gilks.
Berkovic -above - had a warmer welcome by the City following than at the Oldham game. I think we still need him despite the signing of Sibieski who was at the game but didn't play.
The tiny Chris Shuker (no. 40) who replaced Fowler after 60 minutes accepted a pass from Macken (replaced Annelka at half time) to seal City's win with a fourth goal. Shuker has a tremendous turn of speed and is full of enthusiasm.
Man -of- the- match - possibly Shawn Wright Phillips who improves all the time. He is now starting to score goals and is a workaholic in midfield. Perhaps at times his final pass needs more accuracy.
So what about the new players - Seaman - we know about and his experience will be a godsend.
Tarnat looks very good. His control,l passing and general linkup play gave the impression he had been playing in the side for years!
Bosvelt passed well and there was one excellent example of his defensive qualities with a terrific block tackle.
I don't often get the chance to watch a game from ground level and it gives one a completely different feel of the game. One can really appreciate accurate passing and control.
Keegan now has a stronger squad than last season so the team is likely to be
home
Seaman
Sun, Sommeil, Distin, Tarnat
Wright Phillips, Bosvelt, Sipierski,Sinclair
Fowler, Annelka
away- similar with perhaps Barton coming in for Fowler
bench - Barton, Wanchope, Berkovic(if he stays), Tiatto, Nash
There is also the option of playing just three at the back if required.
Roll on Charlton away.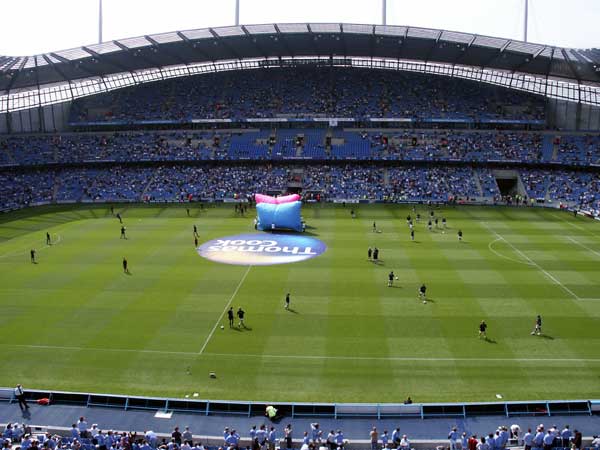 Pre-season notes and games
Latest News Spot

Aug 28th- Now I learn the Mettomo move is back on - pity. Anyway latest addition to the City team is likely to be Claudio Reyna, the USA captain . Born in New Jersey he moved from Rangers to Sunderland a year or so ago. However he only played 10 games last season for Sunderland before he was injured so a lot will depend on him passing the medical. 30 years old he is not known as a goalscorer and does not accumulate many yellows. Could KK be thinking of giving Sipierski a more permanent roll behind a lone Annelka up front and using Reyna as right back. Interesting!
City reserves finished off TNS 2-0 (7-0 on aggregate). Roll on the draw for the next round.
Aug 29th City have been drawn against Belgium club Lokeren in the next round of the EUFA Cup. City will be at home on Sept 25th and away on Oct 16th. Lokeren is a small town between Antwerp and Gent and their ground holds about 14,500. City have completed the transfer of Reyna from Sunderland and providing he passes a medical tomorrow Steve McManaman will be joining the City midfield from Real Madrid on a free transfer. Just in time!. ..and perhaps another attacker - from West Ham I wonder. KK has been a busy bee! Doubt whether he will play against Arsenal.
Sept 1st Barton and Wright-Phillips in England U21 Squad. Sinclair in senior squad.
City and Barcelona players warm up before the opening game at 'The Blue Camp'
There were positive signs at the start of the season that a top 6 place was not out of the question. Good away wins at Blackburn and Charlton and comfortable home wins against Villa and Bolton gave lots of hope.There was the odd blip against v Arsenal at home and Wolves away but by mid October we were in fourth position. Difficult to believe now. So what happened to send the team into freefall and to give us the relegation jitters in the final few weeks. The general home form was poor and although on several occasions the opposition were played off the park the inability to score was most frustrating. So who or what was to blame. Probably a combination of things.....
1. The lack of atmosphere at the new stadium. It will take time for both the team and supporters to get used to their new home which is much more sterile than the homely Maine Road.
2. The difficulty of getting anyone to link well with Anelka upfront proved a problem. In goals per game it did not make much difference whether it was Fowler or Wanchope who partnered Anelka upfront. Fowlers initial form was poor but he did improve as the season progressed and then fell away in the last month or so. However I am afraid he is but a shadow of the goalscoring legend he was at Liverpool. I am afraid time has caught up with him and that goalbox speed of thought and action has been lost. Wanchope had bad luck with his injury problems but came back with vengeance at the end of the season and his linking with Anelka looked very promising. Perhaps this might be the pairing of choice at the start of next season. Anelka himself proved a bit of an enigma. Easily City's highest scorer with a total of 24 league and cup goals he missed many more but so do many strikers. In the last few games ,the Middlesbrough game aside, he really worked quite hard and although his manner always gives the impression he does not enjoy the game, his pace and skill is beyond reproach and he was after all the highest of the City players in the Opta ratings for the season scoring with 17% of his shots (12% previous season) and successfully completing 72% of his passes. Macken filled in well on the few occasions he was given a chance and although he always gave 100% I don't think he is a Premier League first choice striker.
3. As I expected the loss of a Benarbia (retired) and Berkovic as providers proved a heavy burden to bare. Sibierski who was bought to take over did not play regularly until the new year and he did not appear to have the same guile and football nouse as the two B's. The transfer of Berkovic to Portsmouth left a bad taste in the mouth. The Israeli's demand for new extended contract did not go down well but I feel the whole episode could have been handled far better when matters came to a head despite the tempestuous character of Berkovic.
4. The signings of McManaman and Sinclair did not have the effect hoped for. Like Fowler both were mere shadows of their former selves and were disappointing in the extreme. Premiership defences are generally pretty good and if teams come to defend then it does take a lot of creative play to make chances for the strikers. If you don't have the players capable to do that then you have to work pretty hard and long in midfield to wear the opposition down and that can be a problem with too many players waiting for their soccer bus passes!
5. There were some positives from the season. The signing of David James following the retirement of David Seaman certainly strengthened the defence and the presence of England's number One gave more confidence to the back four. There are likely to be more changes in defence. Michael Tarnat has been released as have Tiatto and Weikens so we are short of a left sided player unless It is Keegans intention to sign Van Buyten who looked good in his few loan games before injury and move Distin to left back leaving Dunne as Van Buyten's partner. Jihai Sun had a mixed season. His link up attacking play with Wright-Phillips was adventurous but his defensive marking was often at fault.
6. With the stadium filled to nearly 98% of its capacity despite the poor form of City the average attendance was 46,834 - well up on the last season at Maine Road (plus 35%) and third in the Premiership after PLC and Newcastle United. The support for City never wavered last season despite some poor home displays. Lets hope the players respond next season with more consistency in front of a very patient City crowd.
Keepers


Seaman 6 - Nice idea to sign him to replace Peter S but he was just past his best and a few errors cost City dear.
James 8 - One of Keegans better signings. His form reached the high level of City keeper traditions
Ellegard 5 - Some way to go yet. Only played a few games when Seaman was injured


Defenders


Sommeil 6 - Went in exchange for van Buyten. Adequate but not outstanding. Prone to make mistakes.
Jihai Sun 6 - A mixed bag. For a fullback his tackling and positional play often left much to be desired but going forward linked well with SWP and a few of his adventures in opposing areas brought goals.
Dunne 6.5 - Had the odd blinder and the occasional bad game but overall a better season
Distin 6 - The ever present skipper did his best but it was just not good enough on many occasions. From the sidelines did not appear to be forceful enough as captain. Not a Pearce - but few are.
Tarnat 6.5 - Played quite a lot and scored some spectacular goals but his lack of pace let him down. His trusty left foot passes went astray too often in the latter part of the season and he has really reached his sell-by-date. Pity as he looked to be a good signing at the start.


Midfield


Bosvelt 7 - A strong defensive player with the ability to pass well but not all that fast and age is catching up with him.
Berkovic 6 - Never got a run in the side before his departure to Portsmouth under a cloud. A happy inform Berkovic would have made a difference.
Barton 6.5 - Full marks for effort but his passing went adrift too often and his poor on field discipline needs curtailing.
Reyna 6 - Another player who has not reached the heights expected. Did not really inspire .
Wright-Phillips 8 - Full marks for effort and he rarely disappointed. Ability to put teams under pressure with his runs at goal. He scored some real crackers in his 11 goals in 41 matches. Still needs to improve his crosses.
McManaman 5 - A real disappointment. Probably spent too much time on the Real bench. Forgot what it was like actually playing. No goals in 26 games.
Sinclair 5 - A disappointing season with only two goals in 28 games. Did not play regularly in the latter
stage



Sibierski 7 - Was brought in to replace Ben and Berk but only chosen regularly after Christmas. Should be scoring more with his experience. 7 goals in 23 games

Strikers
Anelka 8 - Easily City's most gifted player with 24 goals but difficult to play with. 24 in 42 matches
Wanchope 7.5 - His season was spoilt by injury. Finished strongly and will probably be a first choice next season to partner Anelka. Scored 6 in 13
Fowler 6 - Just when he was looking like he was coming into some kind of form he fell away again. 10 in 33 games
Macken 6 - Ignored for the first half of the season scored some important goals. 4 in 9 games
Not included are Tiatto and Arason who played just a few games