Sept 2003
City v Arsenal 1-2 August 31st
att. 46,436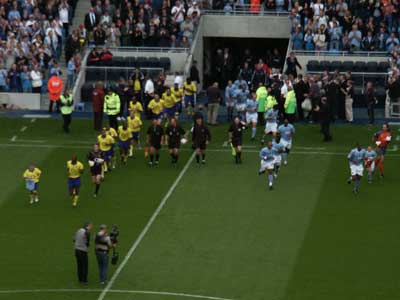 When the teams came out for this clash with Arsenal all the horrible memories of the past few seasons came flooding back.
Could we get to twenty minutes without conceding a goal I wondered! I noticed that the scoreboard failed to start the 45 minutes countdown so was that a premonition of things to come. KK had picked a team with only striker - Annelka OK for away games perhaps but how would it work at home. Fowler was fit and on the bench but Macken (injured) and Wanchope (away in Costa Rica) were absent. A packed COMS saw the City defence contain the early Arsenal pressure and to the delight of the City crowd a gift goal gave City the lead. A long ball from Distin in defence was being covered by Lauren with Sinclair in hot pursuit. As Lauren approached his own goal, bustled by Sinclair, he belted the ball past his own keeper. Keep it up Lauren!- below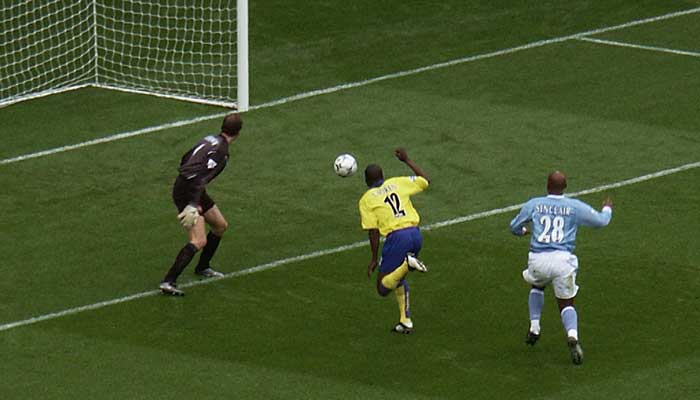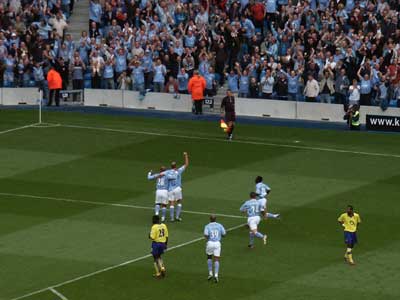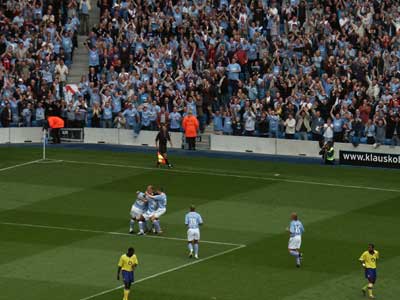 The celebrations began in the blue section of the ground - two pictures! Well we don't take the lead against Arsenal very often.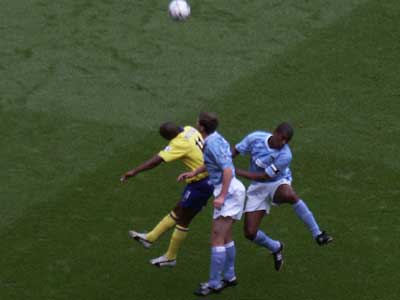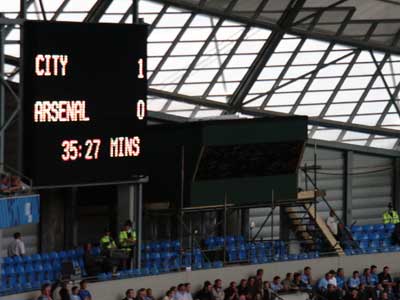 Tarnat, Distin and Wiltord take to the air. City easily took the honours in the first half with the Arsenal attack well held for the most part by the City defence.
Eventually after a few hiccups the scoreboard came to life. A new structure in the stadium was the 'TV centre'. I wonder why a proper media centre ( and video screen) was not designed from day 1 in this ' state of the art' stadium. Surely the designers must have known the requirement. Perhaps a question to raise at the next shareholders meeting.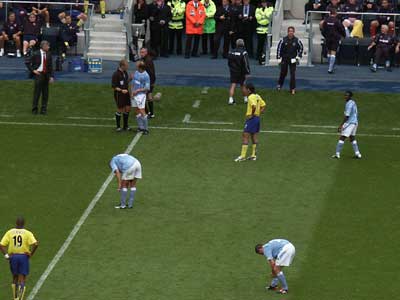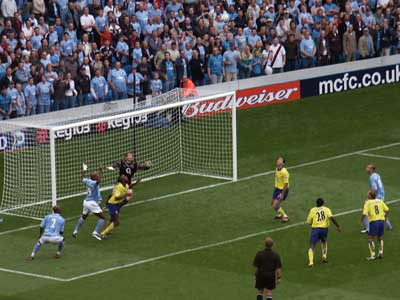 Referee Graham Poll who controlled a difficult game well talked to a number of players before showing the yellow cards. Above Bosvelt is given a quiet word while KK walks back to the dugout and Arsene Wenger looks on.
All eyes on the ball following a City corner.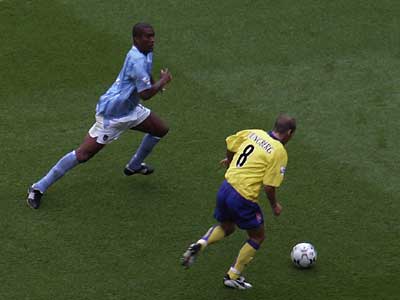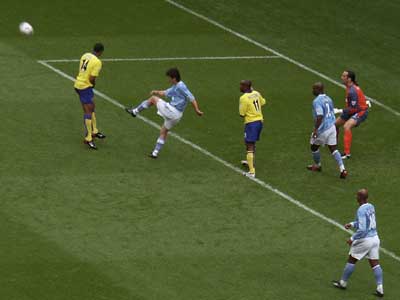 Skipper Distin in action against Freddie Ljungberg.
Jihai Sun who was having a good game clears an Arsenal attack
Talk about a game of two halves! No doubt the Arsenal manager gave his troops a good talking too at half time as they started to play with more purpose and the City bliss did not last for long. The miracle was not to be despite the PA call for a Reverent during the game! Three minutes into the second half and Shawn Wright-Phillips tried a really stupid trick in his own half and gave the ball away. This was followed by appalling covering and non existent tackling before Wiltord slotted the ball home past a rather slow to react Seaman to make it 1-1. When will Wright -Phillips learn the percentages! Tricks are great in their penalty area. He was not entirely to blame however. KK must have been fuming. A golden lead was thrown away.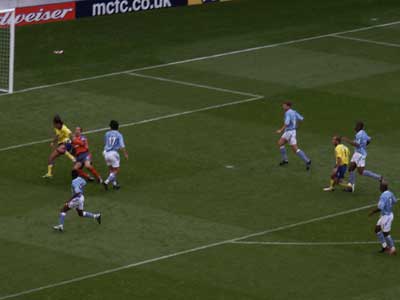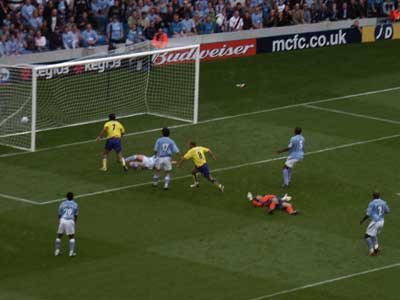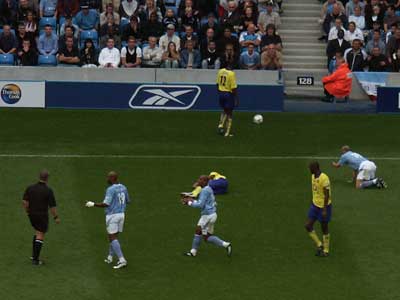 We all wondered how long it would take for Tiatto to get booked. Not long - 7 minutes to be exact - a really poor tackle. A total lack of control.
Worse was to come. No sooner had Tiatto replaced Sibierski with twenty minutes to go than the Australian gave the ball away in his own half. Criminal! Arsenal were away again and then there was a lack of communication between Sun and Seaman and Freddie Ljungberg nipped in to score. 2-1 down. On came Berkovic and Fowler for Wright Phillips and Bosvelt but it was all too late.
It could have been three for Arsenal late on when Henry broke through but Sun saved on the line. A giveaway pass by Barton this time.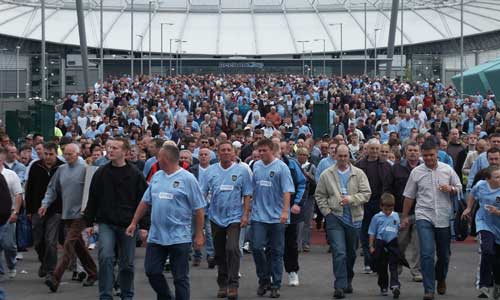 Not many smiles as the City faithful left the Stadium down COM Way. City ruled the first half but Arsenal had the last laugh with City gifting the visitors with two defensive errors. Seaman had less difficult saves to make than their keeper who kept them in the game in the second half. Several City players looked knackered late on. Particularly Tarnat who could hardly kick the ball. It was a fast game and City supporters should not be too disheartened. Remember these Arsenal players have been together for several seasons and their passing and understanding showed it. It will take time for the new City players to settle and there was a lot to admire in their play in the first half. However in the Premiership mistakes are pounced upon and limited chances must be taken.
Team : Seaman 6: Sun 7, Sommeil 6, Distin 7, Tarnat 6.5: Wright-Phillips 6 (Berkovic 6), Bosvelt 7 (Fowler 5), Barton 6.5, Sinclair 7, Sibierski 6 (Tiatto 5), Annelka 7:


City v Aston Villa 4-1 Sept 14th
att. 46,687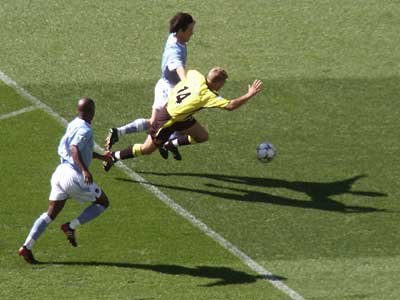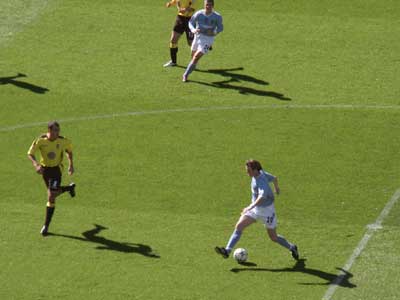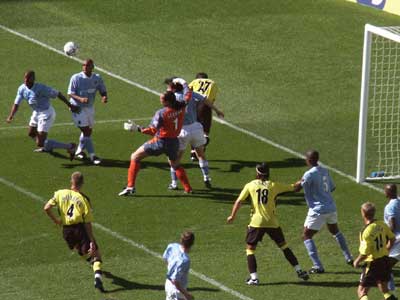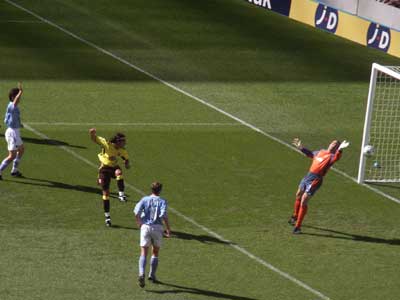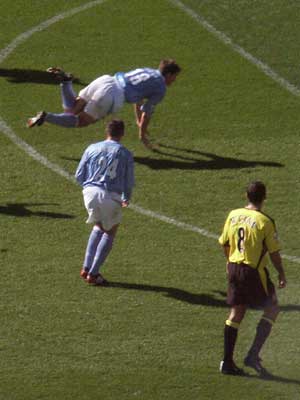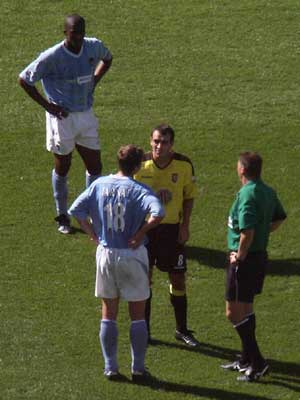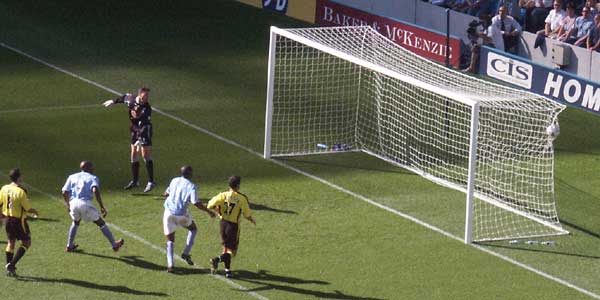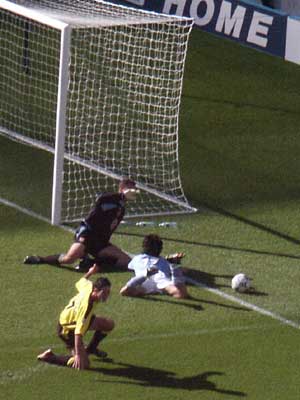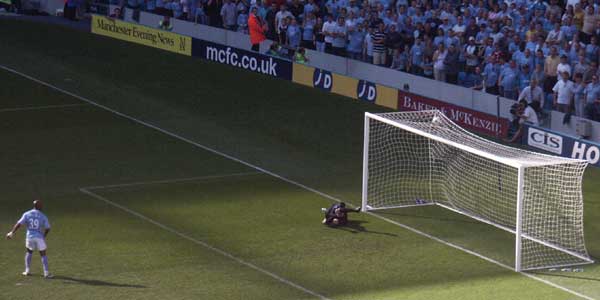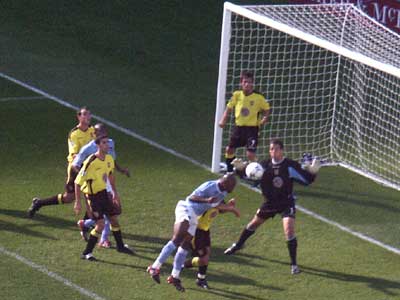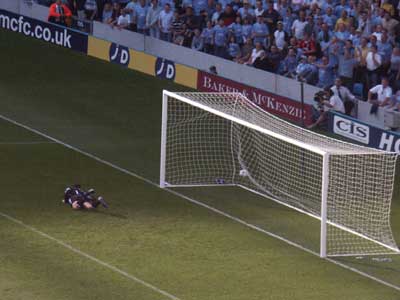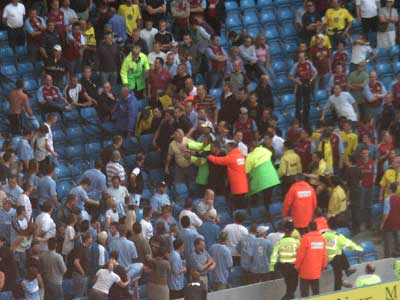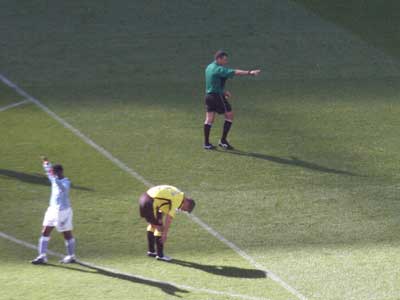 I know it is an old cliché but this was definitely a game of two halves! In the first half City could do little right - misplaced passes poor marking to mention just a couple of points. Villa looked the better side and their two strikers were causing the usually reliable Sommeil and Distin plenty of concern. City did have the odd attack but Sorensen was rarely troubled. The second half was a different matter and within minutes of the restart City were two one up. A penalty and a free kick left Villa in disarray and City went on to win 4-1. Last season we hardly won a penalty all season. Today we won two! Annelka scored a hat-trick and McManaman made an impressive debut . It was difficult to believe he had not played with his colleagues before. City moved into third place just below the PLC down the road.
Marcus Allback gets the close attention of Sun and Sommeil.
The excellent debut of Steve McManaman
After the recent experiences with crosses the City defence managed to keep the Villa attack at bay at this corner
After just over the half hour Villa took the lead. A long cross from Lee Hendrie found Angel suspiciously offside and alas completely unmarked. He easily headed past Seaman.
On the left Michael Tarnat tries some unusual gymnastics in defence.
This time Tarnat indulges in a heart to heart with Gavin McCann- no doubt discussing weapons of mass destruction - with referee Halsey listening in.
---
Just after half time McManaman attacked down the left and Delaney handled in the area. There was a pause before the referee gave a penalty and Annelka drove the ball to Sorensen's left to equalise.
A minute or so later City won a free kick on the left well outside the area. Tarnat who had scored that wonder goal at Blackburn earlier in the season again took the kick and smashed it past Sorensen into the top right hand corner of the goal - right
With just over 20 minutes to go and with City well on top playing really good possession football attacked down the right with right-Phillips and Jihai Sun. Their interchange ended with Sun being upended in the box - left. This time referee Halsey immediately pointed to the spot - above
This time Annelka smashed it to Sorensen's right to make it 3-1 for City and the home side were well in control. Shortly after Sibierski replaced Barton then Reyna made his debut taking over from Wanchope who had had his first start for many a month. Fowler remained on the bench!
City continued to attack and Sorensen was kept really busy while Seaman had a quiet second half.
After 83 minutes to go Annelka got his third with a solo effort and kicked the ball high into the stand to the supporters. No doubt the kitman will forgive him!
Villa supporters started to leave well before the end no doubt a little peeved with their teams second half display!
Some trouble started with police and stewards there to keep the peace. It looked like handbags at 6 feet!
It had been a good open game controlled with a great deal of common sense by referee Halsey. He talked to players instead of showing yellow cards willy nilly!
4-1 and in the end an excellent display by City. The setup now looks very promising with a healthy squad and a top 6 place in May a distinct prospect. A good run in Europe is certainly a possibility and we should get past Lockeren in the next round.
Team
Seaman 6: Sun 7: Sommeil 6, Distin 6, Tarnat 7: Wright-Philips 7 ,Barton 6 ( Sibierski 7), Sinclair 6, McManaman 8, Annelka 8, Wanchope 7 ( Reyna 6):
---
Fulham v City 2-2 Sept 20th
att. 16,124
This was my first venture away with City for many years and my very first visit to Loftus Road , the temporary home of Fulham. The journey down by coach from Eastlands was uneventful with an early arrival at the compact stadium. I was one of the first in the Upper Stand and one was immediately aware of the compactness of the ground. The seats left little room for comfort and it was impossible to see the near goal line while seated. Now I really began to appreciate the seating at our new stadium! City had made one important change as Danny Tiatto took the place of Tarnat who was injured. Alas the P.A. system here is really poor so it was almost impossible to hear the names of the City subs so I had to wait until they came on!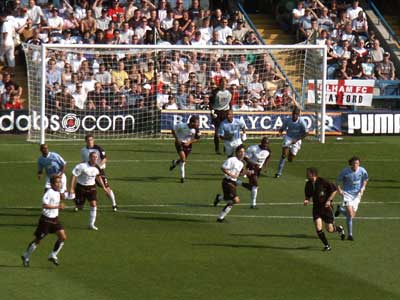 It was amusing to see Fulham chairman join in their teams warm-up. Mohammed Fayed soaked in the applause given by the home supporters to their benefactor.
Fulham clear an early City attack.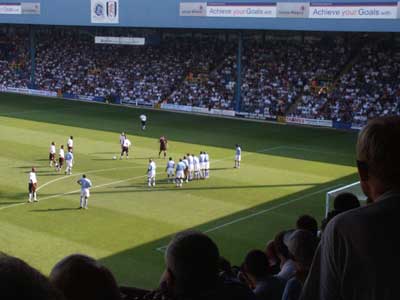 As you can see from this shot of a City wall being set up for a free kick it was difficult to see the goal at the visitors end.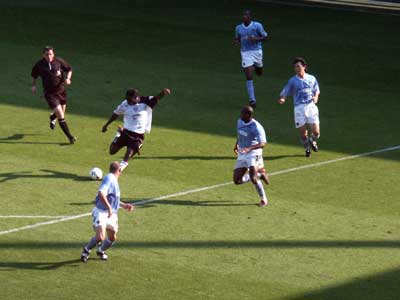 Louis Saha breaks through after an error by Distin, shoots at goal but direct at Seaman who saves.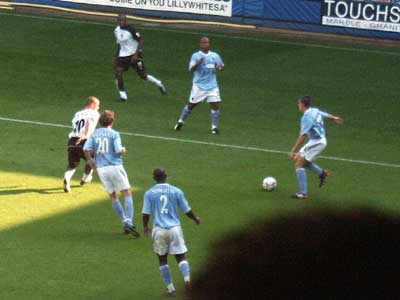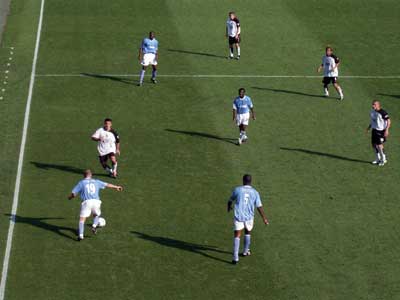 Joey Barton who continues to impress clears a Fulham attack.
Danny Tiatto attempts to clear down the line with Distin in support. I must admit City missed Tarnat's presence especially when City won a couple of free kicks in dangerous positions.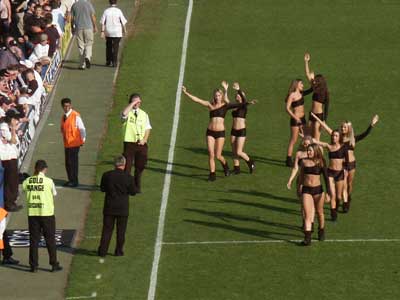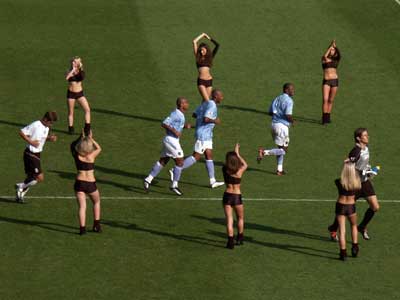 Well the half time ' entertainment' at Loftus Road was this group of girls who gyrated for the Fulham supporters at the far end. I wonder whether Moonchester would have joined in had he been there.
The players had an usual welcome back after half time. Not quite the Beswick Brass Band we used to have at Maine Road!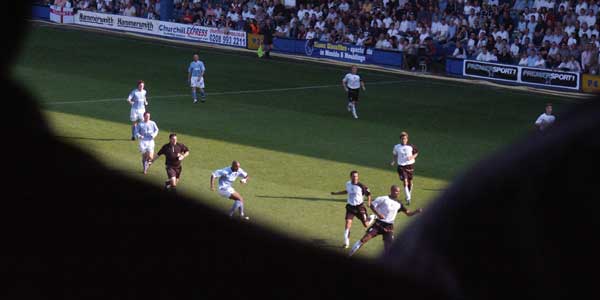 In the first 15 seconds of the second half Annelka won a loose ball just inside the Fulham half - beat a couple of defenders and his shot at goal - left -was deflected wide of Van der Sar by Knight. One nil to City . For his overzealous celebrations with the City supporters Annelka got a yellow card from referee Phil Dowd who had a poor game generally. Far too many yellow cards - very little common sense used.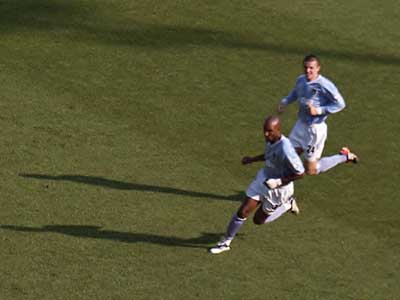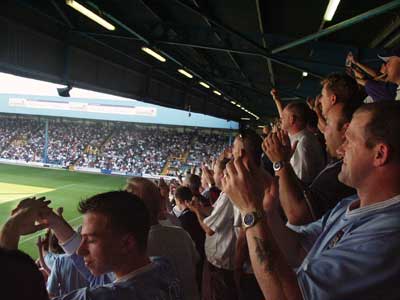 Joey Barton rushes over to congratulate Annelka
The 3000 visiting City faithful applaud the goal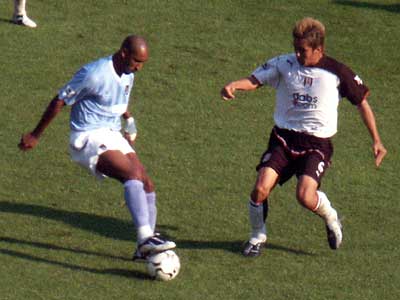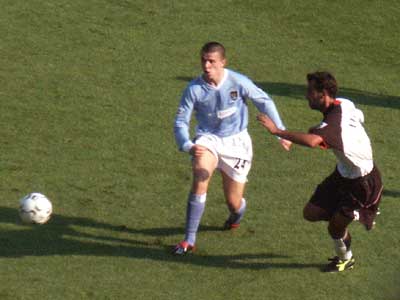 Nicholas Annelka takes on Junichi Inamoto
Joey Barton battles with Sylvain Legwinski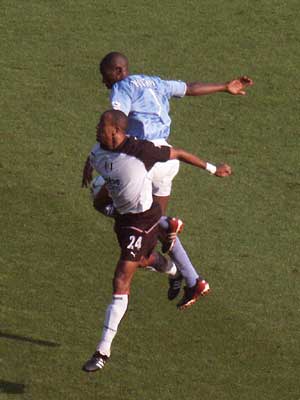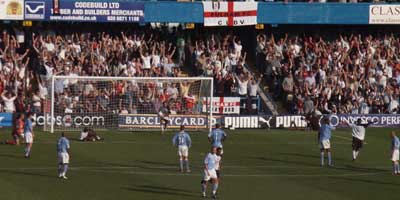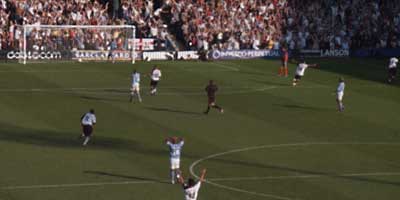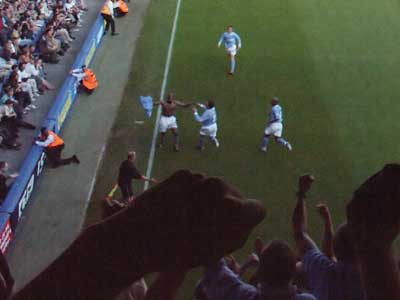 Paulo Wanchope in action - on the left in a heading duel with Goma: above taking on three defenders, Goma, Bonnissel and Knight. The forward partnership of Annelka and Wanchope certainly will give defences more to worry about than Fowler and Wanchope. However today the duo did not get the best of support from midfield. I still think Berkovic is City's most creative player and should be in contention.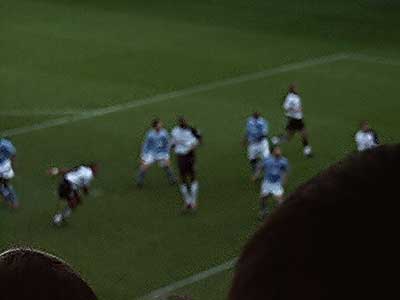 After 70 minutes Annelka was substituted by Sibierski . Presumably for an injury. Three minutes later the City defence fell apart and Fulham scored twice in 6 minutes . Both questioned the form of Seaman but he wasn't the only one at fault. The first was the result of a pass from Volz that caught the City defence napping and the second came as a result of a pass from Malbranque that saw Seaman slow to react.
There were just 30 seconds left of the three minutes extra time when Jihai Sun crossed the ball into the Fulham area. Up soared Paulo Wanchope above far left to head past the Fulham keeper to give City a deserved point. Phew that was close! Above right -Paulo celebrates his last gasp goal.
Just before, Bosvelt had hit the outside of the post with a magnificent volley. It had not been the best of City displays. Again there was the loss of concentration in defence to give away two goals and City failed to give the two attackers the support they needed. Fulham worked hard in midfield and deserved a point
---
Team
Seaman 5: Sun 6, Sommeil 5, Distin 5, Tiatto 6: Wright-Phillips 5, Barton 5, McManaman 6, Sinclair 5: Wanchope 6, Annelka 6: subs Sibierski 6, Bosvelt 6, Fowler 5:
City v Lokeren 3-2 Sept 24th
UEFA CUP att. 29,067
Despite City's lack lustre performance at the weekend against Fulham expectations were high for a few goals against a Belgium side in poor form after their third place last season. City rested several players and we saw the full debut of Claudio Reyna. Tarnat was still injured so Danny Tiatto continued at left back. Robbie Fowler came in for Wanchope who was rested. Barton, Wright-Phillips and Sinclair were also on the bench. Sibierski was preferred to Berkovic.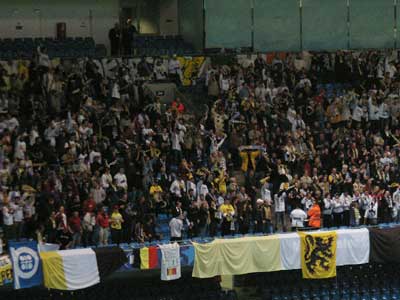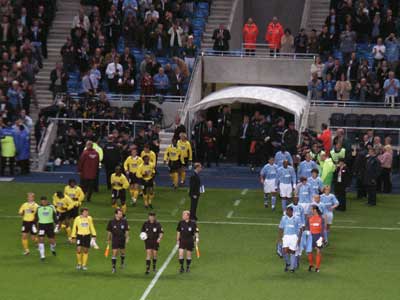 A thousand or so visiting supporters made themselves heard and their enthusiasm earned the applause of the home fan
s
The teams enter the arena for this first round proper tie in the UEFA Cup.

After just 8 minutes City took the lead. A great swerving free kick by Sibierski beat Dabanovic in the Lokeren goal after Annelka had been fouled. Just when I thought we were missing Tarnat's shooting ability!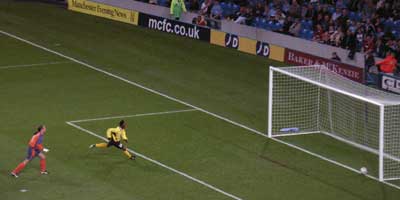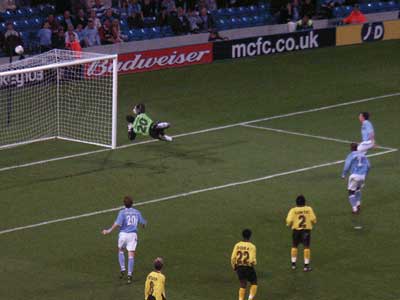 Six minutes later and City conceded a really stupid goal and I hate to say it but I am afraid David Seaman must take a lot of the blame. A long high ball was left by Jihai Sun and as Seaman dithered Zoundi kept on running and clipped it past the City keeper to level the scores.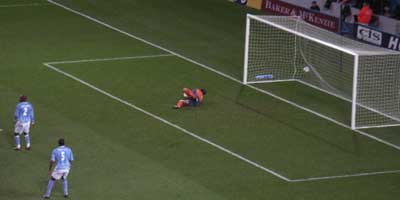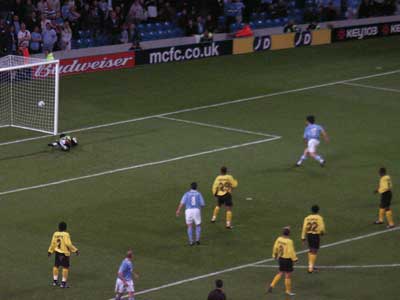 City had much of the play in the first half but with Lokeren defending in depth City rarely made easy chances. Reyna was making a good debut. City failed to raise the speed and creativity of their attacks and left the field at half time to a chorus of boos.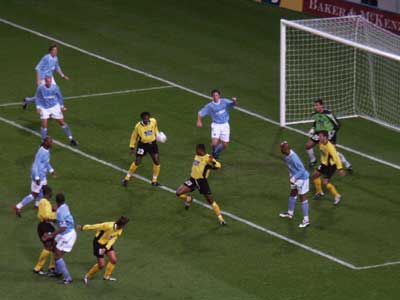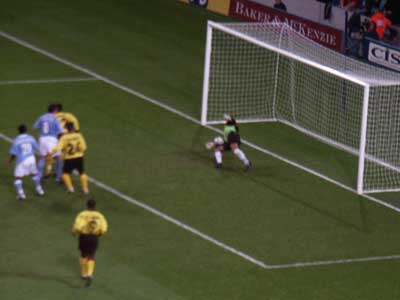 No changes at half time but early corners put pressure on the Lokeren goal. After 65 minutes City made some changes. Wright-Phillips came on for Bosvelt and immediately City improved. Dunne replaced the injured Tiatto after 70 minutes.
With just under 14 minutes to go Robbie Fowler who had not had the best of games flicked the ball in from close range - above following a cross from Sun.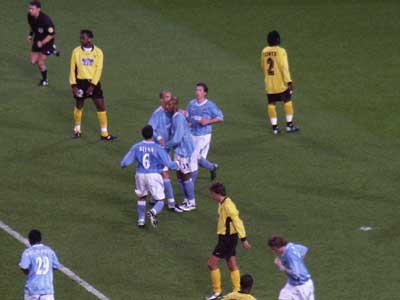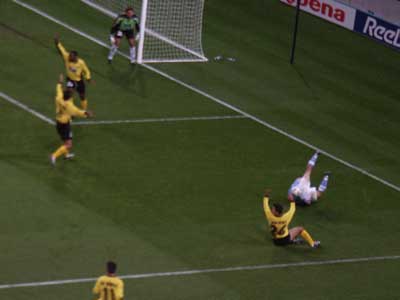 Annelka is congratulated by his colleagues after scoring the penalty - below.
Sun is upended in the box - a similar position to the Villa match - and a penalty is given.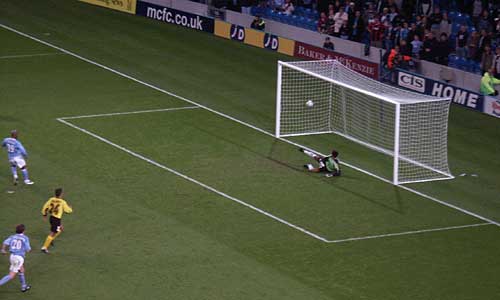 Annelka again scored from the spot to give City a welcome 3-2 win but the away two goals will give City problems in the second leg.
It was a typical City performance - they came on the field thinking they could go through the motions and barely raised a sweat in the first half. It was only when Wright -Phillips came on did the thought occur to them that their UEFA hopes might be lost at this early stage. Now it is going to be tough going in the away game.
It was also disappointing that the lack of a Berkovic to create the chances continues.


Five minutes before half time City fell behind when Distin missed a cross from Sory and Kristinsson swept it in past Seamans right hand. Two one for the visitors and the City Crowd were stunned-let alone the City bench!
Team
Seaman 5: Sun 6, Sommeil 6, Distin 6 Tiatto 6 ( Dunne 6): Boswelt 6 (Wright-Phillips 7 ), Sibierski 6, Reyna7 , McManaman 7 : Fowler 5, Annelka 6: