City v Spurs 0-0 Sept 28th
att. 46,842
I must admit I cannot ever remember seeing a goalless draw between these two teams. That it ended goalless is due to some wonderful goalkeeping by Kasey Keller and poor finishing as City played well and made many chances but alas failed to put any away. City welcomed back Tarnat to left back and Wanchope to the forward line. Bosvelt was preferred to Barton.
City have played a lot worse and won so it was a little disappointing to find Keller in such good form. It could have been 4 or 5 nil on the play. Wright-Phillips worked his socks off as did McManaman. The pairing of Wanchope and Annelka now shows more understanding . Shame about the finishing.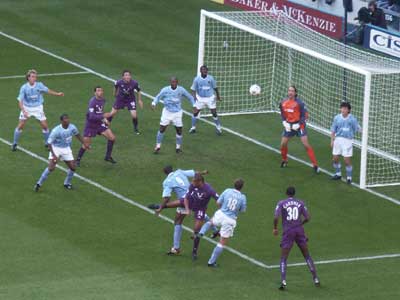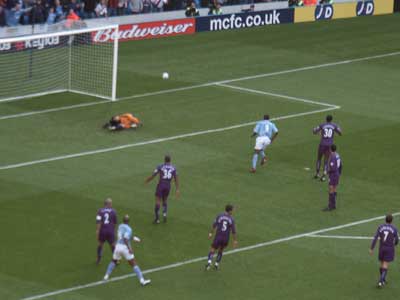 The City defence stood firm at this corner.
One of the many chances that came City's way. An Annelka shot just going wide.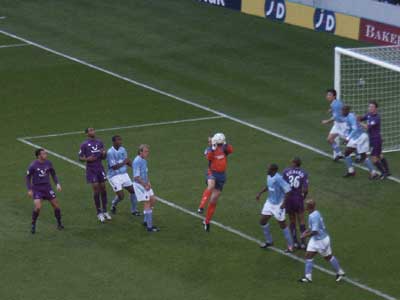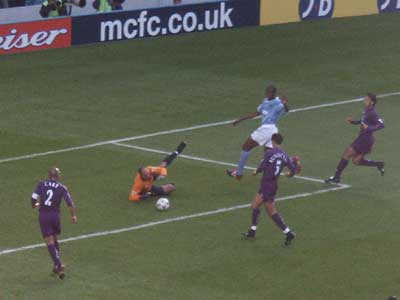 Just for the record - Seaman actually catching the ball! Sorry it was for the doubters!
Keller saves from Wanchope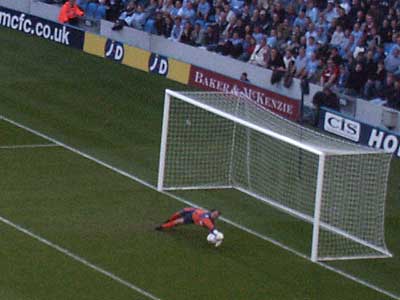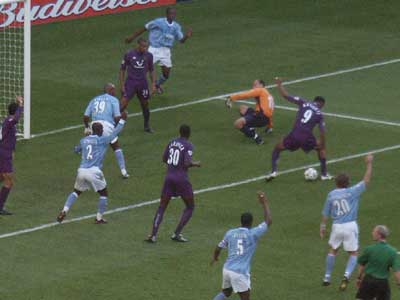 The Spurs defence again in a pickle - but City failed to take advantage.
Seamans best save to date from a free kick by Darren Anderton
.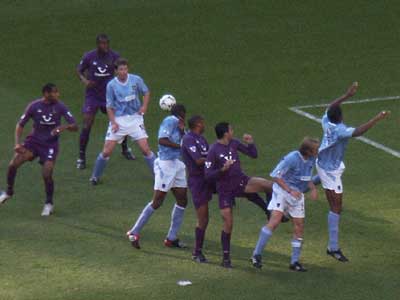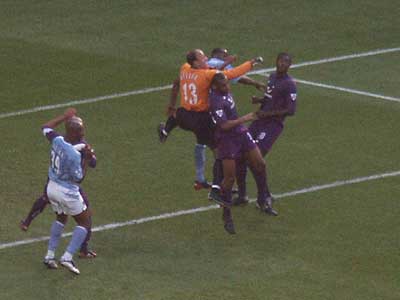 For a change the City defence in action. Sommeil and Distin did well against Keane and Kanoute
Keller in action yet again punching clear from Wanchope.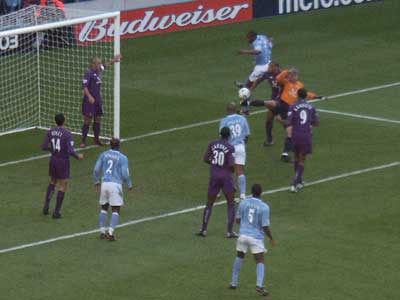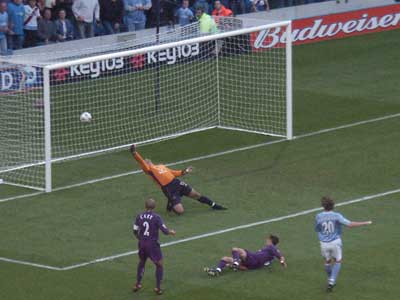 A wonder save by Keller from McManaman.
Another City attack ended with Carr saving on the line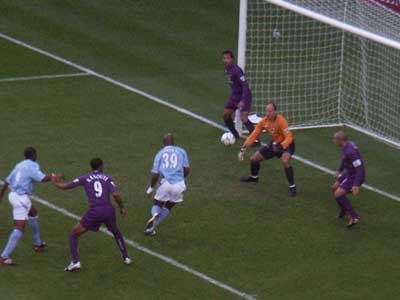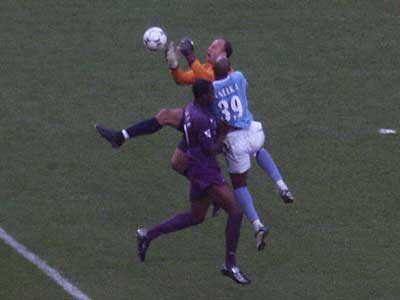 Annelka versus Keller again with the Spurs keeper the winner.
Keller again foils Annelka to give Spurs a valuable point.
Team
Seaman 7: Sun 6, Sommeil 7, Distin 7, Tarnat 6: Wright-Phillips 7, McManaman 7 (Reyna 6), Boswelt 6, Sinclair 6 ( Sibierski 6): Wanchope 6 (Fowler 5), Annelka 7:


City v Bolton 6-2 Oct 18th
att. 47,101
This game had everything - Goals - near misses- controversy - and a sending off . After the midweek win at Lokeren to give City a tie against a Polish side in the next round of the EUFA Cup I had expected a unchanged side. However Fowler returned for Wanchope and Barton came in for Sinclair. No place on the bench for Bosvelt , Sinclair and Berkovic. It would be a shame if Berkovic doesn't get another chance to show us what he is capable of.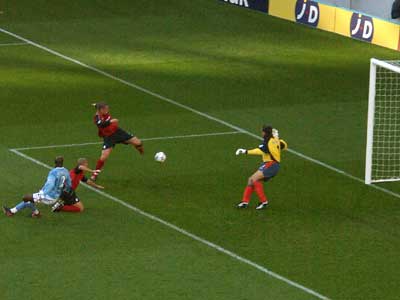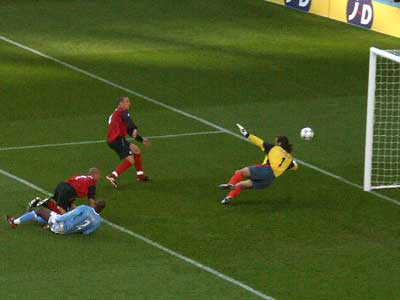 After 25 minutes Bolton took the lead through Nolan who looked suspiciously offside when he beat Seaman from close range -above. A long ball from N'Gotty found Stellios G and Nolan well clear of the City defence. No flag! Sommeil came rushing back and his toe poke put Nolan back onside. But was the original pass offside?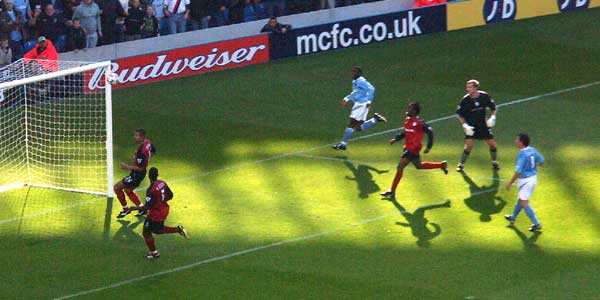 Stung by this reverse City immediately went on the attack and equalised a minute or so later. Barton found Wright-Phillips who scored from a narrow angle with a great first touch and shot from the edge of the six yard box.
Wright-Phillips in his enthusiasm whipped off his shirt and ran infront of the visiting fans. He was booked by Steve Bennett - I believe for ' over zealous celebrating ' rather than taking off his shirt which I understand has been taken off the 'yellow card list'.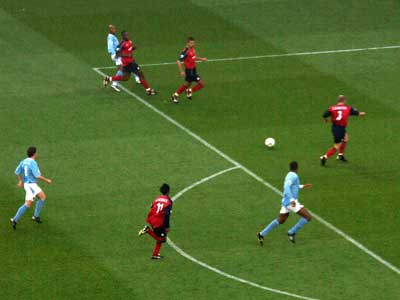 Shortly after half time City took the lead. Distin took the ball forward out of defence - slung a pass to Annelka who beat an opponent and returned the ball to the City skipper who had continued his run . Distin had caught the Bolton defence napping and scored easily to give City the lead. It was Distins first goal for City.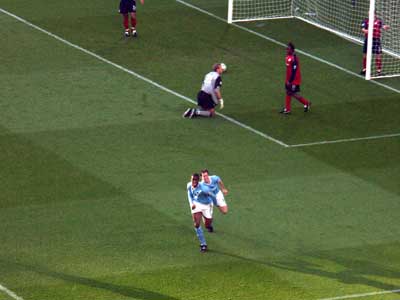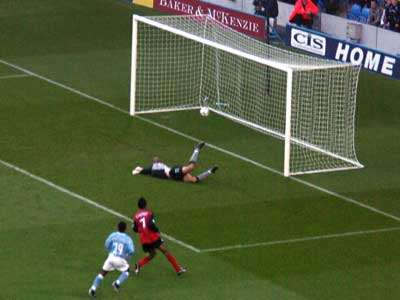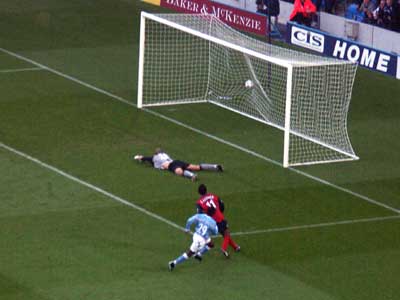 A few minutes later City went 3-1 up. Reyna gave a great pass inside the full back to Wright-Phillips who beat the Bolton keeper from inside the area.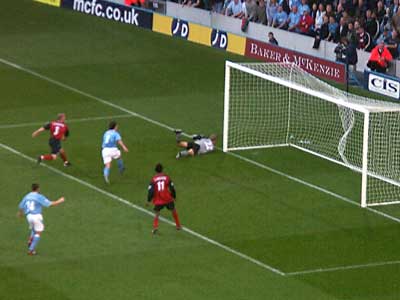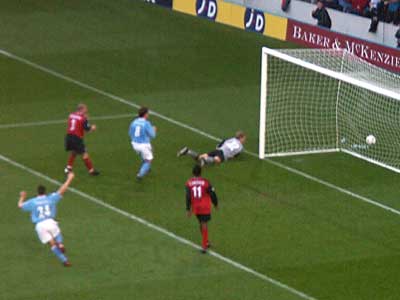 No sooner had Sibierski taken over from McManaman than City scored number 4. We had hardly sat down after celebrating the third when Sibierski sent Annelka through and his shot beat Jaaskalainen at the near post . A costly mistake by the Bolton keeper.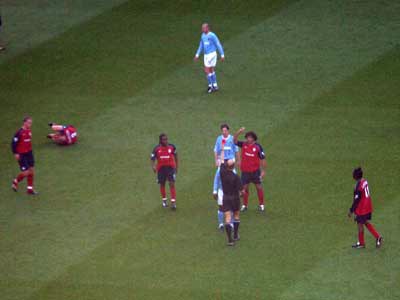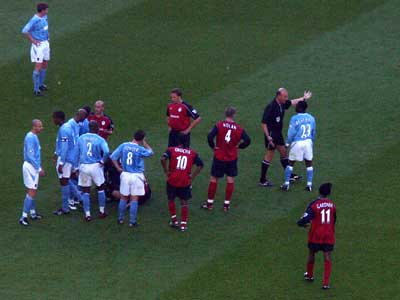 City suffered a big blow after 62 minutes when Shawn Wright-Phillips was sent off for an over enthusiastic challenge on Simon Chandler with his studs showing. He will be sorely missed when his 3 match suspension comes.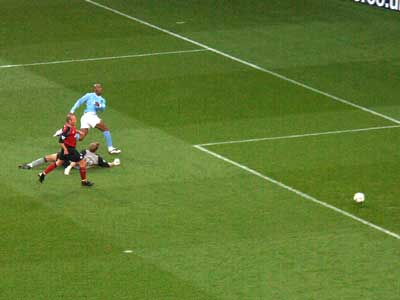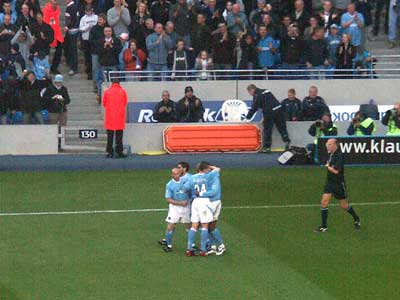 Team:
Seaman 6: Sun 7, Sommeil 6, Distin 7, Tarnat 6: Wright-Phillips 7, Barton 6 (Dunne 6), McManaman 6(Sibierski 7) Reyna 7: Fowler 5 (Tiatto 6), Annelka 8: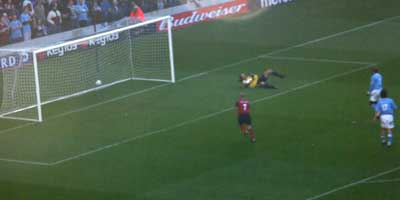 Four minutes later and Bolton pulled one back after Barton had lost the ball at the edge of the area. Campo who had missed an easy heading opportunity in the first half made amends by taking a back heel from Jardel and shooting past David Seaman. 4-2 to City.
Down to ten men Danny Tiatto came on for Robbie Fowler but if you thought City would just hold onto their lead you would be so wrong. At times it looked as though Bolton had only 9 as City attacked the distraught Bolton defence. After 72 minutes Annelka scored a brilliant goal. Tarnat started the move with an excellent interception and moments later Sibierski gave Annelka a 'Berkovic style' pass past the defender to allow Annelka to run onto the ball and slide it past Jaaskelainen for number five.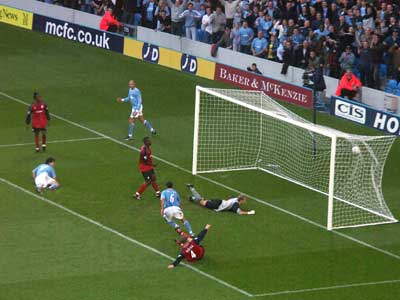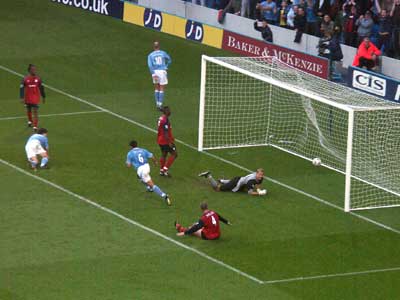 City's sixth goal was the culmination of a glorious move - started by Jihai Sun. He gave the ball to Reyna who passed to Annelka who held it for a moment and passed it back to the continuing running Reyna. He crossed it to Sibierski who whipped it across the six yard line and there was Reyna to score his first goal for City. 6-2 what a score line. I doubt whether anybody would have forecast such a result. Against Spurs City had many chances but failed to find the net. Today they scored from almost every chance! Funny game football!
It was the biggest attendance of the season and how the fans loved it- well the City ones anyway! City played with spirit and skill and if the result flattered them a bit it made up for the Spurs game.
---