May no2 - The Finale
City 5 Everton 1
May15th 2004 att.47,284
I have made this a one off special page with lots more pics than usual to celebrate the 5-1 win and the end of season. It is very difficult to fathom City. After my long haul last weekend to watch the pathetic effort against Middlesbrough who were far from wonderful, the same team then put in an excellent display against our visitors from Merseyside. But then that's the whole charm of being a Manchester City supporter. It comes with the territory.
As you may have noticed in the programme I shall be giving a talk in the early evening of June 11th - details from the Museum 0161 438 7821. Hope to see some of you there.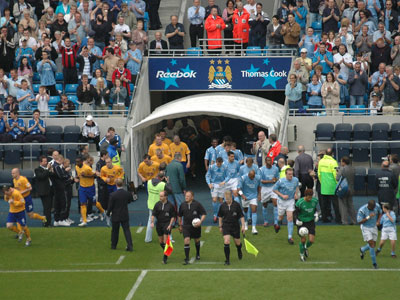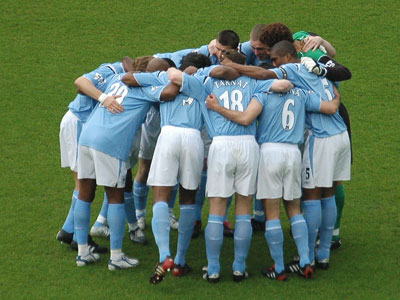 After a presentation to long serving Gerard Wiekens , the teams took the field each knowing relegation fears had gone -just.
The now ever-present huddle just prior to kickoff showed off the new kit and I hoped the togetherness gesture would have a better result than at Riverside.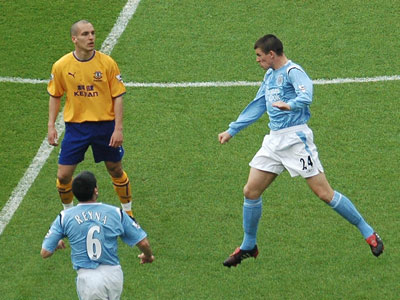 There was determination from City in the early stages epitomized by this header from Barton City's young player of the season.
Radzinski was soon to feel the impact of a Dunne tackle to set the mood for the day.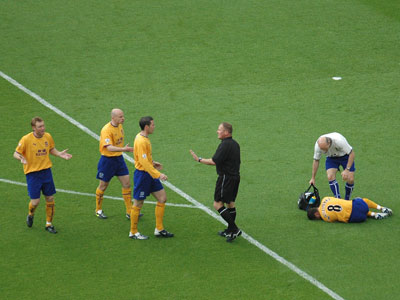 "Don't worry lads... He's still breathing .... I think!"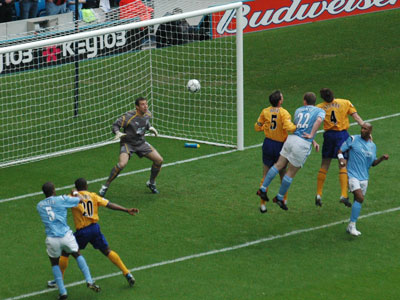 Nigel Martyn was soon in action - watching a Dunne header just fly wide of his left hand post following a corner.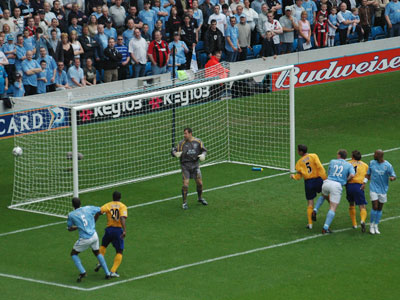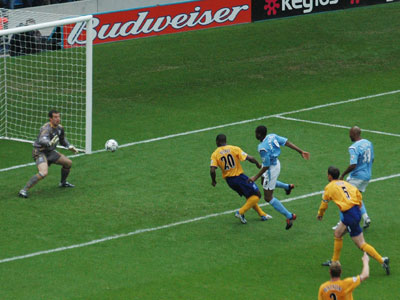 After 16 minutes City took the lead.A Bosvelt cross ended with Paulo Wanchope scoring from close range -above left - after an Anelka shot had been blocked. After being out for so long with injury it was good to see this popular player get among the goals. The large contingent of visiting Evertonians were silenced.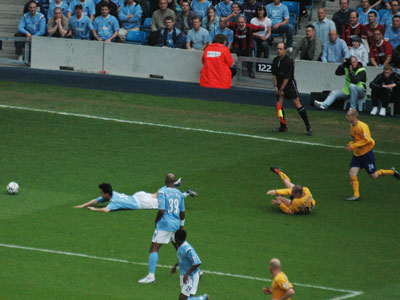 Jihai Sun continues his ambition to win the diver of the season trophy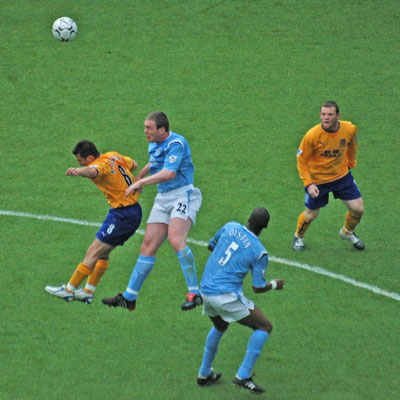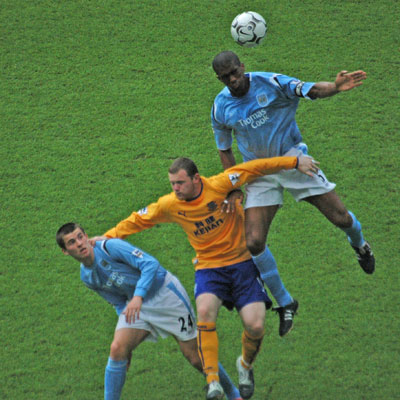 The much improved City defence was once more well on top in the battle against Radzinski and Rooney.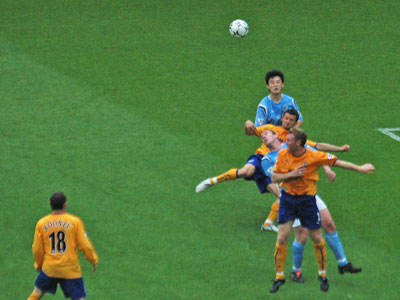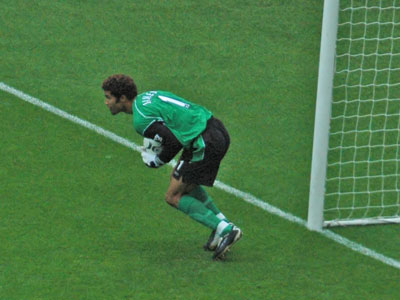 Dunne once more keeping the Everton strike force at bay.
Sporting yet another new haircut David James had little to do.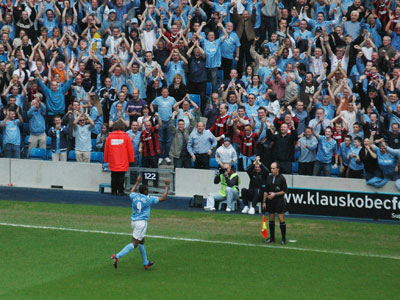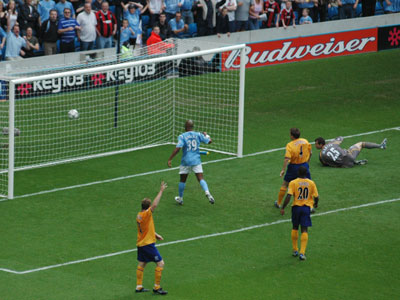 After 30 minutes City went further ahead. A brilliant Anelka flick sent Reyna away on the left. His pass back to Anelka led to the ball running to Wanchope who evaded a tackle to score his 50th Premiership goal.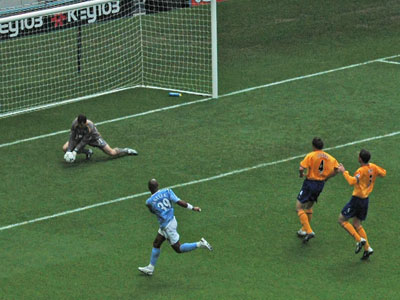 A Tarnat free kick from well outside the area went like a bullet at Martyn who saved right infront of his face.
It looked as though City might score a third when Anelka broke away but he scuffed his shot and Martyn was able to save.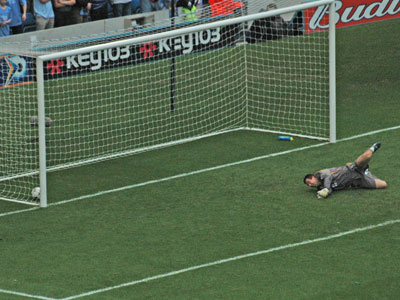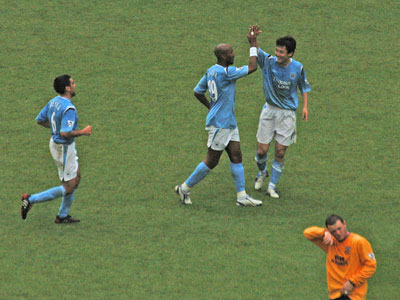 However Anelka did not have long to wait to get on the score sheet. Four minutes before the interval the French man scored with his left foot, Wanchope being the provider.
Anelka celebrates while Rooney checks to see if his his watch has stopped! Three nil to City at half time.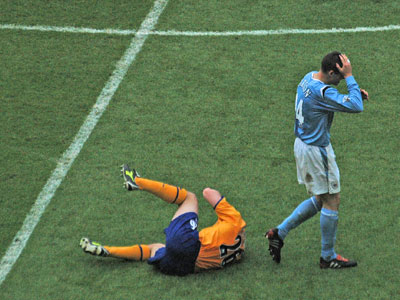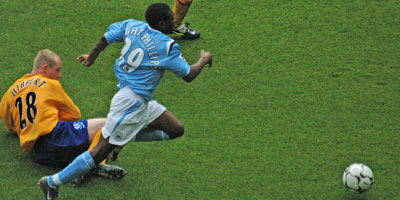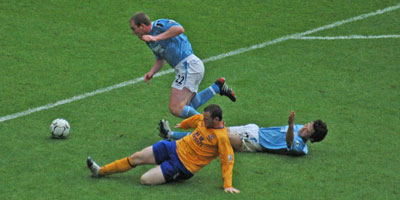 Comparing Wayne Rooney and Shawn Wright-Phillips it was easy to see who came out on top over the 90 minutes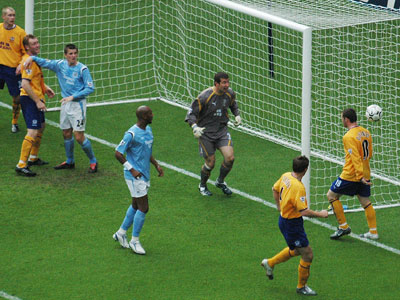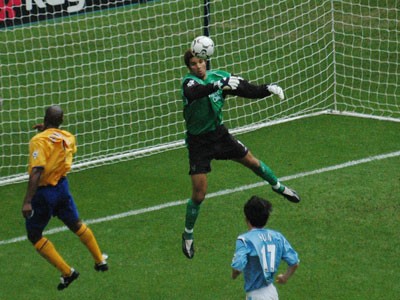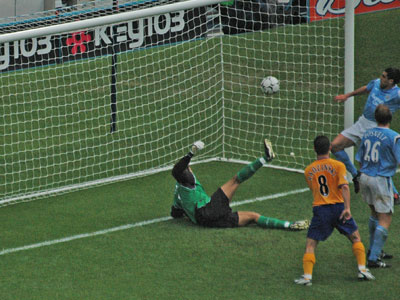 After 60 minutes Kevin Campbell who had come on after half time reduced the arrears with a close range header for Everton following a corner. It it turned out to be a mere blip however.
It was rare that James had to handle the ball let alone make a save as City took over the game against a very poor Everton side.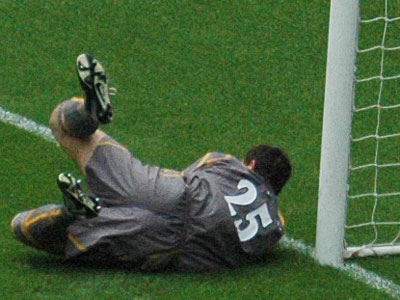 On the other hand veteran keeper Nigel Martyn had a very busy afternoon - above right castigating a defender and top right saving at his near post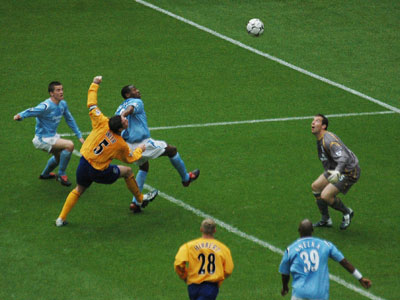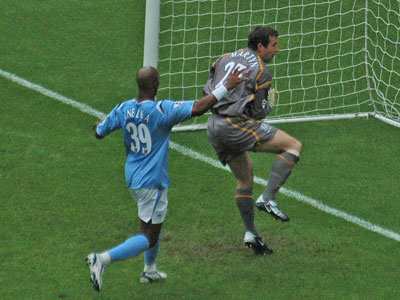 Here Martyn nearly took the ball over the line in saving from Anelka. In the old days Natt Lofthouse would have had ball and keeper in the back of the net!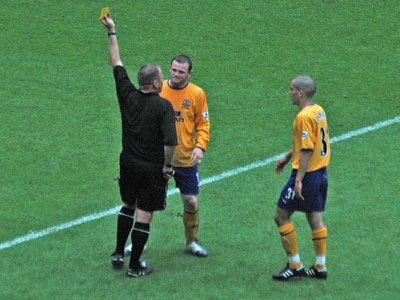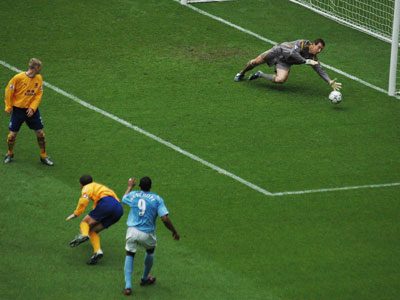 A disconsolate Wayne Rooney gets a booking from referee Steve Dunn who had earlier booked Barton. It was an easy game to referee however.
Paulo Wanchope tried to get his hat trick but was foiled by a good Martyn save.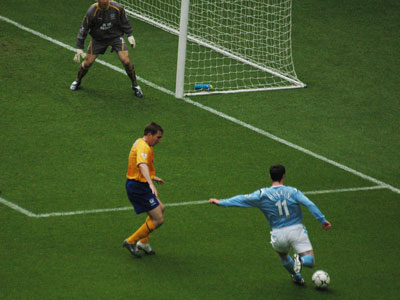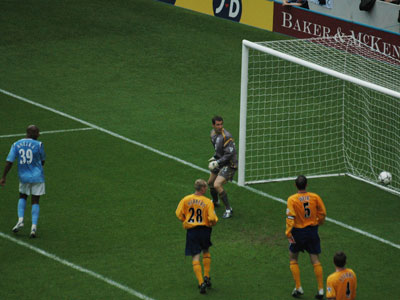 Macken who had come on for Wanchope after 80 minutes laid on the 4th City goal. His ran down the right and cut the ball back to Sibierski (on for Barton) who shot home with almost his first touch. 4-1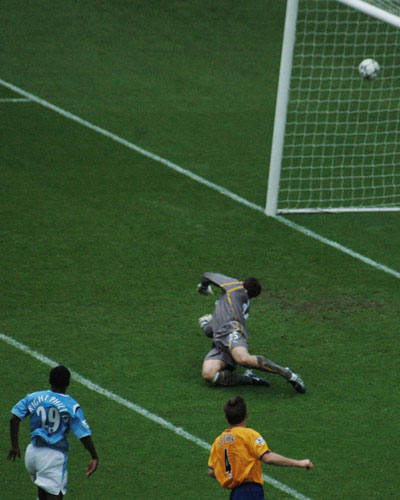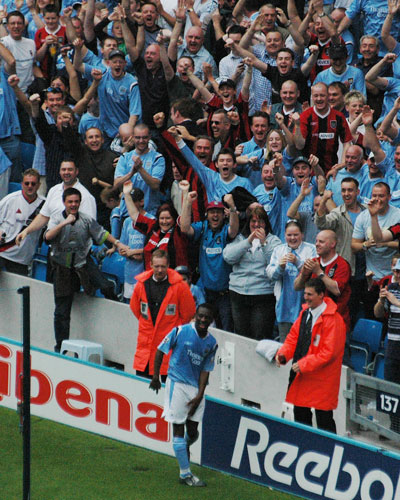 Shawn Wright Phillips brought the house down in the final minutes with City's fifth and final goal. A long pass from Jihai Sun found Wright-Phillips who tore into the Everton penalty area and crashed a great shot past the helpless Martyn.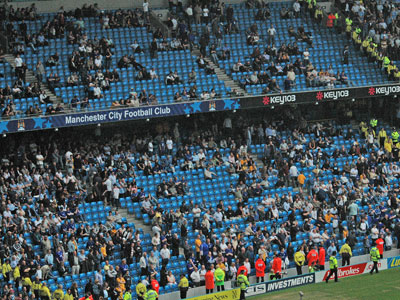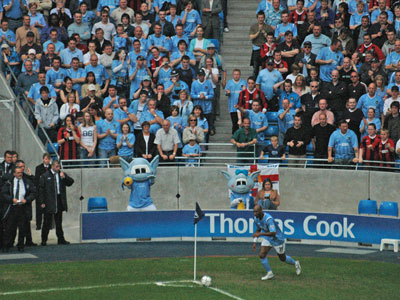 Many of the Everton fans had already left after the poor display of their team. Manager David Moyes must have been furious.
Moonchester and Moonbeam watch Anelka take a final corner to try and make it 6 but it was not to be and we had to be satisfied with 5-1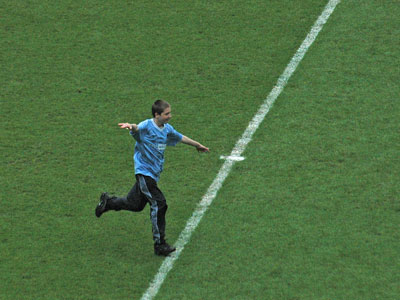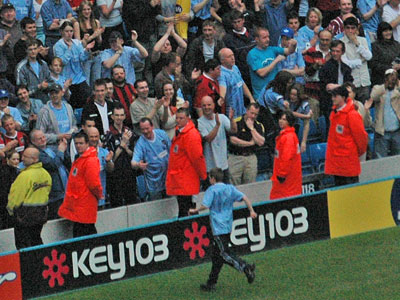 One youngster defied the stewards for a minute or so for his five minutes of fame. It all ended amicably with the young man been shepherded back to his seat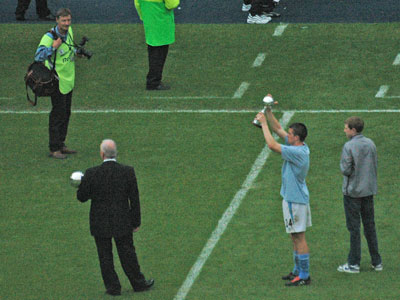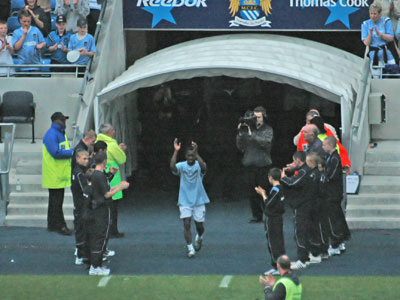 After the final whistle there were awards to be given. Barton took the young player of the season trophy and Shawn Wright-Phillips deservedly took the City Player of the Year Award.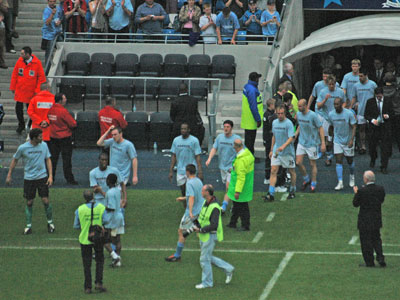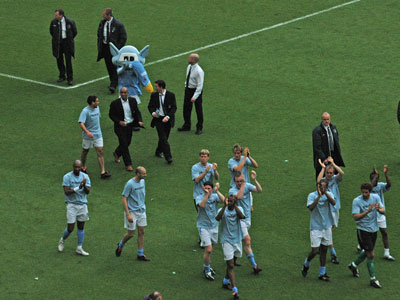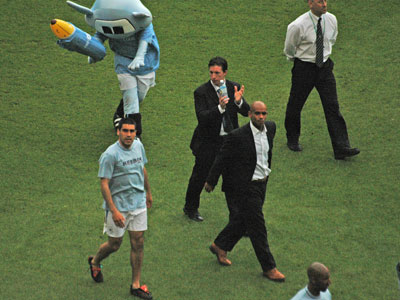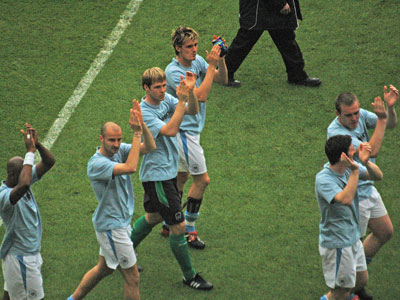 As usual the team came on for their farewell to the fans at the end of the season and I suppose the good reception was due to the match result rather than their overall performance which had been very much below par especially after all the predictions of a top 6 place. I will be penning a season review in a week or so when I get a bit of time.
Team
James 6: Sun 7: Dunne 7, Distin 7, Tarnat 6: Wright-Phillips 8, Barton 7 (Sibierski 7), Bosvelt 7, Reyna 7 (Jordan 6) Anelka 7, Wanchope 8 ( Macken 7):
There were positive signs at the start of the season that a top 6 place was not out of the question. Good away wins at Blackburn and Charlton and comfortable home wins against Villa and Bolton gave lots of hope.There was the odd blip against v Arsenal at home and Wolves away but by mid October we were in fourth position. Difficult to believe now. So what happened to send the team into freefall and to give us the relegation jitters in the final few weeks. The general home form was poor and although on several occasions the opposition were played off the park the inability to score was most frustrating. So who or what was to blame. Probably a combination of things.....
1. The lack of atmosphere at the new stadium. It will take time for both the team and supporters to get used to their new home which is much more sterile than the homely Maine Road.
2. The difficulty of getting anyone to link well with Anelka upfront proved a problem. In goals per game it did not make much difference whether it was Fowler or Wanchope who partnered Anelka upfront. Fowlers initial form was poor but he did improve as the season progressed and then fell away in the last month or so. However I am afraid he is but a shadow of the goalscoring legend he was at Liverpool. I am afraid time has caught up with him and that goalbox speed of thought and action has been lost. Wanchope had bad luck with his injury problems but came back with vengeance at the end of the season and his linking with Anelka looked very promising. Perhaps this might be the pairing of choice at the start of next season. Anelka himself proved a bit of an enigma. Easily City's highest scorer with a total of 24 league and cup goals he missed many more but so do many strikers. In the last few games ,the Middlesbrough game aside, he really worked quite hard and although his manner always gives the impression he does not enjoy the game, his pace and skill is beyond reproach and he was after all the highest of the City players in the Opta ratings for the season scoring with 17% of his shots (12% previous season) and successfully completing 72% of his passes. Macken filled in well on the few occasions he was given a chance and although he always gave 100% I don't think he is a Premier League first choice striker.
3. As I expected the loss of a Benarbia (retired) and Berkovic as providers proved a heavy burden to bare. Sibierski who was bought to take over did not play regularly until the new year and he did not appear to have the same guile and football nouse as the two B's. The transfer of Berkovic to Portsmouth left a bad taste in the mouth. The Israeli's demand for new extended contract did not go down well but I feel the whole episode could have been handled far better when matters came to a head despite the tempestuous character of Berkovic.
4. The signings of McManaman and Sinclair did not have the effect hoped for. Like Fowler both were mere shadows of their former selves and were disappointing in the extreme. Premiership defences are generally pretty good and if teams come to defend then it does take a lot of creative play to make chances for the strikers. If you don't have the players capable to do that then you have to work pretty hard and long in midfield to wear the opposition down and that can be a problem with too many players waiting for their soccer bus passes!
5. There were some positives from the season. The signing of David James following the retirement of David Seaman certainly strengthened the defence and the presence of England's number One gave more confidence to the back four. There are likely to be more changes in defence. Michael Tarnat has been released as have Tiatto and Weikens so we are short of a left sided player unless It is Keegans intention to sign Van Buyten who looked good in his few loan games before injury and move Distin to left back leaving Dunne as Van Buyten's partner. Jihai Sun had a mixed season. His link up attacking play with Wright-Phillips was adventurous but his defensive marking was often at fault.
6. With the stadium filled to nearly 98% of its capacity despite the poor form of City the average attendance was 46,834 - well up on the last season at Maine Road (plus 35%) and third in the Premiership after PLC and Newcastle United. The support for City never wavered last season despite some poor home displays. Lets hope the players respond next season with more consistency in front of a very patient City crowd.
Season Summary
Keepers
Seaman 6 - Nice idea to sign him to replace Peter S but he was just past his best and a few errors cost City dear.
James 8 - One of Keegans better signings. His form reached the high level of City keeper traditions
Ellegard 5 - Some way to go yet. Only played a few games when Seaman was injured
Defenders
Sommeil 6 - Went in exchange for van Buyten. Adequate but not outstanding. Prone to make mistakes.
Jihai Sun 6 - A mixed bag. For a fullback his tackling and positional play often left much to be desired but going forward linked well with SWP and a few of his adventures in opposing areas brought goals.
Dunne 6.5 - Had the odd blinder and the occasional bad game but overall a better season
Distin 6 - The ever present skipper did his best but it was just not good enough on many occasions. From the sidelines did not appear to be forceful enough as captain. Not a Pearce - but few are.
Tarnat 6.5 - Played quite a lot and scored some spectacular goals but his lack of pace let him down. His trusty left foot passes went astray too often in the latter part of the season and he has really reached his sell-by-date. Pity as he looked to be a good signing at the start.
Midfield
Bosvelt 7 - A strong defensive player with the ability to pass well but not all that fast and age is catching up with him.
Berkovic 6 - Never got a run in the side before his departure to Portsmouth under a cloud. A happy inform Berkovic would have made a difference.
Barton 6.5 - Full marks for effort but his passing went adrift too often and his poor on field discipline needs curtailing.
Reyna 6 - Another player who has not reached the heights expected. Did not really inspire .
Wright-Phillips 8 - Full marks for effort and he rarely disappointed. Ability to put teams under pressure with his runs at goal. He scored some real crackers in his 11 goals in 41 matches. Still needs to improve his crosses.
McManaman 5 - A real disappointment. Probably spent too much time on the Real bench. Forgot what it was like actually playing. No goals in 26 games.
Sinclair 5 - A disappointing season with only two goals in 28 games. Did not play regularly in the latter stages.
Sibierski 7 - Was brought in to replace Ben and Berk but only chosen regularly after Christmas. Should be scoring more with his experience. 7 goals in 23 games
Strikers
Anelka 8 - Easily City's most gifted player with 24 goals but difficult to play with. 24 in 42 matches
Wanchope 7.5 - His season was spoilt by injury. Finished strongly and will probably be a first choice next season to partner Anelka. Scored 6 in 13
Fowler 6 - Just when he was looking like he was coming into some kind of form he fell away again. 10 in 33 games
Macken 6 - Ignored for the first half of the season scored some important goals. 4 in 9 games