March 2004
First a mention of the sad death of one of footballs greatest players - John Charles. I only saw him play once way back in 1958 . I was stationed in Norwich at the time and as visits to Maine Road were few and far between at that time I either watched Norwich City or took the train to London to watch a game. On this occasion Highbury was the venue for the Arsenal friendly against Juventus and I was fortunate enough to see John Charles score Juventus' only goal in the Gunners 3-1 win in November before a crowd of 51,000. The referee that day was the great Arthur Ellis who put many of todays referee's to shame.
Manchester City 0 Chelsea 1
Feb 28th 2004 att. 47,304
After an excellent win at Bolton to break the bad run of Premiership results Kevin Keegan made only one change for the visit of Chelsea Van Buyten taking over from Sinclair. The continued absence of Anelka - suspended meant extra responsibility for Fowler and Macken the latter now given his chance of a run in the first team.
The display of the City team today against one of the best teams in the division was one of the best of the season apart for the finishing. A real mystery as the support for the blues in the City Stadium was also the best of the season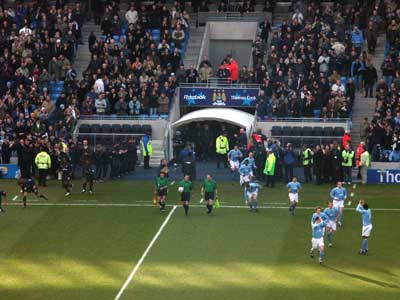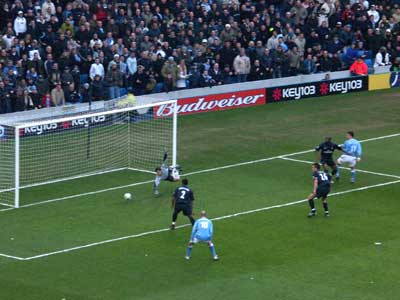 A record crowd for the stadium gave the teams a great reception on their appearance but I could not spot the Russian visitors and with an alleged City link to a Moscow Club will there be the chinking of roubles I wonder.
After 15 minutes City came near to scoring. Fowler fed Wright-Phillips on the half way line and the winger dashed down the right wing leaving Bridge in his wake to put across a great ball which Macken back heeled just past the far post - above.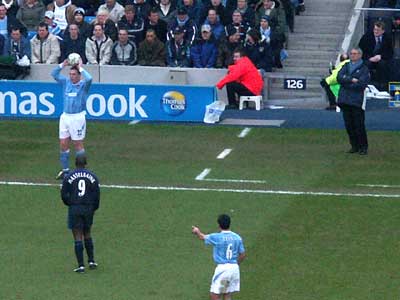 James made a great save shortly after. Lampart again from the edge of box thought he had beaten the City keeper but a great leap by James saved the day.
The City defence were holding Hasselbaink and Crespo. Chelsea manager Ranieri - above must have wondered what City were doing just hovering above the relegation zone.
City continued to play well and up until a couple of efforts from Frank Lampard - James saving one of them above.- Chelsea rarely troubled the City keeper.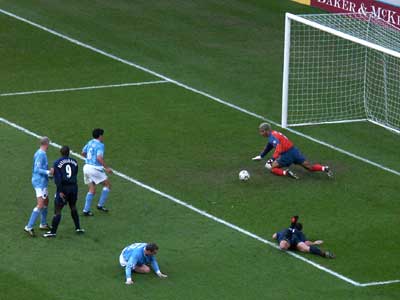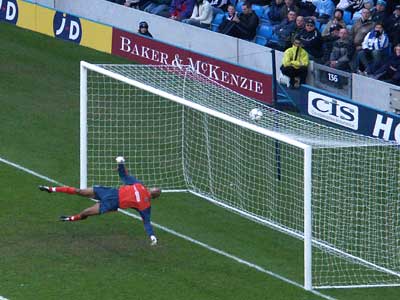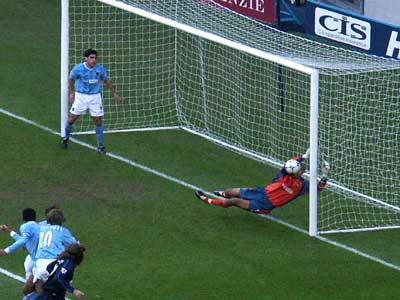 From the corner Crespo -bottom left - hit the post with a header but James had the effort covered.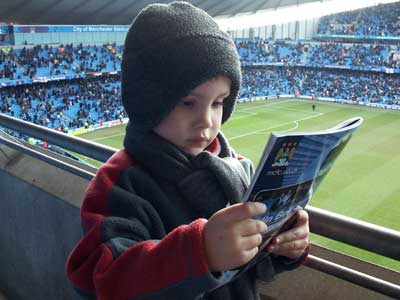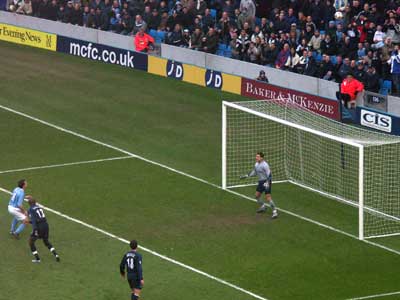 No doubt this young supporter keeping warm in his Harry Potter jacket at half time was wondering whether he could conjure up some magic to put City ahead.
Makelele came on for Cole second half.
City started the second half in fine style but three misses in three minutes by Fowler cost City dearly. Above is the third a header from a cross by Tarnat that went well over the bar from an unmarked position.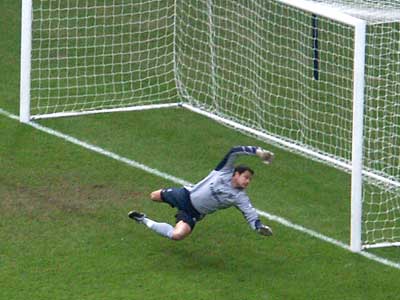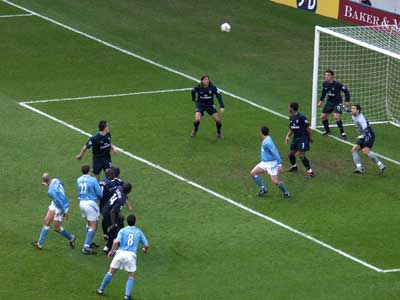 S
hortly after a great left foot shot by Sibierski went agonizingly wide with Cudicini having to make a desperate dive.
City forced corner after corner but failed to break down the Chelsea defence.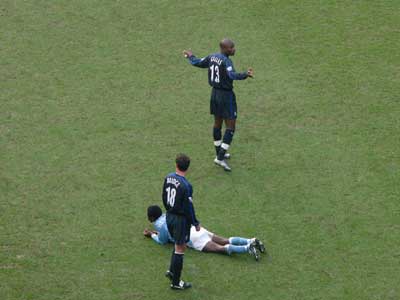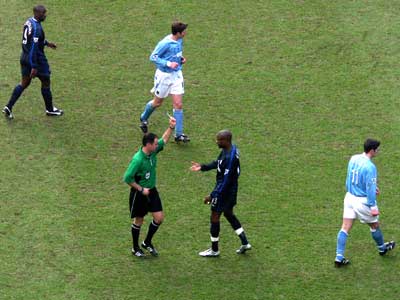 The only booking of the game came as Gallas clobbered Wright-Phillips who was giving the Chelsea defence plenty to think about.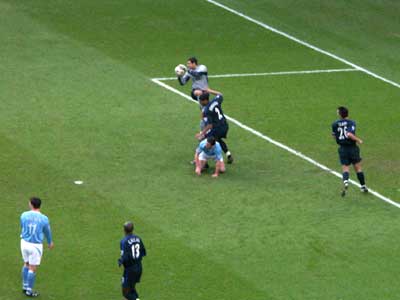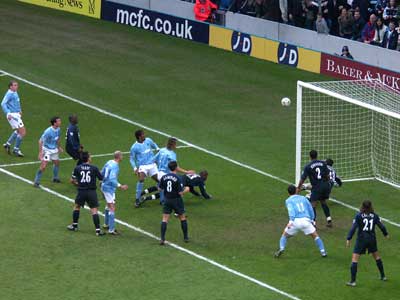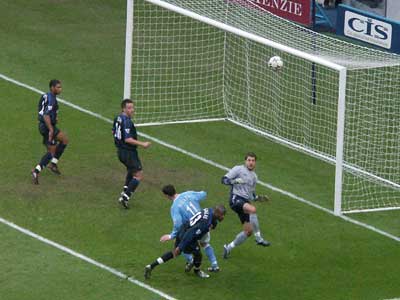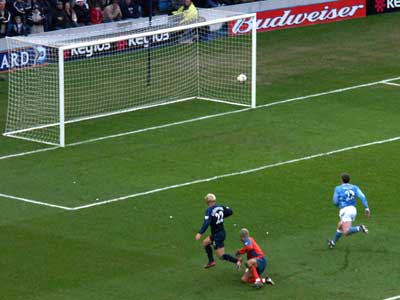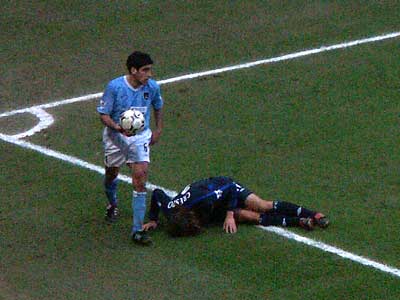 Cudicini in action again though there were half claims for a penalty for a foul by Johnson on Fowler
Wonder save by Cudicini from a Distin header at a corner.
Yet another escape for the Chelsea goal. It was looking like time was running out for City and no magic potion to stop this unlucky spell.
Sinclair came on for Macken with 20 minutes to to. Can't think why!

With just 8 minutes to go Chelsea broke the deadlock and City hearts. Bridge who had suffered a torrid time against Wright -Phillips slipped the ball to Gudjohnsen who had come in for the ineffective Hasselbaink. Distin tried to play Gudjohnsen offside but failed and the Chelsea forward slipped it over the advancing James to score.
The final image of this fine game but disappointing result for City is the pathetic effort of yet another cheat - Hernan Crespo from Argentina. He dived three times during the game and was lucky not to be booked. At least we can now use the phrase " a la Crespo " to describe 'diving'.
I am sure Claudio Ranieri will not tolerate such behavior .
Team
James 7: Dunne 6, van Buyten 8, Distin 7, Tarnat 7: Wright-Philips 9, Reyna 7, Sibierski 7, McManaman 7: Macken 6, Fowler 7

Fowler worked his socks off so I feel sorry about his misses. Another day he would have a hat trick in the first three minutes of the second half. Wright-Phillips had one of his best ever games for City and Van Buyten was masterful in defence. Even McManaman worked quite hard - he looks better on the left. Distin made one error that cost the goal -otherwise strong as ever in defence. It would be an absolute travesty if this team went down. I just cannot see it happening.
---
Manchester City 4 Manchester United 1
March 14th 2004 att. 47,284
United's recent form and exit from the European Cup coupled with their injuries and suspensions gave City supporters a little hope despite the continued absence of Annelka. The return of Paulo Wanchope at least to the bench was welcome. One surprise was the absence of Barton from the squad.
Apart from a few raucous latecomers the minutes silence for the victims of the Madrid bombing was well observed.
During the past week the papers have been full of the alleged exploits of the Leicester City players including Paul Dickov once a City hero. How have the mighty fallen!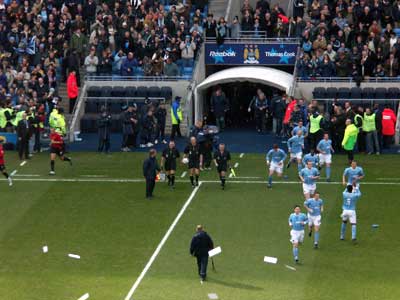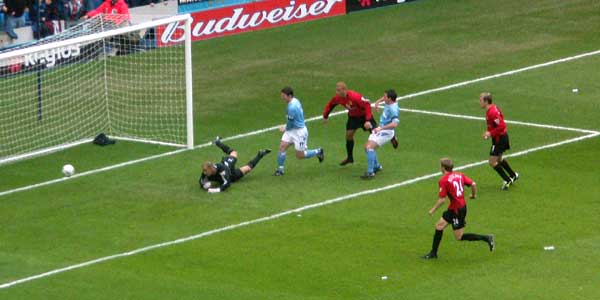 City took a surprise lead after just two minutes. A quick throw by Dunne was headed on by Sibierski. Fowler was back to his best as a poacher and he slotted home from close range - left
One nil to City - we just could not believe it.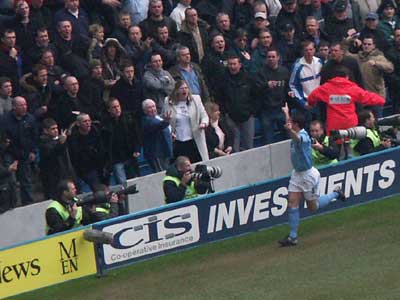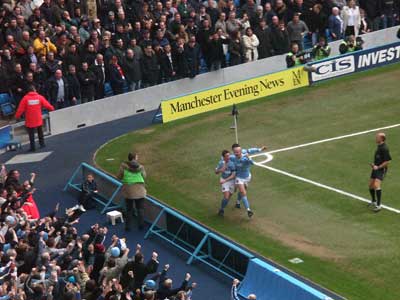 As you can see the United supporters were not happy with Robbie Fowler as he ran past them.
The contrast between the two sets of supporters - one ecstatic - the other in shock.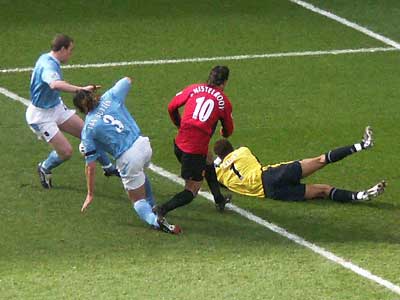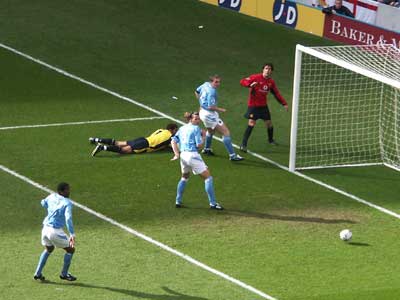 Immediately United hit back and City's goal had a couple of narrow escapes and this was to continue as United had the better of the play. Holes were appearing in the City defence and some reorganization was urgently needed.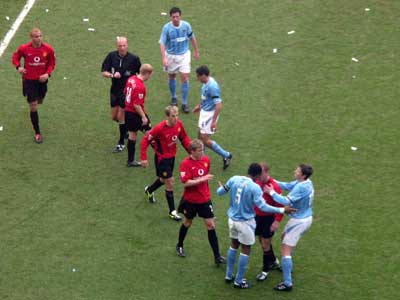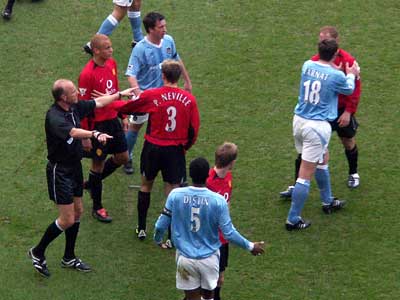 After 14 minutes Butt and Distin got booked. Nicky Butt took exception to a Distin tackle. I felt Distin was unlucky to be booked. Shortly after Scholes also got a yellow card.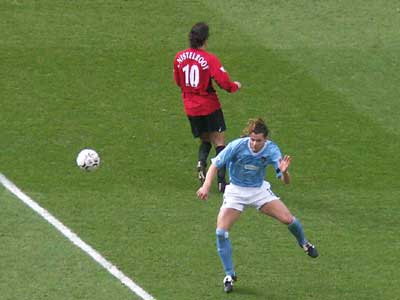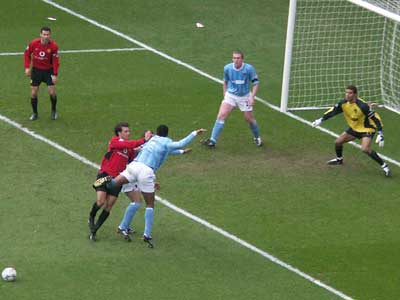 Van Nistelrooy is beaten once more by Van Buyten who was having a good game.
This time it is Distin and Van Buyten to foil the United attack.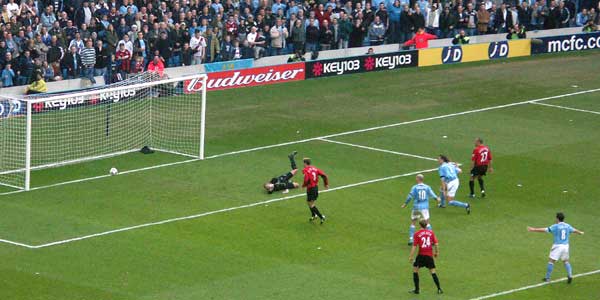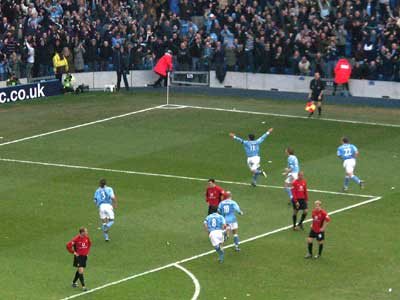 Just past the half hour mark City went further ahead. Reyna was the supplier feeding Macken who turned quickly and with the United defence in a dream he shot past Howard to put the City supporters in a state of bliss.
After a succession of home games where we had dominated and not scored here we had a game in which we were being outplayed and we were two up. Ah funny game football!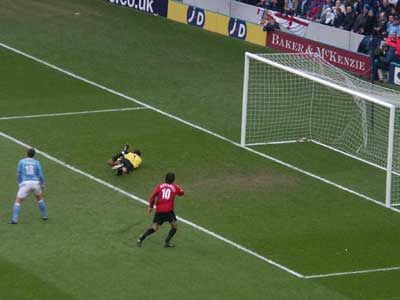 Macken having scored his first premier goal was eager to celebrate while the United players looked stunned.
A minute or so later United pulled one back. Scholes who was always dangerous and given too much room, hammered one past James.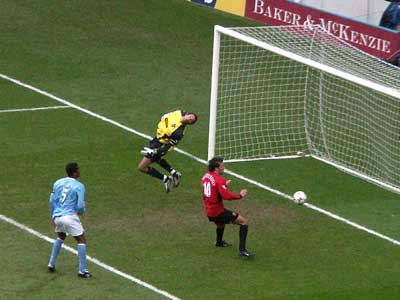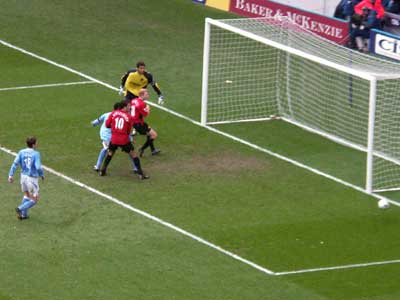 United put the City goal under lots of pressure as they were running the midfield and fortunately their finishing was not the best and for once luck was on City's side. Half time came with City 2-1 ahead.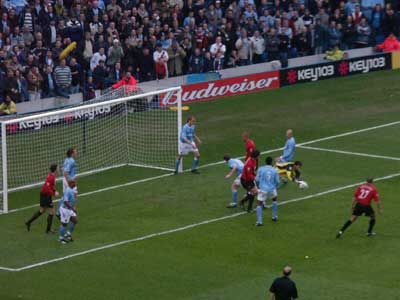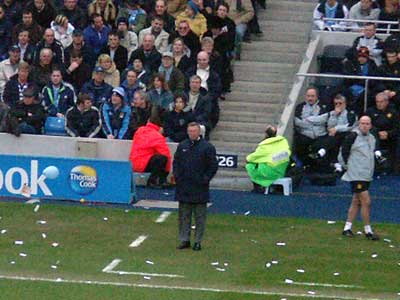 City made two changes at half time- Bosvelt replacing an off form Reyna and Sinclair was on for McManaman. Much needed changes to strengthen the defence.
The United manager did not seem very pleased with the situation with his teams Championship hopes vanishing as every minute went by.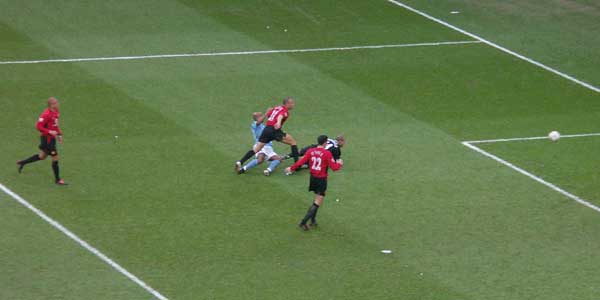 After 72 minutes the United defence slips up again. Silvestre's pass goes astray and Sinclair takes advantage to score and put City 3-1 up. Unbelievable.
Full marks to Sinclair for seizing the opportunity though surrounded by defenders. He come in for some criticism recently so this was a welcome bonus for him. Bosvelt provded the pass and the United defence failed to clear.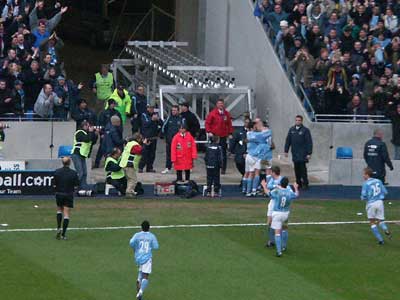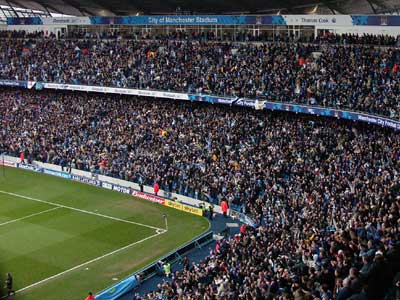 He flung off his shirt in celebration and the whole stadium (except for the visitors) rose to cheer the goal. It was easily the best atmosphere so far in the new stadium. It was looking like a City win in this, the first derby game at City's new home and the first league win at home since the Boton game back in October.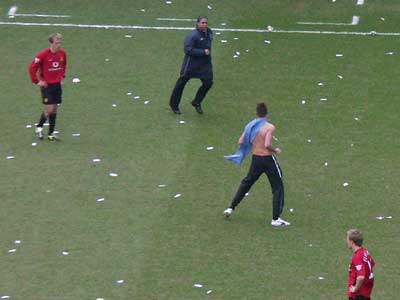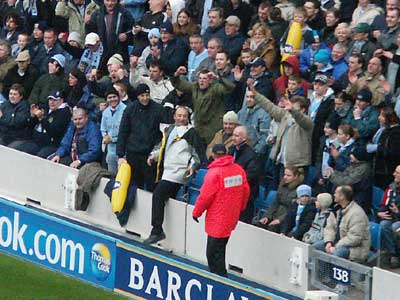 One idiot thought he would add to the celebrations by running onto the pitch.
It was nice to see the bananas back again -though in small numbers. Smiles all round among City supporters.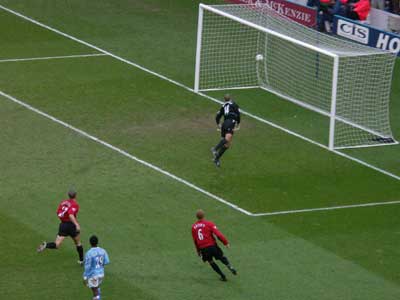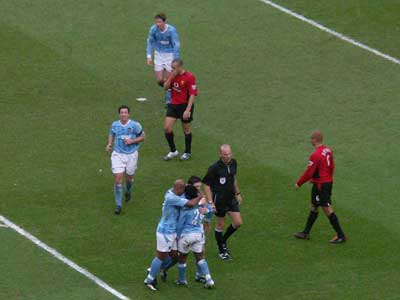 As the game moved into extra time Shawn Wright-Phillips shot a super solo goal -dashing down the wing and thumping the ball past Howard -above left.
What a result. To be honest it flattered City but we were due for a bit of luck and I cannot think of a better side to suffer a 4-1 defeat at the hands of a City side who have played a lot better and lost this season. The United defence looked very vulnerable and Macken and Fowler had their best game together. Anelka is available for the game away at Leeds. Does Keegan change a winning team? Van Buyten continues to impress at the back. Hope we keep him next season. Great atmosphere in the COM for once. On the way home down the M6 a wonderful rainbow hung over the Cheshire plain. I am sure I could read 'a Keegan Wonderland' in it! Well I understand KK may well be moving into the area. This game will be remembered for many a year by the City faithful and for PLC supporters it will have been a living nightmare.

Team
James 6: Dunne 6, Van Buyten 8, Distin 7, Wright-Phillips 7, Reyna 5 ( Boswelt 6) McManaman 5 (Sinclair 6) Sibierski 7, Tarnat 6: Macken 7 Fowler 8:
---
Manchester City 0 Fulham 0
March 27th att. 46,522
After the disappointing result at Leeds where City played well and lost we were expecting a repeat of the United game form. Ah, but it's City were're talking about and as supporters know anything can happen and usually does. Alas our worst fears were justified. This was a poor display by City. Fulham came for a point , defended in depth and it appeared they were playing for time from the first minute. It would have needed a good passing display by City and we witnessd probably the worst home performance for a while. In fact it was near relegation form.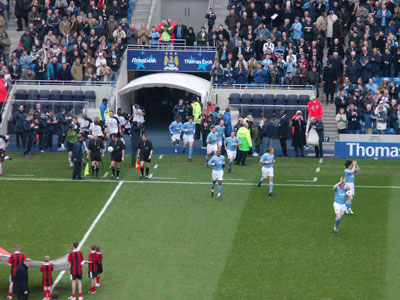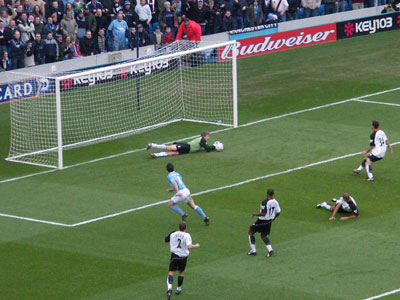 While Kevan Keegan stayed at home recovering from a back problem Arthur Cox took over. The omens were not good.
Van Der Sar was the first keeper in action saving a header from Fowler.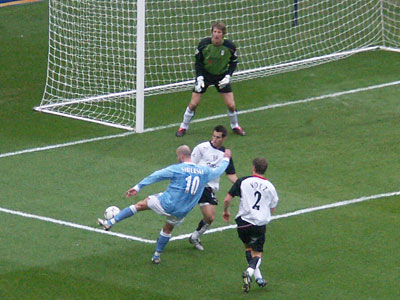 An effort by Sibierski is blocked by the Fulham defence.
Another good save by the Fulham keeper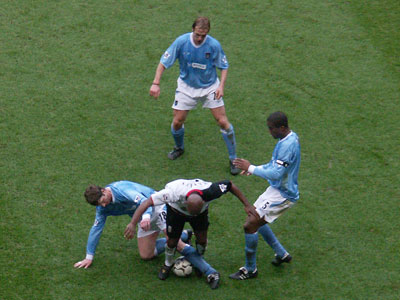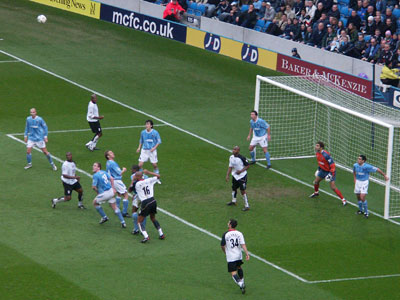 A battle for the ball ended with a drop ball, though a scrum down I thought was more appropriate
All eyes on the ball at this rare corner by Fulham.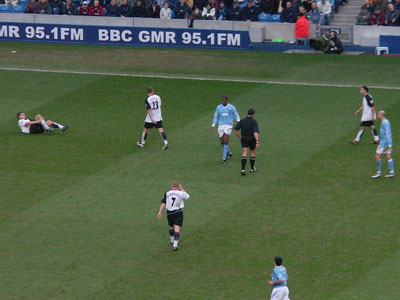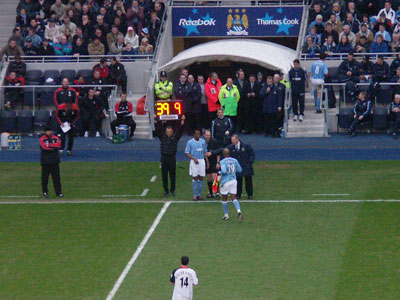 The only booking of the game after 60 minutes when Distin was penalised for a late tackle.
Four minutes later and Anelka was substituted by Wanchope and Folwer replaced by Macken. It was the first time Anelka had been subbed.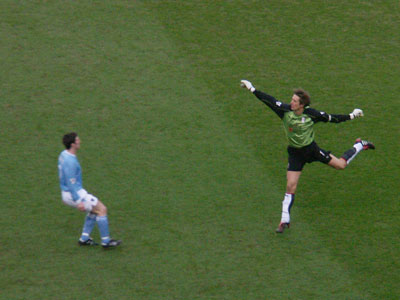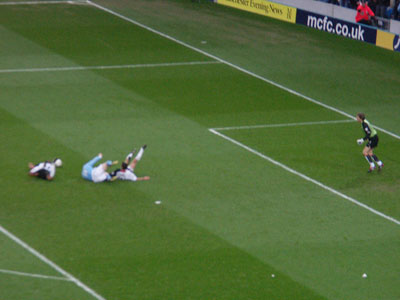 Van Der Sar had to come running outside his penalty area to clear with his head to save the Fulham goal on this occasion.
Moments later City should have had a penalty when Macken was floored. Referee Winter said no and had to withstand loud booing. It looked a certain spot kick.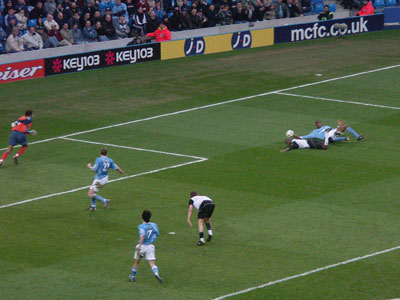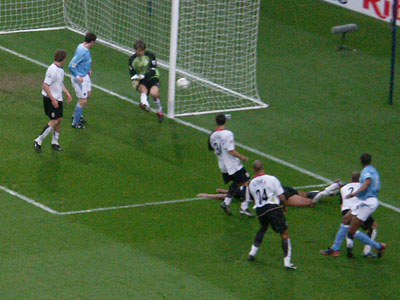 Later it looked as though Distin tripped Boa Morte and once again Winter said no - to even things up perhaps! However two wrongs don't make a right and City survived. Distin had plenty of time to clear his lines but alas in trying to be too clever was robbed by Boa Morte.
A good save by the Fulham keeper at the near post from Wanchope.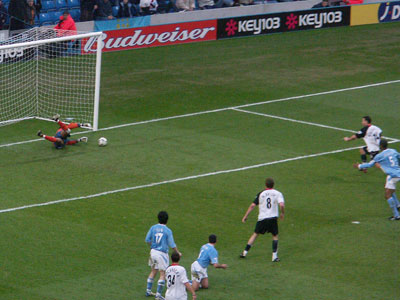 Though City put the Fulham goal under some pressure some of the crosses were poor and were easily defended
.
James who had little to do was forced into a late save.
Team
James 7: Sun 6, Dunne 6, Distin 5 Tarnat 6: Wright-Phillips 6, Bosvelt 6, Sibierski 6, Reyna 5 : Fowler 5 (Macken 6), Anelka 5 ( Wanchope 6):
A listless pathetic performance by City I am afraid. The quotation from Richard the Third - "Now is the Winter of our discontent" - is apt for the performance of referee Winter who has yet to give a penalty in the Premiership. Had he given City the deserved spot kick for the foul on Macken the whole strategy of the game would have changed. They would have had to change their 'playing for a point' tactic and left more room in their last third for City to get a second goal - if we had scored from the penalty of course! With Anelka back on the bench I wonder who would have taken it?
The inconsistant finishing is costing City dearly. Fowler and Macken played quite well together while Anelka was absent. I wonder whether in home games City might experiment with leaving F and M upfront but playing Anelka just behind them. With Anelka's speed he could come from a deeper position and with less chance of him being caught offside. It would give some problems for visiting defences . Sibierski would then probably drop to the bench. It might be worth a try. I must say it was a surprise to see Anelka substituted. He did not look injured.
Well done to Shawn Wright-Phillips who has been named in the England squad.