The pre season excitement following the world cup and the return to the Premiership was given a jolt by the result in the first game at Leeds. The somewhat disappointing result of nil three with defensive lapses and missed chances being the main problem was not the most ideal way to start the season. By all accounts City played reasonably well in the first half and on another occasion might have been two up before Leeds scored. Keegan's decision to play just Anelka up front and packing the midfield was a bit of a surprise though I suspect this lineup will change for home games. In retrospect I wish City had signed Robbie Keane instead of Macken or Vuoso. He would have made an excellent partner to Anelka. With the transfer deadline coming up soon and with City having problems with the 60 million loan plan with US Investment Bank Bear Stearns I cannot see any more newcomers arriving in the next week or so though the news that Nigerian defender West is training with City to prove his fitness shows that Kevin K is not entirely happy with the defence especially when both Dunne and Howey looked vulnerable against Leeds.
The other talking point is the Roy Keane affair which beggars belief. I just hope the FA take action immediately the book comes out and the suspension is similar to that given Cantona a few years ago. In all the years I have been following football it is the first time any player has actually come out and admitted his foul was a deliberate act to injure a fellow professional player.
Aug 24 City v Newcastle U 1-0 --Aug 31 City v Everton 3-1
City v Newcastle United 1-0 34,776
August 24th 2002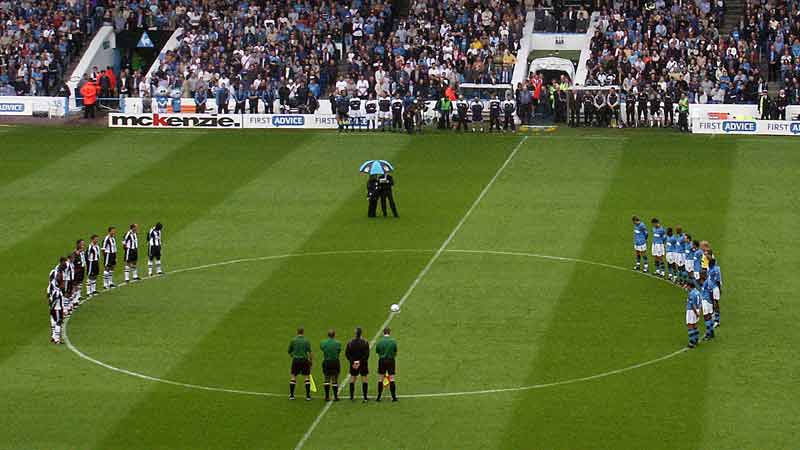 The minutes silence for the two murdered girls Holly and Jessica in Soham,Cambridgeshire was impeccably held by both Newcastle and City supporters.
There were several debuts in City's home return to the Premier League. Peter Schmeichel made a surprise debut in goal after an pre-season injury and he was given a warm welcome by the City faithful despite his United past. There was a home debut for Distin against his former club and the Newcastle fans greeted his every kick with loud boos which were immediately drowned by City cheers. Marc Vivian Foe entered the fray as a defensive midfielder and upfront Nicholas Anelka also made his home debut.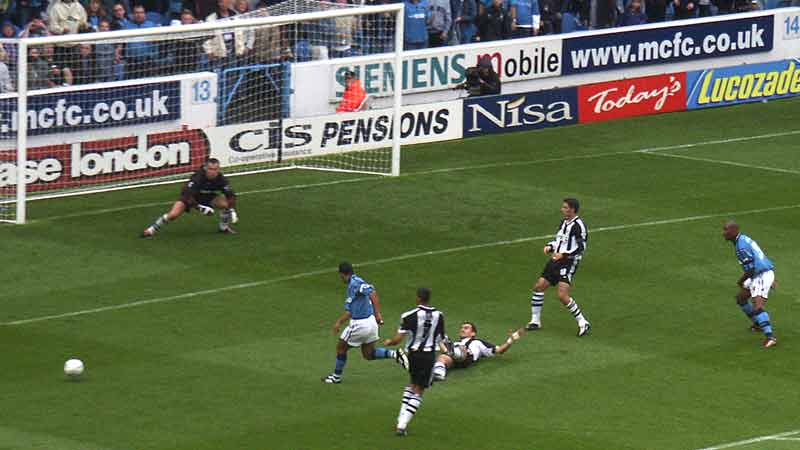 A constant drizzle made the superb City surface a bit slippy and City took control of the midfield their passing and running off the ball being of a high standard. The Newcastle were stretched on many occasions - above a last ditch tackle robbing Benarbia of a chance.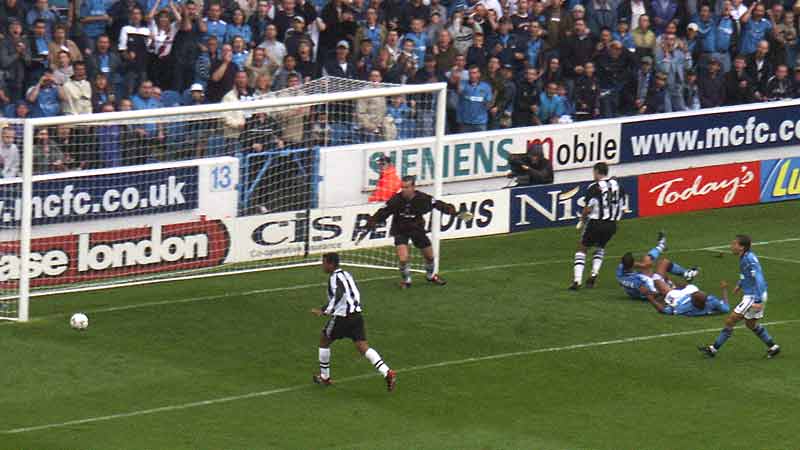 After ten minutes a dangerous cross from Sun Jihai just misses the far post with Anelka and Benarbia inches away from connecting after the Chinese international had intercepted a Newcastle pass near the half way line. The Newcastle goal was under constant pressure with Schmeichel having little to do.
Below, nine minutes later the ball is cleared off the line by Dabizas from Huckerby with the busy Given beaten for once.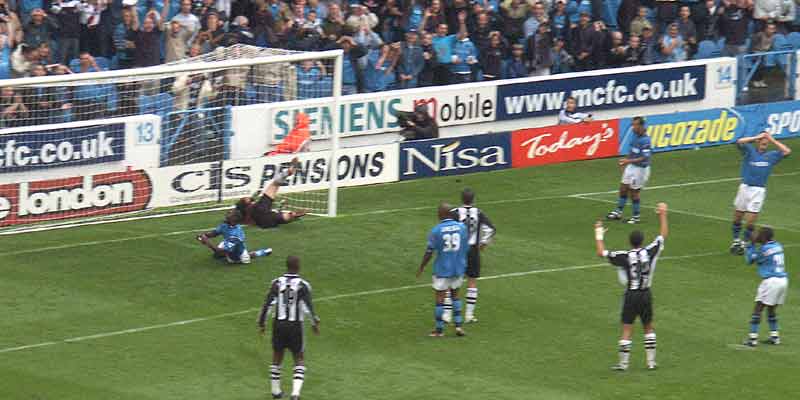 Almost half an hour had gone when City missed their best chance. Jensen returned a poor Newcastle clearance into the box and Foe headed over the bar from an unmissable position- or so we thought.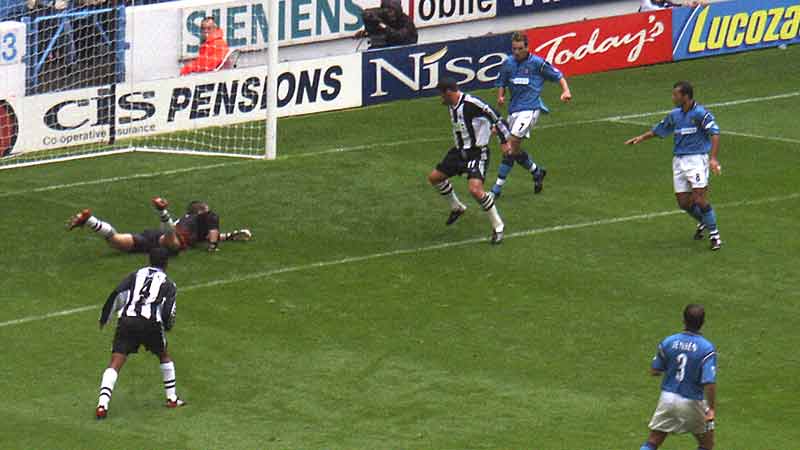 After 36 minutes the constant City pressure paid off. The move started on the right with Sun passing forward to Anelka who held the ball up for a moment or so. His cross was hit at goal first time by Jensen and above Given is saving the shot, pushing the ball out. At this moment Huckerby looks to be in an offside position but presumably deemed not interfering with play. The ball ran loose before a rebound from Berkovic came to Huckerby who headed home from close range - below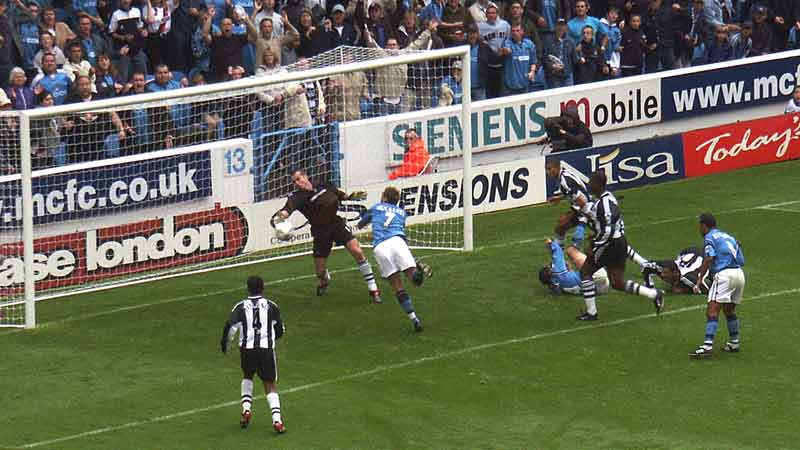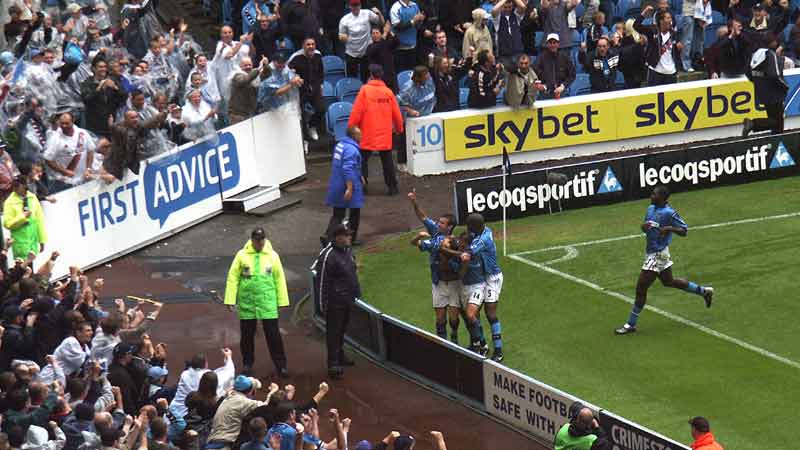 Huckerby celebrates with the City fans at the corner flag and it was a surprise that City went into half time only one goal up, Foe in particular missing that header from close range. Outstanding in the first half was Sun Jihai on the right side of defence who linked up well with Wright Phillips and looked every inch a Premier player. With the likes of Tiatto, Goater and Horlock on the bench the squad looks very strong and the football stunning in every way.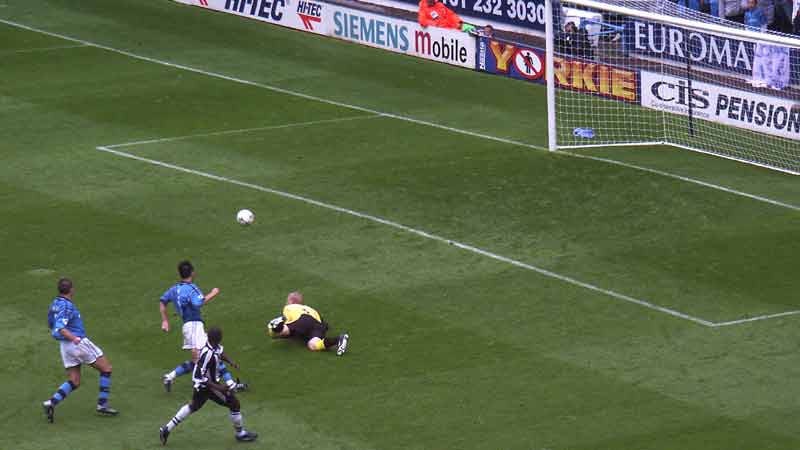 A few minutes later the City goal had an extraordinary escape. A rocket by Lua Lua was well saved by Peter Schmeichel - above . The ball ran loose past defenders Sun and Howey who had rushed back to cover .
Up ran Kieron Dyer who hit the ball wide of an empty goal
Below he had his head on his hands as Peter Schmeichel gives his thanks to Allah!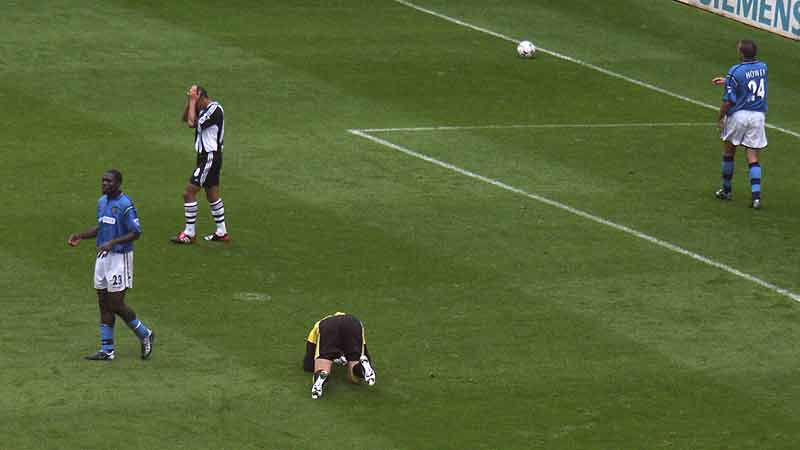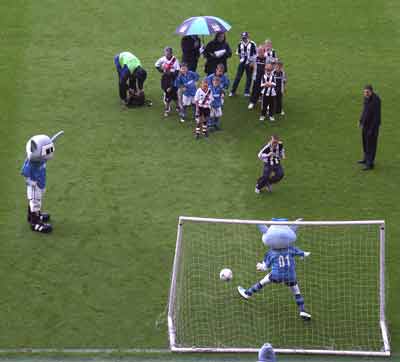 In case any Newcastle fan visits this page I thought I would include a Newcastle goal - although it was scored at half time against Moonchester!
Overall an excellent display by City from front to back. They looked a better team than Newcastle United and should have scored several more but I am sure Kevin K will take the three points . The defence looked good in a fast paced game on a tricky surface. All the newcomers did well in a fantastic team display.
In all the years I have come to Maine Road I cannot remember such exquisite football and that includes the Bell Lee era. Absolutely cracking City and there will be a full house every home game at this rate and no worries about
a. staying up on this form -top six ? - perhaps
b. filling the new stadium next season.
I cannot praise the Chairman and board enough for having the guts to bring Kevin Keegan here despite the efforts of Joe Royle.
Schmeichel (9) : Sun (8) Howey (8) Distin (9) : Wright-Phillips (8), Foe (8), Benarbia (9), Berkovic (8) Jensen (7.5) : Huckerby (8) Anelka (8) :
Horlock came on for Berkovic after 79 minutes.
City v Everton 3-1 34,845
August 31st 2002
After the poor City display at Villa in midweek the City faithful were hopeful of a return to form as they took on Everton. Although a brighter weather day than he last home match a gusty breeze caused several early mistakes as the game got off to a bitty start with neither side being able to string many passes together. So it was with some surprise that an unchanged City side took the lead in the 14th minute. Berkovic was fouled outside the area. Anelka took the free kick which took a wicked deflection off the Everton wall and eluded the diving Simonsen - below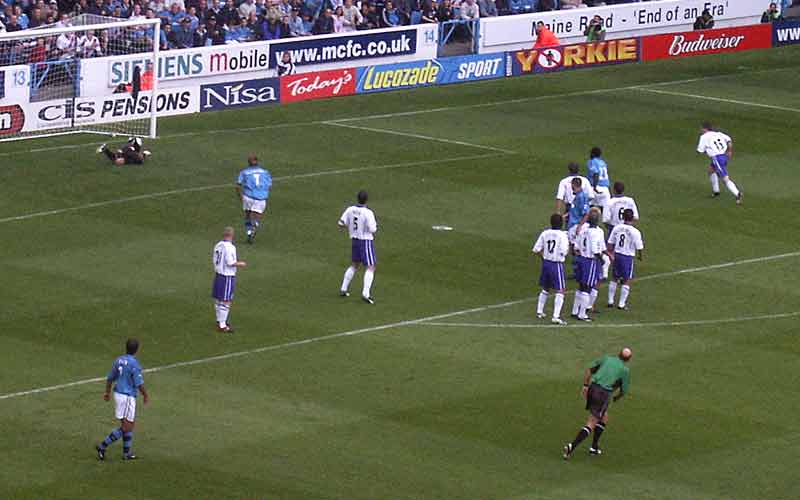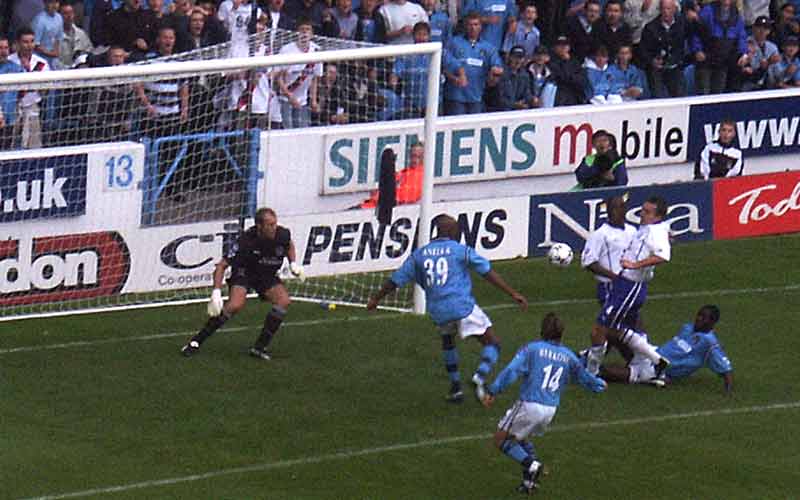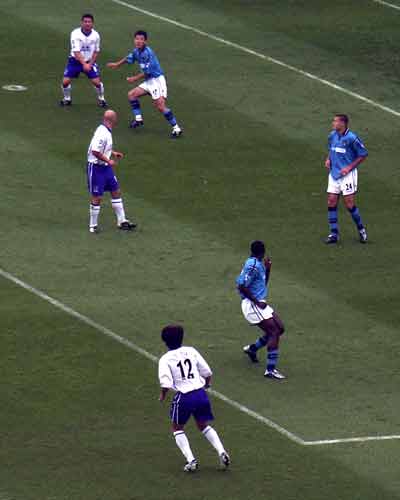 It was of particular interest to me to see two Chinese players playing in the same Premiership game - the first time I understand. As I spent two years being involved in Honk Kong football many years ago I was able to see at first hand how their skills have improved.
On this occasion City's Sun Jihai proved his worth and played the full 90 minutes ( how this lad is improving ) whilst Tie Li of Everton was substituted after 25 minutes. No doubt 50% of the live Chinese TV audience switched off!
Frank Soo of Stoke City was the first Chinese player to play in the Football League - Div One prewar - I didn't see him play then - I hasten to add!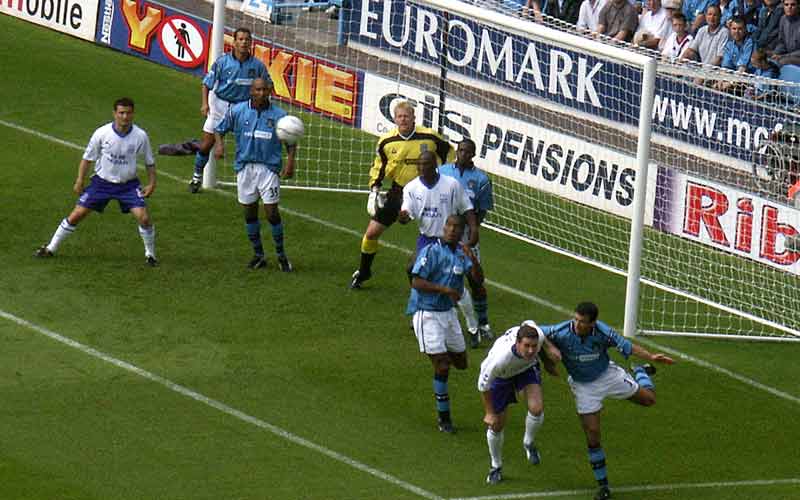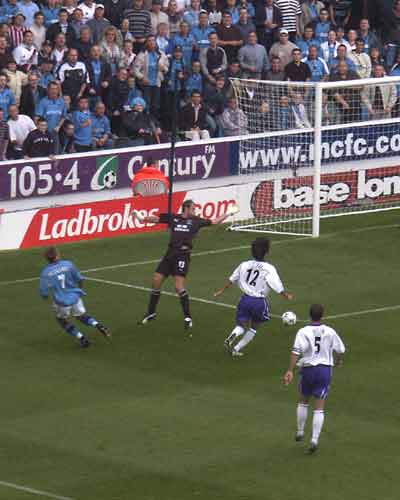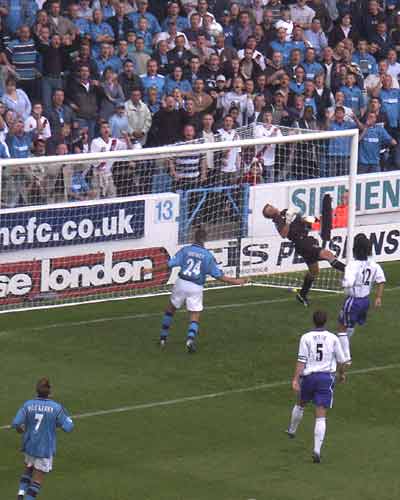 City continued to press and first Huckerby -above left - had a shot cleared off the line and above right Simonsen made a great save from a header
The game took a dramatic twist just before the half hour. An overlapping Naysmith dashed down the left wing and was brought down by Shawn Wright-Phillips in the penalty area. It looked like a penalty but worse was to come. Referee Barry Knight was of the opinion that Wright Phillips was the last defender so sent him off - left
The decision sparked protests from the City players and the City supporters gave the referee from Kent a lot of deserved stick. It was a rash decision to say the least as 2 defenders were there to cover a cross. I like to think that referees make honest mistakes but there are some who delight in the controversial incident to make the headlines. The pompous Mr Knight falls into this category.
I hope City appeal against the sending off which any sane person would agree was inconsistent with the facts.
Even the great Peter Schmeichel could not stop the left foot shot from the spot by Unsworth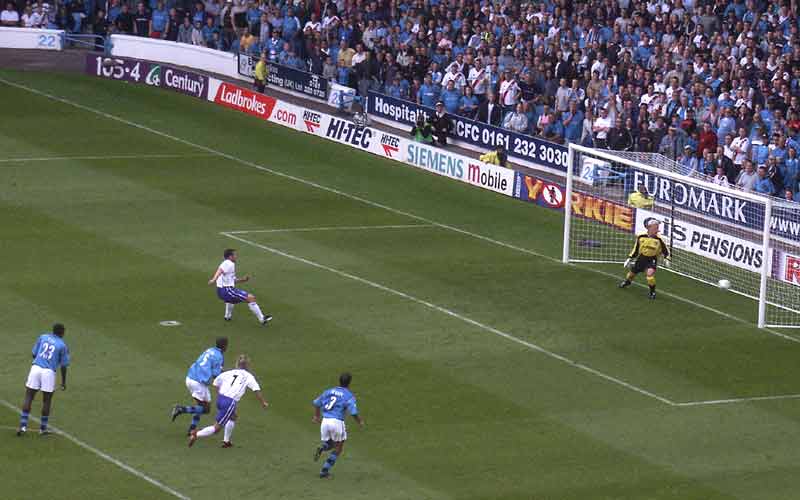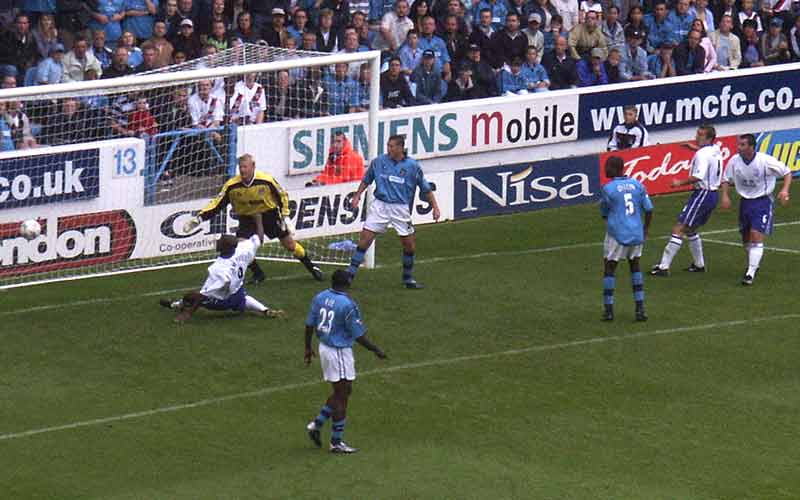 After the sending off the game changed its shape with City forced to work much harder to keep possession. Everton got more chances especially in the second half and Schmeichel made some great saves. City were reliant on the odd breakaway and keeping both Huckerby and Anelka on despite being down to ten men meant that Everton had to keep defenders back at times. The City goal had some narrow escapes - one of them above when Kevin Campbell missed right infront of goal from a header by Stubbs at a corner.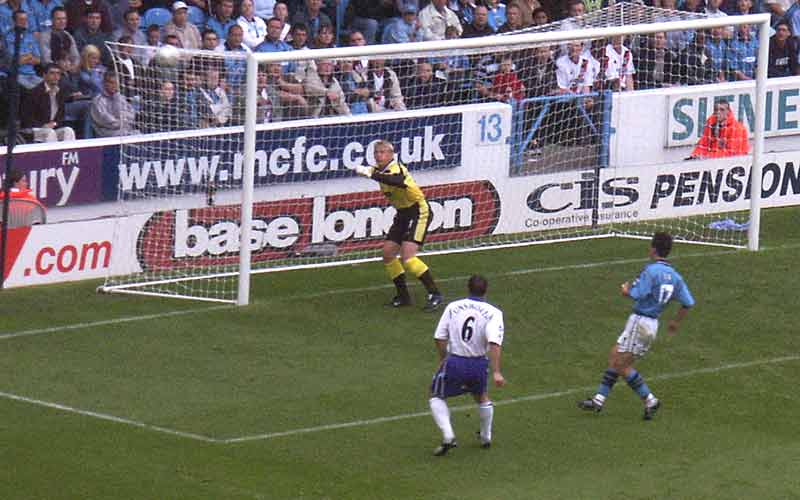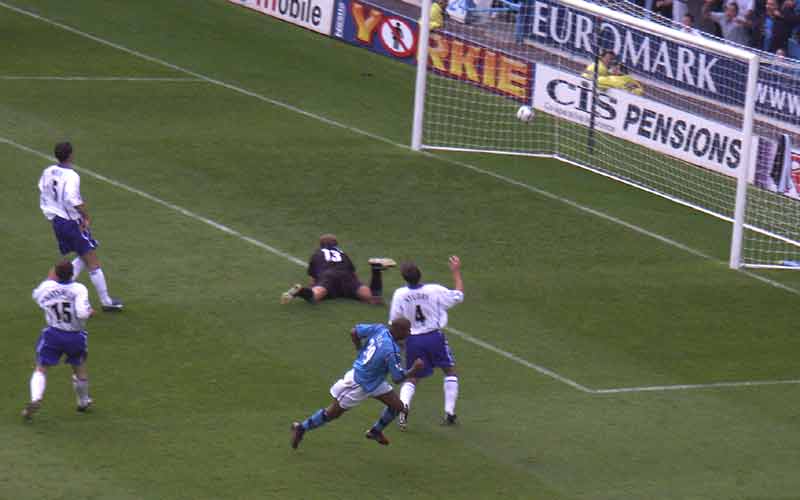 After 66 minutes Berkovic was replaced by the more defensive Horlock but it was game set and match with just five minutes to go when the ever industrious Anelka robbed Naysmith in the Everton half and raced through to beat two defenders and Simonsen by placing his shot past the keepers right hand .
Brilliant stuff and a well deserved hat-trick for the Frenchman.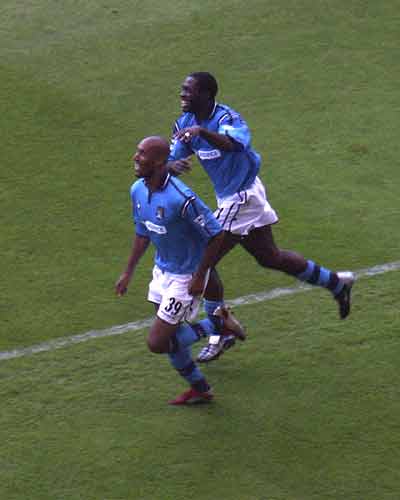 A smiling Anelka celebrates with Vivian-Foe after clinching a 3-1 City victory .


Team
Schmeichel (9) : Sun (8), Howey (9), Distin (9), Jensen (8): Wright-Phillips (7), Benarbia (8), Berkovic (7), Foe (8); Anelka (10), Huckerby (8).
Within a couple of minutes City were two up and the vociferous Everton supporters were silenced. Following a partially cleared corner Jensen made a magnificent recovery to keep the ball in play and managed to get it to Huckerby whose cross was nodded down by Howey to the ever alert Anelka who volleyed home from close range - above . 2 up and City were playing nothing like their Newcastle form - whose complaining!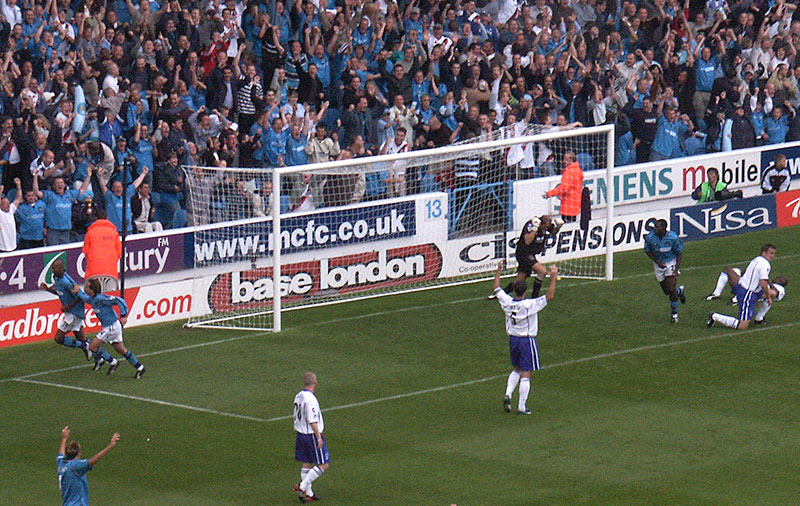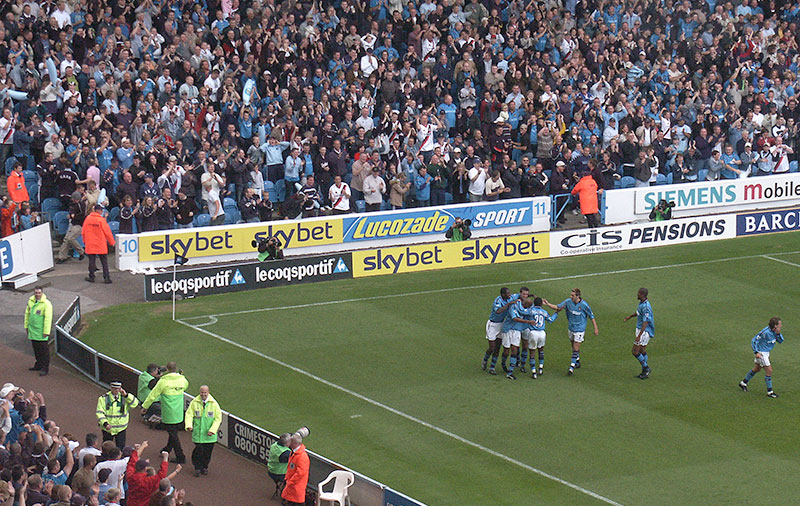 Note how Anelka is there in defence as this Everton corner is cleared by Foe
Schmeichel makes a point blank save from a Unsworth volley by punching the ball clear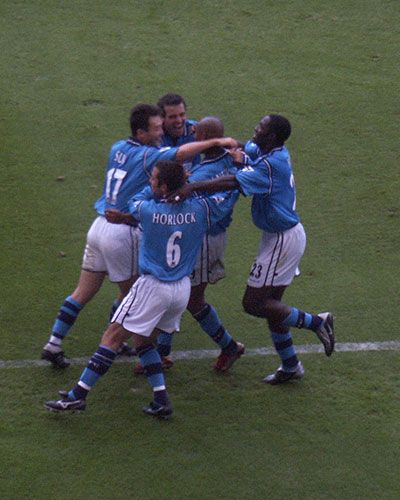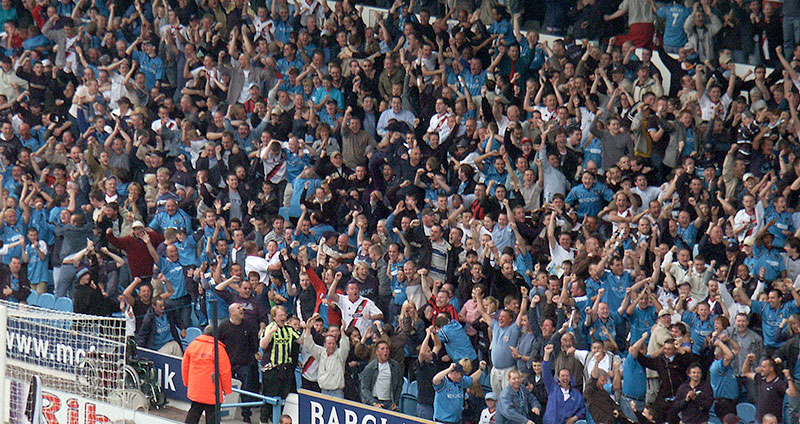 team mates join in the celebrations
It was a great team display by City, forced to play with ten men for 60 minutes.
The City fans enjoy the magic moment