Manchester City v Liverpool 0-1
Jan 5th 2003 FA CUP att 28,500
Well Christmas has been and gone and apart from the disappointment against Spurs ,City have done well . Only a last minute equalizer by Everton robbed City of a good away win on New Years Day so City go into this third round tie against Liverpool with high hopes. A shame the loan signing of Djamel Belmadi was just too late for this game. Perhaps he will make his debut against Leeds. Belmadi must be short of match practice as he has not played for Marseilles since last season. Last season he played 10 times but was a regular the season before playing 29 and scoring 8. Before Marseilles he played a season for Celta Vigo in Spain. He was born on the outskirts of Paris and made his debut for Paris St G in 1996 at the age of 19. Last October he scored twice for Algeria against Chad (4-1) in their Group12 African Nations Cup game. The City team showed several surprise changes - Wiekens and Mettomo coming in for Howey (injured) and Dunne (virus). Wright Phillips retaining his place alongside Annelka, Huckerby and Goater being on the bench.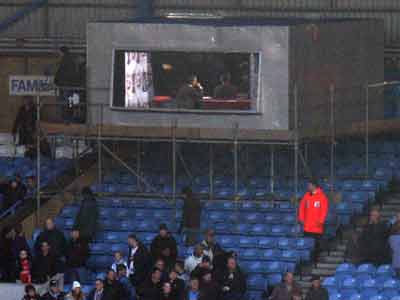 So this was going to be 'the match of the round'. It was live on BBC TV at lunchtime. If anyone had told me thirty years ago that I would be watching City in the Cup on a Sunday afternoon I would have thought them bonkers! Still Gary L and company were there in the presenters cabin (- left ) to describe all the action in the goal feast to come !
What a downer it turned out to be. With neither Owen nor Heskey upfront, Liverpool on a bad run looked beatable if City were on form. Alas City were awful.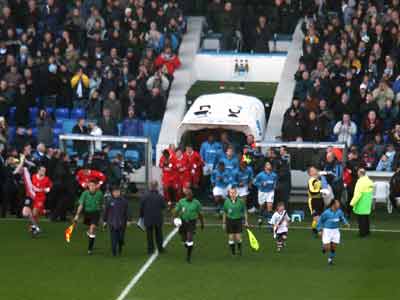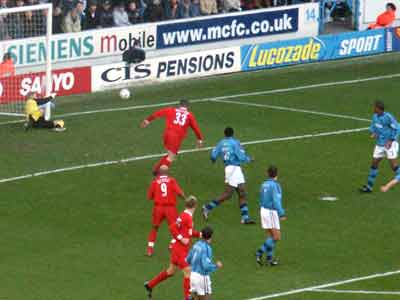 The teams enter the arena for what was going to be the last cuptie to be played at Maine Road.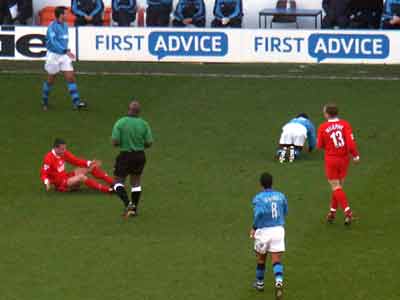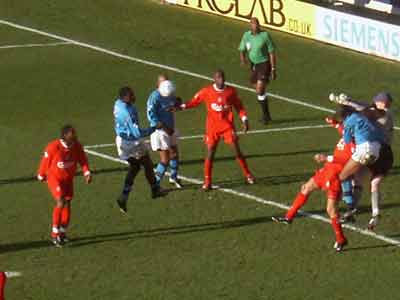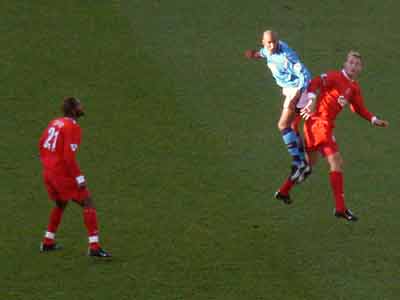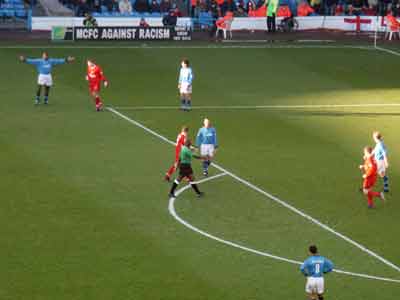 Anelka and Hyypia jump for the ball watched by Diao and just after half time disaster struck Foe 'blocked' a Smicer cross with his hand in the area and referee Rennie gave a penalty. This was a nightmare match for Foe who appeared not to want to play all game. When you go to block a cross with both hands raised you are asking for trouble. After such a good run of form Foe was disappointing.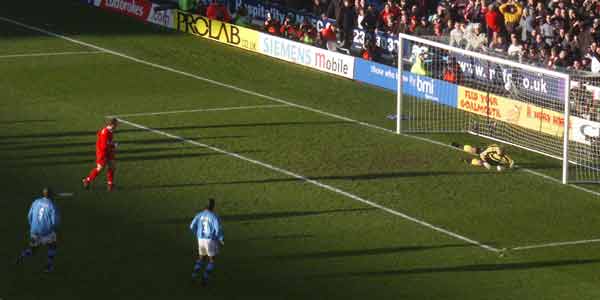 Murphy took the penalty and scored to give Liverpool a goal lead.
Liverpool deserved their lead as they had dominated the midfield and Anelka was getting little or no support.
City were playing with no passion or commitment to the cuptie.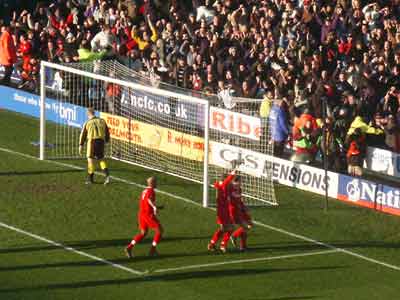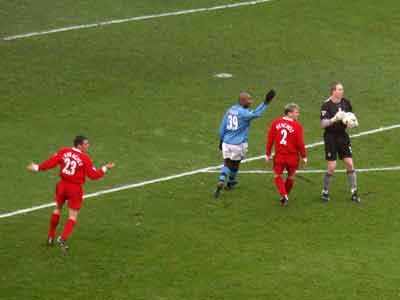 Liverpool celebrate the only goal of the game.
Kirkland handles outside the area but Anelka had been given offside - again! He really must watch the line as well as the ball.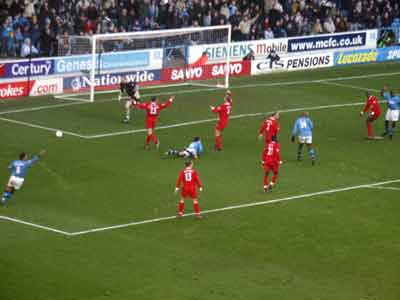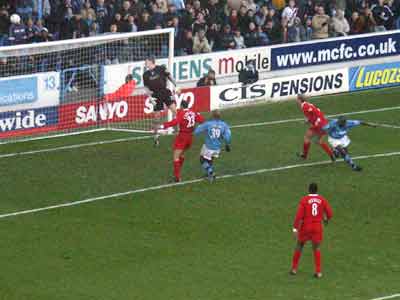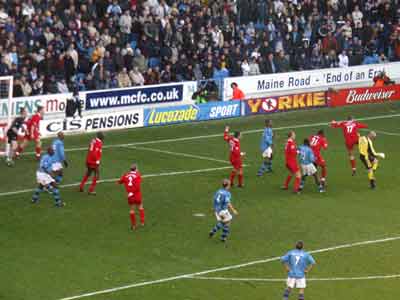 Schmeichel saves from Smicer after 6 minutes or so of play
.
Carragher gets away with a late challenge on Wright-Phillips without a yellow card.
Chris Kirkland punches away a City free kick taken by Benarbia.
Berkovic rightly got booked for this elaborate dive.
Goater heads over from a Benarbia chip.
In the final minutes City threw everything at the Liverpool goal - even Schmeichel coming forward for this corner in the final moments. This game was a huge disappointment and a real anticlimax as the last FA Cup Tie to be played at Maine Road.
Team
Schmeichel 6: Sun 6 (Goater 5), Mettomo 6 (Berkovic 6), Weikens 7, Distin 6, Jensen 6: Foe 4 , Benarbia 6 (Huckerby 6), Horlock 6: Wright-Phillips 5, Anelka 6 :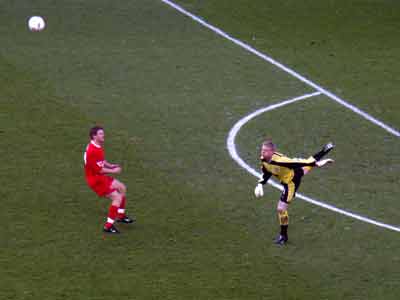 Well this is my very last image shot at an Cuptie at Maine Road - Schmeichel heading clear !
City never really turned up for this game. Was it the cold ? Was it fear after the trouncing by Liverpool earlier in the season? The superior workrate by Liverpool in midfield meant that City never really supported Anelka and little headway was made down the flanks . This was just not acceptable City. Oh for a Roy Paul, Paul Power, Colin Bell figure !

THE TRANSFER WINDOW
The' Transfer Window' is now open and City as expected are in the news with many reports concerning several players. Already signed on loan is Djamel Belmadi and according to the City web site he scored in last nights reserve game against Sheffield Wednesday and generally was the star so I expect him to be at least on the bench for the Leeds game this weekend.
Others that Kevin Keegan is interested in are as follows - Michael Reiziger who is in talks at Carrington as I write this. Reiziger who has played for Ajax, Volenden, Groningen, Milan (briefly) and Barcelona has won double honours with Barcelona in 1997 and has played for Holland in the World Cup. This tough defender has the doubtful honour of being in the uglyfootballers.com team!
He played for Barcelona against Newcastle in the Champions League last December but went off injured with a torn right thigh muscle that was going to keep him out for six weeks so he is not due to be fit for several weeks! We wait the result of his medical with bated breathe!
Another defender in a possible transfer move is David Sommeil of Bordeaux. Born in Guadalope in the West Indies he is mainly a central defender. He is 28 and according to an interview I translated on the web he is looking forward to playing with City!. He has been a regular defender with Rennes and Bordeaux in the French First Division following his move from Caen in 1998. He has scored only once in 174 games upto this season..
Another possibility is South African International forward Benni McCarthy of Celta in the Spanish League. He was born in Cape Town in 1977 and played for Ajax previously. He has had an up and down season being sent off for fighting against Malaga early in the season but has scored a few goals since in both the league and UEFA competitions.
I must admit my preferred forward choice is still Polish born German International forward Miroslav Klose from Kaiserslautern who would cost more but has a better future being only 24. He is particularly good with his head and already has 23 caps for Germany. His father played for Poland and many experts predict a good future for him. I would love to see him and Anelka upfront. Come on Kevin spend a few bob! You know it makes sense!
There is now talk that the Fowler transfer is back on. Personally I don't think he is worth 7.5 million and as for his delay in signing before because of him requiring 50 grand a week - no way Jose. He has hardly played for Leeds since this season and appears now to be injury prone . The money would be better spent on Klose .
---
Manchester City v Leeds United 2-1
Jan 11th 2003 att 34,884
This was very much better City. A determined Manchester City deservedly beat Leeds in an open game. City had Dunne and Howey back in defence and Goater partnered Anelka upfront. Unlike the boring closed play of Liverpool, both Leeds and City used the flanks to make headway but Robinson had more to do and City bossed the midfield to great effect. A good team display topped by a wonderful goal by Jensen. See further down. With the new signings looming the players were really playing to stay in the side.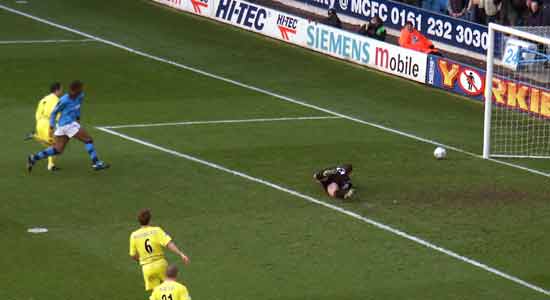 After only eight minutes the combination of Goater and Anelka gave the latter a chance which beat Robinson but just went wide - left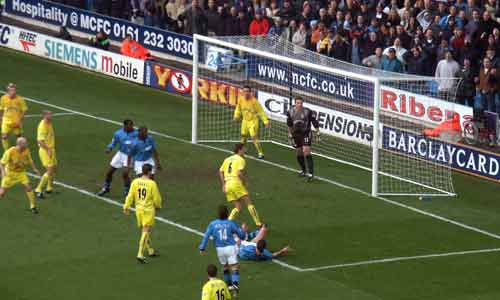 A Foe header at a corner after 15 minutes is cleared for yet another corner as City piled on the pressure. City were looking good and were really up for this game. What a difference a week makes!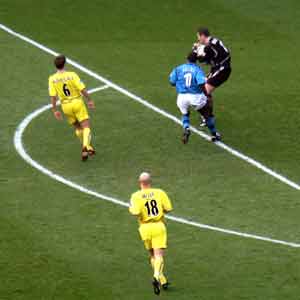 Robinson, easily the busier of the keepers only just stays in his area when challenged by Goater who was working hard - left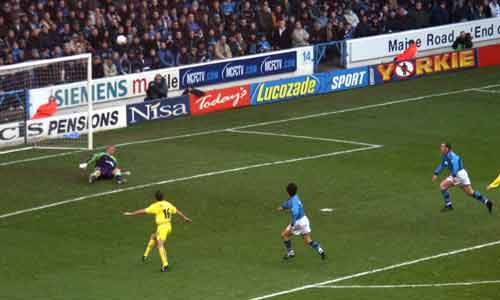 Schmeichel earned his keep with a good save from Kewell just before the half hour. The deflected shot from Kewell could have changed the game but the Danish keeper saved City's bacon!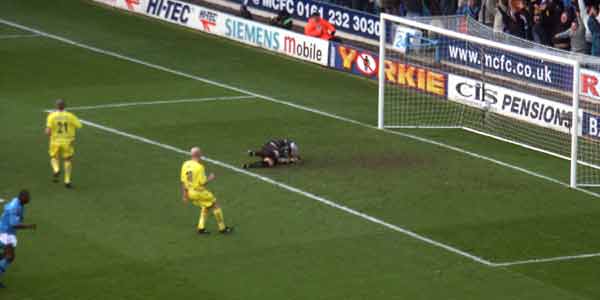 After 30 minutes City took the lead. a great ball from Berkovic - who else - gave Goater a chance he took well. Berkovic must be one of the leading providers in the Premiership and City are lucky to have both him and Benarbia in the creative department. Full marks to Goater who ran into space really well. Half time and one nil to City.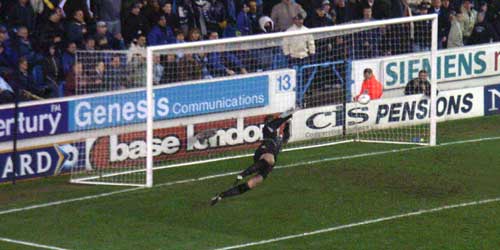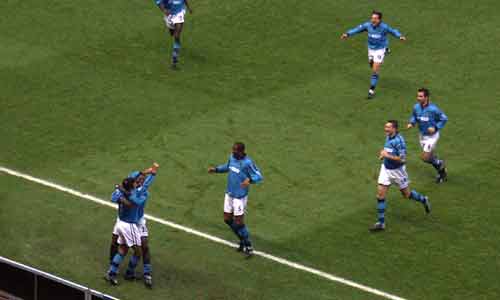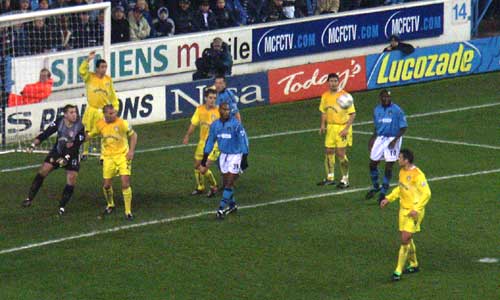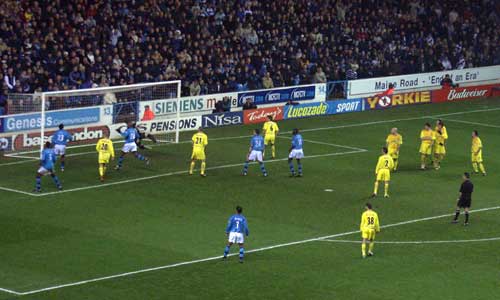 Just five minutes after half time came the goal of the season - perhaps of the century!
Wow what a goal ! Anelka took the ball down the right and whipped in a great cross with his left foot along the edge of the penalty area. The ball was met first time by left wing back Niclas Jensen who volleyed it past Robinson with wonderful technique and precision. Absolutely perfect! Two nil to City and the large Leeds contingent were struck dumb.
Then the celebrations began with the delighted City players rushing towards the normally reserved Jensen who does his work professionally without headlines.
Well he is in the headlines now. If the odd rest now and again can bring a goal like this great!
Robinson again under pressure at a corner.
A free kick by Horlock was well saved by Robinson who had to turn it over the bar.
City ended well on top but in extra time as I was going down the Kippax steps Kewell scored a consolation goal for Leeds . Pity - just as I thought City would have a plus factor in the goals for and against column for the first time this season. We saw Fowler on for Bakke after 72 minutes and he didn't really look worth 7 and a half million and 50 grand a week! Perhaps he didn't want to score against his future employers. If the deal goes through he will have to up his game a lot to partner Anelka. Past records and deeds mean nothing in the Premiership. I also notice that Vuoso has yet to show his potential. It would be a pity to lose out on any talent. A good all round performance by City who bossed the midfield -Foe being back to form, Berkovic good as usual . The back three were solid and coped well with Smith, Kewell and Vidulka. Schmeichel made a vital save, Jensen scored a blinder and the front two kept Mateo and company busy all game. Sun did some good things too .
Team:-
Schmeichel 7: Dunne7, Howey7, Distin 7: Sun 7, Berkovic 8, Foe 8, Horlock 7, Jensen 8: Anelka 8, Goater 7.
The Transfer Window part 2
Well the saga continues and as I write the Sommeil deal finally looks to go through but the hunt for a partner for Anelka is hotting up. With Fowler finally out of the equation - there is more to come about this I am sure - a new name has emerged. With Bordeaux still short of cash despite their recent outgoings - a bid may be made for Pedro Miguel Carriro Resendes - known as Pauleta . He is a prolific scorer and has a good pedigree. He made his name with Desportivo La Coruna in Portugal before joining Bordeaux in August 2000 on a four year contract replacing Wiltord who had gone to Arsenal. Following the 20 goals he notched in his first year, last season he scored 22 goals and this season has netted 13 so far for the French club. He is rarely yellow carded and has played over thirty times for Portugal. He is about the same height and weight as Sommeil - 1.8 m 75 Kg and will be 30 this coming April. So who will it be I wonder - Pauleta - Klose or will KK wait - with Wanchope on his way back and Macken regaining fitness. We all wait with baited breathe!
The Transfer Window part 3
One week to go and news from Bordeaux is not good .Reports this morning - Monday - suggest that they want to hold onto Pauleta so maybe KK will at last turn his attention to Klose at FCK - Kaiserslautern . They lost at home to Stuttgart ( My car once broke down on a roundabout there!) 1-2 and Klose did not score. It was their first game after the winter break. As Pauleta is a good friend of Sommeil who has now signed as a City player it is shame this deal may fall through. Another possibility is Dijibril Cisse of French club Auxerre another young goal scorer of repute. Our breathe continues to be baited! Who thought up this transfer window!
transfer windows news at bottom
Manchester City v Fulham 4-1
Jan 29th 2003 att 33,240
All the pre-match chat concerned the ins and outs of the Forsyth - oops Fowler Saga. So finally Sheriff Keegan got his man despite the possibility that Fowler may not be able to shoot out of both barrels! The injury prone ex Liverpool and Leeds player will have to prove all the City cynics wrong at his debut against West Brom on Saturday. With Klose having a poor game against Stuttgard at the weekend and Bordeaux refusing to let Pauleta go , a much needed 3 million down for the Leeds piggy bank is likely to scupper Newcastle's hopes of taking Woodgate to the NE and prevent the exit of Venables. So it was always on for Fowler to finally agree to sign for City.
Last night City had their biggest win of the season in what is likely to be the last evening game at Maine Road. It also marked the full debuts of two new signings David Sommeil from Bordeaux and Djamel Belmadi the loan signing from Marseilles. With Peter Schmeichel and Berkovic still injured Carlo Nash had the opportunity to make up for his error at Newcastle and Benarbia stood in for the Israeli.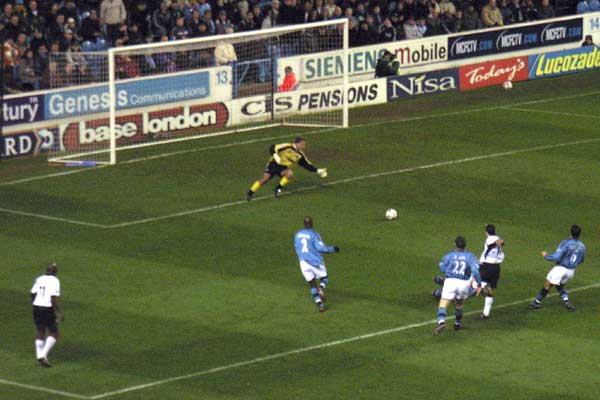 After the early blunder at Newcastle it was a blow when Fulham took the lead after just 2 minutes. A poor rebound off Dunne let in Malbranque who beat Nash from the edge of the area - left.

Dunne went on to play a blinder showing us some tricks we had not seen before.
Fulham continued to dominate for the next ten minutes and hit the post shortly afterwards. The pace of the Fulham counter attacks gave the City defence plenty to think about and Sommeil was having to show his skill.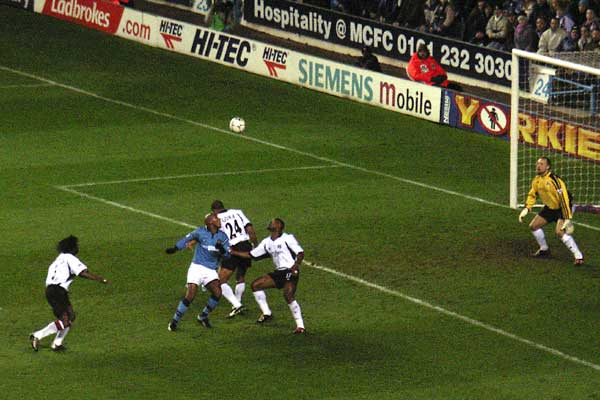 City began to up their work rate and with Belmadi showing his skill to delight the home supporters the Fulham goal came under increasing pressure. A few chances went astray but we had the feeling it was only going to be a matter of time before City drew level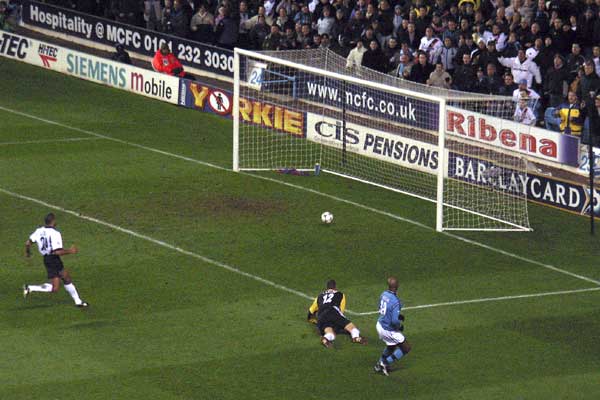 And so it proved when after 20 minutes Sommeil brought the ball out of defence pushed it forward to Benarbia who found Anelka with a great pass. He raced forward and shot between Taylor's legs to score - left.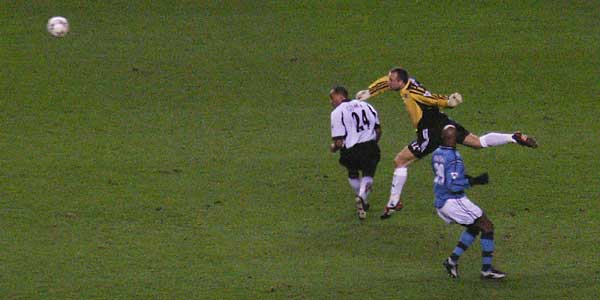 On the right Taylor has to head clear well out of his area to stop Anelka getting the ball.
Half time came with the scores level.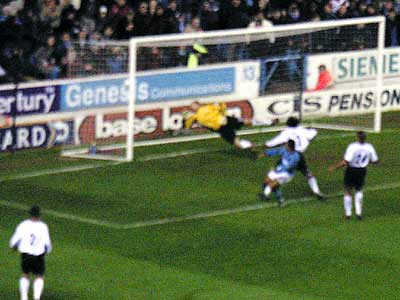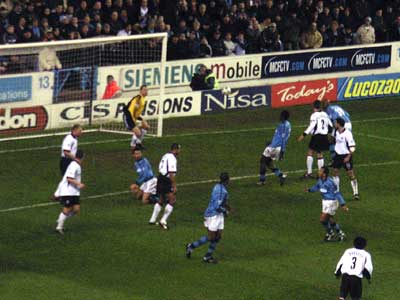 City took the lead just after the restart. Anelka found Belmadi whose great cross under pressure was stabbed home by Ali Benarbia.
City continued to press and above the ball goes narrowly wide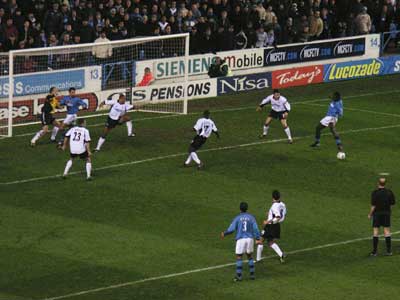 Fulham were beginning to sag and Belmadi was showing why Keegan had signed him. With his speed and skill and good football sense he will be difficult to leave out of the side. The squad is now looking Premier class and with Sommeil finding his feet in defence things are looking up.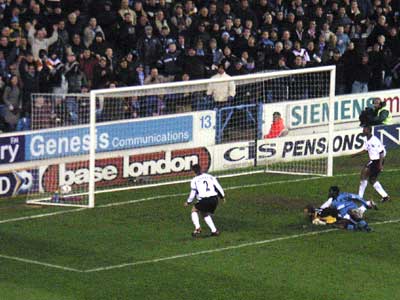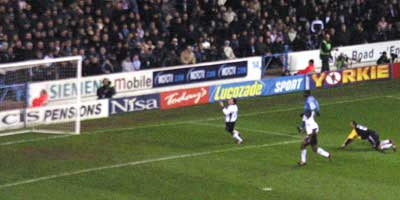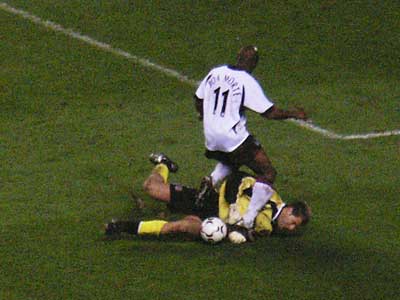 After 70 minutes a tired Benarbia was replaced by Wright-Phillips and the substitute scored with his first touch of the ball. Nash took a long free kick from the City half .It was headed on by Belmadi and Wright-Phillips nipped in to flick the ball past Taylor - above .4-1
After 60 minutes City scored again when Foe managed to get a leg to the ball ( above) after Taylor had first saved his header following a cross from Anelka. Three one to City and there was more to come.
On the right Nash is saving at the feet of Boa Morte. Though he didn't have many difficult saves to make Nash played well throughout and proved a good deputy for Schmeichel
TEAM
Nash 7: Sommeil 7, Howey 7, Distin 7: Dunne 7, Benarbia 7, Foe 7, Horlock 6, Jensen 6: Belmadi 8, Anelka 7:
A professional City performance especially in the second half and at last we have a plus goal difference. The new boys impressed and City had come back well from the early Fulham pressure. Goater came on for Anelka for a few minutes at the end. Was this going to be his swan song? Will City make the top six? Should we be starting to learn foreign phrases? A good win against West Brom on Saturday will help. Then we have games against United and Arsenal. This will give give us a clue.