City v United 3-1
November 9th 34,645
Following the last two away wins at Birmingham and West Brom City should have been confident to face a United without Beckham (suspended) and Keane (injured) but the midweek defeat at the hands of Wigan and injuries to the heart of the defence - Howey and Distin meant that Mettomo and Wiekens had their first outings of the season and the support near me were somewhat apprehensive of what was to come. We need not have worried - the whole team gave a terrific display and virtually played United off the park. It could have been 5-1 again and not just 3-1.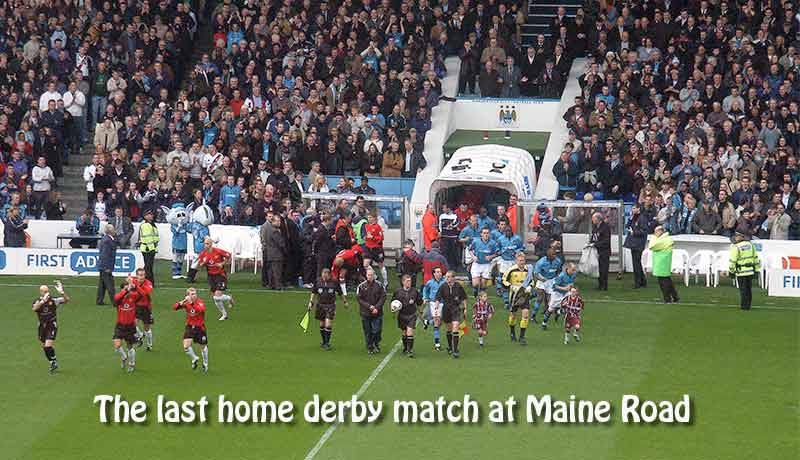 Peter Schmeichel captain for the day leads City out. Schmeichel is the only player apart from the great Billy Meredith (just before my time!) to have captained both City and United in a derby game
There was an explosive start to the game with City taking the lead as early as the 6th minute - what bliss. Annelka sped past Ferdinand - didn't he cost a few bob - passed to Goater whose left foot shot was only parried by Barthez -pictured on the left - out to Annelka who easily scored - below. Annelka deserved the goal as he made it initially by pouncing on a poor United pass by Phil Neville, flashed past Ferdinand and fed ' the goat'.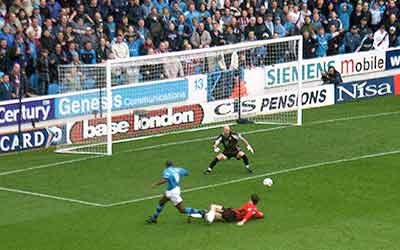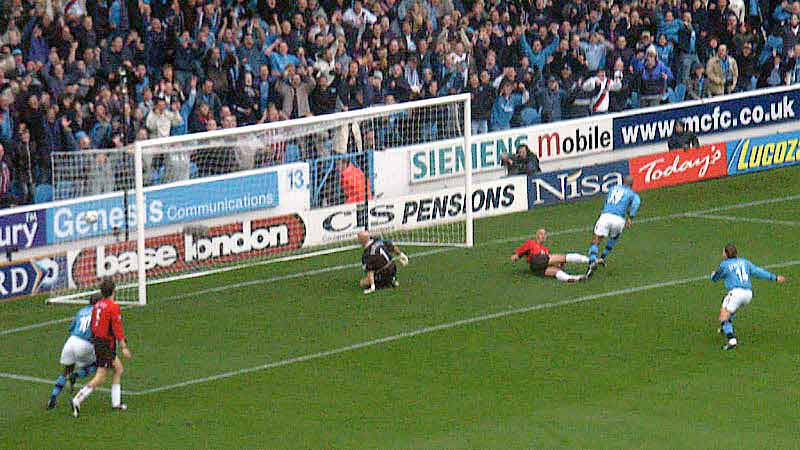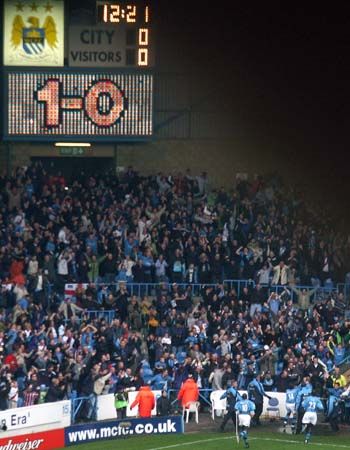 What a start as the City players dash to the corner to celebrate. It was in this section of the original Platt Lane Stand that I stood as a youngster to watch my very first game between City and United in 1943 and then made the decision that I preferred the blue of City to the red of United. The war was still on and the teams for that day - there was no proper programme - were as follows
City 2 ( Burke,Boothway)
- Swift:Clark, Jackson (Rochdale): Walsh Eastwood, McDowell; King (Wolves), Bardsley, Burke (Luton), Worral, Boothway(Crewe).
United 2 ( Smith, Pearson)
Breedon(Burnley: Griffiths, Roughton:Warner,Porter,Whalley:Morris,McKay,Smith,Pearson, Bellis(Port Vale)
Referee Salmon (Leeds)
att 15000
Teams in those days were able to field guest players hence the teams in brackets.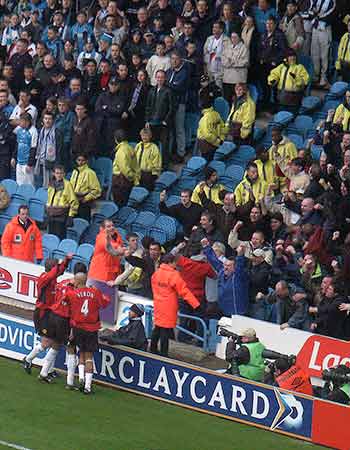 Alas the lead did not last for long. Minutes later a loose ball ran to Giggs whose cross was misjudged by Mettomo - his only mistake - and Solskjaer scores from close range. It gave the United supporters their only moment of joy during the 90 minutes.
In fact they had little to shout about I am glad to report they had a thoroughly miserable day.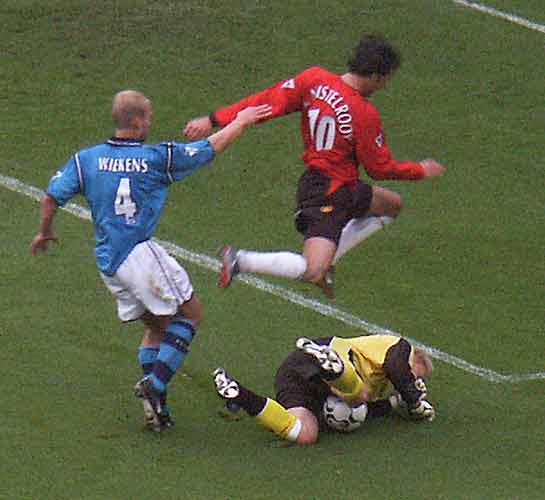 Below Schmeichel saves at the feet of Van Nistelrooy following a long ball from Scholes one of the few United players to shine.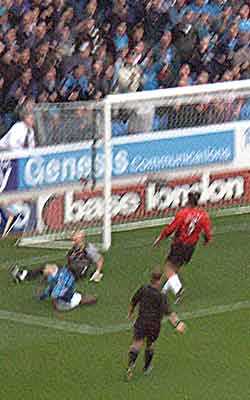 After 25 minutes a long ball from Foe appeared to be going nowhere other than out for a goal kick. Garry Neville was in attendance to shepherd the ball out of play. The persistent Goater managed to get the ball and hammer it past Barthez from a narrow angle -above - 2-1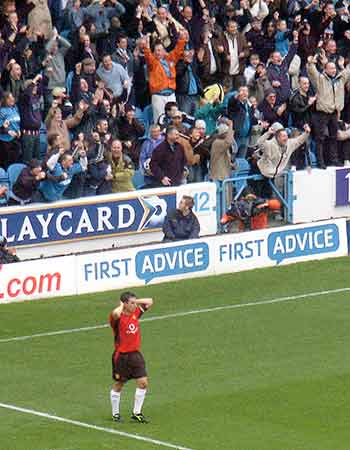 Above Goater is congratulated by Berkovic for his 99th goal for City while on the left a dejected Garry Neville considers the consequences of his calamitous error. I don't think the Neville brothers will be celebrating tonight. Below Giggs fails to get past the attention of Dunne with Jihai Sun in close attendance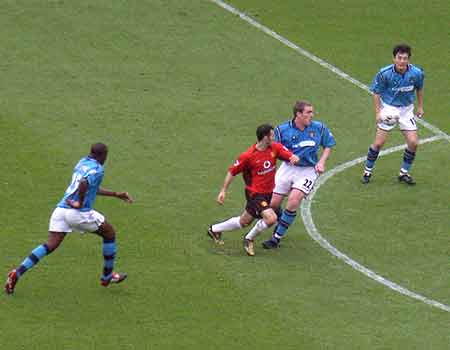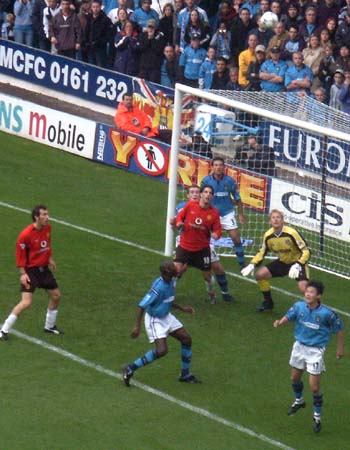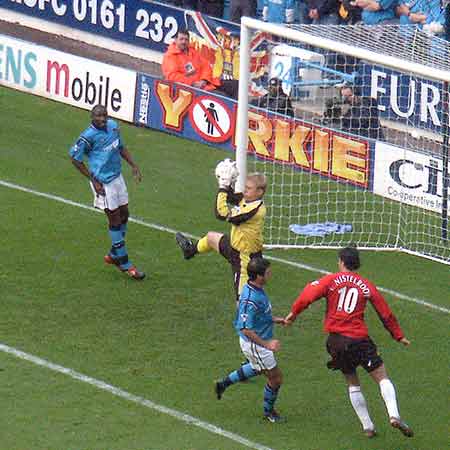 Left - all eyes on the ball as a corner comes in and above Peter Schmeichel looks as safe as houses as he collects another cross. He was always in control of the box.
The City defence played really well especially with Mettomo and Weikens fitting in well. A tribute to the pre-match planning.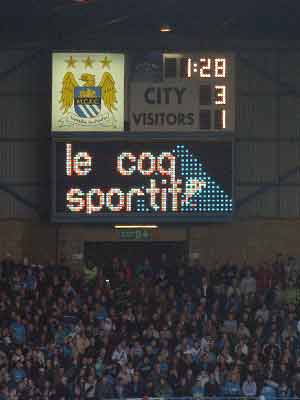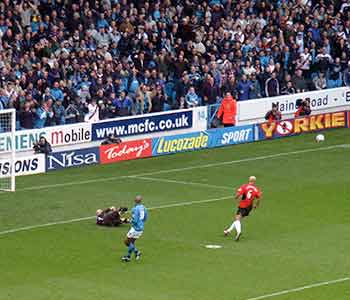 A good ball from Goater - how well he is playing with Annelka - finds the French man through on goal with only Barthez to beat. It looked a certain goal but Barthez clawed the ball aside - pic right
City continued to press and at half time and a score of 2-1 to City there was plenty to talk about. In fact with the absence of music at half time you could hear a constant hum of noise from the crowd. I fact I was so affected by the action of the first 45 minutes that I forgot to change the batteries on the camera at half time and Goater chose the wrong moment to score his hundredth goal for City seconds after I had put the new ones in. There was no time to focus properly or to zoom in as he put the game safe by taking a through ball from Berkovic thundered past Blanc and clipped it over Barthez. Ecstasy 3-1 and home and dry - we hoped!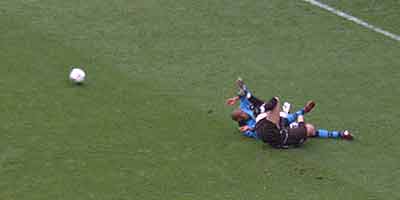 After 65 minutes Annelka once again broke through following a great ball from Berkovic on the right. He looked to have been bought down by Barthez for a penalty but referee Durkin said no and as the ball ran loose he gave a free kick against Goater for a supposed foul. Did he let United off. Many other referees would have given a penalty. Generally though the referee had a good game and let the game run without too many stoppages. The City defence had a few moments of concern before the end - this free kick at the edge of the box being deflected for a corner- below.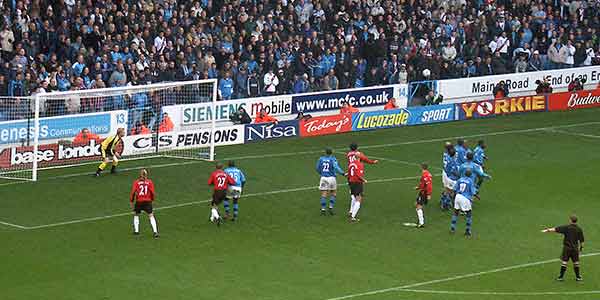 Well what a result 3-1 against the old enemy. City's third league win on the trot and Charlton at home next game. A chance to move into the top half of the season and forget all those relegation fears. City just outplayed United today and it could have been 5-1 had Annelka and Goater taken further chances. It was the first time I had seen Veron and van Nistelrooy in the flesh this season and they failed to live upto their fees.
team
Schmeichel 8: Sun 7, Mettomo 7, Dunne 7: Wiekens 8, Foe 7, Jensen 6; Berkovic 8, Tiatto 8: Annelka 8, Goater 8 subs Wright-Phillips 6, Horlock 6
City v Charlton 0-1
November 16th 33,435
After the great game last weekend this was a poor game with City playing well below form, only Dunne and Jihai Sun coming up to scratch. Neither keeper had a difficult save to make and it was obvious from the kick-off that Charlton were going to sit back and hope for a point. The creative juices and endeavor that were employed against United had evaporated and though City had a good percentage of the ball they failed to make any headway. There was very little incident in the penalty areas and the crowd was very subdued. Wright-Phillips had a poor game and today even Berkovic's guile made little impact on a strong Charlton defence. Annelka had little support and was well marked throughout the game. Goater too had little impact and was substituted by Huckerby late in the game - too late really .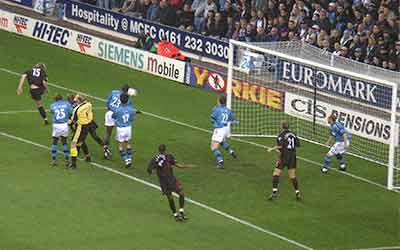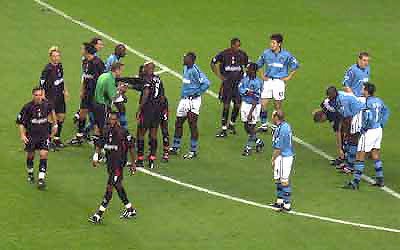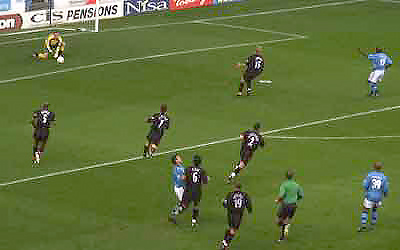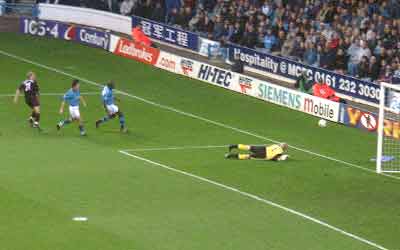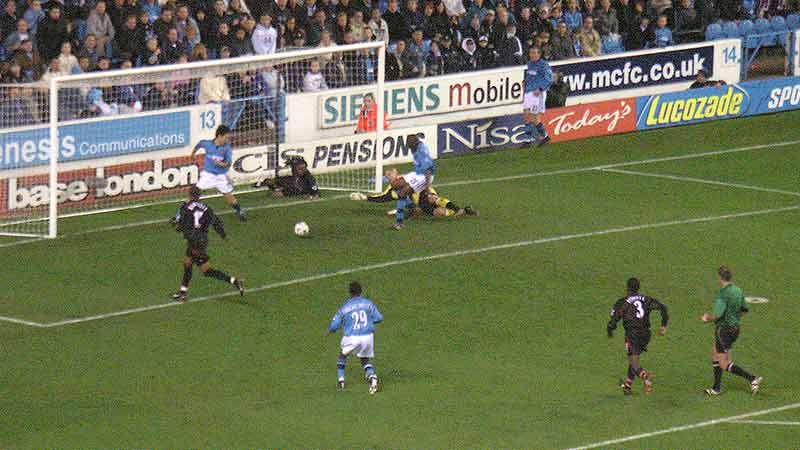 Bottom right was one of the few occasions Peter Schmeichel was called into action.
Just when we were expecting a goalless draw Charlton scored a surprise goal. Horlock , who had come on for injured Foe, lost the ball badly in midfield . A shot by Johansson rebounded off a defender right into the path of Bartlett who had the easiest of tasks to give Charlton the lead - above.
City tried to come back but it was far too late and though there were a couple of half chances this was a game City supporters will want to forget. With a difficult away game at Middlesborough next and then Bolton at home it is going to take a big physical and mental effort by the players to get the points.
Team
Schmeichel 6: Sun 7, Dunne 8, Mettomo 6, Jensen 6 : Wright-Phillips 4, Berkovic 6, Foe 5, Tiatto 6: Annelka 6, Goater 5

City v Bolton 2-0
November 30th 34,860
After the poor display at Middlesborough following the dismal performance against Charlton, City did their usual about turn and put on an excellent display in atrocious weather conditions. The necessary changes were made with Howey and Distin coming back from injury and Tiatto dropped back to wing back replacing Jensen.
The out of form Wright -Phillips was dropped to the bench and Foe returned from suspension.
With rain sweeping across the ground honours were even in the opening exchanges and it looked as though the result was going to be close but in the end it was quite a comfortable win.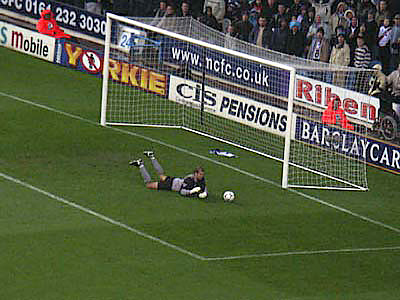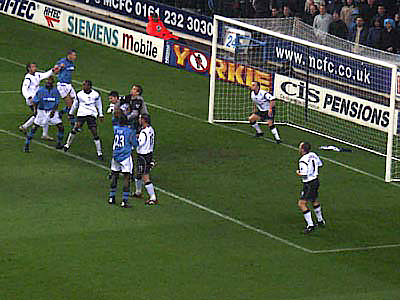 Jussi Jaaskalainen has to go full length to push aside a shot from Anelka after 8 minutes
Jaaskalainen in action again at a corner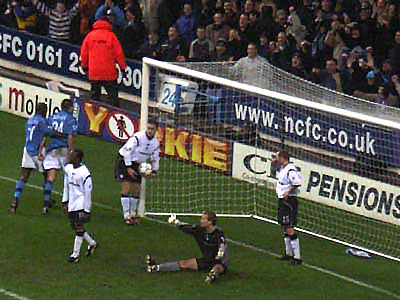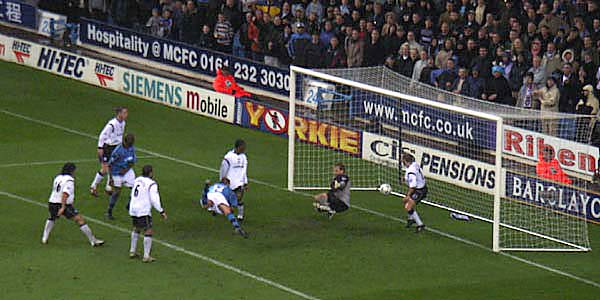 After 25 minutes City took the lead. Berkovic took a corner which was nodded on by Kevin Horlock and there was skipper Steve Howey to head it into the Bolton net - left. One nil to City.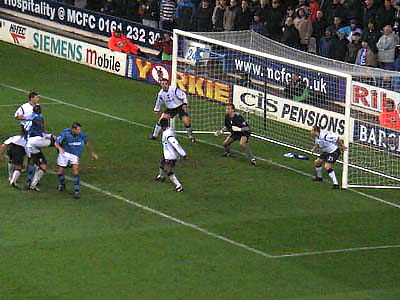 As Steve Howey takes the plaudits of the City faithful behind the goal the Bolton defence try to work out who should have been doing the marking.
Yet another dangerous City corner puts pressure on the Bolton goal just before half time which came with City still one goal up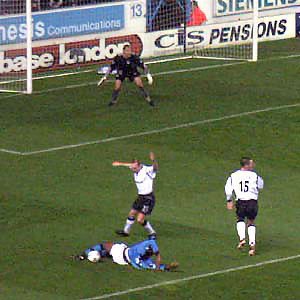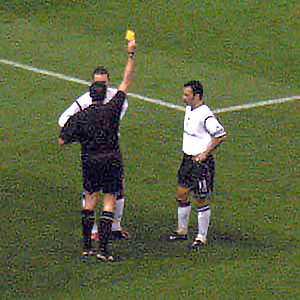 City piled on the pressure in the second half and when Foe on a long run was upended by Nolan after 50 minutes it was touch and go whether the Bolton defender was the last man but Mr Winter was generous and only a yellow card was shown.
I was impressed by Danny Tiatto when he was unceremoniously dumped by Nolan earlier there was no sign of retribution. Nolan was lucky to escape a yellow card on that occasion.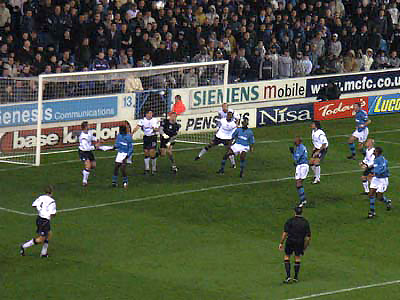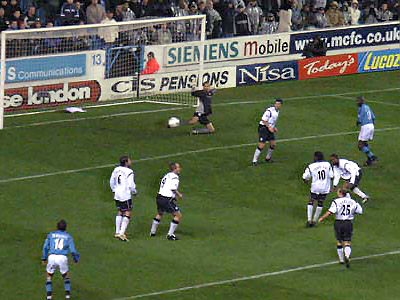 From the resultant free kick a Bolton defender took the brunt of an Anelka powerful shot.
The Bolton goal was having to take more City pressure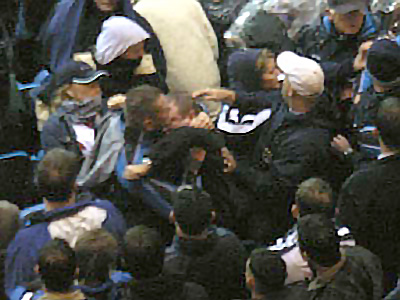 For reasons unknown an argument started in the crowd below me. Within a few minutes the police arrived in force and calm was restored.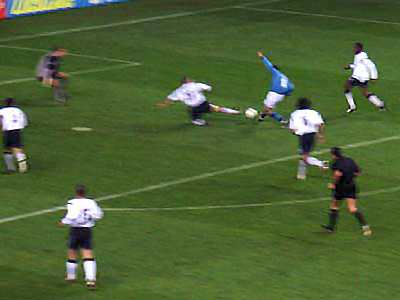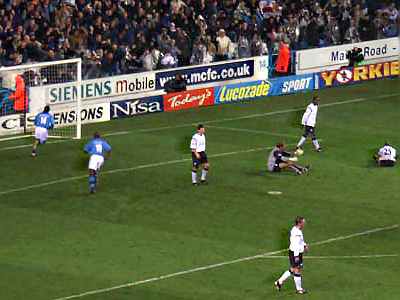 With all the commotion infront of me I almost missed City's second goal. I just looked up to see Berkovic take Anelka's pass and shoot past the Bolton keeper. It was a well deserved goal for Berkovic who has thrived in his role as creater-in -chief in midfield. I can almost forgive him for opting out of the odd 50-50 challenge. We cannot afford to have him injured at the moment. Tiatto had started the move and although some of the Australian's passes had been woefully off course his attacking wing back style constantly had Bolton on the defensive. Apart from a good double save late in the game Peter Schmeichel had little to do as City's back three gave excellent cover and City's midfield bossed the park in the second half.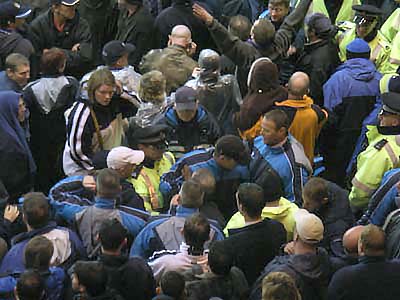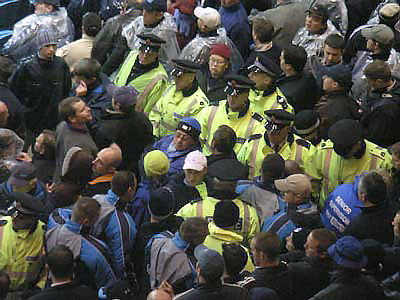 Team
Schmeichel 7: Dunne 7, Howey 8, Distin 7: Sun 7, Berkovic 9, Foe 6, Horlock 7,Tiatto 7: Goater 5, Anelka 8 :
The mystery below continued for several minutes even after City scored. Perhaps someone had discovered who started the stupid rumor about Keegan going!
All in all a really good display in appalling conditions. City played some good football and it could have been 3 or 4. To make up the goal difference City must kill off the opposition when in charge. Anelka once again showed his skill upfront but I am not convinced Goater is his best partner. Perhaps the transfer window in January will give us the answer. My gut feeling is that it will be a German striker.