Manchester City
February 2003
Manchester City v West Bromich Albion 1-2
Feb 1st 2003 att 34,765
Fowler got a big cheer on making his debut but there was little else for City supporters to cheer about in this poor game against relegation favourites West Brom. Under ex -City player Gary Megson West Brom have not got a reputation for scintillating football and so it was today. City continued without Schmeichel and Berkovic and with the Fulham man-of-the match Belmadi relegated to the bench all interest was on how Fowler would link up with Anelka. Well the jury is still out. Short of match practice Fowler showed little of his potential but both Benarbia and Foe were off their game and I felt the only way to beat the massed West Brom defence in the middle was use the flanks but Jensen and Dunne ( in the first half) were not able to make much progress. Hence Wright -Phillips came on for Dunne in the send half. Dunne had such a good game against Fulham too in the wing back position.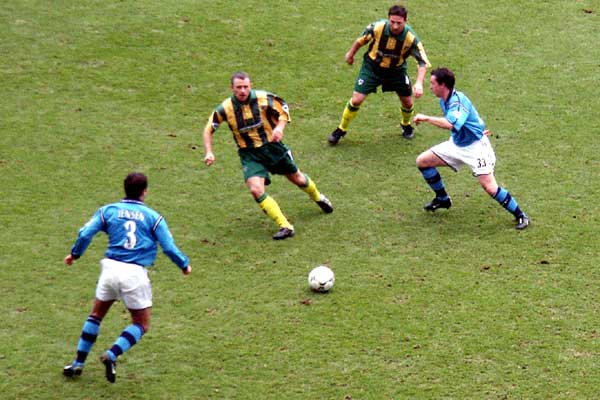 Fowler in action on his debut linking with Jensen.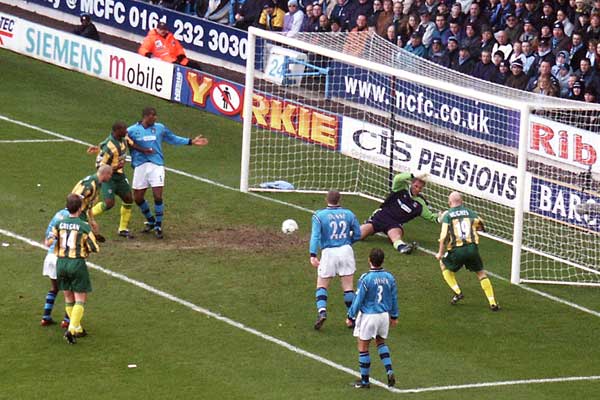 The warning signs were there as early as the 10th minute when a completely unmarked Clement headed in from a corner. Fortunately Nash was alert and blocked the header with his feet - right. So who was supposed to be marking him?
8 minutes later and we had a replay. Another corner - different wing but this time Clement using an arm to lift himself over Horlock scored. This time Nash blocked by Roberts had no chance.
One nil to the Baggies and with their defence and the omens were not good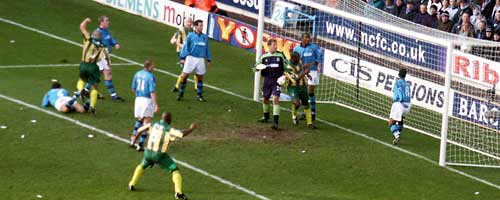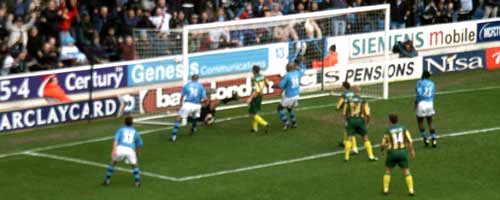 Four minutes later and City were level. A short corner combining Benarbia and Horlock ended with defender under pressure from Foe heading into his own goal - right. At the time I was moaning about short corners!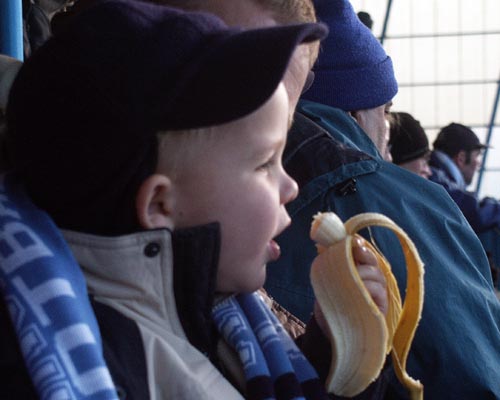 Its a few years since we had the 'Banana Craze' at Maine Road - well before this young man enjoying a snack and his very first game at Maine Road was born.
It was not going to be a game to be remembered in future years however.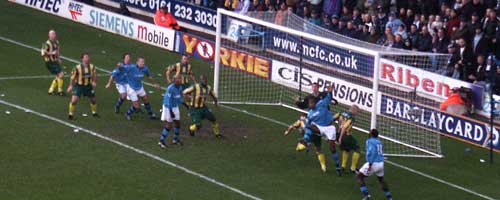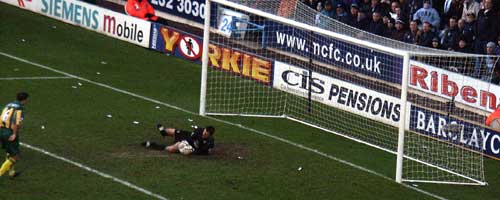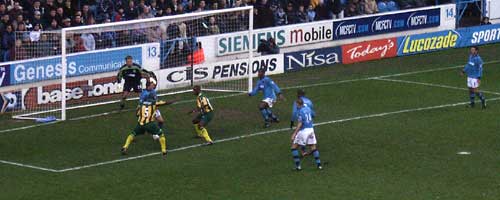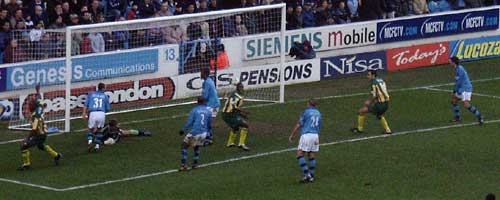 In the second half we hoped we would see a reply of the Fulham game but it was not to be . Although City put on the pressure the West Brom keeper had little to do.
On the right Russell Hoult saves from Anelka.
After 70 minutes, a few minutes after Belmadi replaced a tired Benarbia a corner from the right was headed on by a West Brom player and Belmadi guarding the left post lost control of the situation and Moore scored the winner for the Baggies-pics on right. This was really annoying as from where I was sitting the ball was put out by a West Brom player and it should not have been a corner.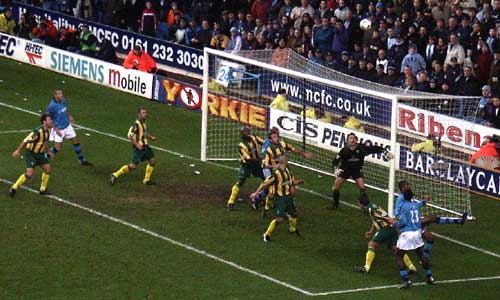 City threw everything at West Brom and were unlucky not to get a penalty when Foe was brought down in the area. However the referee who had not had a good game disagreed and though City brought on Goater for a final 20 minutes we were just not making good chances.
Hoult - on the left watching a corner did not have to make a difficult save all match. That is just not good enough.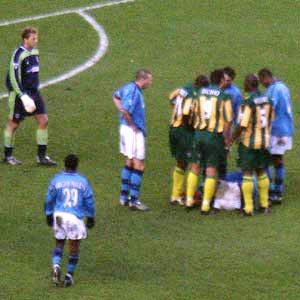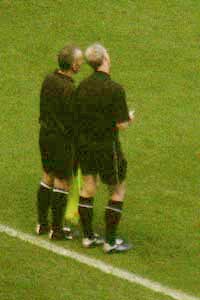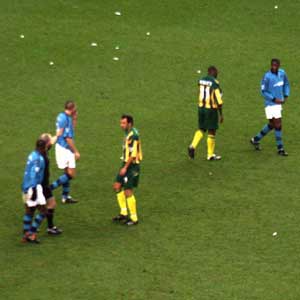 We had a bit of a drama with ten minutes to go when a minor spat between Sommeil and Roberts ended with the West Brom forward being sent off on the say so of the linesman - sorry referees assistant . Down to ten men West Brom just continued to do what they are good at - defending in depth and City had no answer to this. The chance of moving into 6th place was gone. Now we have United and Arsenal next .
Team
Nash 6: Sommeil 6. Howey 6. Distin 6: Dunne 5. Foe 5. Benarbia 6 ( Belmadi 6) Horlock 6. Jensen 6 (Goater 6): Fowler 6. Anelka 6:

Manchester City v Arsenal 1-5
Feb 23rd 2003 att 34,960
Slaughter of the Innocents
This was the worst home defeat I have witnessed since that horrendous day in September 1962 when City lost to West Ham United 1-6 and Bert Trautman was sent off for kicking the ball at referee Stokes. Martin Peters and Jeff Hurst were among the scorers that day. At the end of that season I went to Upton Park to see City relegated after another 6-1 walloping by West Ham. It is hard work being a City supporter.
Today Arsenal were just supreme. The last time I saw such skill and excellence was when I was fortunate enough to see Real Madrid beat Eintracht Frankfurt 7-3 in the European Cup Final in 1960. Surely Arsenal must now win the Premiership this season. On their day they are streets ahead of everyone else and barring a miracle City supporters saw the Champions today.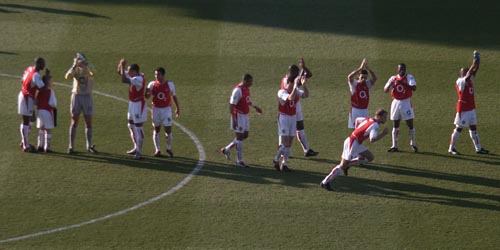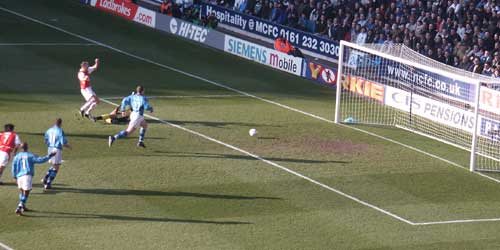 It all started as early as the 4th minute. Viera started it all on the half way line.His crossfield ball found Lauren who sent the most innocent of diagonal passes through the City defence and there strode Bergkamp to slot home the easiest of chances -above. The City defence were badly at fault Dunne in particular being half asleep to let the ball pass him - and Sun was too slow to see the danger.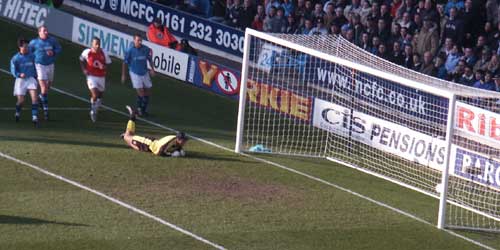 After 12 minutes it got worse . A long ball by Silva was collected by Dunne who had plenty of time to clear but his woeful pass went straight to Henry who dashed down the line with Dunne at his heels like a puppy. Henry slid the ball back to a waiting Piras who scored easily - above. City's back three were certainly going to the dogs!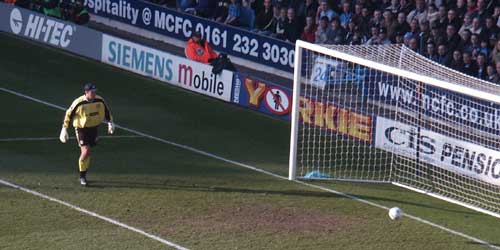 A few minutes later and Nash made no effort to prevent Arsenal's third when a long ball from defence was controlled brilliantly by Henry who then shot past the helpless City keeper all in one movement. Dunne who was supposed to be marking Henry was all at sea. 3 nil down and the game had just started! It was Arsenal who looked the fresher despite all their recent games while City who had had a rest for a week or so were awful.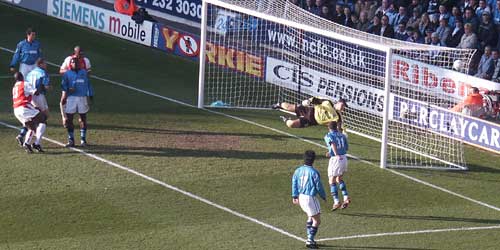 Worse was to come. Another Henry run was stopped by Nash who conceded a corner. This was headed home by Campbell who beat Howey in the air - above. But why did Belmadi who was guarding that side of the post run away from his position. Surely whoever is in charge of the City defence coaching has got to sort this poor organization out. Arsenal are too good a side to be given such gifts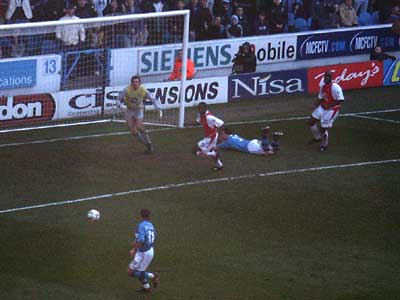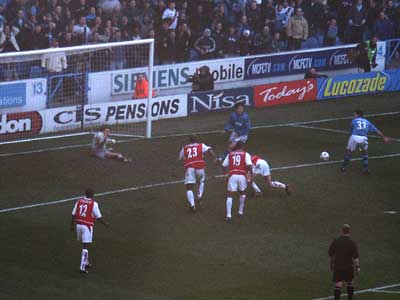 City's best effort came just before half time when a cross from the right by Anelka was just missed by the diving Fowler -above left and when the ball was collected by Belmadi and again centered Taylor made a great save from Fowler -above right to save Arsenal!
From the clearance Anelka had a shot which just went over the bar and half time came with City four down.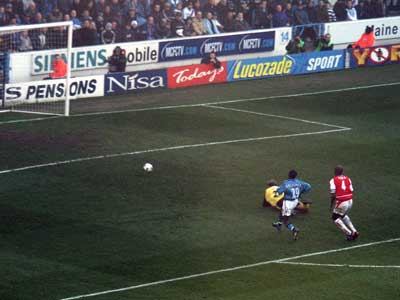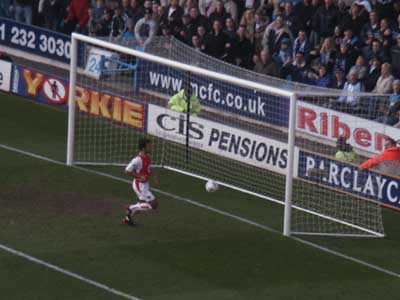 City had a good chance shortly after the interval when Anelka's shot just went wide after a mistake by Campbell- above left. Just four minutes later and Viera interchanged passes with Bergkamp and strolled through the City defence or what passed for one, to score Arsenal's fifth - above right. Well we couldn't blame Dunne for this one as he had been substituted at the break by Wright -Phillips.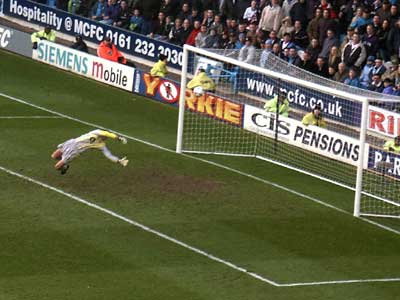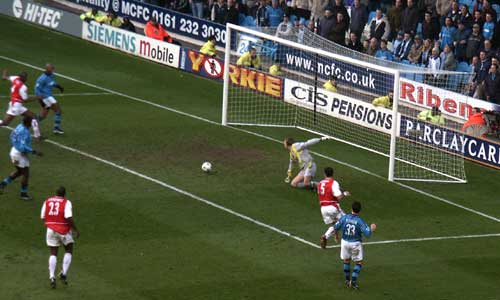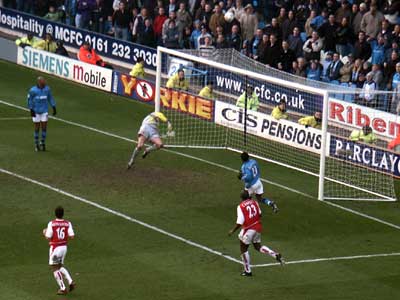 As if to give City more pain Taylor made several really good saves against Anelka, Fowler and Berkovic the ones above being from the latter two players. Taylor looked an excellent stand-in for the injured Seaman and to be honest looked a possible future England keeper.
Just before the final whistle City scored a consolation goal when Berkovic and Sun combined and the final cross by the Chinese player- left put pushed home by Anelka.
With a tough away fixture at Blackburn next it is difficult to see City moving into the top 6 this season unless something is done to sort out this defence. The defence played better second half with a flat back 4 but maybe awesome Arsenal had eased off a little by then. Not many positive things about this game save for the improvement in Fowler's display. A few more matches and he might start scoring!
Team
Nash 6: Dunne 3, Howey 5, Sommeil 5: Sun 5, Berkovic 6, Foe 6, Belmadi 4, Jensen 5: Fowler 6, Anelka 7
Manchester United 1 Manchester City 1
I watched this game on TV and I must say City played really well in the second half to earn a point. Schmeichel dropped out at the last minute due to an injury while warming up and there was a tannoy message looking for Nicky Weaver . I wonder whether they rang round the local pubs! So we had the young Danish keeper Stuhr-Ellegaard on the bench. Berkovic came back after injury and was easily the man of the match and Jihai Sun returned to wing back. United as expected made the early running with Nash the busier of the two keepers. After 18 minutes United took the lead when a Giggs cross was met by Van Nistelrooy at the far post with both Nash and Distin helpless. Anelka gave Carroll a fright when a shot from outside the area swerved viciously. He managed to parry it for a corner. After United had the better of the first half and might have had a penalty on another occasion City dominated the second without making too many chances. Carroll did well to claw away a Foe effort and Distin made a world class last ditch tackle when it looked like Van Nistelrooy would score in a breakaway. Shawn Wright-Phillips came on for the injured Horlock, Jihai Sun dropping back into midfield. The minutes were ticking away and after 85 minutes City won a free kick on the right and promptly brought on Benarbia for Berkovic and Goater for Fowler who had done little in the game. Instead of putting the ball directly into the danger area Benarbia stroked the freekick square to Shawn Wright-Philips who chipped a delightful ball forward towards the the goal area. Up jumped an unmarked Goater who headed home to make it 1-1. In a hectic last few minutes City scored again through Goater but Anelka had handled. It was a good City display with Berkovic leading the way and Distin good in defence. Nash played his part too as did all the others. The quality of City's passing was excellent - much higher than the last game. A top 6 place is not out of the question. I just hope Fowler can raise his game before the end of the season!

Nash 8: Sommeil 7, Howey 7, Distin 8: Sun 7, Foe 7, Berkovic 9 (Benarbia) Horlock 6 (Wright-Phillips 7), Jensen 6: Fowler 6 (Goater), Anelka 7