Manchester United Reserves 1 Manchester City Reserves 0
March 13th 2003 att. 1033
The last time I watched a reserve game between City and United was back in 1967! Interesting names of that day were as follows Harry Dowd in goal for City. On the left wing was Stan Bowles and a certain Mr Paul Hince of Manchester Evening News fame was on the right wing. In midfield was Roy Cheetham. Other regulars were Gray and Murray. For United Gaskell was in goal and McGuiness in midfield. There was a Cantwell at centre forward - would that be Noel I wonder?
This latest game under lights at Altrincham was not very good and it was spoilt by a over fussy referee. I thought the worst were in the Premiership God help us if Mr Tattan ever reaches there. He gave out yellow cards like confetti and City ended with ten men, Gary Browne having collected two of them.

There were not many United supporters there. I suppose it was understandable as there was a holdup at Watford Gap on the M6!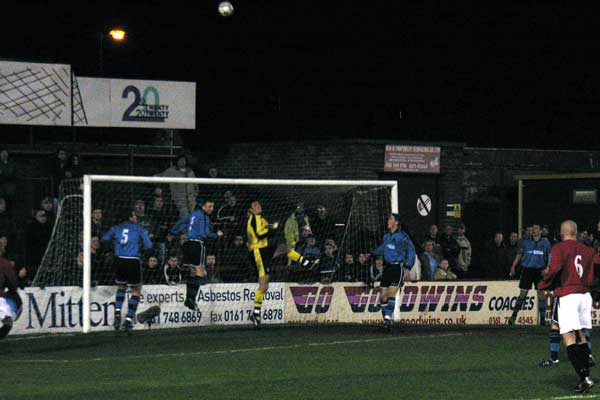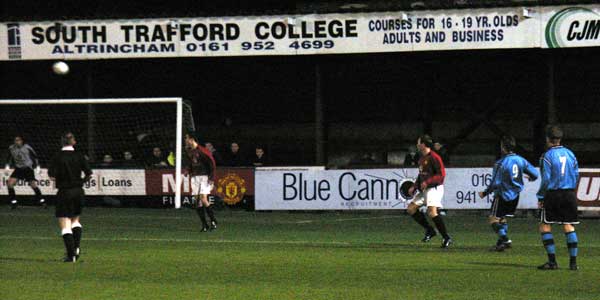 Kevin Ellegaard and the City defence clear a United corner.
Ellegaard has quite a hefty clearance kick and he looks much more confident than when I saw him pre-season. He seems to be taking on board the Peter S bossy attitude in the penalty area.
City wasted several chances in the first half- Vuoso shooting over the bar and below left Ricardo blocking an Elliott shot on the line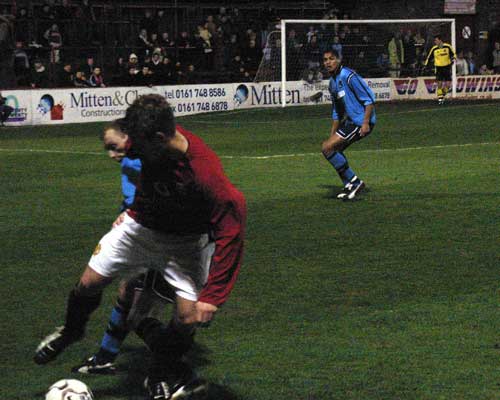 One of the few City players to shine was Bishoff shown left watching a skirmish between Flood and a United player.
During the game I had an interesting conversation with a coach from Grenoble in French who was in Manchester for a weeks visit as part of his qualification for a FIFA coaching badge.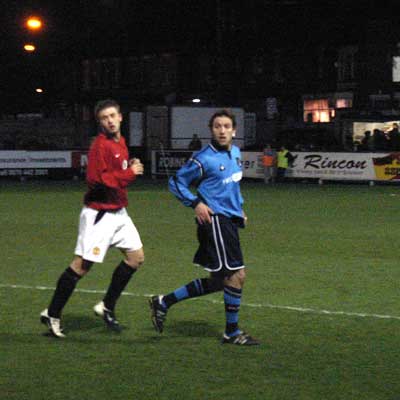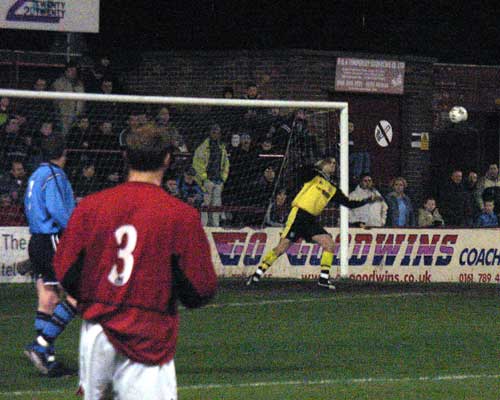 Kevin Ellegaard is seen here saving a free kick from Fox. United had scored just before half time with a scrappy goal from Webber. Their two strikers were far quicker than the City pair but clear cut chances were few and far between in a poor game. I am sure the pitch didn't help. It was well sanded and had been flooded a few days earlier.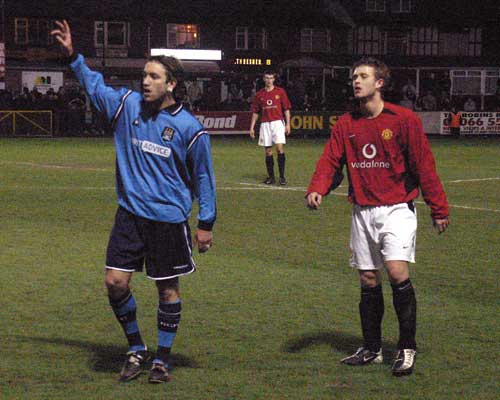 Now, is Vuoso waving for a taxi, a number 42 bus or the ball I wonder!
I had also expected greater things from Barton who is on the edge of the senior squad.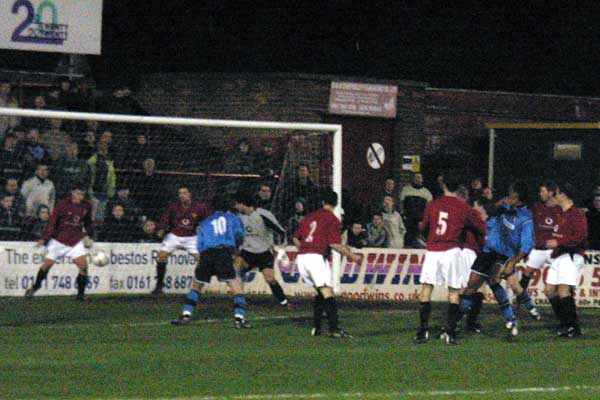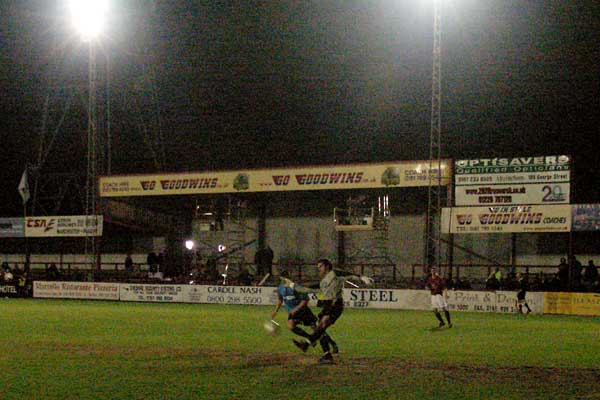 A late challenge by City saw the United defence have a lucky escape when an effort by Bischoff was cleared off the line following a corner.
- left
At one stage there were more television engineers that spectators. I counted at least five cameras at work for Man U TV. It was going out live too.
My God I shudder at the cost.
Two players with some experience on the City side were Matias Vuoso - above left - who was signed from Independiente in Argentina for a few million and Richard Dunne. Alas Vuoso has yet to make an appearance for the first team. He has been on the subs bench for a few games but has not been used. Now I know why! For someone who should be pushing for a striking place he was almost anonymous. It was very disappointing. I am amazed we should have paid so much for him. Above right is the familiar figure of Dunne who played OK but someone of his experience should have been pushing the others more.
City Team - Ellegaard: Flood, Jordan, Bischoff, Dunne, Paisley, Whelan, Barton, Vuoso, Browne and Elliott
United Team - Ricardo:Lynch, Wood, Roche, Pugh, Humphreys,Davis, Stewart, Nardiello, Webber, and Fox
postscript - Nardiello, Roche,Stewart, Lynch, Pugh and Webber played for United against Deportivo La Coruna in the Champions League on March 18th.
Manchester City v Birmingham City 1-0
March 16th att. 34,950
If Shakespeare had been writing this he would have called it 'A Comedy of Errors'!
No it was not the best of games but the three points gained at the expense of Birmingham was well deserved as Anelka missed two golden chances with 1 on 1 confrontations with Bennett who made some good saves to keep Birmingham in the game. Thank goodness Fowler broke his duck with a well taken winner. Schmeichel made a welcome return in goal and Wright-Phillips was preferred to Sun. Weikens retained his place in the centre of defence and with the continued absence of Berkovic, Ali Benarbia ran the midfield.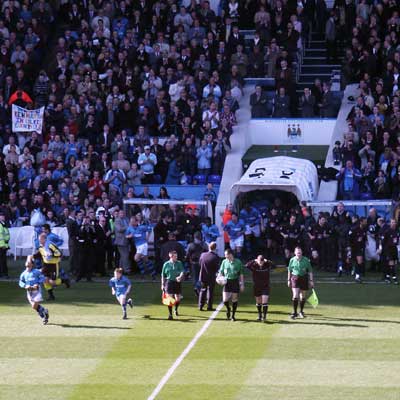 First thing to check was who was in the directors box in case a new Chairman was lurking in the corner! I could not see Sir Howard Davies. Perhaps he was in disguise!
I must say how sorry I was to see David Bernstein resign after the earlier exit of Chris Bird. Bernstein had turned this club from a second division club in danger of having to check routes to Cheltenham to a football playing Premier side with a new Stadium in sight. So OK, it will be a miracle if we manage to get into Europe at the end of the season but mid table will be satisfactory after the turmoil of the last few seasons. Kevin Keegan is looking for better things next season and money is going to be needed during the close season and some difficult decisions are going to have to be made regarding the existing staff.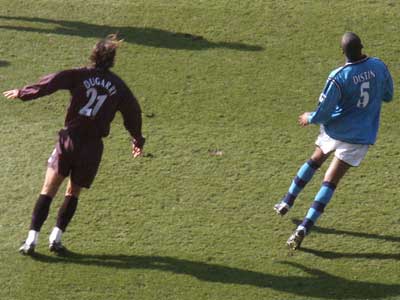 French internationals Dugarry and Distin on opposite side today wait for the ball. Distin had his usual competent game while Dugarry had a meager time against the City defence and spent much of the time moaning and trying to win free kicks.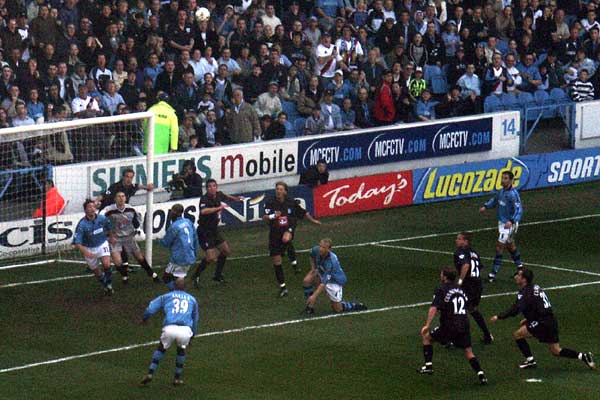 A narrow escape for the Birmingham goal following a corner.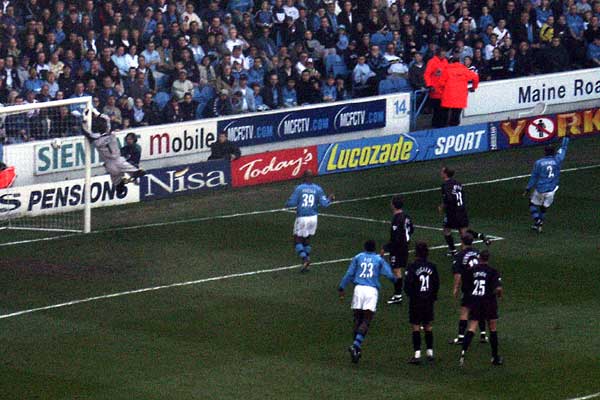 More pressure on the visitors as Bennett watches the ball go wide.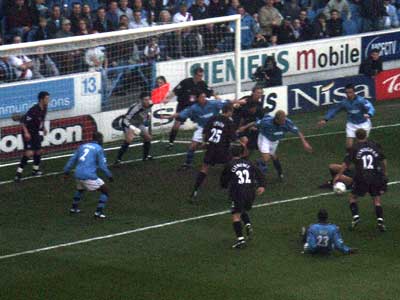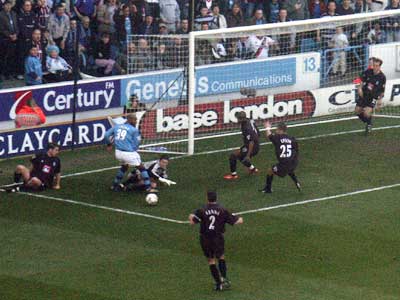 While Peter Schmeichel had little to do, the Birmingham defenders under the shadow of the Platt Lane Stand were kept busy . As you can see at one time Anelka kept six of them busy - above right.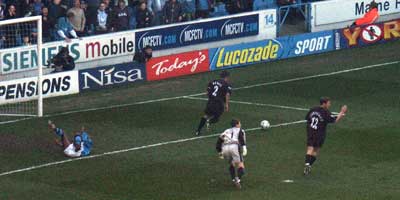 On the left poor Niclas Jensen gets the first of his yellow cards from fussy referee Messias.
Above Anelka misses the first of his one to one blunders with Bennett.
Half time came as Benarbia was about to take a corner. 0-0. Someone should tell him that when the announcer says there is one minute extra time the whistle is imminent!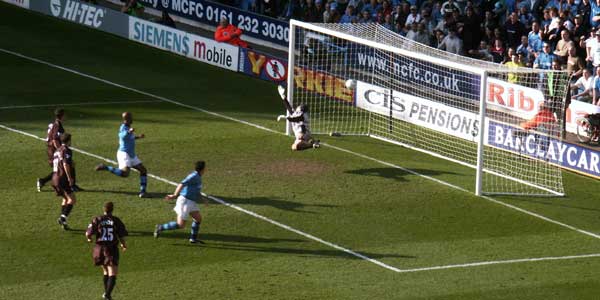 Robbie Fowler scoring a great goal from a pass from Benarbia. His first time flick from the low cross was a great way to break his duck.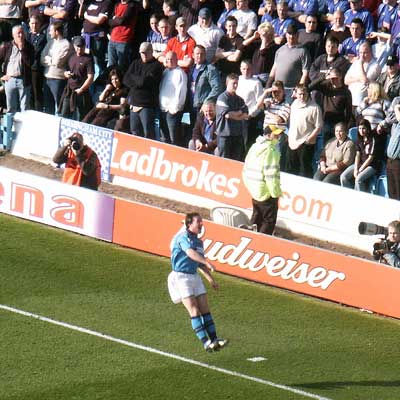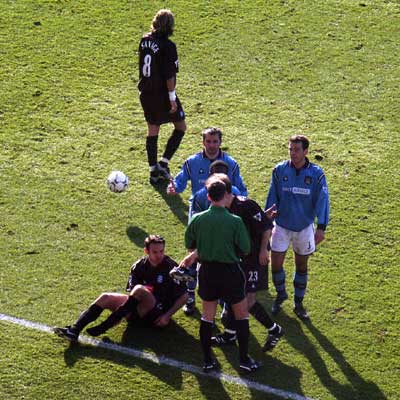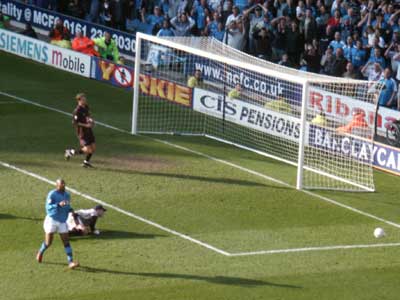 Team
Schmeichel 7: Sommeil 6, Weikens 7, Distin 7: Wright-Phillips 7, Foe 6, Benarbia 6, Horlock 7, Jensen 6: Anelka 6, Fowler 7 (Sun 6)

Above left - Fowler jumps for joy after his first goal for City against a background of glum Birmingham supporters
Above right - Niclas Jensen gets his marching orders after a second booking for a nothing tackle. The referee was far too strict in a game that rarely needed stopping. Perhaps he wanted to show off as it was on the television. Oh for good old days of commonsense refereeing. Neither manager would be happy with the referee today. Steve Bruce will not be pleased about Robbie Savage's booking for taking a free kick too quickly!
left - Anelka misses another one to one with Bennett.I do wish Anelka would wait until the ball is kicked before making his run. He is caught offside far too often and he rarely checks his position in relation to defenders when City are in possession.He has the speed to beat defenders even if he waits a second or so.
This 'tale of two cities' was not one to remember other than Fowlers goal and the misses.