City 0 Wolves 2
Oct 6th 2019 att.54,435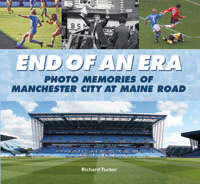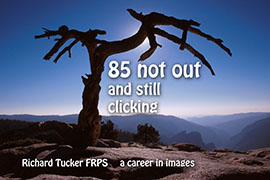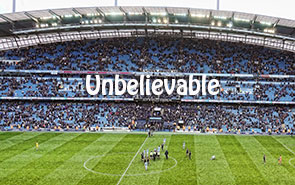 Unless we have another miracle City have handed the league title to Liverpool after this poor effort against a well organized Wolves team whose tactics were far superior to City's. Their speed in counter attacking almost cost us an early goal but two breaks late in the game sealed the result despite City having 76% of the play. Only two of City's 18 shots were on target. It was the first time Wolves had won away against City since December 1979. They won 3-2 - Tony Book will remember that -he was general manager! It was also the first time City had lost at home without scoring since March 2016 - some team from Salford. We had a change at half time and Zinchenko came on for Walker so that Cancelo could switch to right back. Defensively only Fernandinho was on the ball and Otamendi had a bad one. How we miss Laporte! With Wolves packing their goal box with 5 at the back and three in midfield we did not have a plan B to break through.The absence of De Bruyne and Sane for creativity and speed is an issue too. The lack of intensity going forward and the danger of counter attacks needs to be dealt with.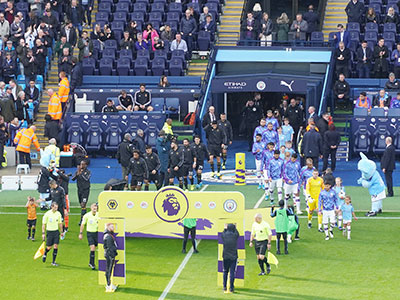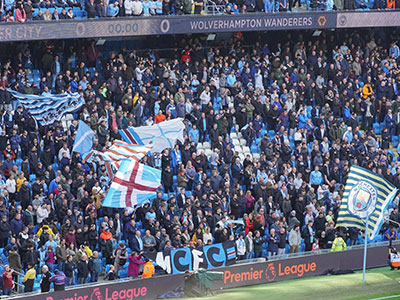 City made 2 changes from the Zagreb game Walker coming in for Mendy and Sterling was in for Benardo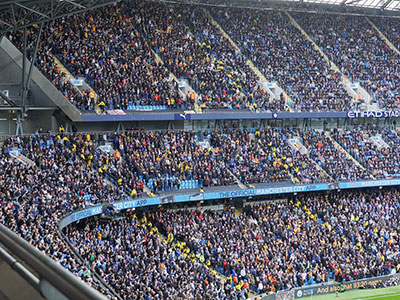 Wolves had excellent support filling all three tiers
The ground was pretty full at the start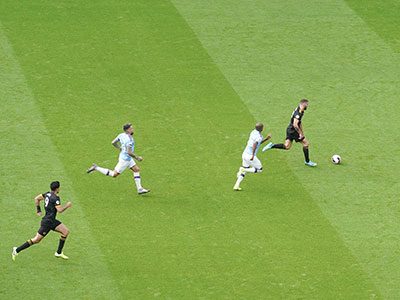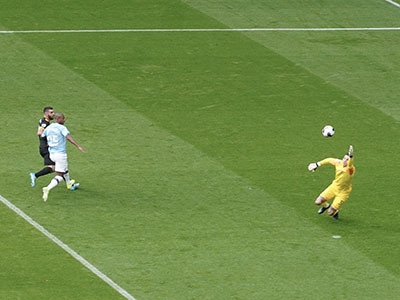 City almost had a disaster in the 5th minute when a counter attack ended with Cutrone just missing with his effort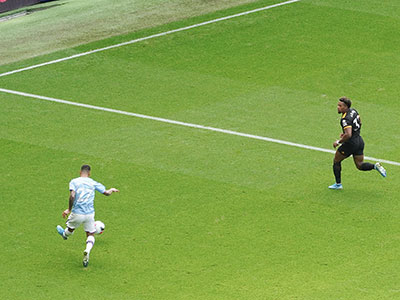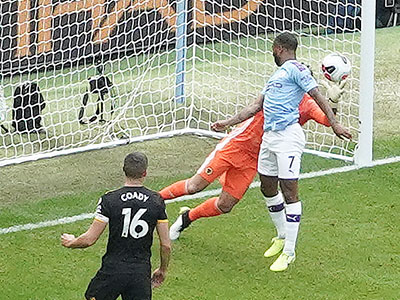 A minute later a cross from Cancelo caused a few problems for Wolves but they cleared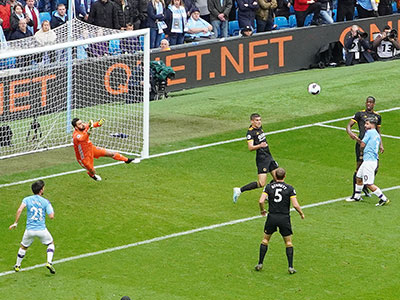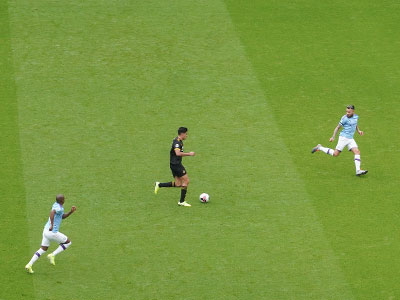 Patricio saves from Mahrez
Panic stations! - another counter - this time by Jimenez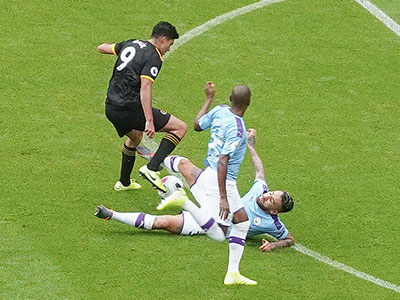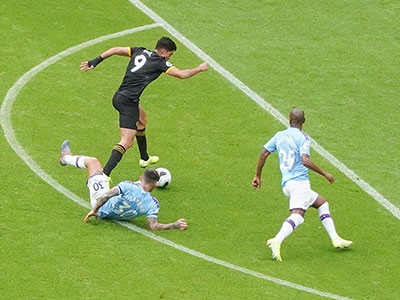 Jimenez gets past Otamendi.....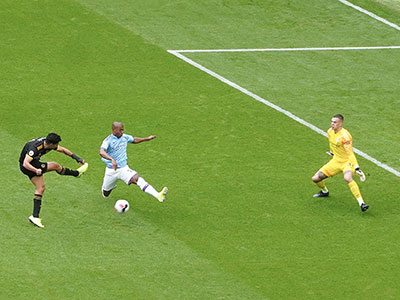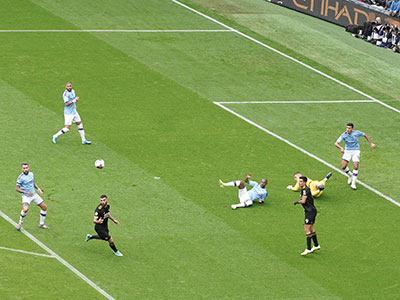 ...but fortunately Fernandinho manages to block 2 attempts on goal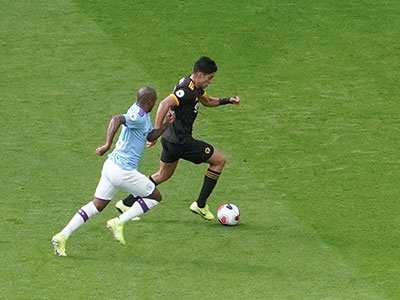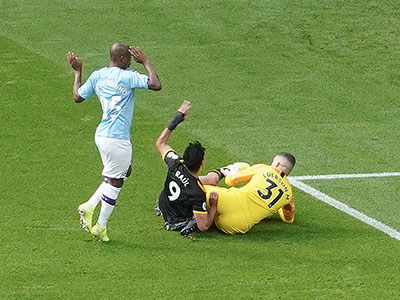 On 22 minutes Jimenez breaks again and Ederson becomes involved in saving the situation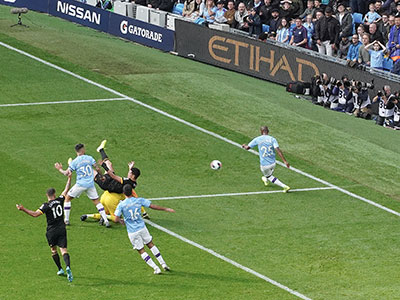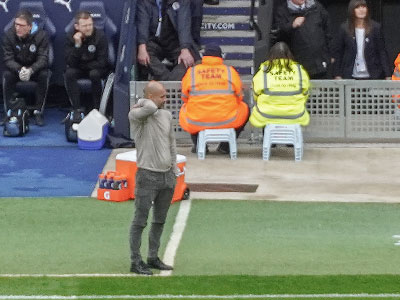 City manage to clear and I am sure Pep must be a bit worried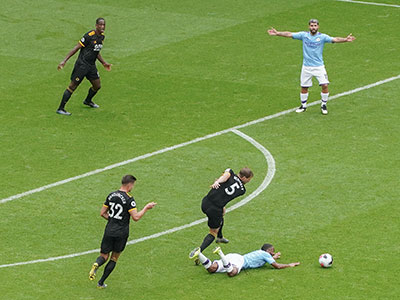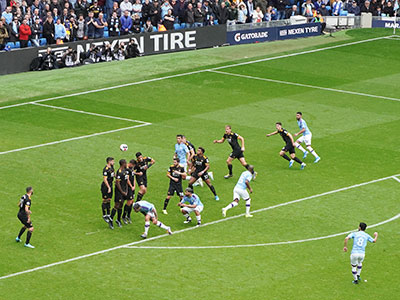 Sterling is brought down and Gundogan takes the free kick but the ball goes wide.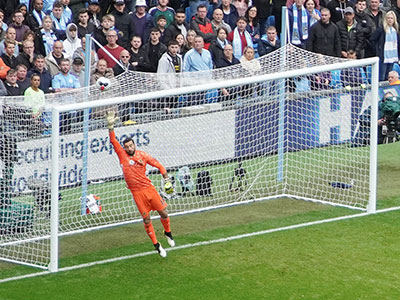 The keeper saves from Sterling on 32 minutes
A shot from Cancelo goes just too high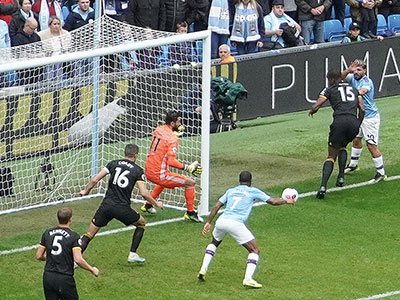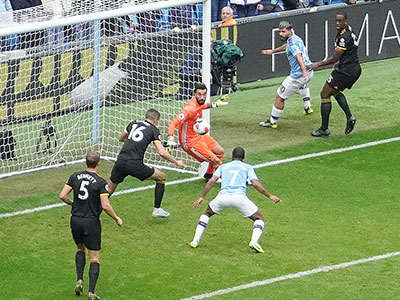 City continue to press but cannot score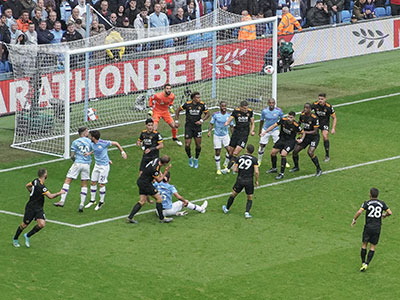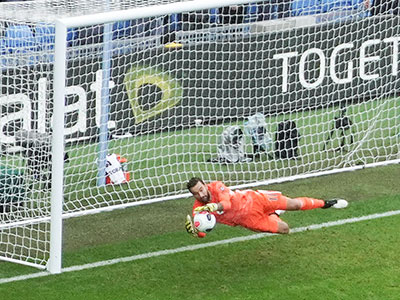 Patricio saves from Walker just before half time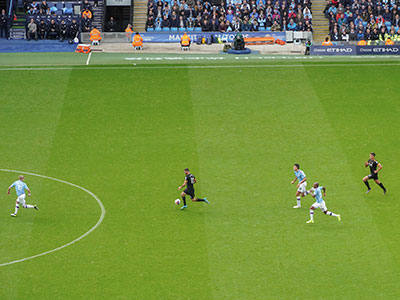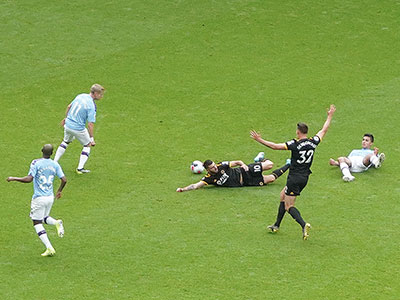 5 minutes into the second half and Cutrone breaks but is brought down by Rodrigo....... who gets a yellow card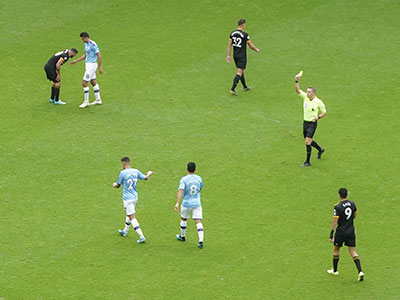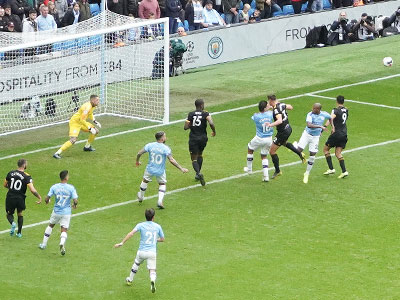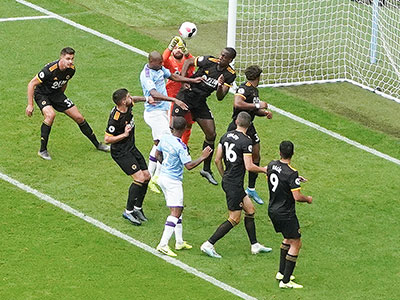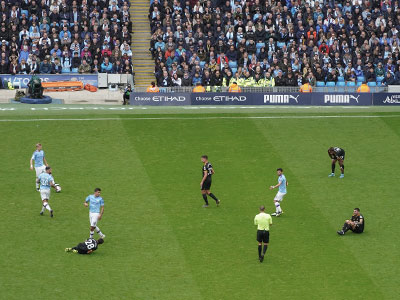 The secret sniper has got three players down now!
Wolves clear a City corner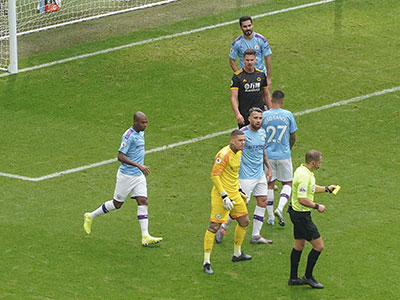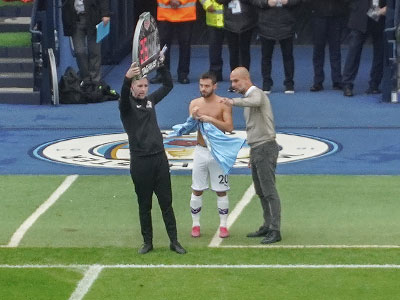 Benardo is on for Mahrez on 60 minutes
Ederson is booked for something!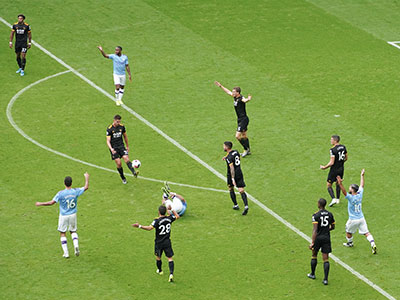 Silva is brought down and he takes the free kick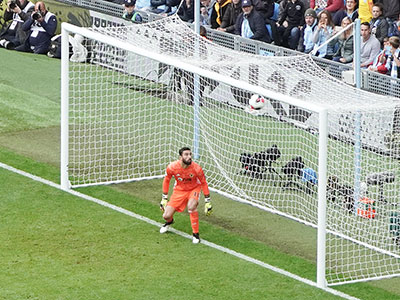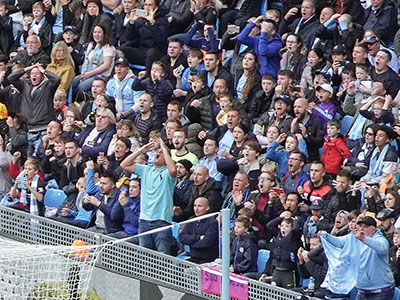 His shot hits the bar much to the dismay of the North Stand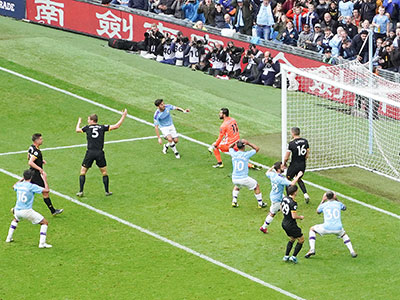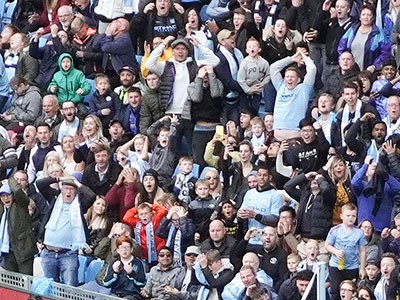 a few minutes later another Silva effort just fails to find the net much to the dismay once again of the City fans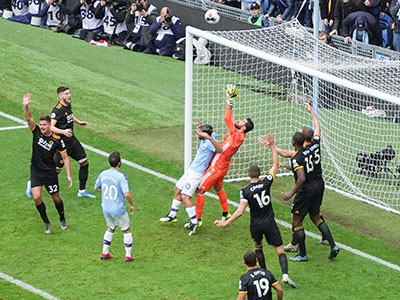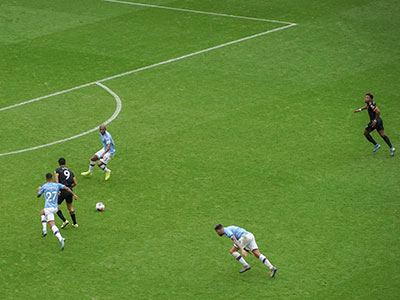 on 80 minutes Wolves break and Jimenez passes to Traore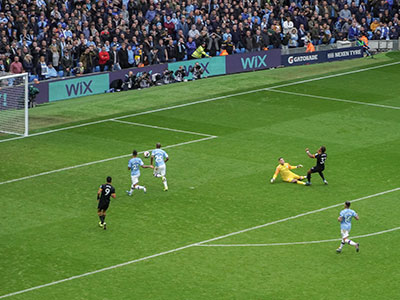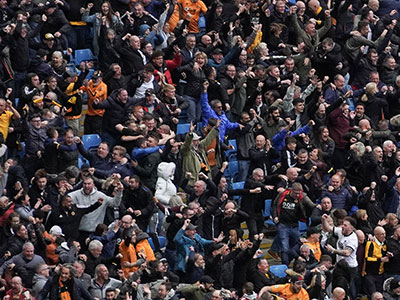 Traore shoots past Ederson and Wolves are ahead - much to the delight of their fans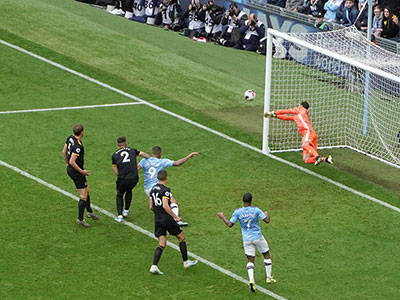 City again fail to score as the keeper saves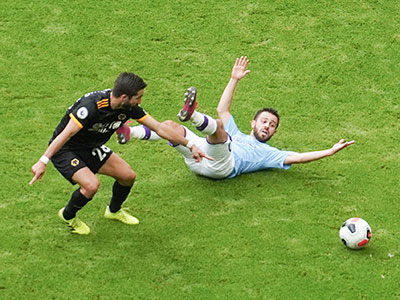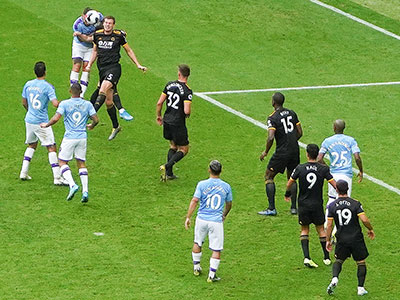 Benardo is brought down but Wolves manage to clear the free kick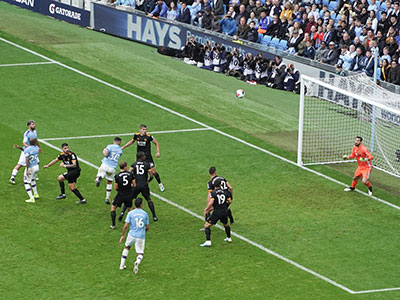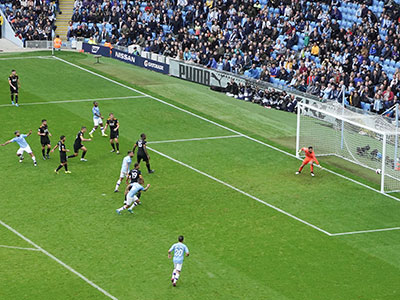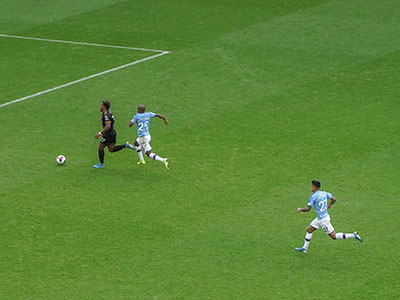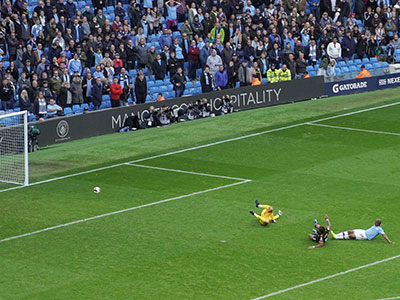 In the 4th minute of added time Wolves break yet again and Traore beats Ederson to seal the win for Wolves - disaster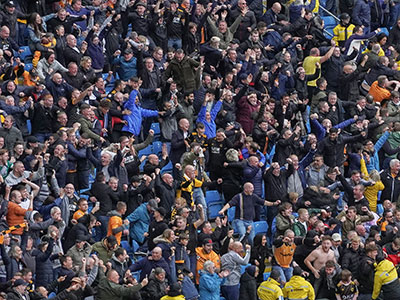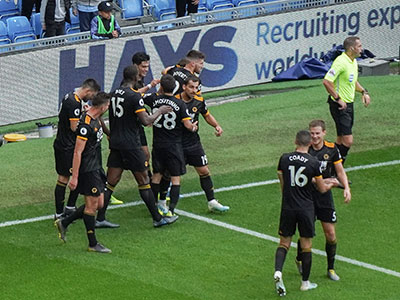 Well Wolves celebrate an important win for them and I wonder whether City are going to concentrate on the Champions League and I should ring Thomas Cook and book my flight to istanbul!
Team
Ederson 6: Walker 5 (Zinchenko 6), Otamendi 4, Fernandinho 6.5, Cancelo 5.5: Gundogan 5, Rodrigo 6, Silva 6 (Jesus) , Mahrez 5 (Benardo) Sterling 6 ,Aguero 5.5