City 2 Tottenham H 2
August 17th 2019 att.54,503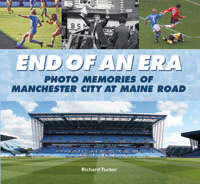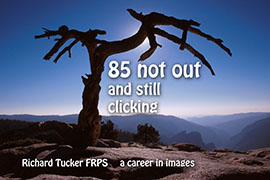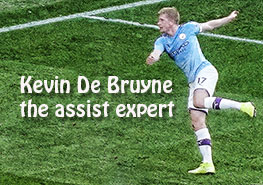 Well Spurs VAR'd us yet again! An amazing end to a game in which City dominated for the most part having thirty to three attempts on goal. City had 20 on target but could only score two and Spurs had two on target and scored from both of them. With the score on two each at the start of added time Jesus scored a 'winner' but it was ruled out by VAR because Laporte had accidentally touched the ball on its way to Jesus. Ridiculous! If it had been deliberate Ok but this new 'rule' about handling in the area should be changed NOW!
City took the lead through a great diving header by Sterling but almost immediately Spurs leveled the scores . City should have stopped Lloris from getting in his shot from so far out. Another great cross from De Bruyne found Aguero in the right place to notch number two for City but in the second half a rare corner for Spurs led to their sub Moura heading in to make it two all. City had more chances and finally we had the 'winner' and the atmosphere changed from a glorious celebration to 'oh we.ve lost five nil'!!
The defence had little to do and Ederson did not have to make a save all game. Once again Kevin De Bruyne showed how good a player he is with two outstanding crosses which led to goals. Rodri is settling in well and should have had a penalty early in the match. No VAR that time! On the way home we came across several roads that had been closed - was VAR to blame for that too! Oh and by the way the TV screens failed to show the names of goal scorers and subs and the tannoy failed a few times too,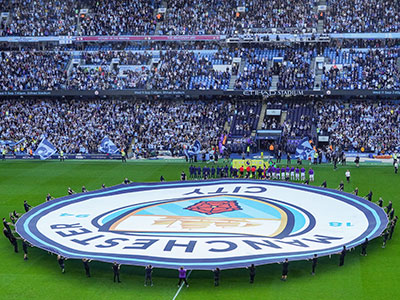 Plenty of atmosphere for the first home game of the season and not many empty seats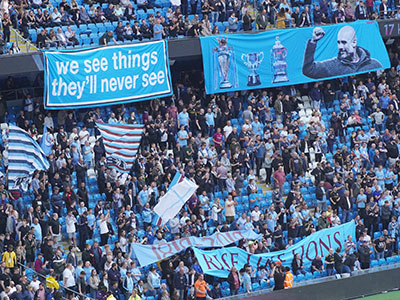 City made several changes from the win at West Ham - Aguero was back for Jesus - Benardo was in for Mahrez - Otamendi in for Stones who was not on the bench and Gundogan for David Silva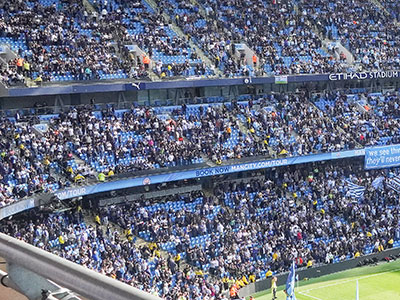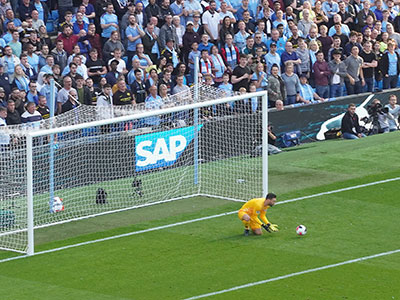 Spurs had strong support today
LLoris has an easy save following a corner early on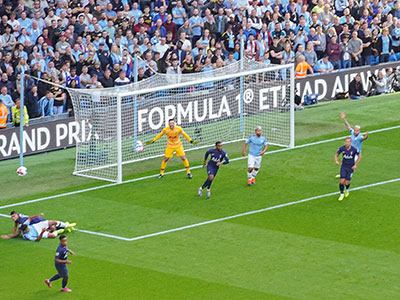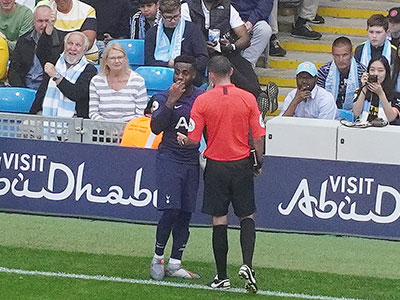 The referee has some words with Rose about the time he is taking to take a throw-in
At a corner Rodri looks to have been fouled but no penalty given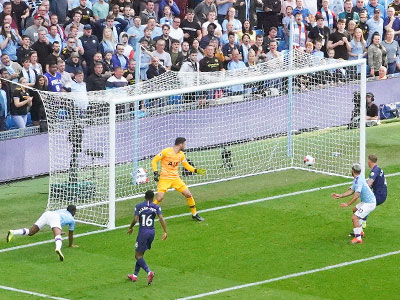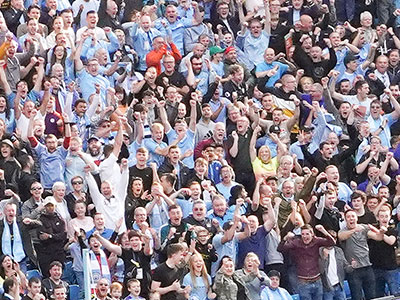 After just 20 minutes a terrific cross by De Bruyne is headed home by Sterling from a narrow angle and City are one up and the South Stand celebrate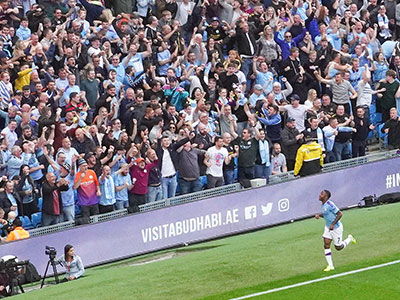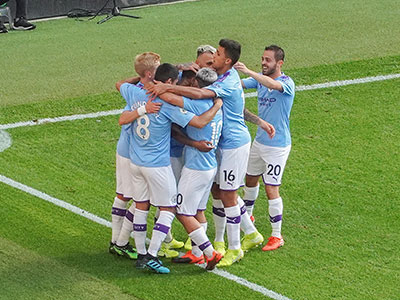 It was a well taken goal and his 5th of the season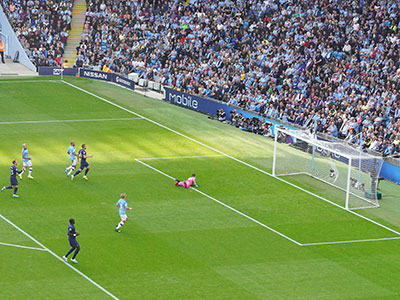 A minute or so later Spurs scored - disaster - Lamela shooting from a distance - who should have been marking him!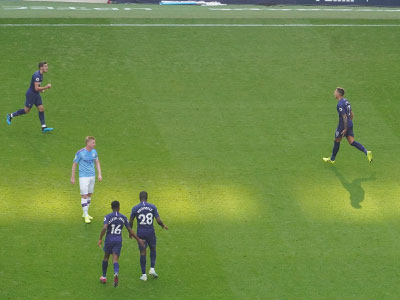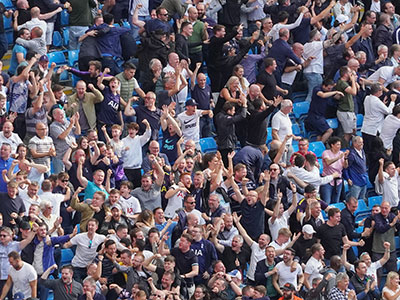 I don't think the Spurs players quite believed it but they were level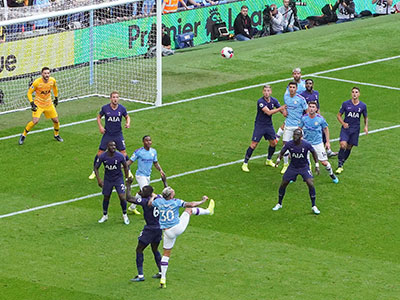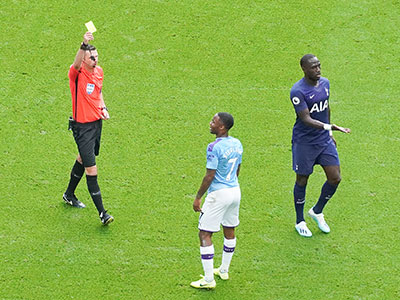 Spurs manage to clear a City corner
Sterling gets a caution for a foul on Winks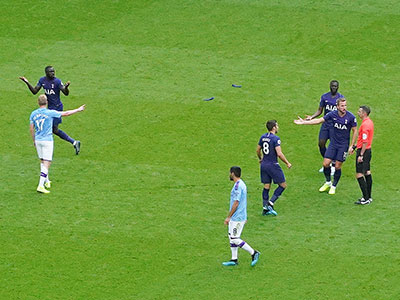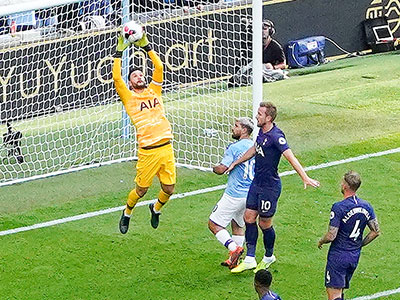 De Bruyne gets a free kick for a foul by Ndombele
Lloris is busy at a City corner again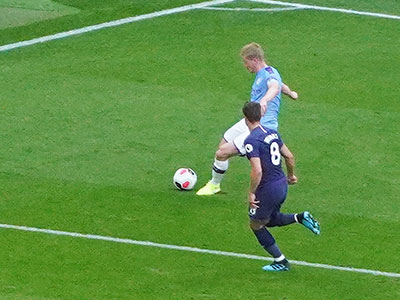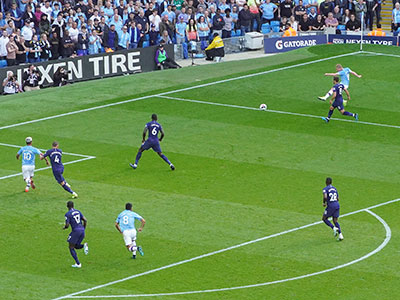 On 35 minutes Kevin De Bruyne crosses.......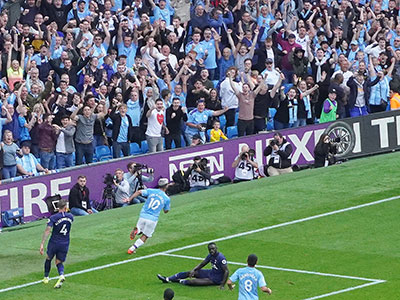 .... and Aguero dashes in to put the ball past the keeper and City are ahead again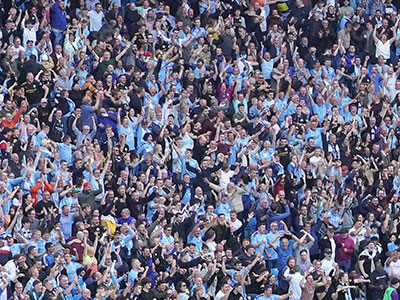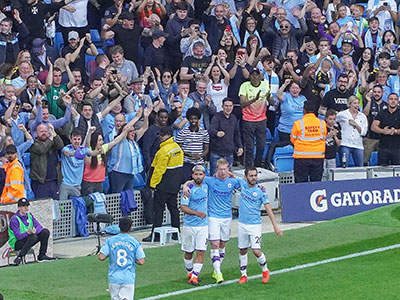 Once more the fans and players can celebrate - a great cross and finish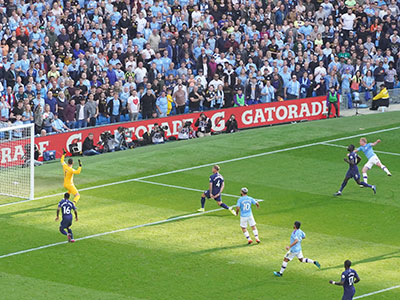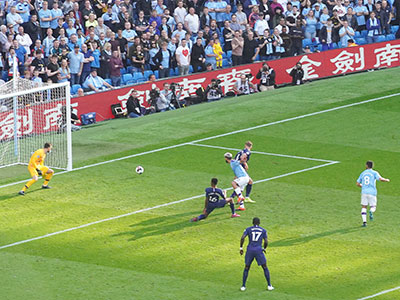 De Bruyne has a go himself but shoots wide
Gundogan shoots for goal..........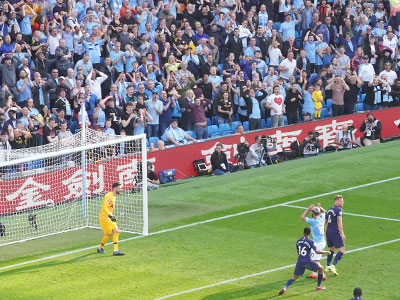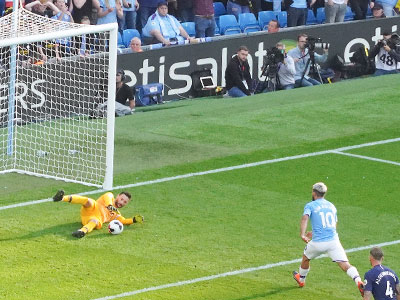 .........Oh it just went wide!
Lloris saves yet again just before half time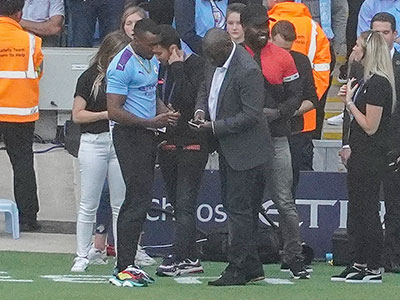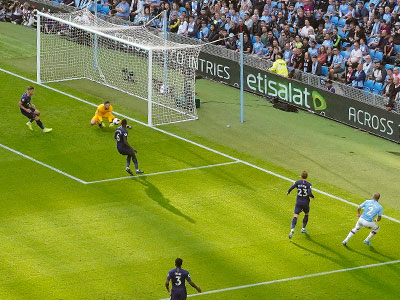 Ex City striker and hero Shaun Goater checks his phone!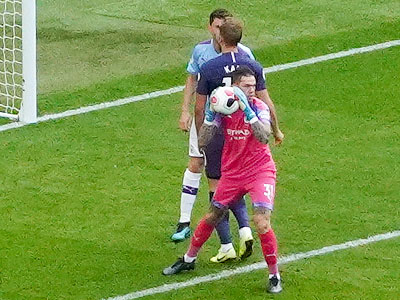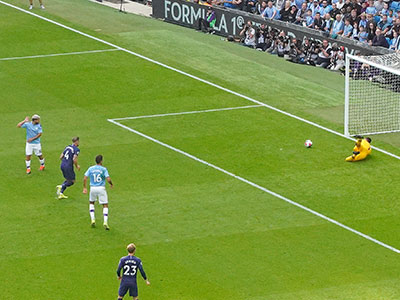 Ederson gets a rare touch of the ball
Lloris saves a deflected Zinchenko shot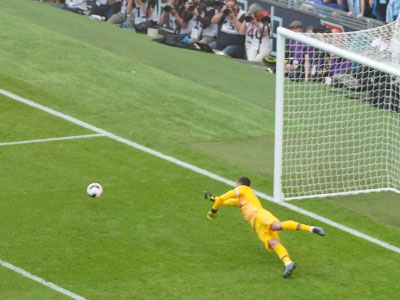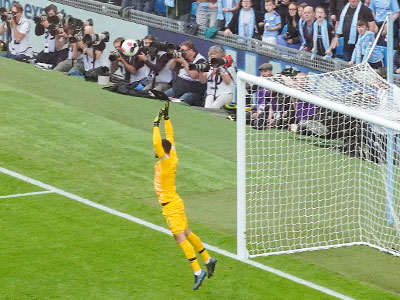 Lloris saves from De Bruyne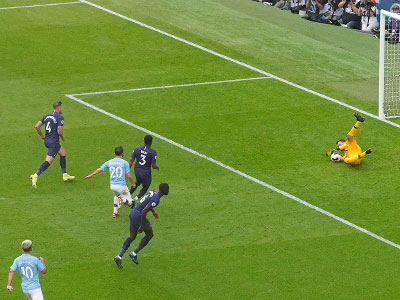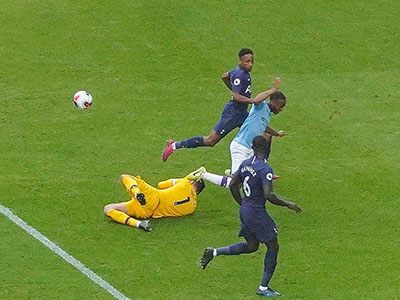 Benardo has an effort saved
Sterling fails to beat Lloris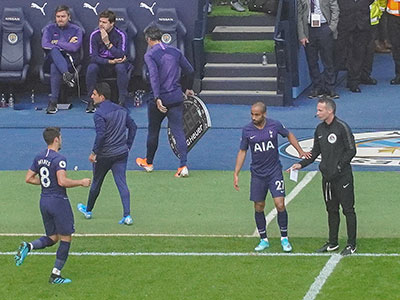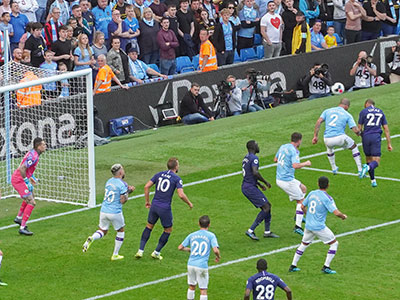 After 55 minutes Moura comes on for Winks and from a corner he heads for goal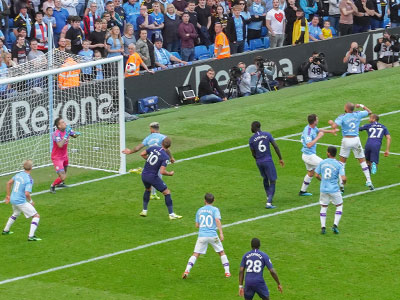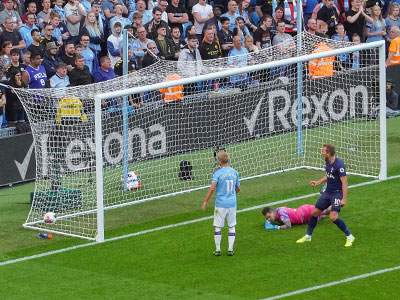 ...and in a flash it's past Ederson and into the net and it's two all - what a substitution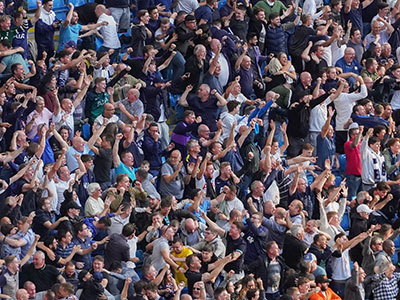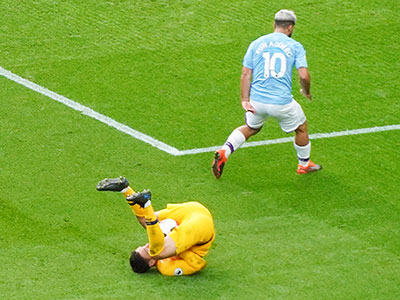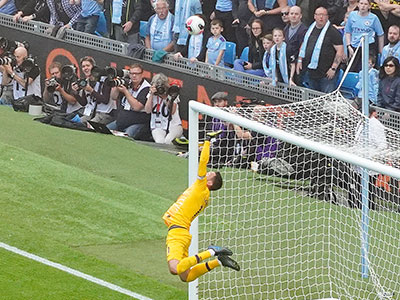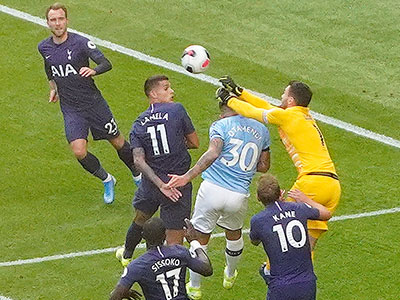 A shot from Rodri is tipped over the bar
Lloris tries to clear a corner .........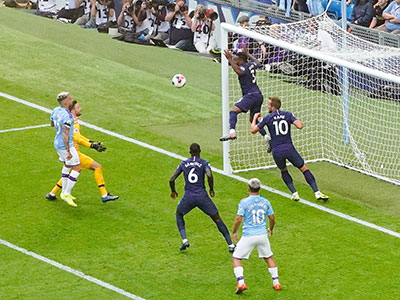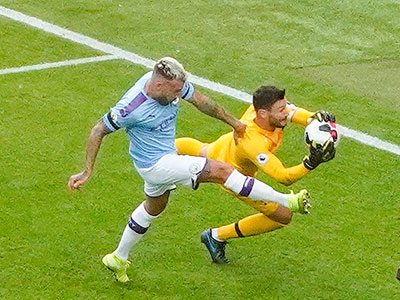 ....but the ball comes back from Benardo and hits the bar and it eventually ends up with Lloris - lucky Spurs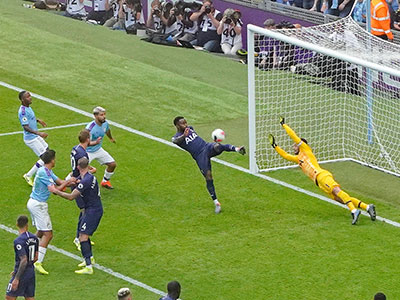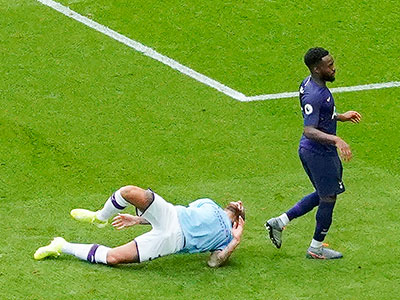 Oh dear Aguero is down - has the secret striker struck again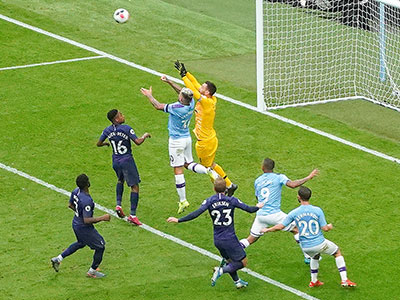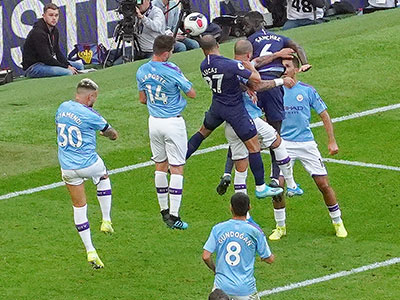 Otamendi and Lloris compete for the ball
Laporte clears a rare Spurs corner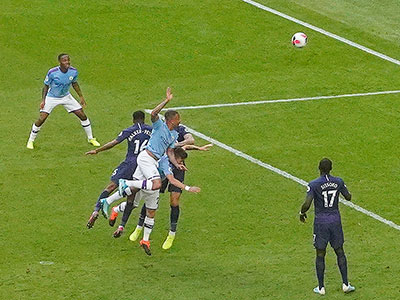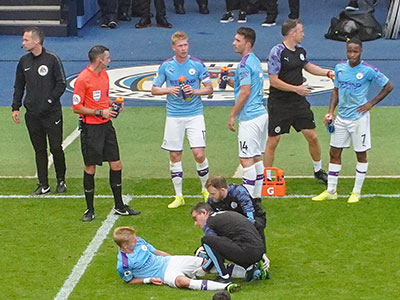 Zinchenko has cramp so it's time for a drink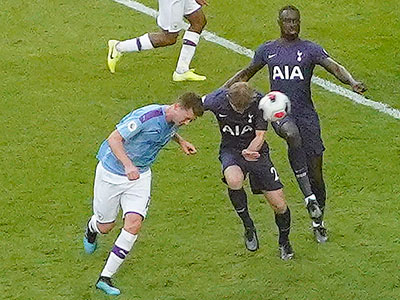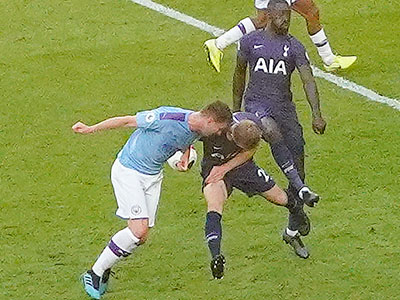 it's into added time and City have a corner - which Laporte and Skipp go for.....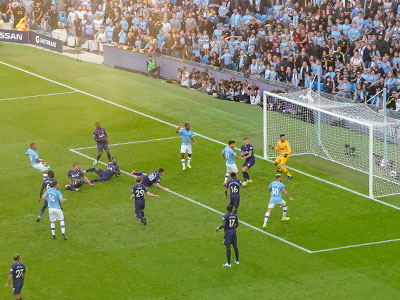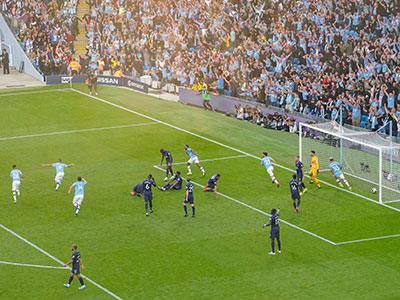 .......and the ball runs to Jesus who cracks the ball into the net.....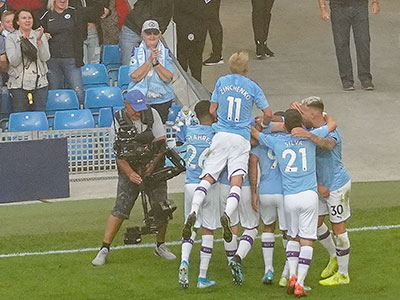 ....and City have won - let the celebrations begin......!!!!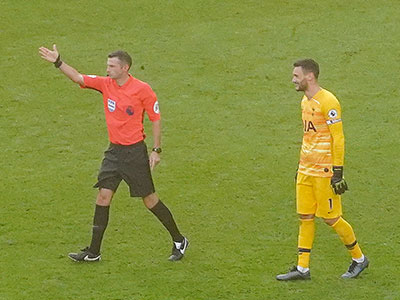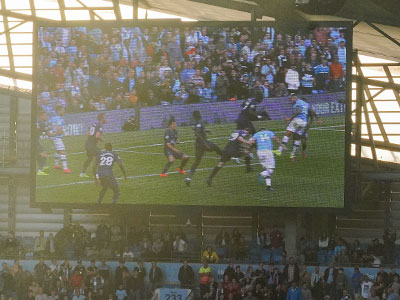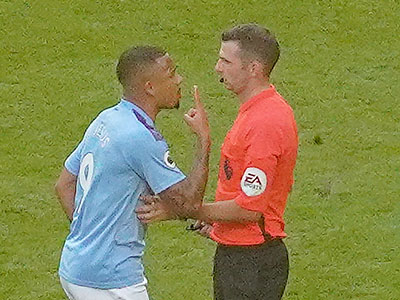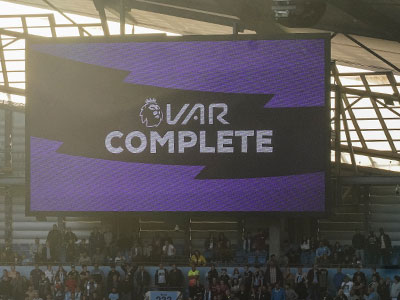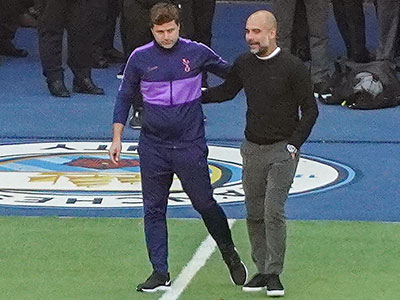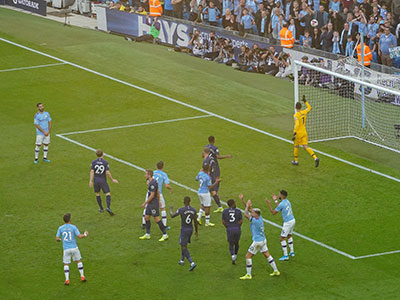 Oh hang on - what's happening -the ref has given a free kick -VAR has invaded and disallowed the goal for hand ball!!
I do not think Jesus liked that decision!
What an end to a game which City should have won long before the end
Teams
Ederson 6:Walker 7, Otamendi 7, Laporte 7, Zinchenko 6.5: Gundogan 6, Rodri 7.5 (Silva) : De Bruyne 8.5, Sterling 7.5, Benardo 7 (Mahrez) Aguero 6.5 (Jesus7)