City 4 Brighton 0
August 31st 2019 att.54,386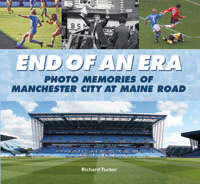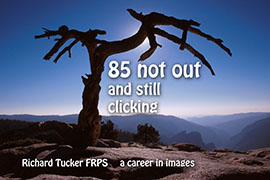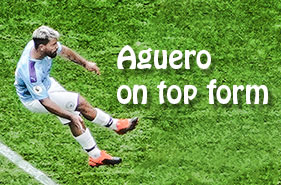 A pretty good performance by City ended with a four nil win over Brighton who at least did not park any buses in front of goal. The sky blues started well and were soon ahead, Zinchenko passed to Silva who crossed to the unmarked De Bruyne who slotted the ball home after just 68 seconds - the fastest goal in the Premiership so far this season. Not long before half time a very good team move ended with Aguero firing home and he added his second on 55 minutes with a wonderful finish - his 6th of the season so far and his 99th at the Etihad! City missed a a few chances as did Brighton who tried their best.
With ten minutes to go Benardo came on for David Silva and with his second touch after taking a pass from Aguero scored number four. He had been on the pitch barely 20 seconds!
However the main concern was the injury to Laporte. Ten minutes before half time he went into a bad tackle on Webster and was left in pain with a bad knee injury. He was taken off and went straight to hospital. We just hope it was not as bad as it looked.
The game was VAR free despite an early City shout for a penalty. So that 's 14 goals in the first 4 games - not bad - and there are more to come!! .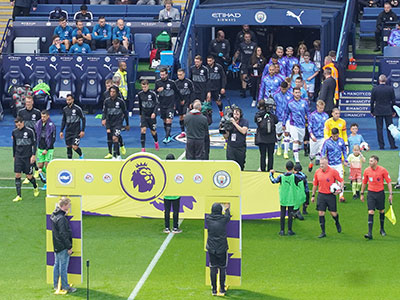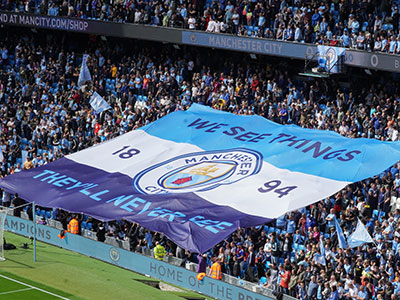 City made 2 changes - Rodri came in for Gundogan and Mahrez replaced Benardo. Jesus and Stones were still absent injured.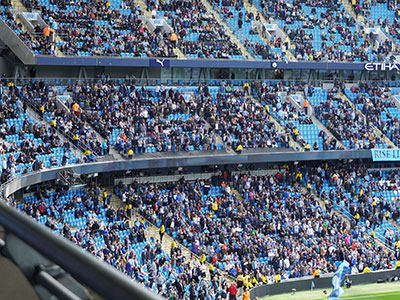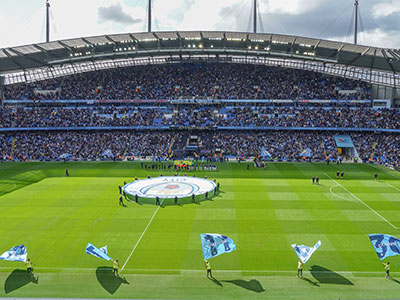 Brighton brought a lot of supporters with them and the ground was pretty full with plenty of atmosphere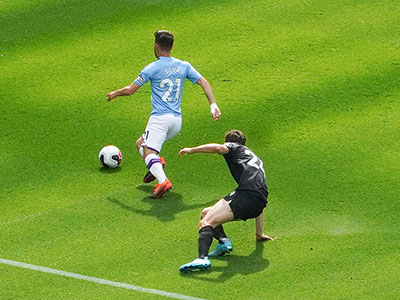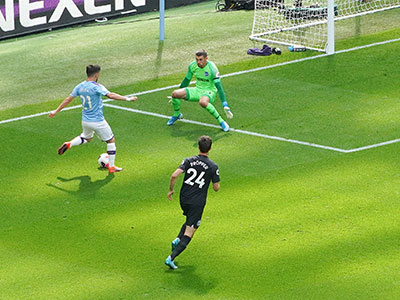 Straightaway David Silva took a pass from Zinchenko beat Propper and crossed.....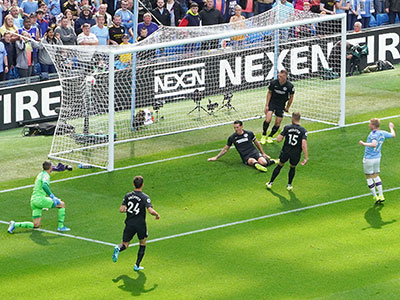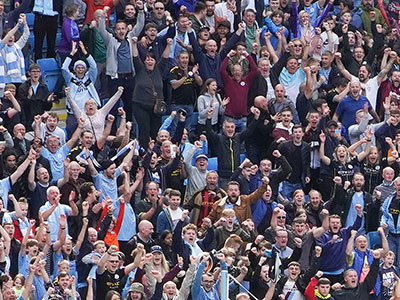 .......to a waiting De Bruyne who scored easily and the South Stand had a very early cheer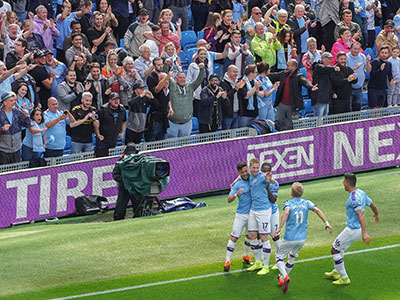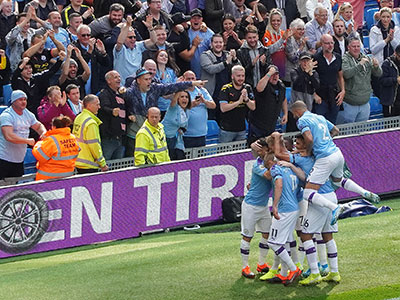 What a great start to the game and it was Kevin's first goal of the season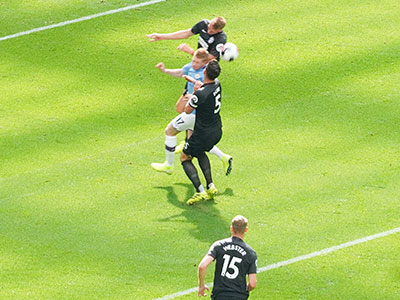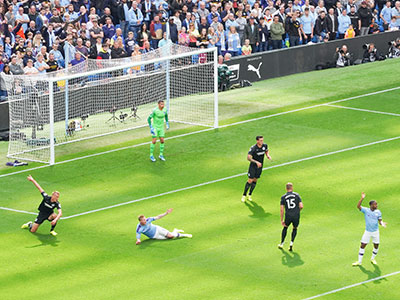 City had a shout for a penalty in the 8th minute but no whistle or VAR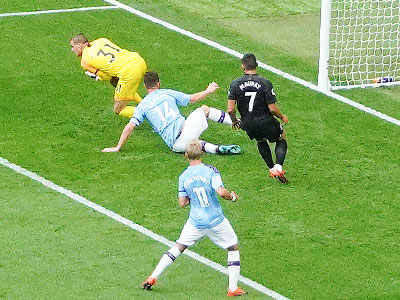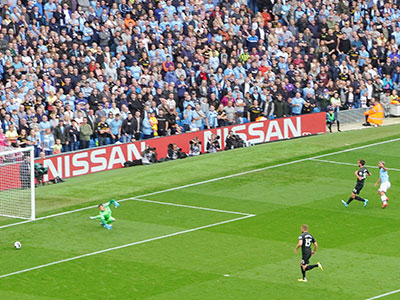 Ederson had some early work to do
on 13 minutes Aguero shot just wide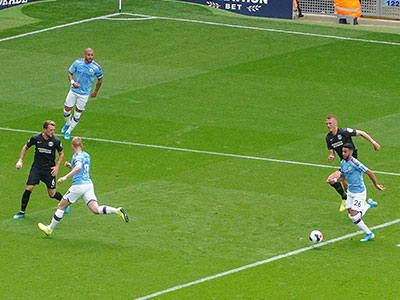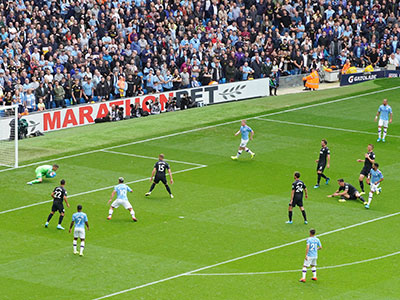 Shortly after Mahrez cut in and shot for goal but alas straight at the keeper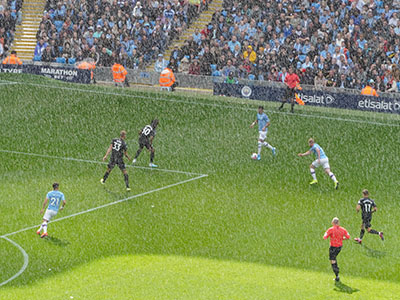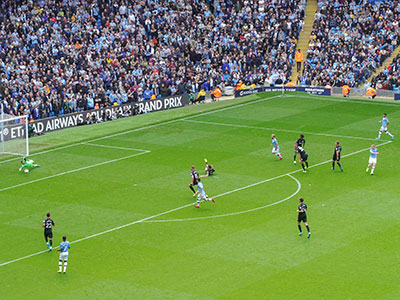 For a minute or so we had pouring rain on one side of the pitch and sun on the other!
a shot from De Bruyne goes just wide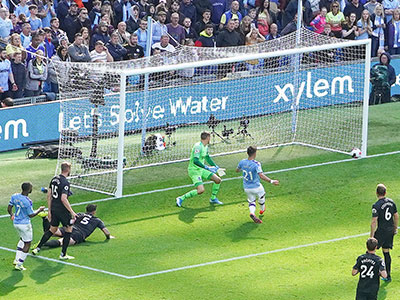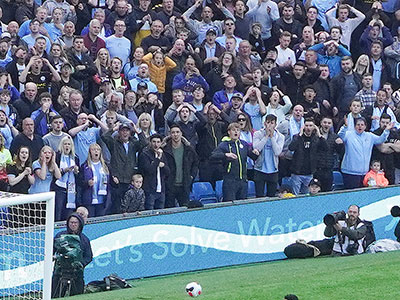 After 30 minutes a flick from Silva goes just wide - if he had used his right foot he might have scored!!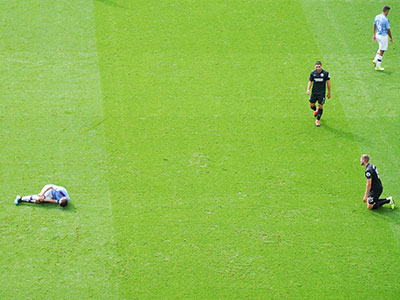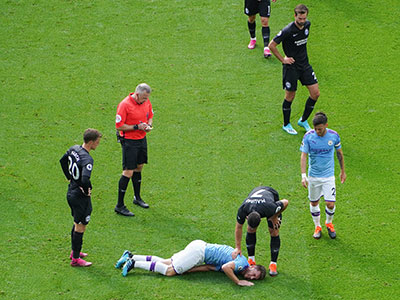 On 33 minutes Laporte goes into a collision with Webster and things do not look good as the ref gets ready to caution him for the foul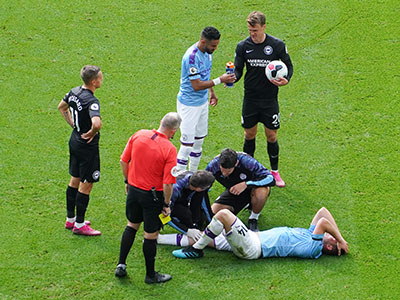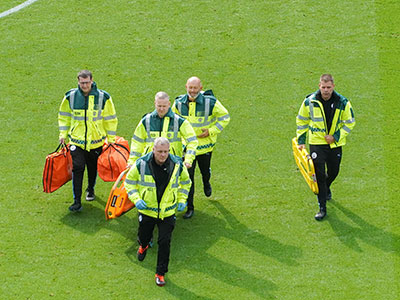 He looks to be in great pain and it's not good news when the stretcher comes on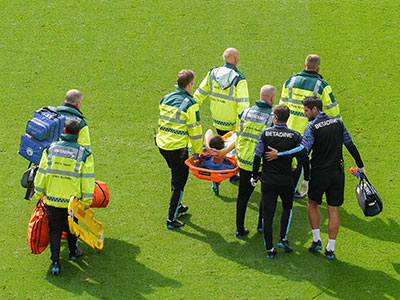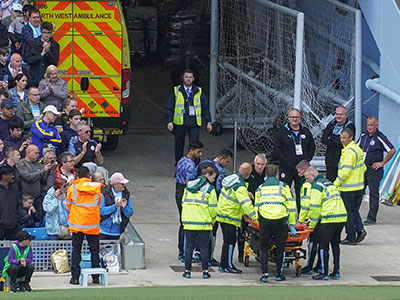 Alas he goes off to a waiting ambulance and is replaced by Fernandinho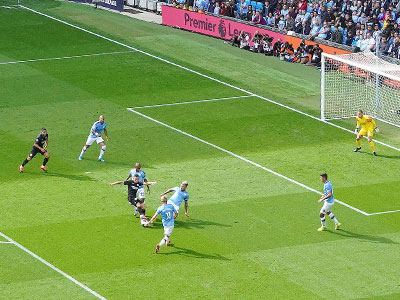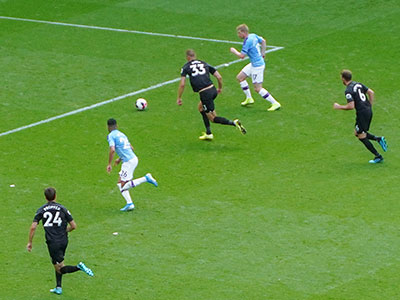 Otamendi blocks a Brighton attack
De Bruyne dashes down the right wing and passes......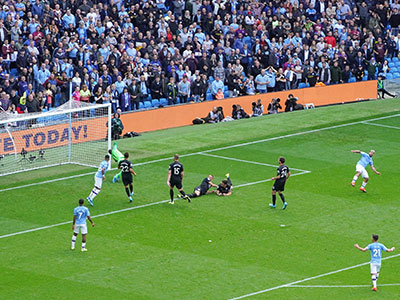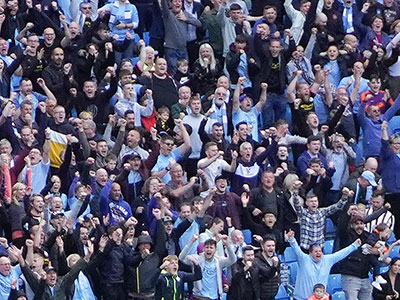 ....to Aguero who scores and the South Stand erupts!!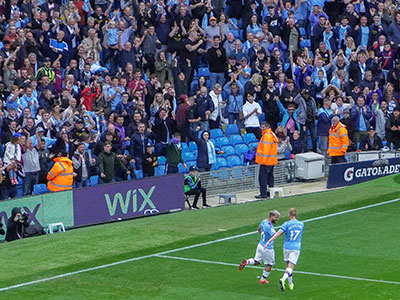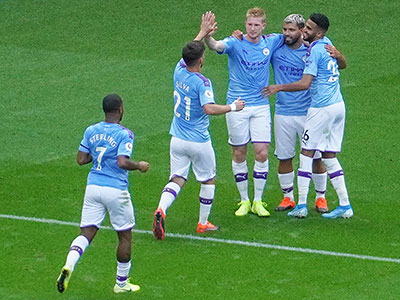 It was just what City needed after the injury to Laporte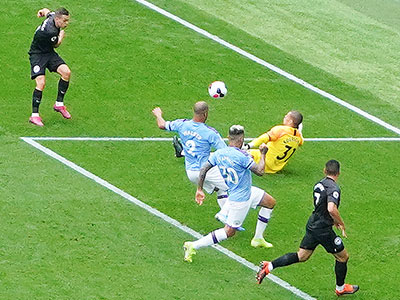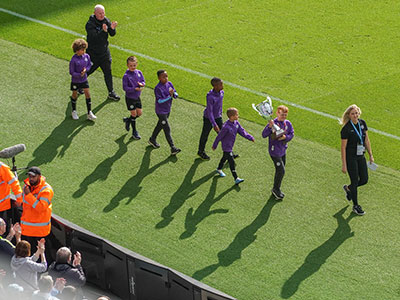 City youngsters show off their trophies at half time
Ederson has to save from Trossard just before half time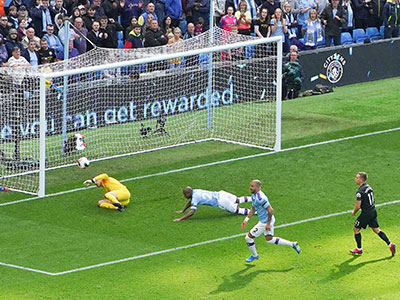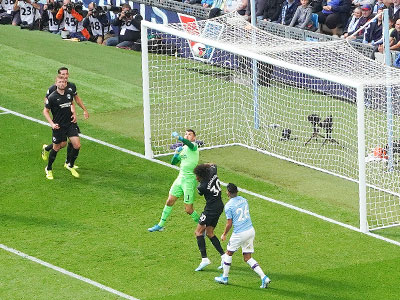 Fernandinho has to make a good block early in the second half
At the other end Ryan is kept busy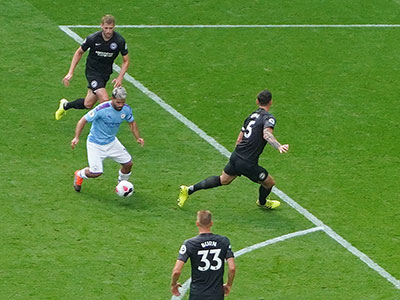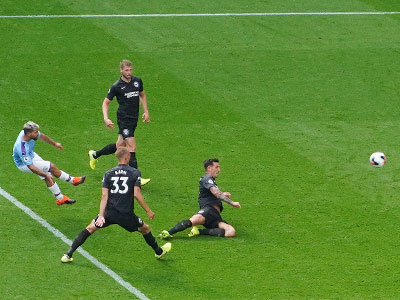 On 55 minutes Silva passes to Aguero who moves into position and shoots........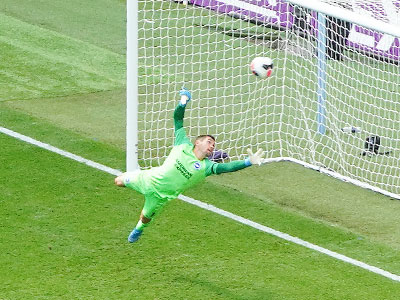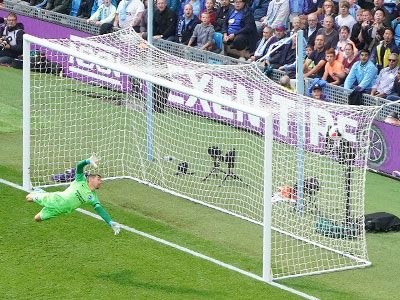 ...and the ball flies past a diving Ryan into the top corner - a great strike!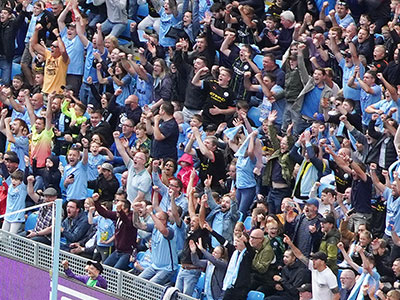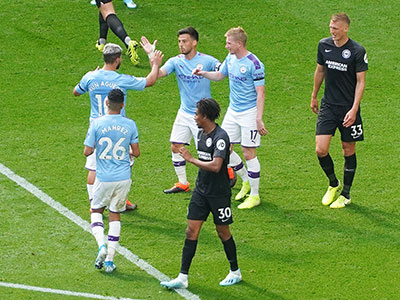 Time for the North Stand to have a cheer as City go three up - game over - we hope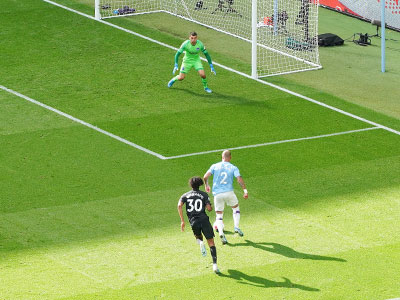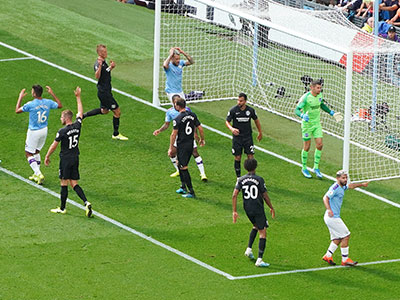 Walker - dropped from the England squad- has a chance but Brighton manage to survive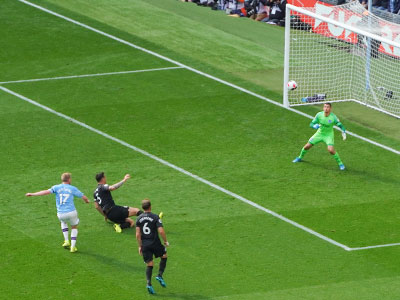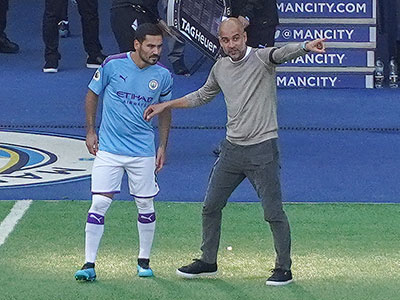 A shot from De Bruyne goes wide
Gundogan gets instructions from Pep before he comes on for Kevin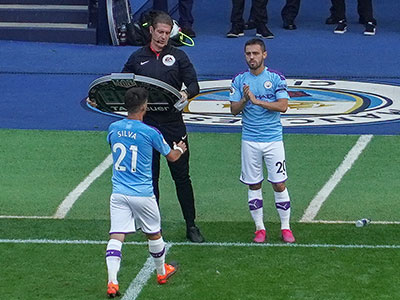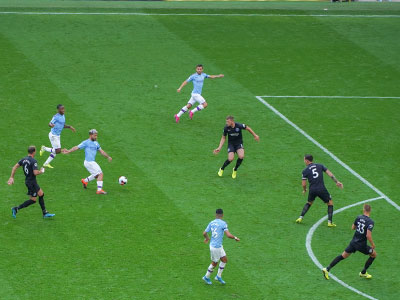 Nine minutes later Benardo replaces David Silver and immediately gets a pass from Aguero......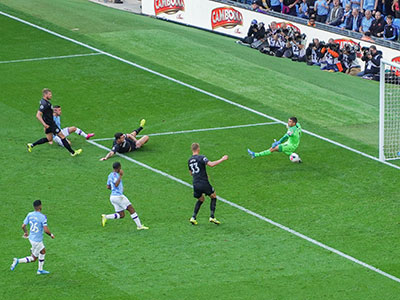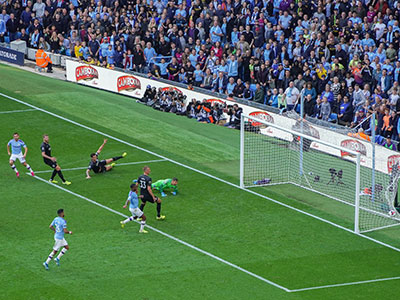 .....and he shoots past the keeper with his second touch of the ball - amazing - four nil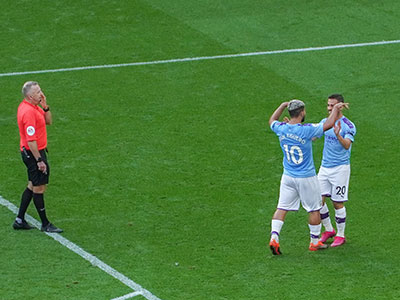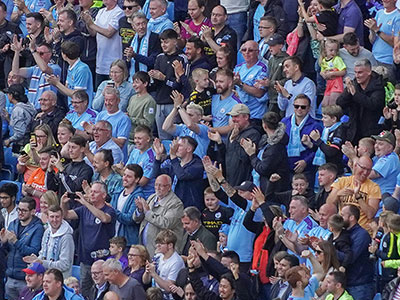 Benardo thanks Aguero as the ref checks VAR!!
More celebrations in the North Stand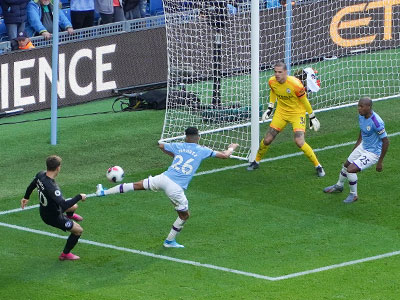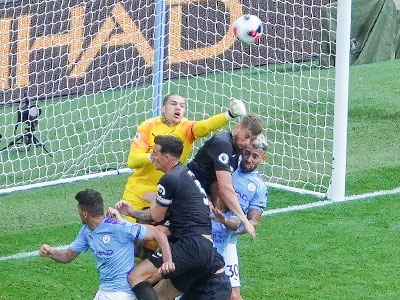 Four up City relaxed a bit and Brighton gave Ederson some work to do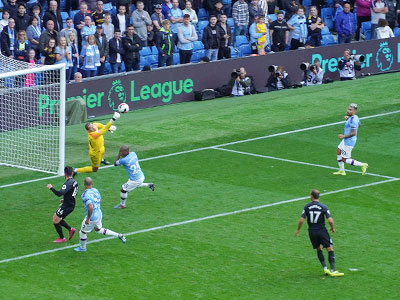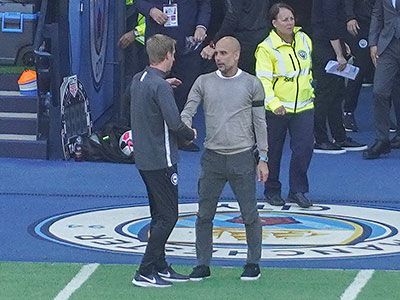 Ederson has one last punch before the final whistle goes
The two managers shake hands
team
Ederson 7.5: Walker 7.5, Otamendi 7.5, Laporte 6.5 (Fernandinho 7), Zinchenko 6.5, Rodri 7.5, De Bruyne 8 (Gundogan), Silva 8 (Benardo) Sterling 6, Mahrez 7 , Aguero 8.5