City 3 Burnley 0
October 21st 2017 att.54,118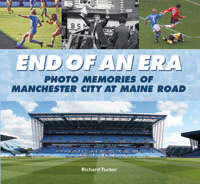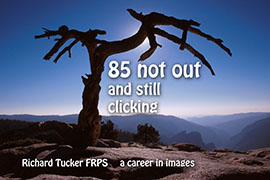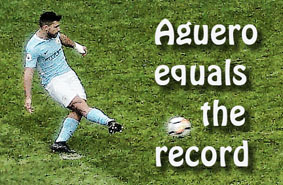 Despite heavy rain and wind City fans enjoyed the equaling of two records. Aguero equaled Eric Brook's record of 177 goals for the club in the first half when he sent the keeper the wrong way from the penalty spot. The penalty was a little controversial as Benardo Silva appeared to dive when keeper Pope clipped him. There was a it of a handbags battle before the kick was taken. Two more goals by Otamendi and Sane in the second half ensured City's 11th win on the trot equaling another club record.
It was not an easy win though. Burnley with excellent support throughout the game were well organized and fought hard and might have scored had their finishing been better. The City defence once again had something to do with John Stones excellent. Otamendi and Delph also played their part well
De Bruyne once again produced a kill pass that gave Sane the opportunity to notch his 7th in 8 starts. It was Kevin's 33rd assist this season. Otamendi put in a great header at a corner for his second of the season. Benardo Silva made his first start and he showed some of his dribbling skills in addition to winning the penalty. With Huddesfield beating United for the first time for 65 years City now have a 5 point lead in addition to a good goal difference to stay at the top of the league -long may it continue!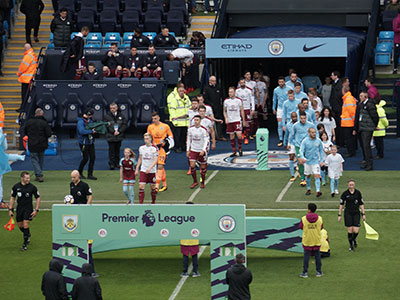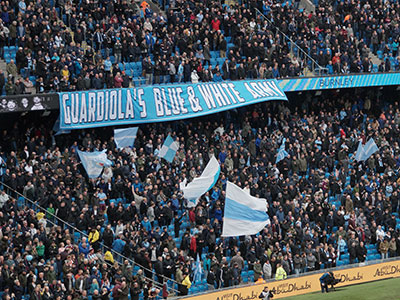 City made 2 changes - resting Jesus and Sterling and bringing in Aguero and Bernardo Silva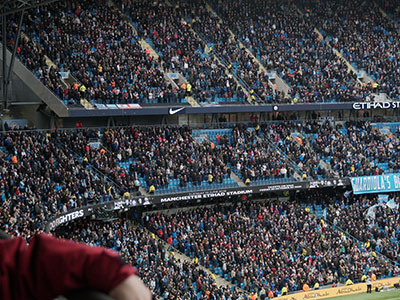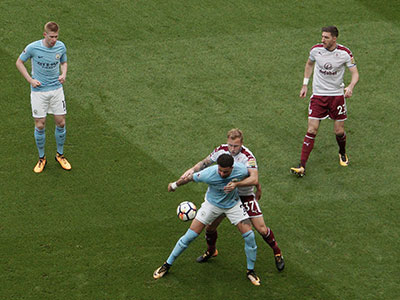 Burnley had excellent support
Walker tangles with Arfield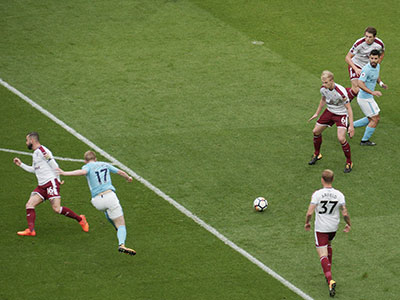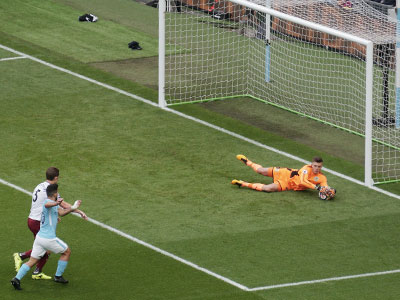 Keeper Pope is brought into action early - saving from De Bruyne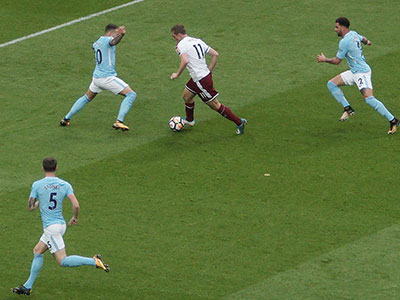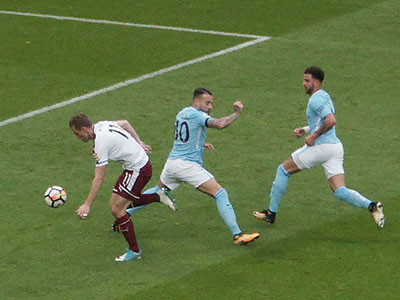 On 14 minutes Wood beat Otamendi and went for goal........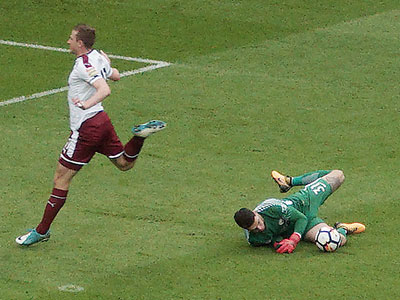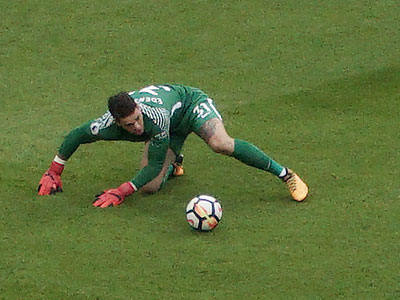 Ederson rushed out and saved at his feet but the ball broke loose......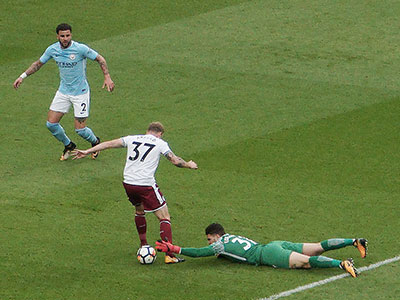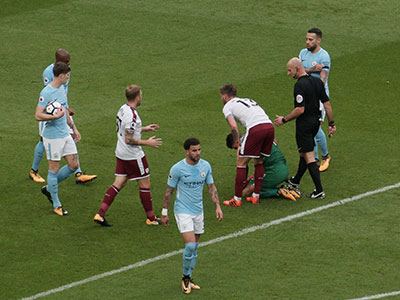 ....and Ederson was injured saving at the feet of Arfield and City won a free kick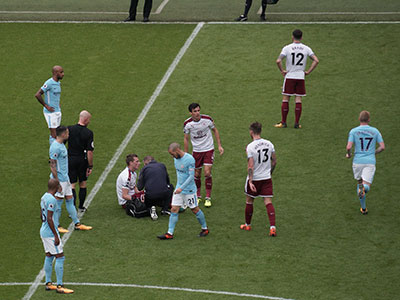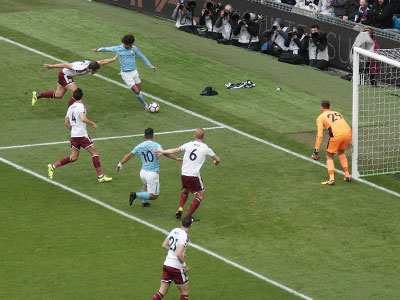 Chris Wood is injured and had to be subbed
The ever dangerous Sane cuts the ball back......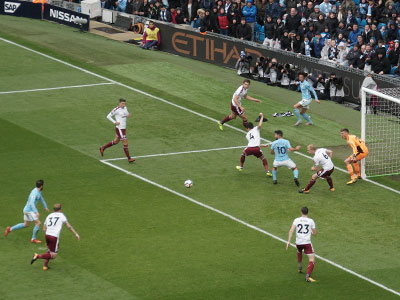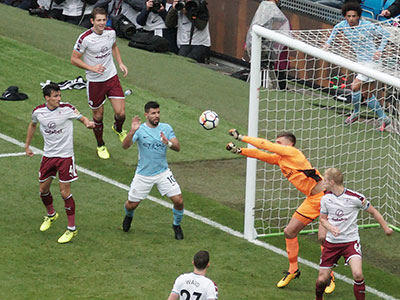 .......to Benardo Silva who shoots but Pope saves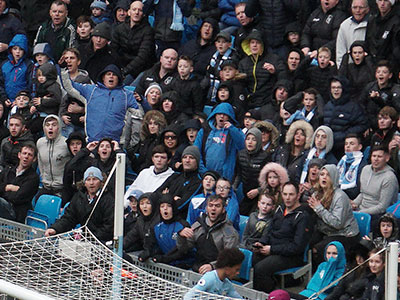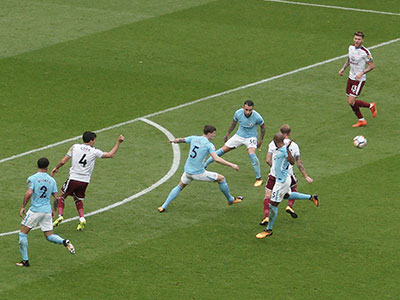 Oh he should have scored say the Family Stand!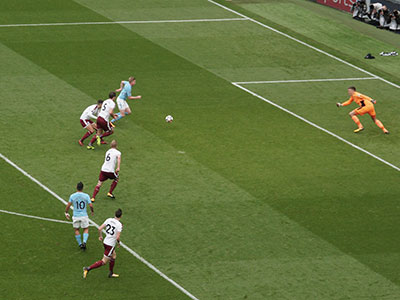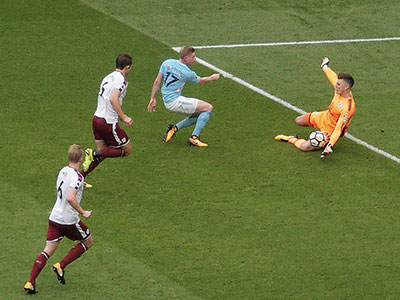 On 28 minutes De Bruyne shoots but Pope manages to block the shot........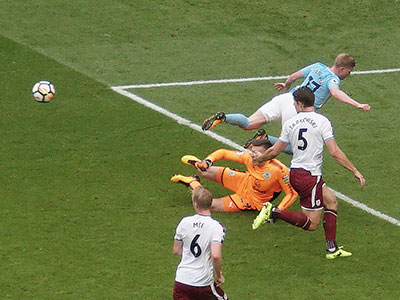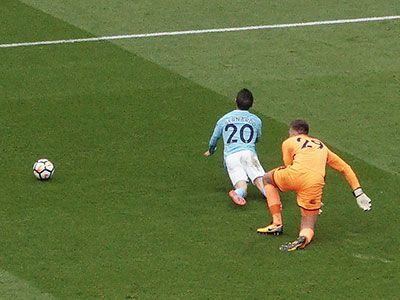 ........ but the ball runs clear and Benardo Silva tries to get round Pope but is brought down.......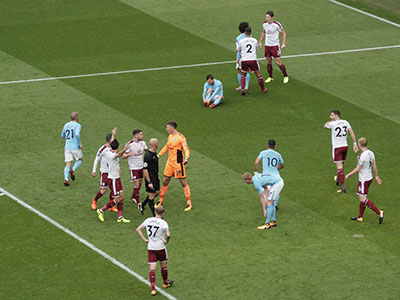 The ref points to the spot and as he deals with protests an argument breaks out between Sane and Tarkowski further away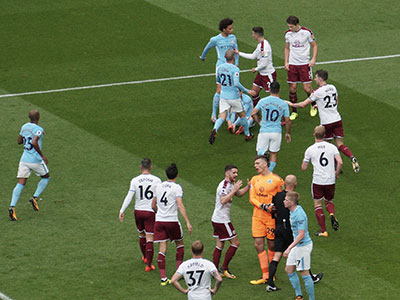 Oh dear the handbags are coming out soon!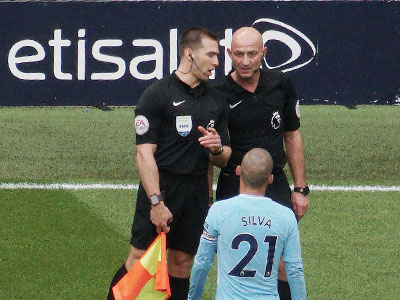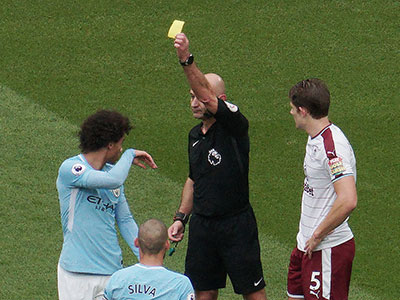 The ref has a discussion with the linesman and the situation ends with yellow cards for Sane and Tarkowski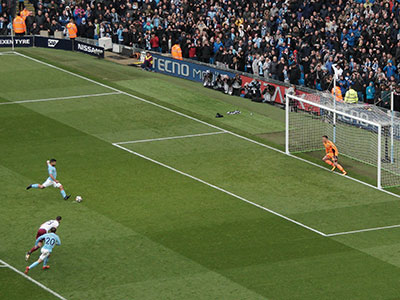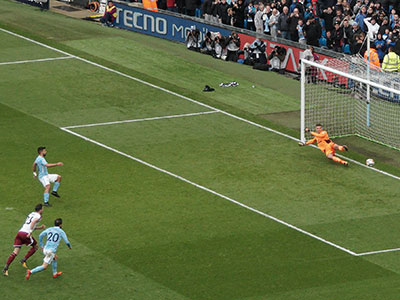 Oh yes I'd almost forgotten - we have a penalty and Aguero sends Pope the wrong way and City are one up.......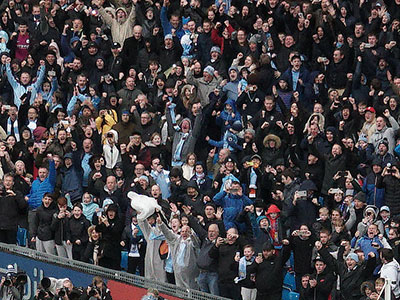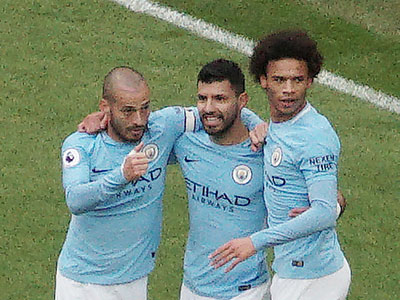 So much to the delight of fans and players Aguero has his 177th goal for City!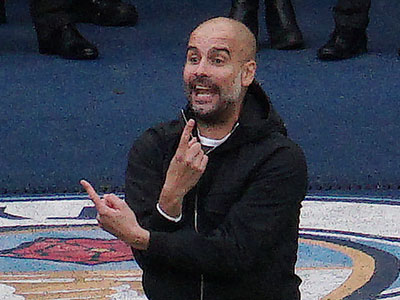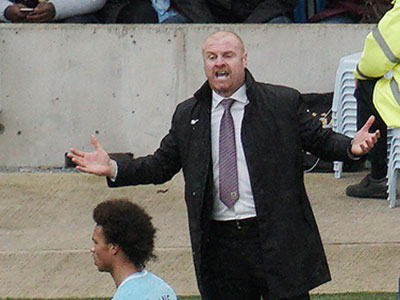 I think Pep wants more action while Sean Dyche is frustrated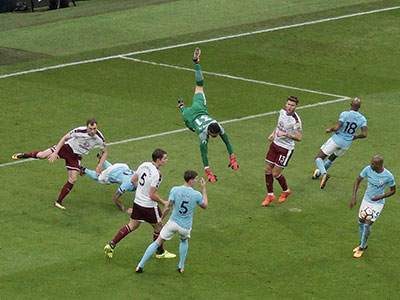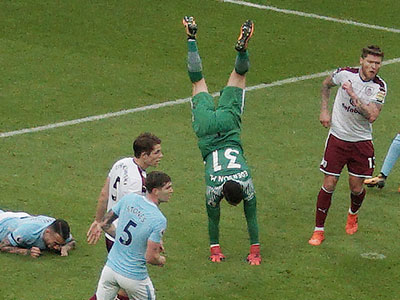 Ederson demonstrates a neat effect in clearing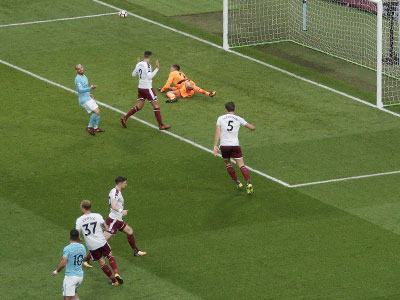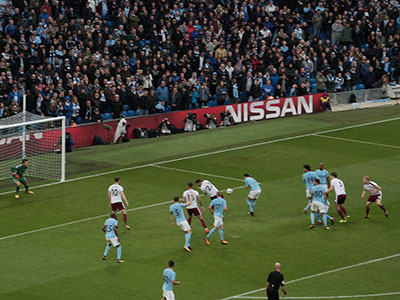 City manage to block a Burnley attack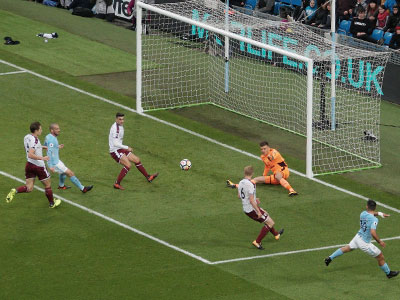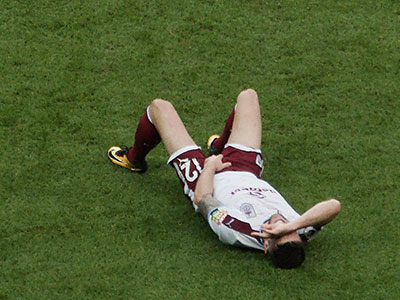 Aguero desperate to break the record has another effort saved by Pope
The secret sniper has hit again -it's Brady this time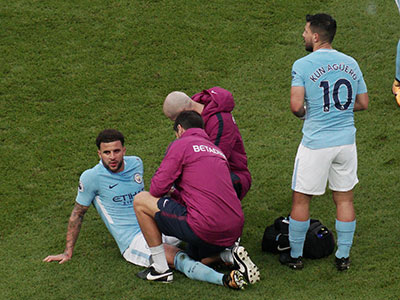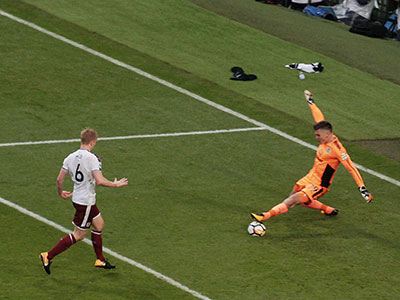 Pope saves yet again just before half time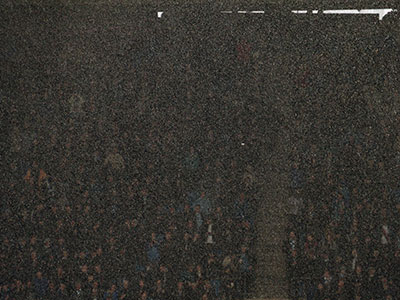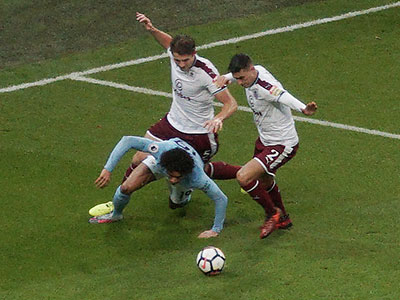 The weather got worse during the interval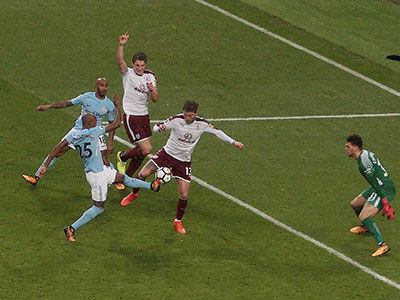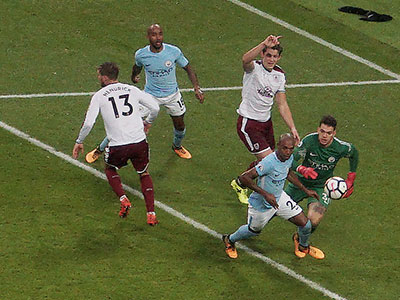 City under pressure manage to clear.......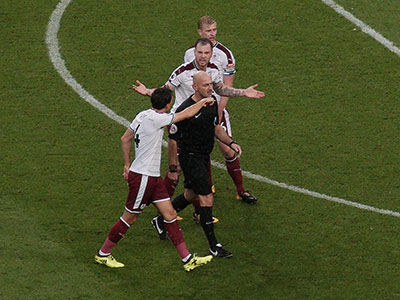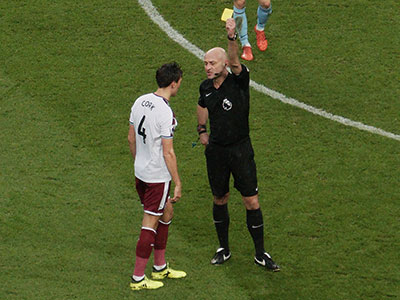 .........but Cork has a moan to the ref and gets a yellow for his trouble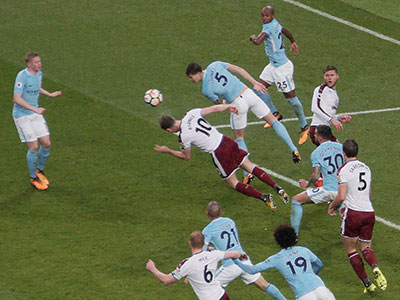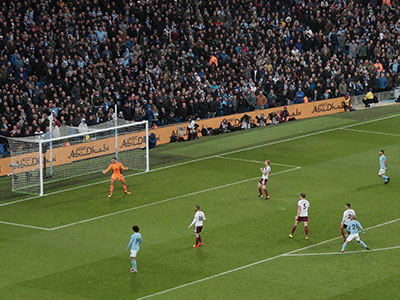 David Silva shoots over the bar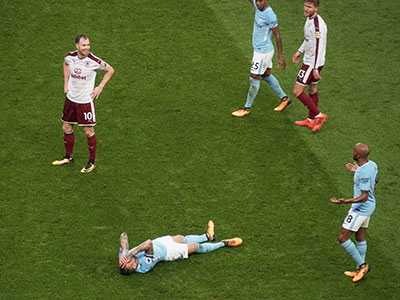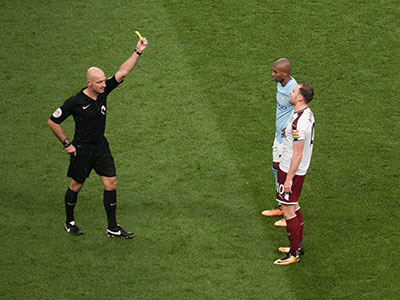 Otamendi is down injured but Barnes seems amused and ends up with a caution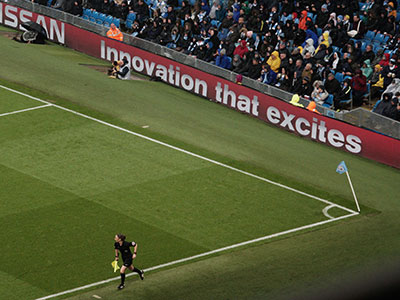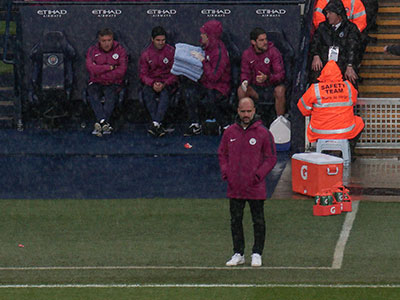 The corner flag is blown by the strong wind
Even Pep has put on an extra jacket!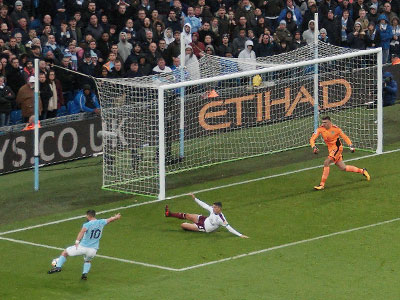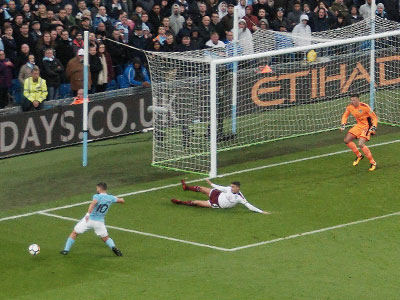 Here comes number 178 - oh dear - Aguero just could not reach the cross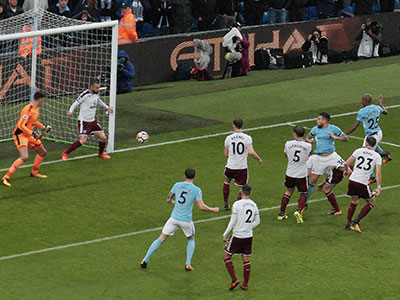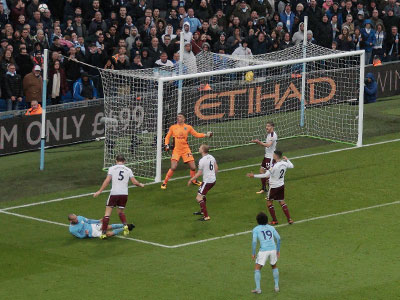 Silva's effort is saved for a corner
Up goes Otamendi to head down........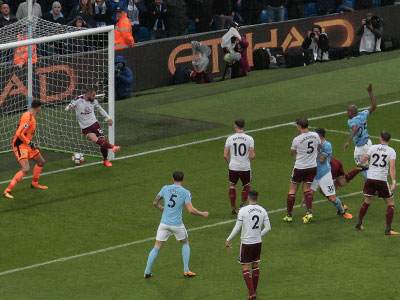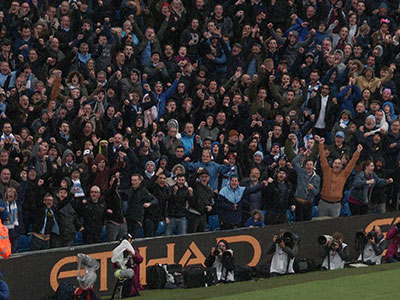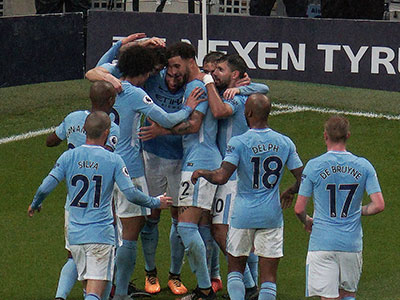 ......past the defender and it's over the line to make it two nil to City
We needed that so fans and players can celebrate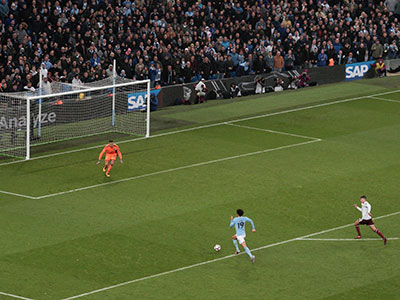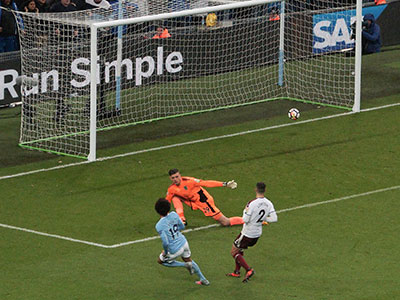 No sooner had the game restarted and a great pass from -guess who - Kevin - found an unmarked Sane and he shot past Pope to make it three nil- brilliant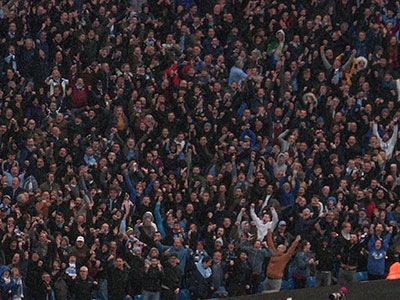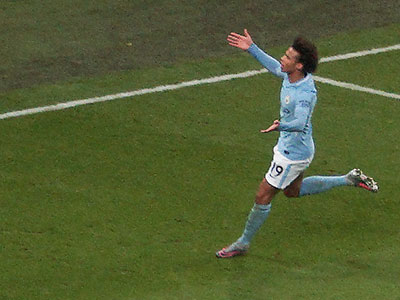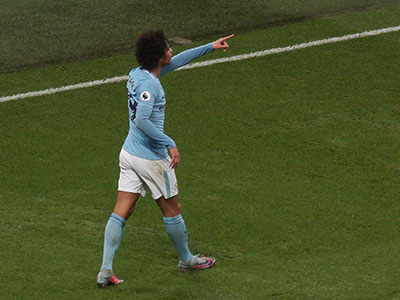 Sane celebrated then pointed to his provider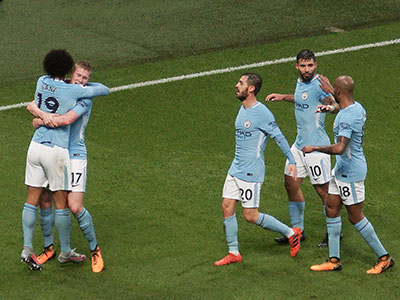 At three nil we could relax a bit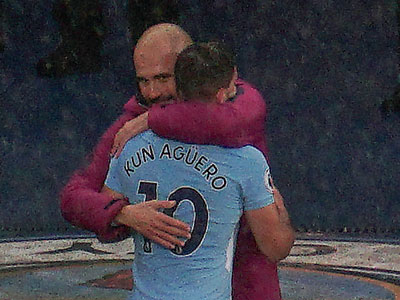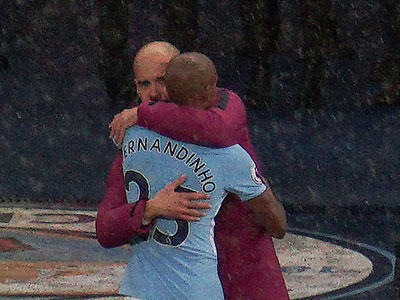 It's hug time as Aguero and Fernandinho are given a rest and on come Jesus and Toure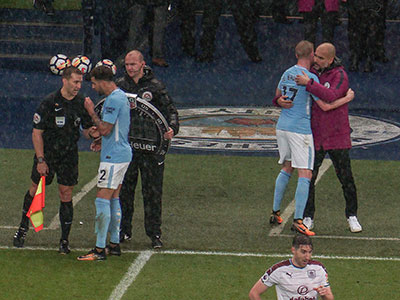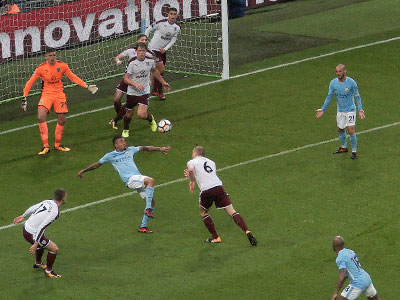 Jesus tries an overhead shot but hurts Mee
Time for Kevin to have a hug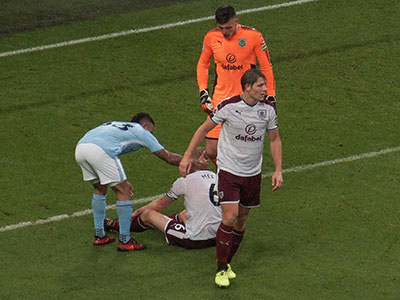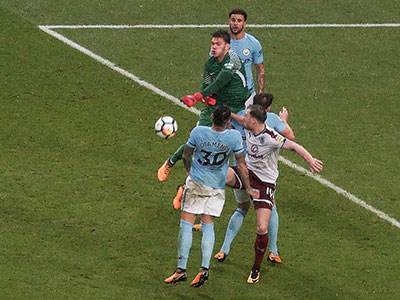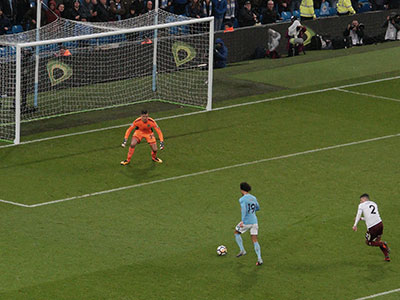 Surely this must be number four - Oh no Sane has shot wide!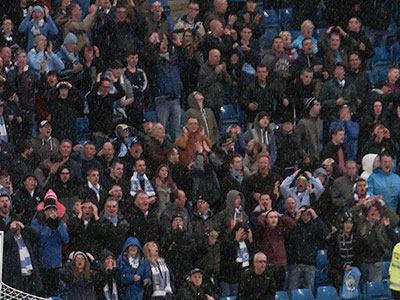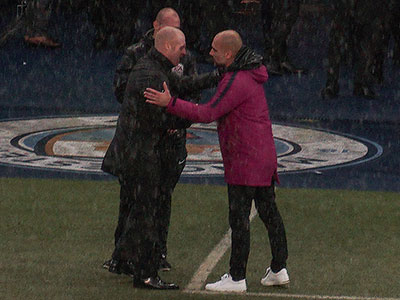 Never mind we won again for the eleven the time
team
Ederson 7: Walker 7, Stones 8.5, Otamendi 8, Delph 7.5: Fernandinho 7.5 (Toure)
Sane 8, Benardo Silva 7, David Silva 7.5, De Bruyne 8.5 (Gundagon) Aguero 7.5 (Jesus)