City 2 Napoli 1
October 17th 2017 att.48,520
Champions League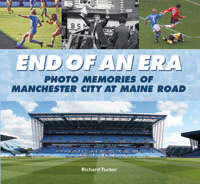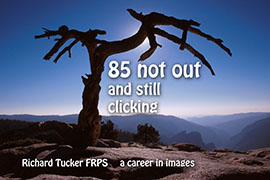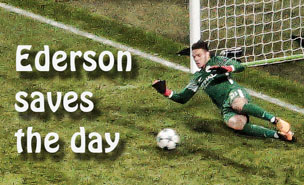 This was a tough game and a very important win for City as they only need one more point to qualify for the next series in the Champions League. The vital moment came when Ederson saved a penalty on 37 minutes. He also made other saves but alas could not save a second penalty in the second half. City dominated the first thirty minutes and scored two goals through Sterling and Jesus in the opening 15 minutes. With luck it could have been four at half time but Napoli came back in the second half and now it was the turn of the defence to show us what they could do. Stones did well and his partnership with Otamendi is improving greatly. Fernandinho looked a little tired after all his recent efforts and even Kevin and Silva missed a few passes! This was City's tenth win on the trot and with two home games next we could see even more points and goals at the Etihad. Napoli top of Serie A came with a good record and we saw in the second half how dangerous they could be so it was a well deserved win for the Sky Blues.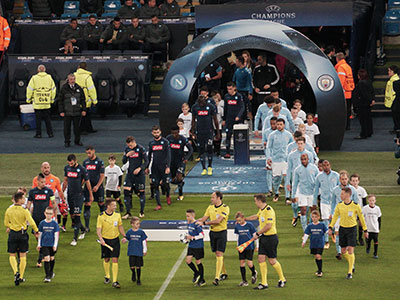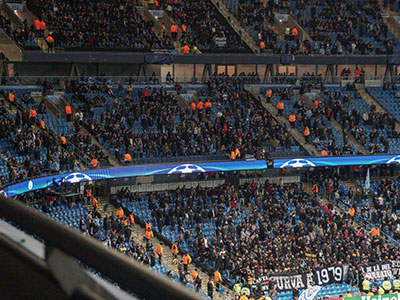 City were unchanged for the third time in a row - is that a world record! No I don't think so!
Napoli brought a good number of supporters to the game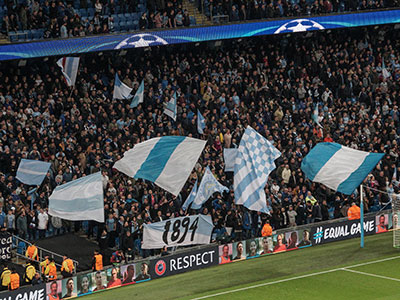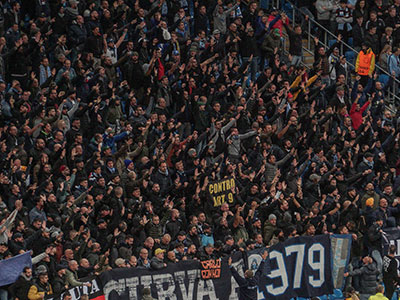 Both sets of fans added lots of atmosphere to the match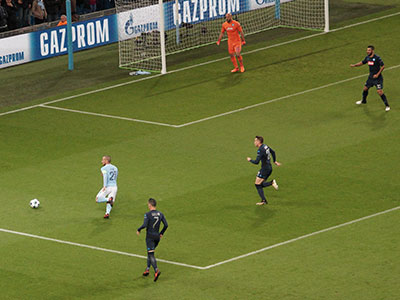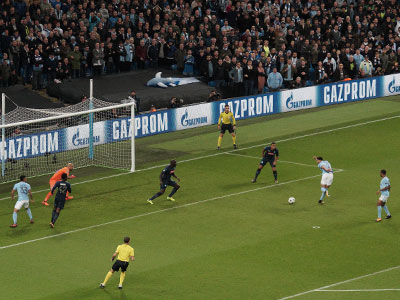 After just 9 minutes Silva crossed the ball and Walker had a shot blocked......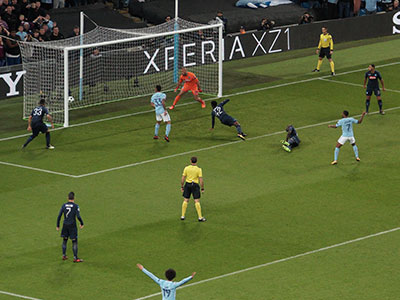 ....but the rebound came to Sterling who made no mistake from 12 yards and the ball was past Reina in a flash and City ere ahead - great stuff!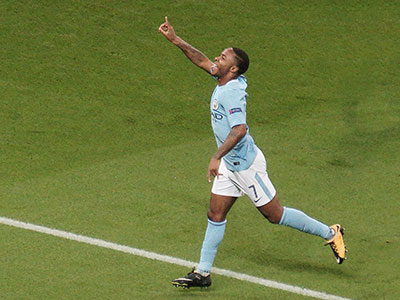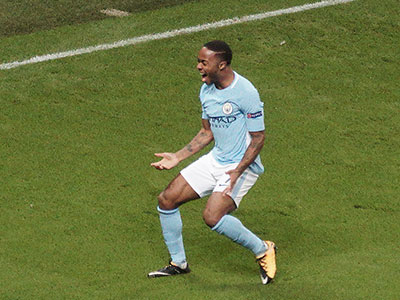 I think Raheem enjoyed that one!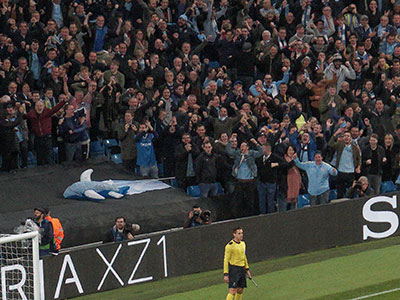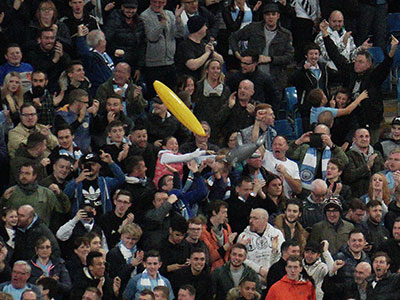 The City fans in the South Stand enjoyed it too as did the banana and the shark!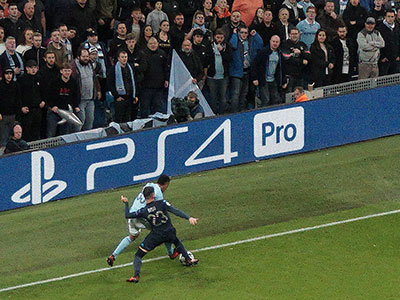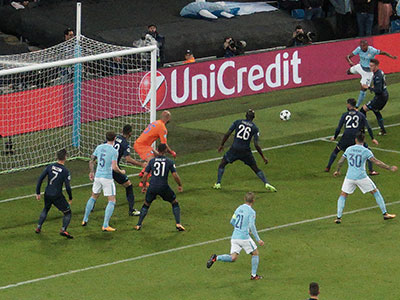 Napoli concede a corner when Jesus is tackled but we fail to capitalize a half chance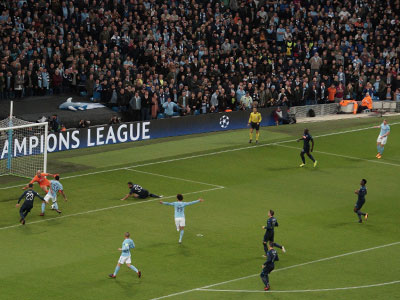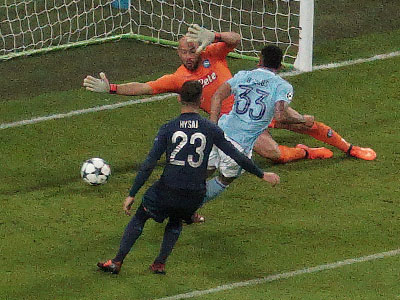 A minute later a great cross from ...who else but De Bruyne gives Jesus an easy chance to make it two nil - WOW - what a start for City.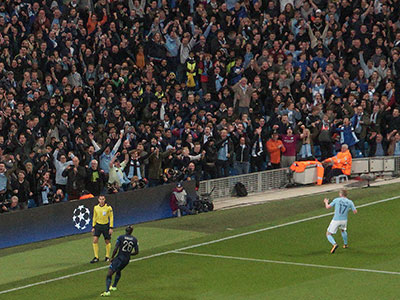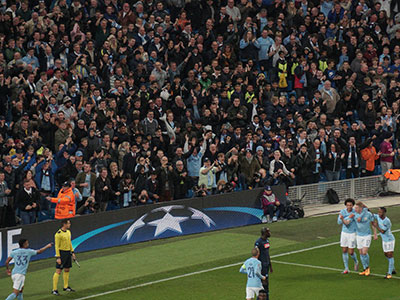 The fans and the City players show their appreciation of Kevin's skill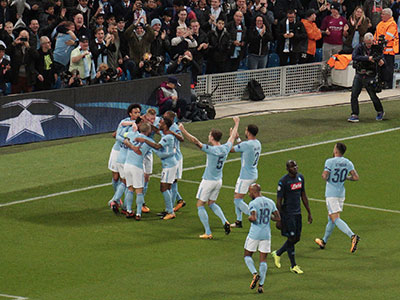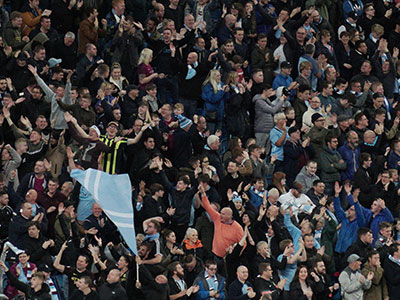 The City fans let the visitors know the score!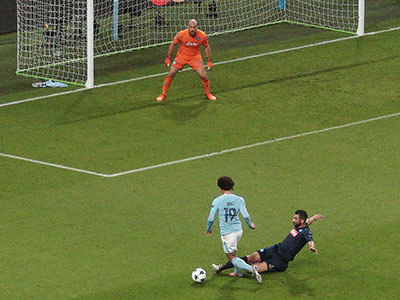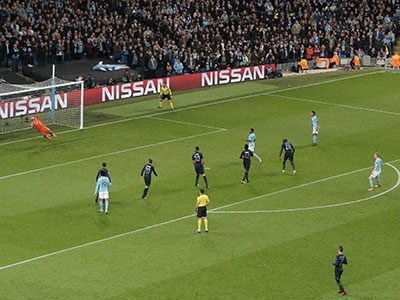 a late tackle stops Sane from getting a chance
On 25 minutes De Bruyne shoots from outside the box ......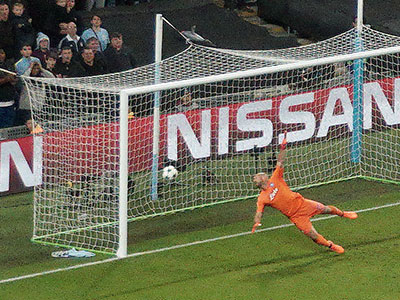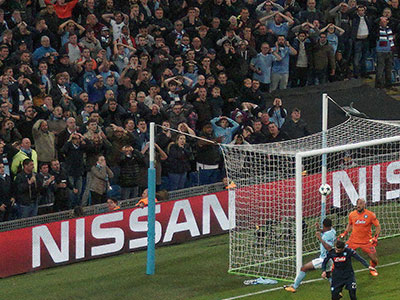 .....and the ball hits the bar but Sterling following up cannot finish the job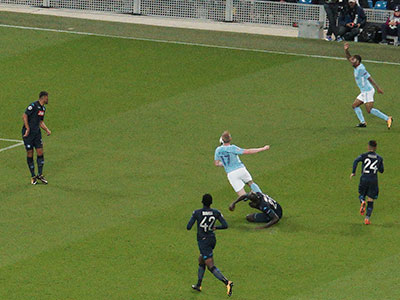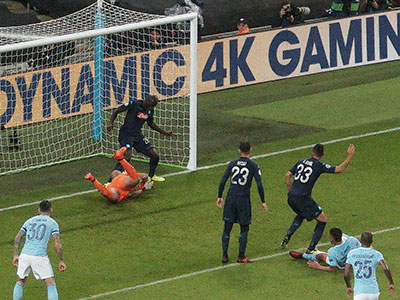 De Bruyne is brought down by Koulibaly but the free kick is blocked
A shot by Jesus looks to be over the line......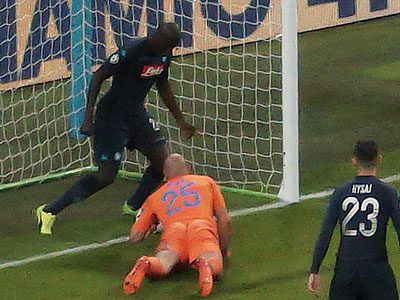 ..... but not quite I am afraid!
Napoli manage to clear a corner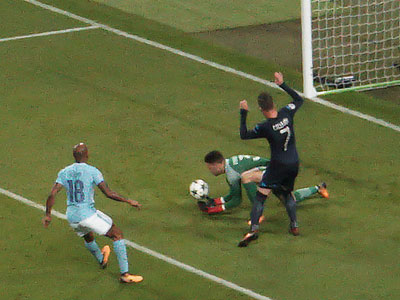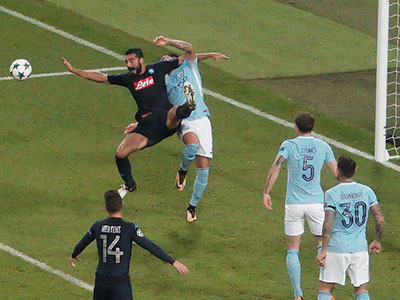 Ederson beats Callejon to the ball
Oh dear Walker fouls Albiol in the goal box.....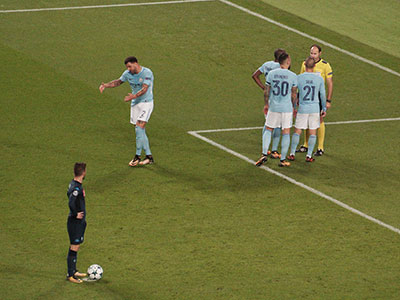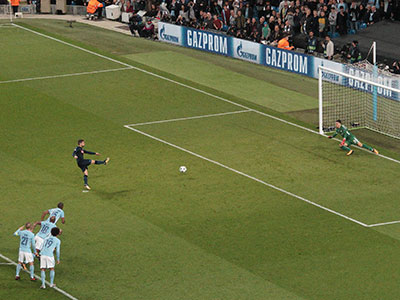 ..and it's a penalty despite City moans!
Mertens takes the penalty.......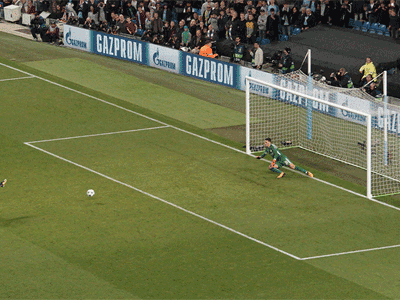 ...but Ederson saves with his legs brilliantly.......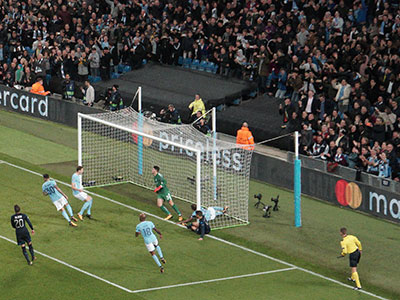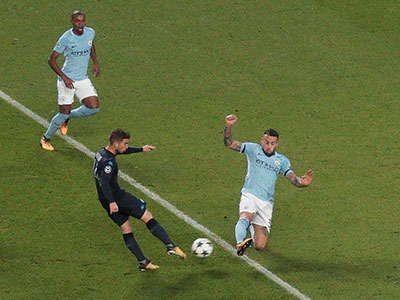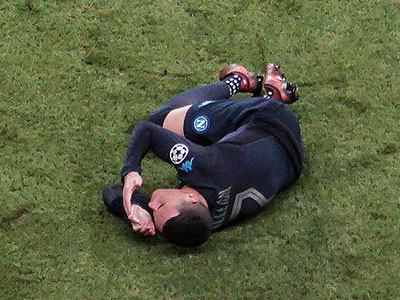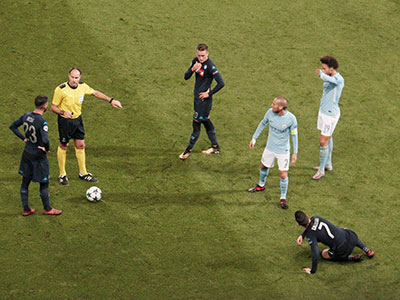 ...and City manage to clear
Otamendi manages to block a shot
Just before half time the secret sniper is in action but Silva is the guilty one - surely not!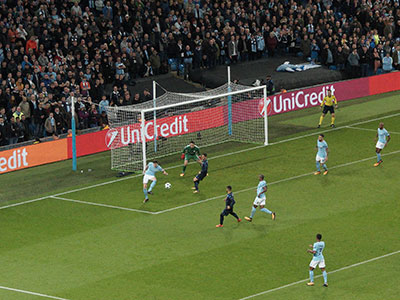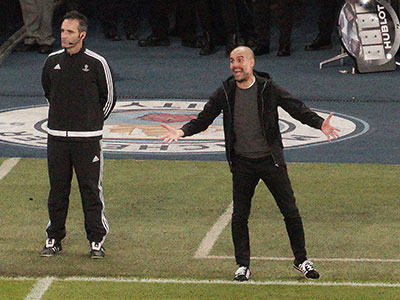 Stones makes a good clearance from a cross
Pep starts to get a bit agitated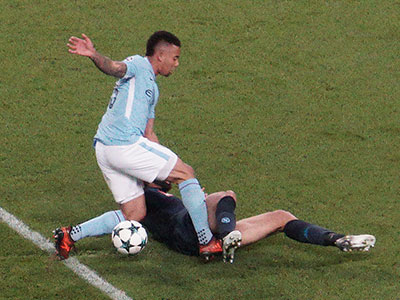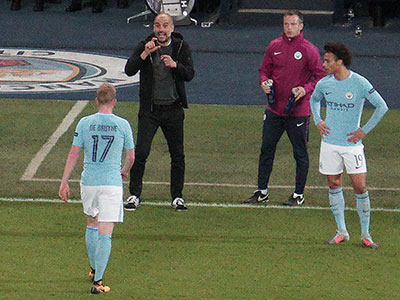 Pep has a word with Kevin

Jesus waits for a long goal kick from Ederson as you cannot be offside at a goal kick.
Alas it did not reach him that time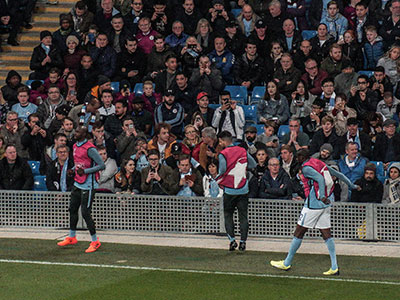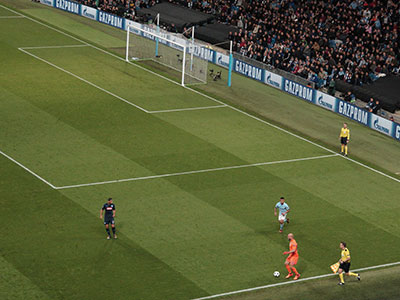 The City subs are out! Will we see Aguero score!
Pepe Reina tries his luck at left back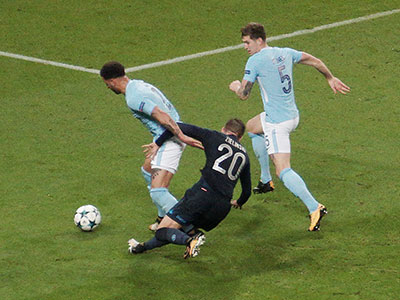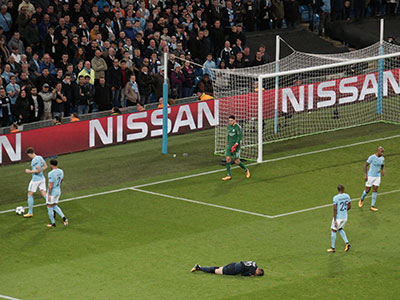 Walker and Stones to stop Zielinski but look the secret sniper has struck again but he did not rest for long!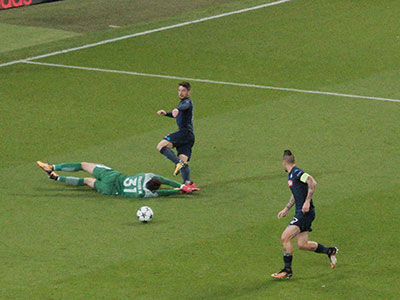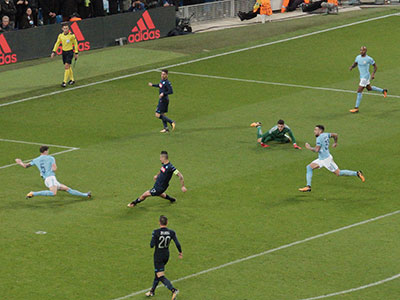 Ederson dives but the ball runs to Hamsik who shoots at the empty goal but Stones makes a great
deflection for a corner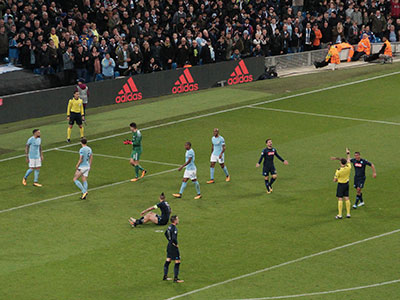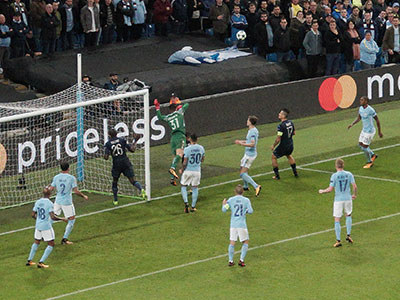 Napoli think there is a handball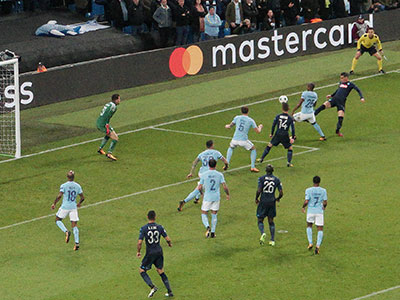 Ederson has an easy save to stop this Napoli attack down the right wing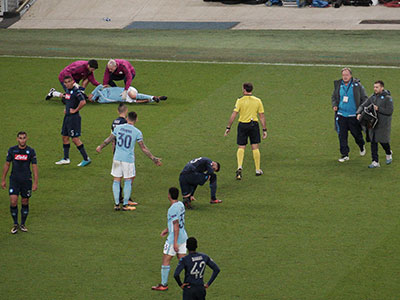 There was a clash of heads between Silva and Hysaj and a delay for treatment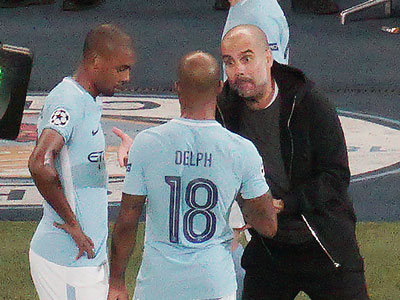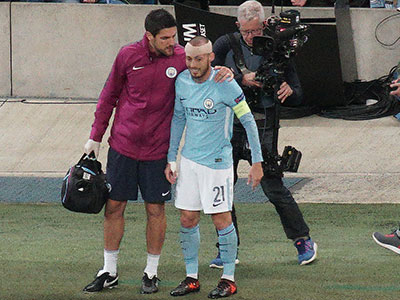 Pep makes a point with Delph and Fernandinho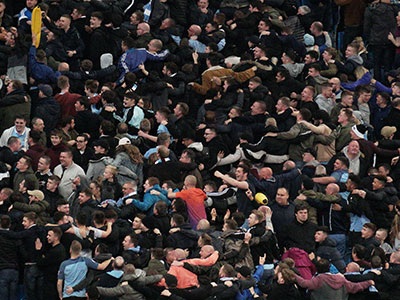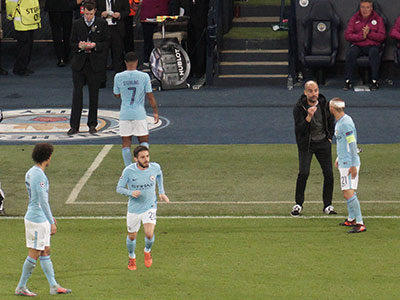 The South Stand show off their Poznan!
Bernardo Silva replaces Sterling as Pep gives a few tips to David Silva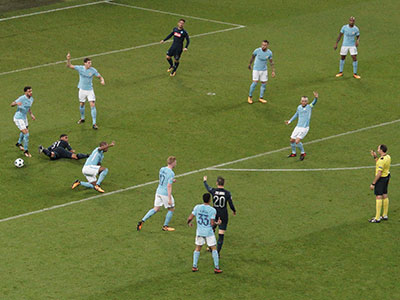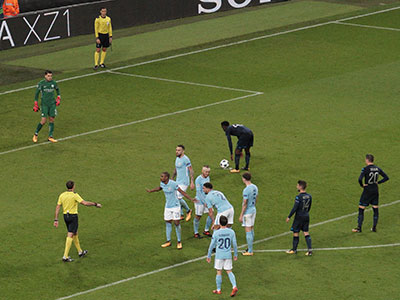 On 72 minutes disaster struck when a soft penalty was given against Fernandinho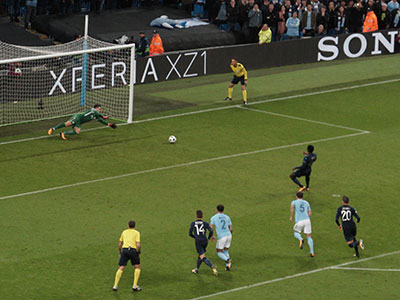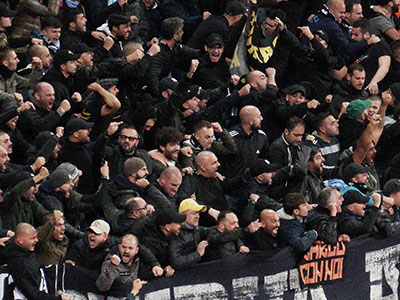 Though Ederson dived the right way the ball beat him to give the Napoli fans something to shout about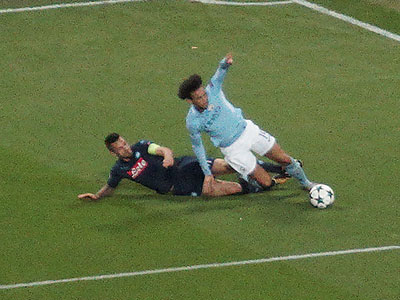 Sane is brought down just outside the penalty area and Albiol is booked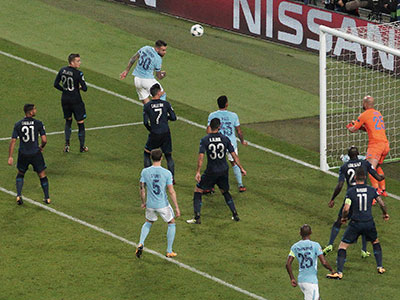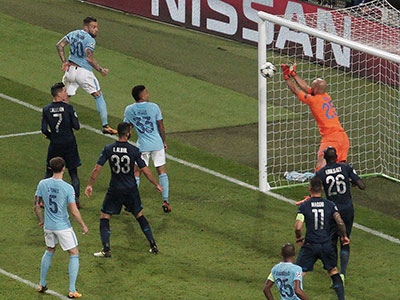 At a corner a header from Otamendi is punched away by Reina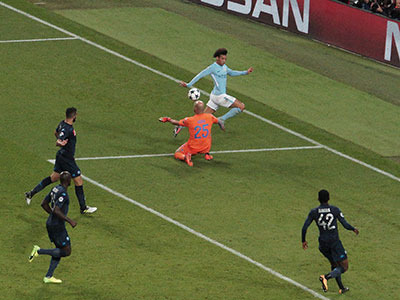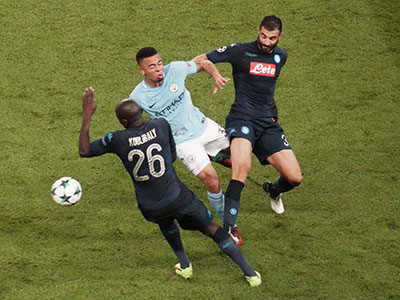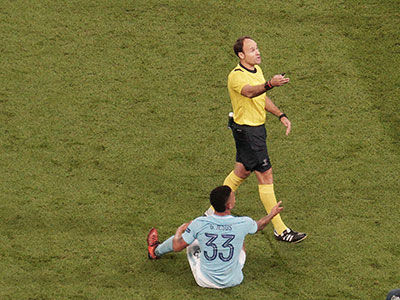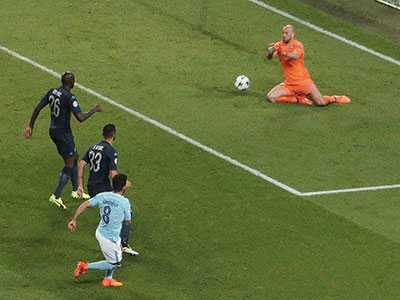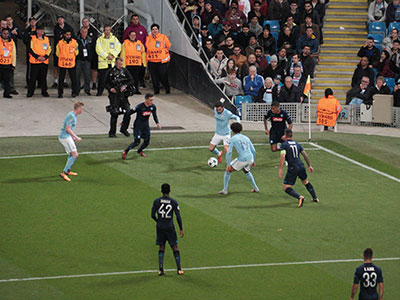 ....and he gets a free kick taken by De Bruyne but the ball is blocked and cleared by Napoli
Gundogan on for David Silva has a shot saved
City play the corner game waiting for the final whistle
team
Ederson 9: Walker 7.5, Stones 8.5, Otamendi 7.5, Delph 7 : Fernandinho 6.5, De Bruyne 8, David Silva 7.5 (Gundogan) , Sterling 8 (Benardo Silva) Sane 7.5, Jesus 8 (Danilo)