City 5 Crystal Palace 0
September 23rd 2017 att.53,526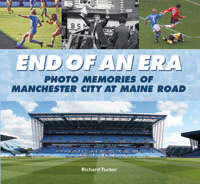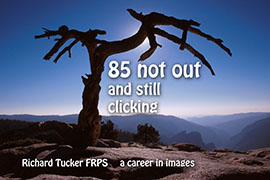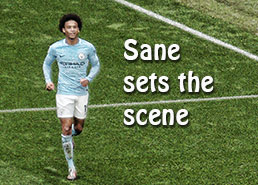 After a dullish first 40 minutes Sane set the game alight with a magnificent goal and in the second half City carried on their goal scoring exploits with another four goals to make them the first premier club to score five or more in successive games since 1958-59 season when Blackburn Rovers did it. For most of the first half City had gone back to their slowish tempo but no doubt a good chat by Pep at half time put an end to that. Two goals from close range from Sterling put City three up and then Aguero who had missed some good chances earlier notched one to bring him a bit nearer to the Eric Brook record and at the end Delph scored a beauty to make it five and to keep us on top on goal difference.
Ederson did not have much to do but one worry was the injury to Mendy who had to go off after half an hour. Both Silva and De Bruyne raised their games in the second half and they will have to keep this up in the next two vital games against Shakhtar Donetsk and Chelsea.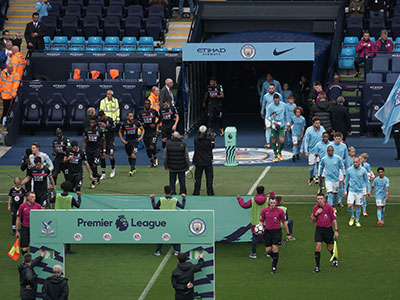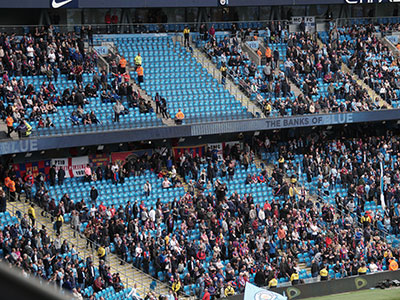 City made one important change Sane who had done well against West Brom in the League cup coming in for Jesus.
Only about 800 or so turned up to watch Palace -not surprising considering their position

There was a big welcome in the South Stand for the City team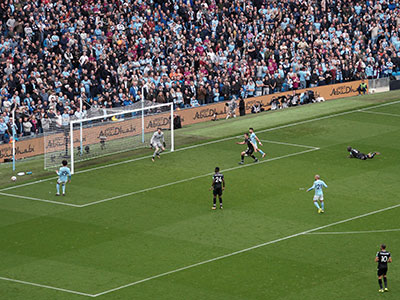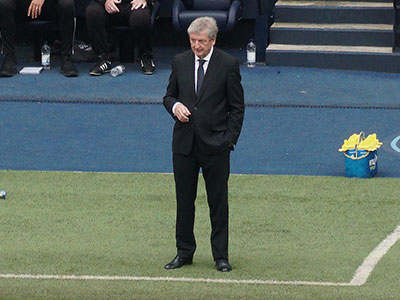 A shot from De Bruyne is deflected by a defender and hits the post early on
New Palace manager Roy Hodgson now 70 years old hopes for a miracle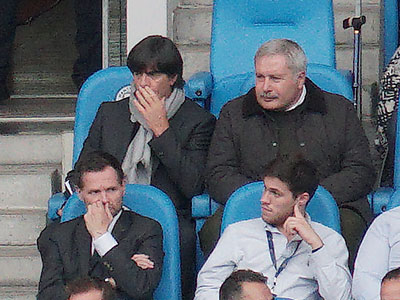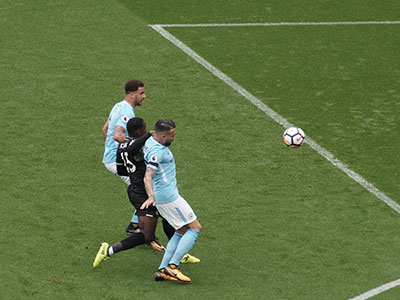 That looks like Joachim Low (top left) the German team manager - no doubt to check on Sane
Schulupp has an effort blocked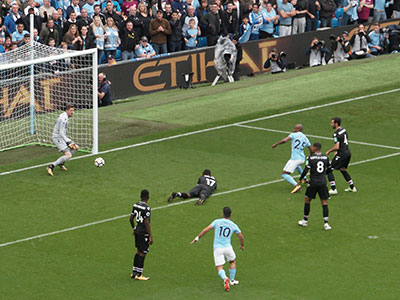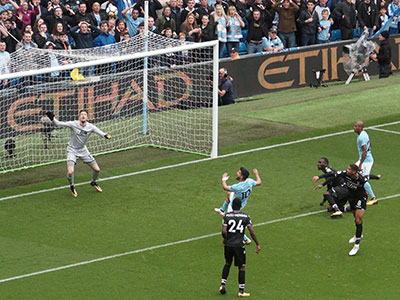 Hennessey saves from Fernandinho
Aguero shoots over the bar when well placed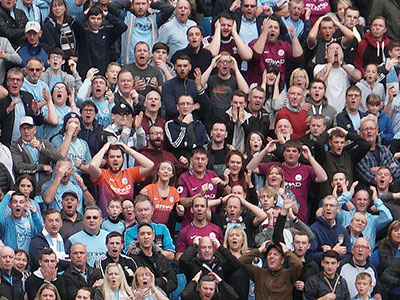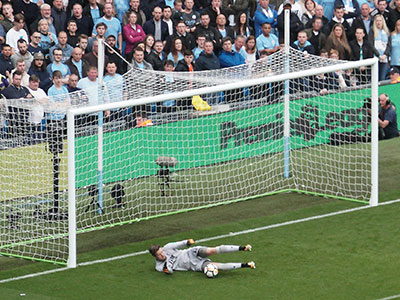 The South Stand have to suffer that miss!
Hennessey saves from Sterling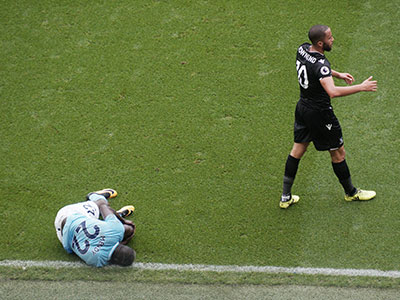 Hennessey in action once again
Mendy fouls Townsend but gets injured and booked!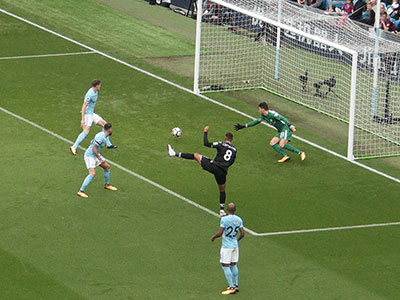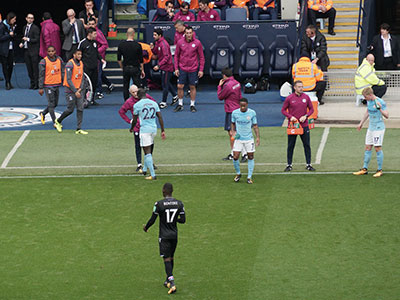 Loftus-Cheek misses a good chance from a dangerous cross
Mendy is replaced by Danilo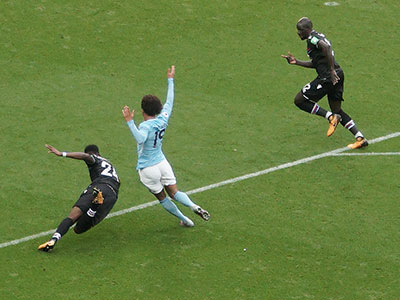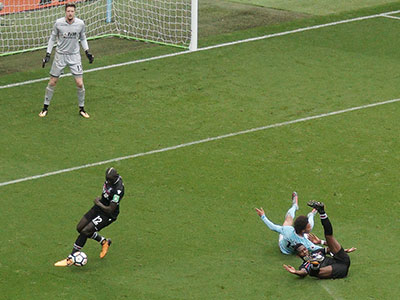 Sane tries a dive - not well done - too obvious rising both arms in the air like that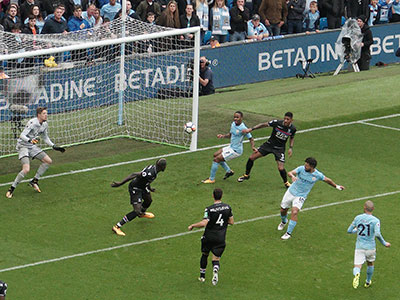 from a Sane cross Aguero has another good chance but lifts it over the bar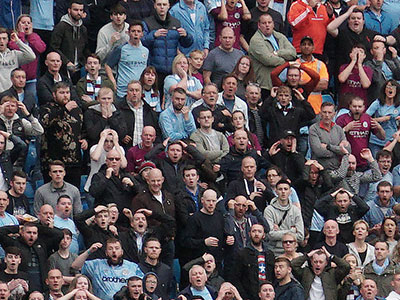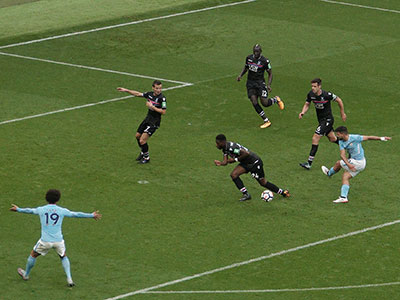 The South Stand are frustrated once again
Aguero has a shot blocked and Sane wants a pass!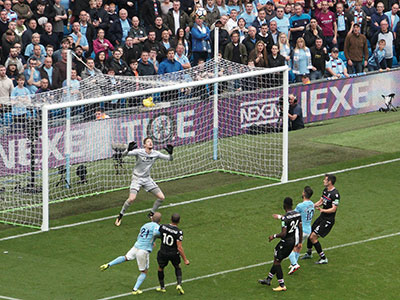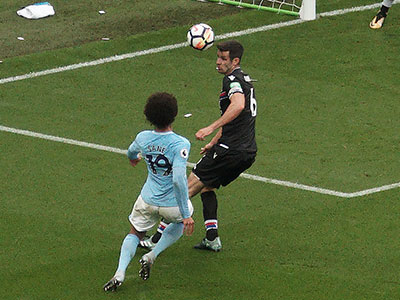 A Silva header goes over the bar
Sane takes a pass from Silva and dinks the ball over the head of Dann.......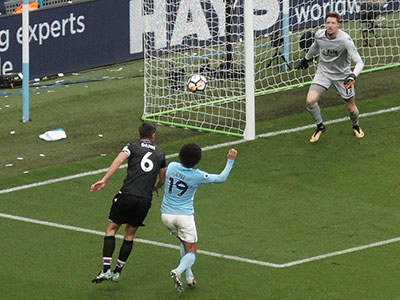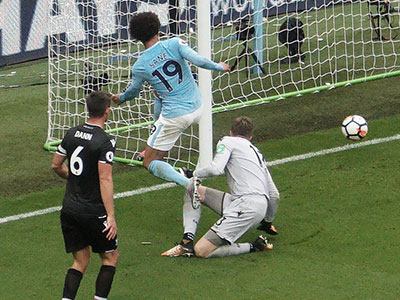 ......... and toe pokes it past the keeper to give City a vital lead just before half time. A terrific effort.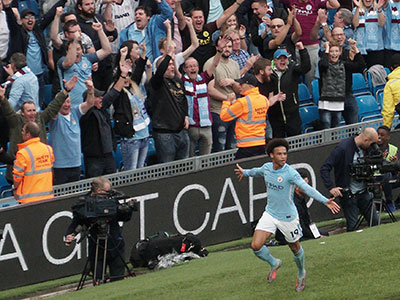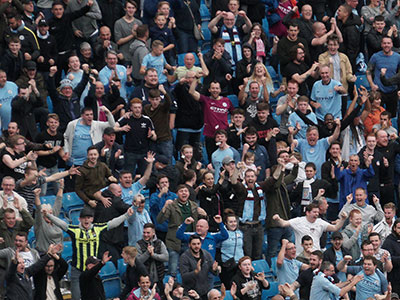 Sane and the South Stand celebrate a great goal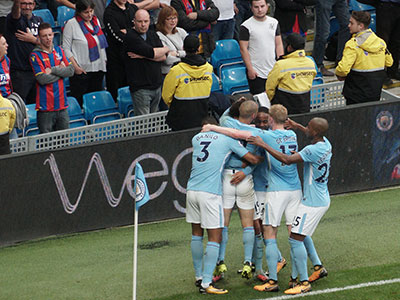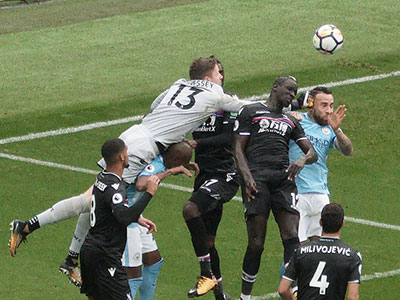 A very relieved bunch of City fans make their feelings heard
Sane and his colleague enjoy the moment
Hennessey has to punch a corner clear just before half time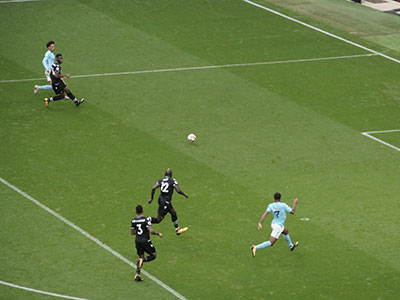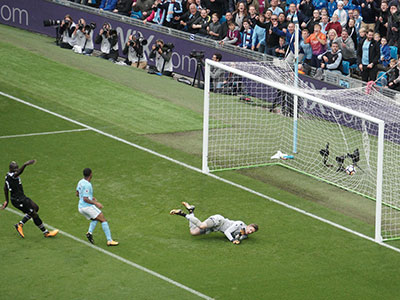 Just 6 minutes into the second half Sane dashes down the right squares to Sterling who has the easy job of making it two nil to City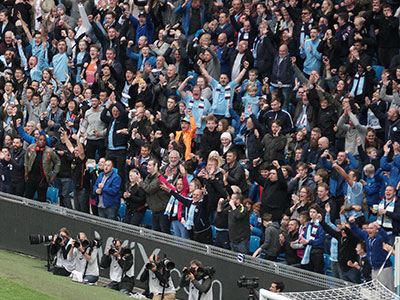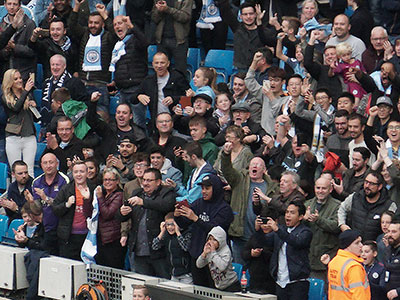 What a good start to the second half and the North Stand enjoy the goal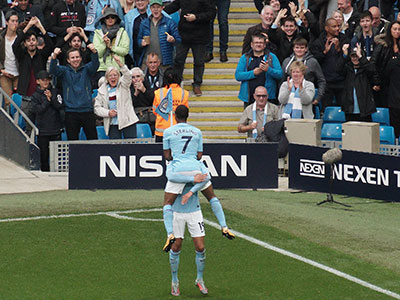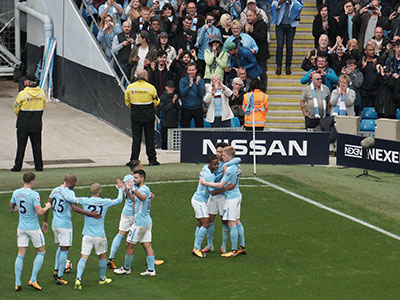 Sterling leaps on Sane to thank him for the pass before the rest of the team arrive to celebrate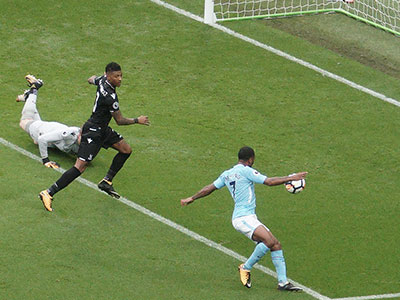 Another break down the left wing and here comes the cross to Sterling -surely he must score.......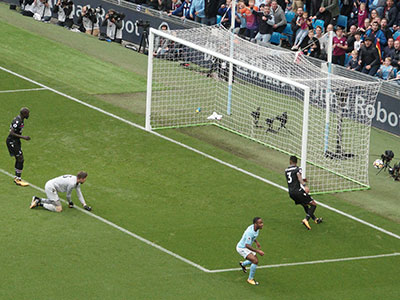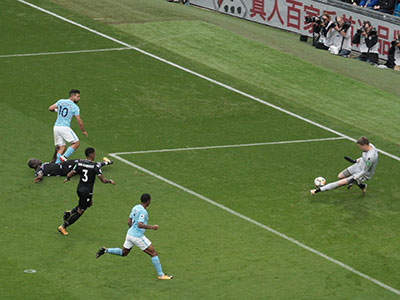 .......Oh he's missed - unbelievable!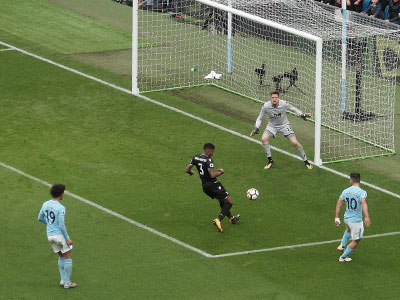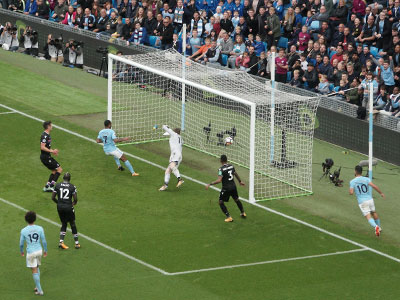 Shortly after Sterling made no mistake this time following good work by Aguero - three nil to City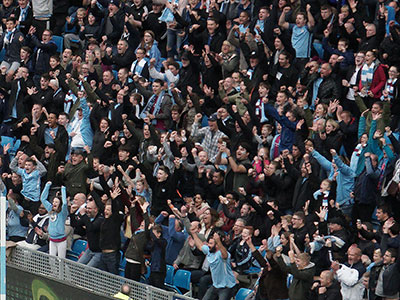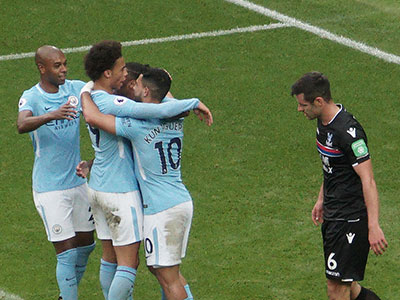 Fans and players celebrate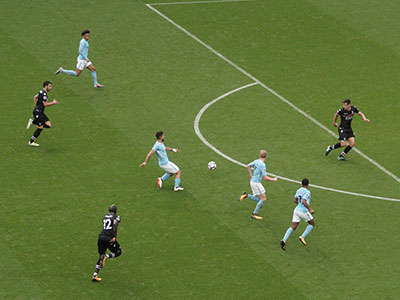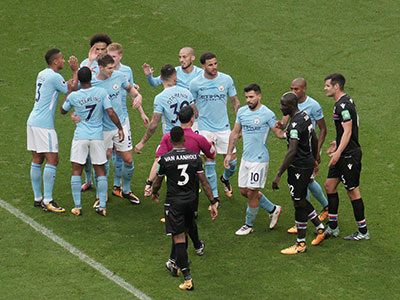 City have a team meeting to decode how many to score today!
City outnumber the defence -surely this must end in a goal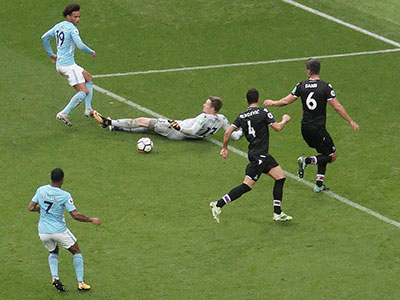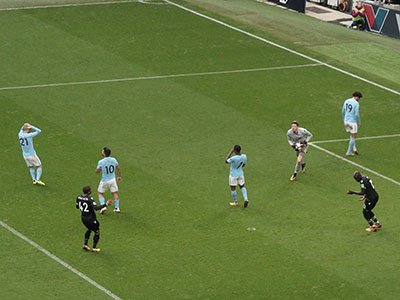 A Hennessey save foils the efforts of Sane and the players show their feelings at the missed chance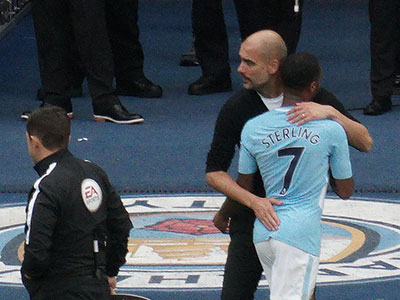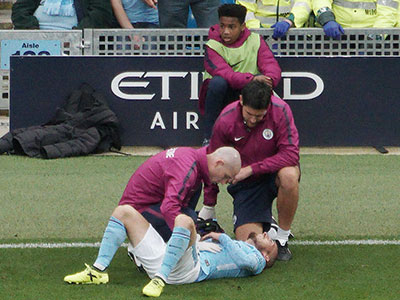 Sterling is replaced by Bernardo Silva
Silva is injured and in the background is the ball boy who got some coaching from Pep!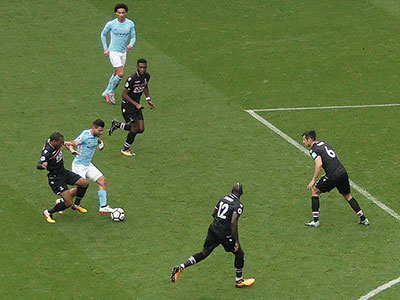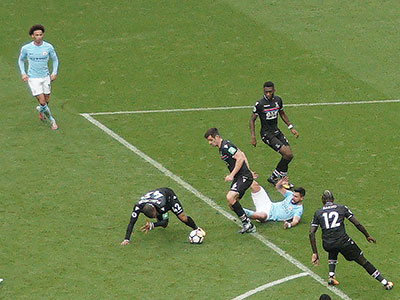 Aguero tries to break through but gets no free kick when he goes down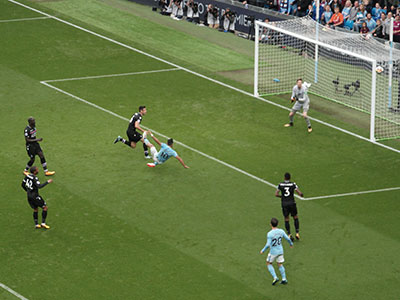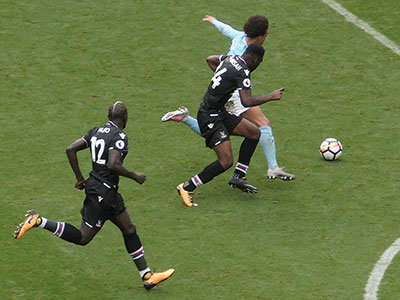 On 74 minutes Aguero shoots wide
Sane tries to break through down the left......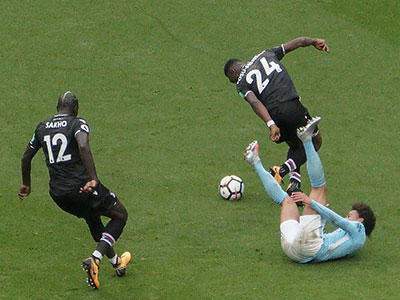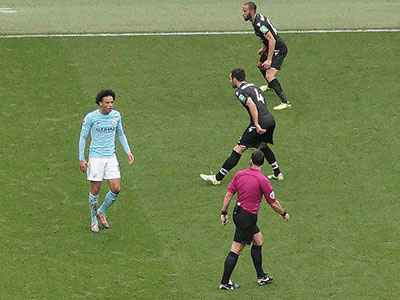 .......but is brought down and he has a moan for not getting a penalty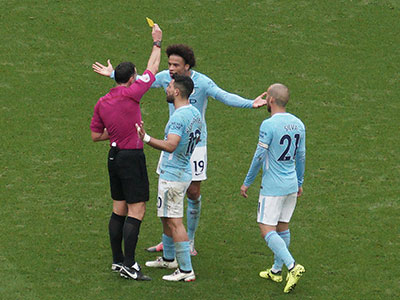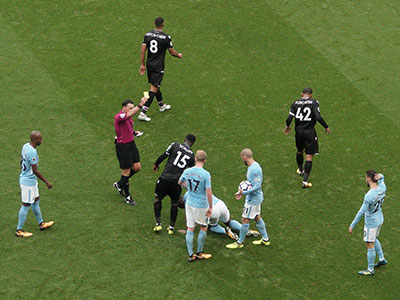 He eventually gets a yellow card
Schlupp gets yellow for foul on Danilo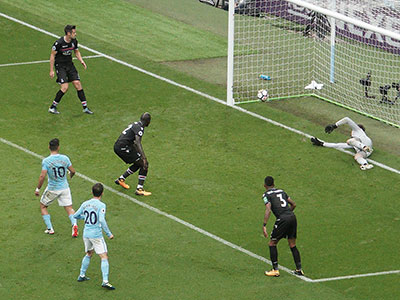 On 79 minutes Sane crossed and Aguero scored with a header to make it four nil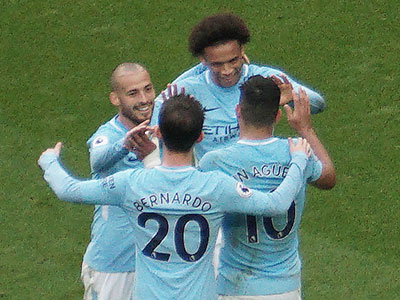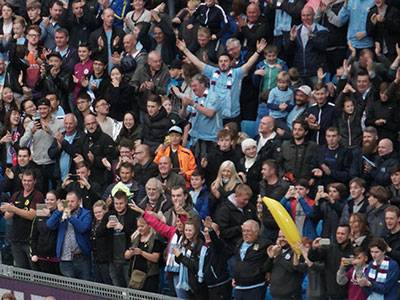 Aguero gets his 6th league goal of the season and moves one nearer the all time record
Oh great a banana's out in the crowd!

The North Stand want more - of course!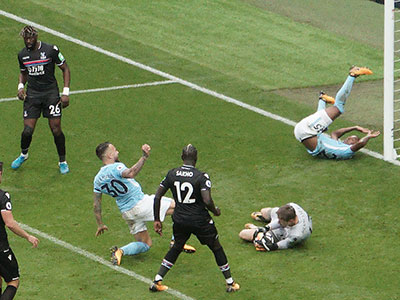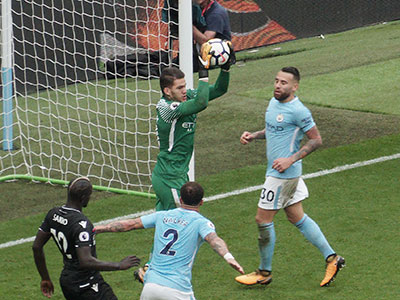 Hennessey saves at a corner
Goodness me! Ederson has something to do!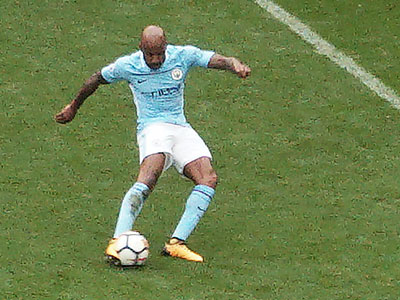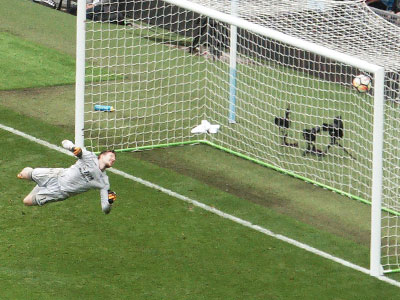 On 89 minutes Delph who had come on for Stones took a shot from just outside the area and blasted it into the top corner - a great goal and number five for City -WOW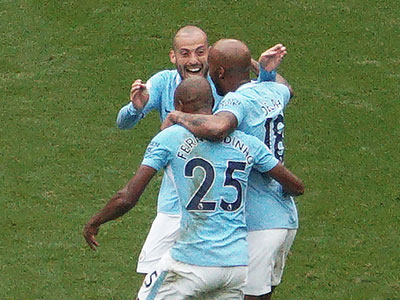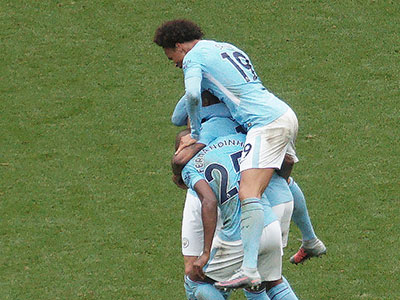 The look on Silva's face says it all!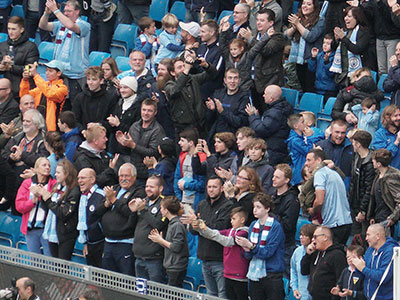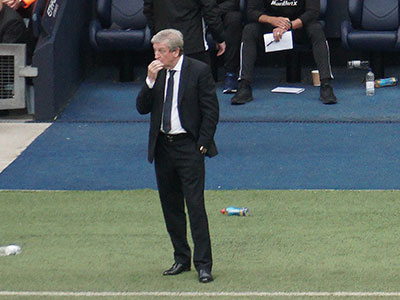 Roy looks a little pensive -will they ever score-
let alone win!
The North Stand have had their ration of
goals today!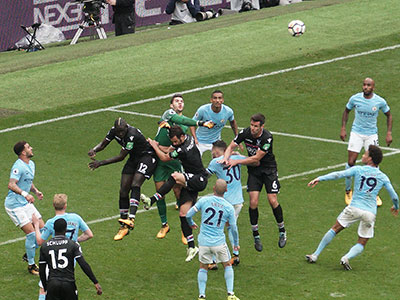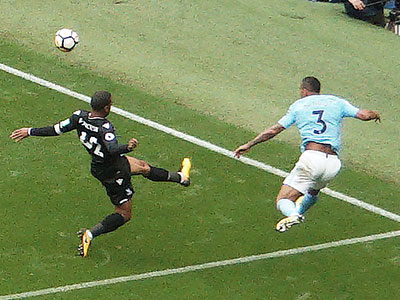 A final cross by Danilo is the last action
Ederson 7: Walker 7, Stones 7.5 ( Delph), Otamendi 7, Mendy 6.5 ( Danilo 6.5) ,
Fernandinho 6.5: De Bruyne 7.5, Silva 7.5, Sterling 8 (Benardo Silva 6), Sane 9, Aguero 7.5