City 7 Stoke City 2
October 14th 2017 att.54,128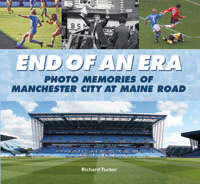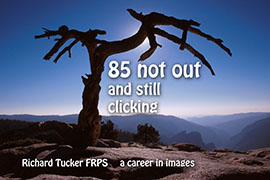 Well there were plenty of holes in the bus Stoke normally park in front of their goal at the Etihad today. What a magnificent display by City with once again Kevin de Bruyne the main architect of this win in his 100th game for the club.
City were three up in thirty minutes and it looked all over but City took it easy and Stoke came back to make it 3-2 just after the break. Then the sky blues came back with a bang and goal followed goal the best being a 25 yard cracker from Fernandinho who is proving to be well suited in front of the back four.
The City passing and interaction was magnificent and with United dropping a couple of points against Liverpool we must keep up the good run.
City have now scored 29 goals in their opening 8 games and equaled the record set up by Everton in 1894-95 season. City were in div 2 then and played teams like Newton Heath and Darwin -
Ah I remember it well! Oh no I didn't!
City no longer have to rely on Aguero to score goals as Jesus, Sane and Sterling are helping out. The two Silva's scored their first goals of the season while Kevin is making chances galore. De Bruyne's quality of passing and creative awareness is topnotch and even better than Benarbia.
The last time City notched 7 was back in November 2013 against Norwich - game
HERE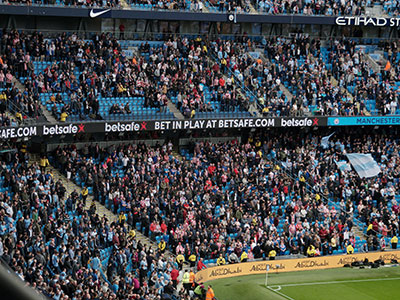 City were unchanged from their win against Chelsea and Aguero was on the bench recovering from his broken rib
Stoke were well represented by their fans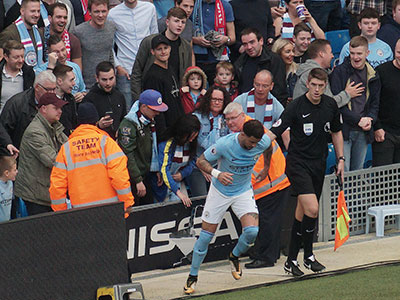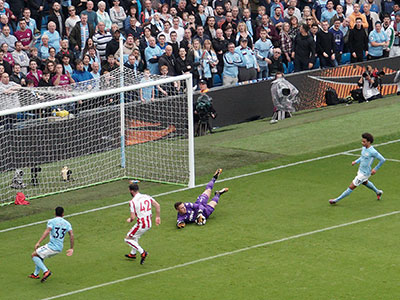 Walker came away unscathed after tumbling into the boards
Butland is called into early action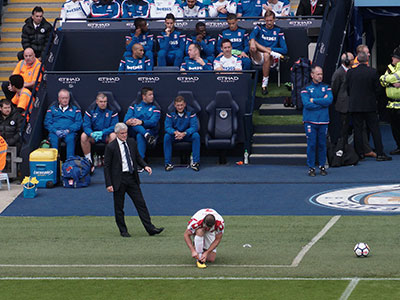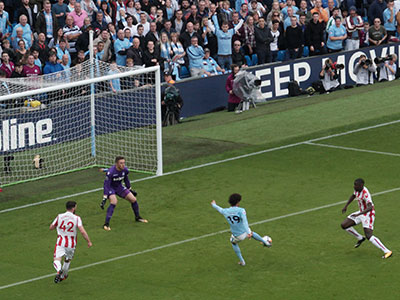 Goodness me - are Stoke playing for time so soon!
8 minutes on the clock and Sane shoots........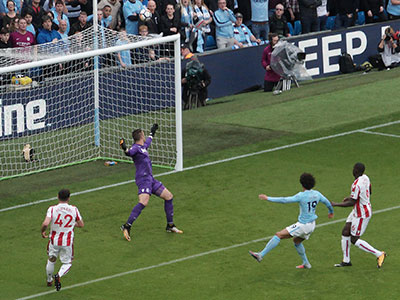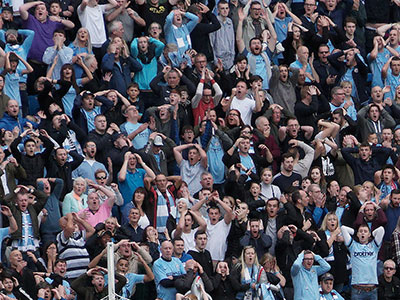 .....but the ball goes high wide and not so handsome! What a miss!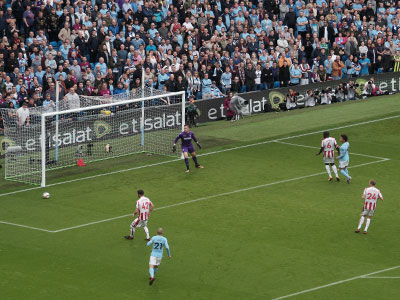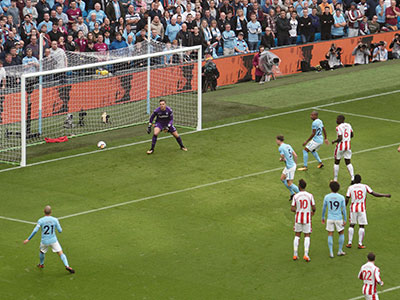 Two more chances for City as first an effort by Sterling goes wide and then a header by Otamendi misses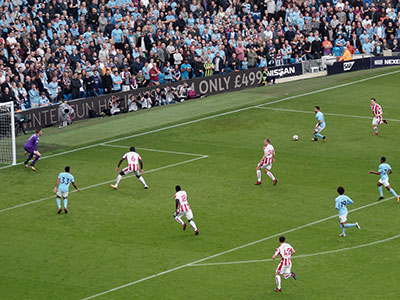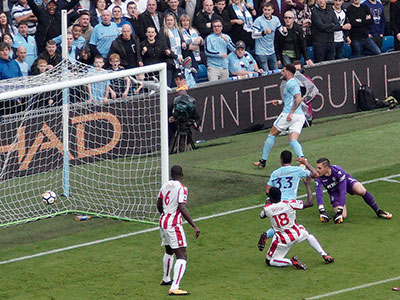 On 17 minutes De Bruyne passes to Walker who cuts the ball to Jesus and in a flash the ball is in the back of the net and City are one up. Great stuff!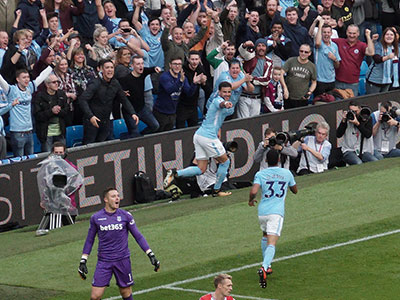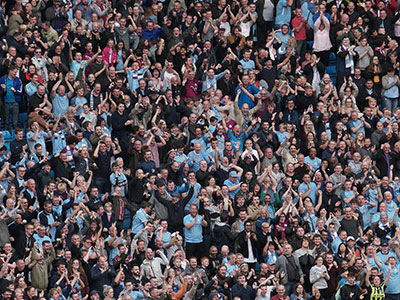 A well made goal and enjoyed by the South Stand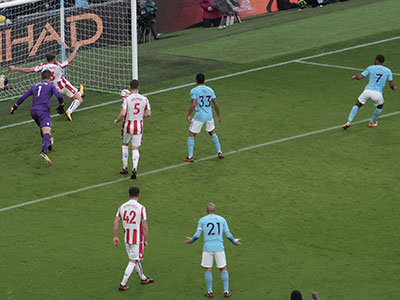 A minute or so later a 15 pass move from defence ended with a sublime pass by Kevin to Sane who handed a goal to Sterling to make it two nil - brilliant stuff.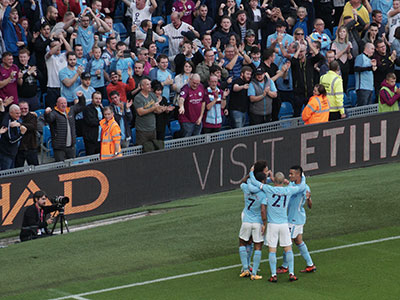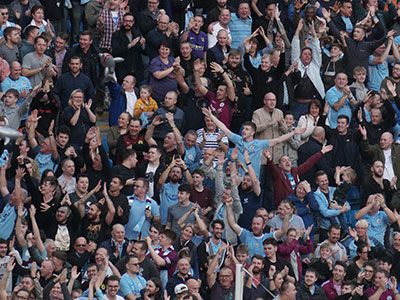 AS the City players celebrated the South Stand let the visiting fans know what the score was!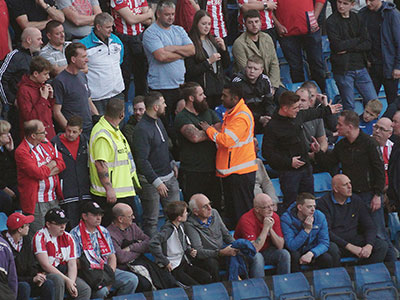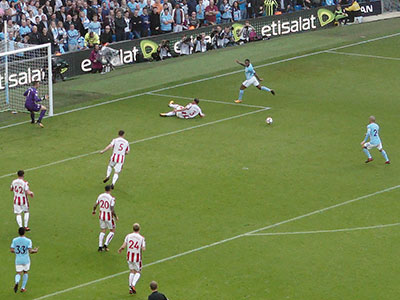 There as a bit of trouble among the Stoke fans
On 27 minutes Sane passed to Sterling who put the ball first time to David Silva.....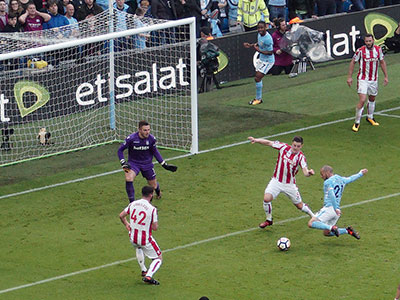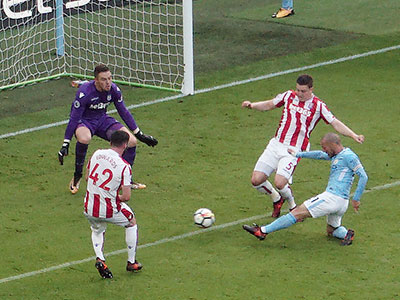 ......who managed to control the ball and shoot past Butland for number three!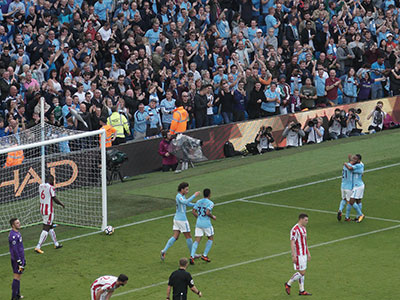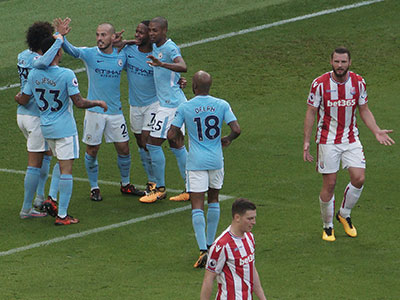 It was his first of the season and well deserved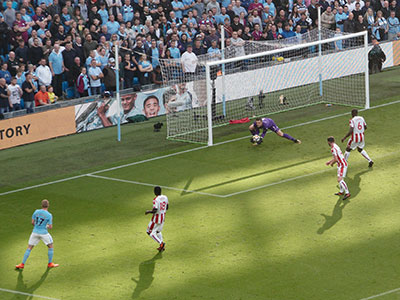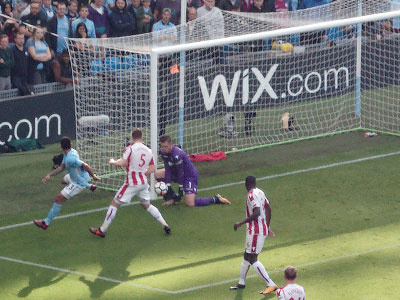 Butland is kept busy with efforts from De Bruyne and Jesus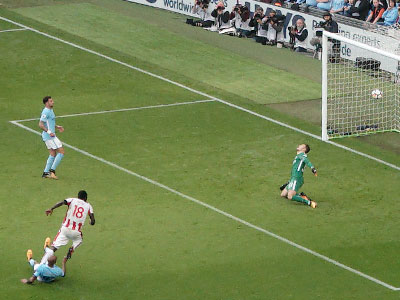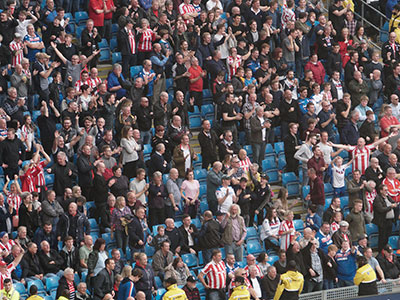 Just before half time we had a bit of a surprise when an interchange of passes between Jese and Diouf ended with a shot from Diouf being deflected in off the leg of Delph to give Stoke some hope though their fans were rather quiet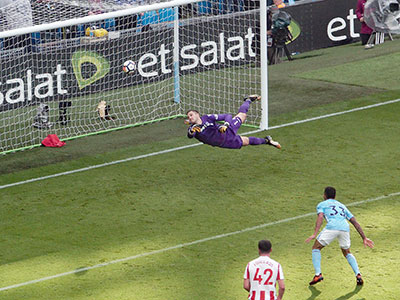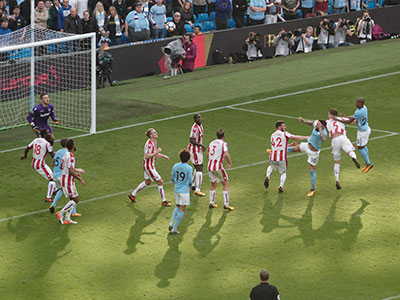 In added time Butland saved well from De Bruyne and Otamendi headed wide at a corner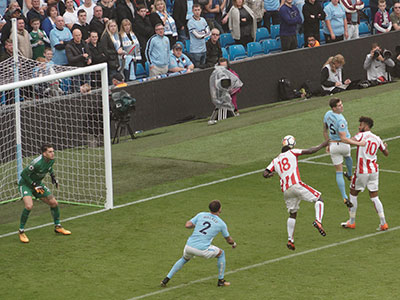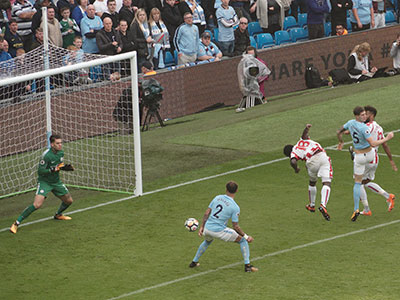 A minute or so into the second half a cross by Edwards was miss headed by Diouf onto Walkers thigh and .......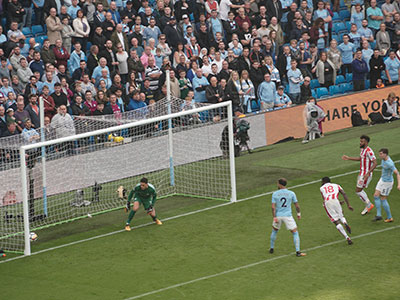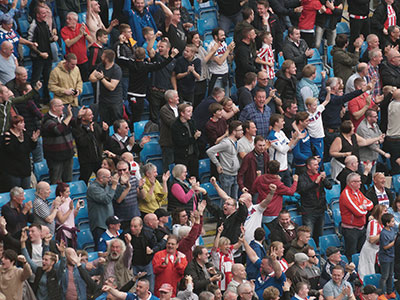 into the net to make it 3-2 and there was a bit more reaction by Stoke fans - did we have a game on!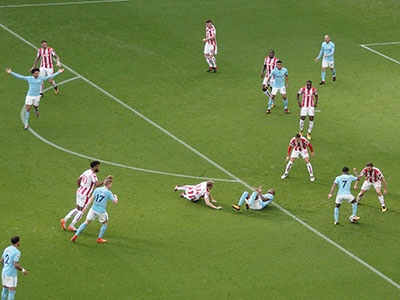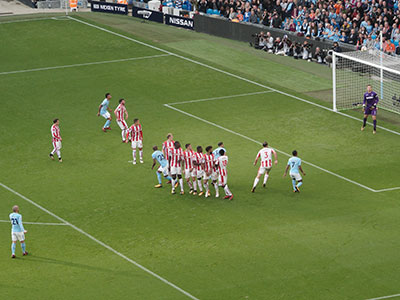 Fernandinho is brought down just outside the box but the free kick taken by Silva goes over the bar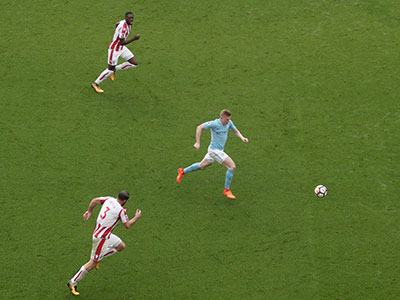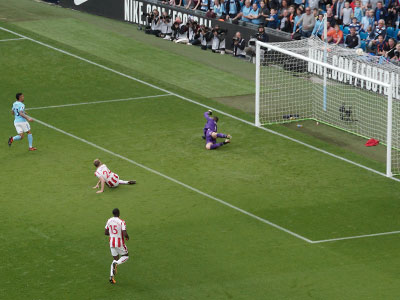 On 55 minutes de Bruyne grabs possession in midfield and charging down field before whipping over a tremendous pass to Jesus who cracks the ball first time past the keeper to make it 4-2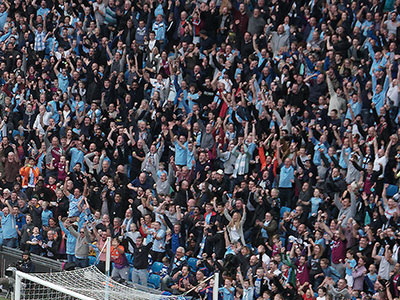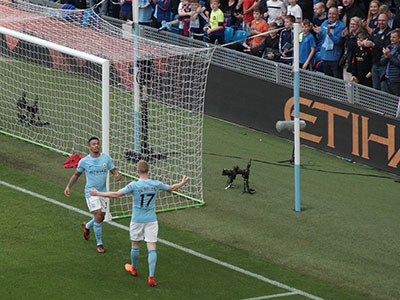 The family Stand go mad as Jesus goes to thank the goal maker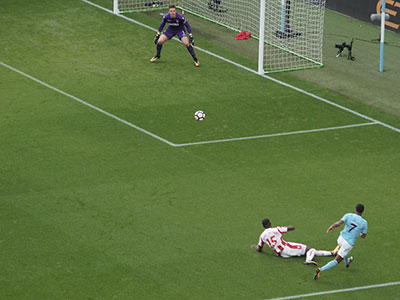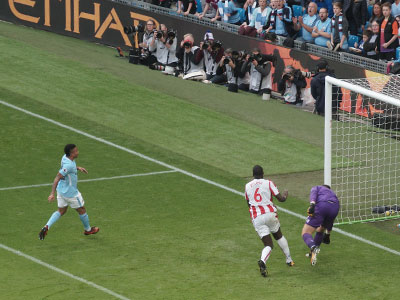 Sterling puts in a good cross but Zouma manages to intercept to head it for a corner with Jesus ready to pounce.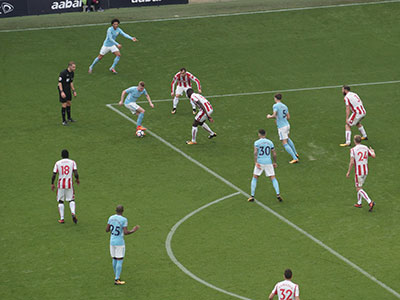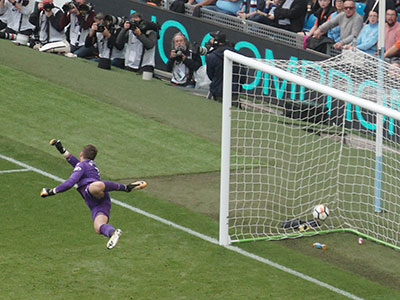 Following the corner Kevin passed to Delph and onto Fernandinho who cracked it past Butland for number five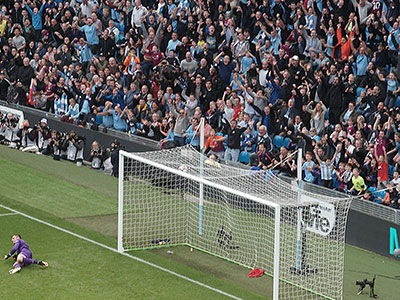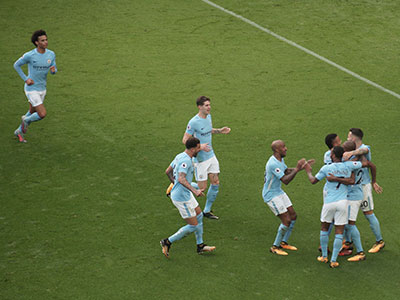 That was a cracker of a goal and the 4th time we had scored five this season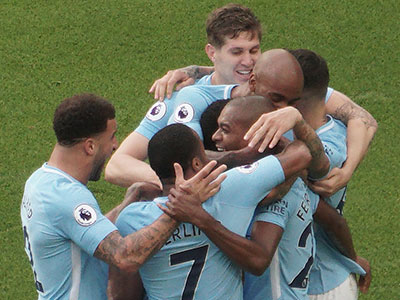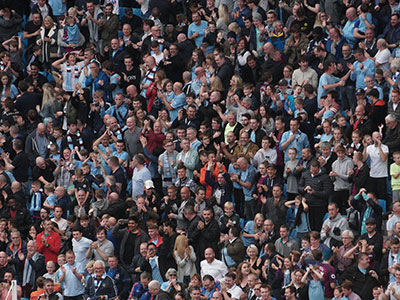 It was Fernandinho's first goal this season and thoroughly deserved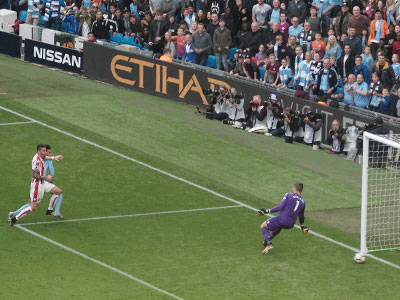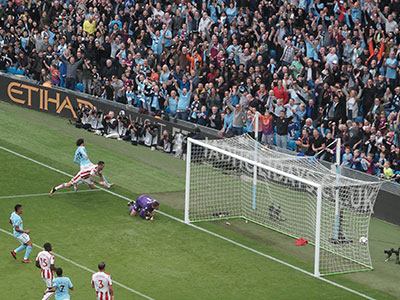 A minute or so later another great cross from De Bruyne this time found Sane who scored to make it 6-2 . Wow what a cross from Kevin - magnificent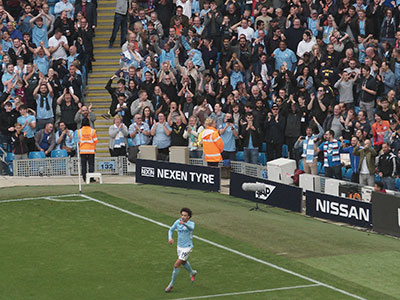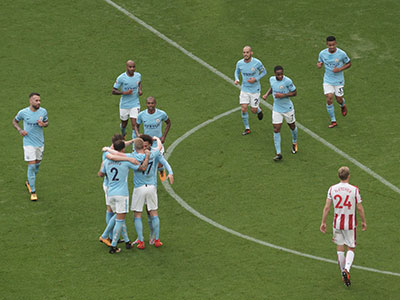 Sane and the rest of the team run to thank the provider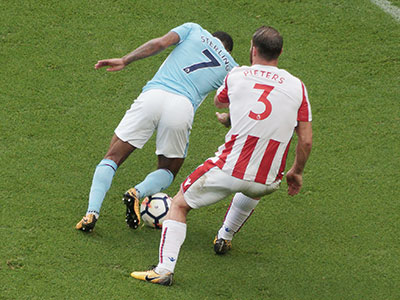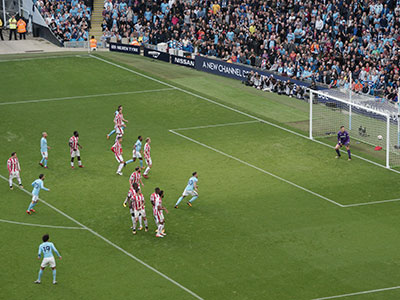 Sterling is fouled by Pieters and the free kick taken by Sane goes just wide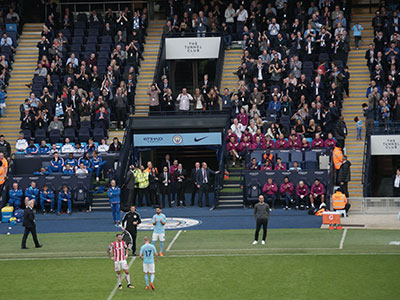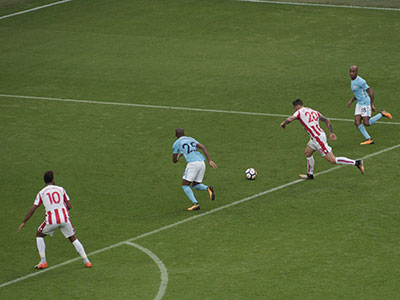 De Bruyne goes off to great applause and is subbed by Gundagon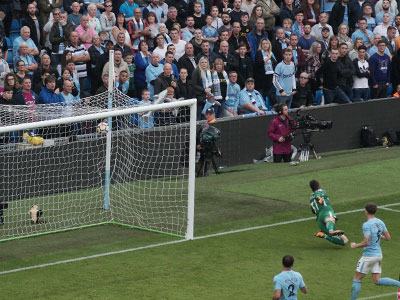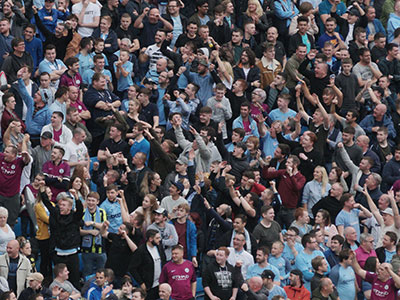 .......which goes into the side netting and the cheers by the Stoke fans is greeted by the City supporters!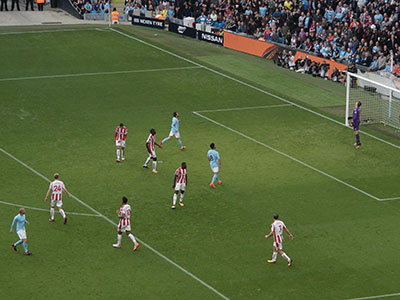 Fernandinho gets a hug from Pep and is replaced by Yaya Toure - remember him!
74 minutes and Silva shoots over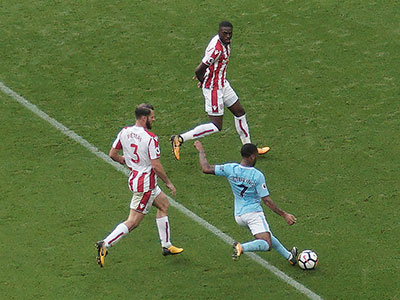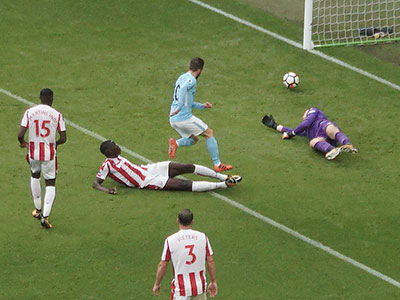 Good work by Sterling gives Benardo Silva a chance and he nets to make it 7-2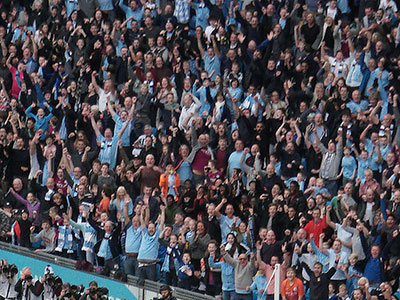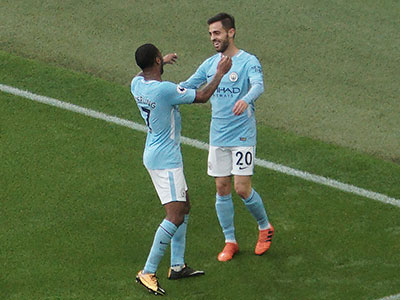 It was his very first goal for City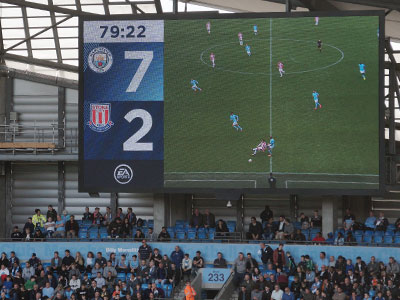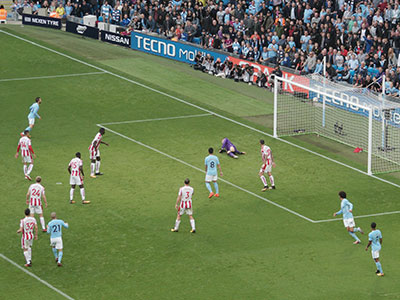 What's the betting this game is first on match of the day!
Silva shoots just wide and it's nearly full time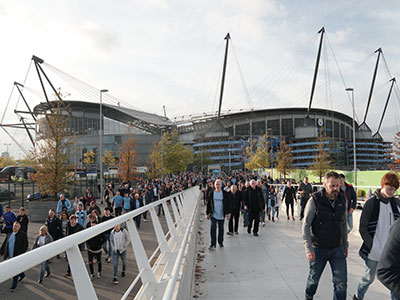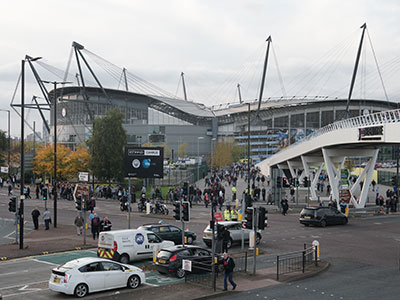 Well we cannot say we were not entertained today - a great display by City on a warmish October afternoon
Ederson 6.5: Walker 7, Stones 7.5, Otamendi 7, Delph 7: Fernandinho 8 (Toure): Silva 8, De Bruyne 10, (Gundagon) Sterling 8, Sane 8, Jesus 8.5 (Benardo 7.5)