City 3 Arsenal 1
November 5th 2017 att.54,286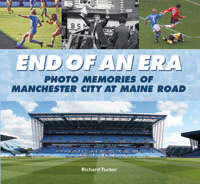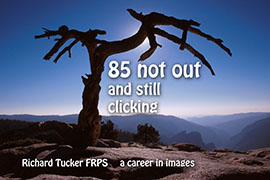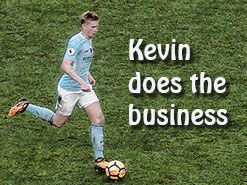 The win over Arsenal puts City 8 points in the lead at the international break time. Following the great win in Naples this was not an easy victory and several of our players looked pretty tired at the end of the game. An excellent goal by Kevin De Bruyne set the seal for a worthy victory over the gunners. City have now won 9 consecutive league games - a club record.
Early in the second half a disputed penalty for a foul on Sterling gave Aguero a chance to add to his goal total and Aguero made no mistake from the spot giving him a total of 8 for the season so far.
Arsenal came back and the defence with John Stones showing how well he has improved managed to keep them at bay. City's third goal was hotly disputed by the Arsenal players and manager Wenger in particular. It did look a near thing when the ball was kicked but no doubt the linesman gave Silva the benefit of the doubt. We have had a number of goals ruled out for near things before so perhaps we deserved a bit of luck and heh it's given Mr Wenger something to moan about!
Kevin and David Silva were great as always and but for some good saves from Cech and the odd bad pass it might have been more than 3-1. Aguero got a big welcome having beaten Brooks record in Naples and long may it continue - and perhaps pass the 200 mark!
We were blessed with a warm sun in the first half -the only trouble was it was right in my eyes!
A few old favorites were there to form a special welcome to Aguero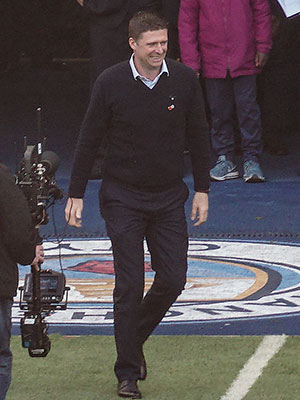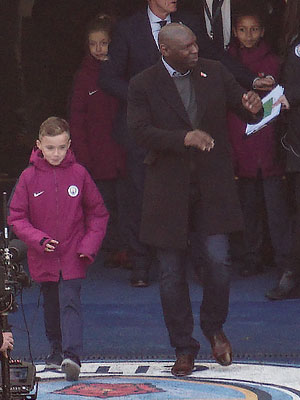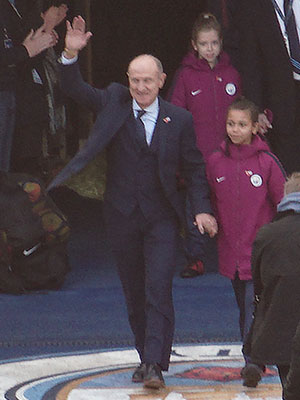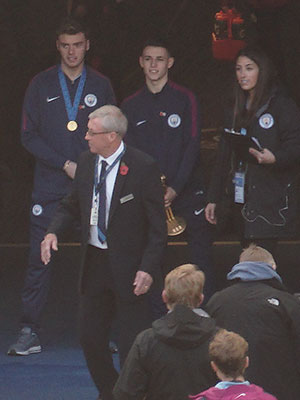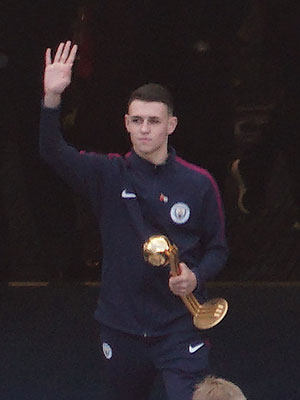 and one for the future - Phil Foden from Stockport - super hero of England's under 17 recent world cup victory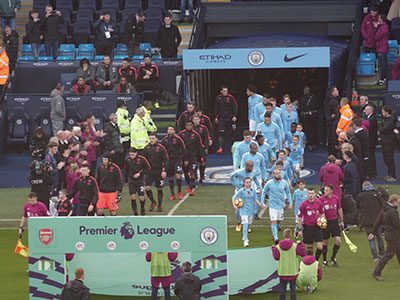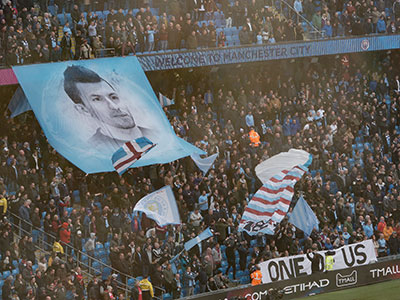 Walker and Silva returned to the team and Aguero started - with Jesus on the bench so it was the usual suspects in action on the pitch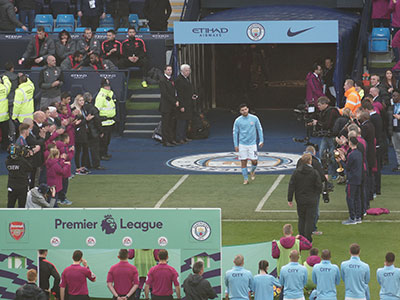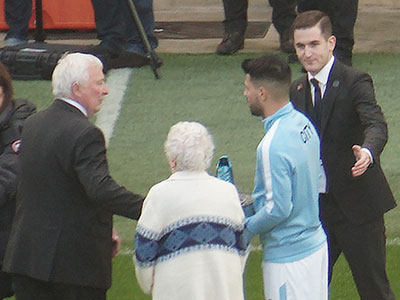 Sergio came out to a great welcome and he was presented with a special trophy by Betty Cougill daughter of Eric Brook who used to hold the record of club goals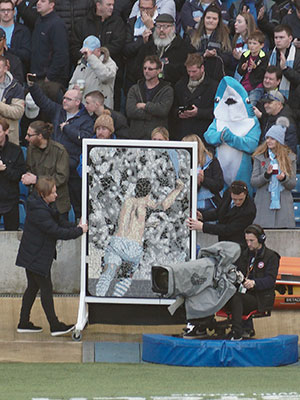 A painting showing Aguero's famous goal against QPR has a shark watching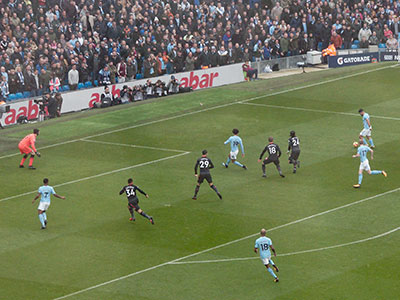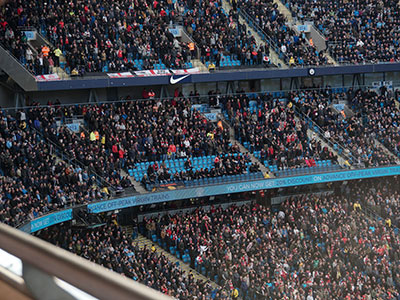 An early shot by Aguero goes wide
A good number of Arsenal fans came to be disappointed!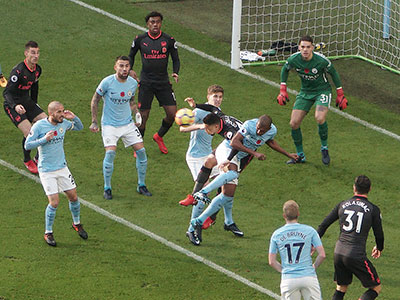 At the other end City had to a bit of defending as Arsenal won a few corners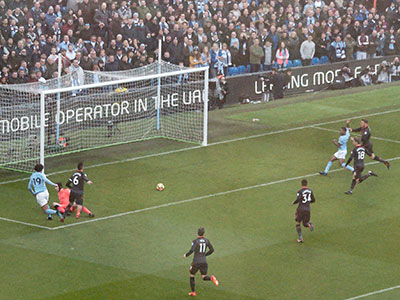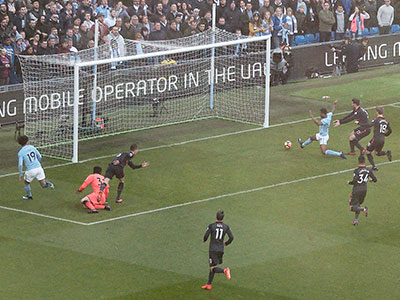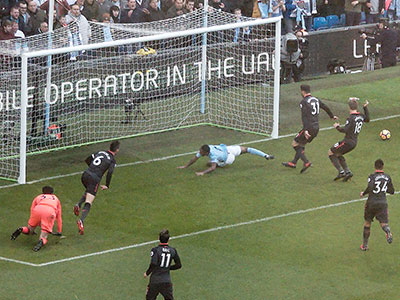 On 10 minutes a good cross from Sane was about to be put into the net by Sterling but.......
..... it looked like Sterling was pushed and the ball went past but no penalty given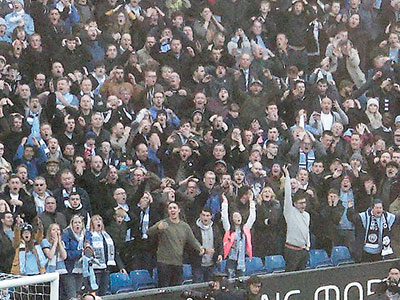 The City fans did not like that!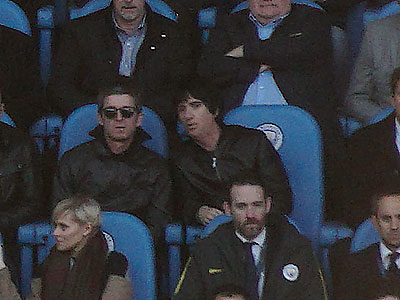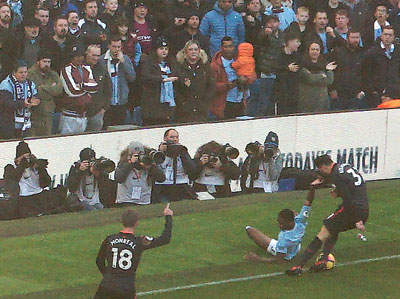 I wonder who's hiding underneath those sun glasses
Sterling just fails to cross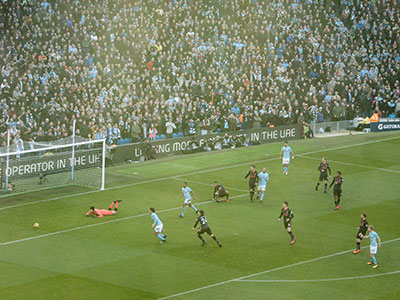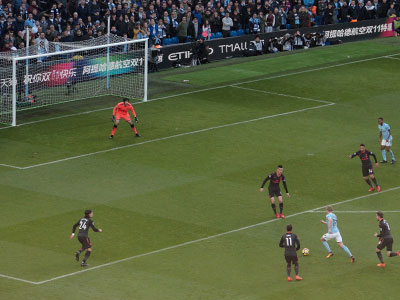 Cech saves from De Bruyne
a minute later Kevin takes a pass from Fernandinho and....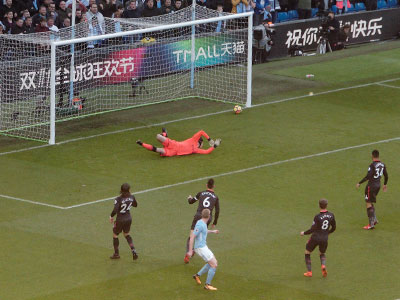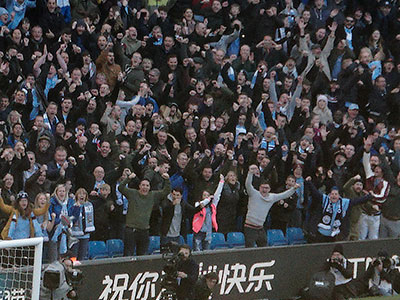 ....shoots past Cech much to the delight to the City fans to give City an important lead on 19 minutes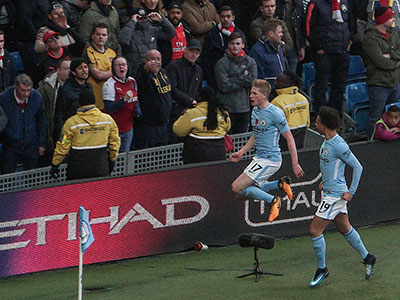 Kevin De Bruyne and the City players celebrate the goal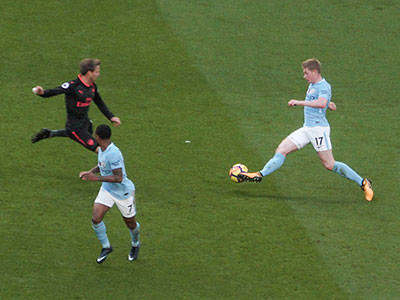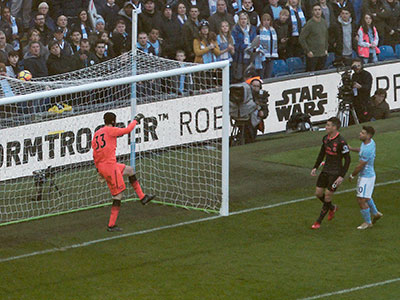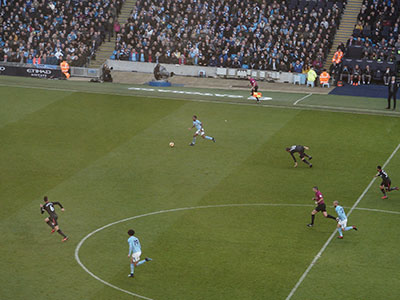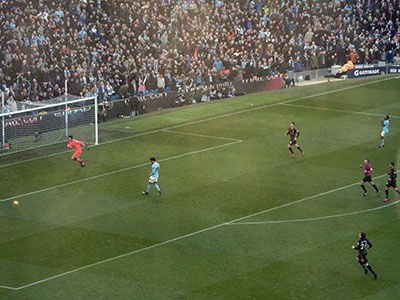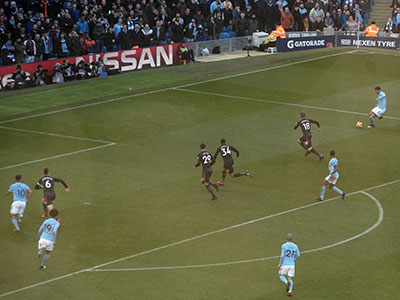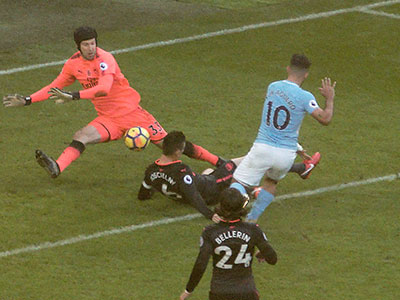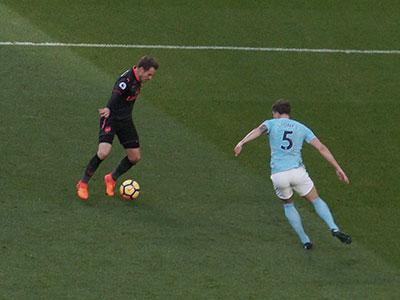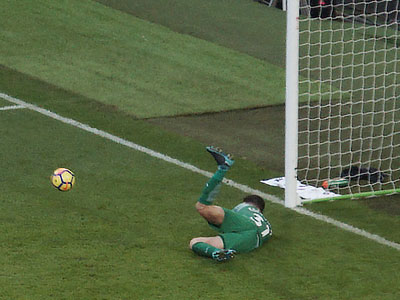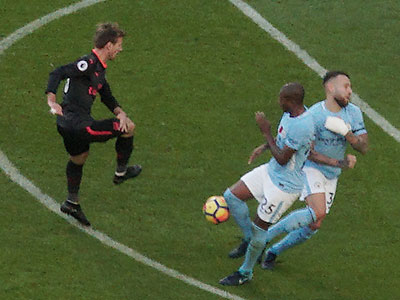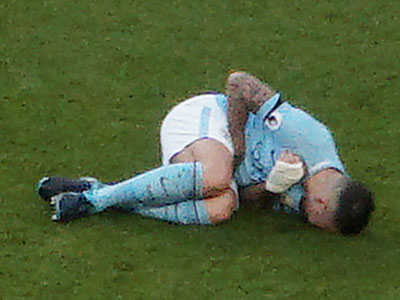 De Bruyne beats a defender with a great bit of skill
A City effort lands just over the bar
This should have been number two but on this counter attack the pass from Sterling went astray
A good cross from Walker ends with a brilliant save by Cech from Aguero
Otamendi blocks a shot from Monreal and I felt that up on the third tier
Just before half time Ederson saves from Ramsey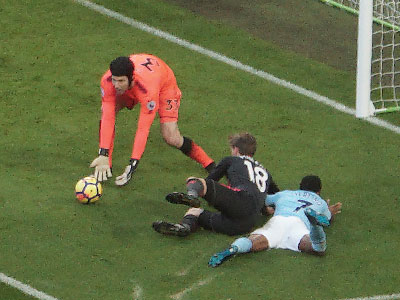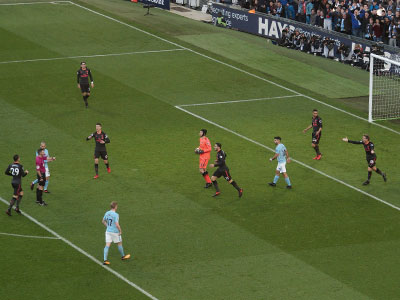 Four minutes into the second half Sterling dashed down the right wing and was brought down by Monreal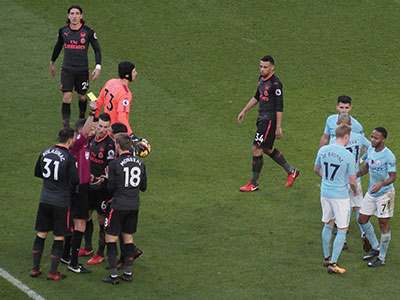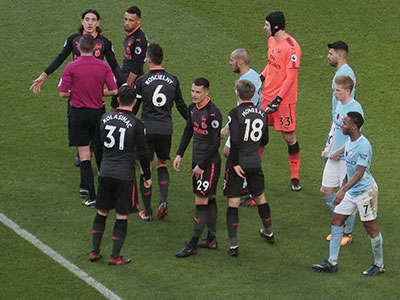 Arsenal did not like the decision and Monreal was booked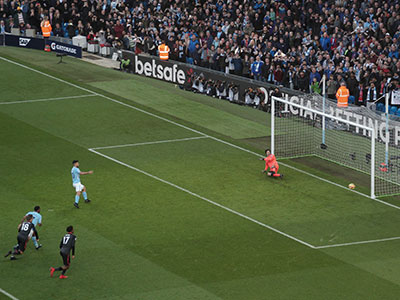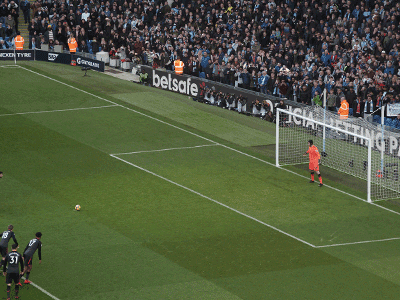 Aguero made no mistake from the spot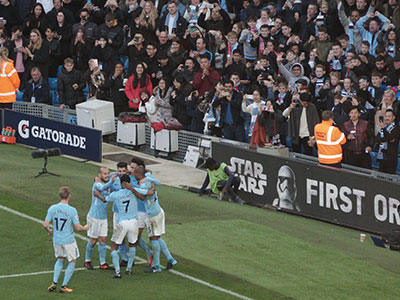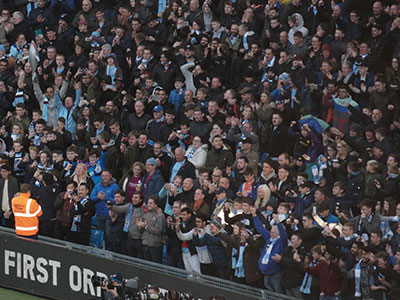 The City players and fans enjoy the two goal lead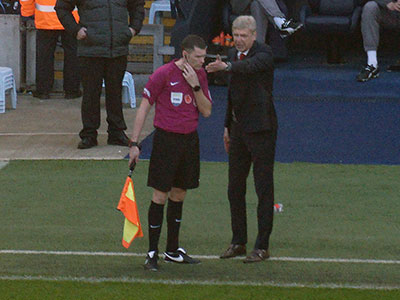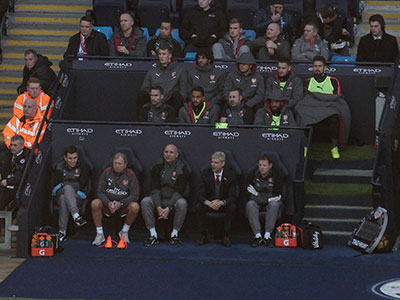 The Arsenal manager who had not risen from his seat all first half now had something to moan about!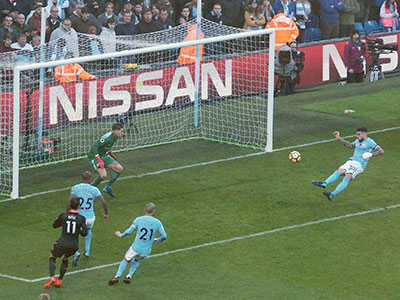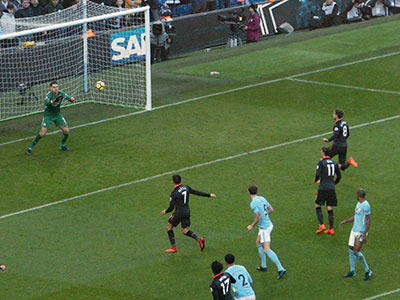 Otamendi clears the danger
on 55 minutes an effort by Iwobi looked to be easy for the keeper....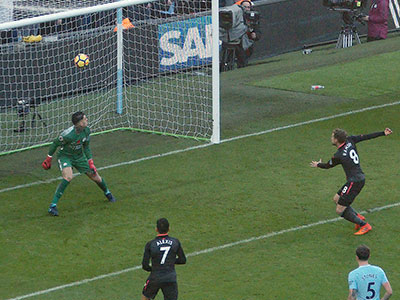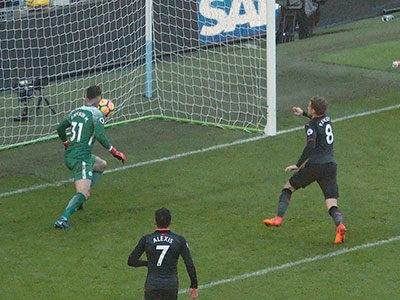 ...but the ball seemed to squirm in the air and in rushed Ramsey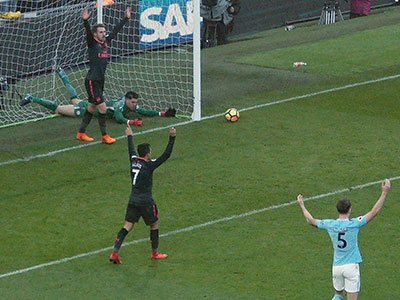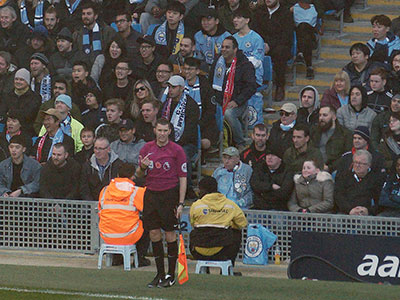 .... to bundle ball and keeper into the net but the effort was disallowed and we breathed again!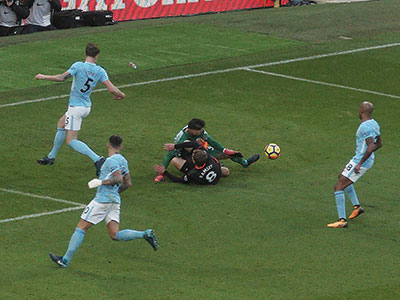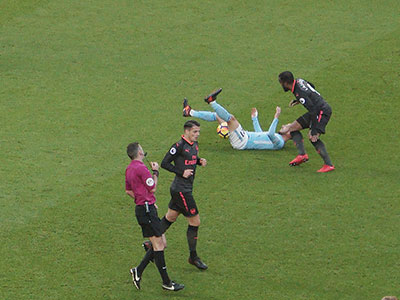 Ederson was soon in action again saving from Ramsey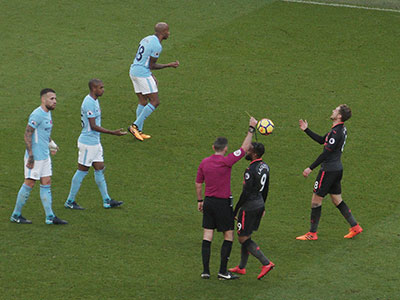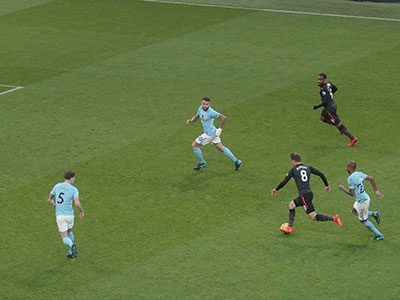 ....... and it's a yellow card for Lacazette
Ramsey on the attack ......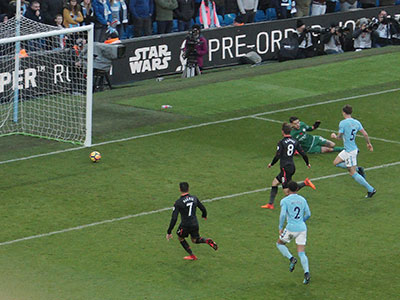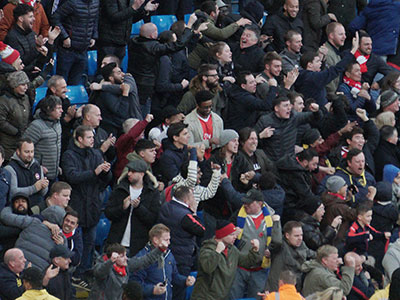 .....and he passes to Lacazette who shoots past Ederson to give the Arsenal fans something to shout about - 2-1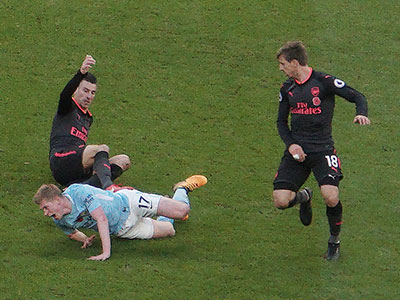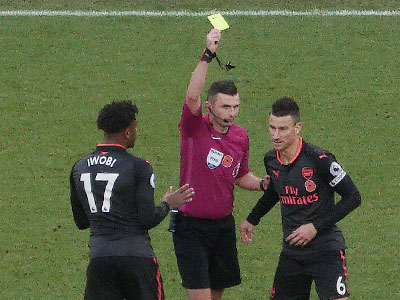 Yet another yellow card for an Arsenal player -this time it's Koscielny for the foul on De Bruyne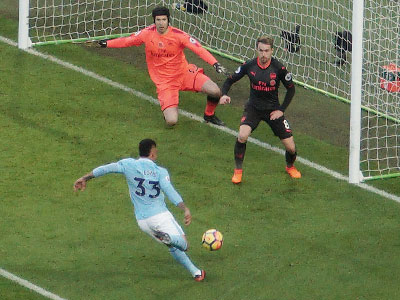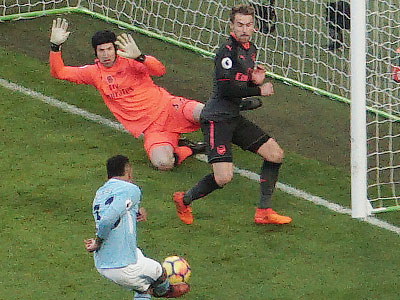 Surely this must be a goal as Jesus shoots .........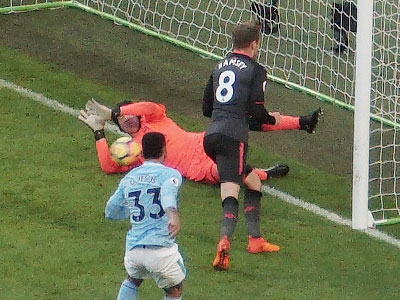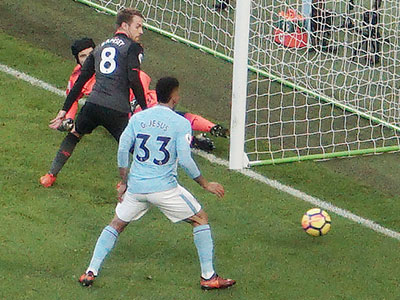 ...but somehow Cech manages to save and push the ball away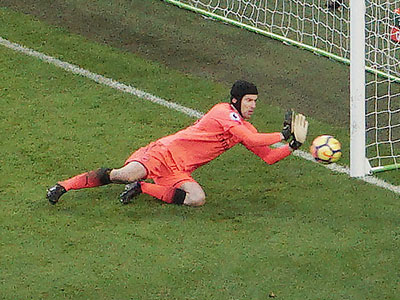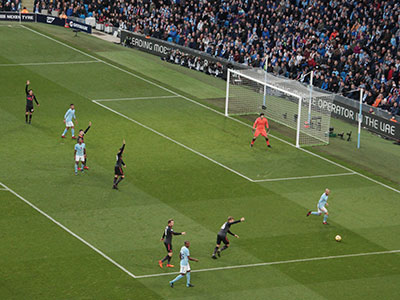 Cech has to save again from the corner
On 74 minutes Silva looked offside down the right wing...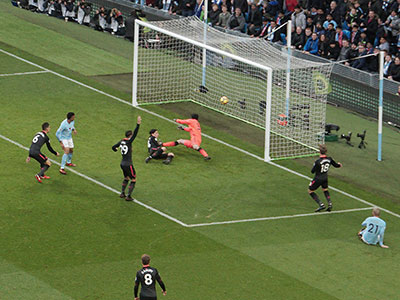 ...but he crossed and Jesus was able to score easily from close range - 3-1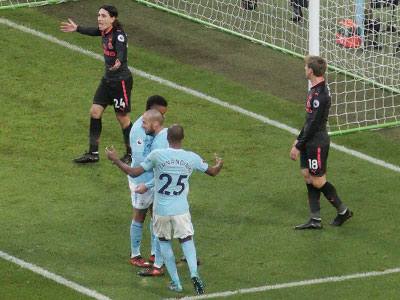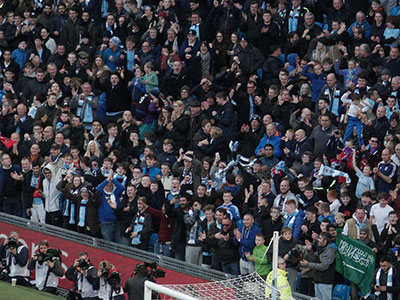 Arsenal look a bit stunned but the North Stand enjoyed that one!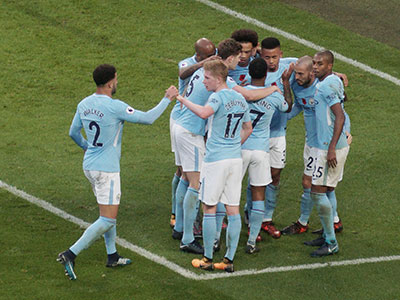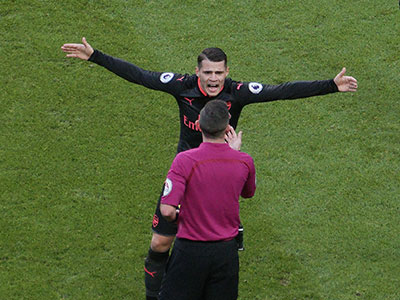 The City players meet to celebrate
He was that much offside says Xhaka who gets a yellow for his trouble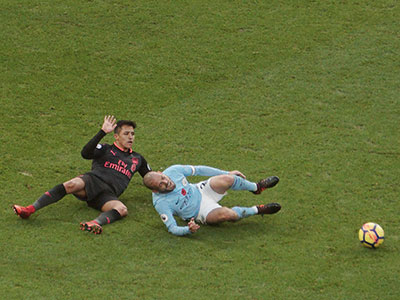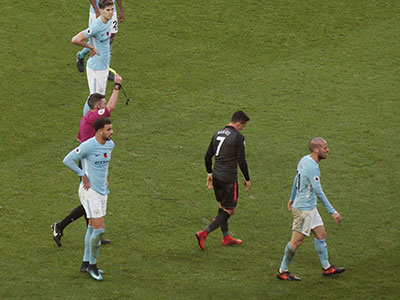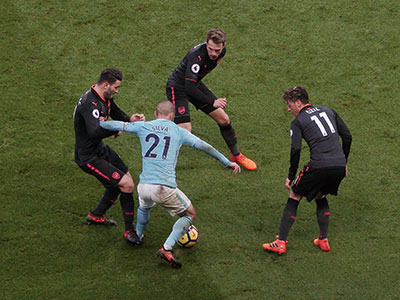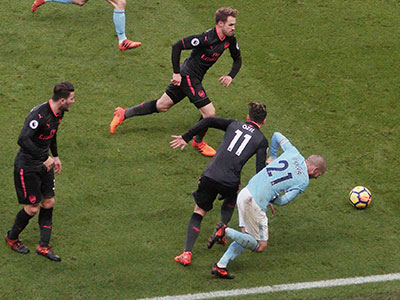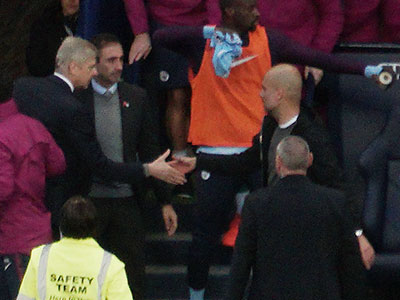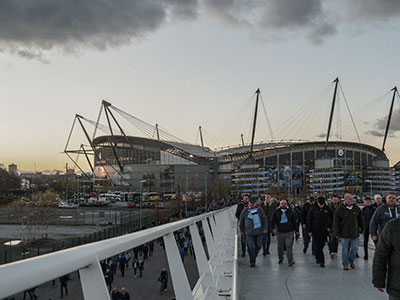 Silva is brought down yet again and this time it's Sanchez who gets a card
Its Silva versus three and down he goes and it's Ozil who gets the yellow - 6 in all for Arsenal!
The two managers shake hands at full time
Homeward bound go the happy City fans
team
Ederson 7: Walker 7.5. Stones 8, Otamendi 7.5, Delph 7 fernandinho 7.5, De Bruyne 8.5, Silva 8, Sane 7 (Benardo) Sterling 7 (Gundogan), Aguero 7 (Jesus)