City 3 Hull City 1
April 8th 2017 att.54,393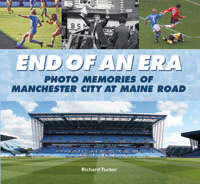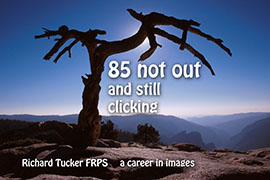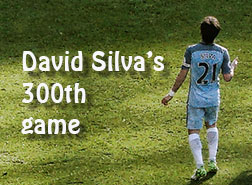 With Chelsea and Spurs pretty certain of taking the top two places in the Premiership it was vital that City got the three points to keep their Champions League hopes next season alive. On a hot spring afternoon with not a glove in sight in the end it was a comfortable win for City over a Hull team that had improved a lot recently. It seemed ages since City last won a Premiership game so it was important that we took an early lead. However we had to wait until the half hour and then it was an own goal following an excellent cross from Navas that lifted the crowd. Silva had his magical moments for City on his 300th game for City but it was Sterling who provided the crosses for Aguero to make it two nil just after half time and for Delph to score a good third to make the game safe. It was his first Premiership goal since January 2016! However with only five minutes to go following a corner Bravo let in a soft shot to again prove he is not the best shot stopper. He may be able to pass well but I always thought the keepers job was to stop the opposition from scoring!
City didn't have to push too hard to win this game but too many chances are being missed and our goal difference is not as good as it should be.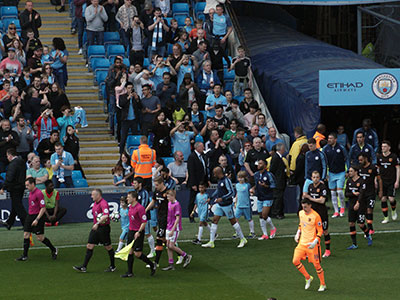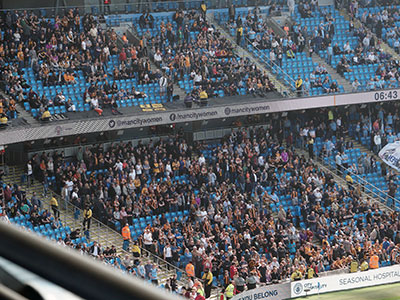 City made several changes - no Kompany or Kevin and Navas continued at right back. Sterling and Kolarov returned .
Only about 1500 visiting Hull fans were at the game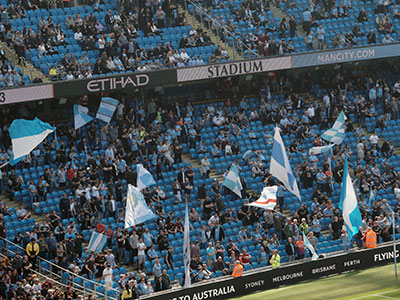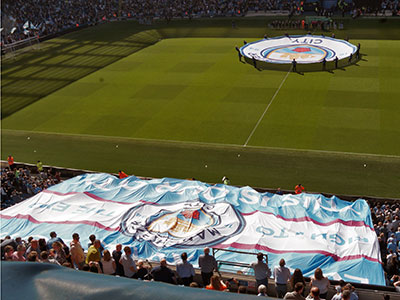 Quite a few empty seats when the players came out - get to the ground earlier!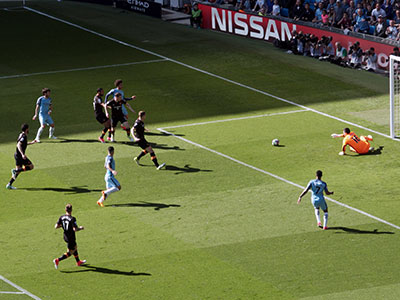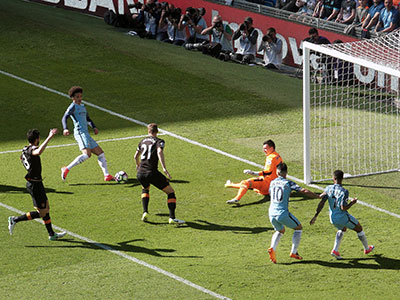 Jakupovic was kept busy in the early moments having to save from first Silva and then Sane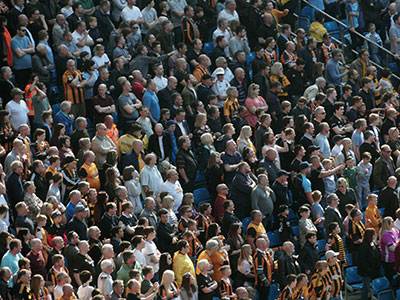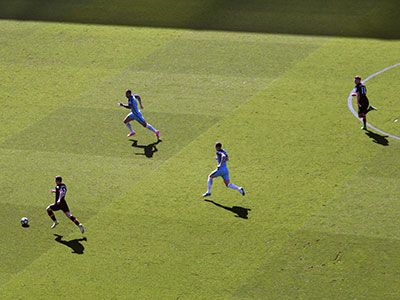 The Hull fans were a bit quiet at the start but then Hull broke away....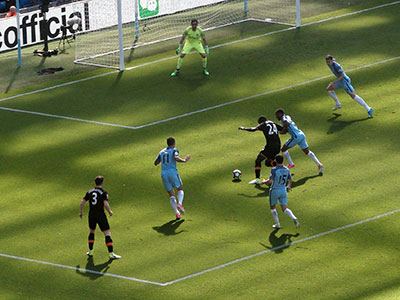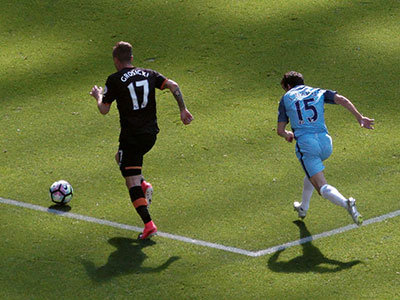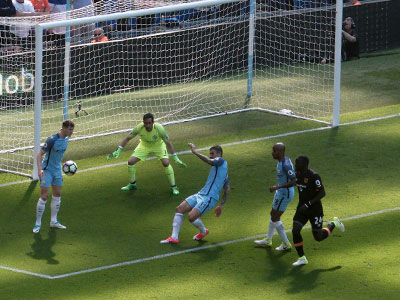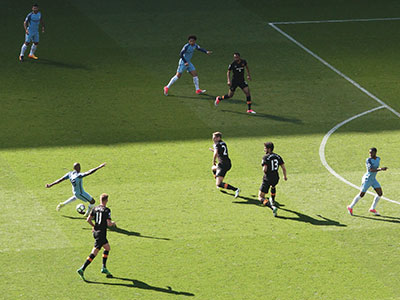 ..but Niasse fails to get a shot in
Grosicki is chased by Navas
.....but his cross is cleared by City
On 22 minutes Delph shoots .......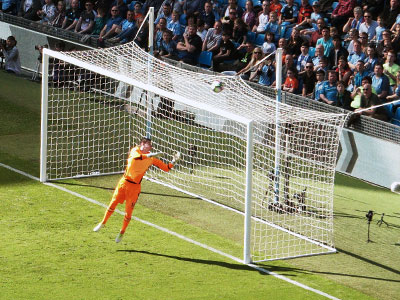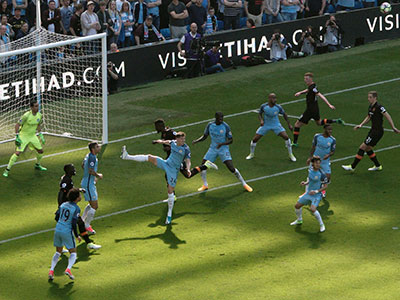 ...but his effort goes over the bar
Stones heads a Hull corner clear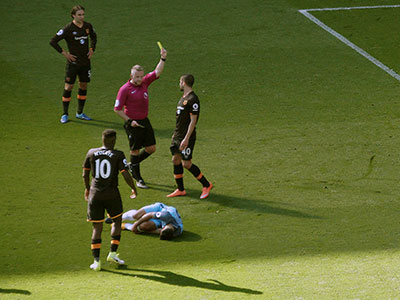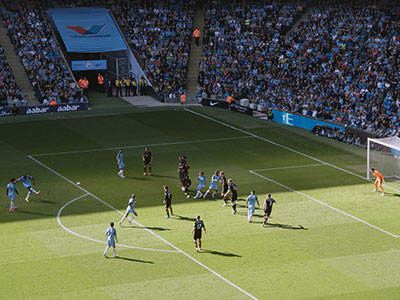 Evandro fouls Aguero and gets a yellow card
Yaya Toure takes the free kick......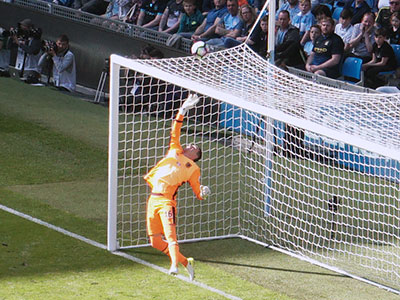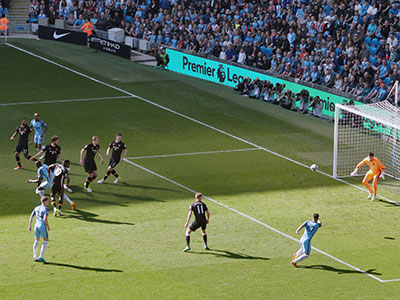 ...but the keeper manages to tip the ball over the bar
From the corner a header by Toure goes wide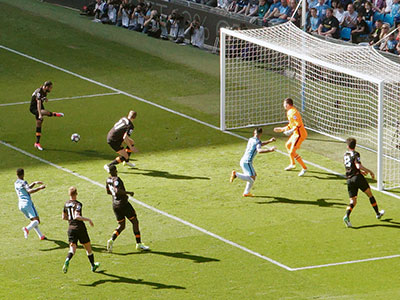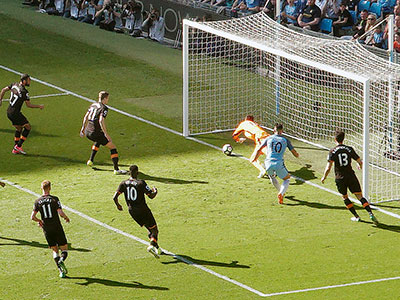 On 31 minutes a cross from Navas is miss-hit by Elmohamady into his own net to give City the lead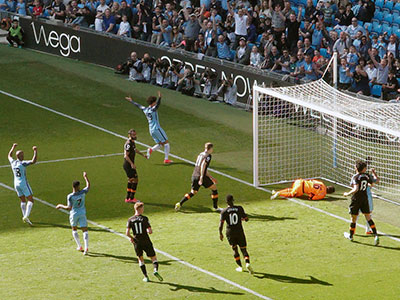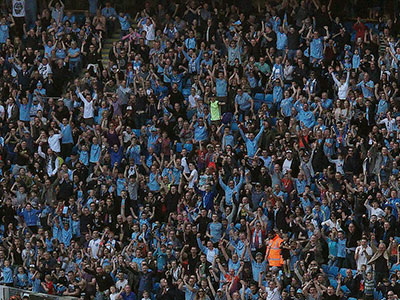 The City players and North Stand celebrate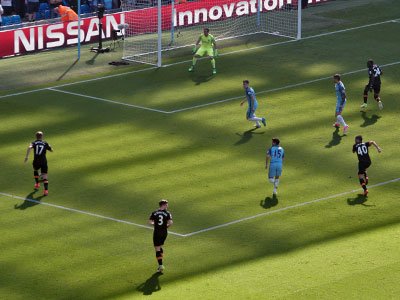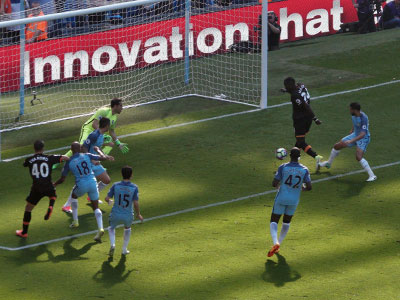 Hull come back at City and a cross by Grosicki looks certain to lead to a goal by Niasse .....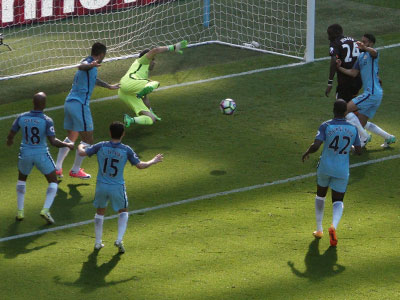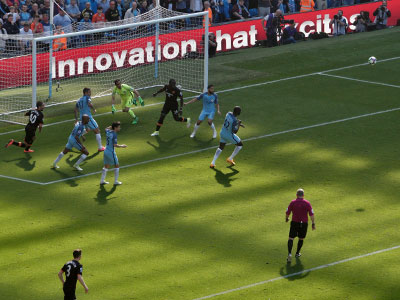 ...but somehow he got his feet mixed up and City managed to clear the danger- Phew!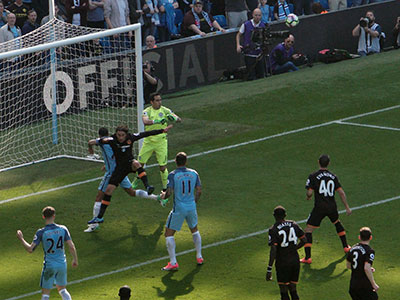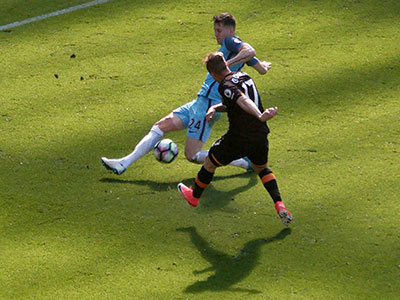 Bravo punches a corner clear
Stones blocks an effort by Grosicki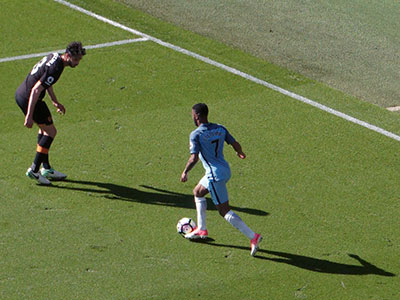 On 35 minutes a cross from Sterling gives Silva a chance but his shot goes wide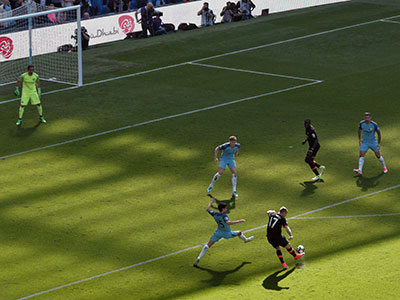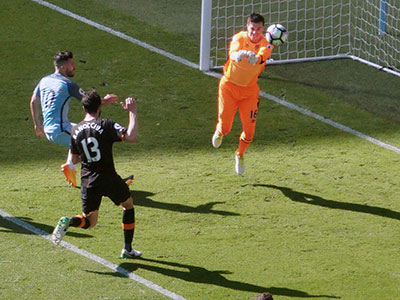 Grosicki shoots well wide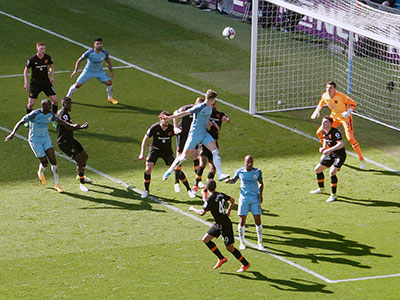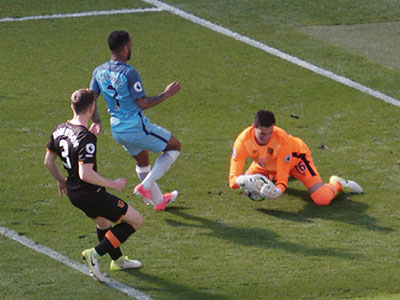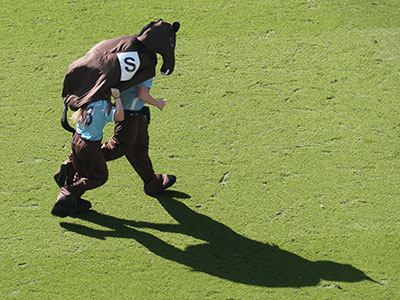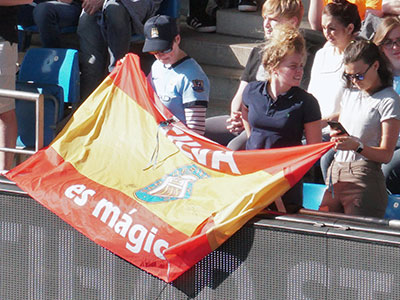 Stones heads wide at a corner
The Hull keeper foils Sterling near half time
No it's not quite the Grand National at half time!
Silva fans show their support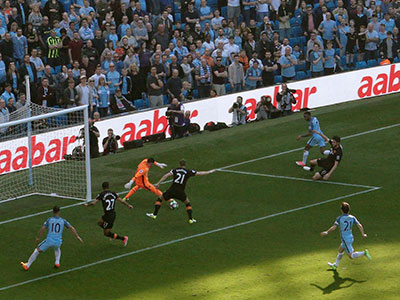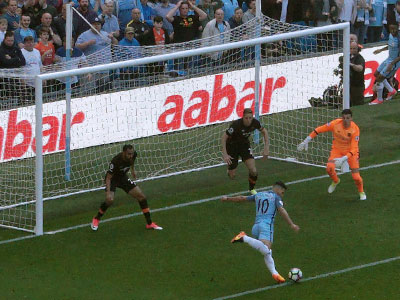 Just three minutes into the second half and a cross from Sterling reaches Aguero.....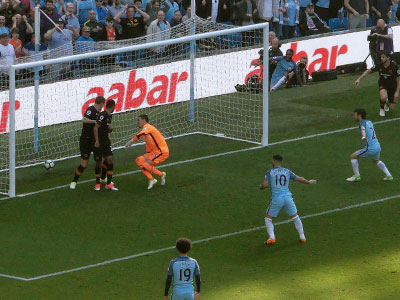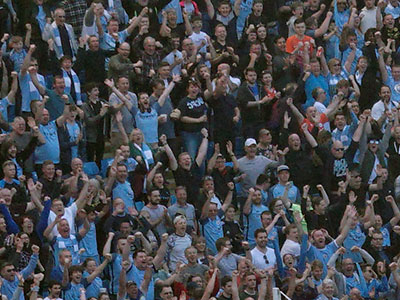 .....who makes no mistake from close range and City lead two nil - that's a bit better!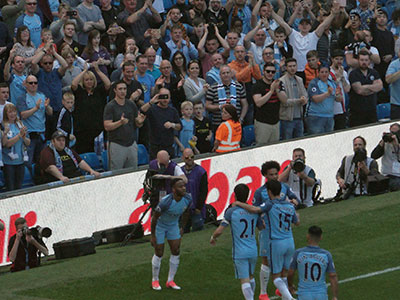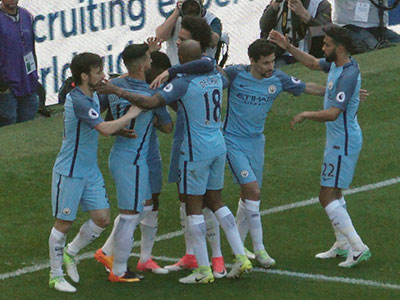 That was Aguero's tenth goal in his last ten games and his 28th goal this season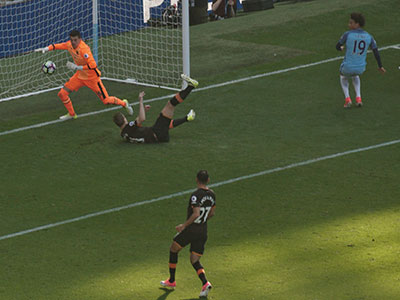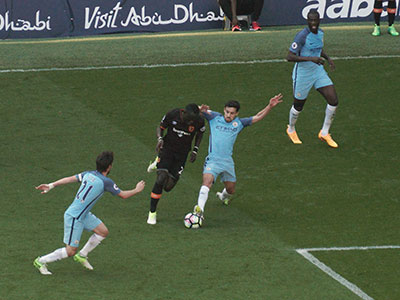 Almost another own goal but the keeper saves the day for Hull
On 63 minutes Navas manages to get the ball to Silva on the edge of our area......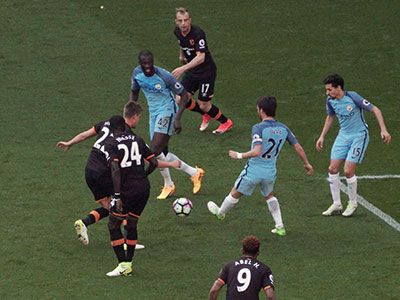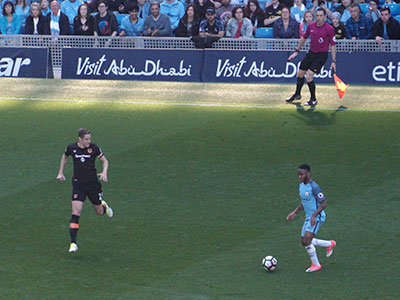 ...Silva beats a couple of players and passes to Toure who sends it to Sterling.....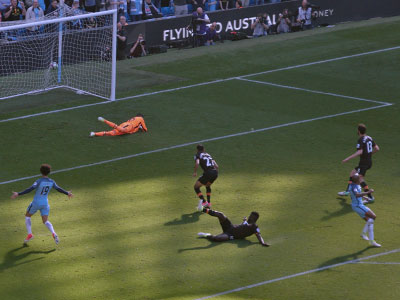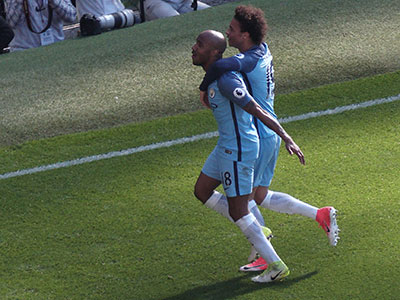 ......who passes to Delph who lashes the ball past the keeper and it's game over -
City are three up - terrific stuff!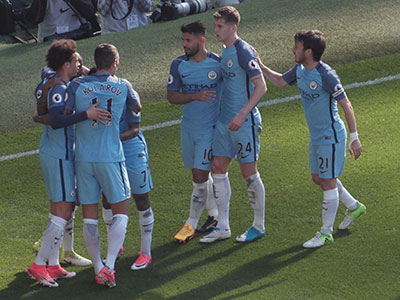 The South Stand certainly enjoyed that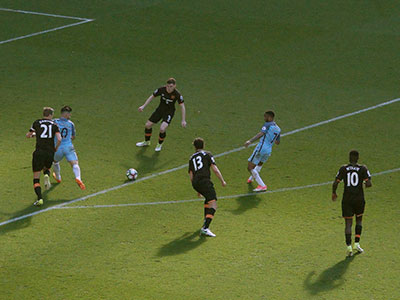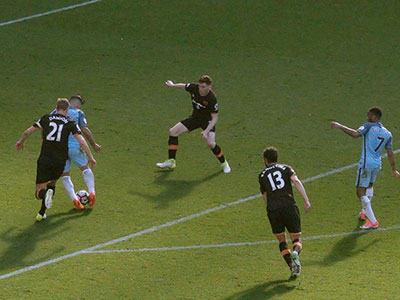 Sterling nearly puts Aguero through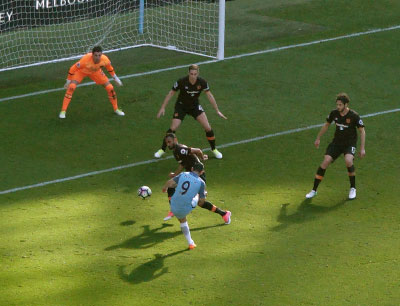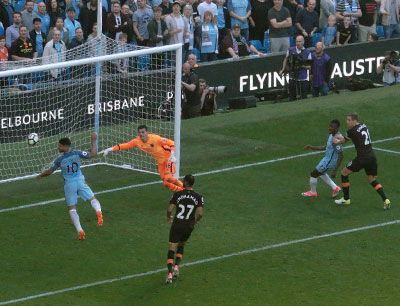 Nolito on for Sane misses a good chance
Hull survive another dangerous cross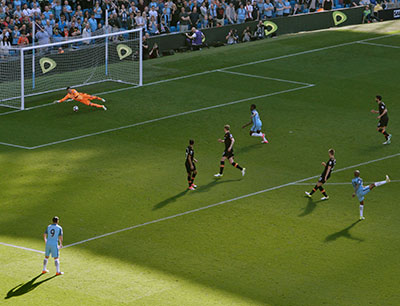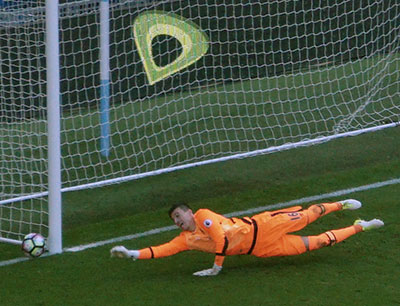 Delph almost scores again but the keeper manages to save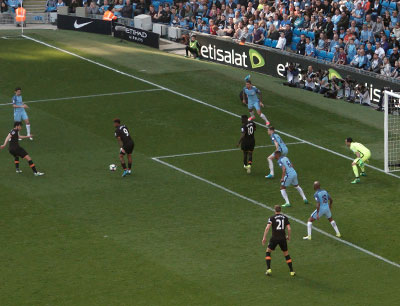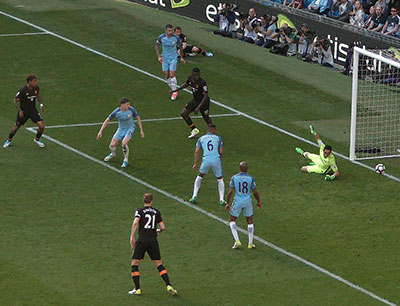 With just five minutes to go Bravo fails to stop a rather tame shot by Ranocchia following a corner!
Oh dear!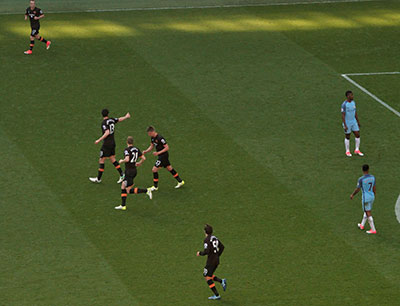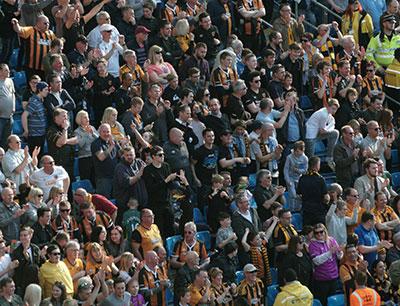 Not a great deal of celebration by the Hull players and supporters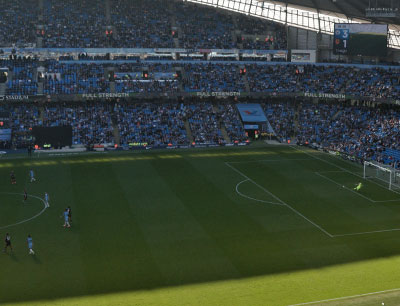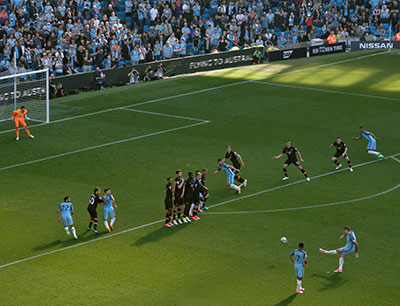 A special moment to remember - Bravo takes a traditional goal kick with no defenders in sight!!!
Kolarov has a final free kick saved and it ends 3-1 for City
Team
Bravo 6: Navas 7, Stones 7.5, Kolarov 6, Clichy 6: Delph 8, Toure 7 (Fernando) : Sterling 8 Silva 7.5 (Iheanacho) , Sane 6.5 (Nolito), Aguero 7