City 5 Monaco 3
February 21st 2017 att.53,351
Champions League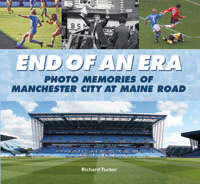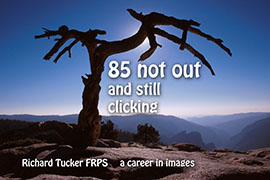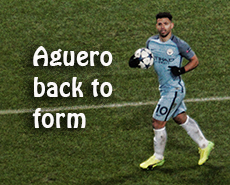 An amazing experience at the Etihad with both sides going for goals. We knew it was not going to be easy as Monaco were a free scoring side so when City took the lead after good work by Sane after 26 minutes the future looked good. However a rubbish clearance by Caballero lead to an equalizer by Falcao and then Mbappe gave them the lead just after Aguero had been brought down by their keeper but got booked for diving. A poor decision by the Spanish referee. Half time came with City a goal down. Aguero levelled matters with a shot that went through the keepers legs after Falcao had missed a penalty - Caballero easily saving a poor shot. So instead of being 3-1 to the visitors it was two all. Then Falcao made up for his penalty miss by chipping the ball into the net to give a 3-2 lead to the visitors. The crowd urged City back into the game and a great volley at a corner by Aguero made it 3 all. City went all out for the three points and a second goal at a corner ( is that a world record for City) by Stones put City ahead and late in the game Sane put the ball into an empty net to give City a two goal lead for the second leg-.What a game - a terrific fight back in an excellent atmosphere. One of the best games I have seen for many years and ranks with the European Final I watched at Hampden Park in 1960 when Real Madrid beat Eintracht Frankfort 7-3.
Shame the referee was not the best - he gave out ten yellow cards -the most this season in the Champions League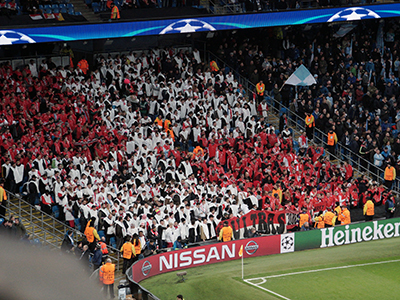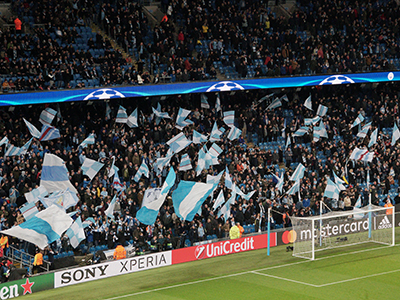 Plenty of atmosphere in the ground as the players came out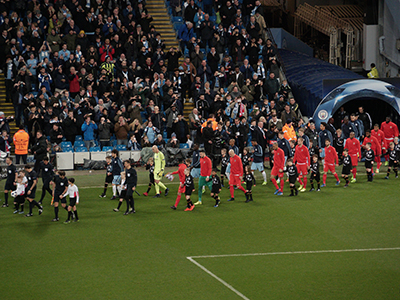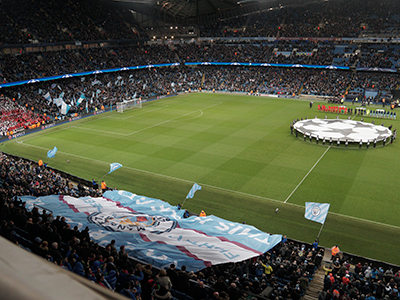 City had an attacking side with Aguero leading the line and Fernandinho continuing at left back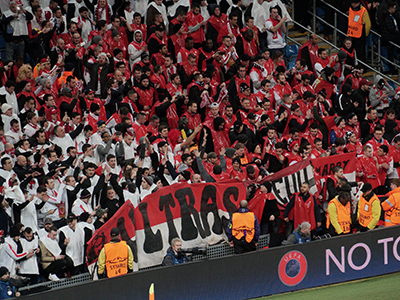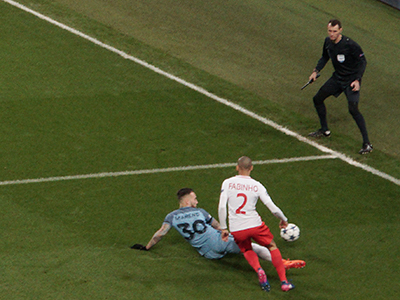 I always thought the Ultras were linked with Paris St G
City had an early warning Otamendi having to concede a corner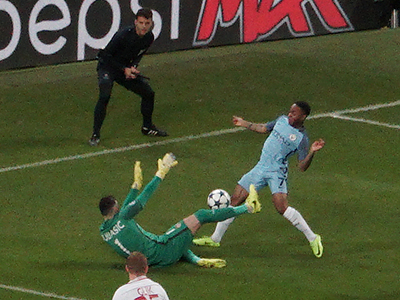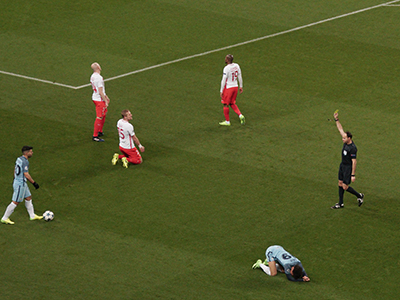 Sterling foiled by Subasic
The first of many yellow cards as Sane is fouled by Glik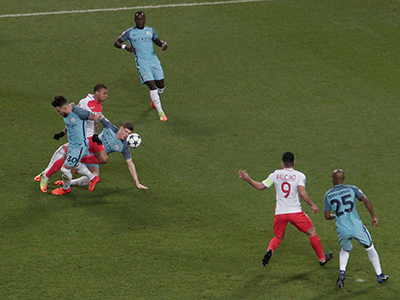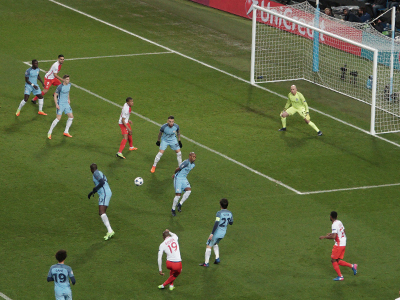 the City defence is under pressure
A shot by Sidibe is blocked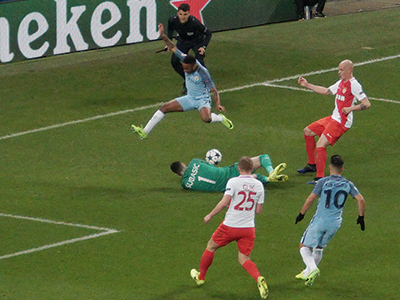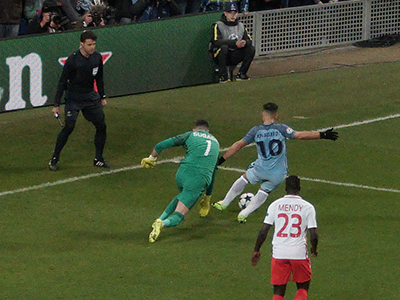 The Monaco keeper is kept busy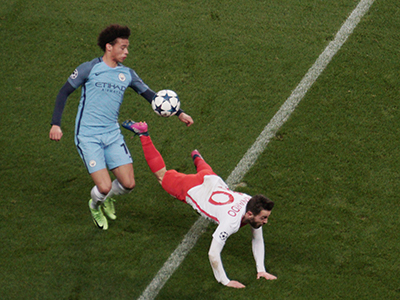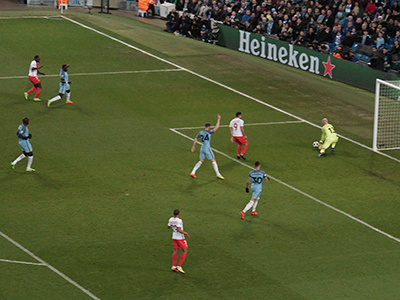 Sane handles while Benardo Silva tries an unusual handstand
Caballero saves from Mendy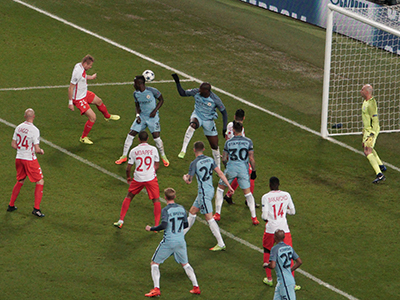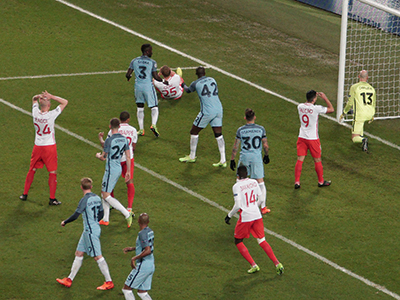 Glik heads wide at a corner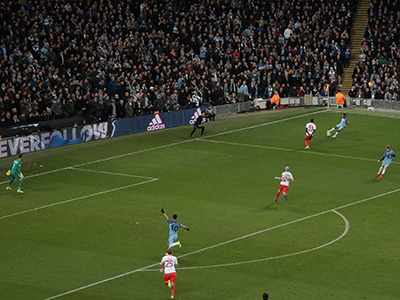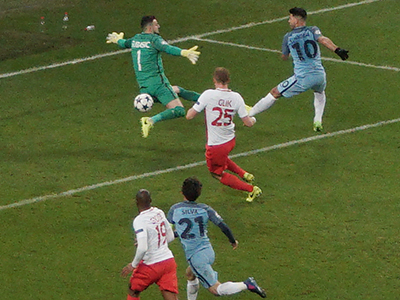 23 minutes on the clock and Aguero shoots just wide after good work by Sterling and De Bruyne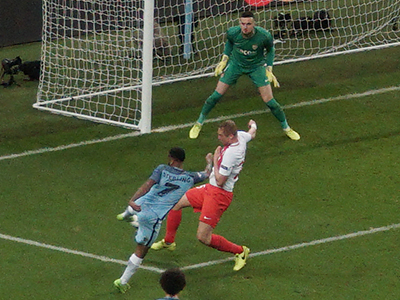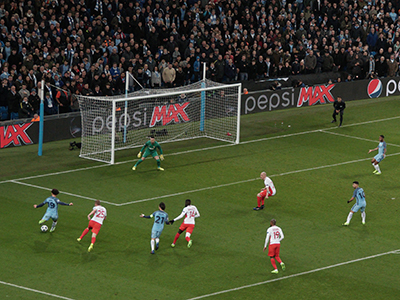 an effort by Sterling is blocked
on 26 minutes Sane drove down the wing and crossed....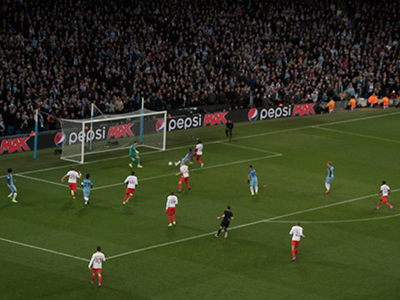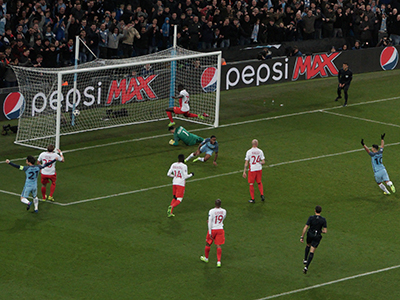 ...and Sterling was there to shoot past the keeper to give City the lead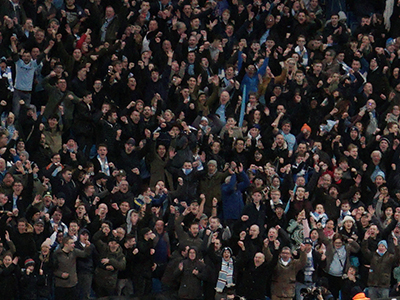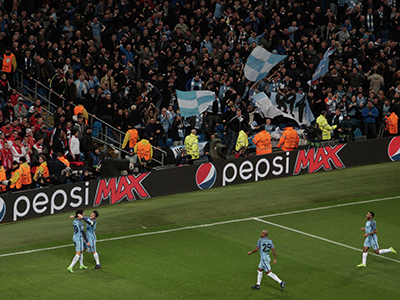 The South Stand erupts as City players rush to say thanks to Sane for his cross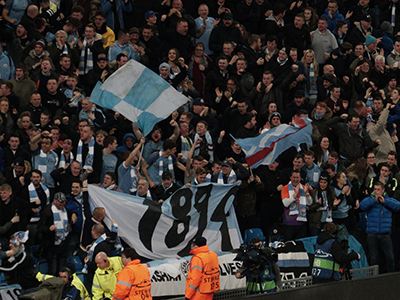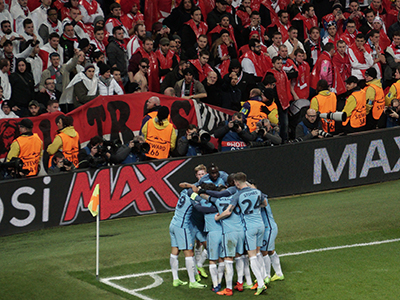 It's all smiles from City fans but glum Monaco fans watch the City players celebrate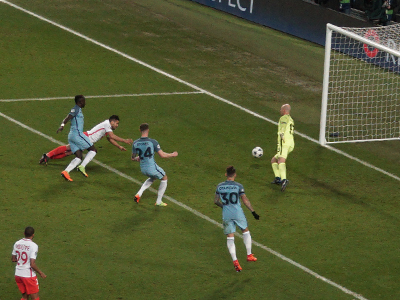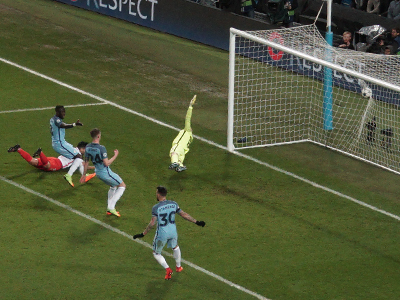 6 minutes later and Monaco were level with this header by Falcao from a cross by Fabinho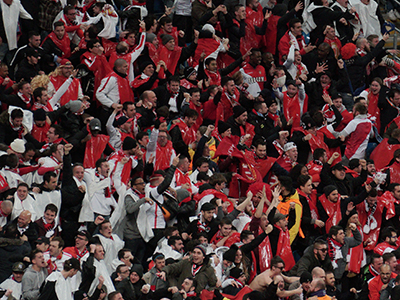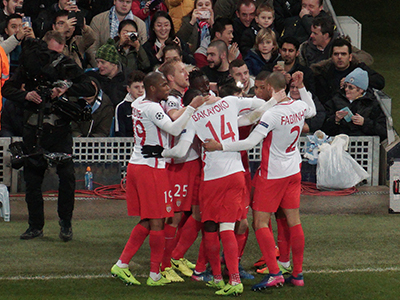 The Monaco fans and players celebrate the goal
Aguero breaks through and rounds the keeper and is brought down but the referee books Aguero for a dive!!!!!!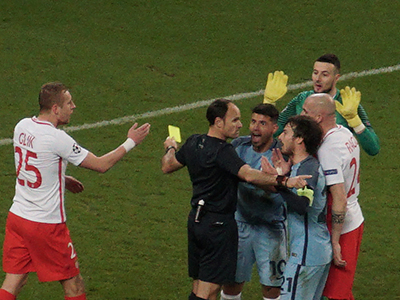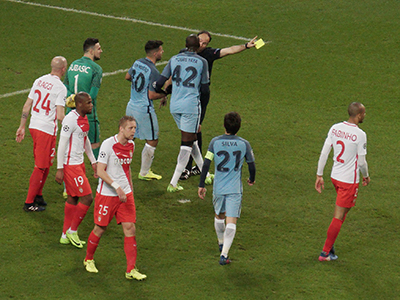 City continue to argue with the poor decision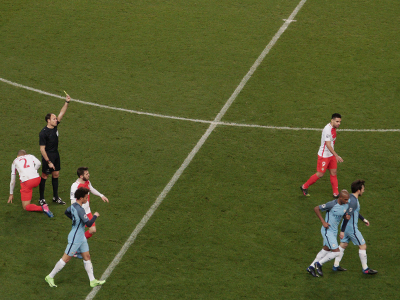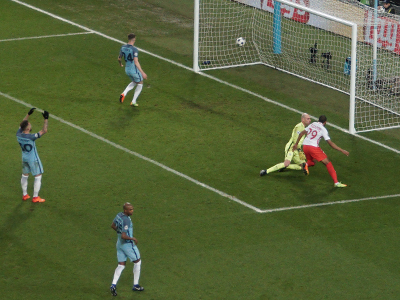 5 minutes later and Fernandinho is booked after a foul and Monaco break with Mbappe scoring following a through ball from Fabinho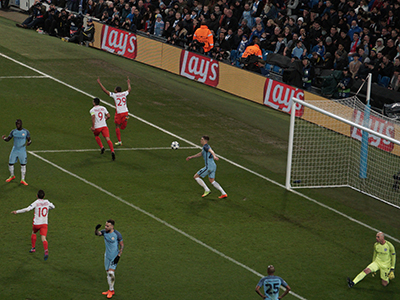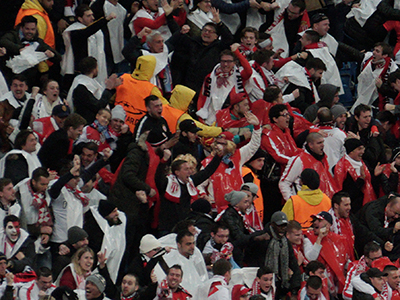 It's more celebration by the Monaco players and fans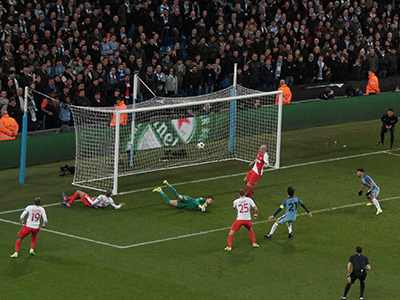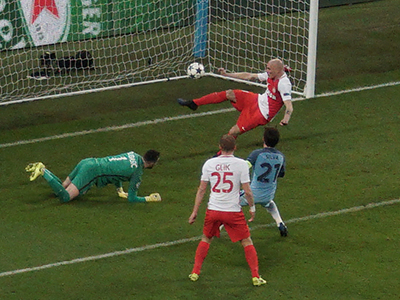 Monaco have to clear a dangerous situation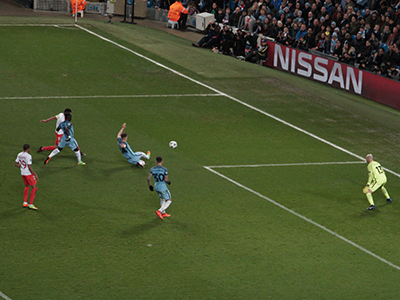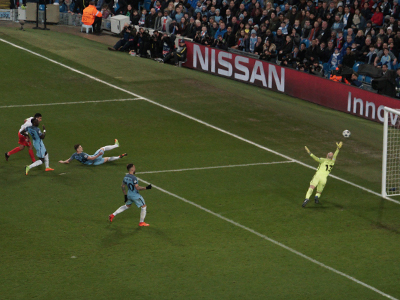 A minute before half time and Falcao shoots just wide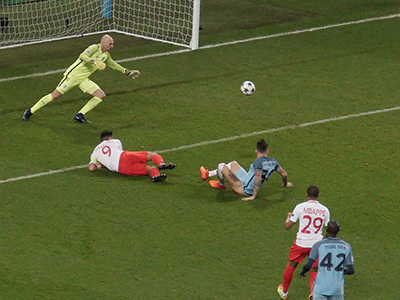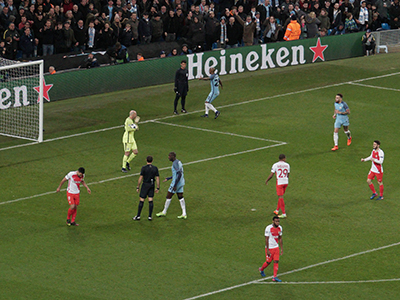 The second half had hardly started when Monaco were awarded a penalty for foul by Otamendi on Falcao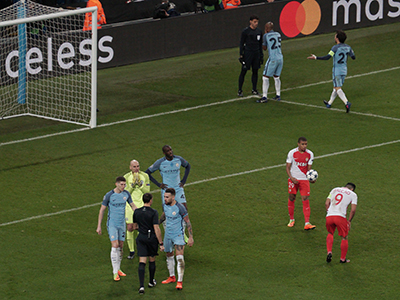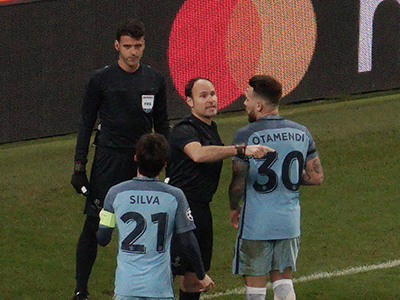 The City players ( and fans) did not like the decision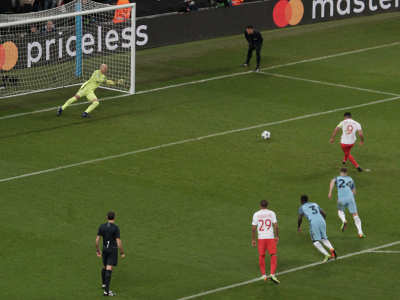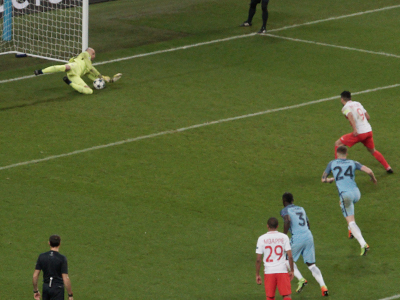 After some time Falcao took the kick but it was not the best of shots and Caballero saved with ease - thank God!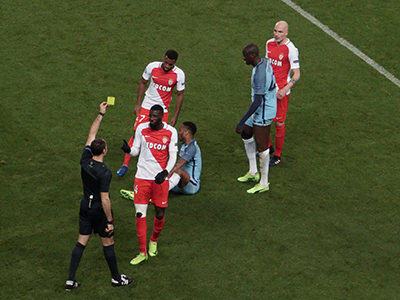 Sterling gets fouled by Bakayoko who gets a yellow card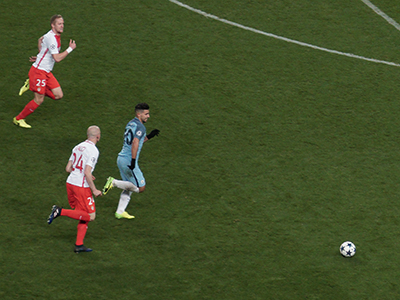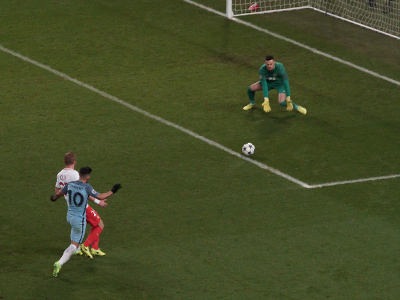 On 58 minutes Aguero broke down the middle and shot at goal.......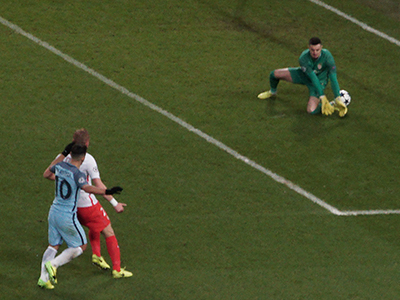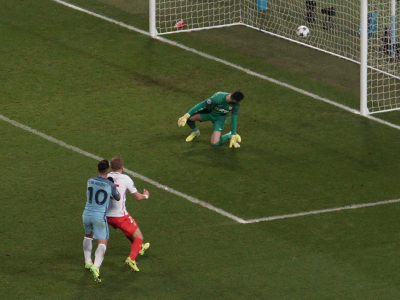 ......incredibly the keeper failed to collect the ball and Aguero had made it two all - amazing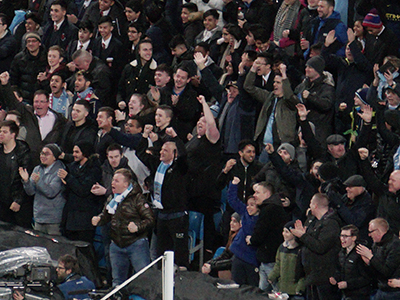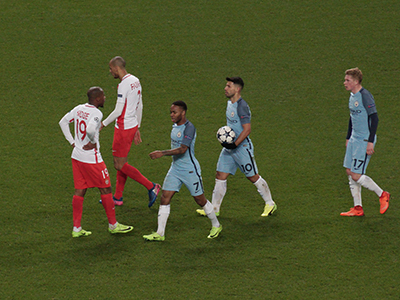 The North Stand enjoyed that!
The City players hurried back to the centre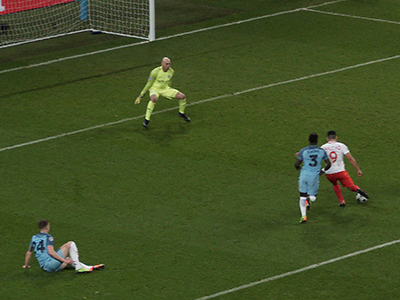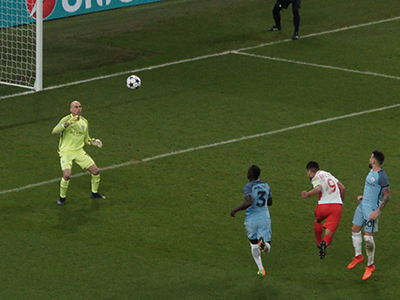 City's joy was short lived as three minutes later Falcao took a pass from Lemar and chipped the ball ...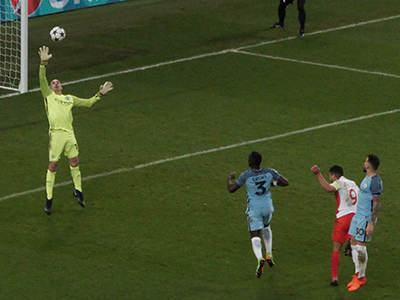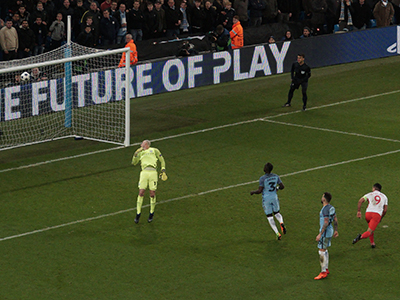 .......over the head of Caballero and Monaco went ahead 3-2 - disaster!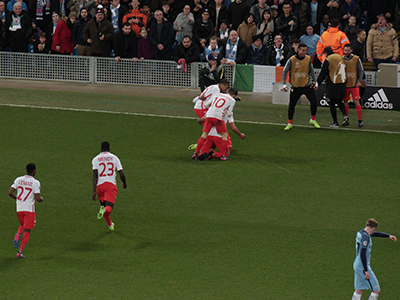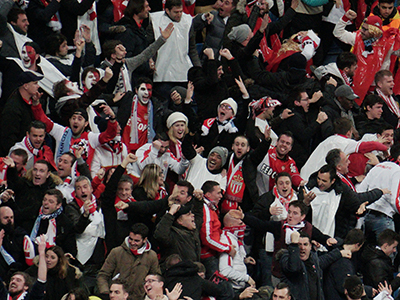 It was time to celebrate again for the Monaco players and fans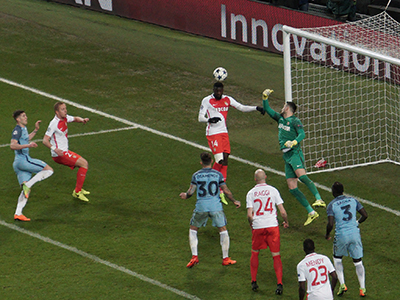 Sane has an effort blocked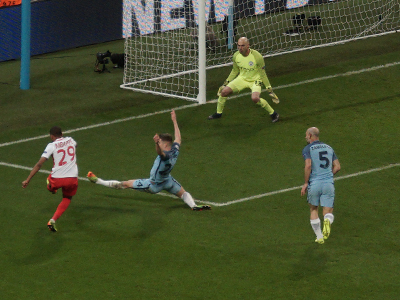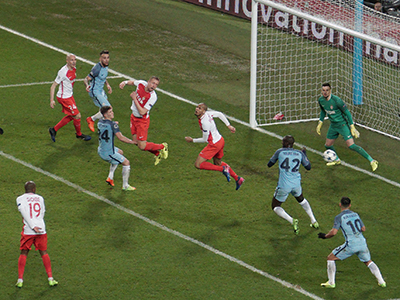 Monaco have to clear a corner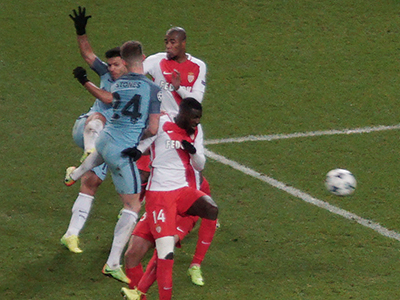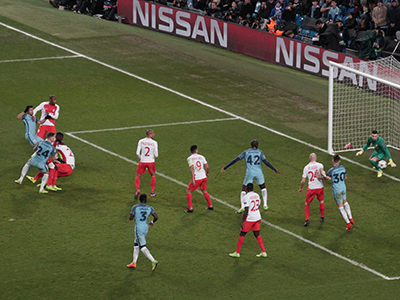 From another corner Aguero volleys the ball past the keeper......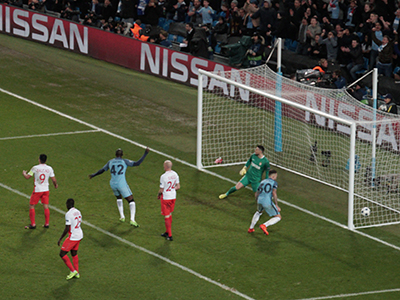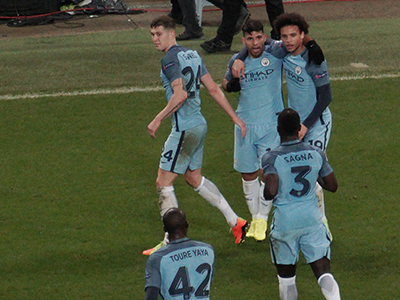 ....... to make it three all - a cracking goal - and from a City corner too!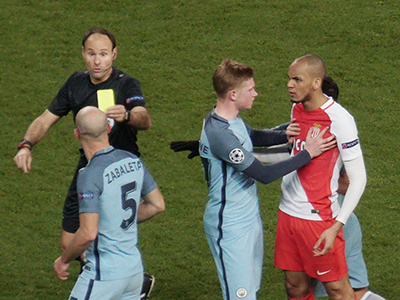 A free kick for City ended with Zabaleta on for Fernandinho getting booked!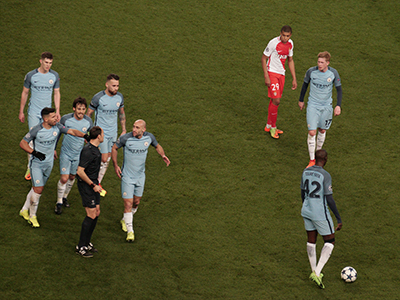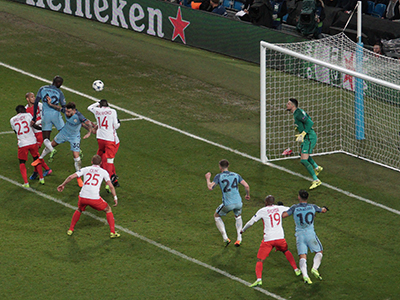 It was baffling why the card was given
77 minutes on the clock and another City corner.....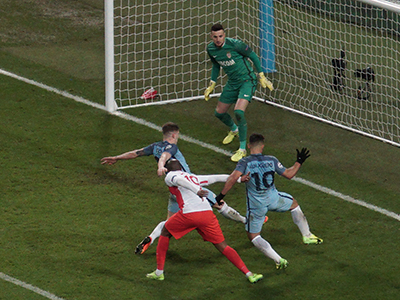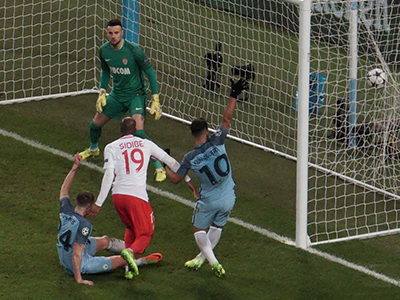 ....the ball ran to a well positioned Stones who shot into the net to give City the lead - incredible!!!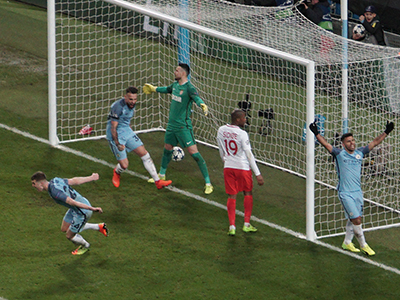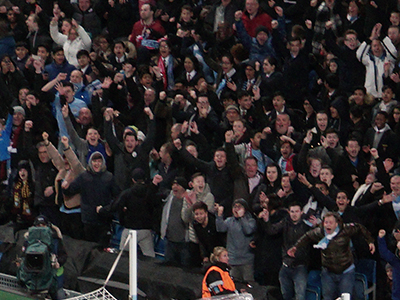 Now there is plenty for the City fans to shout about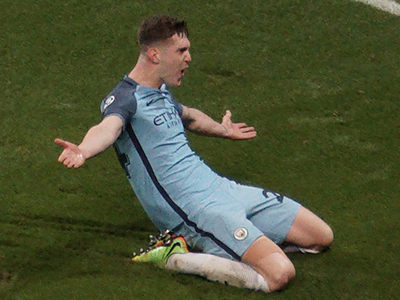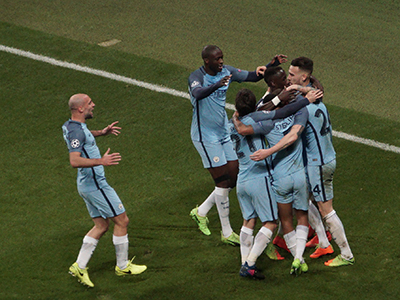 Having been twice a goal behind City were now in front - brilliant stuff!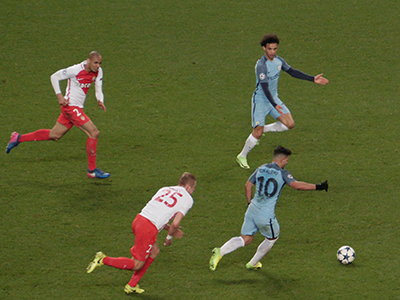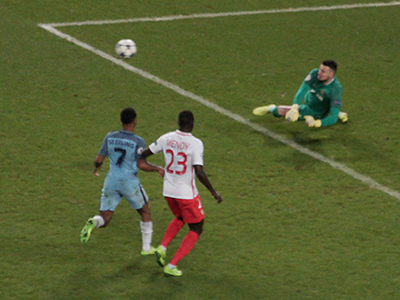 Subasic manages to save from Aguero as City pile on the pressure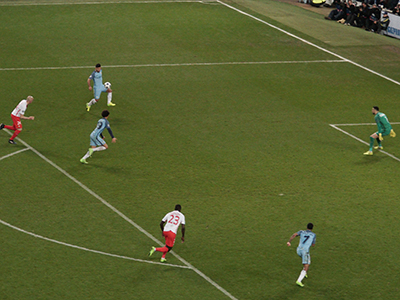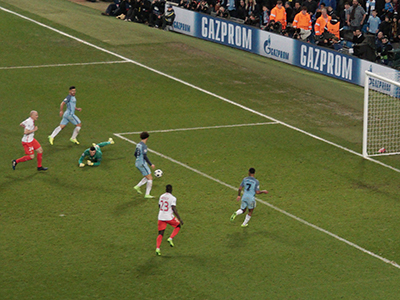 On 82 minutes City are on attack again and Aguero gives the ball to Sane.......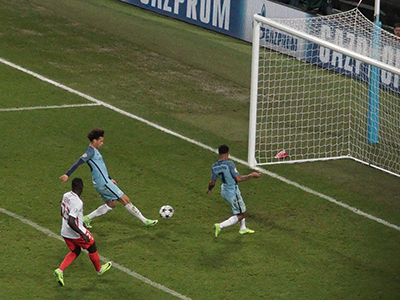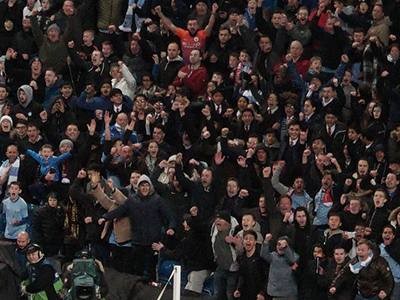 ....who has the easiest of tasks to push the ball into the net to give City a two goal lead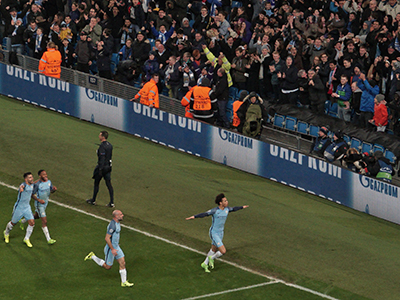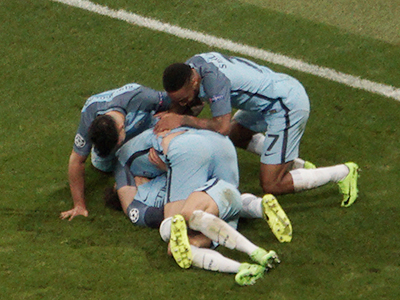 Sane celebrates and then his colleagues join in.....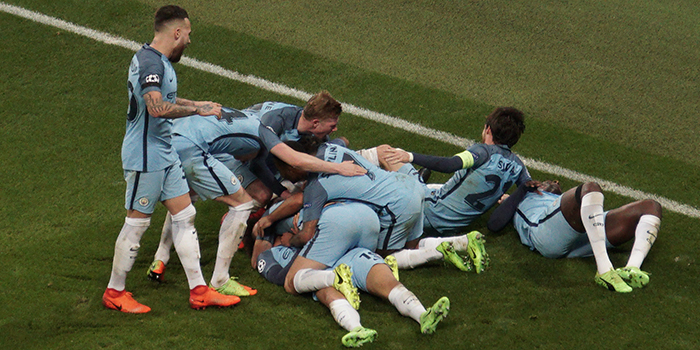 They all pile in - hope Sane recovers from this!!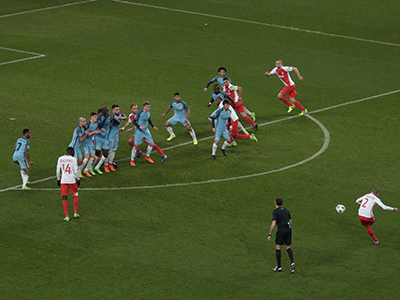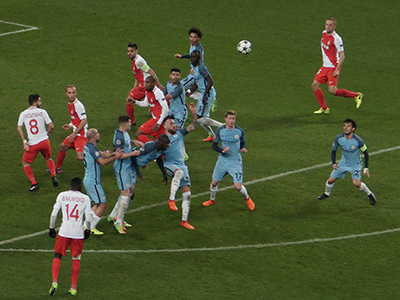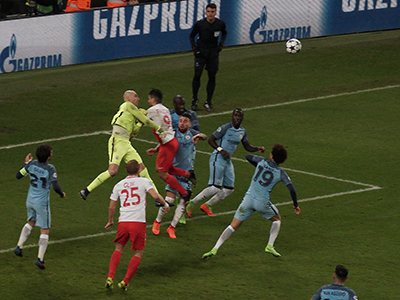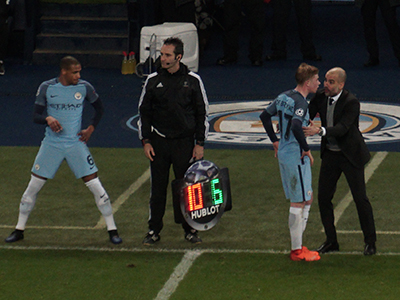 Caballero punches a corner away
Fernando about to come on as Kevin is given a few hints by Pep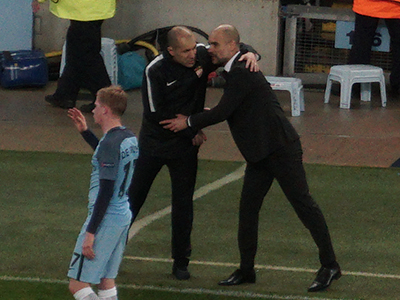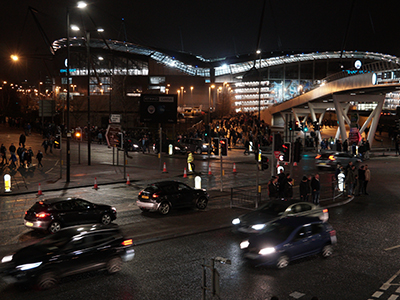 at the final whistle the two managers shake hands
Fans depart after a fantastic game - one to remember
team
Caballero 7.5: Sagna 6.5, Stones 6, Otamendi 5, Fernandinho 6 ( Zabaleta 7) Toure 7.5, Silva 8.5, De Bruyne 7: Sterling 8 ( Navas), Sane 9, Aguero 9.5 (Fernando)