I hope this will be the last of the lock down game series
Can't wait to see a live game again!
Man City 5 Southampton 2
March 10th
Well, that's a bit more like it City. A good open match ended with a well deserved 5-2 win. City showed many more examples of their power game with Mahrez, Foden and De Bruyne being in excellent form the latter moving nearer his top form. After 14 minutes a great long pass by Dias found Zinchenko who passed to Foden and when his shot was pushed out by the keeper there was De Bruyne to hammer home from close range. The Saints equalizer came via a penalty 10 minutes later
City were then denied a penalty when a defensive error gave Foden a chance but the keeper appeared to catch his left leg but Foden stayed on his feet and the ball was cleared and despite VAR no penalty was given. Sterling will have to give him lessons on falling over !
However Mahrez gave City the lead following another defensive mistake and then just before half time a shot from Mahrez hit the post but Gundogan was on the spot to score to make it 3-1 at the break.
Mahrez then made the most of yet another error in defence to score his second and City's 4th after 55 minutes. Immediately City relaxed for a moment and Adams got a goal back a minute later. No doubt Pep will have something to say about that.
City were not finished and a few minutes later Foden helped De Bruyne get his second goal and City had to settle for just 5 goals!
It was good to see Aguero get some time on the pitch and he tested the keeper. There was also a sight of Mendy late on. We have not seen him since December.
This was an excellent response to the United loss and City are now 14 points clear at the top.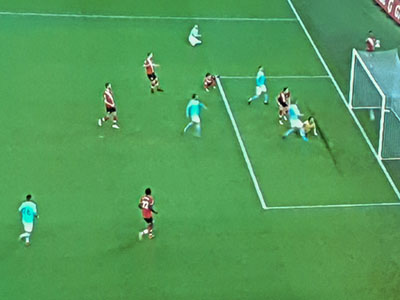 De Bruyne scores his 40th league goal on 15 minutes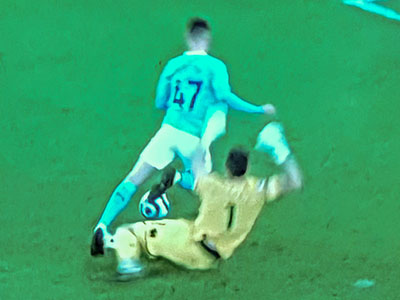 McCarthy fouls Foden but no penalty given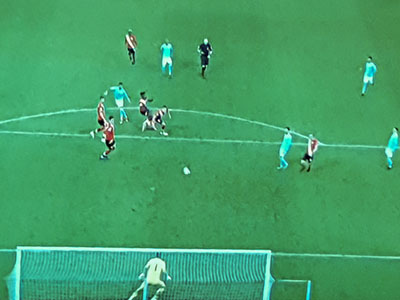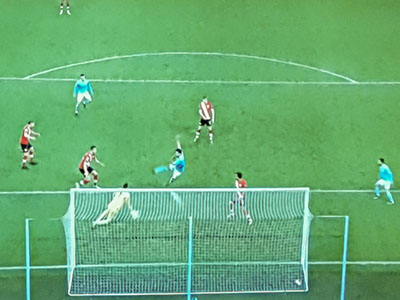 Mahrez fires home to give City the lead
Gundogan scores to make it 3-1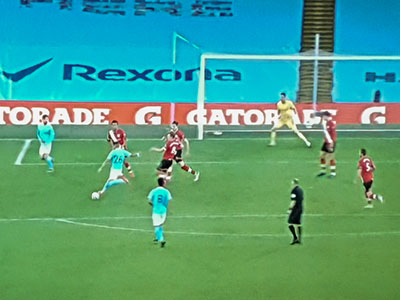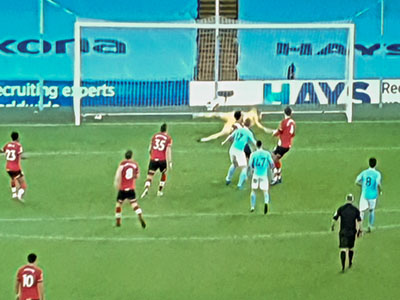 Mahrez is about to shoot for his second goal
De Bruyne gets number five
Ederson 6: Walker 5.5, Dias 7, Laporte 5.5, Zinchenko 7 (Mendy), Fernandinho 6.5, De Bruyne 8 (Aguero), Gundogan 7, Benardo 6.5, Mahrez 8.5 (Torres) Foden 8.5
Fulham 0 Man City 3
March13th 2021
This was a game of 2 halves with City who had made 7 changes from the Southampton win unable to break down a desperate relegation threatened Fulham in the first 45 minutes. A better performance in the 2nd half however.
It was an unusual City team selected by Pep. With just three at the back and two wing backs and both Jesus and Aguero up front it took a while for the sky blues to settle. As City had won their last 7 games against Fulham we were expecting yet another but we had to wait until the early minutes of the second half before we could relax a bit . A free kick taken by Cancelo was swept into the net by John Stones - his 4th goal in his last ten games.
Jesus took advantage of a defensive error to easily score number two ten minutes later and then we had a big bonus when Torres was brought down in the area and Sergio Aguero took the penalty and scored his first goal since January 2020 against Sheffield U away. It was his first start since last October.
Ederson little to do and it was his 16th clean sheet and the unusual defence did their job to help. With both De Bruyne and Foden on the bench there was a certain lack of creativity from City but with important games coming up they did deserve a break.
City are now 17 points ahead of United in the Premiership. City have now won 8 away games on the run and equaled a club record of 16 away games without defeat.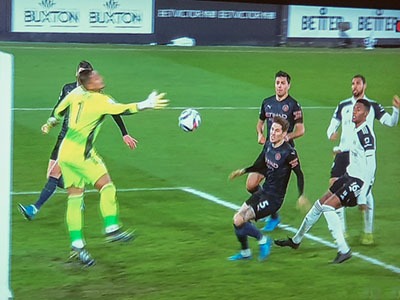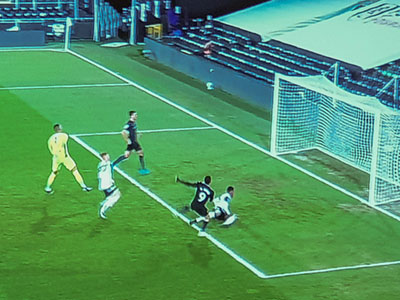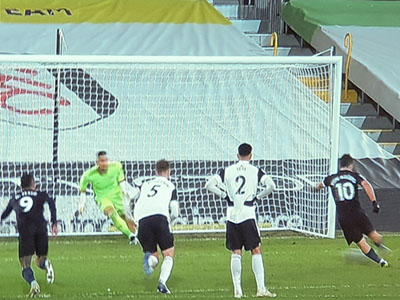 As he had not scored for ages he deserves two shots of his goal!
Stones scores from close range on 47 minutes
Nice and easy for Jesus for number two
Ederson 7, Cancelo 7, Stones 8, Dias 7.5 (Garcia) , Laporte 7, Mendy 6.5: Rodrigo 7, Benardo Silva 7.5 (Fernandinho), Torres 7, Jesus 7.5, Aguero 7
Man City 2 Borussia MG 0
March16th 2021 Champions League
City had complete control of this return game in the Champions League doubling their first leg lead to move into the quarter finals. It was an excellent team performance with City able to sub several key players towards the end of the game. Like the first leg the game was played in the Puskas Stadium in Budapest and it brought back some memories of seeing Puskas score four goals for Real Madrid in the
European Final in 1960
when they beat Eintracht Frankfort 7-3 at Hampden Park. Enough of the past - will City go on to win in Istanbul I wonder ?
We will find out in a few days who the next victim will be!
It did not take too long for City to take the lead - a great swerving long shot from Kevin De Bruyne on 12 minutes gave the keeper no chance and it showed that he is now getting back to that wonderful form he showed before he was injured.
Six minutes later City made it two nil. It was set up by Phil Foden who charged forward with the ball and passed to Gundogan who flicked the ball past the keeper for number two - it was his 15th of the season. Surely Foden must play for England in the coming internationals. He has been involved in 20 goals this season so far - not bad for a youngster!
Ederson actually had to make a couple of saves and Stones and Dias helped to keep yet another clean sheet - 26 so far this season.
So once again a team without a centre forward goes marching on. Aguero did come on for 15 minutes but hardly touched the ball! Sterling too had some time on but failed to impress. Interesting times I think - who will Pep pick for the Everton game!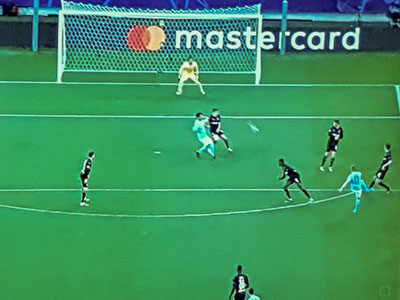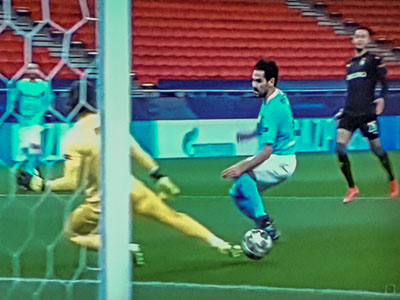 De Bruyne cracks the ball in from outside the area
Ederson 7.5: Walker 7, Stones 7.5, Dias 7.5 (Laporte), Cancelo 7.5 (Zinchenko), Rodrigo 7 (Fernandinho),
Benardo Silva 7.5 (Aguero), Gundogan 7.5 (Sterling), De Bruyne 8.5, Mahrez 7, Foden 8
Everton 0 Man City 2
March 20th 2021 FA Cup
It's back to Wembley once more for the sky blues following a tough quarter final. City had made 6 changes for the Everton match and it was a bit of a struggle against a well organized defence. Just when it looked as though we were in for extra time a shot by Laporte was tipped onto the bar by the keeper and luckily for City the ball rebounded to a diving Gundogan who headed into an empty goal on 84 minutes.It was his 12th goal in all competitions this year and his 16th this season so far.
Six minutes later it was all over when De Bruyne cracked the ball home after breaking into the penalty area.VAR had to check whether a high kick by Mahrez was not dangerous play. Fortunately Mahrez withdrew his foot so the goal stood.
Foden had a good game and should have had a penalty when he was fouled by Holgate but once more he stayed on his feet and there was no VAR check made.
Zinchenko worked hard and headed a potential Everton goal off the line at a corner just before half time. Sterling was once again a bit off his best and City's game improved when he was subbed by De Bruyne.
Everton did have a few chances but the defence did well and there was yet another clean sheet.
City extended their unbeaten away record to 17 which is now a club record and City have also won 14 away games in succession - must be a club and national record surely.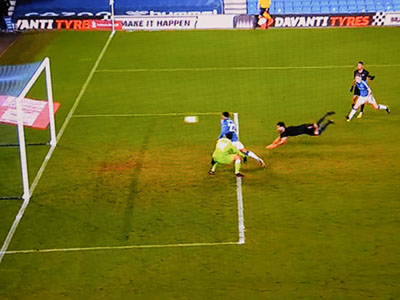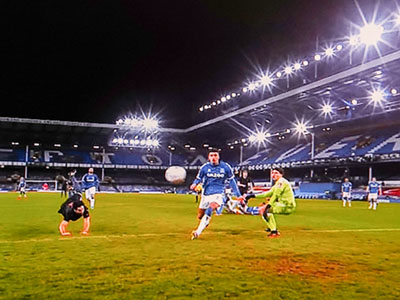 Gundogan does the business yet again with his diving header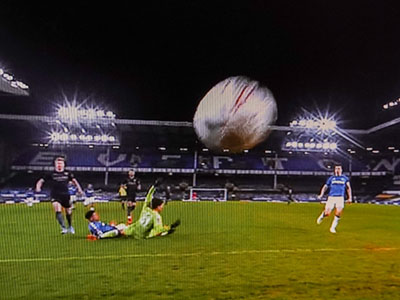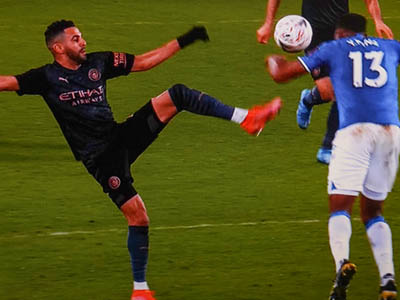 De Bruyne cracks in number two and VAR checks an action by Mahrez
Steffen 6.5: Walker 7.5, Dias 7.5, Laporte 7.5, Zinchenko 7.5: Fernandinho 7.5, Benardo Silva 6.5 (Mahrez) Gundogan 7.5 (Rodri) Foden 8, Sterling 6 (De Bruyne), Jesus 6.5
Leicester City 0 Man City 2
April 3rd 2021
Man City dominated this comfortable win against Leicester who failed to get a shot at goal in the first half. It was City's 15th away win on the run and they had made their usual six changes from the last game - the Everton win. Surprise selection was the inclusion of both Jesus and Aguero.
The City defence played really well and Leicester were rarely able to get into City's penalty area let alone give Ederson a hard time. There were few chances in the first half but we thought we had taken the lead as early as the 4th minute when a shot from Fernandinho from miles out beat Kasper Schmeichel but alas Aguero was in an offside position just in front of the keeper so the goal was ruled out. Kevin De Bruyne hit the bar with a free kick on 23 minutes and Mahrez had a good chance but Schmeichel saved .Vardy did net just before the break but he was well offside.
It took City nearly 60 minutes to score the first goal and we could never had guessed who was going to score it -
Mendy - with his right foot too! No wonder Pep smiled on the touchline!
City then clinched the win on 74 minutes when a terrific through pass by De Bruyne ( who else!) found Jesus who exchanged passes with Sterling ( on for Aguero) before netting himself from close range and it was his 24th birthday!
It was City's 28th clean sheet this season and they are now 17 points clear of United.
This excellent team display winning the ball back so well and always causing problem in opponents last third earned yet another three points and we only need another 11 to win the Premiership for the 5th time since 2012.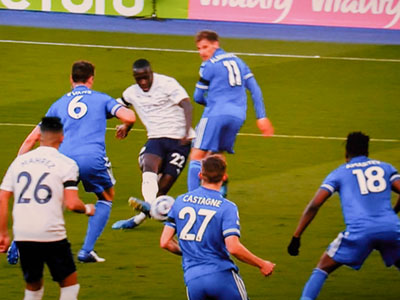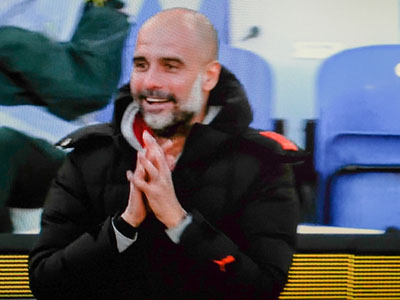 Mendy scores with his right foot- yes his right one!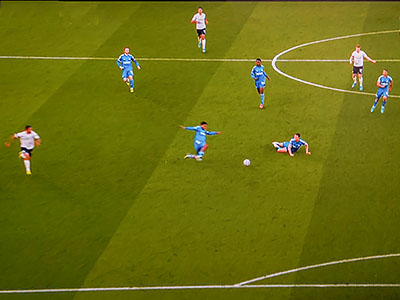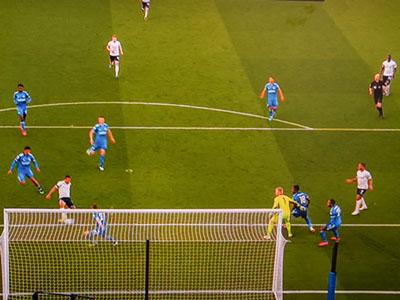 The pass of the season by Kevin De Bruyne finds Jesus who links with Sterling before scoring number two
Ederson 7, Walker 7.5, Dias 8, Laporte 7.5, Mendy 7.5: Fernandinho 7.5, Rodrigo 7.5, Mahrez 6.5 (Torres),
De Bruyne 8 (Foden), Jesus 7.5, Aguero 6.5 (Sterling)
Man City 2 Dortmund 1
April 6th 2021 Champions League
City take a one goal lead into the second leg thanks to a last minute winner by Phil Foden who easily made up for a couple of earlier misses. It was a game full of incidents and the Rumanian referee will have plenty to think about on his journey home. City had a strong side out bringing back Stone,Cancelo, Gundogan, Foden and Benardo so no centre forward today. Most eyes were on a certain opposing forward who City are interested in - Erling Haaland. He caused plenty of trouble but luckily did not score.
City took the lead on 19 minutes when a defensive error by Emre Can gave De Bruyne the ball. He drove forward - passed to Foden who gave the ball to Mahrez and his final pass was gratefully accepted by De Bruyne who scored. Ten minutes later City were awarded a penalty for a 'foul' on Rodri but VAR said no way.
Ederson was then lucky when Bellingham took advantage of his failure to clear and the ref gave City a free kick. At least in the second half Ederson saved from Haaland but failed to stop Reus scoring on 84 minutes. Oh dear we had actually conceded a goal! Fortunately as 90 minutes approached De Bruyne sent a great pass to Gundogan who gave the ball to Foden and thank goodness this time he slotted the ball home and City had a one goal advantage for the second leg. Phew! That was tough tonight The defence are going to be at their best in the second leg if we are to get through. I guess there will be another six changes for the Leeds game at the weekend!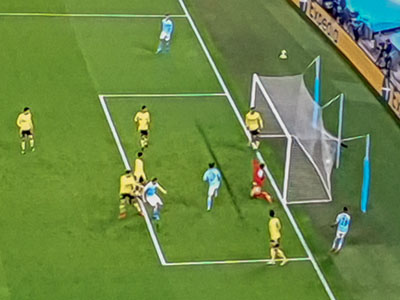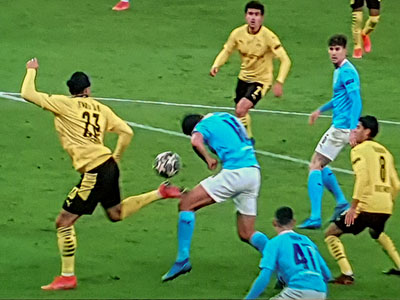 Kevin De Bruyne nets from close range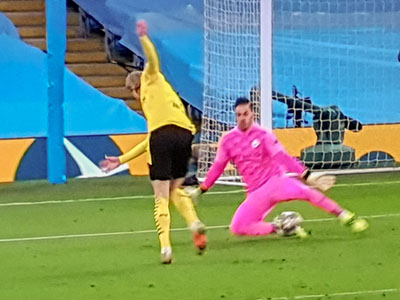 Ederson saves from Haaland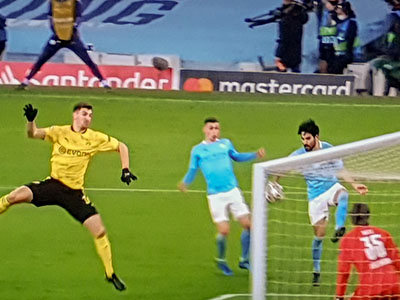 on 90 minutes Gundogan gets a pass from De Bruyne.......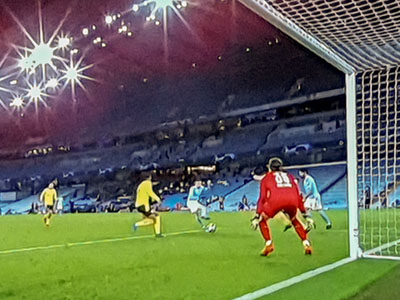 .....and Phil Foden nets a vital goal
Ederson 6; Walker 6.5, Stones 7, Dias 7, Cancelo 7; Rodrigo 7, Gundogan 7, Mahrez 7, De Bruyne 8.5,
Benardo Silva 6.5 (Jesus) Foden 8
Man City 1 Leeds U 2
April10th 2021
As soon as I saw the team with 7 changes I had doubts about getting three points and so it turned out. Despite Leeds going down to ten men they scored a late winner. City had lots of possession especially in the second half.
A rare error by Cancelo let in Dallas who scored via the post on 43 minutes to give the visitors the lead. Then just before half time Cooper was sent off for a foul on Jesus - .VAR upgraded a yellow to a red.
Torres managed to level the scores on 76 minutes thanks to a pass from Benardo and City made attack after attack to finish Leeds off but they defended well and then in added time Dallas broke away getting a good pass from Alioski and shot through the legs of Edison to win the game. With Sterling and Jesus having such poor games by their normal high standards I expected changes much earlier despite the vital Champions League game coming up.
Stones attacked a lot more than usual and spent more time in their half than ours. Mendy failed to make much of an impression down the left flank and without the creativity of De Bruyne and Foden City found it hard to break down the solid Leeds defence. We do miss David Silva! The City bench had 9 international players with well over 300 caps! Fortunately City have such a big lead at the moment one loss is not the end of the world and we are still on course for the title.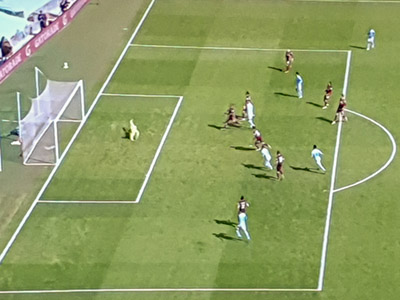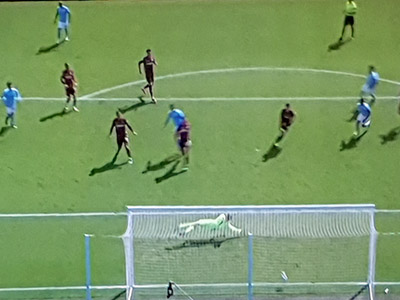 a good pass from Fernandinho finds Benardo who passes to Torres who scores
Ederson 6.5: Cancelo 6, Stones 7, Axe 6.5 (Gundogan) Mendy 5 (Foden) Fernandinho 7.5, Zinchenko 6.5, Benardo 6:
Sterling 6, Torres 6, Jesus 6
Dortmund 1 Man City 2
April 14th 2021 Champions League
Well we did it! A tough second leg ended once again with Phil Foden saving the day with an excellent goal. For the second time City move into the semi-finals of the Champions League where they will play PSG.
It did not look so good in the first half and when Bellingham put the home side in front with an excellent goal things looked grim. De Bruyne had struck the bar with a good shot and Mahrez went close but calamity was in sight. However in the second half the sky blues had a spot of luck when a cross was ' handled' by Can and after 'hours' of VAR we had a penalty. I thought Kevin would have taken it but it was Mahrez who was given the job of saving the day and so he did bringing the scores level. City really started to dominate now and with Haaland kept in check by Dias and Stones things were looking up. On 75 minutes City got a corner and when the ball ran to Foden he cracked it from outside the area past the keeper and the post and into the net. He immediately ran to Pep to celebrate - magnificent. Dortmund could not come back from that.
De Bruyne and Foden were the stars of the day and it was not easy to break down a tough defence and with Haaland up front for the home side the City defence had to be at their best. For some reason Gundogan lost his rag with Bellingham and was not at his very best today.
It will be interesting to see what the team will be against Chelsea at Wembley on Saturday after this tough fixture.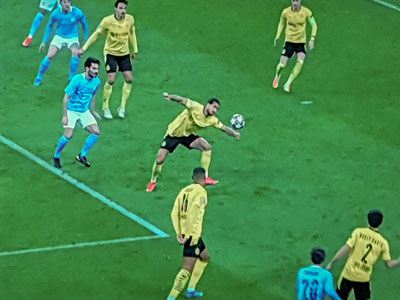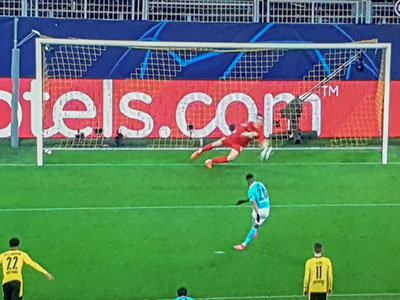 The handball that led to the penalty
Mahrez scores from the spot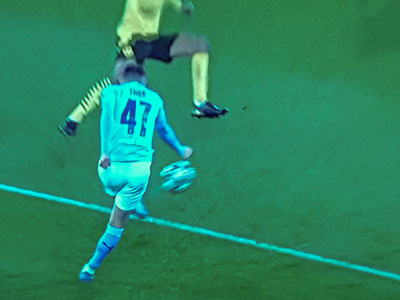 Phil Foden shoots and scores to win the game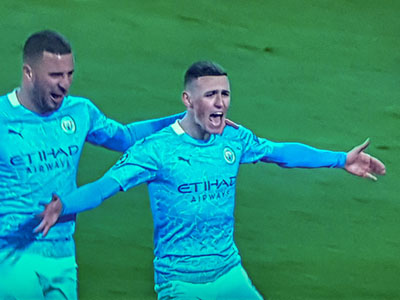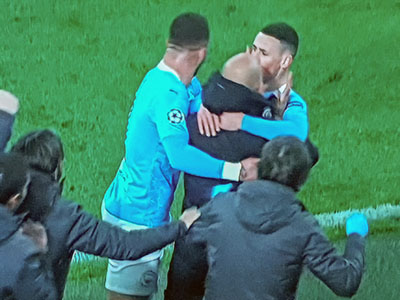 Ederson 6: Walker 7, Stones 7, Dias 7.5, Zinchenko 7: Rodrigo 6.5, Gundogan 6.5, Benardo 6.5, Mahrez 7.5 (Sterling),
De Bruyne 8.5, Foden 8.5