Lockdown Games 3
It looks as though we are going to be unable to attend games for some time - hopefully by 2030 !!-
so we are stuck with lockdown games!
Chelsea 1 Man City 3
Jan 3rd 2021
A terrific first half display by City put paid to any hopes Chelsea had of winning. Early Chelsea pressure and the handling of a back pass by keeper Steffen gave the defence some early work but then a great goal by Gundogan on 18 minutes started the City onslaught. Three minutes later Foden who had assisted Gundogan notched a great goal himself flicking a pass from De Bruyne past keeper Mendy into the net. Suddenly it was two nil and it was almost game over! On 34 minutes a pass sent Sterling away with only the keeper to beat but he delayed and his eventual shot hit the bar. Fortunately secret centre forward De Bruyne banged the rebound home and despite several other good chances not being taken it was almost game over at half time.
City took it easy in the second half and the defence enabled Steffen to have a quiet game with hardly a save to make. He was deputizing for Ederson who like several other City players and staff are suffering from the virus. However despite the changes City made the first half display was ruthless and so reminiscent of wonder displays of a few years ago.
Chelsea did manage a very late late consolation goal spoiling City's recent defensive record - however we still have only conceded 13 goals - best at the moment in the Premier League and we move up to 5th.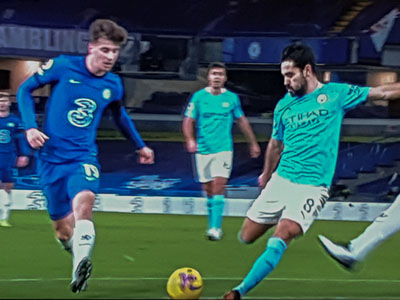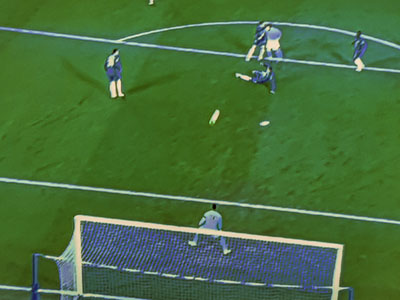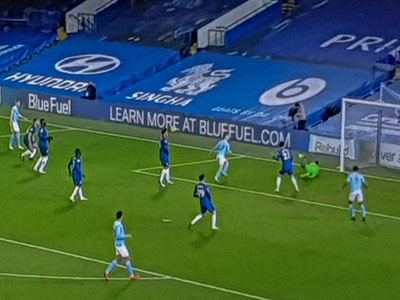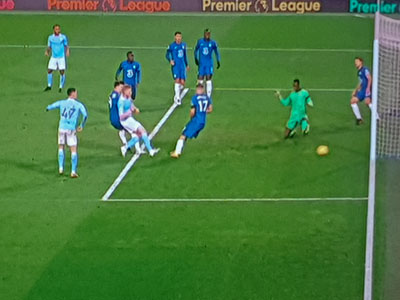 The key moment in the first half when Gundogan scored
Foden makes it two nil a few minutes later
Kevan De Bruyne scores from close range
Steffen 6: Cancelo 8, Stone 7.5, Dias 7.5, Zinchenko 7: Rodri 7, Gundogan 8.5 ( Fernandinho) Benardo Silva 7.5, Sterling 7, Foden 8 (Mahrez), De Bruyne 8.5 (Aguero)
Colin Bell has passed away at the age of 74 - such a sad loss - he was one of City's greatest players.
I have put some images on my 2020-2021 page
HERE
Man U 0 Man City 2
January 6th Carabao Cup Semi-Final
City have reached their 4th consecutive League Cup Final and having being at Wembley for the last three with the present lockdown I cannot see any fans being at the meeting with Spurs. This was a very good display by City against United and they fully deserved victory. We had two goals disallowed in the first half for offside and De Bruyne hit the post with a great effort while United could only test stand-in keeper Steffen once.
Early in the second half it was a City player who had not scored for 1,162 days doing the business and it was not his head or his feet but John Stones' thigh that found the net. He has been playing really well lately but this was a massive bonus for us. It was a very open game and in fact even the first 15 minutes was a lot better than the poor goalless draw between the two sides last month.
City needed that second goal to put the game to bed and following a corner and a poor defensive header Fernandinho took a shot from outside the area and it caught the keeper napping and City had the game won on 83 minutes. He was the 16th different City player to score this season - a record
Once again the defence kept a clean sheet and kept the United attack at bay. This victory was a wonderful dedication to the memory of Colin Bell who had died the day before the game.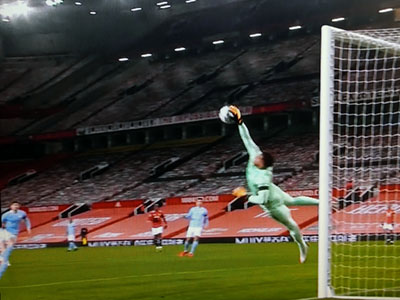 Steffen saves well from Fernandes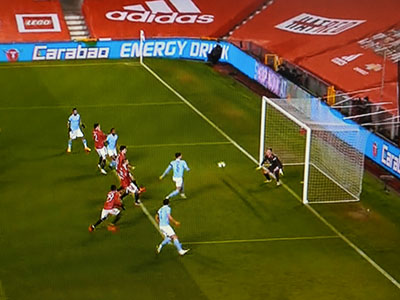 John Stones scores on 50 minutes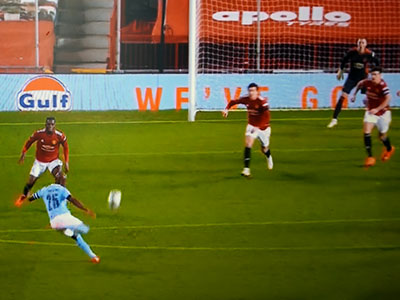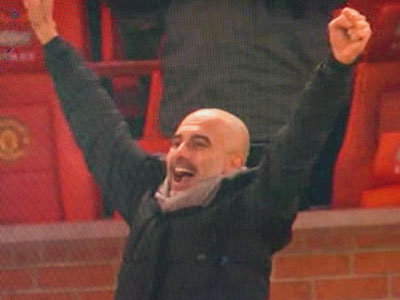 Fernandinho blasts the ball into the net with 7 minutes to go
Steffen 7: Cancelo 7, Stones 7.5, Dias 8, Zinchenko 6.5: Fernandinho 7.5, Gundogan 7, Sterling 7, De Bruyne 8, Foden 7.5, Mahrez 7 (Rodri)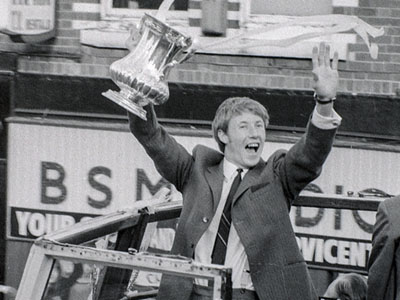 more images of Colin Bell -
HERE
Man City 3 Birmingham C 0
January10th 2021 FA Cup R3
Despite City making 5 changes from the United win the sky blues easily beat Birmingham City to progress through to round 4. A great strike by Benardo Silva opened the score after just 8 minutes. It was a wonder half volley effort and he made it two nil 7 minutes later with a simple goal following a very good passing movement. They were his first goals of the season so that means City have had 17 different scorers this season!
Foden put the game to bed on the half hour thanks to good work by Mahrez and enabled Pep to bring on three subs at half time and another two later in the match. Interesting to see Pep's tactics with Cancelo playing in midfield often and Jesus not always playing at centre forward.
Steffen rarely had to make a save and City were able to take it easy in the second half and they could have increased the score had they taken some further chances that their excellent play produced. Having a good lead at half time Pep gave some youngsters some time on the pitch - Nmecha and Harwood -Bellis had 45 minutes to show off their skills.
There was no sign of Aguero and we learnt that he had come into contact with someone who had Covid-19 so he has had to isolate.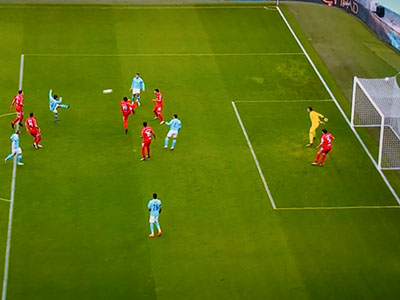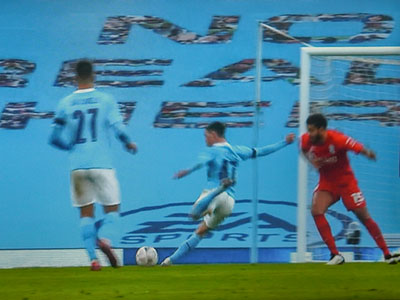 Benardo half volleys in number one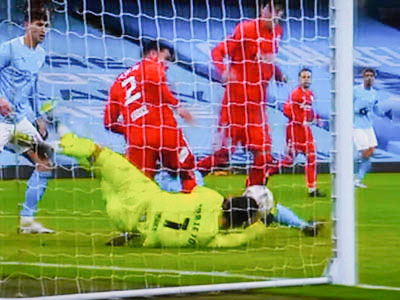 Silva is denied his hat-trick!
Foden scores number three
Steffen 6.5, Cancelo 7 (Harwood-Bellis 6.5) Walker 7, Dias 7 (Stones 7) Mendy 6.5: Rodrigo 7 (Fernandinho) Mahrez 7.5,
De Bruyne 8.5( Nmecha 7) Benardo Silva 8, Foden 8, Jesus 7 (Delap)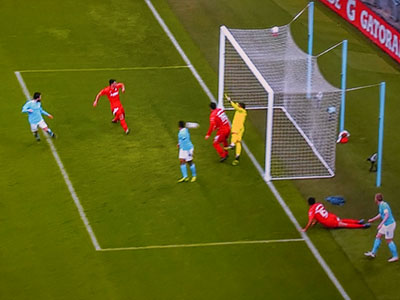 Man City 1 Brighton 0
Jan 13th 2021
City moved up to third place after an average display against a well organized Brighton side who had not the best of records against City. The visitors played well in the second half and Ederson actually had to make a save! The City goal was scored right at the end of the first half by Phil Foden assisted by De Bruyne - who else!
It was an excellent effort by Foden and he is City's leading scorer in all games with 8 goals.
City should have made it two nil in added time when De Bruyne was brought down by the keeper in the penalty area. However Sterling who had come on as a late sub for Foden shot over the bar. It is not the first time he has missed so it was disappointing that regular taker Kevin did not make it two nil. City had hit the bar on two occasions in the second half and a couple of good chances were missed so it should have been more than one nil.
Stones and Dias were kept quite busy and Ederson did not have to make any difficult saves as once more City kept a clean sheet - now more than any other premier League club and have conceded the fewest goals -13 .
Another question concerned the positional play of Jesus when he was brought on for Mahrez. He did not really play as a striker. We have to get that goal difference up and with some 'easy' games to come we should be scoring more goals.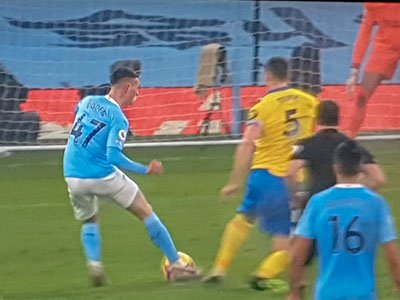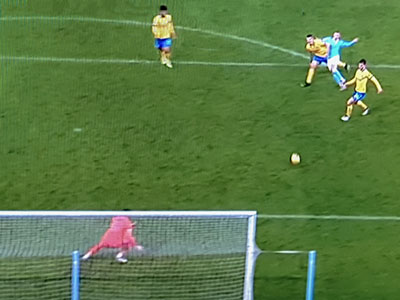 Phil Foden once more scores for City - with his right foot too!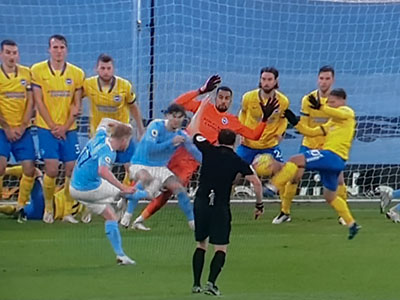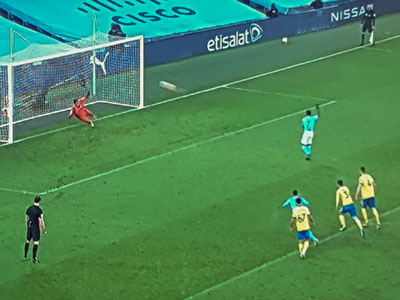 Sterling shoots over the bar from the spot
City got an indirect kick for a pass-back but Brighton managed to block Kevin's shot in the first half.
Ederson 7: Cancelo 7, Stones 7.5, Dias 7.5, Zinchenko 6.5: Rodrigo 7, Gundogan 7, Mahrez 6.5 (Jesus) , De Bruyne 7.5, Benardo 7, Foden 8 (Sterling)
Man City 4 Crystal Palace 0
January 17th 2021
At last we had goals goals and more goals!! City moved into second place with an excellent four nil win over Crystal Palace who have surprised us in the past. It was a special occasion for John Stones who scored his very first Premier League goal for City with a header thanks to a great pass from De Bruyne. Stones' form has been really good these last few months and he went on to score City's third goal with a shot following a corner. No guessing who man-of-the-match was!
Gundogan scored City's second goal with an excellent shot and finally with minutes to go Sterling got the fourth with a terrific free kick. At last he has scored! Ederson did not have a shot to save all match and yet again City kept a clean sheet. The partnership of Dias and Stones has conceded only one goal in the ten games they have played together.
In his cross for the header goal by Stones Kevin De Bruyne got his 100th assist for City and the sky blues have five consecutive wins in the league this season and are now unbeaten in 9 matches.
With the Villa game next on the list City could go top of the league for the first time this season and Aguero has hardly touched the ball!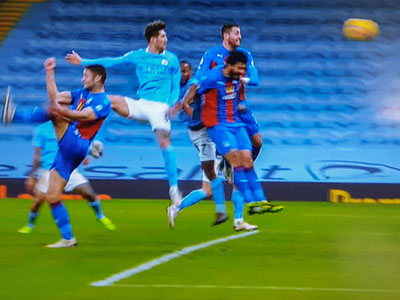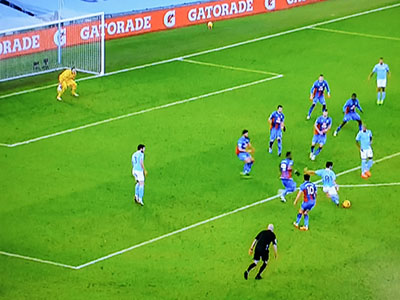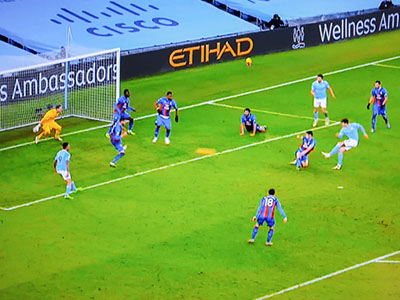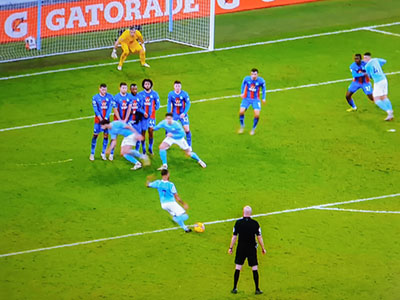 Stones heads in number one
Gundogan just about to net number two
John Stones scores number three
Sterling gets number four
Ederson 7: Walker 7, Stones 9, Dias 8, Zinchenko 7: Fernandinho 7.5, Gundogan 7.5 (Torres) De Bruyne 8.5 ( Cancelo) Benardo 7 (Foden) Sterling 7.5, Jesus 6.5
Man City 2 Aston Villa 0
January 20th 2021
So City went top of the league - at least for an hour or so - when they beat Villa in a really tough game. It was Villa's first game for a while - due to Covid problems and they defended well blocking many City shots ( 10 blocks ) and their keeper Martinez had to make some very good saves. At the other end they failed to make the best of the few chances they created and Ederson had to make only a few saves. Once again Stones and Dias helped City keep yet another clean sheet. That's 10 clean sheets in 18 games. Back in 1976/77 when Joe Corrigan was in goal they reached 10 clean sheets in fewer games (17).
When it looked like it was going to end in a goalless draw despite City's 20 odd shots Rodrigo came back from an offside position and Ming played the ball twice thus putting him onside. The ball ran to Benardo Silva who despite the pouring rain cracked the ball into the net with his left foot and City were ahead - at last. What a goal ! Villa protested and their manager Dean Smith got sent off for words with the ref.
Then just on full time Cash handled a header from Jesus near the goal and Gundogan made no mistake from the spot. It was Gundogan's 7th goal this season. He took the penalty as De Bruyne had gone off injured and also Walker had to go off in the first half. Let's hope they both will be back soon. Cancelo who had hit the bar with one effort had switched from left to right allowing Zinchenko to come on for Walker.
Foden had a good game once more and deserves much more match time. Considering the terrible weather conditions there were 39 shots in the game and it was a really good display by City who fought to the end and Pep can now celebrate his 50th birthday.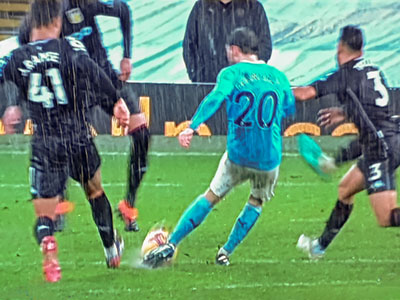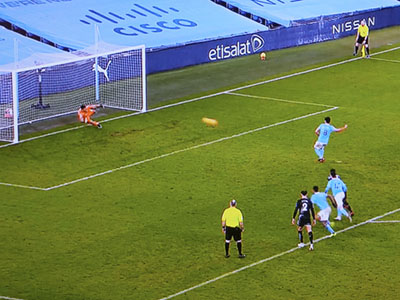 The vital moment as Silva shoots
Gundogan sends the keeper the wrong way from the spot
Ederson 7.5, Walker 7 (Zinchenko 7) Stones 7, Dias 7, Cancelo 7.5, Rodrigo 7.5, Gundogan 7.5, De Bruyne 7 (Jesus )
Foden 7.5, Benardo 7.5, Sterling 6.5 (Mahrez)
Cheltenham T 1 Man City 3
January 23rd 2021 FA Cup R4
Well - that was a near thing - the score might have been 3-1 but after 80 minutes City were a goal down and it looked like being the greatest FA Cup shock ever! So thank goodness Phil Foden was playing. He was the only player remaining from the Villa win and with De Bruyne out of action for a month or so Foden is going to be so important to City.
City had conceded a goal on 59 minutes when another long throw from Tozer ended with May scoring from close range. Ben Tozer had earlier made an amazing goal-line save with a header from a Mendy shot. Cheltenham battled well to keep City at bay and just when a surprise result was on the cards Pep made some key changes bringing on Gundogan, Cancelo and Dias. It was Cancelo's excellent pass that Foden controlled well and shot past good keeper Griffiths to level the scores.Phil Foden had been excellent all game and fully deserved his 9th goal of the season. His ball control and work rate are of the highest level.
Three minutes later an excellent pass from Fernandinho found Jesus and at last he scored after missing a good chance earlier. This would have boosted his confidence. So City were ahead and they notched a third in the final moments - a Gundogan pass finding Torres scoring number three. That was a bonus and a blow for the home side as Cheltenham had played so well and did their best to embarrass the sky blues 72 places above them!.
So now City will be off to Wales to play Swansea in the next round. Alas I won't be there - pity as the last away game I went to was at the Liberty Stadium in Swansea in May 2016 - pics
HERE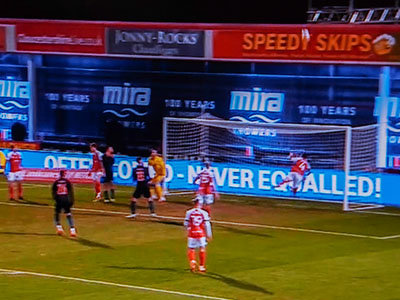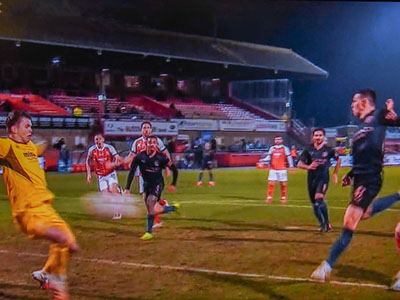 Tozer heads a Mendy shot away
Phil Foden scores to save the day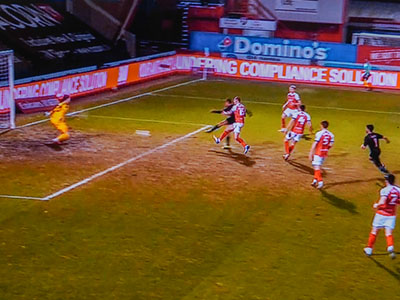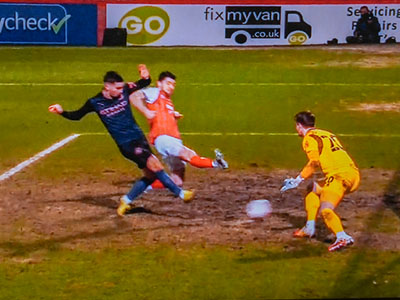 Torres completes the scoring
Steffen 6.5: Harwood-Bellis 6.5(Dias) Garcia 6, Laporte 6, Mendy 5.6 (Cancelo) Fernandiho 6.5, Doyle 6.5 (Gundogan ),
Foden 8.5, Mahrez 6, Torres 6.5, Jesus 6.5
West Brom A 0 Man City 5
January 27th 2021
Well City go to top of the Premier League for a day after a terrific attacking display at the Hawthorns. Without De Bruyne and Aguero we notched five goals and it was City's 11th straight win. We saw great performances from Cancelo and Gundogan. Cancelo although starting at 'right back' plays all over the pitch making it difficult for opponents to mark him. Foden on his 100th game for City ( 24 goals and 27 assists ) almost scored early on but it was not long before Gundogan took a good pass from Cancelo,beat a defender and smashed the ball home for number one. The second goal was a little controversial as the flag was up for offside at the start of the movement but dear old VAR came to City's rescue and Cancelo's casual shot from the edge of the penalty area counted to make it two nil.
Ten minutes later another splendid effort by Gundogan made it three nil and just before half time Mahrez cut in and thumped the ball into the net to make it four. What a great first half display by City.
Ederson rarely had to make a save and once more City finished with a clean sheet Sterling making it five with a tap in from a Mahrez pass.
What a weird season - City are the ninth different team to end the day top of the league.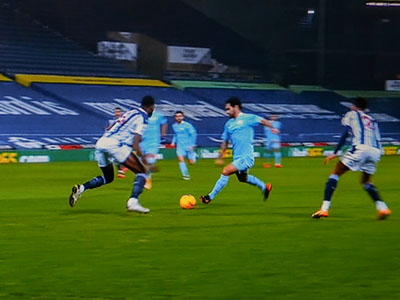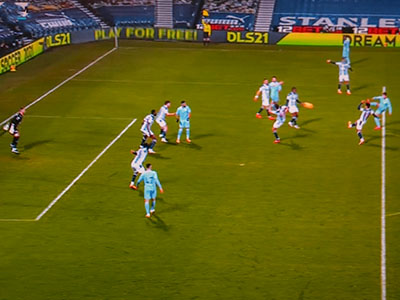 Gundogan is about to net number one
Cancelo scored but the flag is up!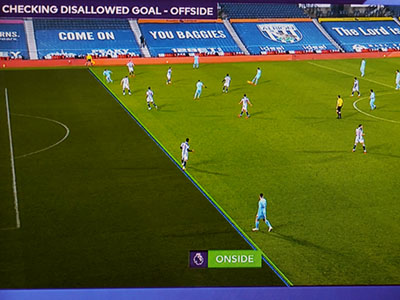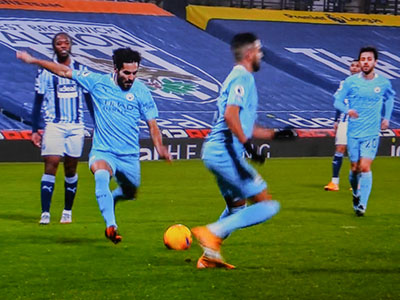 VAR says it is not offside so the goal stands - hurrah!
Gundogan gets his second and City's third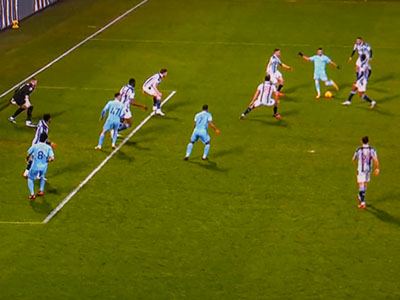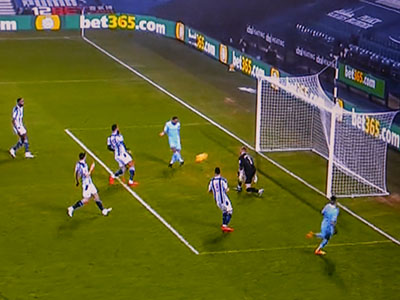 Sterling has an easy task to make it five nil
Ederson 7: Cancelo 8.5, Stones 7, Dias 7, Zinchenko 7.5: Rodri 7, Gundogan 8.5 ( Laporte) Foden 7.5 (Torres) Sterling 7.5, Benardo 7.5 (Jesus) Mahrez 7.5
Man City 1 Sheff U 0
January 30th 2021
Certainly not a memorable game but three points and continuation at the top of the Premier league. It was City's 12th successive win and their 5th clean sheet in a row. Actually it was City's 20th clean sheet so far this season in all competitions.
City had made five changes from the win at West Brom - Jesus, Torres, Laporte, Walker and Fernandinho coming in. With so many games being played at the moment it is good that Pep can often rest key players and still get positive results. City did not have as many good chances today as they did against West Brom but Sheffield United battled well despite their bottom position and City had to do well in their positional interplay and ability to win the ball back.
City took an early lead when a defensive lapse led to Torres beating two defenders on the goal line and crossing to the unmarked Jesus who had the easy task of scoring from close range. At last Jesus had broken his goal drought. The sky blues won all their 9 games in January - the most they have won in a month - ever!
As usual Fernandinho covered lots of space in front of the back four where once again Dias was a major player in keeping a clean sheet - Ederson only having to make one save. Foden had only a limited impact on the game as he was stuck out on the left wing for most of the match and he suffered a blow to the head in the second half but did not have to go off after treatment. Laporte also had to get some treatment for a head clash.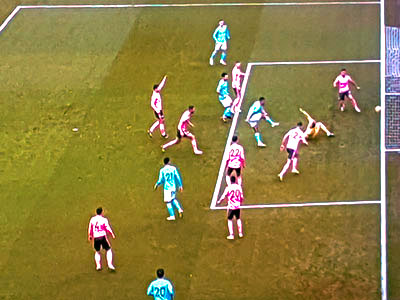 Gabriel Jesus scores after just 9 minutes - his first since against Liverpool in November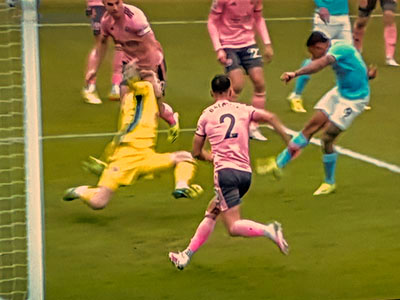 Ederson 7: Walker 6.5, Dias 8, Laporte 7, Zinchenko 7.5: Fernandinho 7.5, Gundogan 7.5, Foden 7, Torres 7 (Rodri) , Benardo Silva 7, Jesus 7.5
Burnley 0 Man City 2
February 3rd 2021
Yet another one-sided game and yet another clean sheet as City easily beat Burnley to remain top of the league with a game in hand. City's winning streak has now reached 13 consecutive games in all competitions.
As expected City made five changes with Cancelo, Stones ,Mahrez,Sterling and Rodri coming back.
City took an early lead when Nick Pope did not deal well with Benardo Silva's shot and Jesus headed the ball home. Before half time Sterling scored from an excellent cross by Gundogan. It was his 75th for City.
Ederson did not have a shot to save as Burnley rarely got any kind of shot in.
City should have had more goals as they missed 2 good chances and should have had a penalty when Jesus was brought down. They also had a goal disallowed for offside when Mahrez's knee was in the wrong position for VAR!
Despite Burnley's efforts City were always in control but perhaps not quite at their clinical best in their finishing. City continued with three at the back the fullbacks often moving into midfield - Cancelo in particular.
Gundogan is really playing well and seems to have raised his game in the absence of De Bruyne.
So now it's Liverpool next for the slaughter!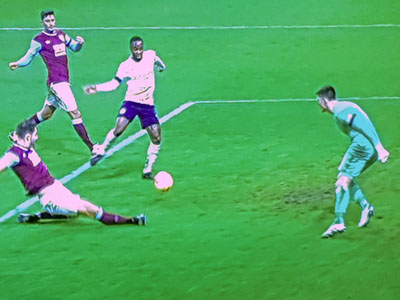 Sterling is about to crack in number two
Ederson 7: Cancelo 8 (Zinchenko), Stones 7, Dias 7.5, Laporte 7: Rodri 7, Gundogan 8, Benardo 7.5, Sterling 7,
Mahrez 7, Jesus 7
Liverpool 1 Man City 4
February 7th 2021
First of all I must apologize to the driver of a Sainsbury Delivery vehicle who asked me what the score would be shortly before kick-off. I said it would be 5-1 to City and it would have been had Gundogan not missed the penalty!
It was an unbelievable result helped by two amazing errors by the Liverpool keeper.
This was City's 14th consecutive win in all competitions equaling the record held by Preston (1892) and Arsenal (1987). Considering City have been without Aguero and De Bruyne for a while now this is an amazing achievement and a win at Swansea in the Cup will make them record holders.
The first half was a little disappointing and the tactical battle ended with Sterling being brought down in the area on 36 minutes. Gundogan who had been injured early on took the penalty but blasted the ball well over the bar. I wondered whether his injury had affected the miss. It was yet another penalty miss against Liverpool - Mahrez (2018) and De Bruyne(2020) being the other players. City are missing too many penalties now -maybe we should recall Francis Lee!
However Gundogan got his revenge in the second half when Alisson only parried a good shot from Foden and Gundogan was on hand to take the loose ball from the save and bang it into the net to give City the lead.
Liverpool leveled the scores on 63 minutes when a very rare mistake by Dias let in Salah when he failed to control a long pass and then he pulled back Salah in the area. Salah scored from the spot. It was the first goal Liverpool had scored at Anfield this year!
Ten minutes later a sequence of keeper errors led to Foden taking the ball to the line and passing to Gundogan who made no mistake to put City ahead. Three minutes later Alisson 'passed' to Benardo Silva who crossed it to Sterling who headed in from very close range. It was his 100th goal under Pep ( the others - Messi 211 ,Aguero 120). 3-1 to City and game over - well not quite as Foden who had been so good all game in different positions took a pass from Jesus ( on for Mahrez) and blasted it past the keeper for number four - amazing stuff!
Who could have predicted at half time that it was going to be 4-1. Liverpool are now ten points behind City and we also have a game in hand. It was City's first win at Anfield since 2003. City are also 5 points clear of a team from Salford with a game in hand!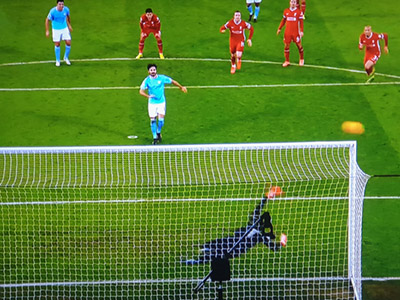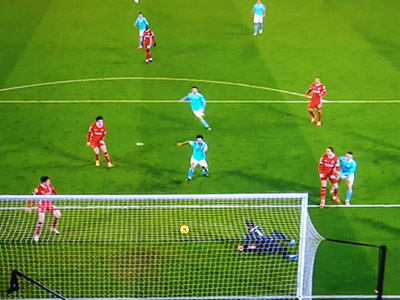 Gundogan shoots over from the spot
Alisson saves from Foden but the ball runs to.......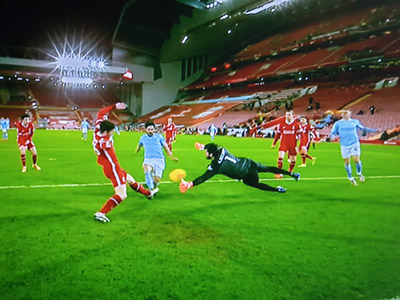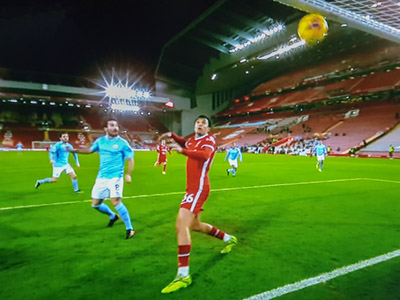 ....Gundogan who makes up for his penalty miss by scoring
Gundogan puts City ahead taking a pass from Foden and shooting past the keeper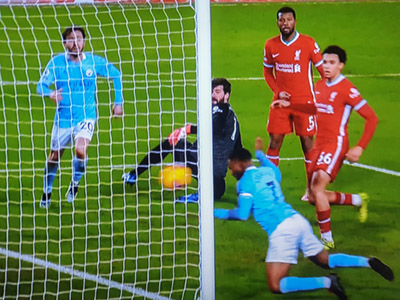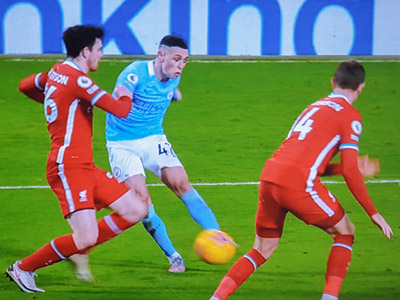 Benardo clips the ball over the keeper to Jesus who scores number three
Foden is about to crack in number four
Ederson 7: Cancelo 7, Stones 7.5, Dias 6.5, Zinchenko 7: Rodri 7, Gundogan 8, Mahrez 6,5 (Jesus) Sterling 8,
Benardo 7.5, Foden 9
Swansea C 1 Man City 3
February 10th 2021 FA Cup R5
Though City made 7 changes from the Liverpool game they had an easy win against Swansea in the FA Cup.
City set a new record with 15 successive wins in all competitions with a goal tally of 40 - 5 and beating the previous record held by Preston and Arsenal. Though didn't we get 20 in a row a few years ago!
City had a good chance on 20 minutes but Swansea keeper Woodman made a good save from Torres. Then on the half hour Walker took a strong 'pass/shot' from well outside the penalty area and the pass/shot ran past City forwards and the keeper and ended up in the net! It was his first of the season.
Just after half time Sterling made it two nil taking a good pass from Rodrigo and cracking the ball into the net. It was his 12th of the season. A few minutes later after Swansea lost possession Benardo Silva headed across to Jesus and he brilliantly turned beating a defender and banged the ball home for number three.
We then actually conceded a goal with 20 minutes to go but by then the match was won and City go through to round 6.
Although I didn't see Benardo make a pass with his right foot we did see Mendy sprint a few times though he will have to train more to beat Walkers speed!
Good to see Tommy Doyle get some time on the pitch and also Gomes ( I think it was his first game for 3 years).
The only concern was the injury to Rodri. Lets hope he and Dias will be fit for the Spurs game.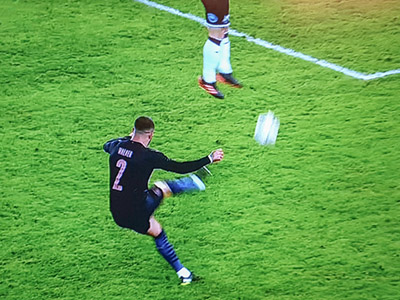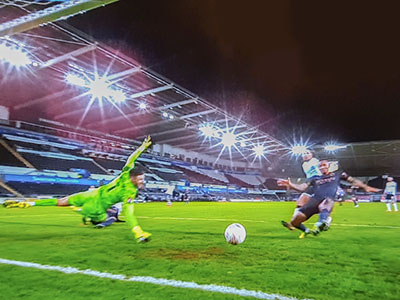 The miracle from Walker beats everybody and opens the scoring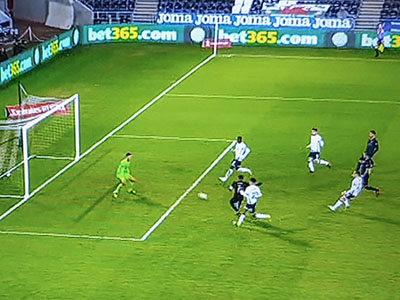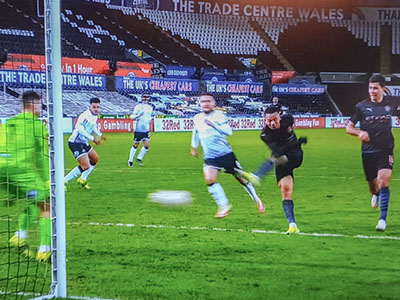 Sterling makes it two nil
Jesus gets the best of the goals with a cracker
Steffen 6.5: Walker 7.5, Garcia 6.5, Laporte 7, Mendy 7: Rodrigo 7.5 (Gomes) Gundogan 7.5 (Doyle) Benardo 7 (Foden) Sterling 7.5 (Mahrez) Torres 7, Jesus 7.5
Man City 3 Tottenham H 0
February 13th 2021
So that's 16 wins on the run now with City's easy win against Spurs. It puts them 7 points ahead of Leicester with a game in hand. It might have been different had Kane scored with a free kick early in the first half but luckily for City the ball hit the bar.
However on 20 minutes Gundogan won a penalty when he was brought down near the goal line and there was much speculation as to who was going to take the kick. Would it be Ederson who had come up to the half way line - no it was Rodrigo who just about beat the keeper for his first goal of the season. City had missed 8 of the last 17 penalties and Rodrigo was the 7th penalty taker. City had several more chances including an effort by Jesus that hit the bar.
Anyway in the second half a great team move ended with star player Gundogan driving past the keeper for number two.
Number three was also notched by Gundogan who took advantage of a great very long kick by Ederson at the other end. It was Gundogan's 11th goal of the season. However the only concern was that Gundogan had to go off with an injury with twenty minutes to go.
It was yet another excellent team display with a high tight defence and brilliant positional play.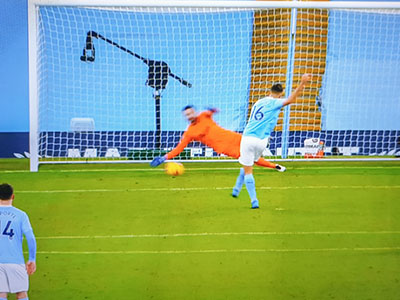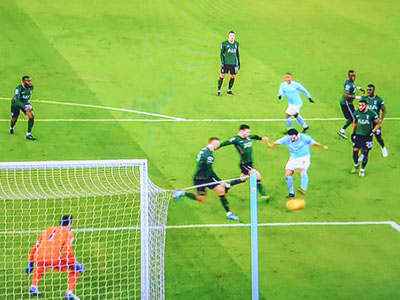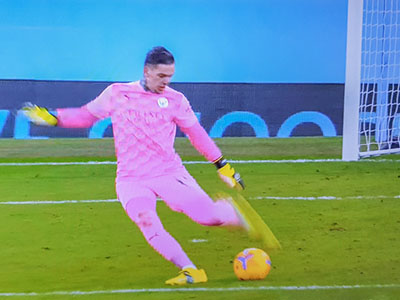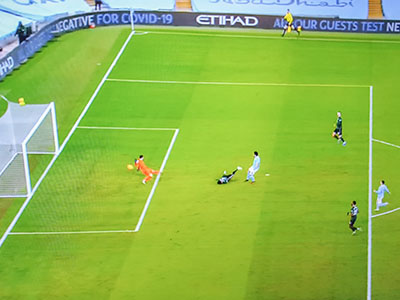 Rodrigo scores from the spot
Gundogan is about to score number two
Ederson's pass is on its way to Gundogan
This was Ederson's third assist for City
Gundogan shows great skill to notch number three
Ederson 8: Cancelo 7, Stones 7.5, Laporte 7, Zinchenko 7.5: Rodrigo 7.5, Gundogan 8 (Torres) , Sterling 7.5, Benardo 7.5, Foden 7, Jesus 7 (Mahrez)
Everton 1 Man City 3
February 17th 2021
So that is 17 wins in a row for City as they go 10 points ahead of United in the race for the league title. An excellent team effort highlighted by a magnificent goal by Mahrez who has not been on the best of form recently. Without the injured Gundogan who had been the scoring ace recently it needed someone to step up and do the business! The slight downside was we actually conceded a goal! Who on earth gave Everton permission to score! After Foden had given City the lead with a deflected shot we were just slightly worried when Everton leveled the scores. However City maintained their wonderful record with the fantastic shot from Mahrez and then the ever working Benardo Silva set the seal shooting home after an excellent City move involving several players.
It was good to see De Bruyne back on the pitch for the final 20 minutes but no Aguero yet. Maybe Pep is saving him for the Arsenal game. Once again City played with three at the back Cancelo causing lots of problems for the opposition in midfield.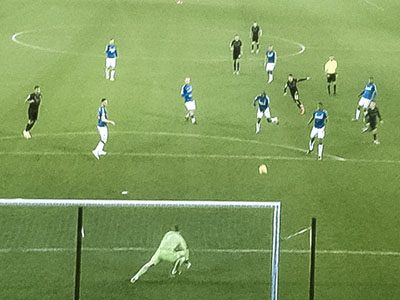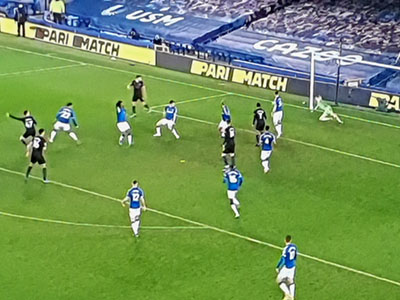 Pickford is about to make a good save early on from Cancelo
32 minutes and Foden scores - via a defender
Mahrez takes a pass from Benardo Silva and cracks it past Pickford to give City the lead - magnificent effort
An interchange of passes gives Benardo Silva the chance to shoot and its 3-1 to City - game over
Ederson 7: Walker 7, Dias 7, Laporte 6.5, Cancelo 7.5: Rodrigo 7.5 ( Fernandinho), Benardo 8, Foden 7, Mahrez 8.5, Sterling 6.5 (De Bruyne) Jesus 6.5,
Arsenal 0 Man City 1
February 21st 2021
City extended their winning run with a not so memorable win against Arsenal. It was their 13th Premier League win on the trot but not one that will remain in the memory for long. 18 wins on a row in all competitions is a wonderful record but we cannot expect five nil wins all the time! Though when City took the lead inside two minutes we thought it might be a big win!
An excellent long pass by Dias to Mahrez started the move that ended with Sterling heading home a cross from Mahrez. despite being surrounded by defenders.
City made five changes from the Everton win and it was great to see De Bruyne start after his long absence with injury.
Alas he was not at his very best some of his passes actually failing to reach their target! Fernandinho was back too and he did well on his return in front of Stones and Dias who were really brilliant and they kept Arsenal at bay Ederson being rarely troubled. City once again played without a 'centre forward' though Jesus came on late in the game. Aguero remained on the bench!
City were well in charge and with a bit of luck might have scored a couple more but it was our 6th one nil win of the season so far and we remain 10 points clear at the top of the league.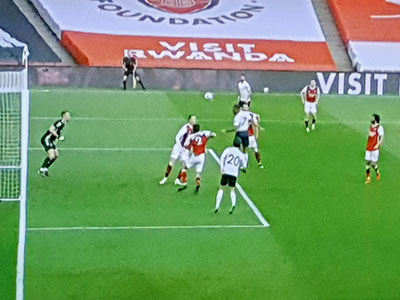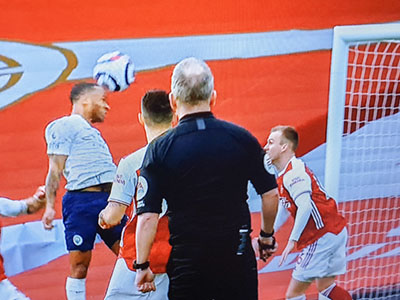 The only goal of the game scored by Sterling.
Ederson 7: Cancelo 7, Stones 8.5, Dias 8, Zinchenko 7: Fernandinho 7.5, Benardo 7, Gundogan 6.5, De Bruyne 7 (Jesus), Mahrez 7.5, Sterling 7.5
Borussia MG 0 Man City 2
February 24th 2021 Champions League
Yet another good team display by City made it 19 wins in a row as they completely overwhelmed Borussia in the first leg of their Champions League game played in Budapest. If City had been more clinical it would have been more. City as expected made five changes from the Arsenal win leaving them with one hell of a bench!
It took City almost half an hour to get off the mark and it was a rare header by Benardo Silva doing the business. A great cross by Cancelo playing mainly in midfield was the assist and it was a deserved lead as the 'home' side rarely got into our penalty area. Cancelo almost scored himself - a drive that just went over the bar. He did help in the second goal too - his cross to Silva was headed across goal and Jesus managed to get the ball into the net from close range. Sterling missed some good opportunities as did Jesus so it was great to see Aguero come on at the very end for a few minutes. Will he start against West Ham I wonder!
Ederson had hardly anything to do all game his only save coming in the final seconds of the match. Foden and Silva worked hard all over the pitch but we do need to score more goals.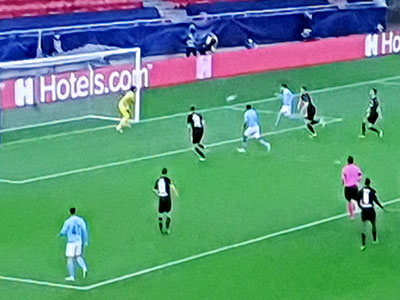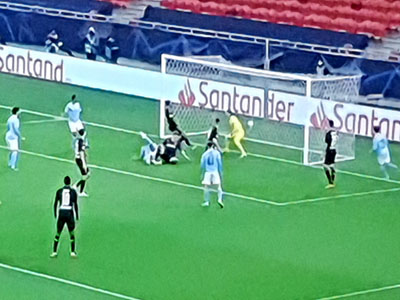 Benardo Silva heads in number one
Jesus slots in number two
Ederson 7, Walker 7, Dias 7.5, Laporte 7, Cancelo 8.5: Rodrigo 7, Gundogan 7: Foden 7 ( Torres) , Benardo 7.5,
Sterling 6.5 (Mahrez), Jesus 7 (Aguero)
Man City 2 West Ham U 1
February 27th 2021
City had a tough win against 4th placed West Ham. It was City's 20th win on the run in all competitions but they were not at their very best and actually conceded a goal. The forwards were too shot shy and it was up to our central defenders to get the goals.
City made 7 changes from the Champions League win and there was yet another strong bench! Great to see Aguero start. However in the first half City had most possession but many of their final passes failed to reach a colleague. The pace was often too slow allowing West Ham to organize their defence and their keeper hardly had a shot to save. Fortunately following a corner a great pass from De Bruyne - actually perhaps his only good one all game - found the head of Dias who had stayed forward and City went one up.
There was disaster just before half time when West Ham scored from close range - it was the first goal City had conceded at home since November. It was a real battle with Aguero and De Bruyne being well off form. Luckily for City the lads managed to get that vital second goal on 78 minutes when Mahrez passed to Stones who shot past the keeper to make it yet another win and now the sky blues are unbeaten for 27 games.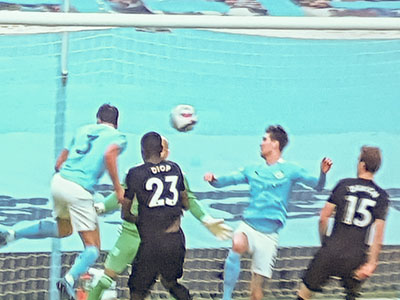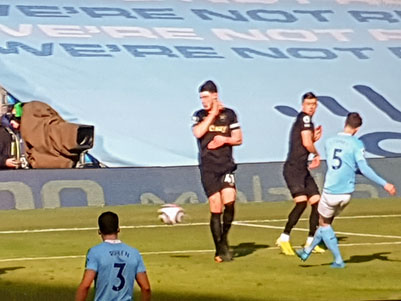 A cross from De Bruyne finds the head of Dias who scores
Ederson 6.5: Walker 6.5, Stones 8, Dias 8, Zinchenko 6.5: Fernandinho 7, Gundogan 7 ( Rodrigo) Mahrez 7, De Bruyne 6.5, Torres 6.5 ( Foden) Aguero 6.5 (Jesus)
Man City 4 Wolves 1
March 2nd 2021
So that was City's 21st consecutive win scoring 55 goals and only conceding 8. It was yet another overpowering display by the sky blues though had there been a full stadium those fans who had left early would have missed two City goals!
Pep again made six changes as expected - so far 79 this season - maybe yet another record for City! With Ake back to training it looks like City have got one hell of a squad!
With the Wolves keeper making several saves it took City 15 minutes to get off the mark and it was an own goal by Dendonker who could do little to prevent it as a great cross from Mahrez had Sterling waiting to score.
Wolves rarely got into City's half as they defended in depth. City did score again before half time but VAR said that Laporte was offside - not much in it!
We then had a slight problem when Wolves actually scored! A free kick was headed in by Coady on 61 minutes - probably the first time they had touched the ball in our penalty area! City then woke up again and immediately put pressure on the Wolves goal. It was Jesus who put City ahead 20 minutes later and on 90 minutes Mahrez shot home to make it 3-1 and with almost the last kick of the game Jesus notched his second and City's fourth - It was Jesus's 11th of the season. VAR was used to check whether Walker was offside when he dashed down the wing in the build-up.
Cancelo did not wander around the pitch as much this evening and De Bruyne had a better game than his last and but he needs to get even better this weekend against that team from Salford .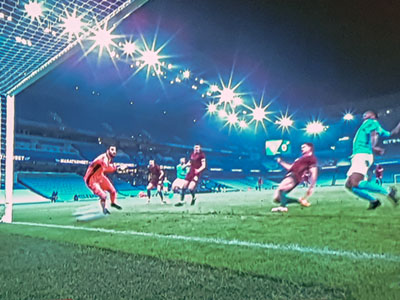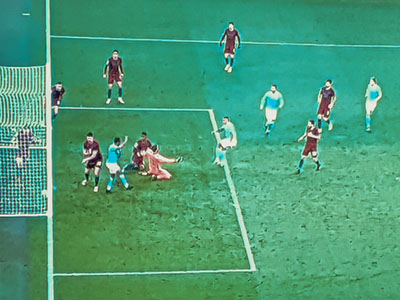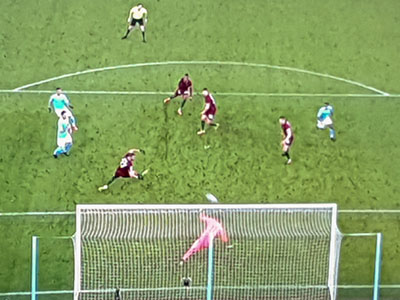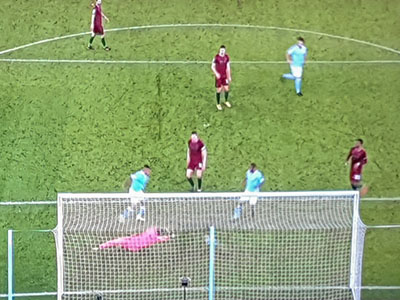 Own goal prevents Sterling from scoring as City go ahead
Jesus puts City ahead again
Mahrez whips in number three
Hurrah -VAR says yes to Jesus's second and City's 4th
Ederson 6.5: Walker 7.5, Dias 7, Laporte 7, Cancelo 7: Rodrigo7, De Bruyne 7, B Silva 7 (Gundogan), Mahrez 8, Jesus 7.5, Sterling 7
Man City 0 Man United 2
March 7th 2021
It was disaster for City in the first minute when a stupid foul by Jesus gave United the gift of a penalty which was converted to give the visitors the lead despite Ederson managing to get a hand to the ball. Jesus had lost the ball in midfield and in trying to retrieve the ball he made a clumsy tackle on Martial despite the fact that there were several City defenders on hand to do the business. It was not a dangerous situation so his action was stupid and City had never conceded such a faster goal in the Etihad.
It was one of a hell of a blow for City and with United deploying a high defence line despite City having lots of possession they failed to give Henderson much to do. Cancelo was well off form for once and with Sterling and Jesus failing to take some chances it just was not City's day. De Bruyne has yet to find his best form since his return from injury and when Shaw scored a second goal early in the second half it really would have been a miracle had City come back to win!
So the result ended City's winning streak but they do remain 11 points ahead in the league with ten games remaining. Shame that it was United that had ended a 28 game run without defeat in all competitions,
The finishing has got to improve if City are still to win any of those trophies!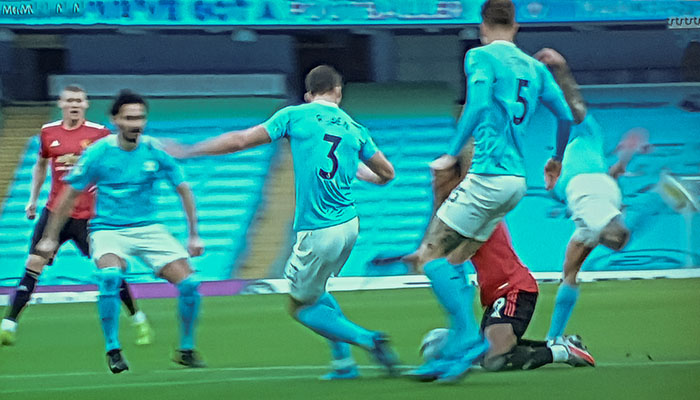 Ederson 6.5: Cancelo 6 (Walker), Stones 7, Dias 6, Zinchenko 6.5: Rodrigo 6.5, Gundogan 6.5, De Bruyne 6, Mahrez 6, Sterling 5, Jesus 5 (Foden)
I thought I would brighten the day with a few pics from another 'derby' day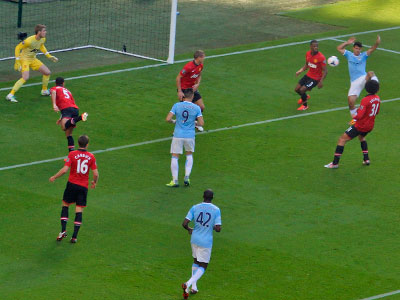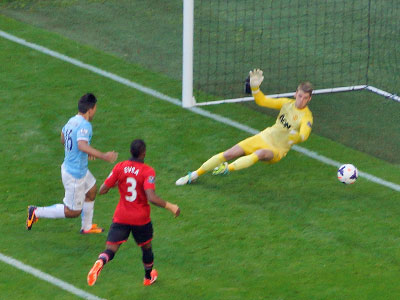 Man City 4 Man United 1 Sep 2013
Aguero scores the first goal on 15 minutes
Nasri gets number four - lots more
HERE
Rest of season games -
HERE
- games4