Lockdown Games 3
It looks as though we are going to be unable to attend games for some time - hopefully by 2030 !!-
so we are stuck with lockdown games!
Chelsea 1 Man City 3
Jan 3rd 2021
A terrific first half display by City put paid to any hopes Chelsea had of winning. Early Chelsea pressure and the handling of a back pass by keeper Steffen gave the defence some early work but then a great goal by Gundogan on 18 minutes started the City onslaught. Three minutes later Foden who had assisted Gundogan notched a great goal himself flicking a pass from De Bruyne past keeper Mendy into the net. Suddenly it was two nil and it was almost game over! On 34 minutes a pass sent Sterling away with only the keeper to beat but he delayed and his eventual shot hit the bar. Fortunately secret centre forward De Bruyne banged the rebound home and despite several other good chances not being taken it was almost game over at half time.
City took it easy in the second half and the defence enabled Steffen to have a quiet game with hardly a save to make. He was deputizing for Ederson who like several other City players and staff are suffering from the virus. However despite the changes City made the first half display was ruthless and so reminiscent of wonder displays of a few years ago.
Chelsea did manage a very late late consolation goal spoiling City's recent defensive record - however we still have only conceded 13 goals - best at the moment in the Premier League and we move up to 5th.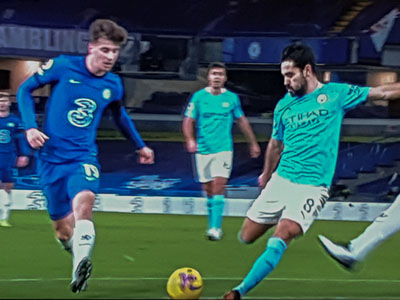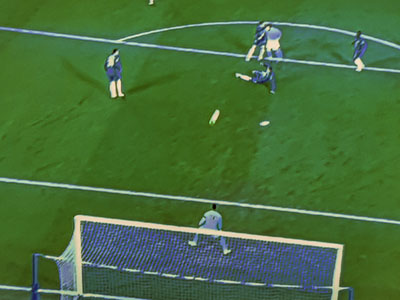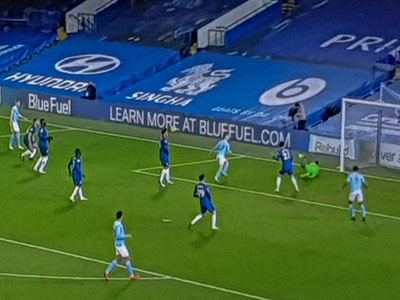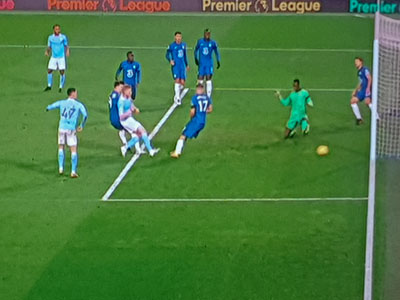 The key moment in the first half when Gundogan scored
Foden makes it two nil a few minutes later
Kevan De Bruyne scores from close range
Steffen 6: Cancelo 8, Stone 7.5, Dias 7.5, Zinchenko 7: Rodri 7, Gundogan 8.5 ( Fernandinho) Benardo Silva 7.5, Sterling 7, Foden 8 (Mahrez), De Bruyne 8.5 (Aguero)
Colin Bell has passed away at the age of 74 - such a sad loss - he was one of City's greatest players.
I have put some images on my 2020-2021 page
HERE
Man U 0 Man City 2
January 6th Carabao Cup Semi-Final
City have reached their 4th consecutive League Cup Final and having being at Wembley for the last three with the present lockdown I cannot see any fans being at the meeting with Spurs. This was a very good display by City against United and they fully deserved victory. We had two goals disallowed in the first half for offside and De Bruyne hit the post with a great effort while United could only test stand-in keeper Steffen once.
Early in the second half it was a City player who had not scored for 1,162 days doing the business and it was not his head or his feet but John Stones' thigh that found the net. He has been playing really well lately but this was a massive bonus for us. It was a very open game and in fact even the first 15 minutes was a lot better than the poor goalless draw between the two sides last month.
City needed that second goal to put the game to bed and following a corner and a poor defensive header Fernandinho took a shot from outside the area and it caught the keeper napping and City had the game won on 83 minutes. He was the 16th different City player to score this season - a record
Once again the defence kept a clean sheet and kept the United attack at bay. This victory was a wonderful dedication to the memory of Colin Bell who had died the day before the game.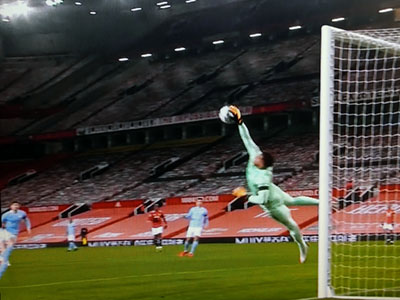 Steffen saves well from Fernandes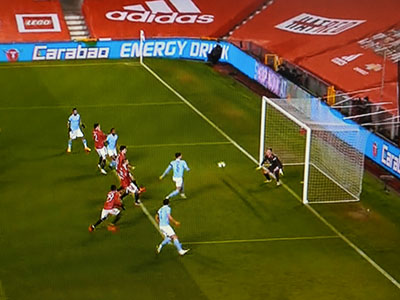 John Stones scores on 50 minutes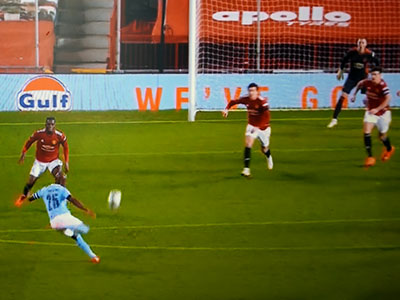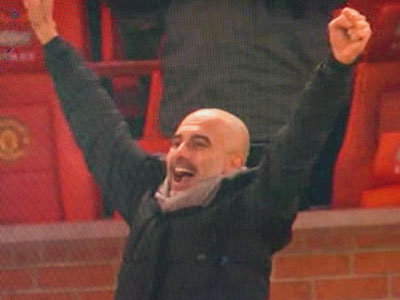 Fernandinho blasts the ball into the net with 7 minutes to go
Steffen 7: Cancelo 7, Stones 7.5, Dias 8, Zinchenko 6.5: Fernandinho 7.5, Gundogan 7, Sterling 7, De Bruyne 8, Foden 7.5, Mahrez 7 (Rodri)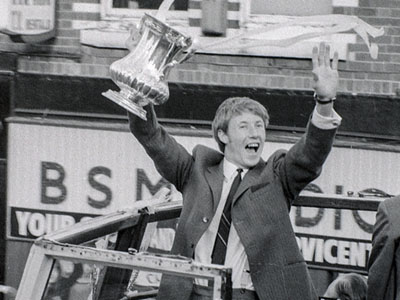 more images of Colin Bell -
HERE
Man City 3 Birmingham C 0
January10th 2021 FA Cup R3
Despite City making 5 changes from the United win the sky blues easily beat Birmingham City to progress through to round 4. A great strike by Benardo Silva opened the score after just 8 minutes. It was a wonder half volley effort and he made it two nil 7 minutes later with a simple goal following a very good passing movement. They were his first goals of the season so that means City have had 17 different scorers this season!
Foden put the game to bed on the half hour thanks to good work by Mahrez and enabled Pep to bring on three subs at half time and another two later in the match. Interesting to see Pep's tactics with Cancelo playing in midfield often and Jesus not always playing at centre forward.
Steffen rarely had to make a save and City were able to take it easy in the second half and they could have increased the score had they taken some further chances that their excellent play produced. Having a good lead at half time Pep gave some youngsters some time on the pitch - Nmecha and Harwood -Bellis had 45 minutes to show off their skills.
There was no sign of Aguero and we learnt that he had come into contact with someone who had Covid-19 so he has had to isolate.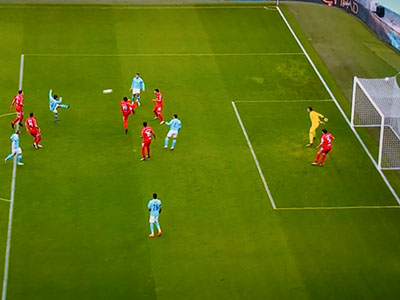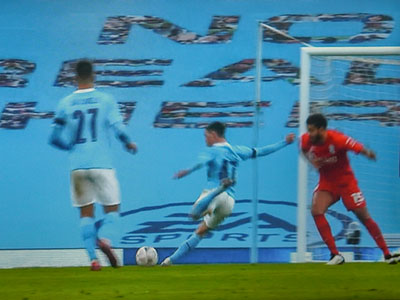 Benardo half volleys in number one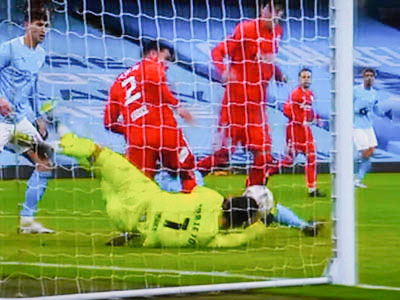 Silva is denied his hat-trick!
Foden scores number three
Steffen 6.5, Cancelo 7 (Harwood-Bellis 6.5) Walker 7, Dias 7 (Stones 7) Mendy 6.5: Rodrigo 7 (Fernandinho) Mahrez 7.5,
De Bruyne 8.5( Nmecha 7) Benardo Silva 8, Foden 8, Jesus 7 (Delap)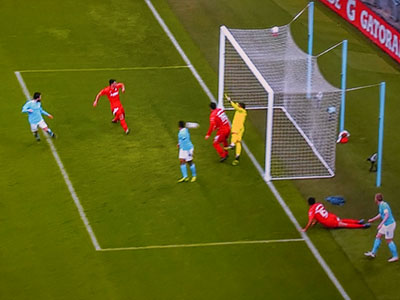 Man City 1 Brighton 0
Jan 13th 2021
City moved up to third place after an average display against a well organized Brighton side who had not the best of records against City. The visitors played well in the second half and Ederson actually had to make a save! The City goal was scored right at the end of the first half by Phil Foden assisted by De Bruyne - who else!
It was an excellent effort by Foden and he is City's leading scorer in all games with 8 goals.
City should have made it two nil in added time when De Bruyne was brought down by the keeper in the penalty area. However Sterling who had come on as a late sub for Foden shot over the bar. It is not the first time he has missed so it was disappointing that regular taker Kevin did not make it two nil. City had hit the bar on two occasions in the second half and a couple of good chances were missed so it should have been more than one nil.
Stones and Dias were kept quite busy and Ederson did not have to make any difficult saves as once more City kept a clean sheet - now more than any other premier League club and have conceded the fewest goals -13 .
Another question concerned the positional play of Jesus when he was brought on for Mahrez. He did not really play as a striker. We have to get that goal difference up and with some 'easy' games to come we should be scoring more goals.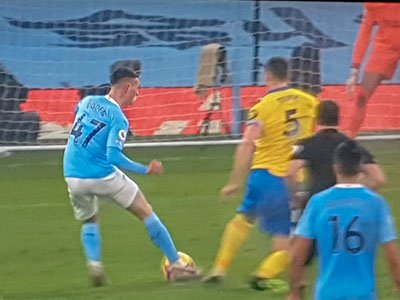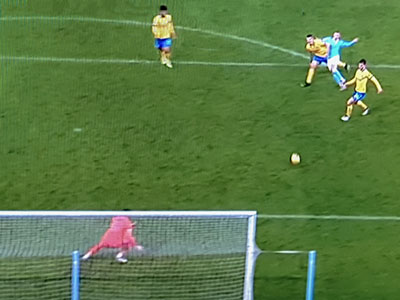 Phil Foden once more scores for City - with his right foot too!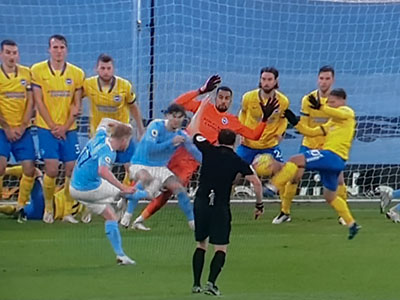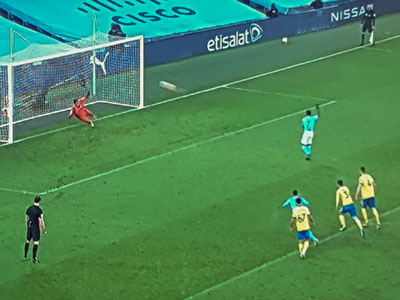 Sterling shoots over the bar from the spot
City got an indirect kick for a pass-back but Brighton managed to block Kevin's shot in the first half.
Ederson 7: Cancelo 7, Stones 7.5, Dias 7.5, Zinchenko 6.5: Rodrigo 7, Gundogan 7, Mahrez 6.5 (Jesus) , De Bruyne 7.5, Benardo 7, Foden 8 (Sterling)