It looks as though we are going to be unable to attend games for some time - hopefully in the new year so we are stuck with lockdown games!
Wolves 1 Man City 3
Sept 21st 2020
City started their campaign with a very good away win at Wolves. With so many regular first team players absent for various reasons it was an excellent performance. The first half display was top rate with both De Bruyne and Foden playing well. A great pass from Foden put De Bruyne through and he was brought down in the penalty area. Now the new penalty taker he cracked the ball into the net to give City the lead. 12 minutes later a great move ended with Kevin giving Foden a good chance which he took to make it two nil. Wolves came back in the second half as City tired and they missed several good chances before they scored. Mendy was outpaced several times and Stones had problems however City managed to hang on to their lead until the final seconds when Jesus made it three nil. Ake made his debut for City and did not look out of place. Torres too made his debut late in the game coming on as sub for Sterling. He was the only substitution and obviously Pep is keeping many of the others for the Carabao Cup game
Ederson 7: Walker 7.5, Stones 6.5, Ake 7, Mandy 6: Rodri 7.5, Fernandinho 7.5, De Bruyne 8.5, Foden 8, Sterling 7( Torres) Jesus 7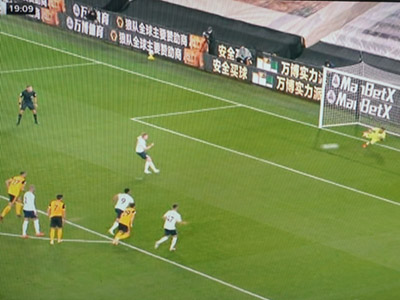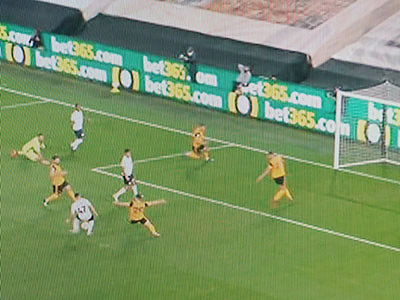 De Bruyne scores from the spot after 20 minutes
Foden is about to notch number two on 32 minutes
Jesus makes it three on 95 minutes
Man City 2 Bournemouth 1
Sept 24th Carabao Cup R3
A much changed City side kept up their good record against Bournemouth by winning two one at the Etihad. The highlight was the debut of Delap who scored a great goal following a good pass from Phil Foden. The visitors managed to equalize and just when we were thinking of penalties Mahrez hit the post with a good effort and Foden following up hit the rebound into the goal to give us a 4th round game at Burnley.
There was also a debut for keeper Steffen who made one excellent Ederson type tackle but the bad news was the injury to Bernabe and a late injury to substitute De Bruyne. Tommy Doyle did well in mid-field but Torres did not shine too much.
I wonder when Liam Delap is a regular will he be taking throw-ins in the opponents last third!!!!!
Steffen 7: Walker 7, Harwood-Bellis 6.5, Garcia 6.5, Bernabe 5 (Mendy) : Doyle 7.5 (Sterling) Rodrigo 7.5 ( De Bruyne) Foden 8, Mahrez 6.5, Delap 7.5, Torres 6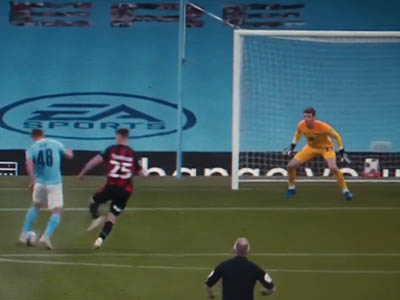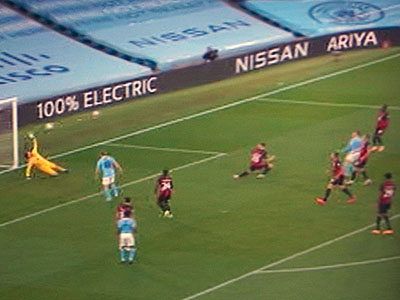 17 year old Liam Delap is about to score his debut goal on his senior debut
Foden scoring the wining goal on 75 minutes
Man City 2 Leicester 5
Sept 28th 2020
Unbelievable!!! City conceded three penalties ( non handball! ) at the hands of Leicester as they got thrashed 5-2 Vardy scoring a hat-trick for the visitors. The City defence was really not organized and as well as signing at least two new defenders we need a new defensive coach to sort things out. In front of the back four Rodrigo was well off his best and both he and Fernandinho left too many gaps. With both Aguero and Jesus off injured City did not have a centre forward but took the lead with an excellent effort by Mahrez in the opening minutes. Later Walker brought down Vardy who scored from the spot to make it one all at half time. Vardy then gave his side the lead from close range and completed his hat-trick with a second penalty after Garcia brought him down. Maddison scored their fourth with a good shot before Ake reduced the arrears with a header at a corner. Just when we thought we might even score again Mendy conceded yet another penalty and with Vardy subbed Tielemans scored to complete a poor show by Man City. Foden who had been playing so well recently had a poor game and Sterling too failed to make an impression. Thank goodness I was not there to witness this shambolic display. It is OK having
72 % possession but conceding five goals three of which were penalties is incredible. At least one new centre half is on his way from Benfica - Dias . I just hope there are more on the way.
The last time City conceded five goals at home was at Maine Road in February 2003 - Alas I was there to see Arsenal beat us 5-1 pics
HERE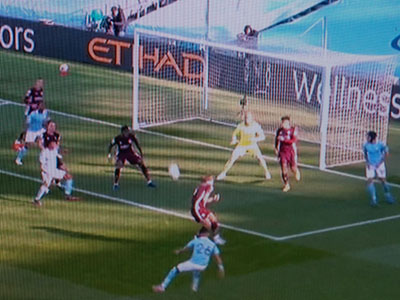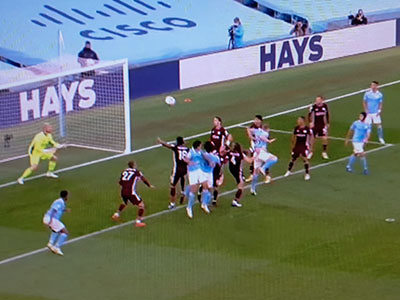 Mahrez cracks in a beauty against his old club
Ake scores his first goal for City
Ederson 5: Walker 5, Garcia 5.5, Ake 6, Mendy 4: Rodri 5, Fernandinho 6 (Delap 6) De Bruyne 7, Mahrez 6, Foden 5 (Torres) Sterling 5
Burnley 0 Man City 3
Sept 30th 2020 Carabao Cup R4
A pretty comfortable win away at Turf Moor in the league cup after the disaster against Leicester. A surprisingly strong side turned out with only one new youngster - Cole Palmer - making his debut.
Sterling gave City the lead from a good cross from Mendy (surprise surprise).
Just after half time Torres cut the ball back to Sterling who finished from close range for goal number two.
Torres then notched his first goal for City taking a pass from Mahrez and clipping the ball past the Burnley keeper who had made several good saves to keep the score down. Steffen in the City goal only had one decent save to make and the return of Laporte improved the defence a great deal. Fernandinho was busy in mid-field too and Rodrigo had a better game. Young Cole Palmer on his debut made a few nice touches and helped De Bruyne and Sterling who both did well. Nice to see Sterling getting a few goals - more against Leeds please!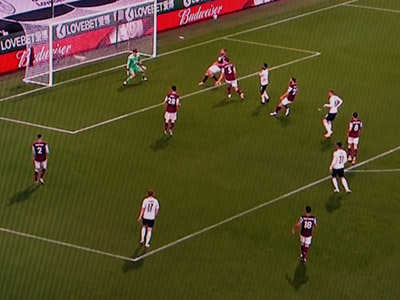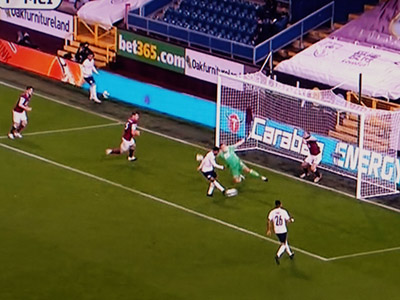 Sterling scores on 35 minutes to give City the lead
Torres crosses and Sterling nets from close range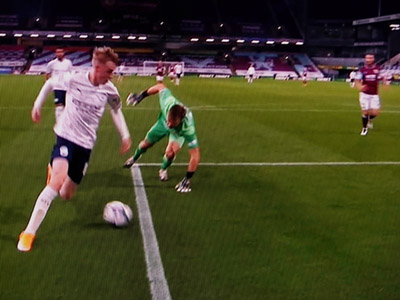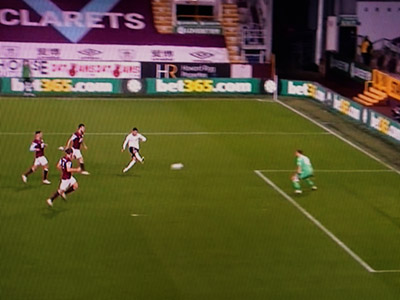 18 year old Palmer on his debut is about to cross
Torres scores his first goal for City
Steffen 7: Walker 7 (Harwood-Bellis) Fernandinho 7.5, Laporte 8,Mandy 7: Rodrigo 7 (Ake) De Bruyne 8 (Benardo) Palmer 7, Torres 7.5, Mahrez 7.5, Sterling 8
Leeds U 1 Man City 1
Oct 3rd 2020
A very open game with quite a few chances at both ends ended in a one all draw in the pouring rain. For once City did not have things their own way and after the sky blues had dominated the early stages and had a reward in a Sterling goal Leeds had several good chances and City were saved by Ederson who made some excellent saves. It was a shame his mistimed punch at a corner led to the Leeds goal. I'm sure the wet conditions did not make it easy for keepers.
Making his debut was Ruben Dias who looks a solid defender and it looks like he will make a good partnership with Laporte. However the left back position is a different story and must be sorted soon as Mendy made several defensive errors. I thought Kevin De Bruyne looked really tired in the final 30 minutes and was well off his best. Some of City's finishing could have been better and Sterling held onto the ball too much.
It's quite a long time since I went to Elland Road. It was back in September 1988 and it ended too with a one all draw.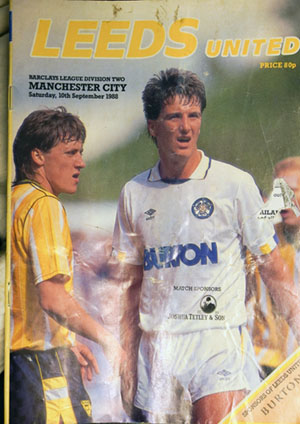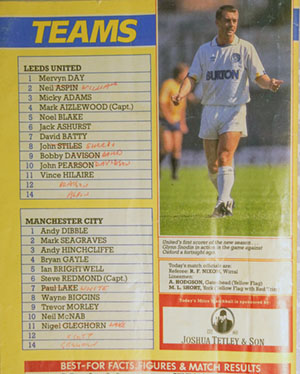 There was an error in the programme as Moulden played as number 8.
McNab scored for City with a penalty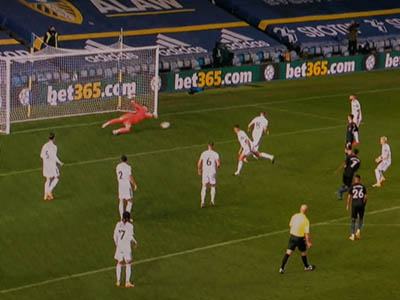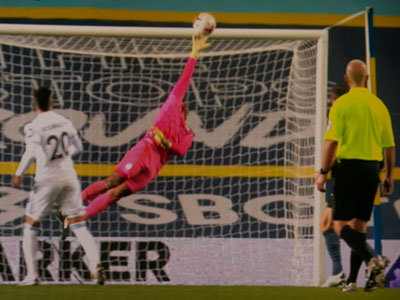 A great save by Edison from a header
Ederson 8: Walker 7.5, Dias 7.5, Laporte 7, Mendy 6.5 (Axe) : Rodrigo 6.5, De Bruyne 7, Foden 6.5, Sterling 7, Mahrez 6.5 ( Fernandinho) Torres 6.5 ( Benardo)
Man City 1 Arsenal 0
Oct 17th 2020
Certainly not a classic of City Arsenal games but three valuable points gained by the Sky Blues. City took the lead half way through the first half. A good move from defence gave Foden a chance but the keeper saved and following up Sterling cracked the ball into the net from the rebound. It was his 4th goal of the season. Arsenal went close with two good chances but Edison was brilliant to save both from Saka and Aubameyang.
Benardo worked hard in midfield trying to do David Silva's job. We do miss him and today we also missed the passing ability of De Bruyne so Benardo had to do his best to do his job too!.
We did have some half chances in the second half but their keeper Leno rarely had to make a save. It was good to see Aguero back in action after four months away.
The new looking back four did a good job keeping Arsenal at bay and City just about deserved the three points. Dias in particular had a good game.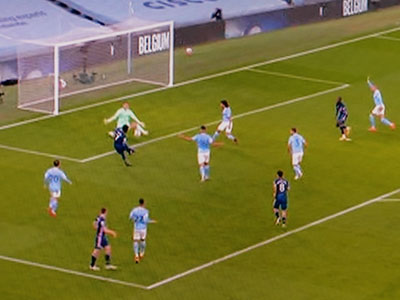 Sterling scores after Leno had saved Foden's shot
Edison 8.5: Walker 7.5, Dias 8, Ake 7.5, Cancelo 7: Rodri 7, Benardo 8, Foden 6.5 (Fernandinho) Mahrez 7.5, Aguero 7 (Gundogan) Sterling 7.5
Man City 3 Porto 1
Oct 21st 2020
Not the easiest of wins in the opening game in the Champions League against Porto. Without the creativity of De Bruyne and David Silva City rarely got a shot in to test the keeper in the first half and we had an early blow when a pass by Dias went astray and Diaz dashed past several City defenders before shooting past Ederson to give the visitors the lead. A brilliant goal but fortunately for City 5 minutes later a moment of madness by veteran Pepe gave City a penalty ( after a very long VAR episode). Aguero scored his 35th goal in the Champions League to level the scores and no doubt Pep would have had some words for his players at half time as Porto looked the better side and might have scored again but for an excellent save on the line by Walker.
City did do better in the second half and Gundogan gave them the lead from a terrific free kick just outside the area. With 20 minutes to go on came Foden and Torres and they combined to give City that important third goal Torres smashing the ball home.
There was a late worry for City when Fernandinho who had come on for Rodri was injured in the final minutes and had to be subbed by Stones. He might be out for a while.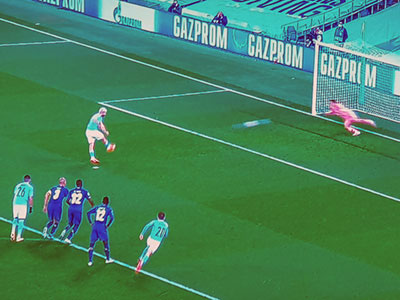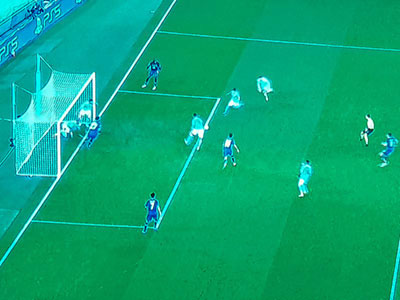 Aguero scores from the spot
Walker clears to save the day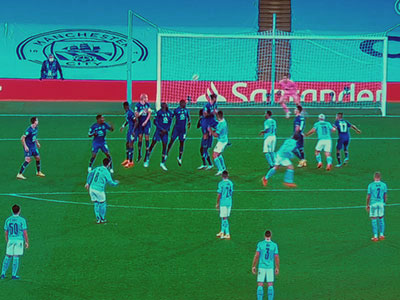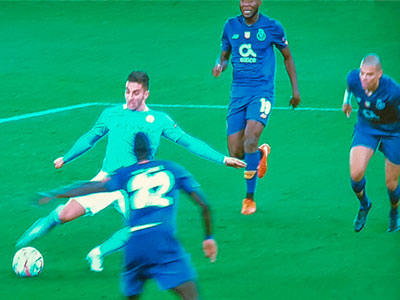 Gundogan scores with a free kick
Torres takes a pass from Foden and smacks the ball home
Ederson 7: Walker 8, Dias 7, Garcia 6.5, Cancelo 7: Rodri 7 ( Fernandinho/ Stones), Benardo 7, Gundogan 7.5 (Foden) Mahrez 7, Sterling 7, Aguero 7 (Torres)
It's been quite a while since we last played Porto .It was back in February 2012 and because I had been moved to a different seat and had a major problem with a new camera I was trying out I did not produce my usual web page covering the game. I have managed to find some old pics from the game which City won four nil. City scorers were Aguero, Silva and 2 subs - Dzeko and Pizarro. The City side was - Hart, Richards, Lescott, Kompany, Clichy, De Jong, Toure, Barry, Silva, Nasri and Aguero.
There were some interesting names on the Porto side - Otamendi (30) James Rodriguez (19) and Hulk (12). Mangala was on their bench.

Remember when there were fans in the ground!!!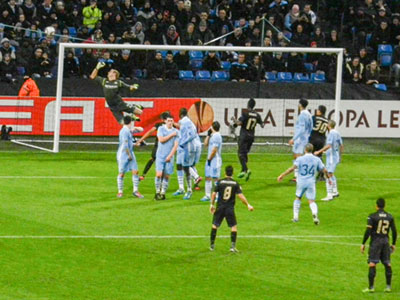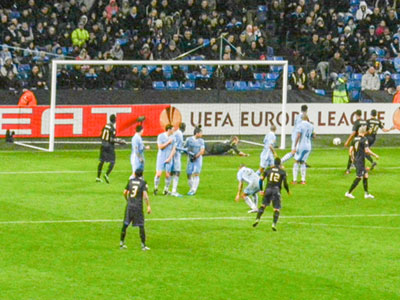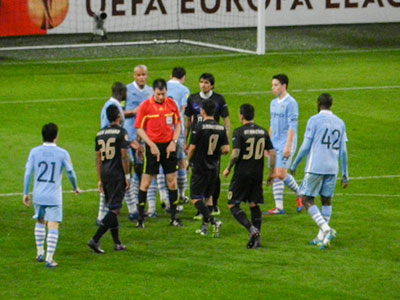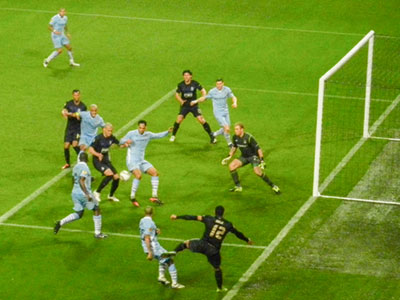 West Ham U 1 Man City 1
Oct 24th 2020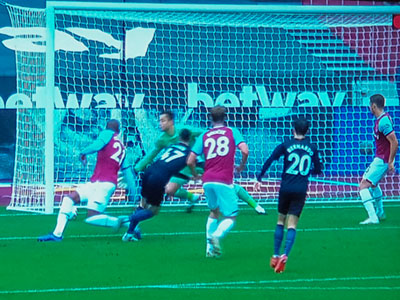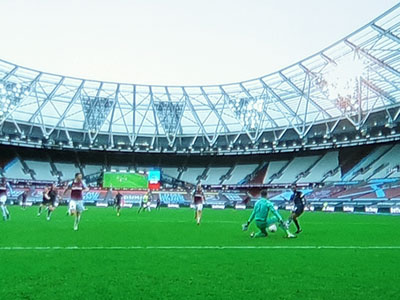 Sterling fails to beat the keeper late on
Ederson 6.5, Walker 6.5 (Zinchenko) Dias 6, Garcia 6, Cancelo 7.5: Rodri 6, Gundogan 6, Sterling 6, Mahrez 6,
Benardo 6 (De Bruyne) Aguero 5 (Foden 8)
Not the best of performances by City at West Ham and after a poor first half display with few efforts on goal it took the introduction of Phil Foden to stir City into some positive play. He soon made his presence felt by scoring a good goal with help from Cancelo.
West Ham had gone ahead on 17 minutes with an overhead kick from Antonio. A very good goal.
Aguero is miles away from his best and Sterling missed several good chances. West Ham defended well and City seem to have lost that special rhythm to their game. I can't remember when City were so low in the league table at this stage of the season though to be fair we still have to play Villa. City just lack that clinical finish we have got used to. Several times the final touch failed to give us control and chances went adrift.
Marseille 0 Man City 3
Oct 27th 2020
Well, that was a lot better. A much improved performance by City has given them a good start in the Champions League this season. A strong team turned out despite the absence of Aguero and Jesus. The front three of Sterling, Foden and Torres did really well with their energy and with an inform De Bruyne behind them the Marseille defence were kept very busy all game. When occasionally the home side came into the City half our now best central defenders Laporte and Dias enabled Ederson to have an easy evening. Walker and Zinchenko did well down the flanks .Torres responded well as a false number 9 and he opened the scoring on 18 minutes taking a pass from De Bruyne. We needed that second goal but we had to wait until 76 minutes had passed before Gundogan sealed the win following a good cross from Foden and a Sterling header. De Bruyne gave Sterling an easy chance for number three five minutes later. That third goal enabled Pep to bring on young Cole Palmer for the final minutes. I am sure he will remember those minutes!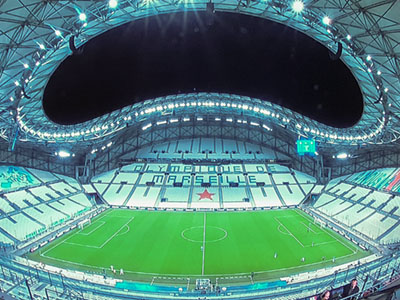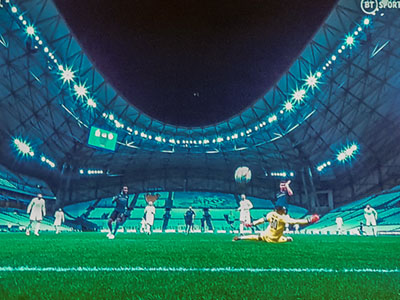 A very beautiful stadium - really odd with no spectators!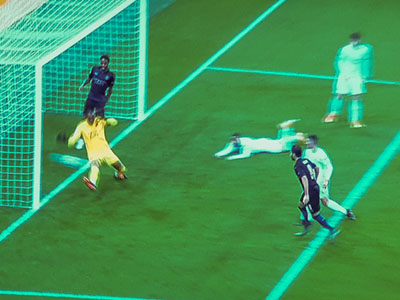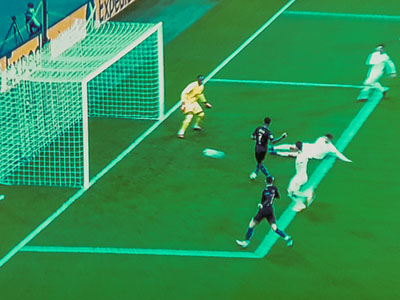 Gundogan shoots past the keeper for two nil
Sterling makes it three nil
Ederson 6: Walker 7.5, Dias 7.5, Laporte 7.5, Zinchenko 7 ( Cancelo), Rodri 7, Gundogan 7.5 (Benardo) De Bruyne 8 (Palmer) Sterling 7.5, Foden 7.5, Torres 7 (Mahrez)
Sheffield U 0 Man City 1
Oct 31st 2020
Well at least it was three points for City at Sheffield. It was not the most exciting of games but City played well in the first half and Sheffield United can thank their keeper for keeping the score down to an excellent effort by Walker from well outside the penalty area. City were a little less dynamic in the second half but were well in command.
City have won 4 consecutive league games against Sheffield United for the first time since 1930 ( I don't quite remember that!). City made three changes from mid-week and I did not expect to see Foden on the bench.
Many of City's final passes were just a fraction out alas and the home side defended well in depth. Rodrigo did very well in midfield and the back four once more kept a clean sheet. Both Sterling and De Bruyne had good games and Torres played his part despite the lack of a proper centre forward.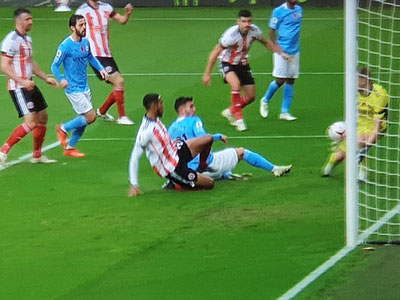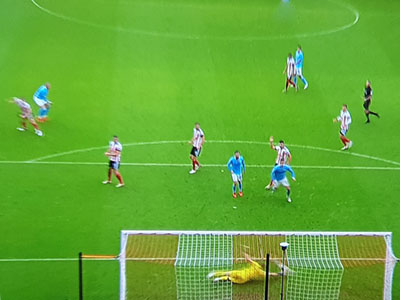 City had several near chances before Walker hit a low shot past the keeper for the three points
Ederson 7: Walker 8, Dias 7.5, Laporte 7.5, Cancelo 7.5: Benardo 7, Rodrigo 8, De Bruyne 7.5, Mahrez 6.5 (Gundogan) , Torres 7.5 (Foden), Sterling 8
Man City 3 Olympiacos 0
Nov 3rd 2020
A comfortable win for City in the end but when it stayed at just one nil for so long there was always a chance there could be a shock! Yet again Ferran Torres did well scoring the first goal nice and early on 12 minutes and he had gone close twice earlier. City had dominated that first half but could not add to their score.
In the second half City relaxed a bit and the visitors had more possession. A rare passing error by Foden gave the visitors a good chance which they failed to take - thank goodness. On 70 minutes we welcomed the return of Jesus and two minutes later he scored a cracking goal blasting the ball home from a narrow angle. With the game safe Cancelo curled the ball in to make it three nil on 90 minutes. Ederson had little to do and Ake and Stones were Ok in the absence of Laporte and Dias.
So City have won all three games in their group and are well on the way to progressing in the Champions League.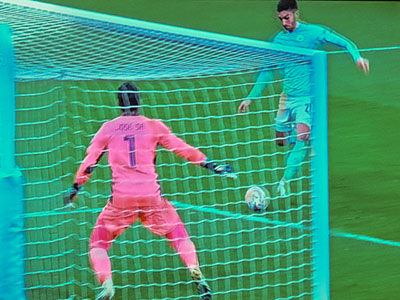 Torres about to score number one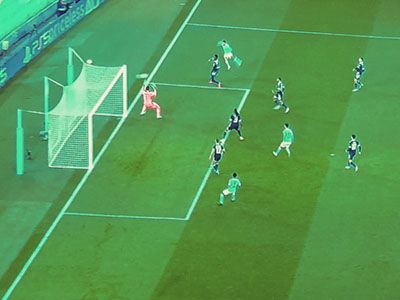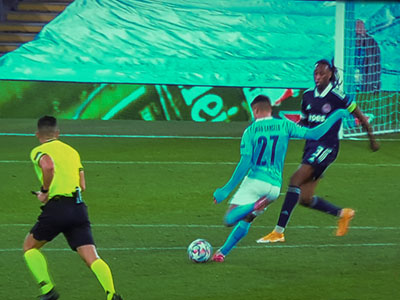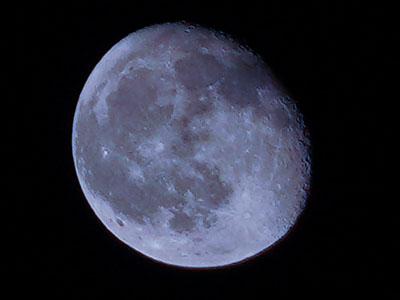 There was a blue moon last night!
Cancelo who came on as a sub late on adds the third
Ederson 6.5: Walker 7 (Cancelo), Stones 7, Axe 7.5, Zinchenko 7 Gundogan 7, De Bruyne 7 (Nmecha) Foden 6.5 (Rodrigo) Mahrez 6.5 (Jesus) Torres 8, Sterling 7.5 (Benardo)
Man City 1 Liverpool 1
November 8th 2020
So a point each in the end. After a poor first twenty odd minutes the sky blues improved and we really should have had all three points. Walker gave away a penalty after just 13 minutes and Salah made no mistake from the spot. Fortunately a very good move ended with Jesus scoring an excellent goal on the half hour to level the scores.
Just before half time De Bruyne won a penalty when his attempted cross was 'handled' and VAR was called in to give City the chance to take the lead. Alas for once De Bruyne shot wide. With City having more of the play in the second half I thought we might snatch a win but attempts on goal were rare and Jesus missed a good chance with a header. Ederson was kept quite busy and made some good saves and Laporte and Dias kept an attacking Liverpool team at bay. Cancelo is looking really good at left back and had a good game often helping in attacks.
Kevin De Bruyne is not quite at his very best and Torres who has been so good so far failed to make an impression.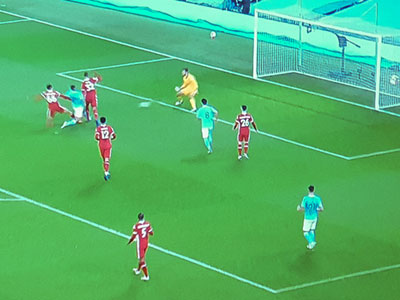 Ederson 7.5: Walker 6, Dias 7, Laporte 7, Cancelo 8: Rodri 6.5, Gundogan 6.5, De Bruyne 7, Sterling 6.5,
Torres 6 (Benardo) Jesus 7.5
Jesus ends a good move with a goal
OMG! Kevin shoots wide from the spot!
Spurs 2 City 0
November 21st 2020
Once again City failed to score at the new Tottenham Stadium and as a result another three points went down the drain. Despite Sterling, Foden and Aguero being available all three were on the bench and it was only very late in the game when Foden and Sterling came on for Benardo and Mahrez.
An early counter attack saw Son score easily after only a few minutes and then Kane scored but luckily for City was offside. Laporte had an equalizing goal disallowed following a VAR very harsh handball by Jesus in the build-up. City had lots of possession but failed to give the Spurs keeper many shots to save. It was game over when sub Lo Celso scored on 62 minutes.
Spurs really defended well and were well organized to deal with the constant City possession that lacked the passion of old. City surely must have a plan B to deal with situations like this and defenders must get back quicker when we lose the ball in the opposing half. Despite the new back four we are giving goals away and alas we are not scoring goals!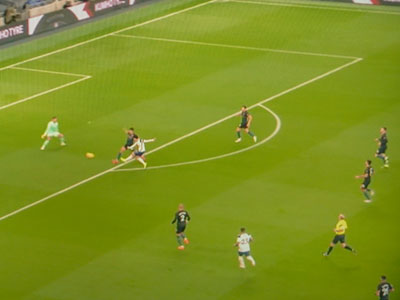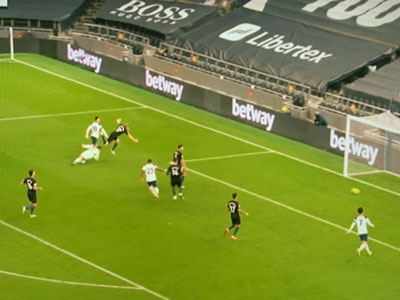 Lo Celso scores with his second touch!
Ederson 5: Walker 5.5, Dias 6, Laporte 6, Cancelo 6.5: Rodrigo 6.5, De Bruyne 6.5, Benardo 5.5 (Sterling) ,
Mahrez 5 ( Foden) Torres 6, Jesus 6
Olympiacos 0 Man City 1
Nov 25th 2020
This game is not going to win many awards for excitement but as far as City were concerned it was job done and sealed their qualification to the next round of the Champions League. News at the moment is dominated by the death of Maradona so news of City's win had to take second place which is a shame as Phil Foden - the Stockport Magician - once more shone and scored the only goal on 36 minutes. A long ball from Gundogan eventually reached Sterling and his back-heel gave Foden his chance which he took well.
City had most of the play and I don't think Ederson had a shot to save. However City did create the odd chance but alas their finishing touch was again not quite there. Hopefully Burnley will suffer on Saturday!
We saw the return of Mendy at left back and a glimpse of Aguero late in the game. It was also great to see Fernandinho coming on as a sub late on. With De Bruyne and Walker left at home City made several changes from the Spurs game but the new look back four had a fairly comfortable game. Nice to see Tommy Doyle getting a few minutes on his granddad's 74th birthday.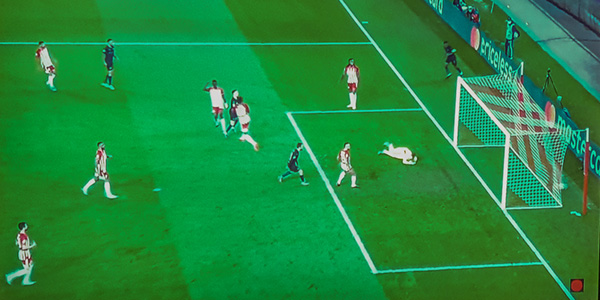 Foden's shot hits the back of the net
Ederson 6.5, Cancelo 7, Stones 7, Dias 7, Mendy 6.5 (Zinchenko) : Rodrigo 7.5 (Fernandinho), Gundogan (Doyle), Benardo 6, Foden 8, Sterling 7 (Mahrez) Jesus 6.5 (Aguero)
Man City 5 Burnley 0
November 28th 2020
At last we got some goals! Yet again we managed five goals at home against Burnley - that's four five nil consecutive wins at home against the same side - a record set in 1907 by Notts County against Port Vale!!
City were back to their clinical best and Mahrez got his first hat-trick for City. His opener was the result of a good move ending with De Bruyne passing to Mahrez. Walker helped with the second with a quick throw-in and his third goal came in the second half when Foden - on for Torres - crossed and Mahrez headed in past the keeper.
Good to see him back to form.
Mendy too made the headlines - scoring his first ever goal for City thanks to a De Bruyne pass. Mind you it's taken him 60 games to do it! Torres was the other scorer and he also had a goal disallowed for offside.
City also had a 6th goal but alas dear old VAR caught Jesus's toe offside. It was good to see John Stones having a good game in defence and Ederson only had one save to make. De Bruyne had an excellent game and was unlucky not to have scored late on when his shot hit the post.
With the number of games coming it is good that Pep has a chance to change his team and hopefully keep up the level of creativity and finishing.to today's form.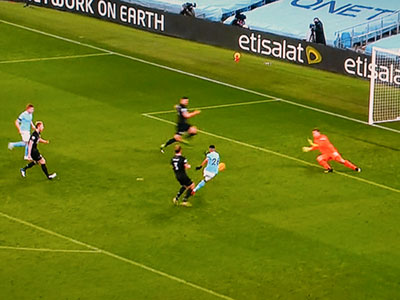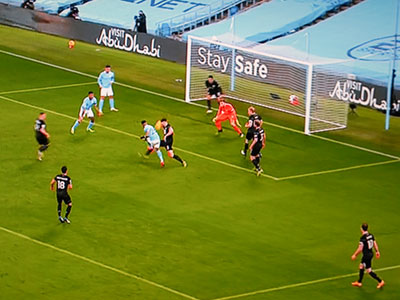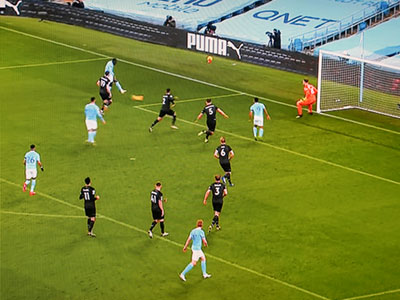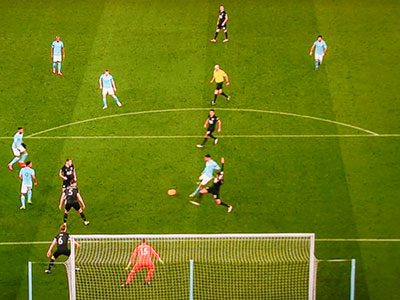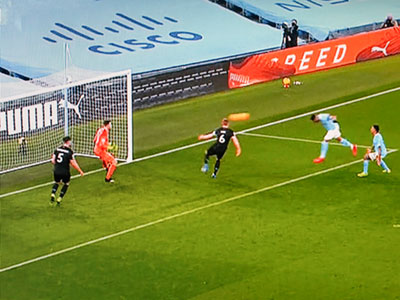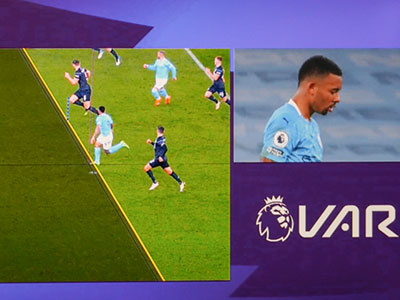 Mendy gets his first goal for City
Mahrez scores after just 6 minutes
Mahrez makes it two nil on 22 minutes
Torres keeps up his good form with number 4
A header and a hat-trick!!! Well done Mahrez!
You had better cut your toe nails Jesus!!!
Ederson 7: Walker 7.5, Stones 8, Dias 7 (Garcia) Mendy 7.5; Rodrigo 7 (Fernandinho 7.5) Gundogan 7, Mahrez 8.5,
De Bruyne 8.5, Torres 7,(Foden) Jesus 7.5
Porto 0 Man City 0
Dec 1st 2020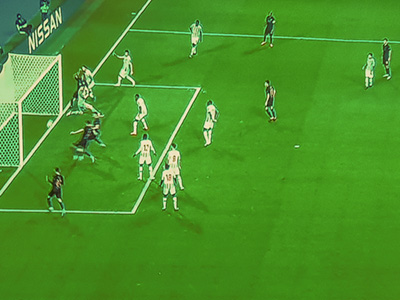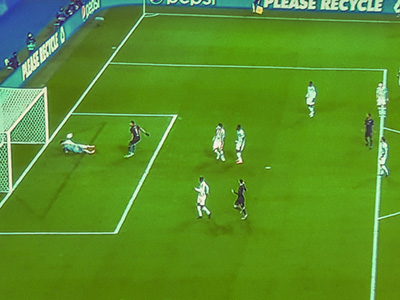 At least we finished top of our group in the Champions League and did not concede a goal in Portugal. It was the first time City have kept four consecutive clean sheets in the Champions League. Porto rarely troubled Ederson in goal and surprise surprise we once again had lots of possession and 18 shots on target. We did find the net late in the game but alas VAR struck again and the goal was disallowed for offside in the build-up play!
City rested several players and it was good to see Fernandinho play a full 90 minutes. Zinchenko was back too but Porto were well organized at the back and there were few easy chances for City. They were foiled on several occasions by excellent saves from their keeper. De Bruyne and Mahrez were rested and Jesus only came on very late so we had to rely on Foden,Torres and Sterling.
Porto have a narrow escape
Jesus scores but VAR strikes!
Ederson 6.5: Cancelo 7, Dias 7, Garcia 6.5, Zinchenko 6.5: Fernandinho 7.5, Rodri 7.5, Benardo 7.5, Foden 7.5,
Torres 7 (Jesus) Sterling 7
Man City 2 Fulham 0
Dec 5th 2020
City moved into the 4th spot for a few hours after a comfortable two nil win over Fulham. It would have been another five nil win but for the excellent work of the Fulham keeper who made some really good saves. City went ahead early in the game when De Bruyne put Sterling through for his first goal for a while. Later Sterling won a soft penalty when he was brought down in the area and Kevin De Bruyne made no mistake from the spot. Pep made 6 changes from the Porto game but made no changes during the match. It was the first time City had not used any subs since a two all draw away at Charlton in April 2005. I must admit I thought several City players were looking a bit tired in the final twenty minutes or so. No doubt we shall see a new team in the Champions League game on Wednesday!
Once again Ederson had hardly anything to do with only one save to make though there was a moment of panic when Stones failed to notice where Ederson was when he passed back! Otherwise Stones had a good game as did Dias. Mendy did not make many runs down the left flank but Cancelo was bang on form down the right wing.
It was Pep's 700th game as manager and Sterling now heads the list of players winning the most penalties - 20 in all!
I never cease to be amazed at the incredible passing ability of Kevin De Bruyne.The accuracy,pace and timing of them is of the highest standard and I used to think Benarbia was pretty good at it!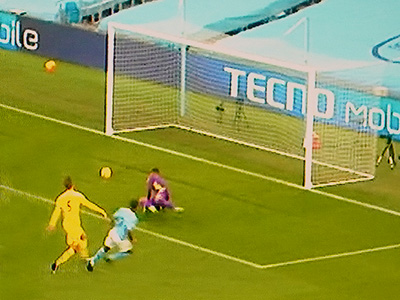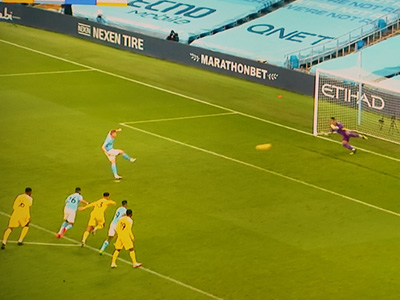 Sterling scores in the 5th minute
De Bruyne bangs in the penalty after 26 minutes
Ederson 6.5: Cancelo 7.5, Dias 7.5, Stones 7.5, Mendy 7: Rodrigo 7.5, Gundogan 7, De Bruyne 8.5, Mahrez 7.5, Sterling 8, Jesus 7
Man City 3 Marseille 0
Dec 9th 2020
It was another easy win for a City side that had made 9 changes from the Fulham win and we had a special bonus when Aguero came on late in the game and scored. The first half was a bit boring with the visitors defending well and in depth. However just after the interval Torres took a good pass from Mahrez and notched City's 1000th goal at the Etihad. We did have a bit of bad luck in the first half when Garcia went off injured but John Stones came on to have a good game. Sterling too came on at half time replacing Gundogan. But the big moment was in the 66th minute when Aguero came on for Mahrez. Ten minutes later and he scored from close range to make the game safe and Sterling made it three nil just before the final whistle. Foden improved in the second half when he played more centrally and overall considering the number of changes it was quite a good performance. Good to see Laporte and Axe back too. Steffen making a rare appearance had little to do in goal and Fernandinho did a good job in front of the back four. With the big 'derby' coming up at the weekend I wonder whether Stones will beat Laporte for a place in the team.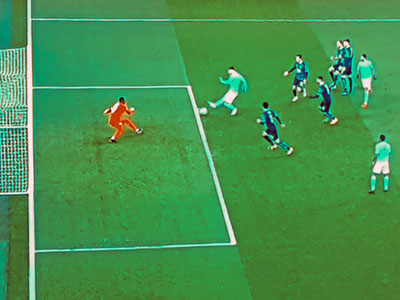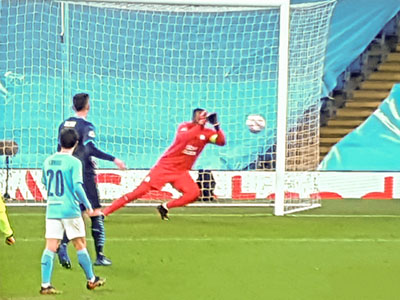 Torres shoots past the keeper to give City the lead
Mandanda saves from Foden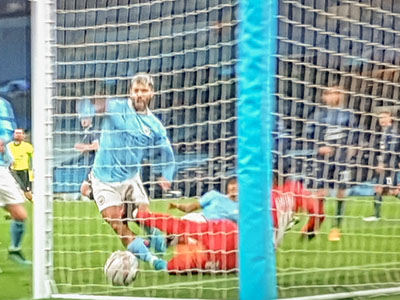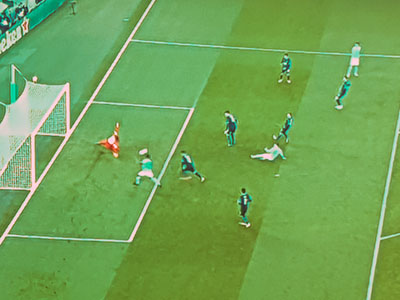 Aguero is quick to follow up and score
Sterling is about to notch number three
Steffen 6.5: Walker 7, Garcia 6 (Stones 8 ), Laporte 7, Axe 7: Fernandinho 7.5, Gundogan 7 (Sterling 7.5) ,
Mahrez 7.5 (Aguero), Benardo Silva 7, Foden 7, Torres 7
Man U 0 Man City 0
12th Dec 2020
What a drab boring game it was at Old Trafford. The tactical battle ended all square with few chances at either end. As expected City made 8 changes from the mid-week Champions League game but there was little creativity,quality play or good finishing. We almost had a disaster when Walker fouled Rashford in the box but the penalty award was cancelled when VAR spotted Rashford was offside in the build-up. Thanks VAR - for once!
Both Ederson and Rodri made poor passes and escaped retribution! However Stones once more had a good game as did Cancelo. Mahrez was off form and failed to score when he had a good chance and he was the only player to be subbed. Jesus failed to make an impression and I wonder whether Aguero will start on Tuesday. I was hoping Foden would come on but perhaps Pep is saving him for the West Brom game. De Bruyne was the best of the City's attack but even a couple of his half chances went over the bar. Neither keeper had to make difficult saves and I cannot remember when I last watched such a drab 'derby' game. There was little excitement for the huge crowd ( at home) and a point each did little for City's title hopes.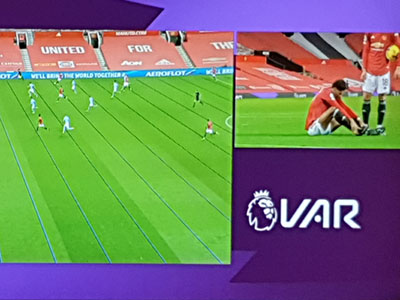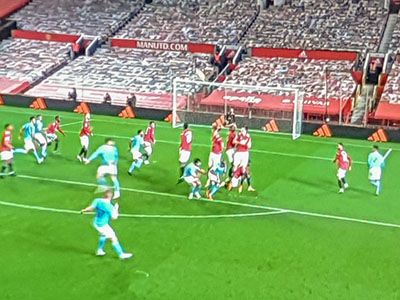 Good old VAR saves the day!
a free kick by De Bruyne fails to find the net
Ederson 6: Walker 6, Stones 8, Dias 7, Cancelo 7.5: Rodrigo 6.5, Fernandinho 7, De Bruyne 7.5, Mahrez 5.5 ( Torres)
Sterling 6.5, Jesus 6
Man City 1 WBA 1
Dec 15th 2020
What a frustrating 90 minutes we watched last night at the Etihad. Once again City failed to finish well. The West Brom keeper Johnstone made several really good saves but alas City are missing that extra bite that we used to have when finishing. Is the missing Silva a reason and the Aguero injury reasons for the lack of attacking threats. Even De Bruyne was a bit off form and Jesus had a poor game. After West Brom almost took the lead good work by Sterling gave Gundogan the chance to crack the ball home to give City the lead. However before half time disaster struck when a shot that might have be going wide was deflected by Dias past Ederson to give WBA an early Xmas present. It was the first goal City had conceded for over 600 minutes. West Brom defended well with Johnstone the star but City rarely used the width of the pitch. It is Ok to have almost 80% possession but if you cannot finish well the goals will not come. Foden made some nice touches but needs to raise his game even more while Mendy failed to make an impression down the left wing. I cannot believe that City have only scored 18 goals in 12 Premier League games and last night City had 26 shots!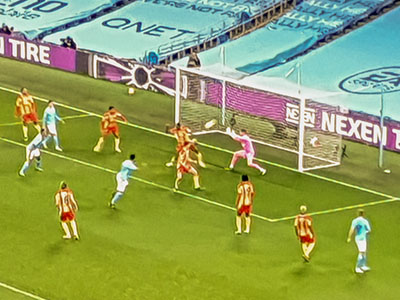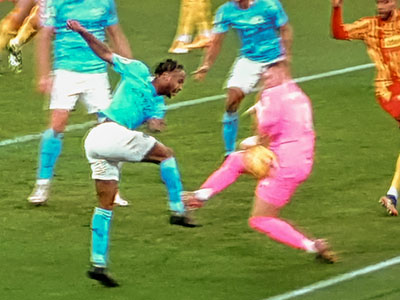 Gundogan scores on the half hour
Johnstone denies Sterling
Ederson 6.5: Cancelo 7, Dias 6.5, Ake 6.5, Mendy 5 (Walker) : Rodrigo 6.5, Gundogan 7.5, De Bruyne 7, Foden 6.5 (Aguero), Sterling 7.5, Jesus 5
Southampton 0 Man City 1
Dec 19th 2020
A tough game was expected at Southampton and so it was but we managed a win after a good defensive display. It was a very open game for once and especially in the second half we should have scored more but alas we did not make the most of several really good chances. Jesus was injured and with Aguero's knee on the bench we started without a real centre forward! Still no sign of Laporte!
A move starting with a long ball from Ederson (more please) ended with De Bruyne passing to Sterling who made no mistake and City were one up on 16 minutes. The City defence did well with Stone and Dias outstanding and that is 7 clean sheets in the last 8 games. Benardo worked hard dashing round the ground and as usual Kevin was the best passer however it must be very frustrating to see City scoring only 19 goals in 13 games - well below City's best. Torres, Benardo, Mahrez and De Bruyne missed good chances in the second half and it is really odd that City have lost that killer punch. Once again Pep only used one sub.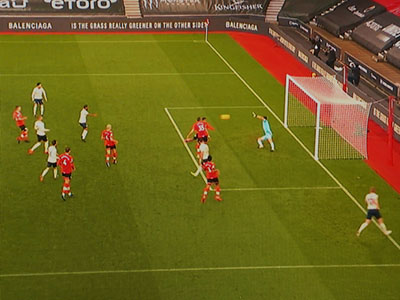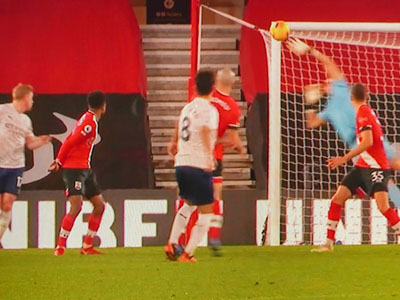 Sterling takes the cut back from Kevin De Bruyne to score
On 78 minutes a Gundogan effort is well saved by McCarthy
Ederson 7.5: Walker 7, Stones 7.5, Dias 7.5, Cancelo 7: Rodrigo 7, Gundogan 7, Sterling 7, De Bruyne 7.5, Torres 6 (Mahrez) ,Benardo 7.5
Arsenal 1 Man City 4
Carabao Cup Dec 22nd 2020
The Cup Holders thrashed Arsenal at the Emirates Stadium and at last City scored a few goals! We saw a very early start by the sky blues when just on 2 minutes a cross by Zinchenko was headed home by an unmarked Jesus.
City had made 7 changes from the Southampton win so it was an excellent start. Arsenal managed to level the scores but we had a bit of luck in the second half. On 54 minutes City had a free kick on the edge of the area and the kick taken by Mahrez should have been easily saved by the keeper but alas for Arsenal he failed to catch it and City went back into the lead. Then five minutes later Foden scored a good goal but his toe might have been offside according to replays but hurrah there was no VAR (on holiday). Foden made the 4th goal crossing for Laporte to head home. So are City heading back to Wembley for the Final in April and will we be able to be there. The win against Villa last March was the last game I actually watched -
HERE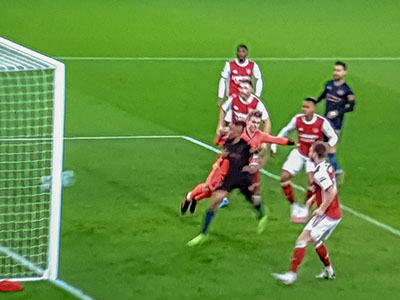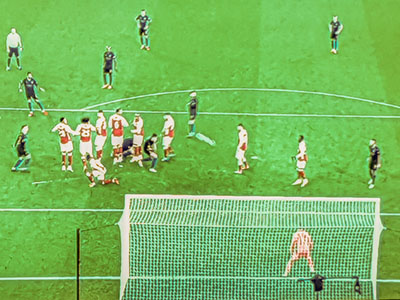 Jesus heads home to give City the lead
Mahrez puts City ahead again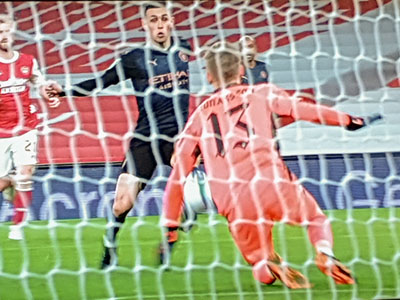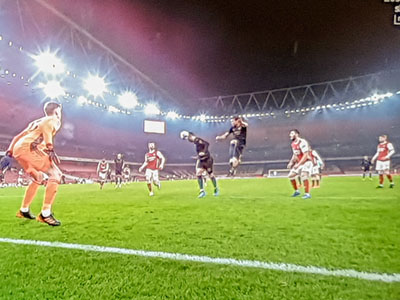 Laporte makes it 4-1 on his return to the side
Steffen 7: Cancelo 7, Dias 6.5, Laporte 6.5, Zinchenko 6.5: Rodrigo 6.5, Fernandinho 7, Benardo 6.5 ( Torres) , Mahrez 7.5, Foden 7.5, Jesus 7 (Aguero)
Man City 2 Newcastle U 0
Dec 26th 2020
Well it was no surprise that City took three points against Newcastle and it moved City up to 5th in the table. It should have been more than two goals for City but their keeper made some good saves and there were some bad misses - as usual! With both Walker and Jesus testing positive for the virus City made 7 changes from the Arsenal win and Torres was at centre forward and Aguero continued on the bench. Cancelo played really well going forward a lot and having a hand in both City goals. City were often playing just three at the back when Newcastle got into our half and the visitors rarely tested Ederson.
It took City almost 15 minutes to open the scoring and Sterling provided a good chance for Gundogan to put the ball in the net and we had to wait until ten minutes inside the second half for number two which was scored by Torres - it was his 7th of the season. Aguero came on late in the game and had a good chance but he failed to beat the keeper. Foden too came on but only for the last 45 seconds!
Although City are not scoring four or five goals a game at least we are now not conceding with Stones and Dias the first choice central defenders. The biggest score I ever saw on a Boxing Day was back in 1964 when City beat Scunthorpe 8-1. Last night it was extremely wet and windy and for once I was glad I was not there!!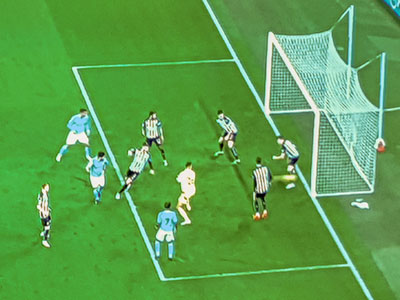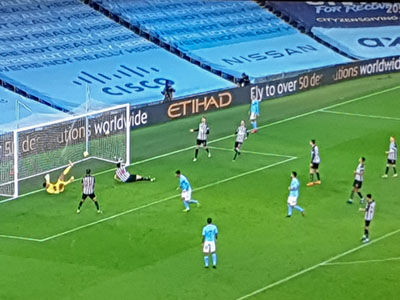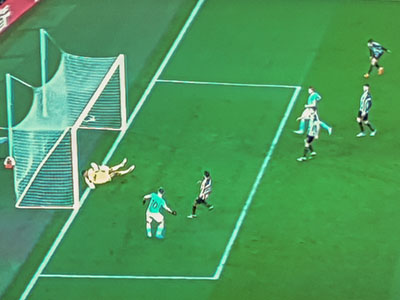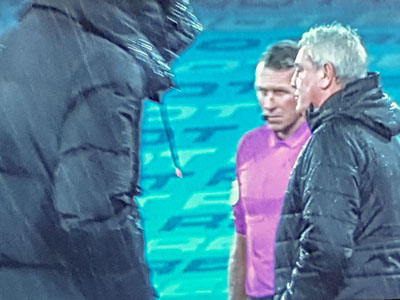 Gundogan opens the scoring
It was so wet even Pep had to have his hood up!
Ederson 7.5, , Stones 7.5, Dias 7.5, Axe 7: Rodrigo 6.5 (Fernandinho ) Cancelo 9, Gundogan 7.5 (Foden), De Bruyne 7,
Sterling 7.5, Benardo Silva 7,Torres 7.5, (Aguero)