It looks as though we are going to be unable to attend games for some time - hopefully in the new year so we are stuck with lockdown games!
Wolves 1 Man City 3
Sept 21st 2020
City started their campaign with a very good away win at Wolves. With so many regular first team players absent for various reasons it was an excellent performance. The first half display was top rate with both De Bruyne and Foden playing well. A great pass from Foden put De Bruyne through and he was brought down in the penalty area. Now the new penalty taker he cracked the ball into the net to give City the lead. 12 minutes later a great move ended with Kevin giving Foden a good chance which he took to make it two nil. Wolves came back in the second half as City tired and they missed several good chances before they scored. Mendy was outpaced several times and Stones had problems however City managed to hang on to their lead until the final seconds when Jesus made it three nil. Ake made his debut for City and did not look out of place. Torres too made his debut late in the game coming on as sub for Sterling. He was the only substitution and obviously Pep is keeping many of the others for the Carabao Cup game
Ederson 7: Walker 7.5, Stones 6.5, Ake 7, Mandy 6: Rodri 7.5, Fernandinho 7.5, De Bruyne 8.5, Foden 8, Sterling 7( Torres) Jesus 7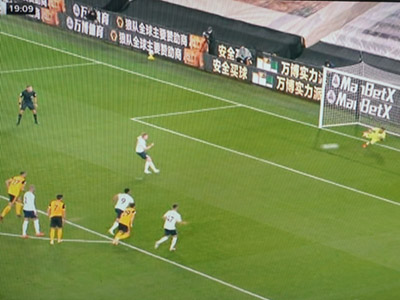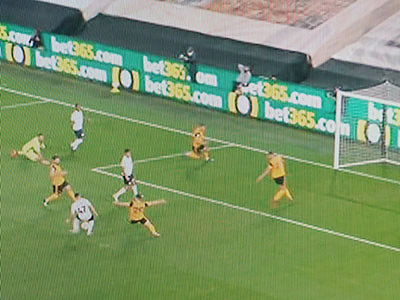 De Bruyne scores from the spot after 20 minutes
Foden is about to notch number two on 32 minutes
Jesus makes it three on 95 minutes
Man City 2 Bournemouth 1
Sept 24th Carabao Cup R3
A much changed City side kept up their good record against Bournemouth by winning two one at the Etihad. The highlight was the debut of Delap who scored a great goal following a good pass from Phil Foden. The visitors managed to equalize and just when we were thinking of penalties Mahrez hit the post with a good effort and Foden following up hit the rebound into the goal to give us a 4th round game at Burnley.
There was also a debut for keeper Steffen who made one excellent Ederson type tackle but the bad news was the injury to Bernabe and a late injury to substitute De Bruyne. Tommy Doyle did well in mid-field but Torres did not shine too much.
I wonder when Liam Delap is a regular will he be taking throw-ins in the opponents last third!!!!!
Steffen 7: Walker 7, Harwood-Bellis 6.5, Garcia 6.5, Bernabe 5 (Mendy) : Doyle 7.5 (Sterling) Rodrigo 7.5 ( De Bruyne) Foden 8, Mahrez 6.5, Delap 7.5, Torres 6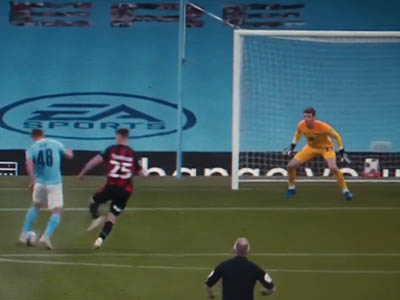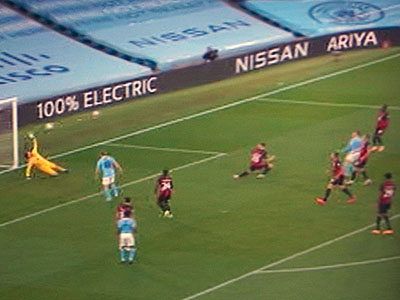 17 year old Liam Delap is about to score his debut goal on his senior debut
Foden scoring the wining goal on 75 minutes
Man City 2 Leicester 5
Sept 28th 2020
Unbelievable!!! City conceded three penalties ( non handball! ) at the hands of Leicester as they got thrashed 5-2 Vardy scoring a hat-trick for the visitors. The City defence was really not organized and as well as signing at least two new defenders we need a new defensive coach to sort things out. In front of the back four Rodrigo was well off his best and both he and Fernandinho left too many gaps. With both Aguero and Jesus off injured City did not have a centre forward but took the lead with an excellent effort by Mahrez in the opening minutes. Later Walker brought down Vardy who scored from the spot to make it one all at half time. Vardy then gave his side the lead from close range and completed his hat-trick with a second penalty after Garcia brought him down. Maddison scored their fourth with a good shot before Ake reduced the arrears with a header at a corner. Just when we thought we might even score again Mendy conceded yet another penalty and with Vardy subbed Tielemans scored to complete a poor show by Man City. Foden who had been playing so well recently had a poor game and Sterling too failed to make an impression. Thank goodness I was not there to witness this shambolic display. It is OK having
72 % possession but conceding five goals three of which were penalties is incredible. At least one new centre half is on his way from Benfica - Dias . I just hope there are more on the way.
The last time City conceded five goals at home was at Maine Road in February 2003 - Alas I was there to see Arsenal beat us 5-1 pics
HERE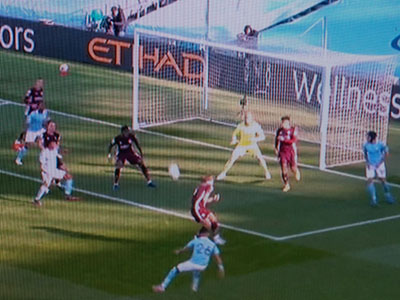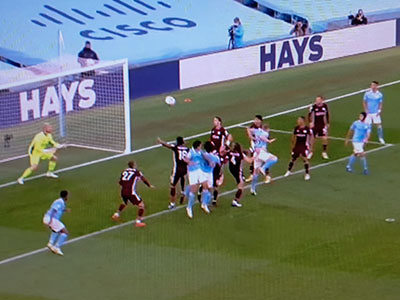 Mahrez cracks in a beauty against his old club
Ake scores his first goal for City
Ederson 5: Walker 5, Garcia 5.5, Ake 6, Mendy 4: Rodri 5, Fernandinho 6 (Delap 6) De Bruyne 7, Mahrez 6, Foden 5 (Torres) Sterling 5
Burnley 0 Man City 3
Sept 30th 2020 Carabao Cup R4
A pretty comfortable win away at Turf Moor in the league cup after the disaster against Leicester. A surprisingly strong side turned out with only one new youngster - Cole Palmer - making his debut.
Sterling gave City the lead from a good cross from Mendy (surprise surprise).
Just after half time Torres cut the ball back to Sterling who finished from close range for goal number two.
Torres then notched his first goal for City taking a pass from Mahrez and clipping the ball past the Burnley keeper who had made several good saves to keep the score down. Steffen in the City goal only had one decent save to make and the return of Laporte improved the defence a great deal. Fernandinho was busy in mid-field too and Rodrigo had a better game. Young Cole Palmer on his debut made a few nice touches and helped De Bruyne and Sterling who both did well. Nice to see Sterling getting a few goals - more against Leeds please!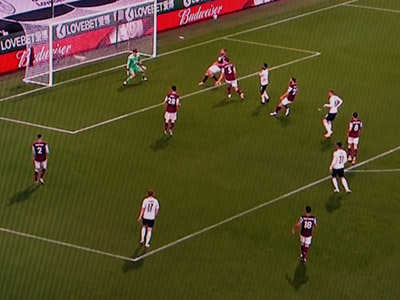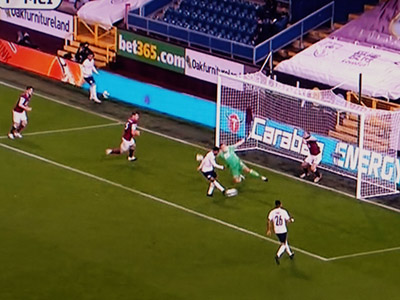 Sterling scores on 35 minutes to give City the lead
Torres crosses and Sterling nets from close range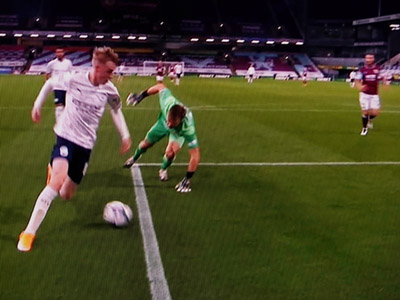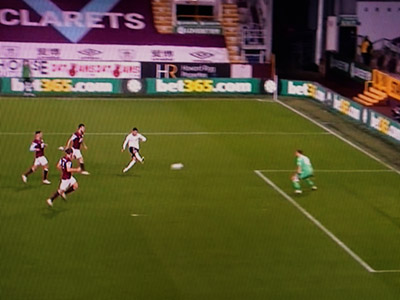 18 year old Palmer on his debut is about to cross
Torres scores his first goal for City
Steffen 7: Walker 7 (Harwood-Bellis) Fernandinho 7.5, Laporte 8,Mandy 7: Rodrigo 7 (Ake) De Bruyne 8 (Benardo) Palmer 7, Torres 7.5, Mahrez 7.5, Sterling 8
Leeds U 1 Man City 1
Oct 3rd 2020
A very open game with quite a few chances at both ends ended in a one all draw in the pouring rain. For once City did not have things their own way and after the sky blues had dominated the early stages and had a reward in a Sterling goal Leeds had several good chances and City were saved by Ederson who made some excellent saves. It was a shame his mistimed punch at a corner led to the Leeds goal. I'm sure the wet conditions did not make it easy for keepers.
Making his debut was Ruben Dias who looks a solid defender and it looks like he will make a good partnership with Laporte. However the left back position is a different story and must be sorted soon as Mendy made several defensive errors. I thought Kevin De Bruyne looked really tired in the final 30 minutes and was well off his best. Some of City's finishing could have been better and Sterling held onto the ball too much.
It's quite a long time since I went to Elland Road. It was back in September 1988 and it ended too with a one all draw.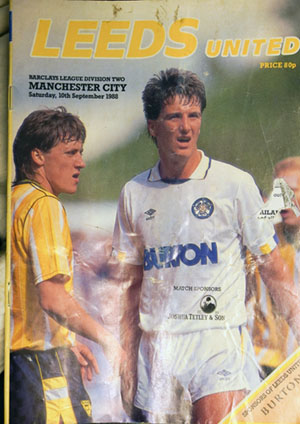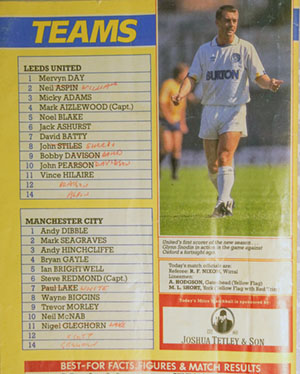 There was an error in the programme as Moulden played as number 8.
McNab scored for City with a penalty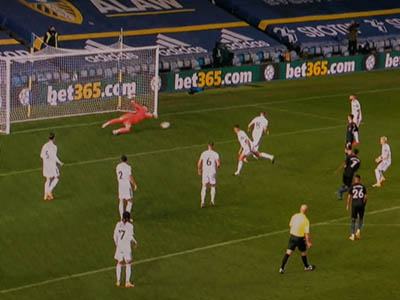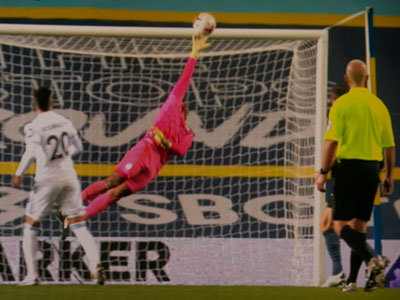 A great save by Edison from a header
Ederson 8: Walker 7.5, Dias 7.5, Laporte 7, Mendy 6.5 (Axe) : Rodrigo 6.5, De Bruyne 7, Foden 6.5, Sterling 7, Mahrez 6.5 ( Fernandinho) Torres 6.5 ( Benardo)
Man City 1 Arsenal 0
Oct 17th 2020
Certainly not a classic of City Arsenal games but three valuable points gained by the Sky Blues. City took the lead half way through the first half. A good move from defence gave Foden a chance but the keeper saved and following up Sterling cracked the ball into the net from the rebound. It was his 4th goal of the season. Arsenal went close with two good chances but Edison was brilliant to save both from Saka and Aubameyang.
Benardo worked hard in midfield trying to do David Silva's job. We do miss him and today we also missed the passing ability of De Bruyne so Benardo had to do his best to do his job too!.
We did have some half chances in the second half but their keeper Leno rarely had to make a save. It was good to see Aguero back in action after four months away.
The new looking back four did a good job keeping Arsenal at bay and City just about deserved the three points. Dias in particular had a good game.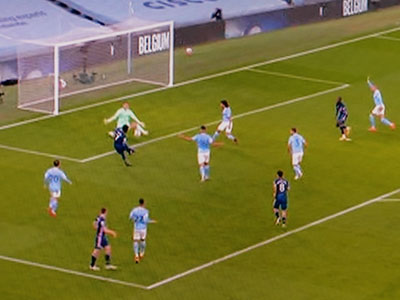 Sterling scores after Leno had saved Foden's shot
Edison 8.5: Walker 7.5, Dias 8, Ake 7.5, Cancelo 7: Rodri 7, Benardo 8, Foden 6.5 (Fernandinho) Mahrez 7.5, Aguero 7 (Gundogan) Sterling 7.5
Man City 3 Porto 1
Oct 21st 2020
Not the easiest of wins in the opening game in the Champions League against Porto. Without the creativity of De Bruyne and David Silva City rarely got a shot in to test the keeper in the first half and we had an early blow when a pass by Dias went astray and Diaz dashed past several City defenders before shooting past Ederson to give the visitors the lead. A brilliant goal but fortunately for City 5 minutes later a moment of madness by veteran Pepe gave City a penalty ( after a very long VAR episode). Aguero scored his 35th goal in the Champions League to level the scores and no doubt Pep would have had some words for his players at half time as Porto looked the better side and might have scored again but for an excellent save on the line by Walker.
City did do better in the second half and Gundogan gave them the lead from a terrific free kick just outside the area. With 20 minutes to go on came Foden and Torres and they combined to give City that important third goal Torres smashing the ball home.
There was a late worry for City when Fernandinho who had come on for Rodri was injured in the final minutes and had to be subbed by Stones. He might be out for a while.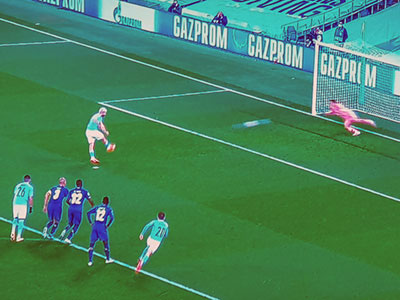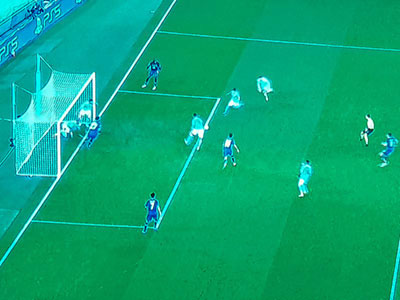 Aguero scores from the spot
Walker clears to save the day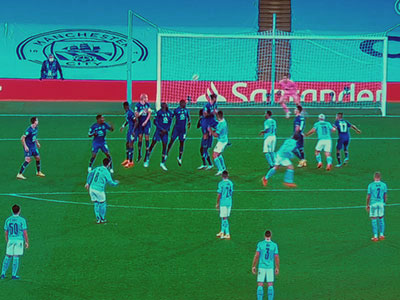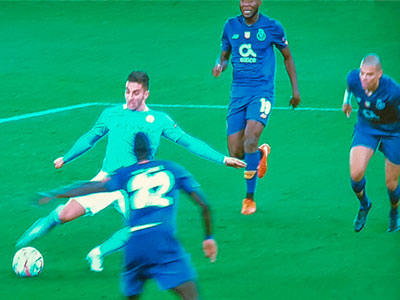 Gundogan scores with a free kick
Torres takes a pass from Foden and smacks the ball home
Ederson 7: Walker 8, Dias 7, Garcia 6.5, Cancelo 7: Rodri 7 ( Fernandinho/ Stones), Benardo 7, Gundogan 7.5 (Foden) Mahrez 7, Sterling 7, Aguero 7 (Torres)
It's been quite a while since we last played Porto .It was back in February 2012 and because I had been moved to a different seat and had a major problem with a new camera I was trying out I did not produce my usual web page covering the game. I have managed to find some old pics from the game which City won four nil. City scorers were Aguero, Silva and 2 subs - Dzeko and Pizarro. The City side was - Hart, Richards, Lescott, Kompany, Clichy, De Jong, Toure, Barry, Silva, Nasri and Aguero.
There were some interesting names on the Porto side - Otamendi (30) James Rodriguez (19) and Hulk (12). Mangala was on their bench.

Remember when there were fans in the ground!!!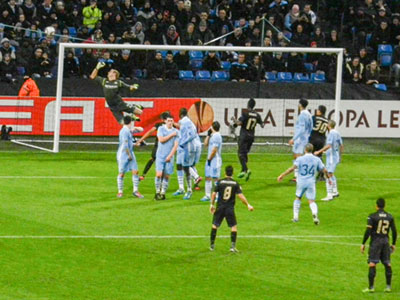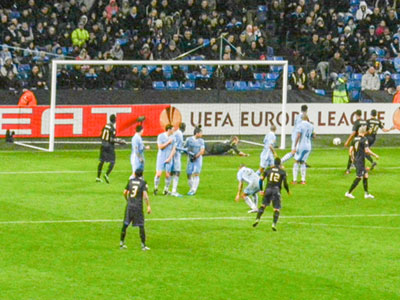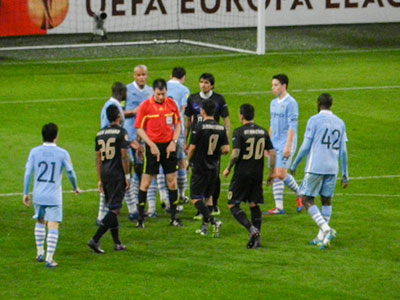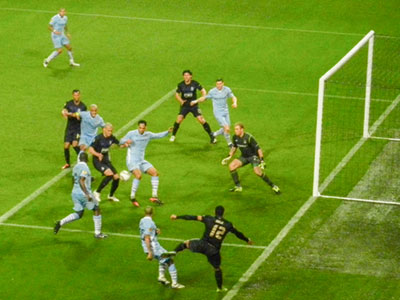 West Ham U 1 Man City 1
Oct 24th 2020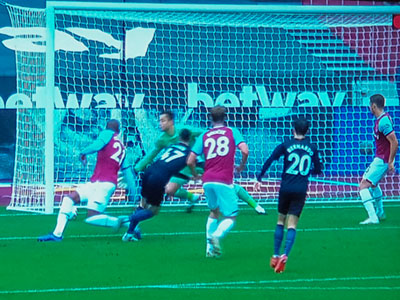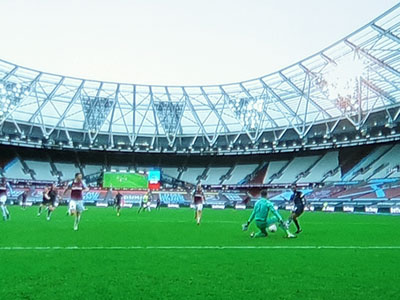 Sterling fails to beat the keeper late on
Ederson 6.5, Walker 6.5 (Zinchenko) Dias 6, Garcia 6, Cancelo 7.5: Rodri 6, Gundogan 6, Sterling 6, Mahrez 6,
Benardo 6 (De Bruyne) Aguero 5 (Foden 8)
Not the best of performances by City at West Ham and after a poor first half display with few efforts on goal it took the introduction of Phil Foden to stir City into some positive play. He soon made his presence felt by scoring a good goal with help from Cancelo.
West Ham had gone ahead on 17 minutes with an overhead kick from Antonio. A very good goal.
Aguero is miles away from his best and Sterling missed several good chances. West Ham defended well and City seem to have lost that special rhythm to their game. I can't remember when City were so low in the league table at this stage of the season though to be fair we still have to play Villa. City just lack that clinical finish we have got used to. Several times the final touch failed to give us control and chances went adrift.