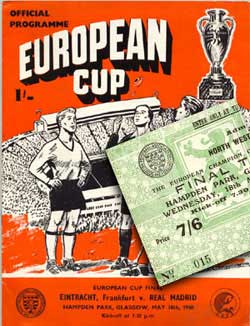 A couple of years after the wonderful performance of Brazil in the 1958 world cup final I was priveliged to watch probably one of the best games of all time - The European Cup Final between Real Madrid and Eintracht Frankfurt at Hampden Park in Glasgow
7-3 was the score for the Spanish side with two players sharing the goals for the winners. Ferenc Puskas the brilliant Hungarian scored four while Alfredo Di Stefano from Argentina got three.
Note the cost of the ticket- about 35p in todays money for the match of the century and what about the programme price ! The game is available on video -BBCV 46
Beginning in 1955-56 the European Cup had been won every year by Real Madrid beating Reims, Fiorentina, AC Milan, and Reims again before this game with Eintracht. The game at Hampden Park attracted more than 135,000 the record attendence for this competition. They didn't win it again until 1966 - a year something else happened !