To the City fans who sit near me - We'll meet again - I know just where but don't know when!
Sorry I could not get to my seat this time so it's plan B for the time being.
City 3 Arsenal 0 June 17th 2020
After a dullish first half hour City started to dominate and a series of gifts by Luiz set the seal to a City victory. Sterling took advantage of poor control by the Arsenal defender to crack the ball past the keeper just before half time. There was worse to come for Luiz when a great long ball by Ederson set Mahrez going for goal and Luiz brought him down to earn City a penalty and a red card for himself. Kevin De Bruyne sent Leno the wrong way to put City two up. But for some good saves by their keeper City might have had the game well won before Foden made it three nil late on. The major negative moment for City was the injury to Garcia injured in a collision with Ederson who was clearing. He was taken to hospital but I understand he has now left it. I hope he will be back in action soon.
It is a long time since I watched a league game in June - on June 14th 1947 I was at Maine Road to see City beat Newport County 5-1 - George Smith scored all 5 for City -the team was Swift,Sproston Barkas Fagan, McDowell Walsh, Dunkley Herd, Black, Smith and Clarke. Roffi scored for Newport. There were 22,000 there - a lot more than the Arsenal match!
It was also the debut of Roy Clarke - a great winger.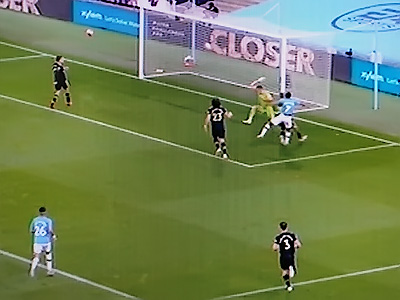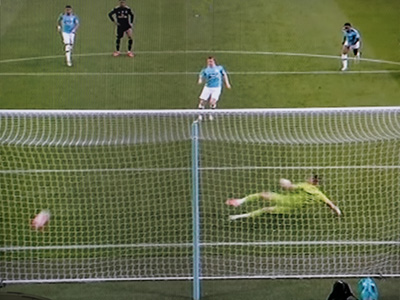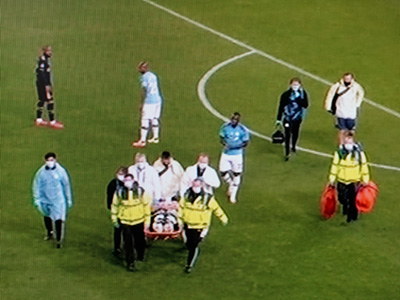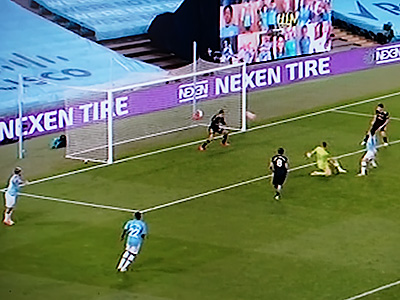 De Bruyne scores the penalty
team
Ederson 7.5: Walker 7, Garcia 7, Laporte 7.5 (Fernandinho), Mendy 7: Gundogan 7, Silva 7 (Benardo) De Bruyne 8 (Rodri) Mahrez 7 (Foden) Sterling 7, Jesus 6.5 (Aguero)
City 5 Burnley 0 June 22nd 2020
An easy win for City who had made 8 changes from the Arsenal win. After a slow start Foden opened the scoring with an excellent effort following a short corner. It was nearly half time when a great long pass from Fernandiho found Mahrez who drove forward and cracked the ball past Pope for number 2. Almost on half time Aguero was fouled by Mee and good old VAR confirmed the event and as Aguero had departed injured Mahrez banged the spot kick home for number three - game well over. Good work by Stockport Phil gave Silva a chance from close range for number four and Foden himself completed an excellent performance to be man-of-the-match. It was the third time City have scored five goals against Burnley in the past 2 years.
Ederson hardly had anything to do so the 'new ' defence had an easy evening with Zinchenko enjoying himself down the left flank. Shame Aguero got injured - hope he is fit for the Chelsea game.
I forgot to mention in the notes for the last game the sad death of Glyn Pardoe, It brought back memories from the past. He had the record of being the youngest player to have appeared for the first team. He was only 15 and 300 plus days old when I watched him play against Birmingham in 1962.
. The City team that day was - Trautmann, Kennedy, Sear: Benson, Leivers, Oakes: Young, Dobing, Pardoe, Hayes and Wagstaffe. Glyn played over 300 league games for City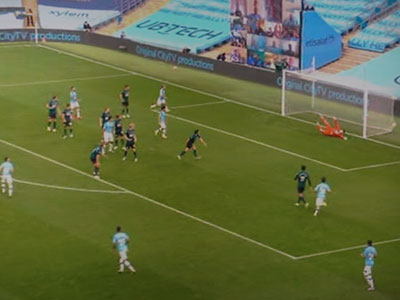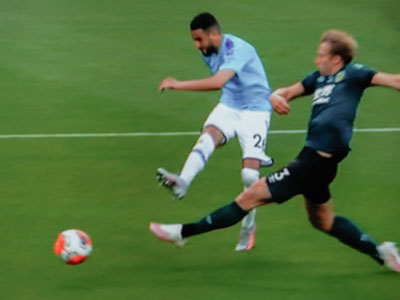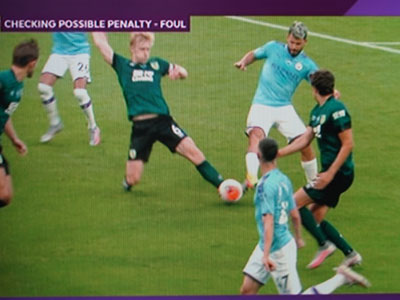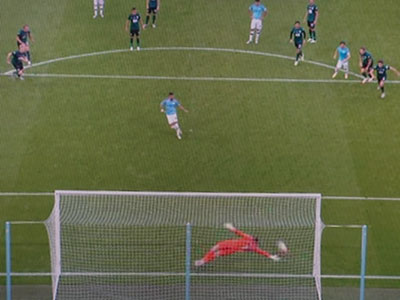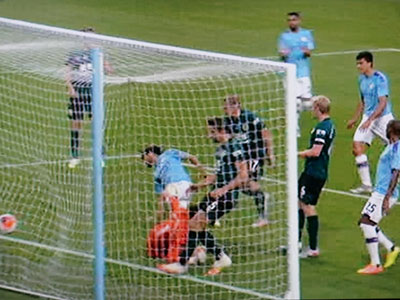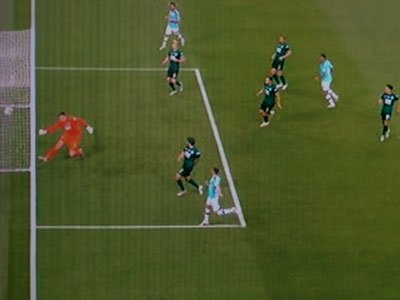 Foden scores from well outside the area
VAR makes the decision and Mahrez beats the keeper for number three
David Silva scores from close range
Foden completes the scoring and a great individual performance -his best for City -so far
Ederson 6.5: Cancelo 6.5, Fernandinho 7.5 (Laporte) Otamendi 6.5, Zinchenko 7: Rodri 6.5, Silva 7, Foden 8.5 (Sane)
Mahrez 7.5 (De Bruyne) Benardo 6.5, Aguero 6 (Jesus)
.
City 4 Liverpool 0 July 2nd 2020
Following defensive errors leading to a defeat at Chelsea and then an easy cup win at Newcastle City were back to their very best against Liverpool overpowering them four nil and it could have been more. After Liverpool had missed a couple of opportunities Jesus was brought down by Gomez near the goal and De Bruyne continued his recent penalty successes to put City ahead on 25 minutes . Sterling made it two nil 10 minutes later and with City now dominating the play Foden scored an excellent goal after a 1-2 with Kevin. So three nil at half time - last time Liverpool trailed by 3 at half time was in May 2015 - they lost 6-1 to Stoke!
Ederson had little to do except to play as an extra midfielder!! Another shot from Sterling that was going wide was put into his own goal by Oxlade-Chamberlain to make it four nil and right on full time City made it 5 but it was disallowed for a hand ball a few seconds earlier - pity! Overall a terrific display by City with Kevin De Bruyne the star and Phil Foden not far behind. Foden is really looking like a successor to David Silva. He deserves more starts! However at the moment Jesus does not look as good a scoring forward than Aguero!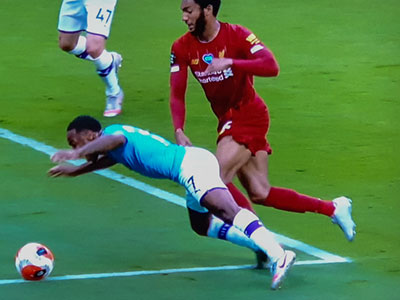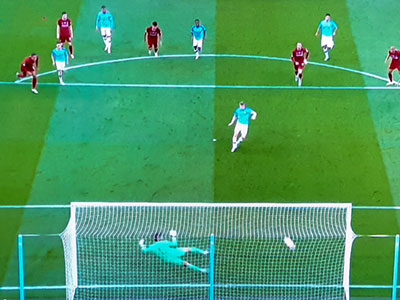 Gomez bundles Sterling over and De Bruyne sends the keeper the wrong way to make it one nil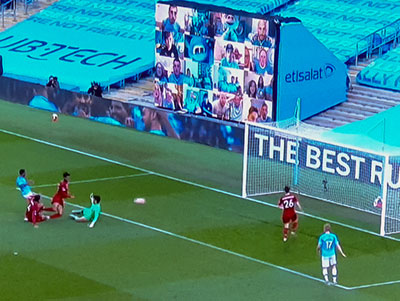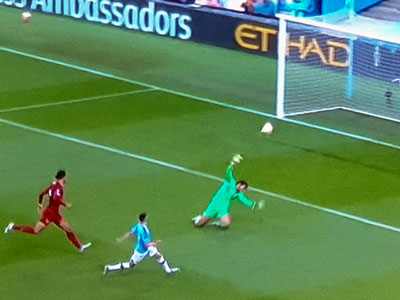 Phil Foden cracks in number 3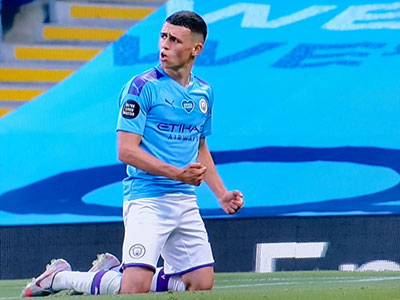 I think Phil liked that one!
Sterling's shot is deflected in for number4
Ederson 7.5: Walker 7(Cancelo) Garcia 7.5, Laporte 7.5 (Otamendi), Mendy 7: Rodri 7.5 , Gundogan 7.5, Sterling 8 (Benardo)
De Bruyne 9 , Foden 8.5, Jesus 6.5 (Mahrez)

City 5 Newcastle U 0 July 8th 2020
This game had us struggling to decide whether City would win by 5,6 or 7! We had to make do with five but with several very good chances missed it could have been many more. David Silva was great throughout the match and scored from a terrific free kick as well as getting assists. Jesus and Mahrez notched the first two with tap-ins in the first half.
An own goal by Fernandez made it three nil shortly after the restart and then Silva hit home number four with the free kick. We had to wait until the final seconds before Sterling made it five. City had a 93.7% completed pass rate - their passing accuracy is the best in the Premier League so far. When Mahrez scored he became the fifth City player to have scored ten and more league goals in a single season - Sterling, Bruyne, Aguero and Jesus being the others. If Phil Foden had taken his chances he would be a possible sixth!!
Making his debut on 75 minutes was Tommy Doyle grandson of the great Mike Doyle who I first saw in 1967 in his first games for City. Zinchenko whose error lead to the defeat at Southampton tried extra hard and linked well with team mates. In the absence of Aguero the goal that Jesus scored will I hope give him more confidence. Good to see Stones back in action..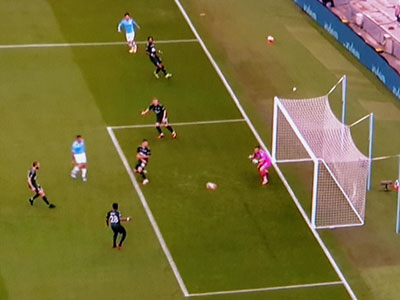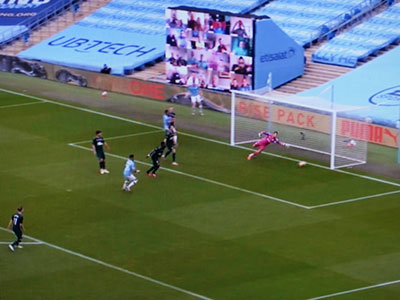 Jesus scores following a cross from Silva on 10 minutes
Mahrez makes it two nil from a pass from Kevin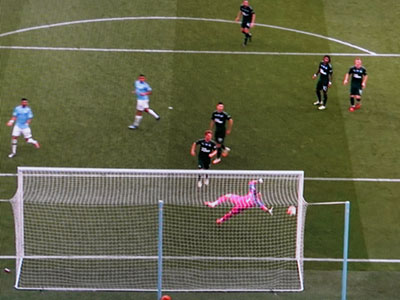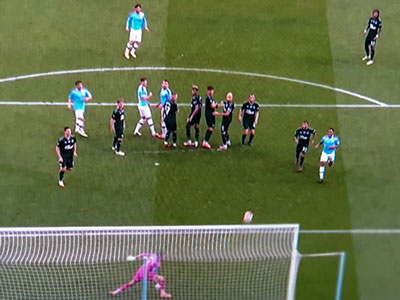 An own goal makes it three nil
Silva places the free kick into the net for number four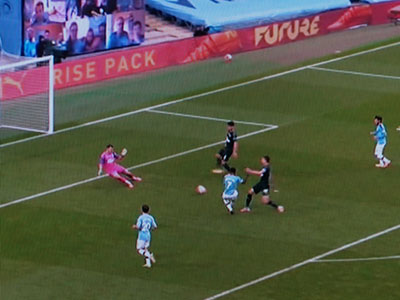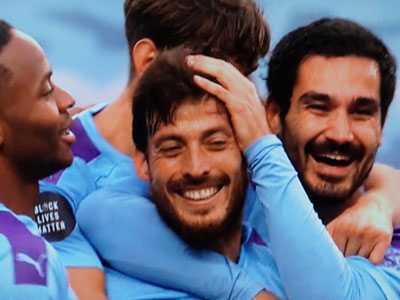 Sterling -on for Jesus - completes the scoring in added time
There is the Man-of-the- Match David Silva - who else
Have they started to build his statue yet!!!
Ederson 6.5: Cancelo 6 (Walker 7), Stones 7, Otamendi 6, Zinchenko 7: Rodrigo 7(Gundogan 7), De Bruyne 8, Silva 9,
Jesus 7 (Sterling) Mahrez 7 (Doyle), Foden 7.5 (Benardo)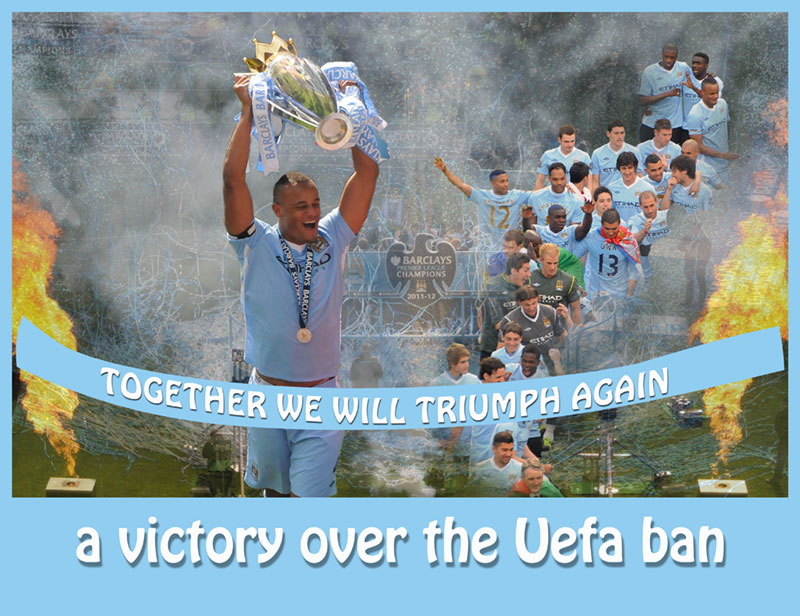 As I expected City overturned the two year ban from competitions in Europe. The 30million euro fine was reduced to 10 million.
So we can look forward to wins over Barcelona, Real Madrid etc in the next few seasons! It is good news on many fronts - players will want to stay and new players will want to come. Perhaps we could persuade Pep to stay longer too.
Oh by the way we thrashed Brighton over the weekend. Sterling got a well deserved hat-trick -including two headers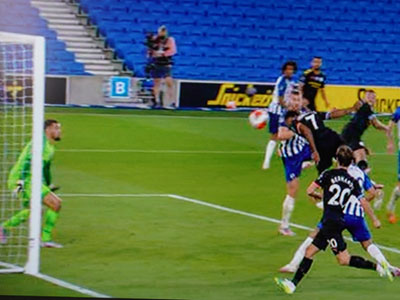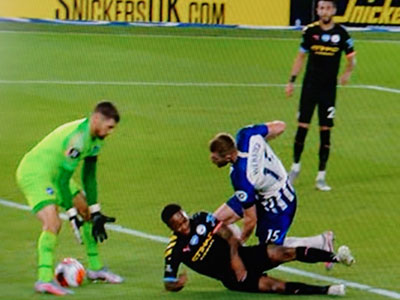 . high and very low header goals by Sterling in the five nil win
City 2 Bournemouth 1 July 15th 2020
For once this wasn't an attack v defence game at the Etihad. Bournemouth had several good chances and Edison had to make an outstanding save at a free kick, Fortunately for City an early free kick brilliantly taken by David Silva gave them an early lead. Silva later helped Jesus for number two.
In the second half VAR said no to a solid City penalty and just before full time ex City youth player Brooks scored for the visitors. With Bournemouth desperate for points the added 6 minutes put City under pressure with more saves from Edison.
II feel that City played with thoughts of the Wembley semifinal coming up on Saturday and the 'cherries' were desperate for points. It was the first time that City had faced more shots than they had done at home games for years - since April 2016!
City had rested several key players so it was a tough victory over a side that had lost their previous 8 games against the sky blues. Well below his best was Phil Foden who failed to add to his recent scoring tally.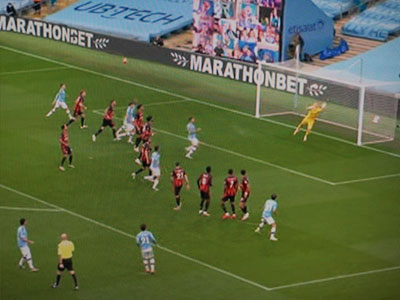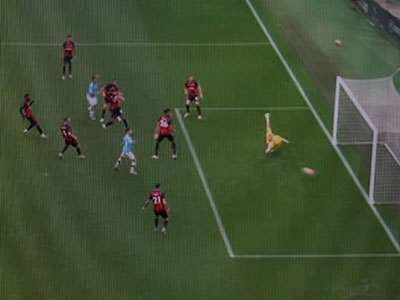 great free kick by Silva 1-0
Edison 8, Walker 6.5 (Garcia 6), Stones 6.5, Otamendi 7, Mendy 6 (Zinchenko 6.5), Fernandinho 7.5, Gundogan 7 (Rodrigo) Foden 6, Benardo 6 (Sterling 6) Silva 9, Jesus 8 (Mahrez)
Arteta 2 Guardiola 0 July 18th Wembley!
At least I saved a bit of money by not being able to go to Wembley for the umpteenth time! City were really awful in the first half lacking speed and passion. Creativity was rare and with Kevan's game below par the organization of the Arsenal defence kept chances to a minimum. There was an improvement in the second half but Arteta made good use of City's defensive problems and Aubameyang scored two good goals to end City's excellent cup run. The holes in the defence must be sorted before next season and City must have a plan B if the opposition pack their penalty area. Despite City having major possession the sky blues only managed one shot on target all game - unbelievable!
It was Luiz whose errors helped a City win a month ago who had a great game in Arsenal's defence and with Sterling and Jesus having poor games City's only effort at goal came from Mahrez.
Ederson 6: Walker 6, Garcia 6, Laporte 6.5, Mendy 6, Gundogan 6 (Rodri) , Mahrez 6 (Foden) Silva 7 (Fernandinho)
De Bruyne 7 Sterling 5, Jesus 5

Watford 0 City 4 July 21st 2020
City started in a much more positive way against Watford than at Wembley and a great shot by Sterling gave them the lead on the half hour. On 40 minutes he was brought down just inside the penalty area and after having his penalty kick brilliantly saved by Foster he followed up to tap in the rebound for his second and City led 2-0 at Half time. Normal service was resumed after the break and the gap between the side grew bigger when Foden made it three from close range following good work by Sterling. It was soon four nil when Laporte scored with a header from a free kick taken by De Bruyne. It was Kevan's 19th assist of the season -almost a record - so I bet he plays in the final league game against Norwich on Sunday! City did notch a fifth but Jesus was offside, It was yet another hammering of Watford- remember the 8 nil win last September -
City 8 Watford 0
The total of 12 goals for the double fixture might be a record.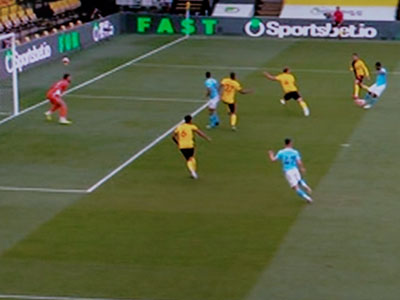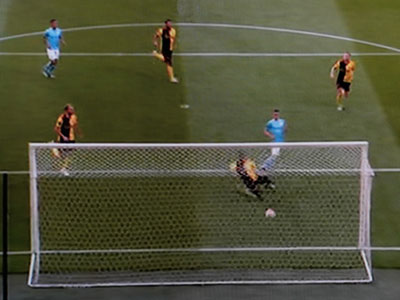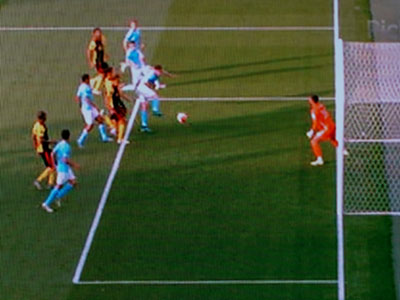 Sterling show great technique for goal number one
A tap in following the penalty save for his number 2
Foden scores from close range for number three
Laporte heads in number four
Ederson 7: Walker 7 (Zinchenko) , Garcia 7, Laporte 7.5 ( Stones) Cancelo 7: Rodri 8, Foden 7.5, Sterling 8.5 (Mahrez)
De Bruyne 8, Benardo 7, Jesus 7
City 5 Norwich City 0 July 26th 2020
City had an early scare when against the run of play Hernandez scored for Norwich but luckily for City he was VAR'd offside. Shortly after Jesus scored from close range to give City the lead. City continued to dominate but many efforts were blocked by bodies! Ederson had to make a good save from Pukki when he was sent clean through. Just before half time a great right foot drive by De Bruyne made it two nil.City made three changes at half time and the sky blues continued to dominate and Krul was very busy in the Norwich goal. With ten minutes to go Sterling got number three - the assist coming from Kevin De Bruyne who equaled the assist record held by Thierry Henry in 2002/2003.
Oh it was also City's 100th league goal of the season and goal number 30 for Sterling! Mahrez scored number four and just on time Kevin got number five. Alas it was Silva's very last league game and it was a shame there were not 50,000 there to say farewell. Ederson beat Pope to the Golden Glove award with his 16th clean sheet this season.
What a shame we can't persuade Silva to stay for one more season at the Etihad.
.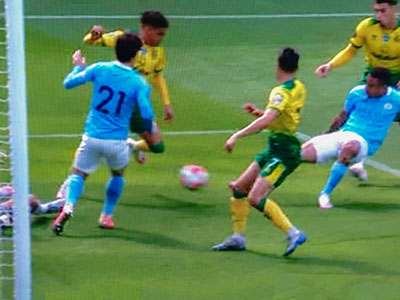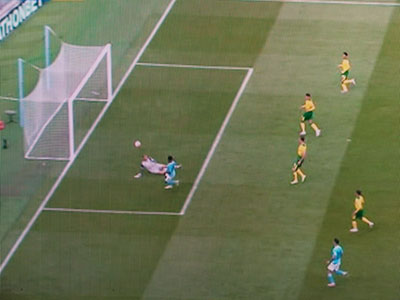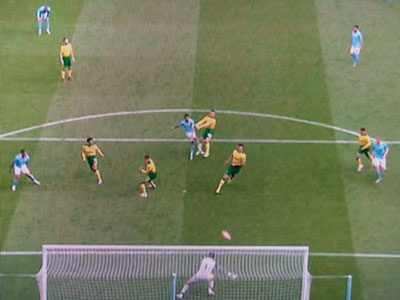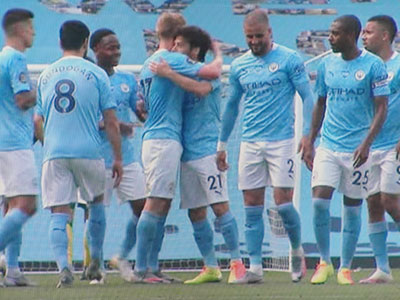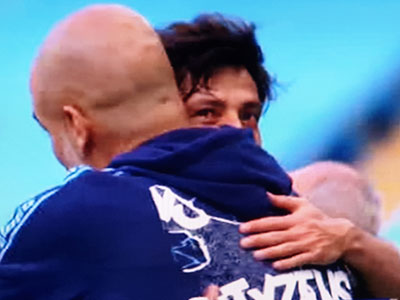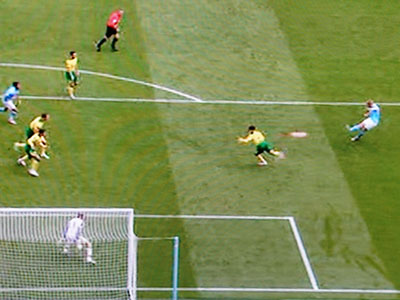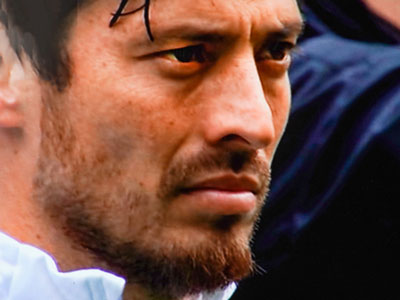 Jesus scores first on 11 minutes
De Bruyne shows great technique for number 2
a great pass from Kevin gives Sterling a chance for goal 3
David Silva says farewell to his team mates
He gets a big hug from Pep
D Bruyne curls in number five
A face we shall never forget
Ederson 7.5: Walker 7.5, Garcia 7 (Fernandinho 6.5), Laporte 7, Cancelo 7: Rodri 7 (Gundogan 7) , Silva 7.5 (Benardo)
De Bruyne 8.5, Sterling 8, Foden 7(Mahrez 7), Jesus 7
City 2 Real Madrid 1 Aug 7th 2020
A great team performance on this special day as City beat Real Madrid and now play Lyon in the quarter final of the Champions League. Christmas came early for City as defensive errors by Varane led to both City goals. After just 9 minutes he was harried by Jesus who got the ball from him and passed to Sterling who had the easy task of scoring to give the sky blues the lead. Just on the half hour City conceded the lead when a cross was headed past Ederson by Benzema.
The crucial moment came on 68 minutes when a poor header back to his keeper by Varane was pounced on by Jesus who nicked it past Courtois to give City the lead. Sterling and Jesus had great games while De Bruyne and Foden played their part too. City's weak spot continues to be the left back position where Cancelo deputized for the suspended Mendy.
Good to see Phil Foden from the start and he did not let the team down.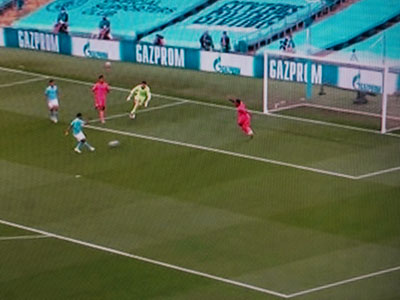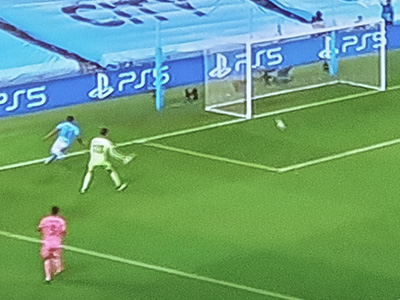 Sterling scores the first
Ederson 7: Walker 7.5, Fernandinho 6.5, Laporte 7, Cancelo 6.5, Rodri 7 (Otamendi), Gundogan 7,
Foden 7.5 ( Benardo), De Bruyne 8, Jesus 8.5, Sterling 8.5 ( Silva)
City 1 Lyon 3 August 15th 2020
Just when we thought we would be battling shortly against Bayern Munich we witnessed a shambolic defensive display against Lyon. The team selection was very negative and in the first half there was a slow tempo and a lack of urgency.When Kevin equalized in the second half there was a glimmer of hope and we looked a bit more positive but alas a high defensive line can lead to be caught square and Lyon went ahead. Then came the miss of the season when Sterling shot over in front of an empty goal - unbelievable! To make matters worse Ederson fumbled a shot and Lyon made it 3-1.Much more thought must be made next season to sort out these defensive errors and tactics. Oh and good old VAR didn't help City today either!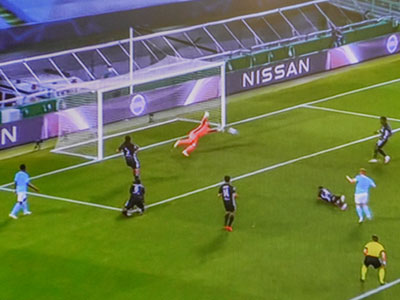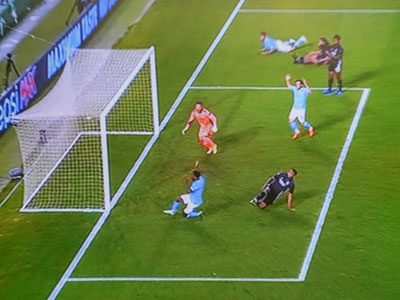 Kevin De Bruyne scores for City
Ederson 5: Walker 5.5, Garcia 5.5, Laporte 5.5, Cancelo 7: Fernandinho 5 ( Mahrez) Rodri 6 (Silva) Gundogan 6, Sterling 6,
De Bruyne 7, Jesus 6