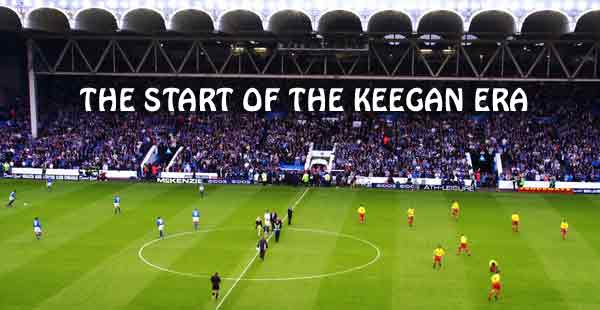 There are no other words to describe the opening display of City on their return to the First Division after their miserable performances last season in the Premier League.
The decision to sack Joe Royle and give Kevin Keegan the chance to raise City from the dead appears to have paid off if the display against Watford is anything to go by. It was like a gust of fresh air rushing through Maine Road. A totally unreal experience. The idiotic kick-off time - for the TV Gods - the autumnal weather - and a total team football display with hardly a weakest link ( sorry about that ). From Carlo Nash in goal (whose creative quick clearances were excellent) to Shaun Goater upfront the whole team should be proud of their display .
However there are several performances that really stood out - Man of the match was new signing Berkovic whose display was a revelation. His skill. passing and running off the ball was first rate and if he keeps playing like this it will be the best signing City have made in years.
The other new signing Stuart Pearce was .... just Stuart Pearce....... an enthusiastic, hard, leader.
I suppose to the regular City supporters the main shock was the really good display of Charvet, who most (including me ) had written off after his efforts last season. Perhaps it was his long lost twin brother or 'clone' but what a change. Keegan has undoubtedly had a part to play in his renewal of skill and confidence.
City v Watford 3-0
August 11th 2001 att 33,939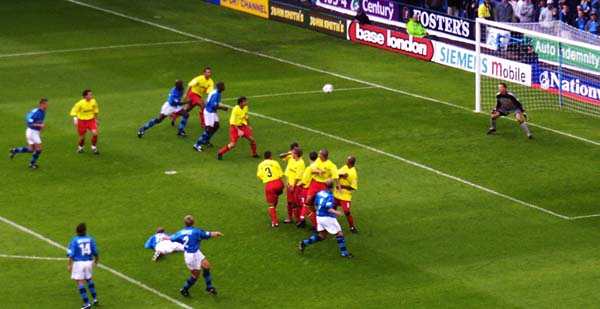 After 9 minutes a Stuart Pearce kick following a foul on Wanchope goes near
.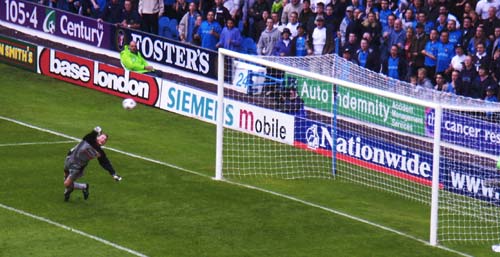 Baardsen makes a good save from Berkovic

After a goalless first half with City missing several opportunities it was in the 58th minute that Goater scored with a header from an excellent early cross from Charvet after a brilliant pass from Berkovic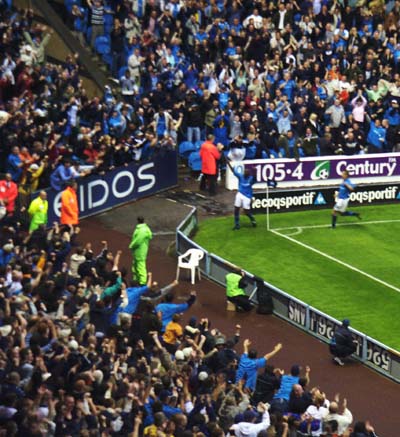 Goater celebrates with the crowd after giving City the lead 1-0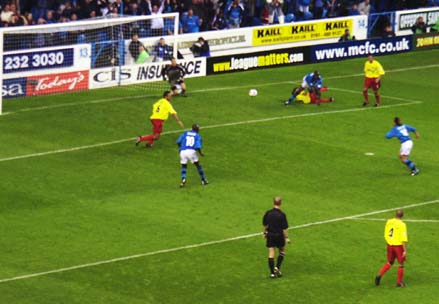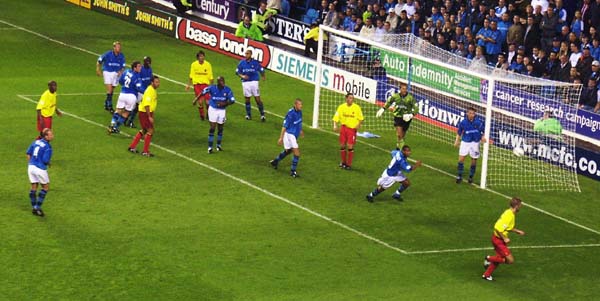 A header from Wanchope rebounds from the bar and Berkovic is about to score City's second goal
A strong visiting contingent from Watford had little to cheer about during the one sided game but at least they got a few corners. Nash had only one save to make but he was well protected by Howey and company. Watford with many new players under Vialli rarely gave City cause for concern

Reduced to ten men after Robinson was sent off for a second bookable offence after 70 minutes Watford conceded a third goal with only a few minutes to go. Whitely ,on a sub for Berkovic, was brought down by Galli just outside the area. Stuart Pearce zapped the ball home - you can see it half way to its target What a start to the season.
City v Crewe 5-2
August 25th 2001 att 32,844
After the vintage display against Watford and last weeks defeat at Norwich which brought City fans back to earth: the first twenty minutes or so against Crewe was 'a comedy of errors' with neither side able to lift their game. Then just when everyone was in danger of nodding off under the intense heat the game came to life.
The newly blonde Weaver standing in for the injured Carlo Nash was called into action several times and it was Crewe that looked likely to score early on. City were playing nowhere their Watford game form and Berkovic was being sorely missed.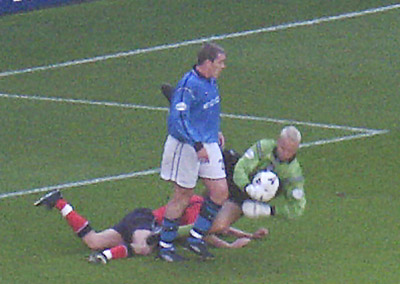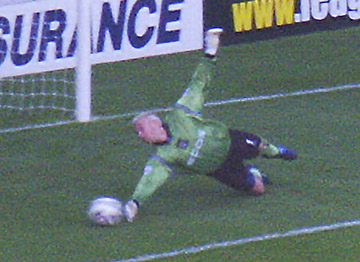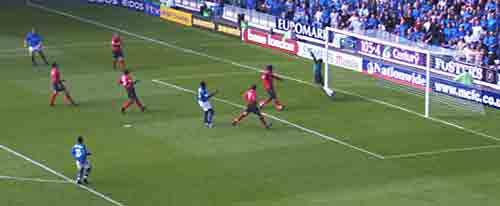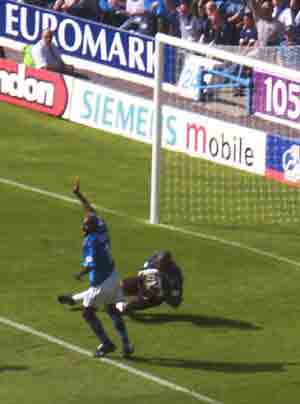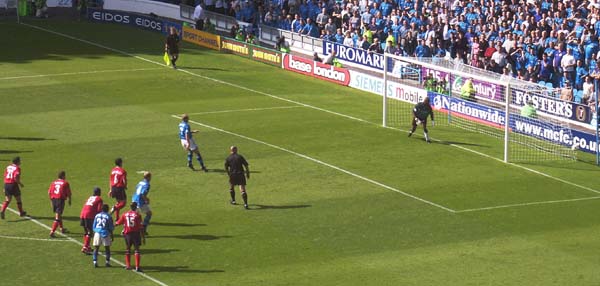 It was somewhat of a surprise when City scored through Wanchope after 33 minutes - to give City a somewhat undeserved lead following a run by Granville.
Then 3 minutes before half time the referee who had given City little all afternoon awarded the blues a penalty following a handball by Macauley - Wanchope on the left appealing.
Stuart Pearce slotted the ball home to give City a really surprising 2 nil lead.
With so little time to go to half time it looked as though City would go back to the dressing room with a good ovation but Crewe fought back and scored two goals in the extra time added for injury and the boo boys started .
I would have thought there would have been some harsh words at half time by Keegan and substitutes were made at half time. Wiekens was replaced by Grant and Wright -Phillips by Horlock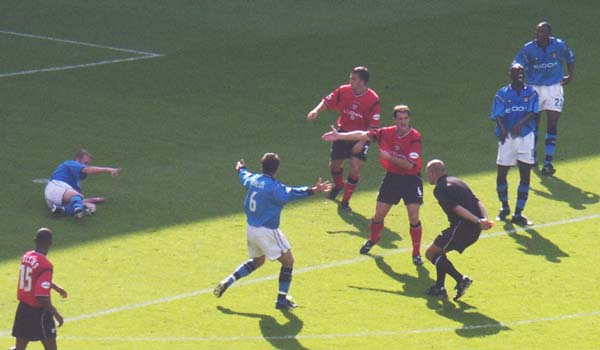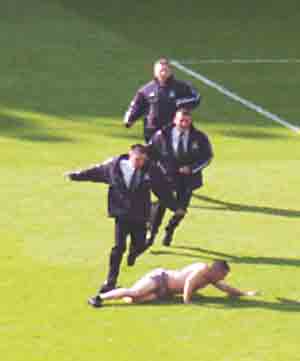 Though Crewe were beginning to tire and it looked as though it was going to end 2-2, the afternoon was briefly 'set alight' by the unscheduled arrival of a half streaker who was escorted off the ground in short time.
With twenty minutes to go Keegan sent on Huckerby whose speed immediately set up a goal for Goater. The same player scored 8 minutes later to give City a 4-2 lead and in time added on for injuries Wanchope scored a fifth - a lead that flattered City.
What next ?
Weaver made a couple of good saves but his distribution is still poor and his judgement was at fault for one of the Crewe goals.
Dunne had a poor game and despite the heat looked as though he had put on weight during the game ! The defence had better get their act together before Monday's game against Burnley and if Goater and Wanchope are to continue their goal scoring ability a creative midfield is essential.

Notes-
As we slip into September , City's win at Burnley puts them temporarily at the top of Division One and now England win against Germany in Munich with a display that almost matched City's display against Watford !!! Oh I got my tongue caught in my cheek again. It must be the thought of Owen getting lessons from Shaun Goater !

August Games
v Watford 3-0:City v Crewe 5-2
Nash, Charvet, Granville, Dunne, Howey, Pearce, Wiekens, Berkovic, Wanchope, Goater, Tiatto sub Whitley
Weaver, Charvet, Granville, Dunne, Howey, Pearce, Wiekens, Wright-Phillips, Wanchope, Goater, Tiatto