City v Gillingham 4-1 November 3rd
att. 33,067
Following the away 3-0 win at Barnsley, Kevin Keegan continued with the 4-4-2 formation and also starting for the first time at Maine Road were Ali Benarbia and Berkovic. The first half display was again wonderful with first rate passing and running off the ball. Chances came thick and fast but we had to wait until the 18th minute to celebrate the first goal. Goater linked with Huckerby who ran at goal and his finish was blocked by Vince Bartram (below)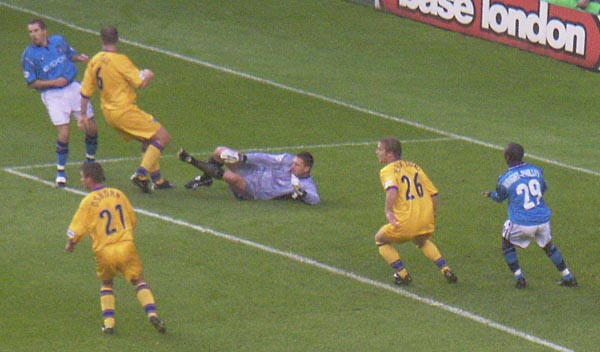 The ball ran to Shaun Goater who smashed in his 18th of the season (below). Bartram appears to be waving hello to the linesman!
We had a replay two minutes later. Once again Huckerby's shot following a good run was parried by Vince Bartram and Goater was at hand to score City's second and his 19th (below).
Benarbia and Berkovic were playing well together and City looked as though they would score every time they got the ball.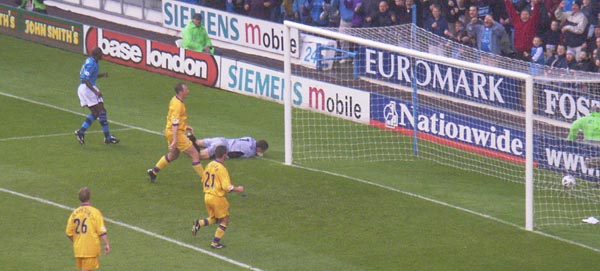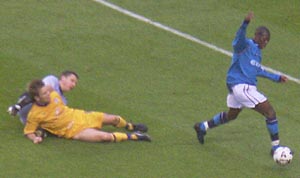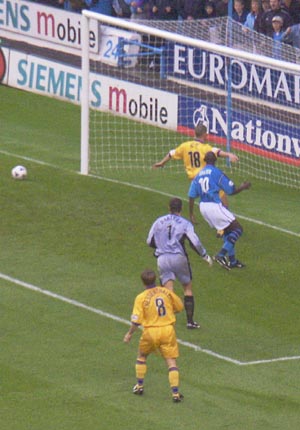 Goater almost got his hat trick moments later.
Wright-Phillips made a fast break down the right-above and his centre cum shot from the narrowest of angles was just missed by Goater .
After 35 minutes City got their third goal. Goater made progress down the left flank and his cross was blasted into the Gills net by an inform Darren Huckerby- below. Huckersby's speed and confidence at the moment is going to give Keegan a nice problem when Wanchope gets fit.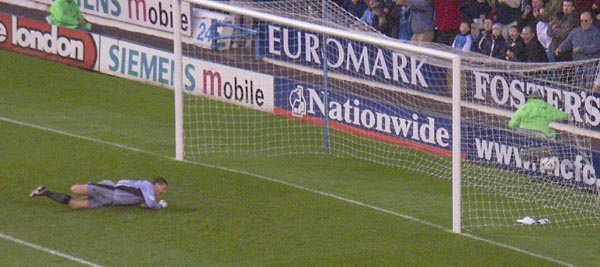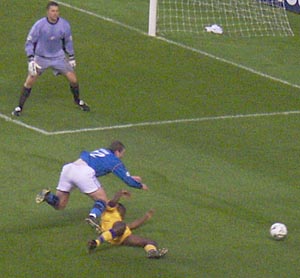 A minute or so before half time City's claims for a penalty were turned down when Richard Dunne took a pass from Ali B and dashed into the Gillingham penalty area. He took a tumble when tackled - left and City went in at half time just 3-0 in the lead - it could have been 6. It had been an excellent first half display - probably better than the Watford game at the start of the season.
Below Goater is about to score his hat trick and City's fourth in the 52nd minute. Ali B started the move which ended in a nick from Huckerby to Goater and then bang.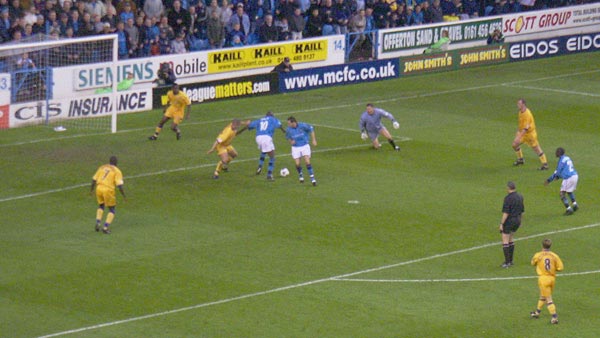 With twenty minutes to go Gillingham got a consolation goal. A long ball found Marlon King who beat Weaver. Gillingham had not given up the ghost and they deserved a goal.
Weaver seems to be getting back some of his confidence and actually came off his line on a couple of occasions. Howey and Metttomo are now playing well at the centre of defence. With Danny Tiatto due to be away for several games whilst on World Cup duty for Australia it will be interesting to see if Kevin Horlock will takeover on the left side of midfield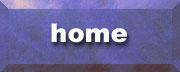 City v Rotherham 2-1
November 24th
att. 34,223

The continued absence of Wanchope and injury to Goater meant that Leon Mike made his full debut.and new signing Christian Negouai had his first home game. The largest attendance of the season witnessed a poor City display in the first half. Rotherham were really 'up for it' and fought for every ball so it was no surprise when they took the lead after 23 minutes. A corner was powered home by Chris Swailes. City's weakness against dead ball kicks was shown up once again.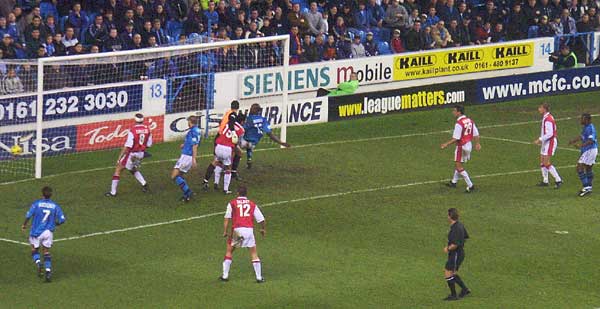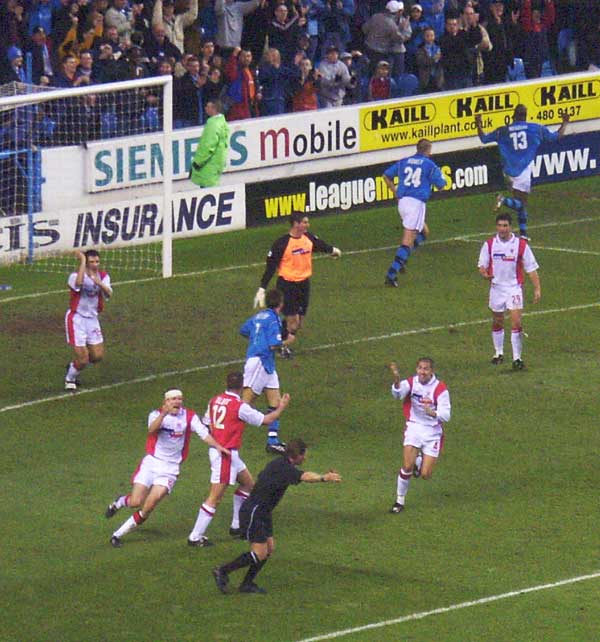 Just when it looked as though City would go back to the dressing room a goal down and a verbal battering from Keegan a minute or so before the break came the games talking point.
A corner on the right by Pearce was followed by a pass from Benarbia back to Pearce and the ensuing centre was dispatched into the net by new boy Negouai - apparently by hand according to the pleas and protestations of the Rotherham players
Perhaps Negouai is a big basketball fan !
However as City have had some good goals dissallowed this centre perhaps this was the change of luck they needed.
Rotherham obviously felt hard done by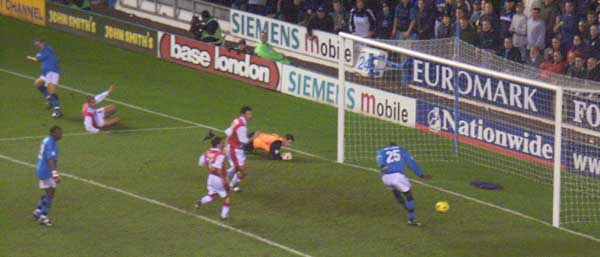 The number 13 shirt that Negouai has taken over is obviously lucky for him.
He has got some way to go to match Keegans comment that he was his best signing.I still think Benarbia is the best ---so far !
Wiekens replaced the injured Howey at half time and City played much better in the second half with three or four chances being missed before Ali Benarbia scored the winner in the last minute as I was dashing down the staircase - sorry missed that .
Here is a narrow escape for Rotherham. Huckerby's shot from the left has hit the post and Mettomo was inches away from scoring.
Weaver, Dunne, Tiatto, Mettomo,, Howey, Pearce, Benarbia, Berkovic, Huckerby, Goater, Wright-Phillips
Weaver, Dunne, Horlock, Mettomo, Howey, Pearce, Benarbia, Negouai, Huckerby, Goater,Wright-Phillips