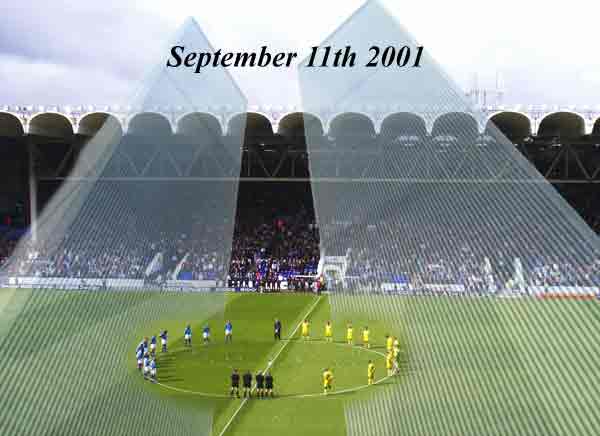 I am sure the events of September 11th 2001 will remain embedded in the memory of all who watched the incredible scenes on TV so it was not surprising that the one minute silence before the Birmingham game was impeccably observed.
City v Birmingham City 3-0
Sept 15th 2001 att 31714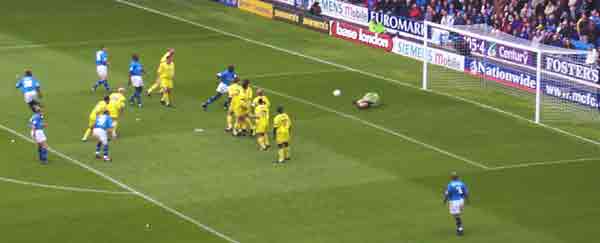 Life under the management of Kevin Keegan is rarely dull for City supporters. At the moment it's a bit of a rollercoaster. After a 0-4 mauling at the hands of West Brom, City progressed in the Worthington Cup by beating Notts County 4-2 with two late goals. For the game against Birmingham (in third place and on a good run), City took the field with two debutants in midfield - Dickson Etutu - a Nigerian youngster who has come through the youth sides and their latest signing Ali Benarbia, an Algerian from Paris St Germain. In a sparking display by City both played well . I fact 'Ali Barba and his Forty Tricks' as he has been nicknamed, was the man-of-the-match .Considering he had only met his team mates in the dressing room before the game Ali was magnificent. he had a hand in two of the goals and his speed of thought, passing ability and football nouse reminded me of several of the great inside forwards of old - Wilf Mannion, Jimmy Hagen to name but two. He likes the ball to feet, lacks a bit of fitness at the moment but his passing is gifted. The Maine Road crowd took to him early on and when he took a corner the crowd in the vicinity rose to applaud his skill . Thank you Mr Keegan . What a signing ! When he was substituted towards the end he was given a great ovation.
An early Stuart Pearce free kick from outside the box is saved by Kelly in the Birmingham goal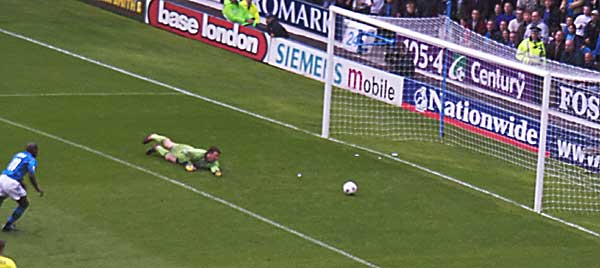 It took City 23 minutes before they scored. Edghill, having another good game interchanged passes with Ali Benarbia down the right and Ali's perceptive pass beating several defenders found Paulo Wanchope whose shot hit the post. With Kelly helpless on the ground Goater, above, is about to poke the ball home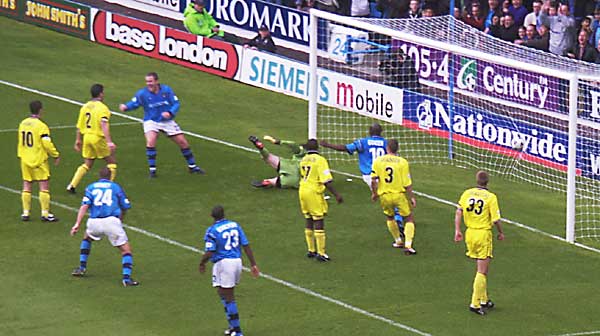 A couple of minutes later a delighted Dunne scored following a corner by Ali on the left. A brilliant reverse pass to Tiatto following the short corner enabled the Australian to pick out Dunne at the near post and he made no mistake from close range to score his debut goal for City.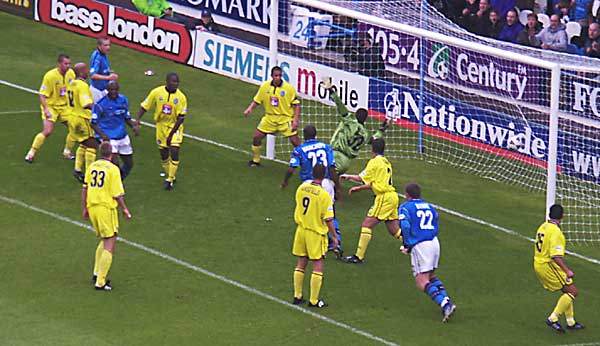 City piled on the pressure and could have had two more before Goater added a third direct from a piledriver corner taken by Pearce- above. Three nil at half time and it could have been much more.The second half was a bit of an anticlimax with Birmingham offering little to test the still blond Nicky Weaver in goal.
Dickson Etuhu had a promising debut - looked a little lost at times but his physical presence will soon prove useful with more experience at this level. He is only 19 and I hope Keegan gives him a few more games. When Berkovic is fit and I would expect him to play alongside Ali in home games Wanchope and Goater will have a field day. The squad is now looking stronger than it has for several seasons and at last we have a creative midfield . Its been too long in coming but better late than never. We still have to stop the goals going in at the other end and although Weaver is playing better I expect Nash to replace him when he is fit. Players like Edghill,Tiatto and Granville are going to have to work hard to cover the attacking Berkovic and Bernabia.
I do wish City would leave Danny Tiatto upfield when defending a corner. Opposing teams would have to leave two defenders to deal with him should the ball be cleared from defence . It also leaves the penalty area a little clearer for the keeper to clear. I could understand it if we were defending a one goal lead with five minutes to go but not when winning 3-0.
City v Walsall 3-0
Sept 25th 2001 att 31525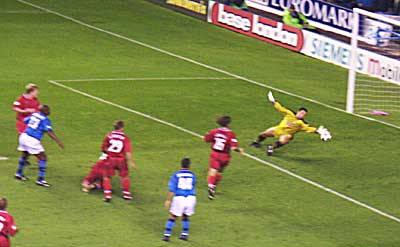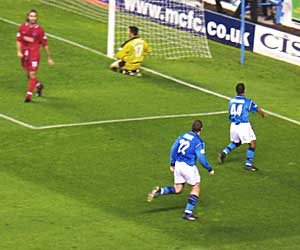 For the first time in many years City supporters arriving at Maine Road have a feeling of great anticipation with the attacking policy that manager Kevin Keegan has introduced. The last away win at Sheffield by 6-2 following the narrow 4-3 defeat at Coventry still has City in a promotion position and with a string of home games to come City could easily be top of the division in a few weeks time. The difference is easily explained. At long last we have a creative midfield that can feed the duo of Goater and Wanchope. There are actually signs of an increased percentage of passes reaching their objective. One can now enjoy home games.

The early stages of the Walsall game lacked much cohesion and it was clear early on that the visitors had come to defend in numbers. They did get one heading opportunity which they squandered before City took the lead after 25 minutes.. Richard Dunne who looked a little lost playing at right wing back crossed to Wanchope. The inform striker sidestepped a couple of defenders and shot past Harper (above) but his shot hit the post. The ever alert Ali Bernabia was at hand to put the ball into the empty net- above right.One nil with hope of more to come now the barrier had been broken.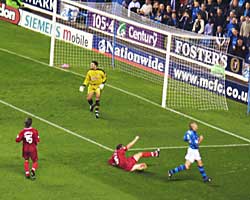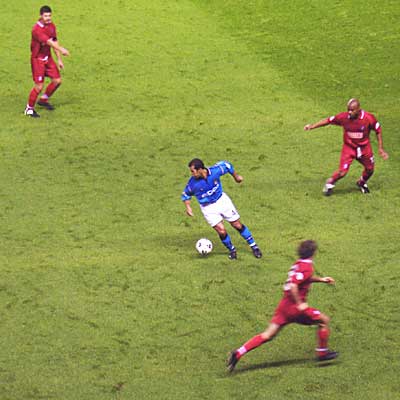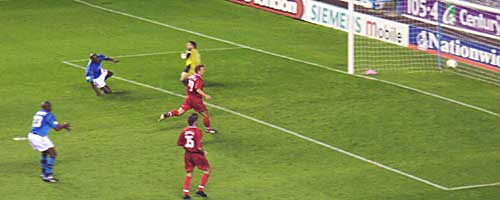 'Ali Barber and his 40 Tricks' - left - kept the Walsall defenders busy. At times there were three trying to mark him. He probed down both flanks with rarely a pass going stray. His play is giving lots more confidence and we had the sight of Steve Howey -above - breaking through and nearly scoring - following a pass by - you guessed it -Ali Benarbia.
Just before half time the ball hits the back of the Walsall net for number two. It was that man again -Ali Benarbia who set it up.
His one-two with Wanchope ended with Goater scoring his 12 th of the season.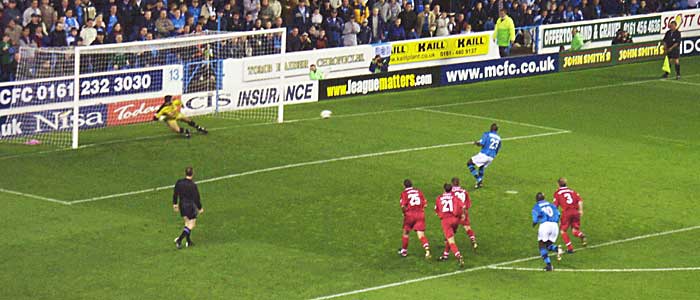 Almost 15 minutes of the second half had gone before Paulo Wanchope scored from the spot. After being brought down by Chettle , he grabbed the ball and purposefully marched to the spot and sent the keeper the wrong way to make it 3-0.
The game was becoming too one-sided - a bit like an attack versus defence training game. City should have notched a couple more. Still they retained possession and with a couple of new players about to sign - perhaps in time for the game against Wimbledon things are on the up. Wanchope and Goater are playing well together with the extra support from mid field. Young Dickson Etuhu gets more confident each game and City blooded another youngster towards the end - Chris Shuker . he is so small- I am sure a night match is way past his bed time ! Alongside Etuhu it was like watching Harry Pilling and Clive Lloyd play for Lancashire.
The squad is now much stronger and a few of the old regulars will probably be moved on by the new year. Keegan looks as though he is starting preparation for the premiership nice and early. The signing of Berkovic and Ali B has made a great difference and I can't wait to see them play together. The injury to Edghill is a bit of a blow considering how well he was playing with Ali. I don't think Dunne has the speed for a wing back and I wonder whether it would be worth experimenting with Huckerby in that position.

City v Wimbedon 0-4
Sept 29th 2001 att 32989
Unbelievable ! Don't know where to start with this inept performance. I cannot remember when I ever took so few pics of City attacking ! After the first ten minutes of gusto from Huckerby down the right flank Wimbledon took over . This was not the long ball Wimbledon of old. They were fast sharp and took advantage of a sloppy City defence. The two taxi's full of visiting supporters relegated to the Gene Kelly stand must have thought Christmas had come early. It is a great shame that their support is so poor. The display of their team deserved better. So why did the City fortress capitulate ? The absence of the injured Wanchope who had linked so well with Goater and Ali B was sorely missed. Huckerby huffed and puffed to no avail. Dunne did one or two nice things early on but was replaced at half time by Alloune Toure who looks to have a good turn of speed but failed to make an impression. Our midfield was outnumbered and outplayed, both Etuhu and Ali B having average games. Weaver I am afraid looks destined to be replaced. His kicking , judgment and lack of confidence at coming for a crossed ball in the six yard area cost City one goal and his miskick on another occasion should have cost them another.

The only time this City team were together was in the warm-up supervised by Colombian Juan Carlos Osario.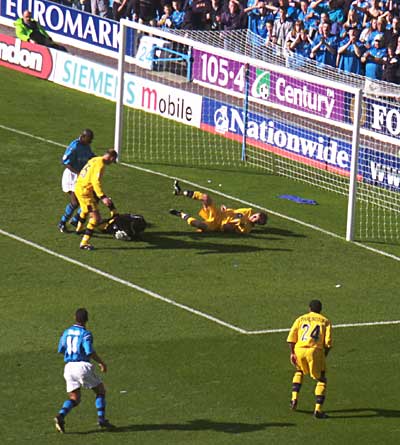 An early attack down the right by City brought Davis into action in the Wimbledon goal. However apart from this moment of promise there was little else for him to do.
Below a cross eludes the jumping Goater who alas did not get much 'feeding' in this game.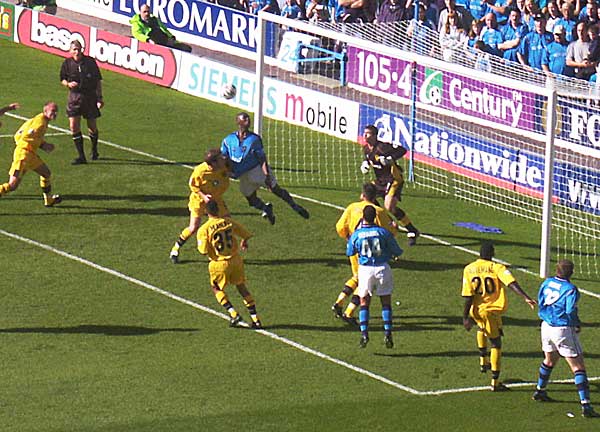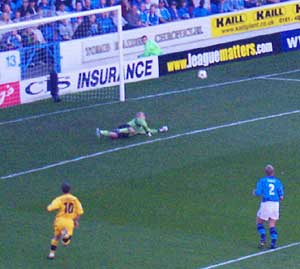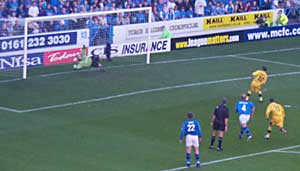 After 21 minutes a counter attack by Wimbledon saw a Hughes (ex City) shot parried by Weaver- left pic. The ball rebounded towards the edge of the area and Benarbia was adjudged -some what harshly I thought- to have fouled Cooper and referee Brandwood awarded a penalty. David Connelly cracked the ball past Weaver.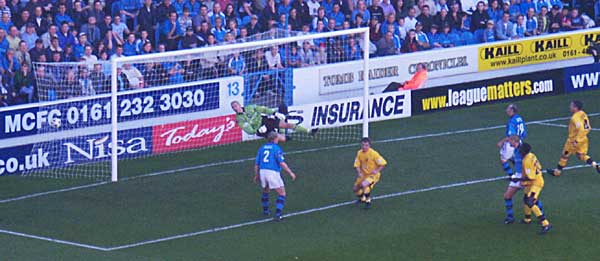 If we thought the penalty was bad enough there was worse to come. City were making no impression on Wimbledon and in the 33rd minute a speculative centre found Connelly completely unmarked. His header from 6 yards out found both a transfixed Pearce and a linebound Weaver moving too late to stop the ball. In the above pic Connelly has already turned away as the ball hits the back of the net and Weaver is still diving ! Why are his reactions so slow ? This is not what we expect from City keepers. Perhaps I am too spoilt with fond memories of Swift, Trautman and Corrigan ! Oh for a goalkeeper that dominates the 6 yard box !
Wimbledon scored two more to end September on a low note. Now we have a break for the World Cup games before Stockport County are the visitors. I do hope the defence is sorted out before then .
Weaver, Edghill, Granville, Dunne, Howey, Pearce, Benarbia, Etuhu, Wanchope, Goater, Tiatto
Weaver, Wiekens, Granville, Dunne, Howey, Pearce, Benarbia, Etuhu, Wanchope, Goater, Tiatto
Weaver, Wiekens, Granville, Dunne, Howey, Pearce, Benarbia, Etuhu, Huckerby, Goater, Tiatto