City 5 Atalanta 1
Oct 22nd 2019 att.49,308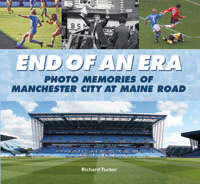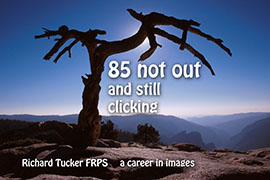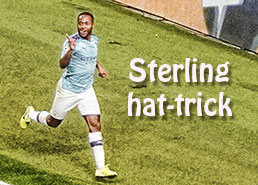 Despite our visitors from Italy taking the lead from a soft penalty City and in particular Sterling demolished Atalanta to keep up our unbeaten record in Group C. In the end it was an easy win but the visitors gave Ederson and the defenders plenty to do .Aguero too was on form and notched a couple of goals.
The only down moments were the injury to Rodrigo and the red card to Foden who had played really well. Two soft yellow cards for Foden late in the game must have been a big disappointment and he was cheered off by City fans who had enjoyed his excellent performance during the game. He is starting to look like Silva's successor.
The injury to Rodri will be of some concern as I understand he will be out for a month and Zinchenko is off injured as well now.
Perhaps we will continue with a three man defence until Laporte returns!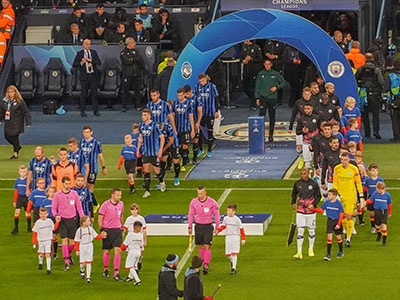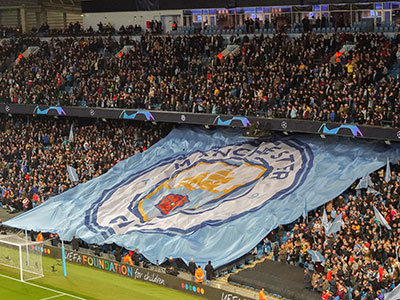 City made several changes from the team that won at Crystal Palace - Aguero was in for Jesus and Foden for Silva. Walker replaced Cancelo and Mahrez come in for Benardo.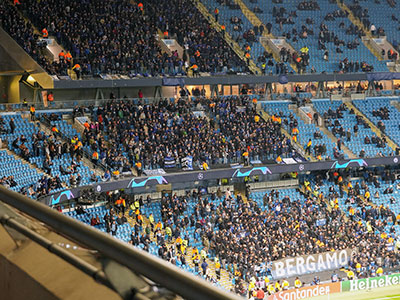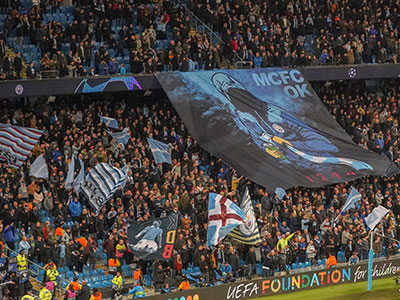 There was very strong support for Atalanta
The ground was pretty full by kick-off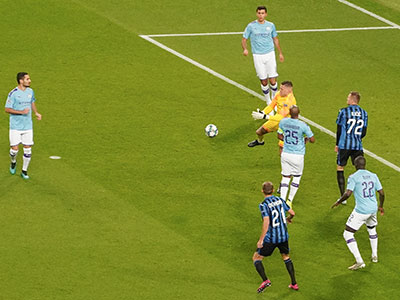 Ederson had some work to do very early in the game
For a foul on Ilicic Mendy got a very early yellow card -
not good news!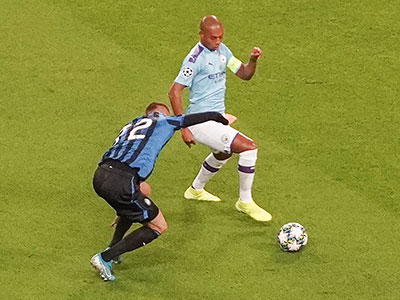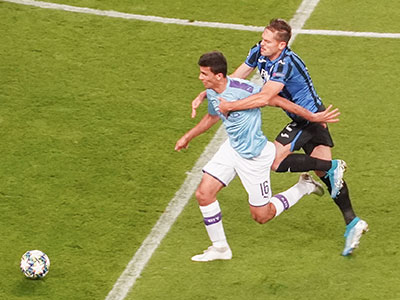 Fernandinho just beats Ilicic
Rodrigo is held back a bit!!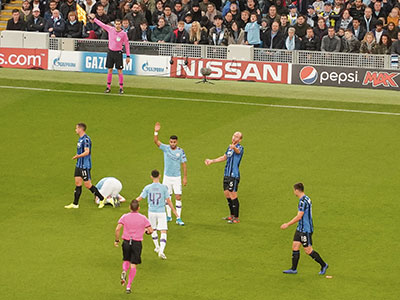 De Bruyne is brought down by Masiello who gets a yellow card but the free kick is cleared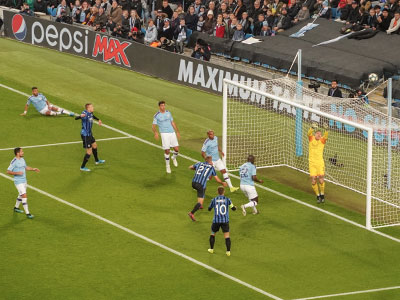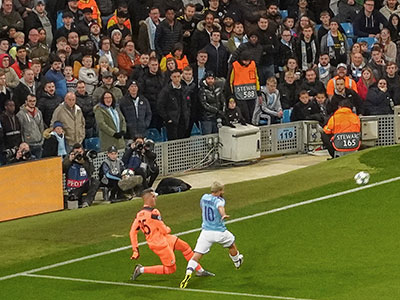 A header from Castagne from close range goes over the bar
Gollini just beats Aguero to the ball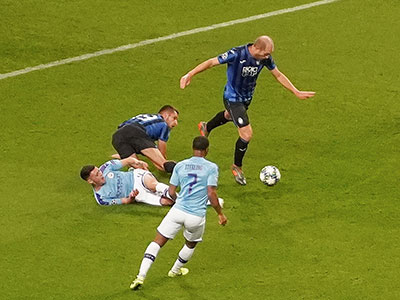 Foden just fails to brake through
Ederson saves from Ilicic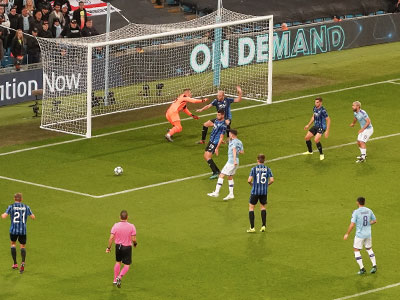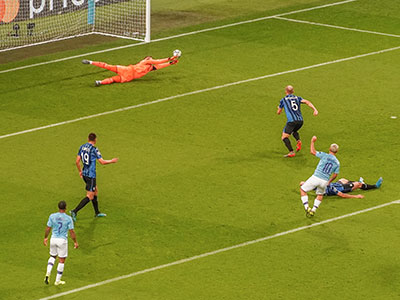 On 22 minutes a shot from Gundogan is blocked
A shot from Aguero is saved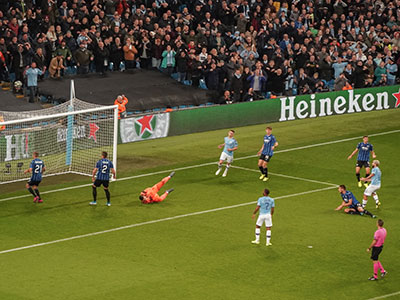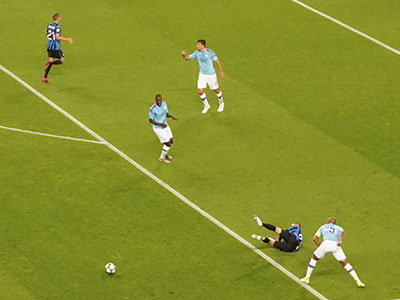 Aguero shoots over the bar this time
Oh dear! Fernandinho brings down Ilicic just inside the area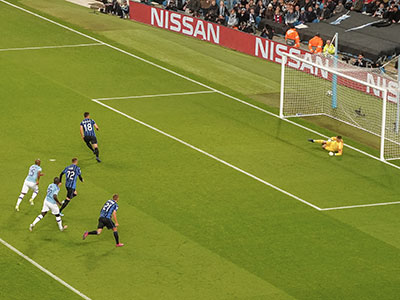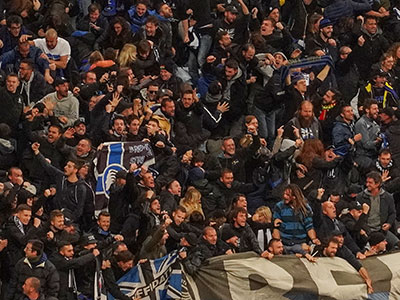 Malinovskyi sends Ederson the wrong way and scores giving the visiting fans some thing to cheer!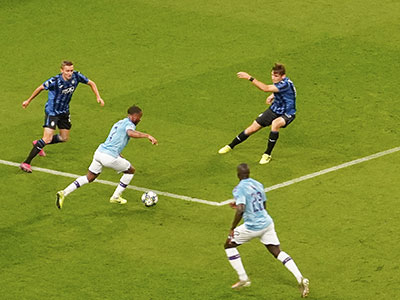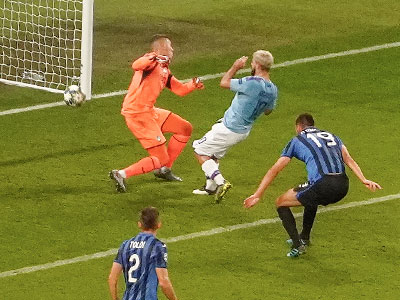 a few minutes later Sterling started the movement that ended with Aguero scoring from close range - one all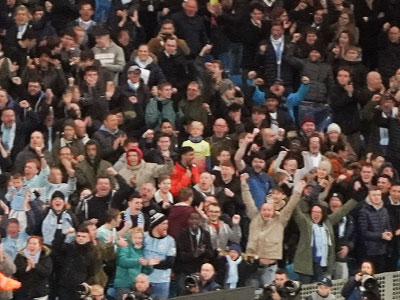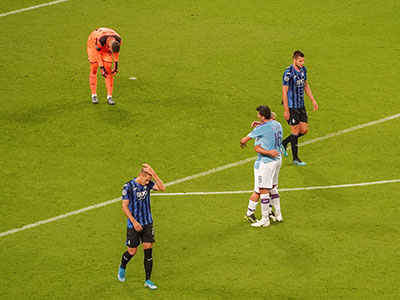 The South Stand celebrate but the players get back quickly for number two!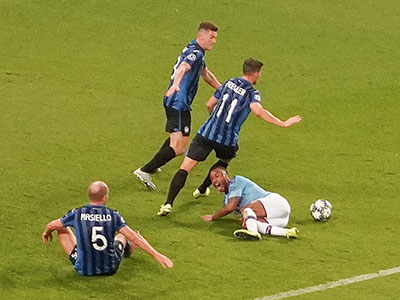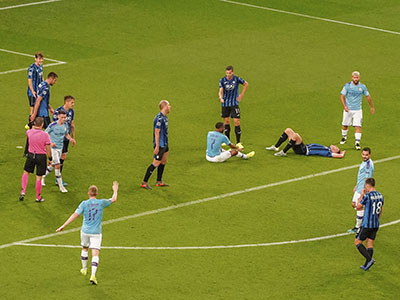 7 minutes later and Fernandinho is brought down by Masiello and we wait for VAR to say penalty - yes!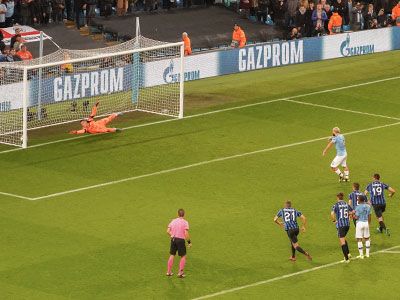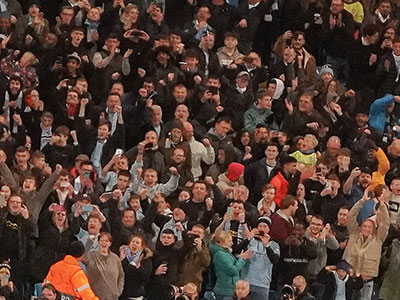 Aguero scores from the spot and the South Stand can cheer once more - 2-1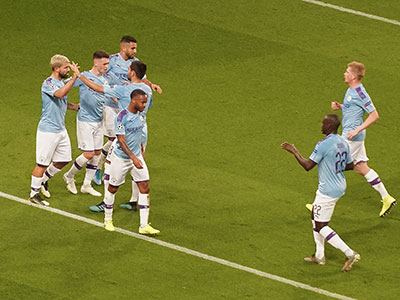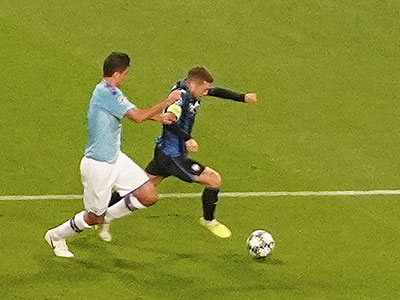 The players can celebrate now
Not long before half time Rodrigo chases a player.....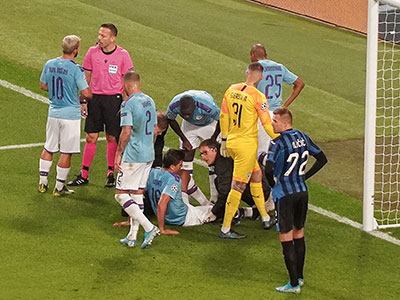 ......but ends up in pain with an injury and is replaced by Stones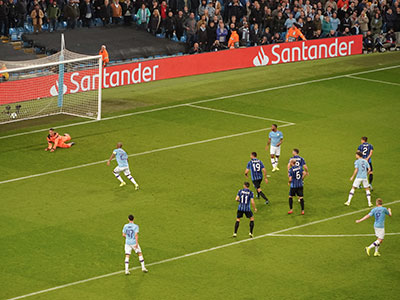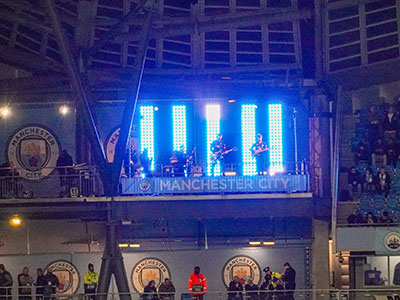 Gollini has to make a save from Kevin just before half time
During the break we had a band high up in the stadium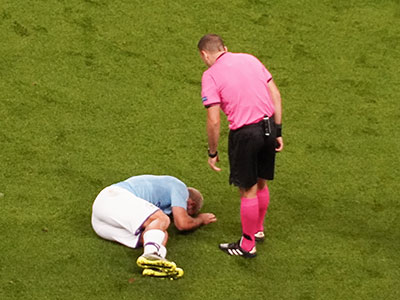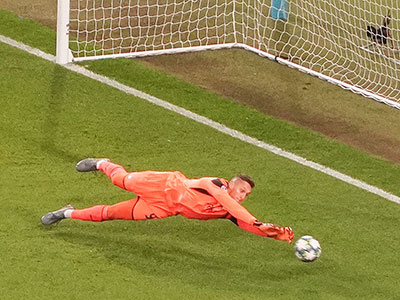 Early in the second half Aguero goes down -is the secret sniper back!!
The keeper saves from De Bruyne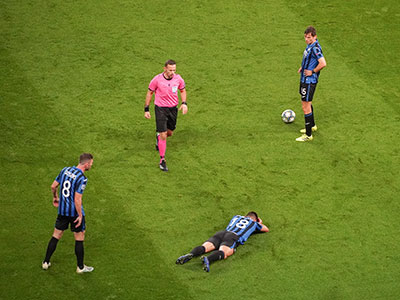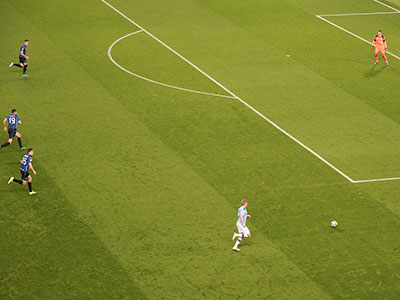 The secret sniper is at it again -this time it's Malinovskyi
City break with De Bruyne.....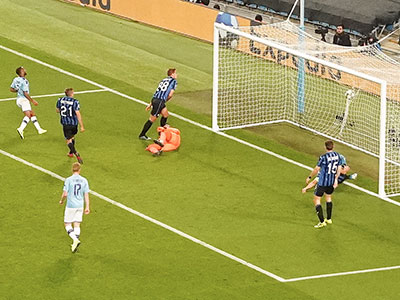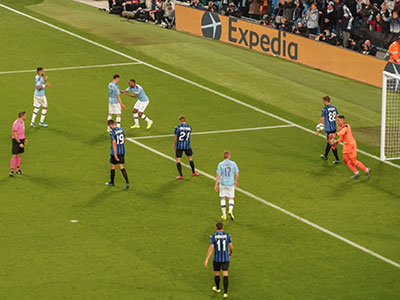 .......and he passed to Foden who calmly gave the ball to Sterling to make it 3-1- game over - we hoped!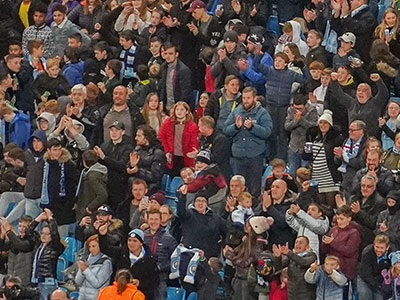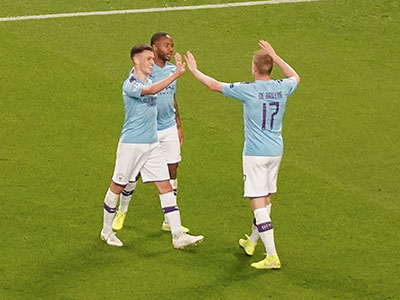 The North Stand can now celebrate
The 3 players involved celebrate too!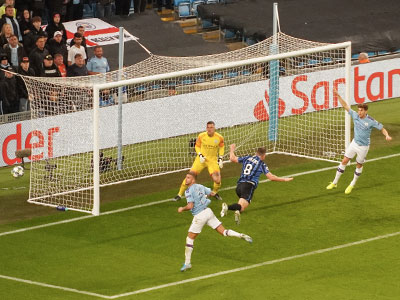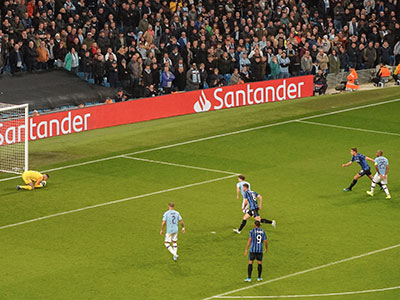 Atalanta try to score but first walker heads clear and then Ederson saves from Ilicic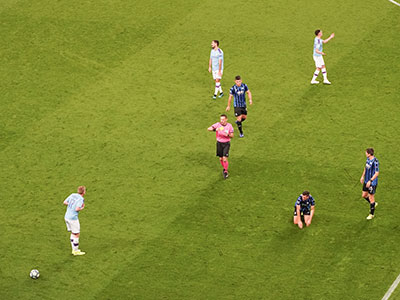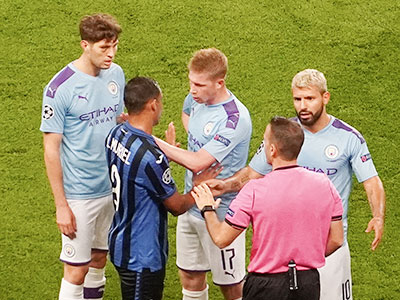 Now it's Kevin's turn to get a soft yellow card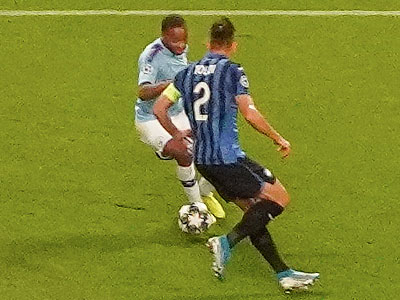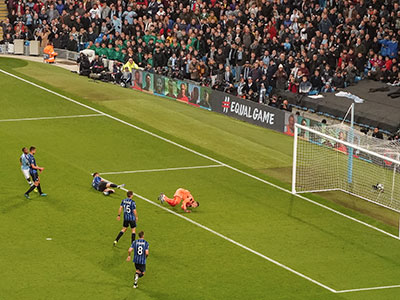 On 64 minutes Sterling beats Toloi and bangs the ball past the keeper and it's 4-1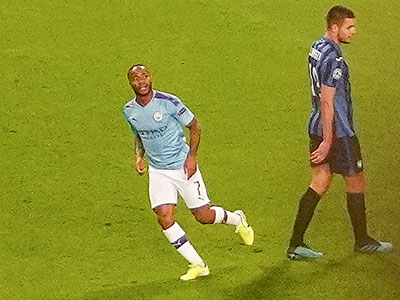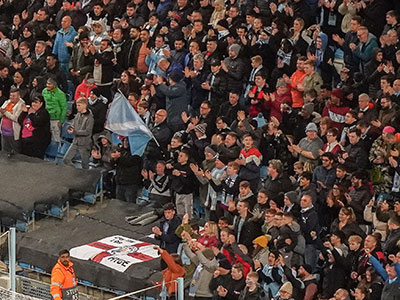 Now we have two players going for a hat-trick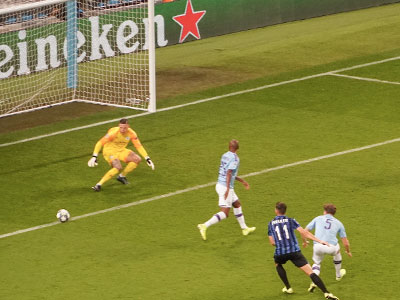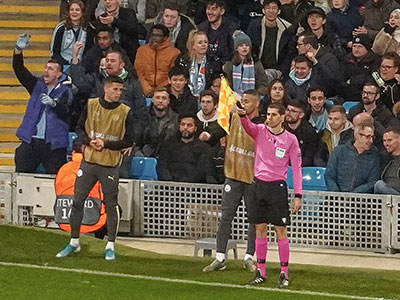 Oh they've scored! No they have not -the flag is up for offside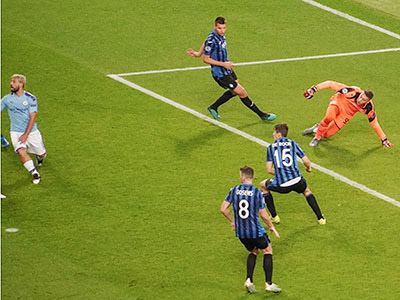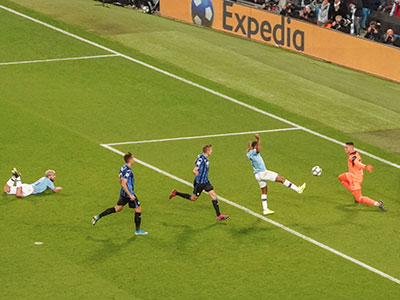 Here goes Sterling for his third goal......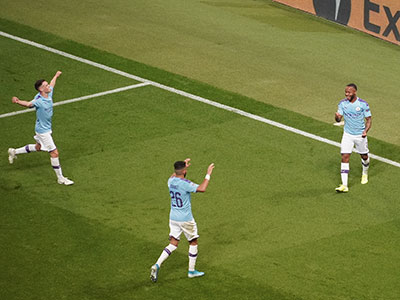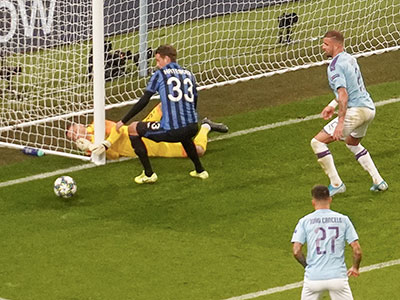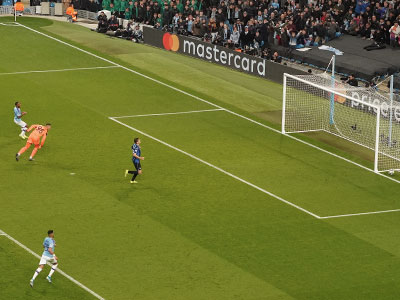 ..and the ball is in the net and he has his hat-trick - 5-1 definitely game over!
Ederson saves from Hateboer
Sterling breaks and should score but misses -just!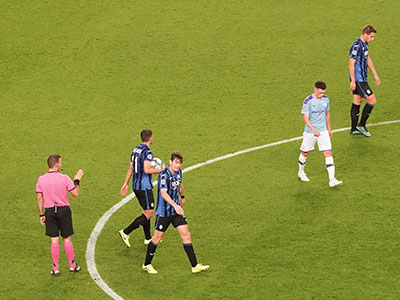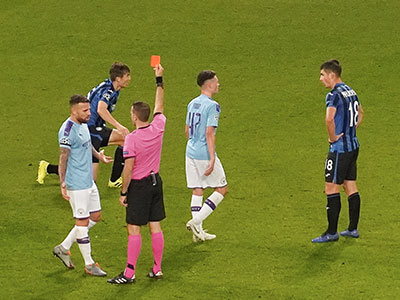 Disaster for Foden as he gets a couple of yellow cards -the first one very soft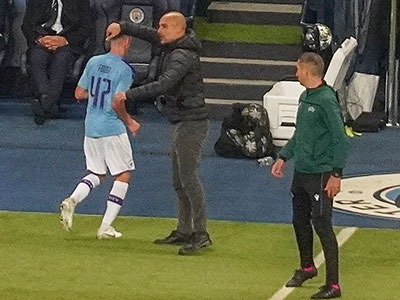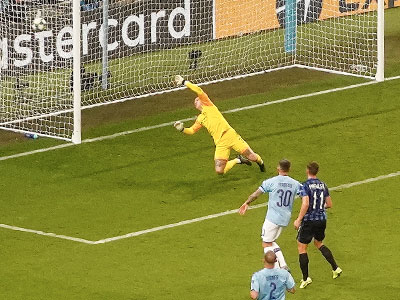 He gets cheers as leaves for his overall display
Ederson saves from Freuler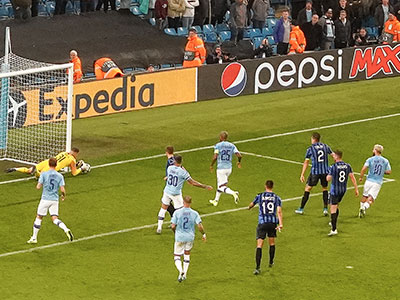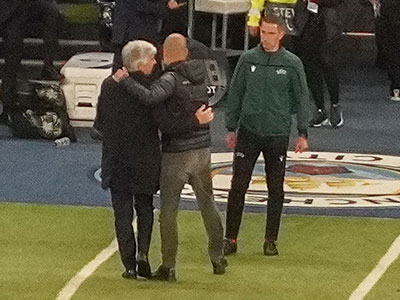 and he has one final save to make before the final whistle goes
team
Ederson 8: Walker 6.5, Fernandinho 7,Mendy 6 (Cancelo) Rodrigo 7 (Stones 7) , Gundogan 7.5,
De Bruyne 7.5 ( Otamendi) Foden 8, Mahrez 7, Sterling 9, Aguero 8