November 2013
City 7 Norwich City 0
November 2nd 2013 47,056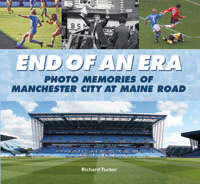 Now available from Amazon ( click on image for link)
WH Smith and the City shop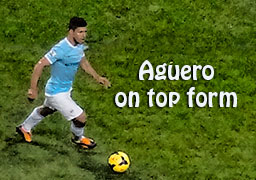 It could have been ten but we will be quite happy with seven nil. What a win - the highest win in the Premiership and City's biggest home win since we beat Huddesfield town 10-1 in 1987. That was at Maine Road and I remember it well.
City were at their best today - our passing was first rate and we had so much of the possession it was embarrassing at times. Norwich were very poor but they were made to look second rate by a terrific display. All the talk before the game was about the dropping of Joe Hart after the succession of errors which cost us so many points. It was the first time he failed to start a Premiership game since his debut in April 2010 . I am afraid we did not learn much about the form of Pantilimon as he had little to do all game.
The form of Silva and Aguero was excellent but everyone played their part in this record win. It's not often you get 7 different scorers either. Both Silva and Aguero were suppliers of vital passes which led to goals and Yaya Toure got his usual free kick goal. Nastasic scored his first City goal with a header at a corner. Both Nasri and Negredo showed some nice touches and Clichy and Zabaleta did their bit down the flanks.
I bet ex City player Garrido who was on the Norwich bench was glad he never came on!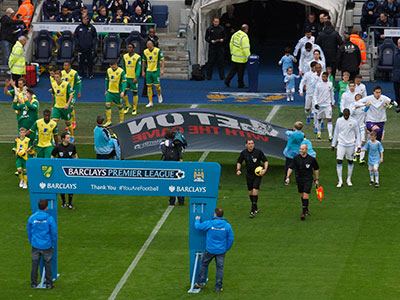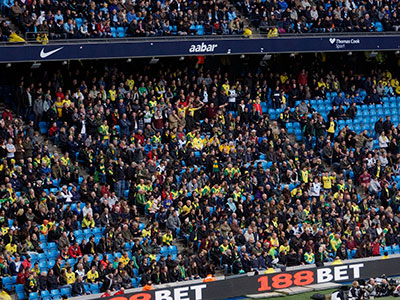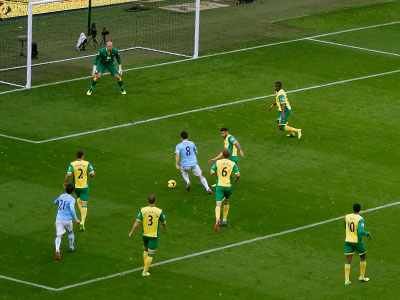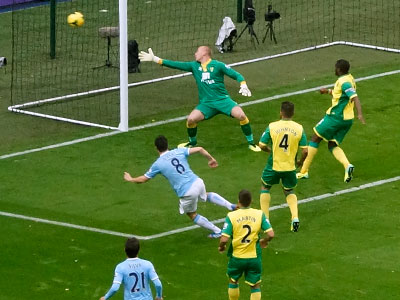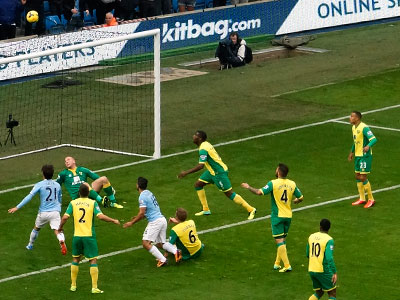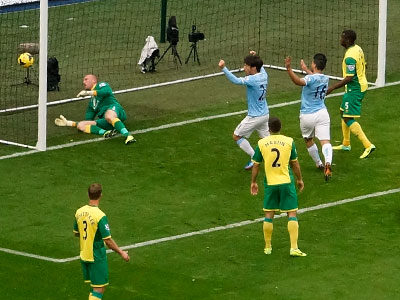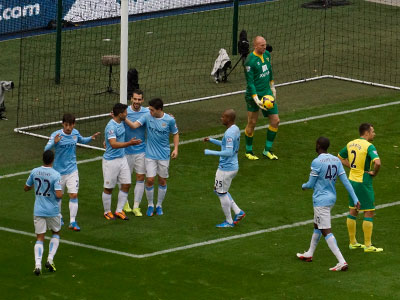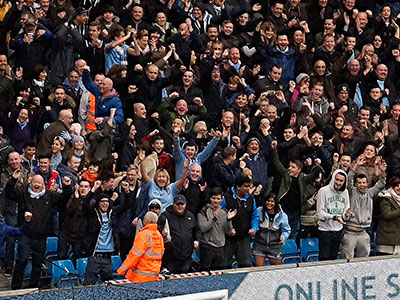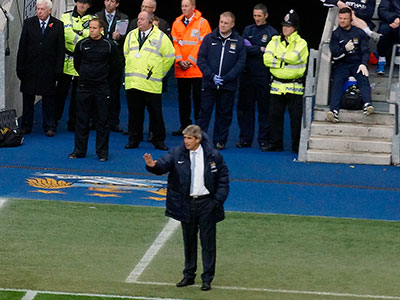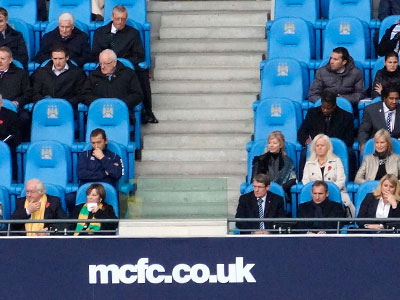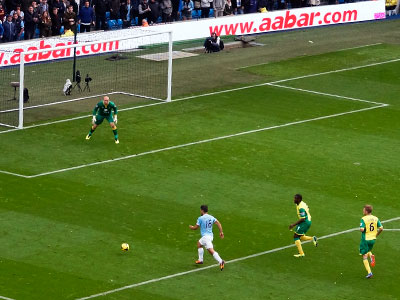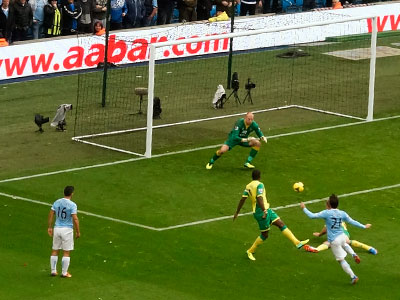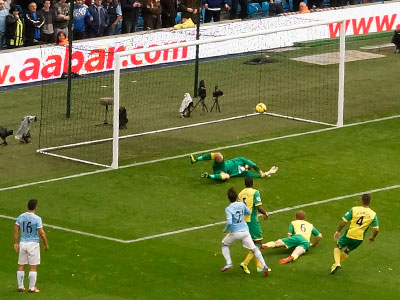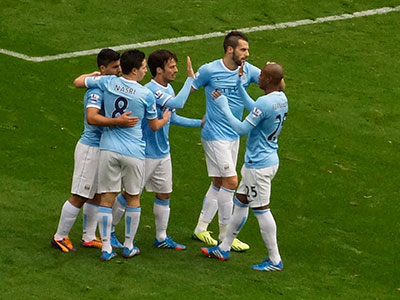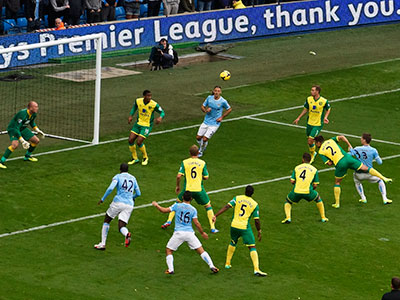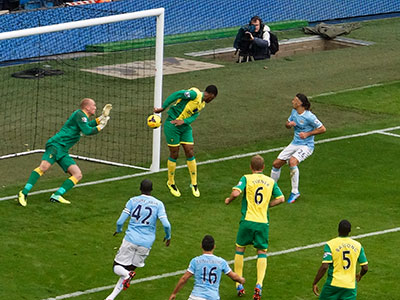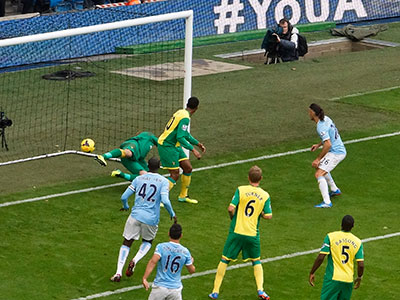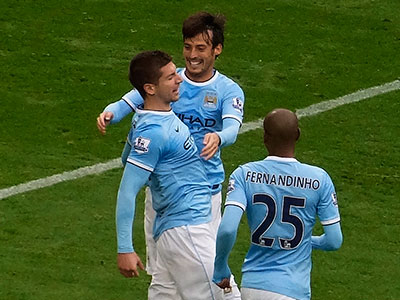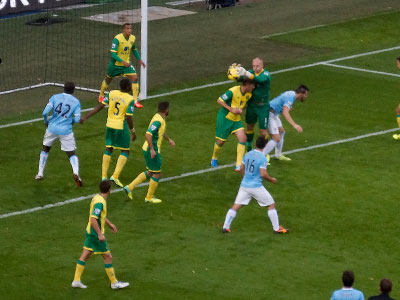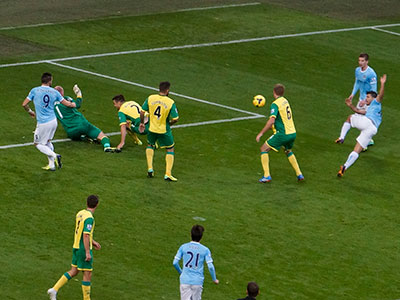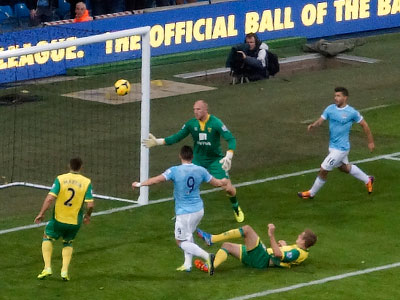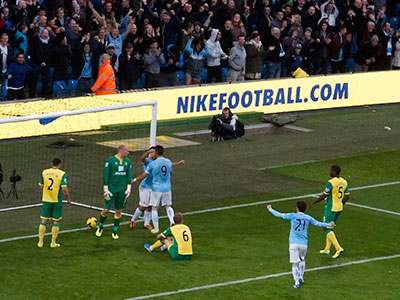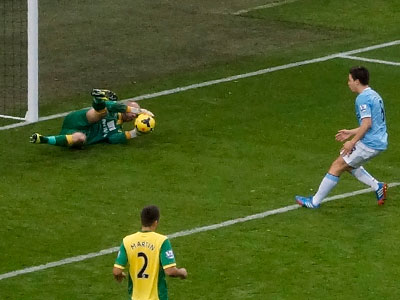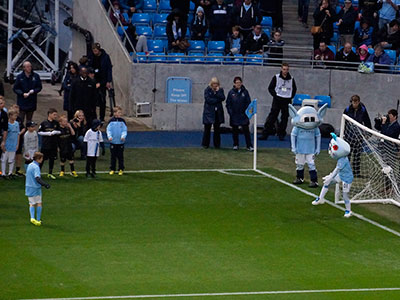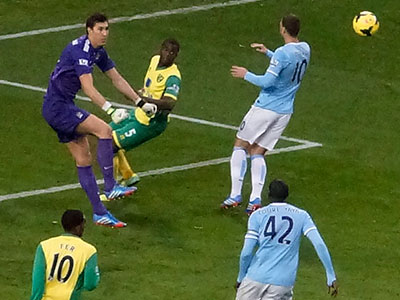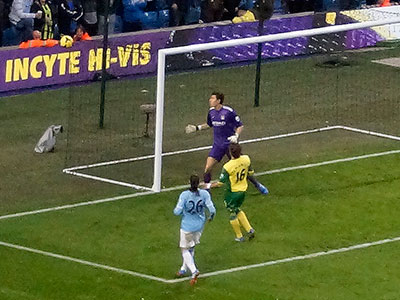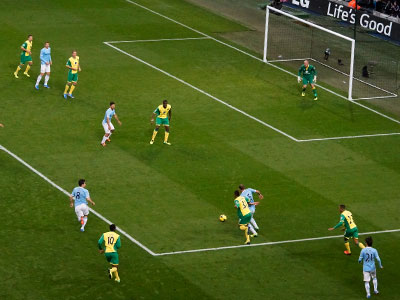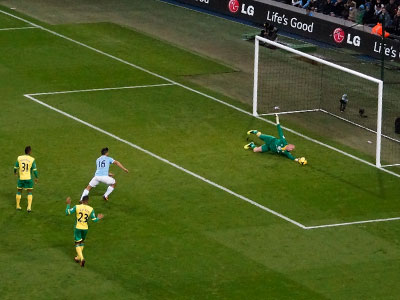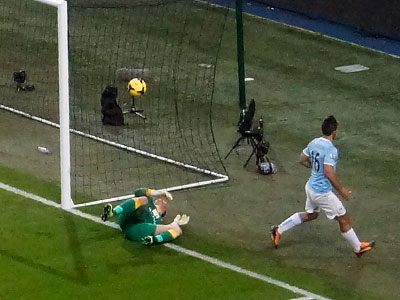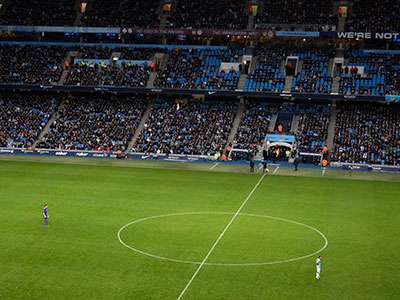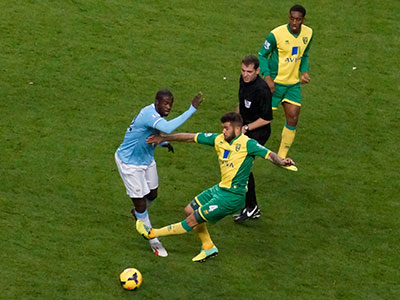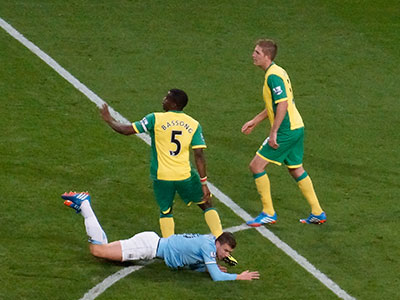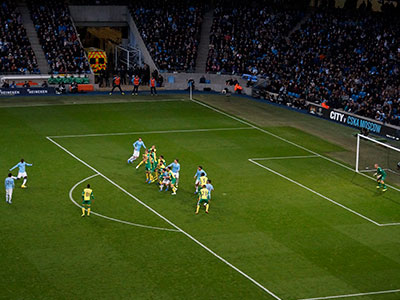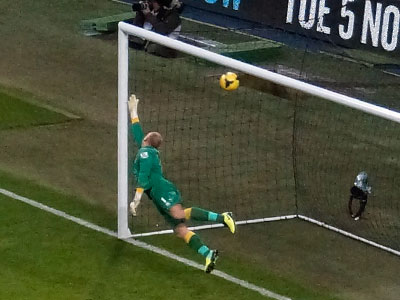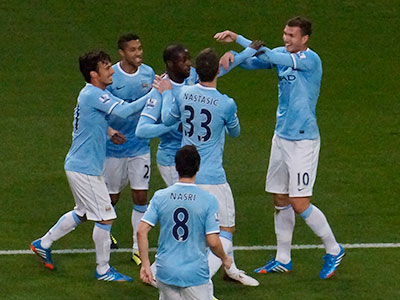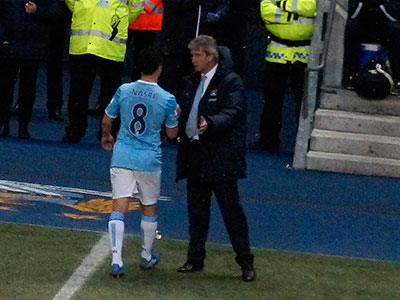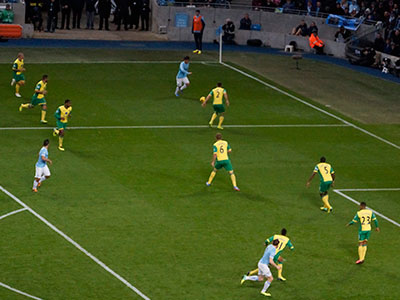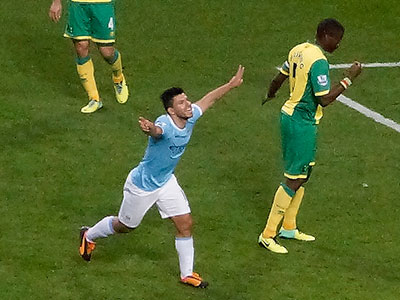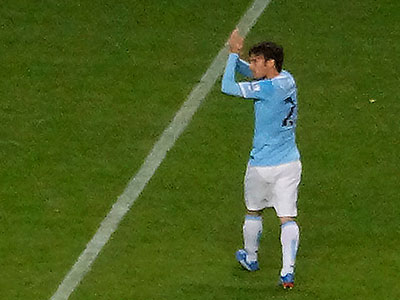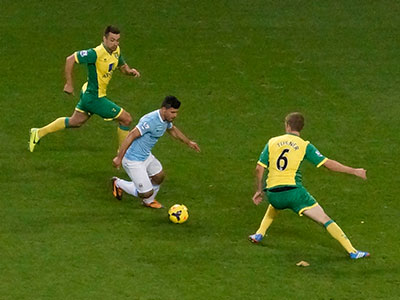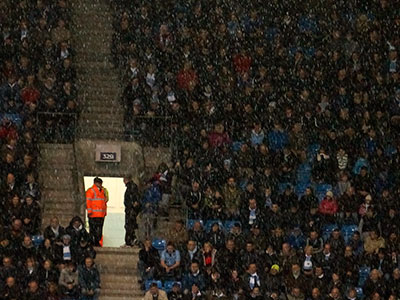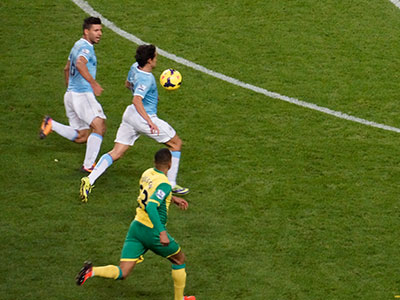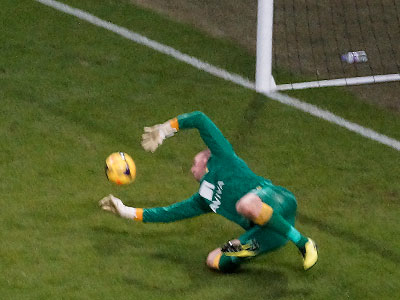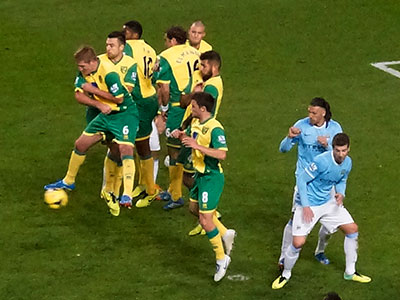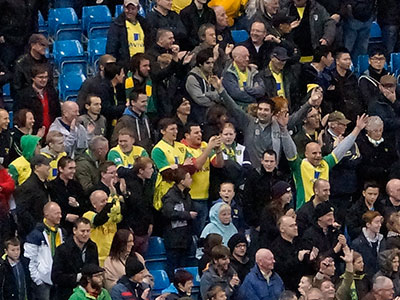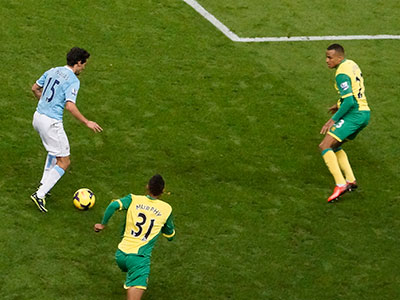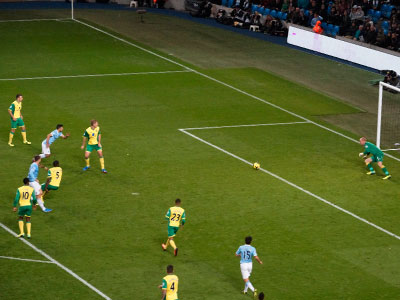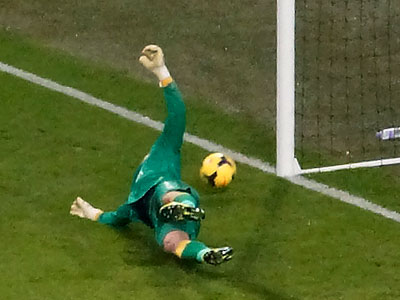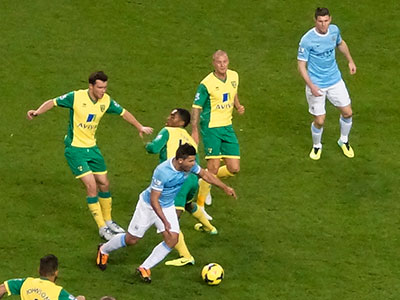 Pantilimon for Hart was the major change for City
There were less Norwich fans than normal but they had already had one fruitless journey to Manchester this week
City were soon on the attack and Nasri dribbled past several players before shooting just wide
On 15 minutes City took the lead. After a scramble in the goal box a shot from Aguero rebounded off a defender - Johnson - and into the net
It was just the start City wanted so it was time to celebrate
The City manager wants five this half and Delia Smith and hubby watch from the directors box
Number two was not long in coming- just five minutes later and Aguero broke away and passed to Silva who shot first time past Ruddy i
a well worked goal by the two key City players - from defence to attack in a minute - brilliant
Five minutes later and City struck again - this time from a corner taken by Nasri. Nastasic was the scorer
He was delighted as it was his first goal for City
On 35 minutes Ruddy drops the ball at a corner but the shot from Aguero is blocked by a defender
Five minutes later and its 4-0. Aguero supplies Negredo with a pass and bang - it's in the back of the net
On 38 minutes Pantilimon has to make a save - pushing a shot from Pilkington for a corner
Just before half time Ruddy saves and City have to be happy with a four nil lead
At half time some visiting Swedish City supporters try their luck against Moon Beam
Pantilimon has to punch clear a free kick
On 52 minutes Elmander shoots wide
shortly after Zabaleta makes a chance for Nasri....
.....whose shot is saved by Ruddy but Aguero following up just fails to finish the move off with a goal
On a City corner it was strange to see Pantilimon so far up the pitch
Yaya Toure was soon to get his chance.........
....... when Dzeko - on for Negredo at half time - was brought down on the edge of the penalty area
Another wonder swerving free kick by Yaya Toure and it was five nil to City
Nasri's effort was recognized by the manager as he was subbed by Milner
On 70 minutes a cross by Silva was poorly defended and .....
...Aguero took his chance to make it six nil
Another cracking goal for City and then Silva went off acknowledging the huge ovation by the City fans.
AS the rain came pelting down Aguero was having a great game and it was only a matter of time before City would add to their score
Navas who had come on for Silva gave Ruddy something to think about
Another free kick by Yaya Toure hit the wall instead of the net
It must have been awful for the visiting fans but they started to cheer when Norwich got a corner!
With 5 minutes to go Navas made a break and passed to Dzeko..
Dzeko turned quickly and shot past Ruddy to make it 7 nil
Even with three minutes additional time City were not able to make it 8 - never mind 7 improved the goal difference!
Team
Pantilimon 6.5: Zabaleta 7, Demichelis 7, Nastasic 7, Clichy 7; Fernandinho 7.5, Yaya Toure 8, Nasri 7.5 (Milner), Silva 9 (Navas), Aguero 9, Negredo 7.5 (Dzeko 7)