City 1 Feyenoord 0
November 21st 2017 att.43,548
Champions League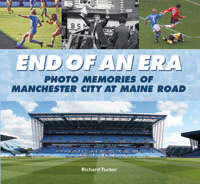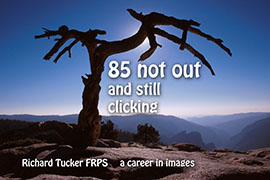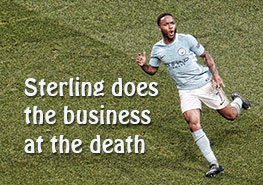 Not the most pulsating game I have ever seen as City sealed top spot of their group with their fifth win on the trot in the Champions League - for the first time. With the game looking like it was going to end goalless Sterling scored an excellent goal just a minute or so before full time to give us something to cheer about. City had made quite a few changes as we had expected and did not play with quite same tempo as usual. Had we scored earlier I am sure we would have seen more of Foden and Diaz. It was certainly good to see Phil Foden have a few minutes and as a 17 year old he fitted in very well making his professional debut. With the injury to Stones I was not surprised to see Ederson in goal as he will have to get used to Mangala and Otamendi - who had a good game - in front of him. Both Aguero and De Bruyne were slightly off the boil so we did not create too many chances.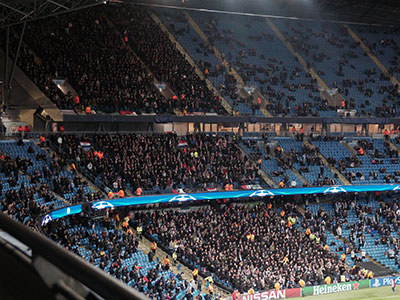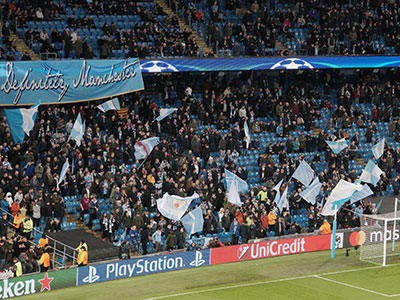 I was surprised to see so many fans from Rotterdam already in the stadium which alas had too many empty seats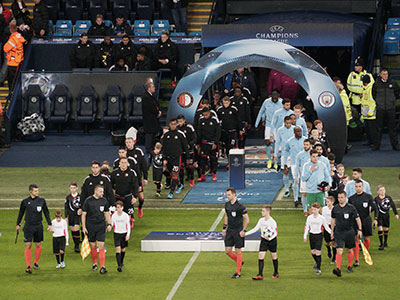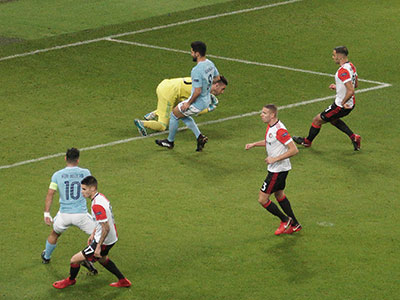 City made quite a few changes from the win at Leicester and had Foden and Diaz on the bench
Keeper Jones foils an early City attack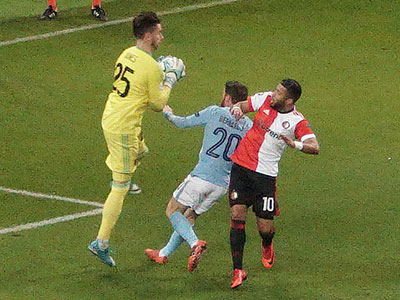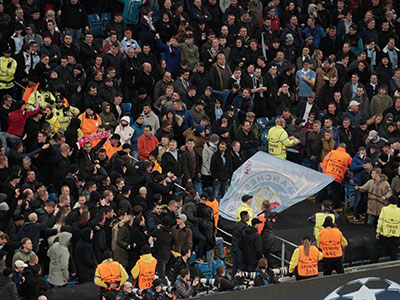 This time it's Benardo Silva is foiled by Jones
I don't think the visiting fans like the City flag!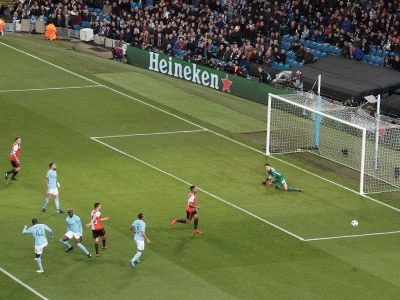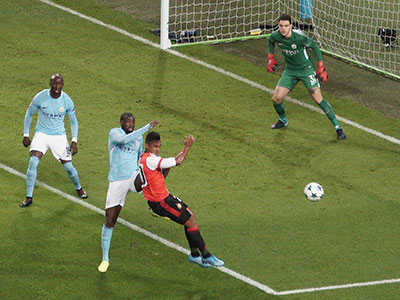 A shot from Berghuis is deflected for a corner which is cleared by Yaya Toure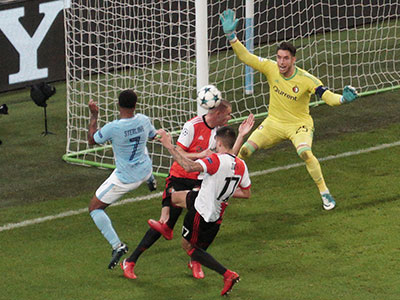 Sterling fails to get in a shot
Jones and Vilhena have a meeting!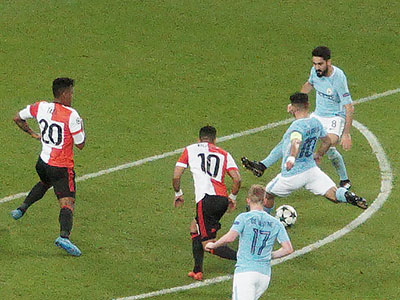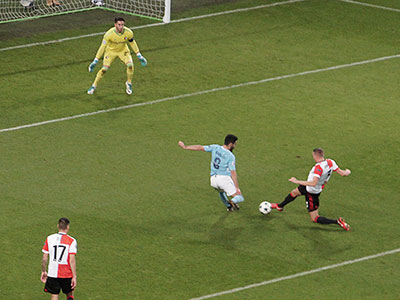 Aguero shoots but straight at the keeper
Gundagon just fails to get in a shot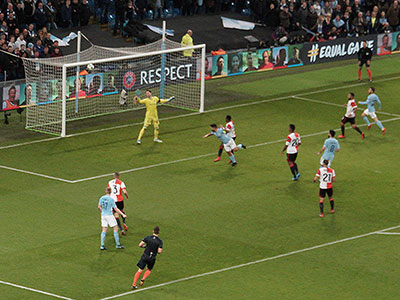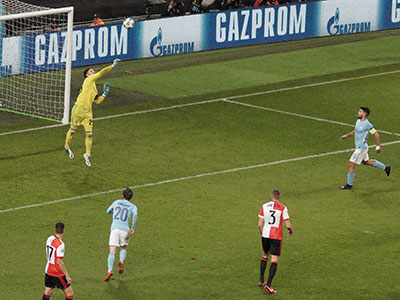 Jones saves from Sterling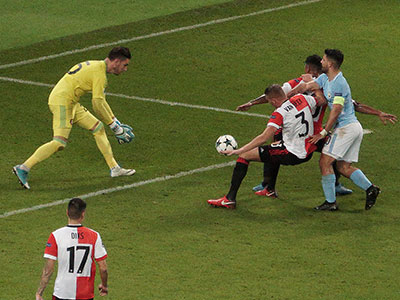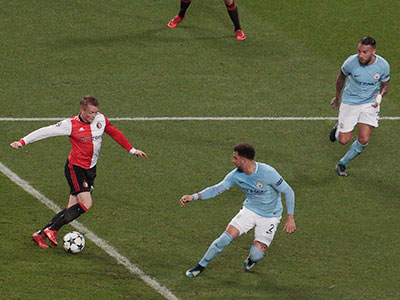 Defenders block off Aguero
Larsson beats Walker but shoots wide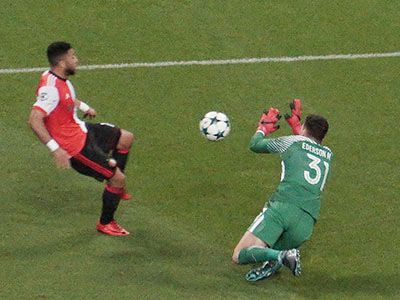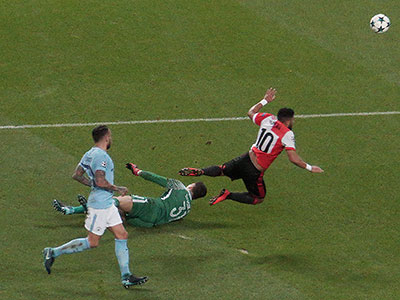 Ederson saves from Vilhena who falls over the diving keeper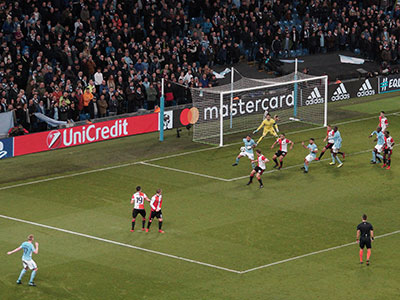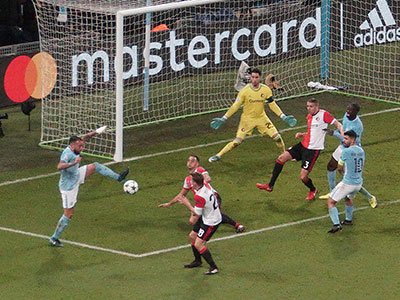 A free kick from De Bruyne gets to Otamendi who can't quite get in a shot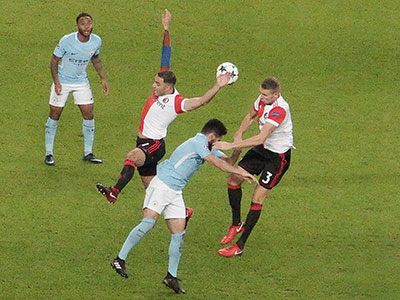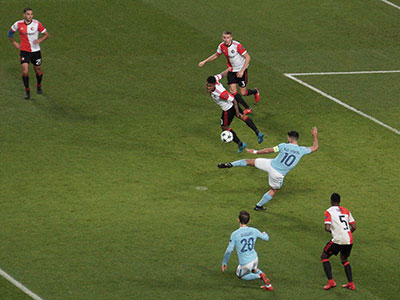 Sterling watches the acrobatics after a goalless first half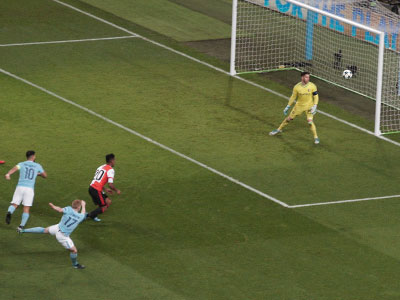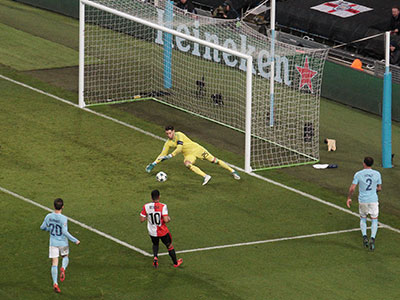 Jones saves a cross from Walker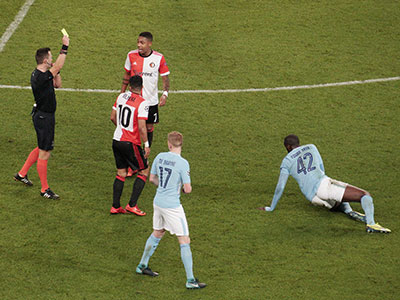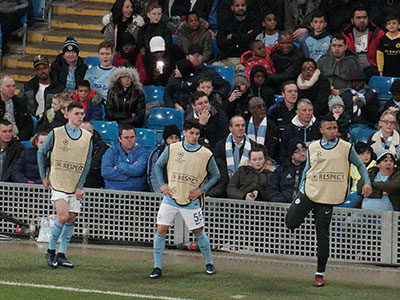 Vilhena gets a yellow card for a foul on Toure
Ford, Diaz and Jesus are warming up on the side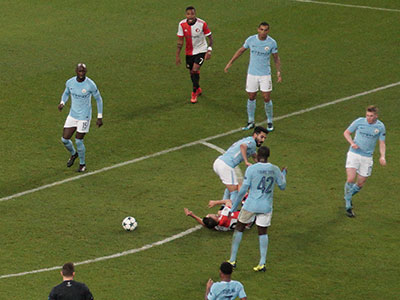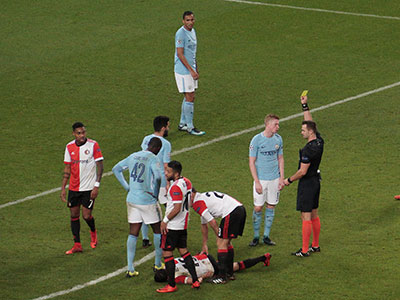 Kevin gets a yellow for a foul on Berghuis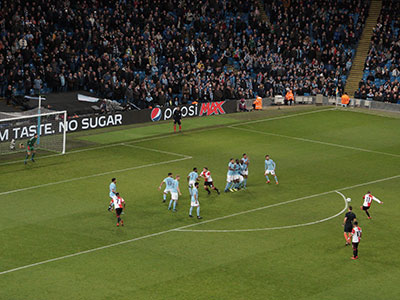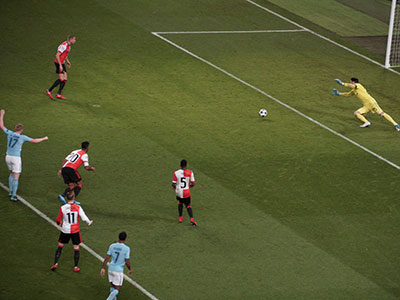 A shot from De Bruyne goes just wide of the post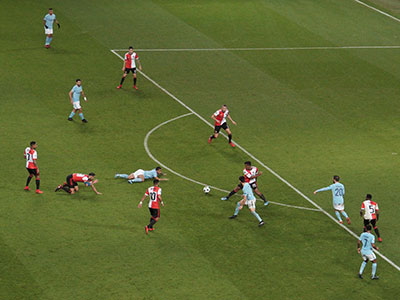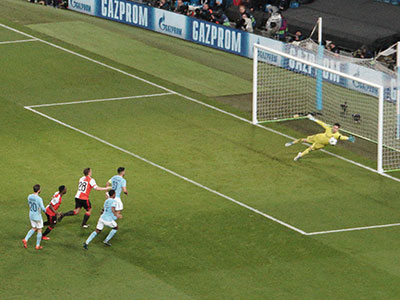 Danilo is brought down and the free kick taken by Toure hits the post and goes wide - a near thing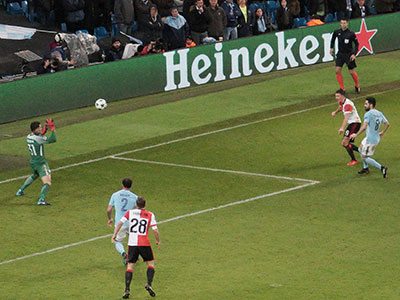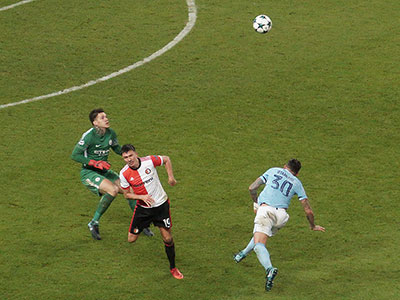 Ederson has some work to do saving from Berghuis and then clearing the corner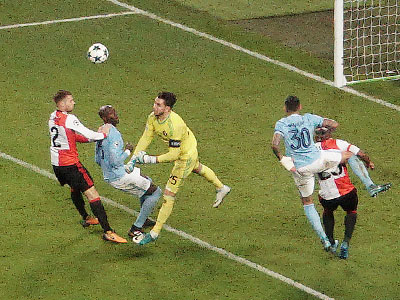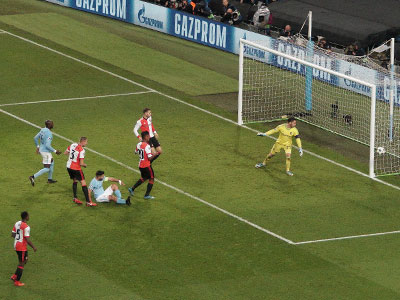 Jones punches away a City corner
Aguero misses yet again - oh dear!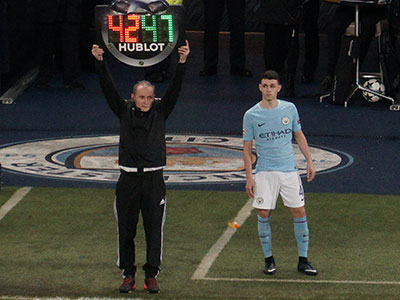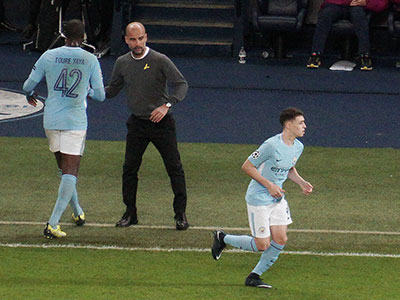 75 minutes and on comes Phil Foden for Toure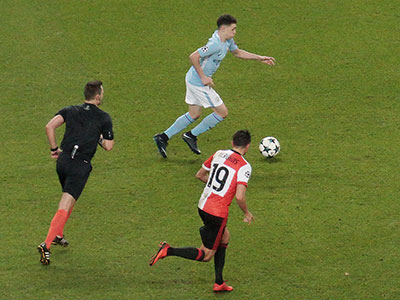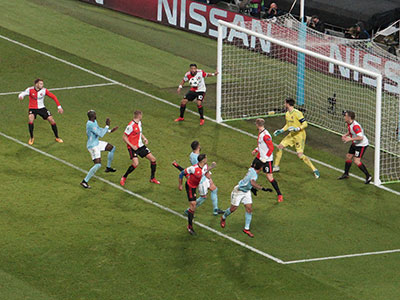 He is soon in action and is fitting in well
A header by Jesus at a corner goes wide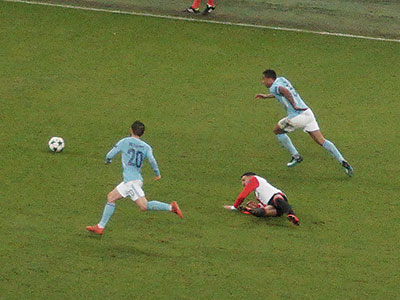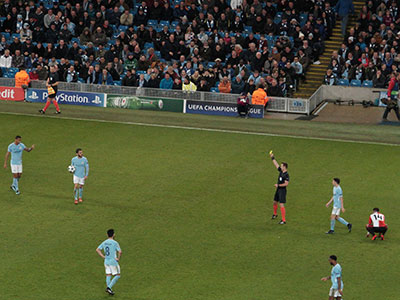 Danilo brings down Basacikoglu and gets a yellow card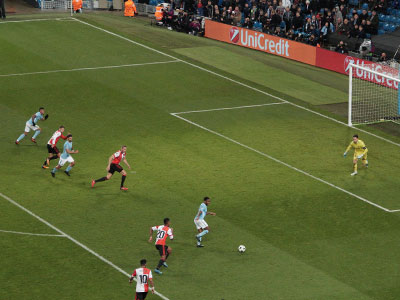 Two minutes to go and Sterling has a chance as the keeper comes out........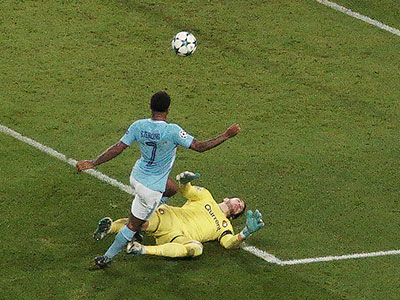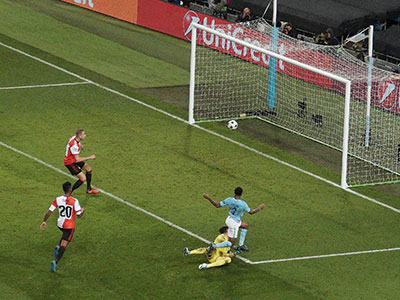 .......he clips it over Jones into the back of the net and City are ahead - brilliant!!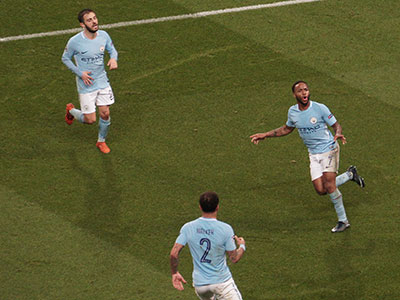 Let the celebrations begin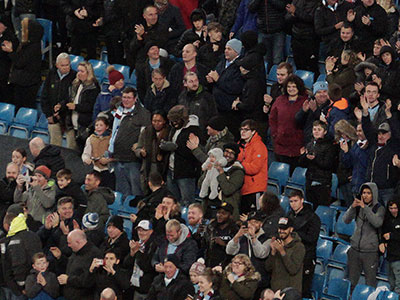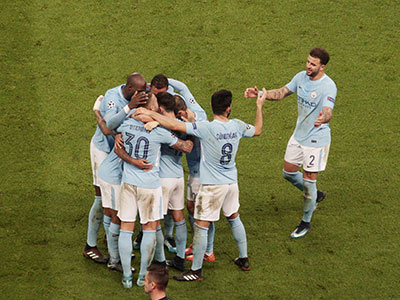 The North Stand and the team are quite happy!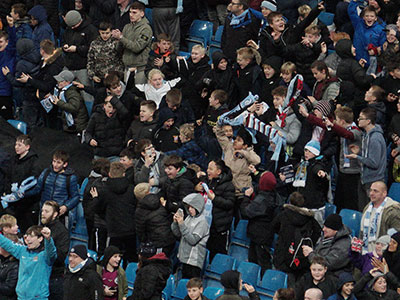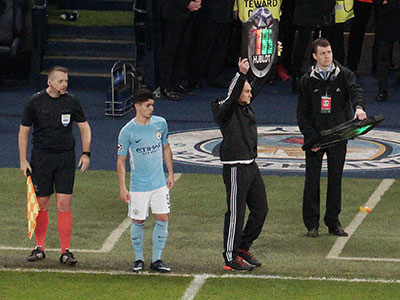 The kids in the North Stand celebrate and another kid is about to come on - 18 year old Brahim Diaz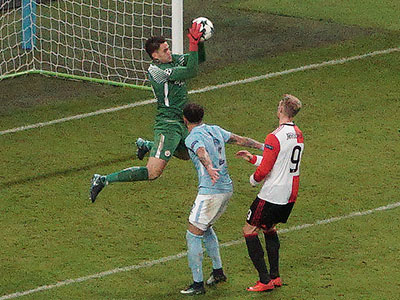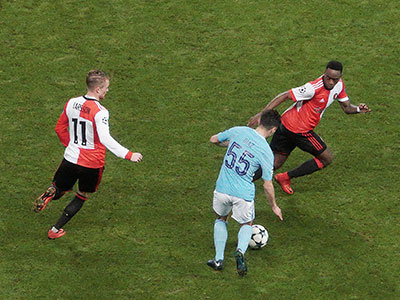 As we play out 4 minutes added time Ederson has to catch and Diaz can show some skills
team
Ederson 7.5, Walker 7, Mangala 6.5, Otamendi 7.5, Danilo 7: Toure 7 (Foden) ,
Gundagon 7, Sterling 7.5 (Diaz), De Bruyne 7 (Jesus), Benardo Silva 6.5, Aguero 6.5