City 2 Leicester City 1
May 13th 2017 att.54,407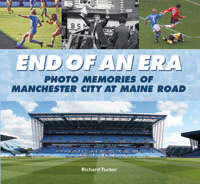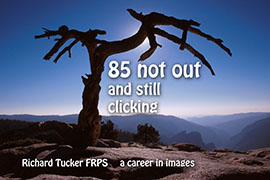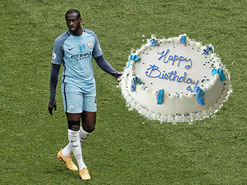 Not the easiest of three points for City who took a two goal lead before conceding a terrific volleyed goal by the visitors. Leicester fought back in the second half and looked like getting level when they won a penalty - a stupid trip by Clichy. We then had a most unusual situation - one that I had never seen before in the many thousand games I have watched over the past many years. As he took the penalty Mahrez slipped and he hit the ball with his left foot against his right before it flew into the net! So he touched the ball twice -an offence and City had a free kick instead of the score being two all - we were all very relieved!
Leicester also suffered when Silva scored as it looked like Sterling was in a offside position in front of Kasper Schmeichel. The goal stood so the battle for third place goes on.
Despite Leicester having a better second half Caballero did not have all that much to do thanks to efforts of the back four though the City defenders did have the odd moment of concern.
Our creative pair De Bruyne and Silva did not play as well as they did against Crystal Palace - too many passes going astray and when City had excellent chances on breaks to add to their score they failed to make the key pass or extend Schmeichel with a decent shot.
We may have to wait until the West Brom game to see whether several players will be making their final home appearances - Clichy, Zabaleta, Kompany, Caballero and birthday boy Toure who let Jesus take the City penalty.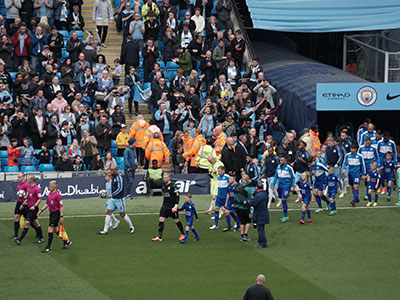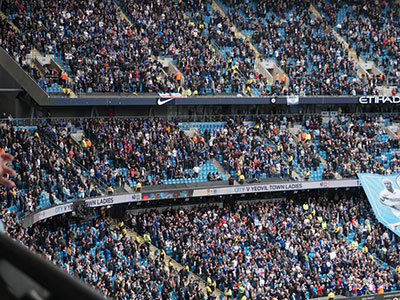 For the first time this season City were unchanged in a Premier League game - Aguero was on the bench
Despite the early kick-off Leicester had a lot of fans at the game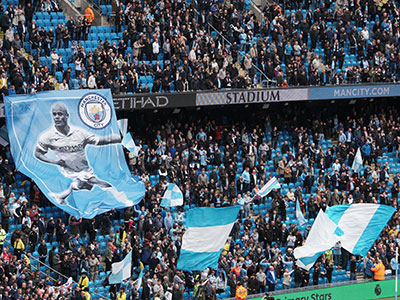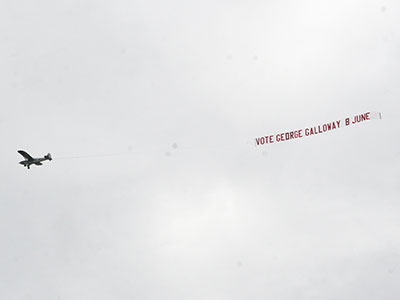 That's a new flag in the South Stand
Something new in the sky too!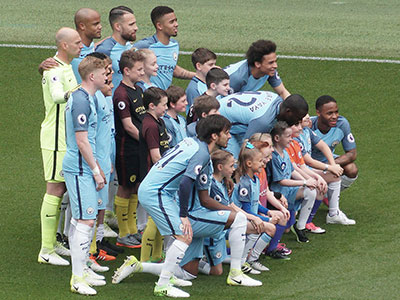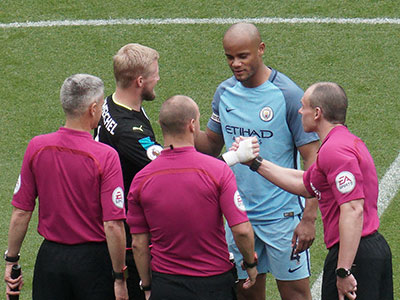 The kids have a pic taken with the team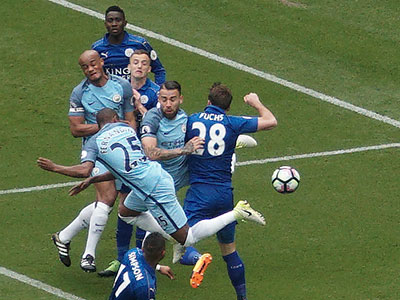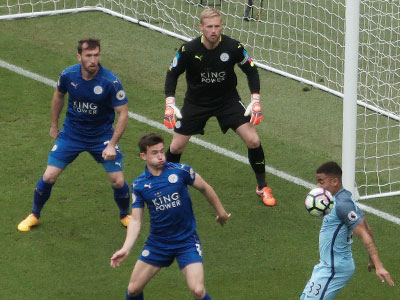 Just 4 minutes gone and Fernandinho heads wide at a corner
Chilwell is all puffed out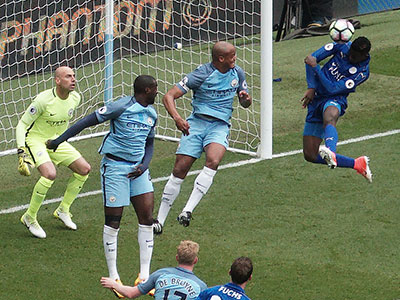 A header by Ndidi goes wide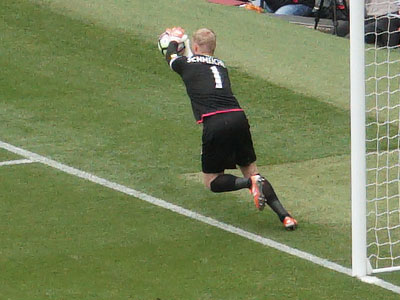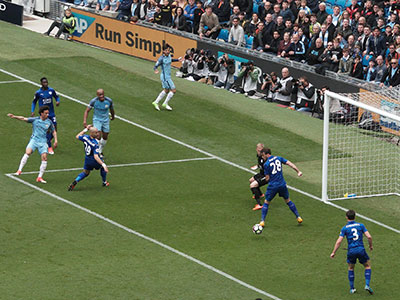 Schmeichel fails to stop a corner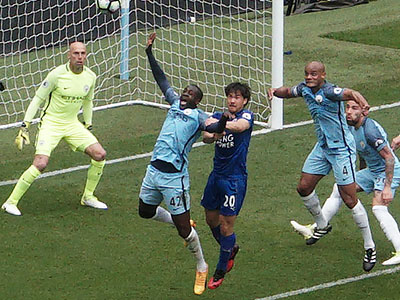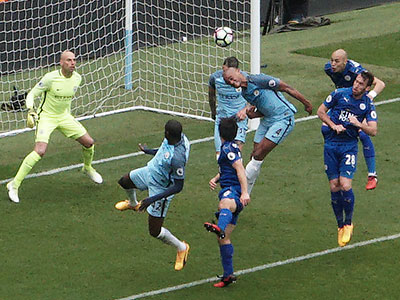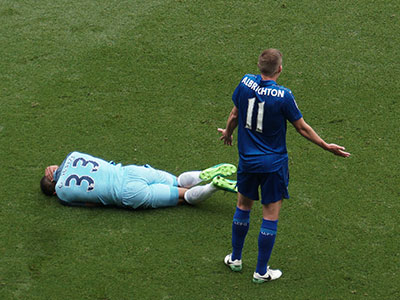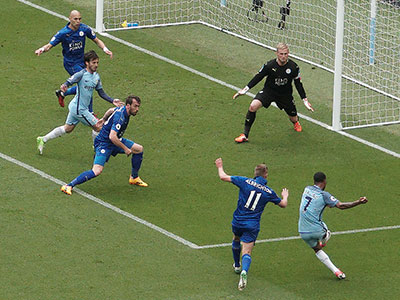 Albighton pleads not guilty as the Jesus goes down
Sterling's shot is blocked ....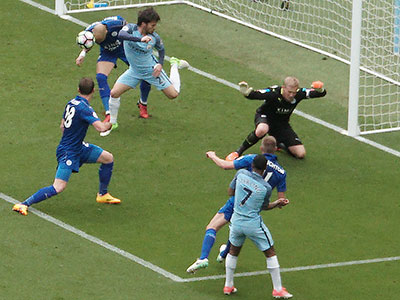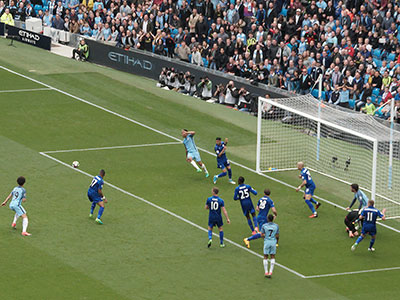 ...but the ball is not cleared and it comes back into the danger area.....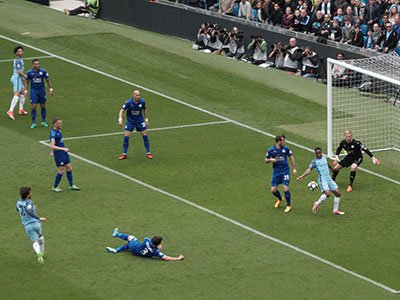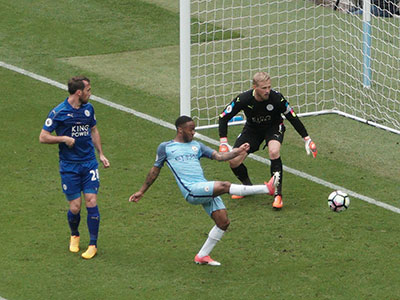 ...and there is David Silva to shoot past the keeper but what is Sterling doing!!!!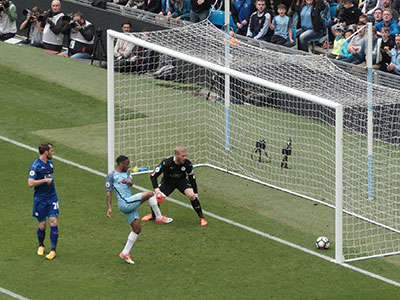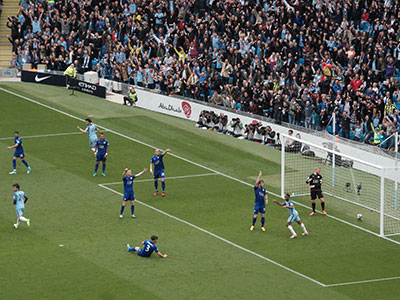 Schmeichel was out of position and the Leicester players appeal for offside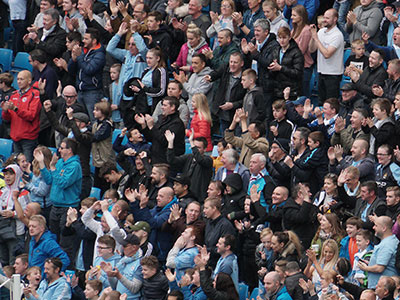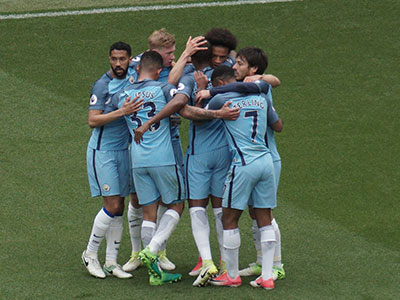 The goal stands so City fans and players celebrate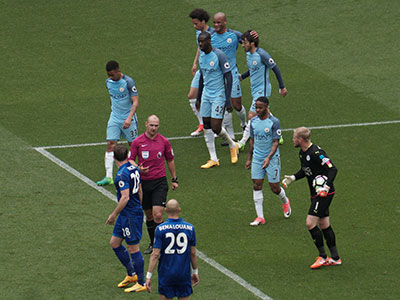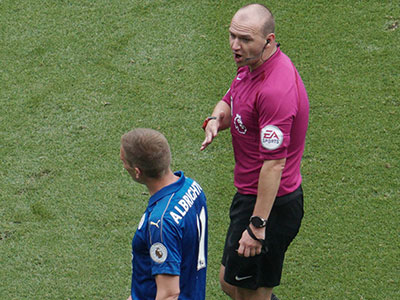 The visitors are still having a moan about the goal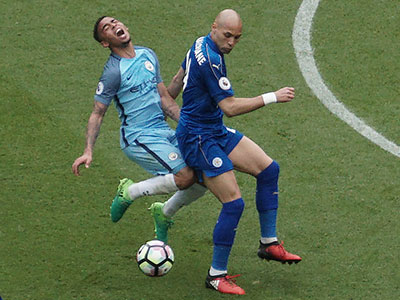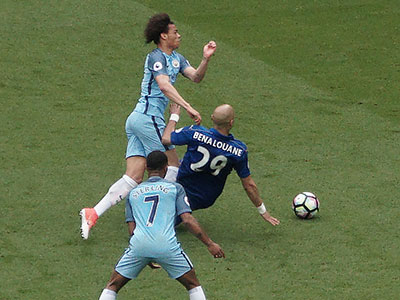 Sane breaks through and is brought down by Benalouane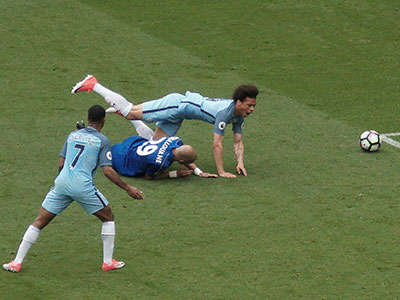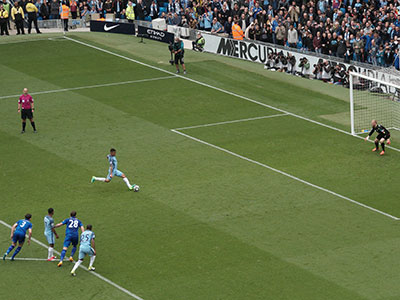 It's a penalty and with Aguero on the bench we thought Yaya Toure would take the kick but it is Gabriel Jesus to make it two nil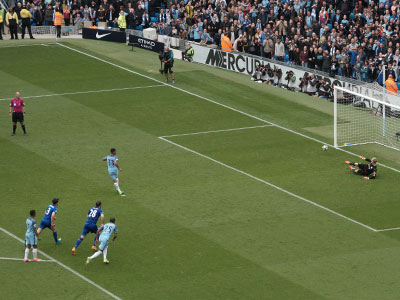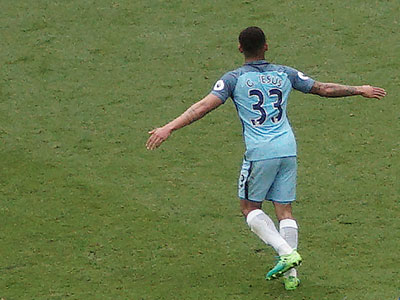 Jesus sends the keeper the wrong way and that's his 5th goal in 6 games - a good start for his City career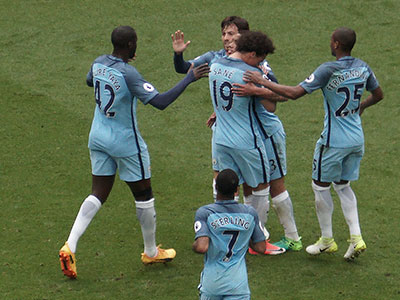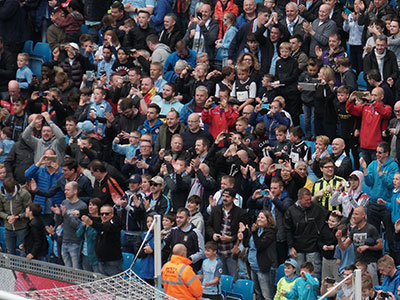 More celebrations for the fans and players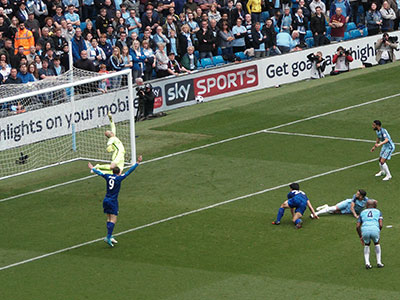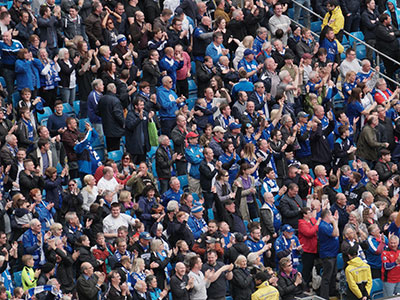 6 minutes later Leicester struck back when a cross from Albrighton was volleyed first time by Okazaki past Caballero - a terrific effort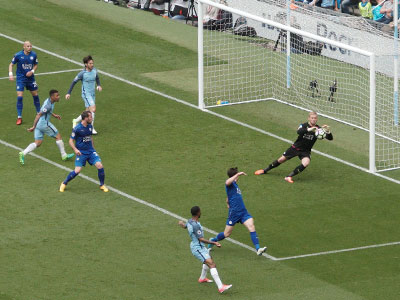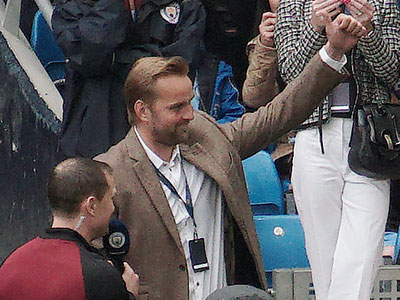 Sterling has a shot saved just before the interval
At half time Nicky Weaver penalty save hero at the Gillingham game said Hi - see
'The Miracle'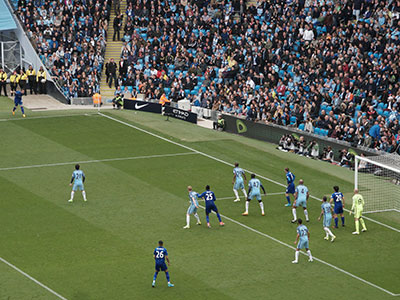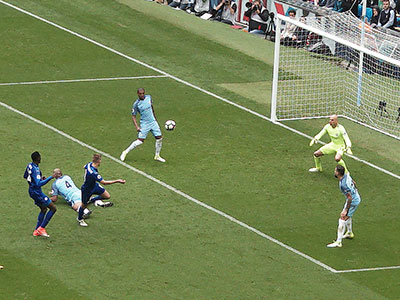 A long throw by Fuchs -
pity City don't have a similar player
Albrighton has a shot which is saved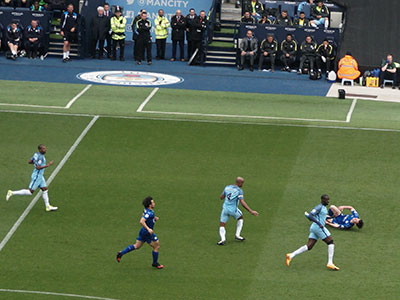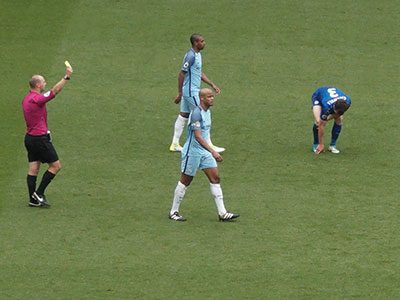 Chilwell is brought down by Kompany who gets a yellow card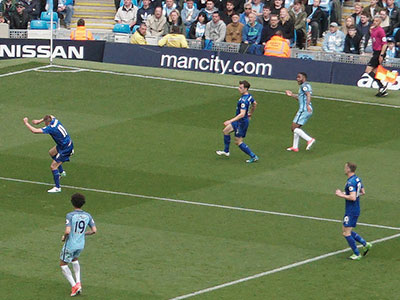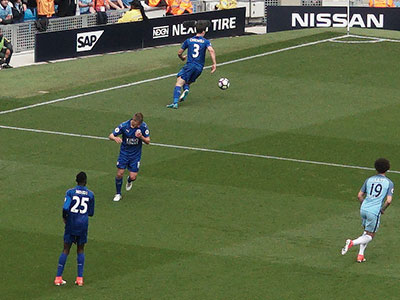 A cross hits Albrighton......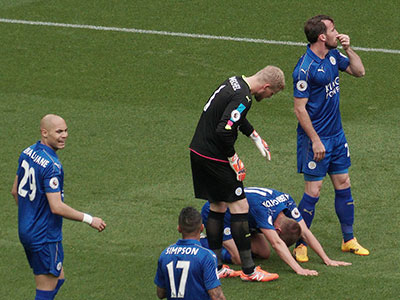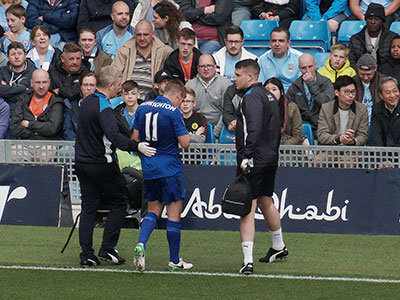 ...who has to have some treatment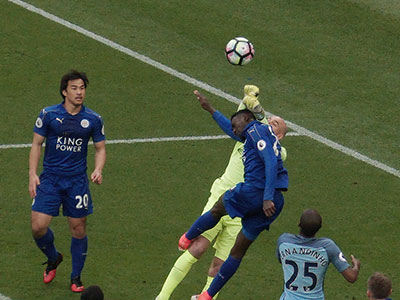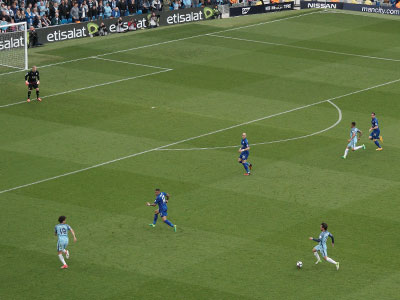 Caballero punches a corner clear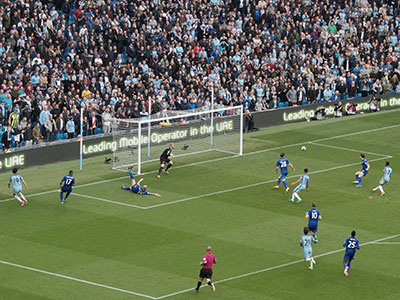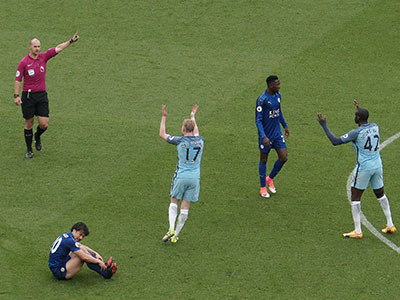 ...ends with City failing to get a chance
Kevin gives away a free kick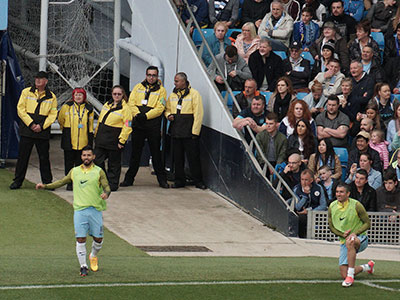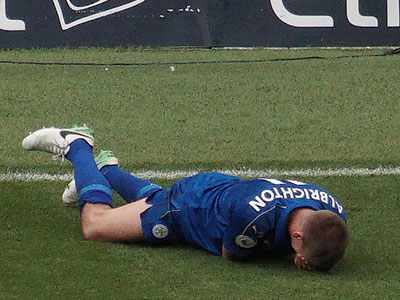 Albrighton is down again!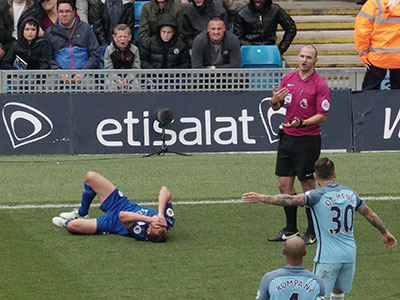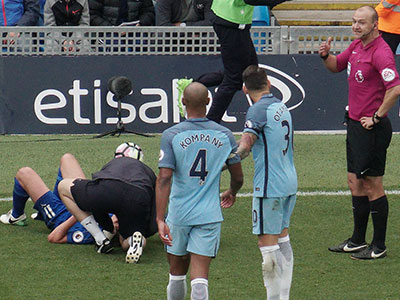 Yet more treatment for him
City players take advantage of the break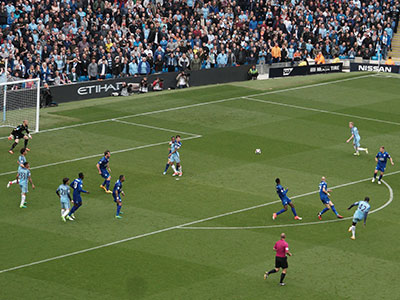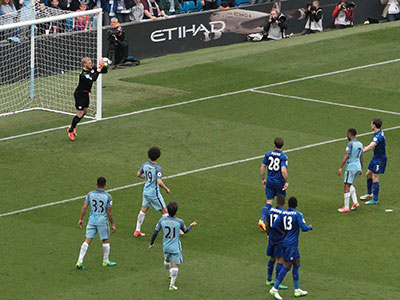 On 70 minutes a long range shot by Toure is easily saved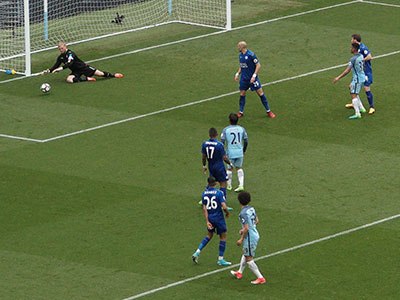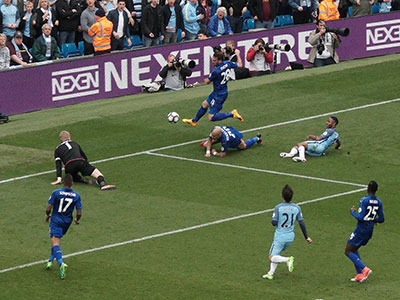 A shot from Sane is saved and then an effort by Sterling is blocked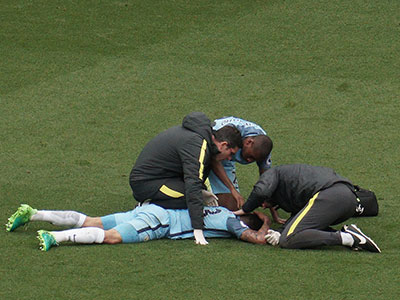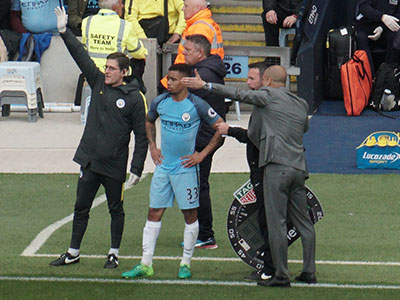 Oh dear the silent sniper has struck and Jesus is down and we had to wave a lot to get him back on!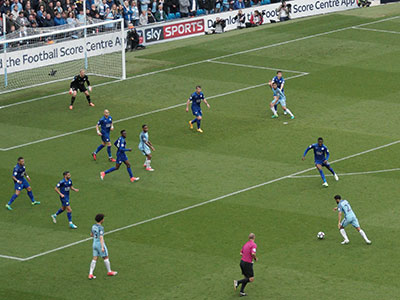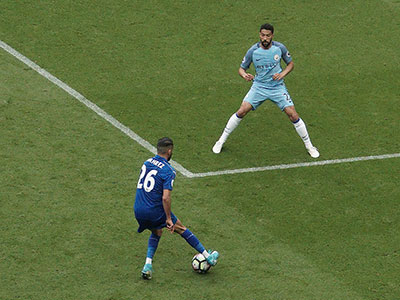 Clichy has a shot which goes wide and a minute or so later he is faced by Mahrez at the other end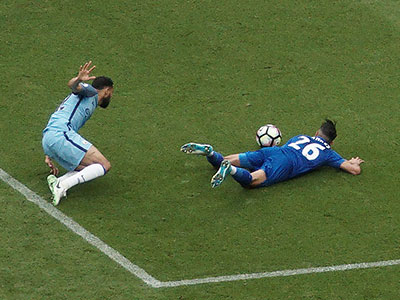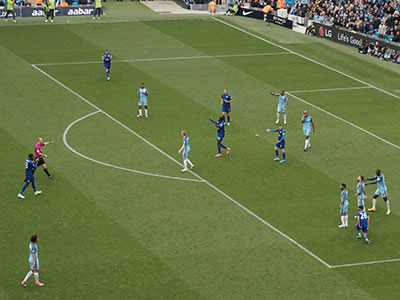 Oh dear he brings down Mahrez just in the area and the ref points to the spot - disaster!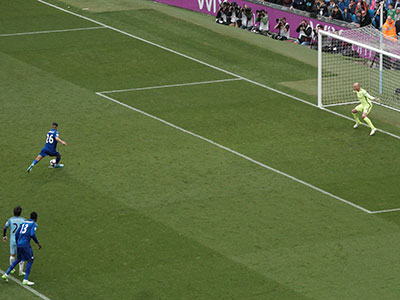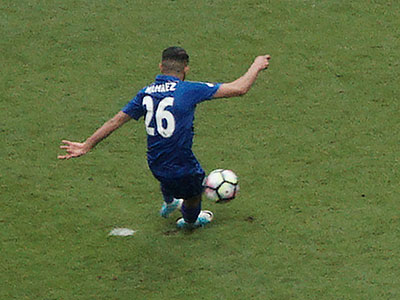 Mahrez takes the kick with his left foot but slips and the ball hits his right foot.......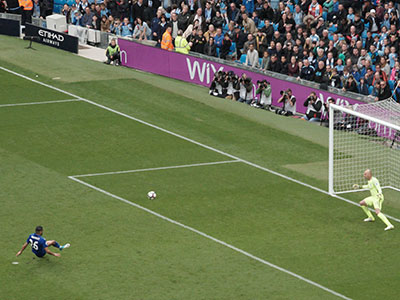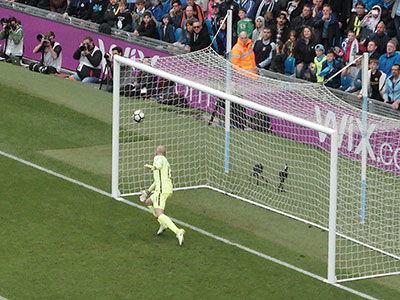 ...and the ball flashes past Caballero into the net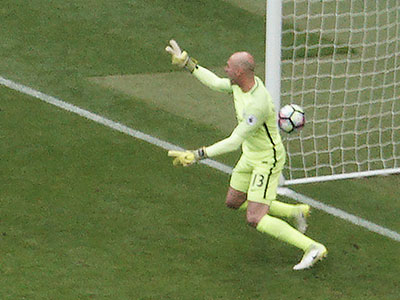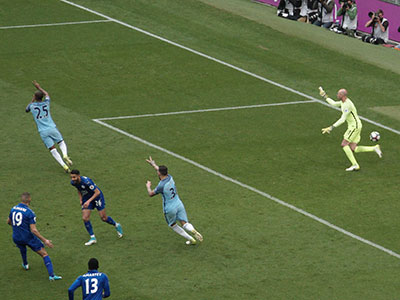 Up go the two fingers of Willy and other City players.....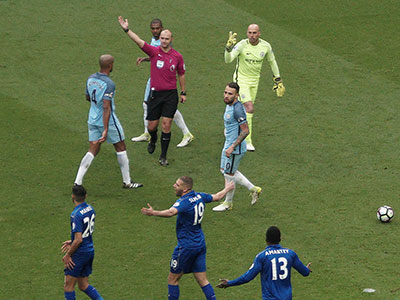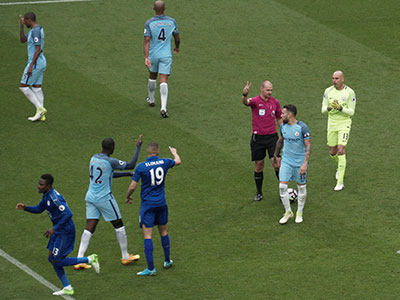 The goal is disallowed and City get a free kick - Phew! That's a good bit of luck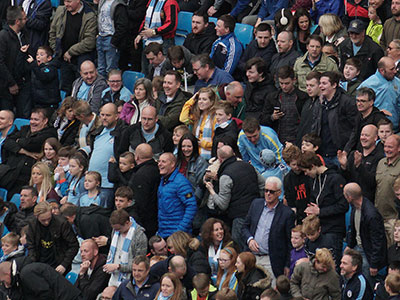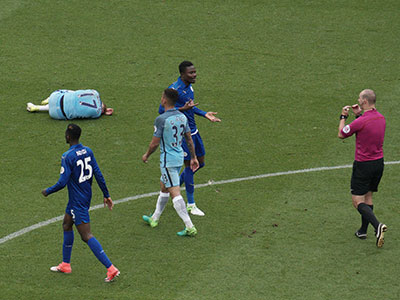 The North Stand are happy about that!
De Bruyne is fouled by Amartey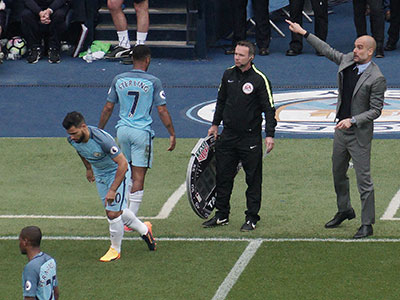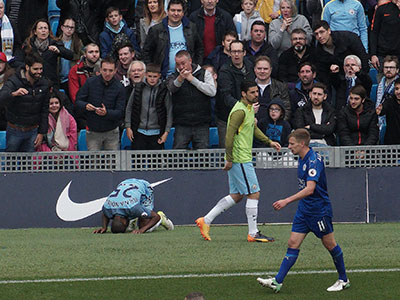 On comes Aguero for Sterling
Fernandinho is fouled and Albrighton gets a yellow card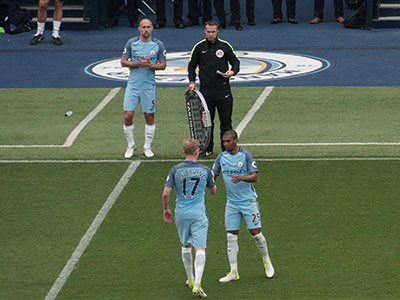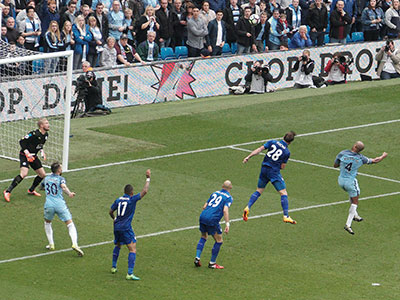 Zabaleta comes on for Kevin
A Kompany header goes wide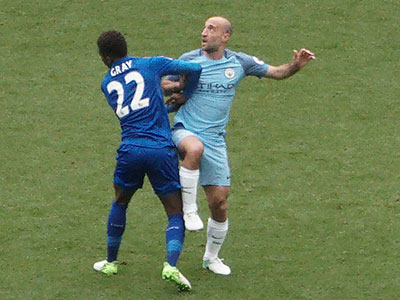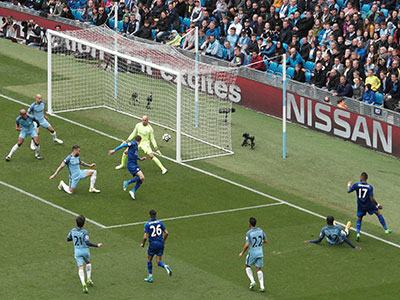 Is this the last time we shall see Zabaleta -one our favorite players
85 minutes and Vardy heads wide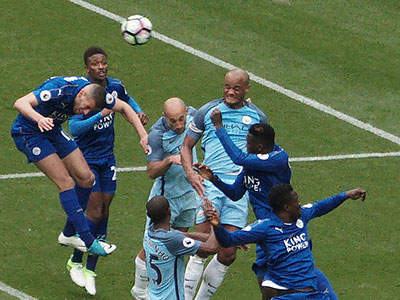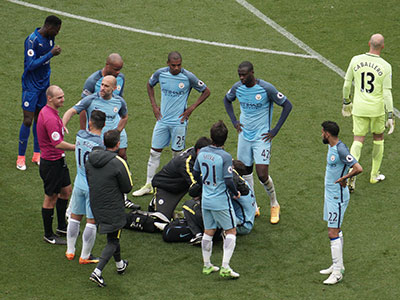 Otamendi is injured -in added time now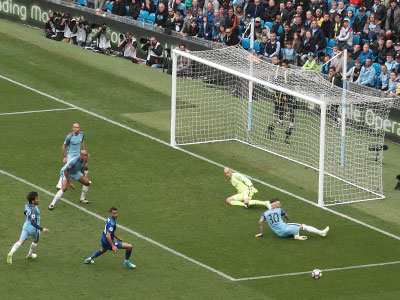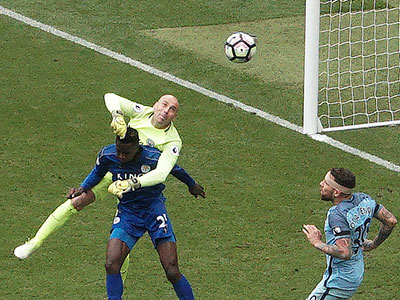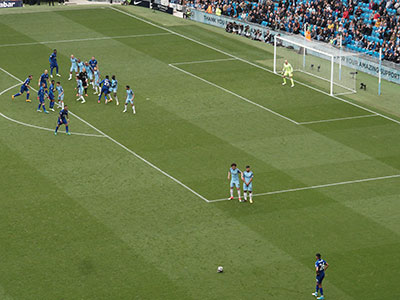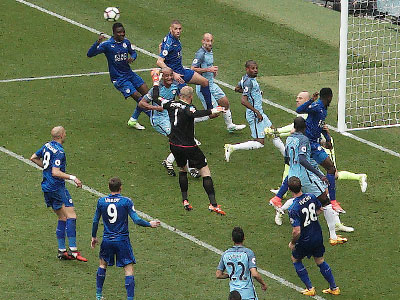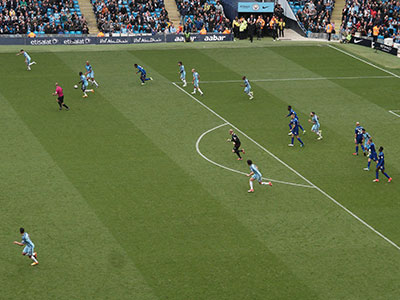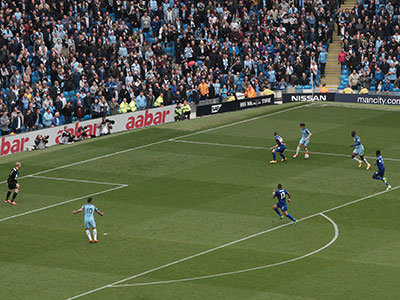 City have to defend in the dying moments
Caballero punches clear a corner
We are in the 8th minute of added time and City manage to clear a free kick.......
..and break and with Kasper Schmeichel still to get back to the other end City spurn a good chance to score before the final whistle goes and it's three points - Phew!!!
team
Caballero 7.5: Fernandinho 7.5, Kompany 7, Otamendi 7, Clichy 6: Toure 7,
Sterling 6.5 ( Aguero), Silva 7, De Bruyne 7 ( Zabaleta) Sane 7.5,Jesus 7.5 (Navas)