City 0 Manchester United 0
April 27th 2017 att.54,176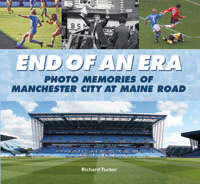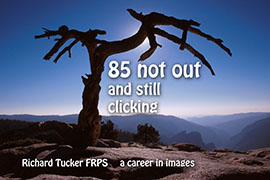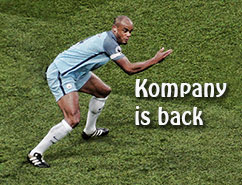 Not the best of games with United setting out to defend and City having nearly 70% of possession again failing to kill off the opposition. United rarely got into the City penalty area and when they did Vincent Kompany was back to his best and organized the defence really well. Fernandinho and Yaya Toure dominated the midfield but I think we really missed the injured Silva. Both Sane and Sterling often ran into too many defenders and many passes by both sides went astray too often for players of this quality. Aguero hit the post but too often he missed good opportunities. Several of City shots were more like back passes!
It was good to see the return of Jesus late on and he did find the net but alas was just offside. The injury to Bravo is likely to mean Caballero will finish the season in goal.
The incredible 20 seconds between Fellaini getting a yellow card for a bad foul on Aguero and his red for head butting Sergio was amazing. He really lost the plot!
We just have to improve the finishing. It is no good having all the play with 'nice' football and then not putting the ball into the net.



A good atmosphere in a nearly full stadium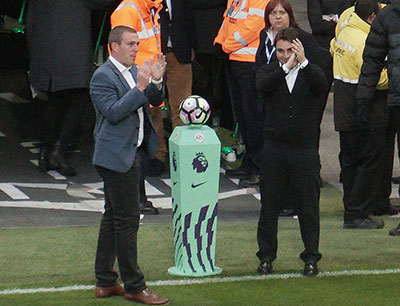 Before the game two old favorites were introduced to the crowds - Richard Dunne and Georgi Kinkladze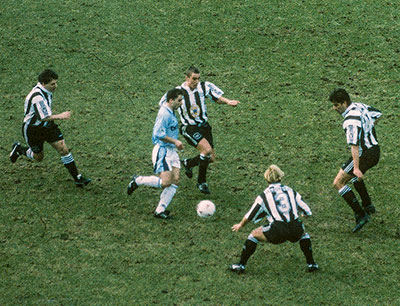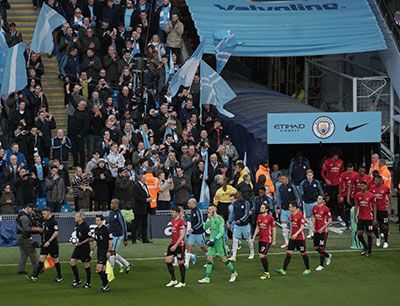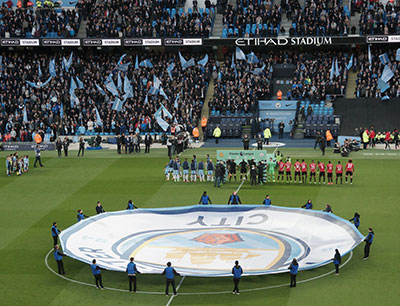 No Silva in the team - injured at Wembley- and Bravo preferred to Caballero were the bad bits of news. At least we had Jesus back - although only on the bench. How would the tired players perform after the disappointment against Arsenal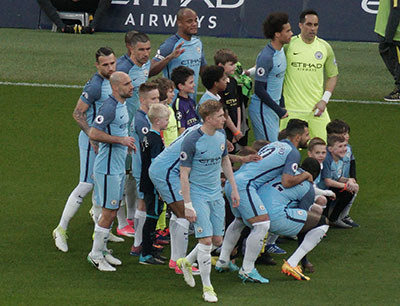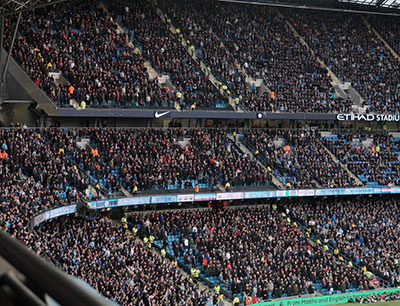 City have a team pic taken
United nearly filled their area but they were not very vocal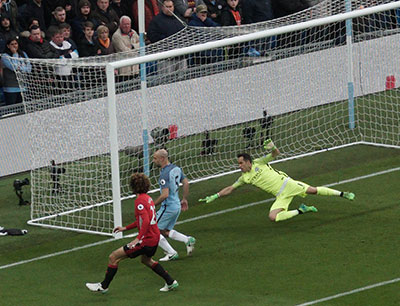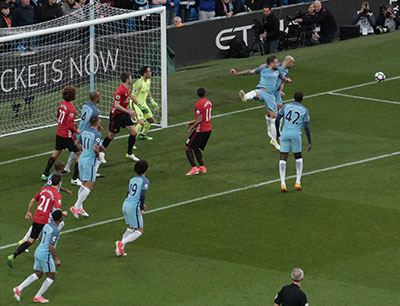 City had an early scare when a cross nearly surprised Bravo but City cleared the corner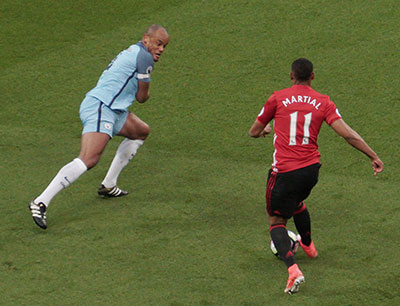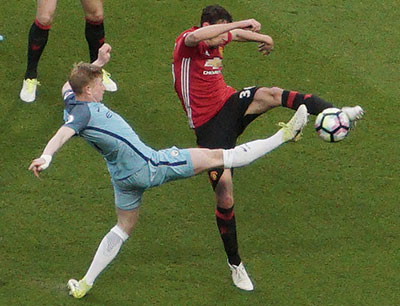 Kompany about to tackle Martial
De Bruyne clashes with Damien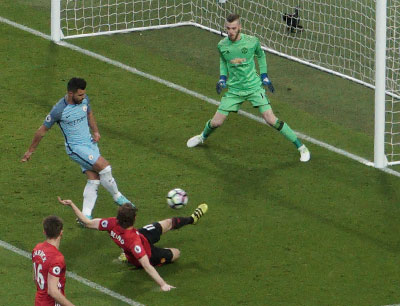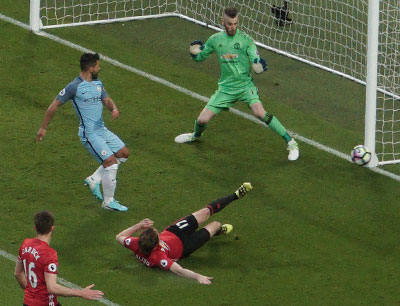 After just 9 minutes Aguero hits the post - a very good chance!
Kinkladze in action against Newcastle in a three all draw in Feb 1996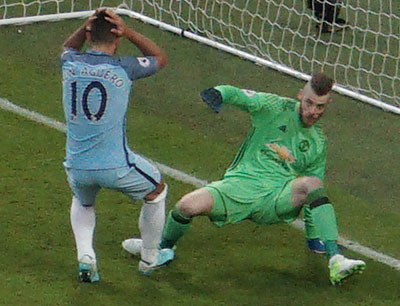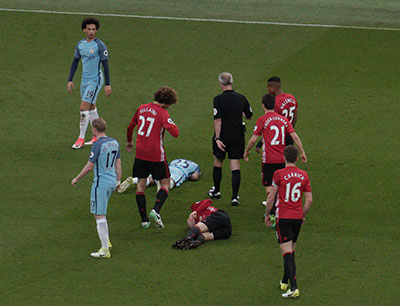 Sergio knows how important that miss was!
Oh the secret sniper's been at it again -two down!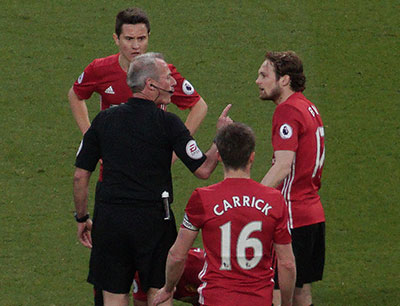 Referee Atkinson tells Blind off for not sending him a decent birthday card!
The sun sets behind a rather chilly Stadium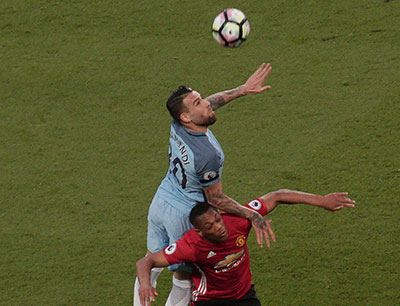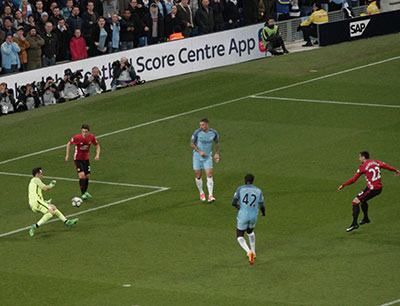 Bravo saves from Mkhitaryan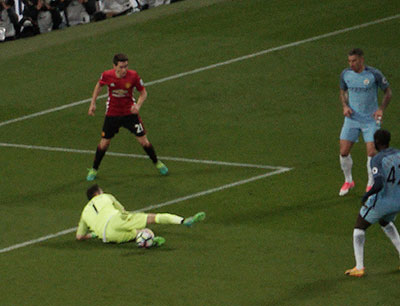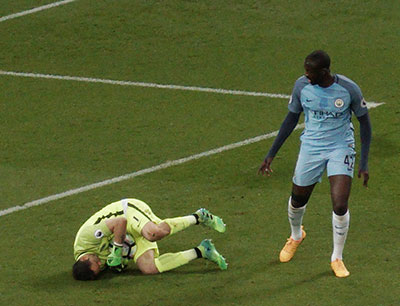 The ball squirms away from him but Yaya is glad he's got it in the end!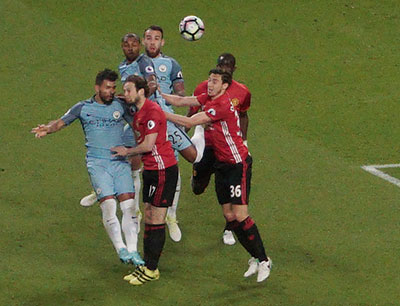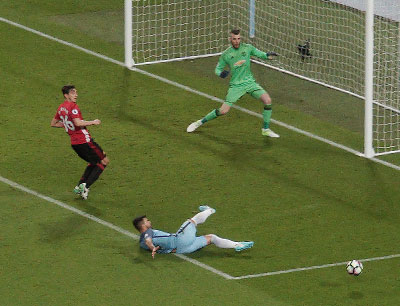 Aguero heads over at a corner then shortly after just misses a cross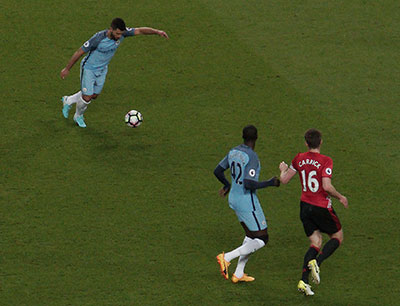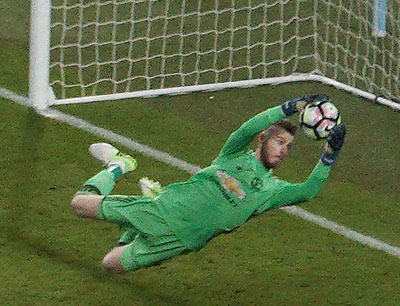 On 32 minutes Aguero has a shot on target but De Gea saves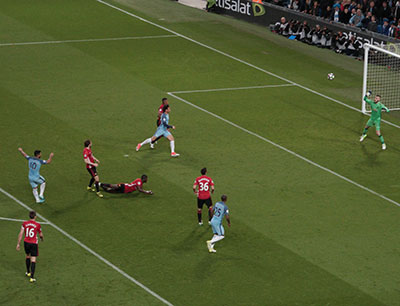 Aguero shoots over the bar on 34 minutes
two minutes later and De Gea has to save from Kolarov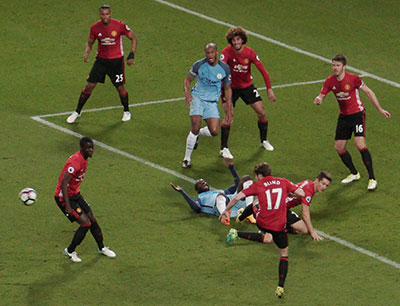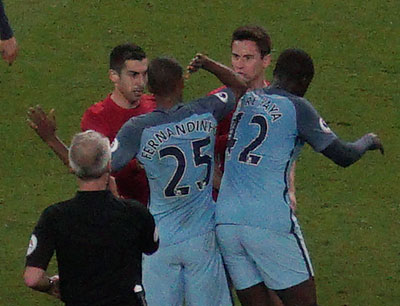 United manage to clear the corner
Oh dear there is trouble brewing!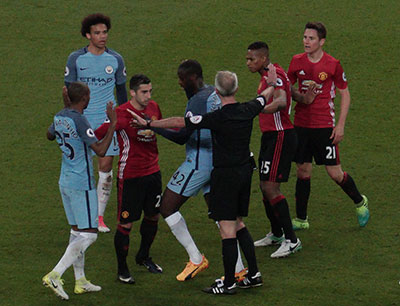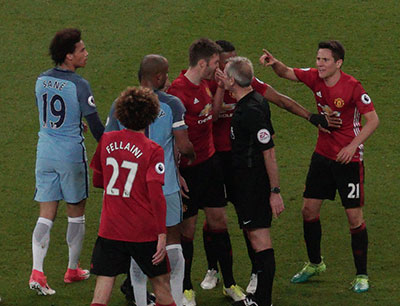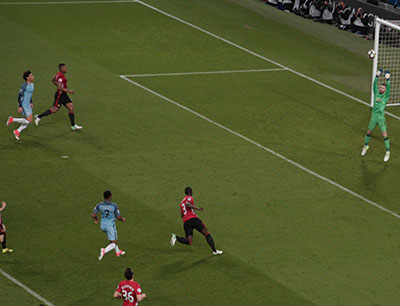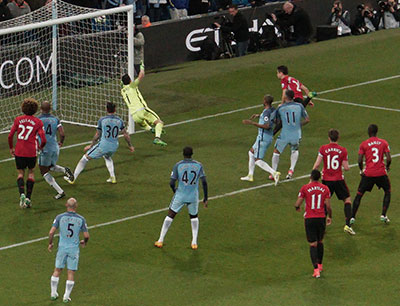 Herrera is getting involved this time
An effort by Sterling goes over the bar
Just before half time Herrera heads just wide when well placed - a bad miss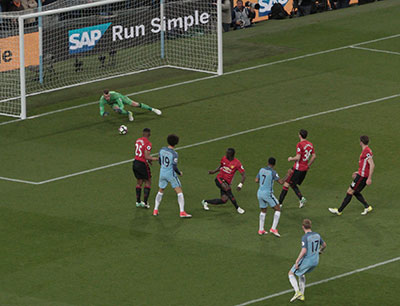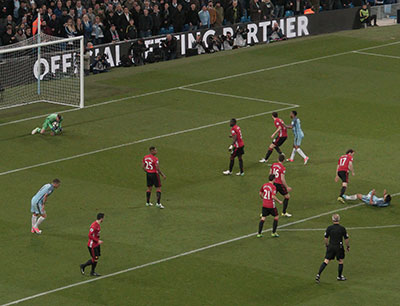 2 minutes after the break and De Gea has an easy save from Sterling
two minutes later and an easier save from Aguero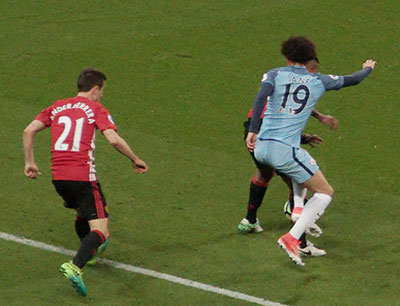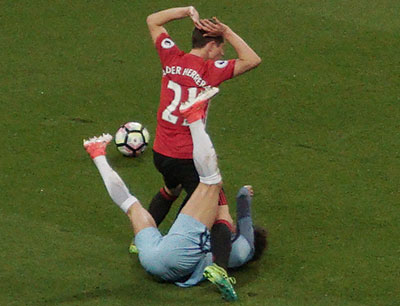 Sane gets into the area but appears to be brought down as Herrera pleads not guilty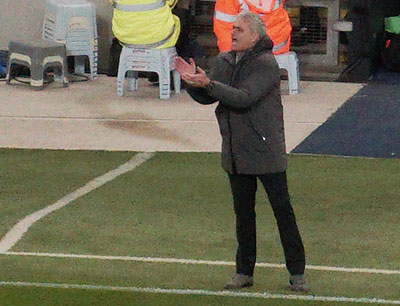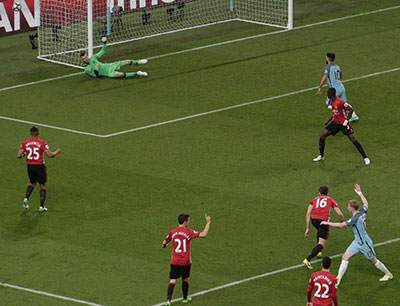 Mourinho actually gets his hands out of his pocket
De Bruyne has a shot deflected for a corner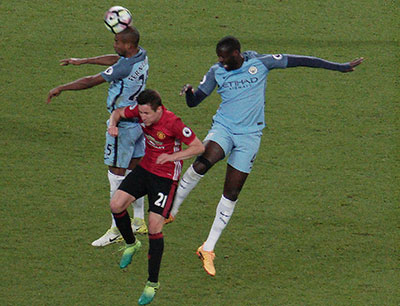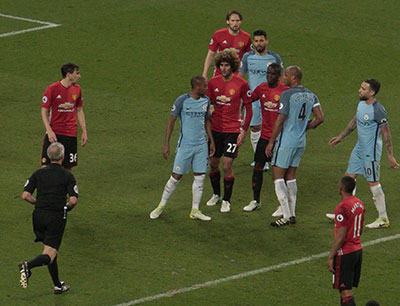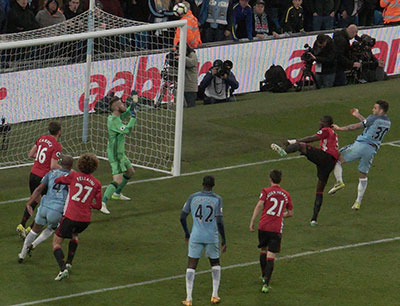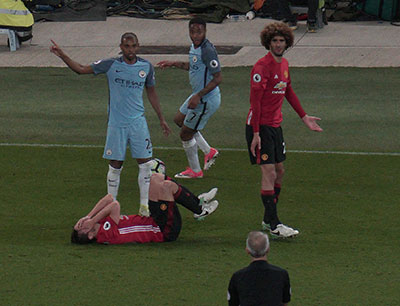 I didn't hit him says Fellaini
Otamendi heads wide at a corner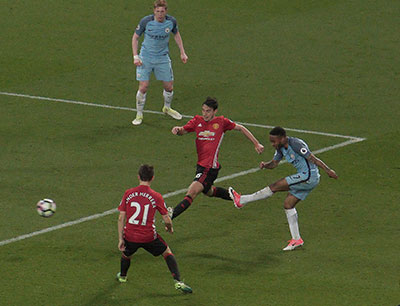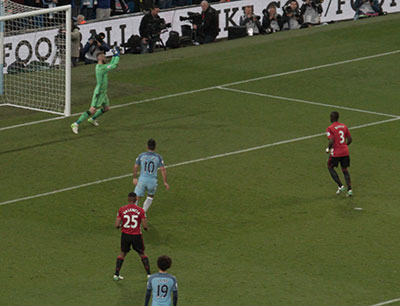 Sterling shoots but it is an easy save for the keeper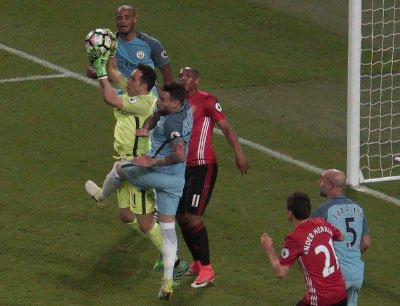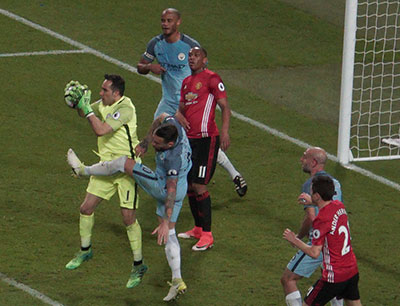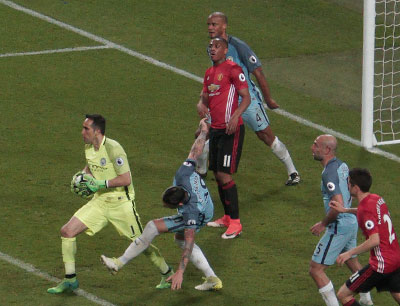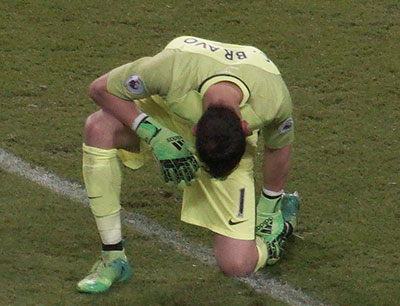 On 76 minutes Bravo catches the ball at a corner but goes down hurt - was it Otamendi's leg that hit him!?!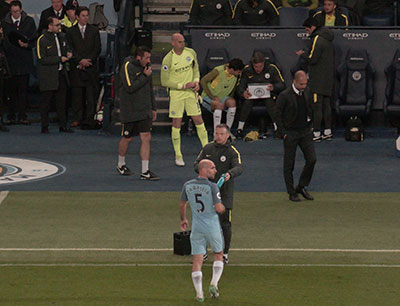 We had several minutes delay and Caballero got ready to come on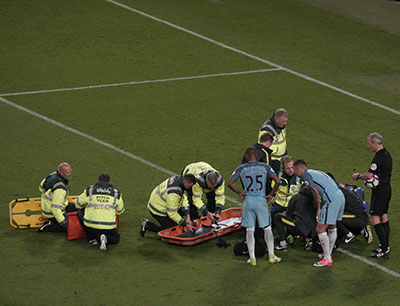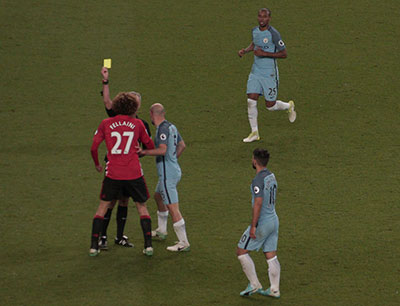 In the end he was stretched off
On 83 minutes Fellaini got a yellow card for a bad foul on Aguero....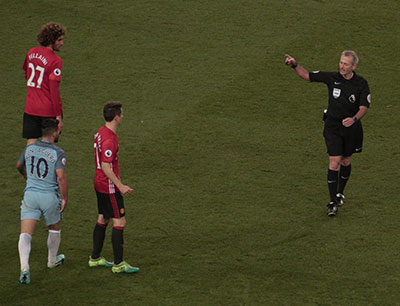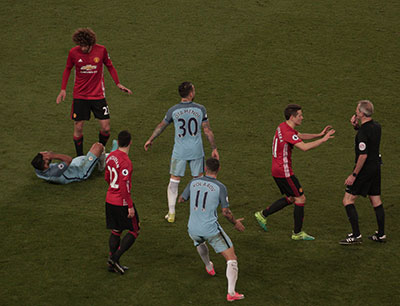 and very stupidly Fellaini followed Aguero and head butted him right in front of the referee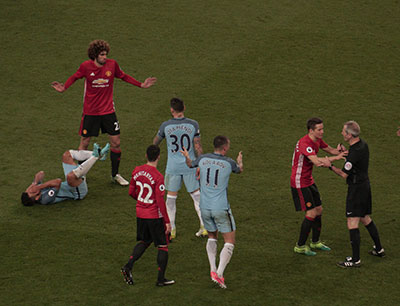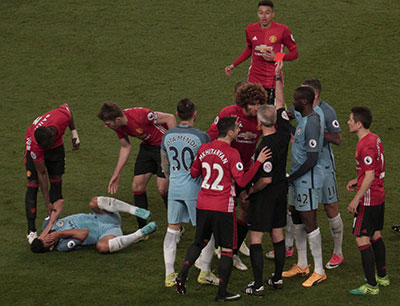 Aguero was very theatrical when going down and despite the United protests it was red for Fellaini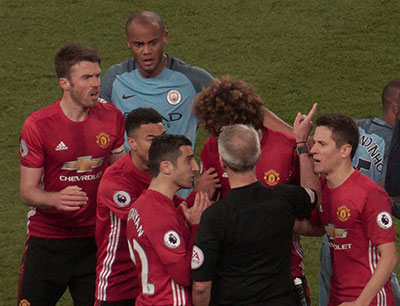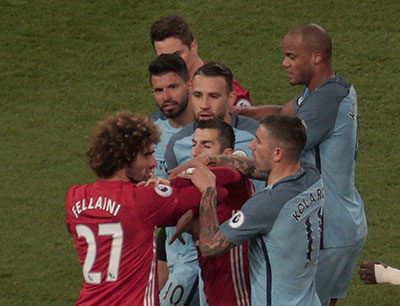 Fellaini just did want to go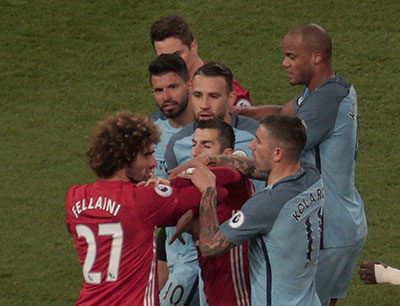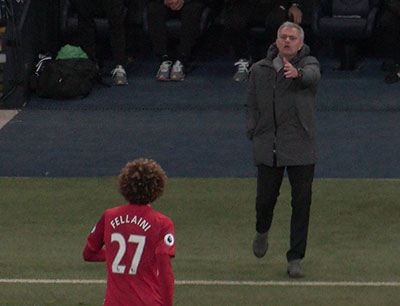 In the end he did walk off to be greeted by his manager asking what happened!!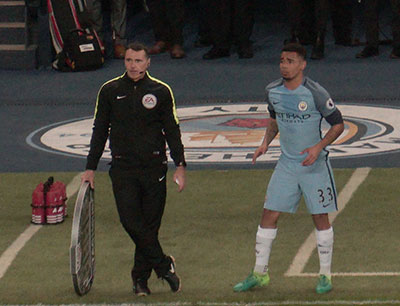 He had to walk past all the gloating City fans
On came Gabriel Jesus for Sterling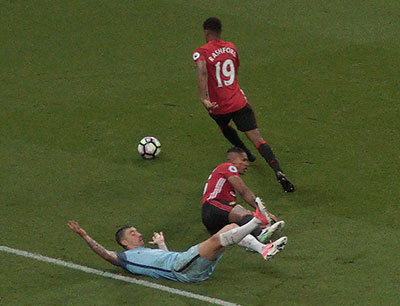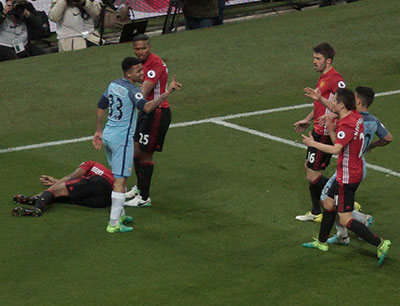 Kolarov goes down but no penalty
Jesus gets into trouble with a foul.....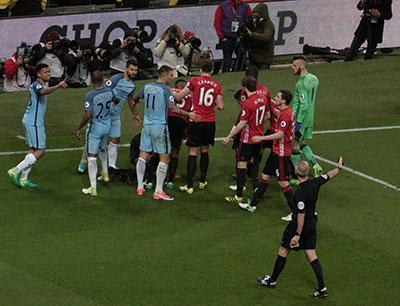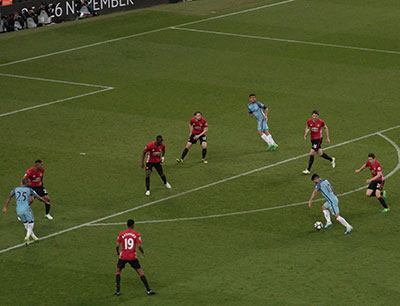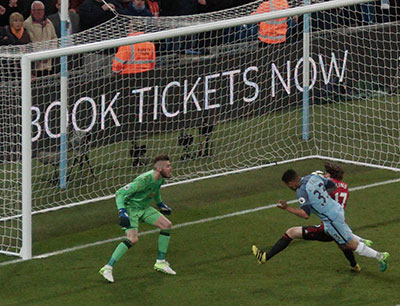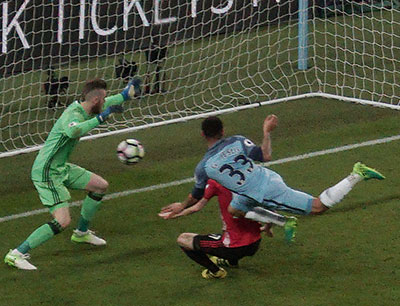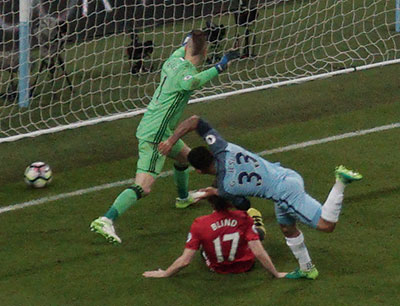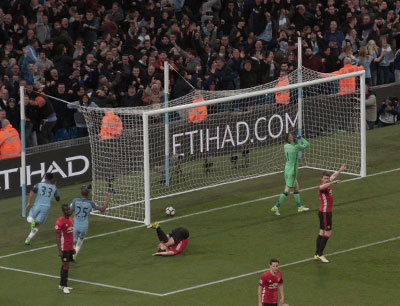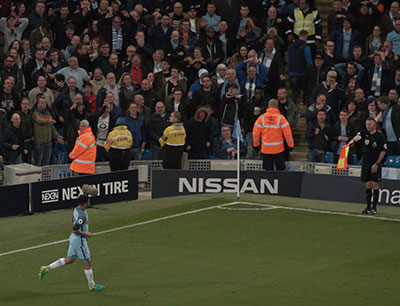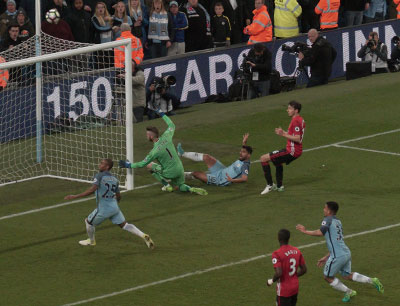 ...and he gets a yellow card
on 90 minutes Aguero breaks into the box....
....and Jesus heads past De Gea......
...and into the net to score for City......
But all the smiles are gone as the flag is up for offside!!
In added time Aguero just fails to score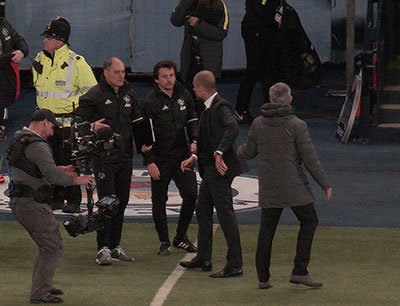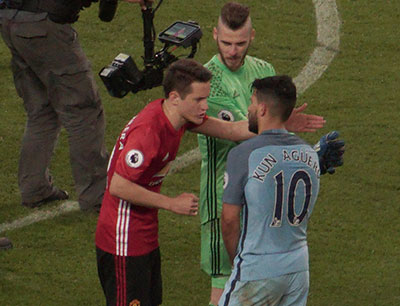 When the final whistle goes there are no fights off the field but United players still have a go at Aguero
Team
Bravo 6 (Caballero): Zabaleta 7, Kompany 8; Otamendi 7.5. Kolarov 7: Toure 7.5, Fernandinho 7.5: Sane 6.5 ( Navas) De Bruyne 7 Sterling 6.5 ( Jesus) Aguero 7