Manchester City v Gillingham - May 30th 1999 Promotion play-off
Wembley Stadium
In the beginning God created two teams in Manchester - City and City reserves and on May 30th in the year of our Lord 1999 under the twin towers of Wembley the opposition from Gillingham scored a second goal near the end.
and the score was 0-2 at the end of the 86th minute.
In the beginning of the 89th minute Kevin Horlock took advantage of a loose ball after good work by Taylor and Goater to blast the ball past Bartram from the edge of the box
and the score was 1-2 at the end of the 89th minute.
A guardian angel signaled five extra minutes for the blue multitude to endure and it came to pass that well into the added time a four man move ended with Paul Dickov evading a tackle and slotting home from ten yards past the flailing left hand of Bartram.
and the score was 2-2 at the end of the 94th minute.
The roar ( from the blue end) that greeted the goal was enough to waken the custom posts just north of Watford and those of little faith hastened back to witness the extra half hour. Would Gillingham, reeling from the two late blows now buckle at the knees and submit to Joe Royles Blue Army.
but the score was still 2-2 at the end of the 125th minute.
And so it came to pass that a penalty shoot-out was to create the agony and the ecstasy . Cometh the hour cometh the goalkeeper and the final hero of the match, the angelic Nicky Weaver, finally came of age. With a supreme confidence far beyond his 20 years he saved two penalties to ensure City`s rise to the first Division.
and the score was 3-1 on penalties at the end of the game
The roar from the seething blue mass of humanity was enough to be heard at the Scottish border never mind Watford. For a further twenty minutes or so the fans paid homage to the players and we had the welcome sight of the team play humble homage to the fans who had willed them with their incredible support up the first rung of the ladder to the Premier League. It was a strange sight ; one half of Wembley a mass of cheering and clapping blue and white fanatics, the other half virtually empty save a few hundred brave City supporters who had braved the Gillingham end by some means. To their credit the City players went across to the lone group at the Gillingham end to add their thanks.
What a day ! I have been to Wembley as a steward, a reporter and a City fan and seen some exciting games but the finale of this game will remain in my memory bank for ever.
Horlock scores for City 1-0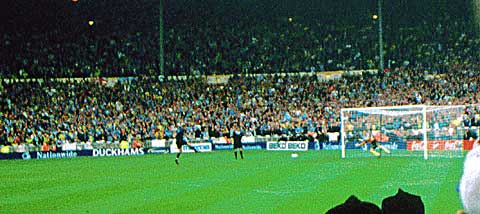 Weaver dives to save from Smith 1-0
Dickov hits post- still 1-0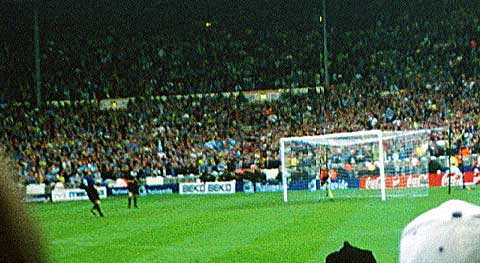 Pennock misses by a mile -still 1-0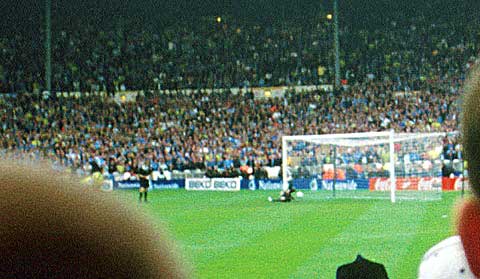 Terry Cooke scores for City 2-0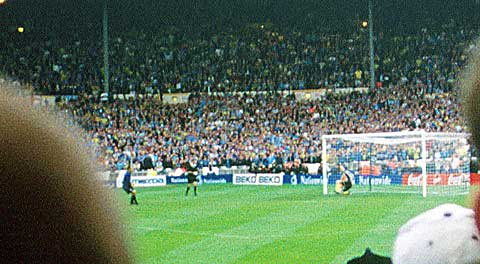 Hodge scores for Gillingham 2-1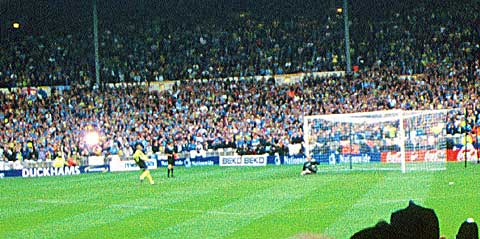 Edgehill sends the keeper the wrong way 3-1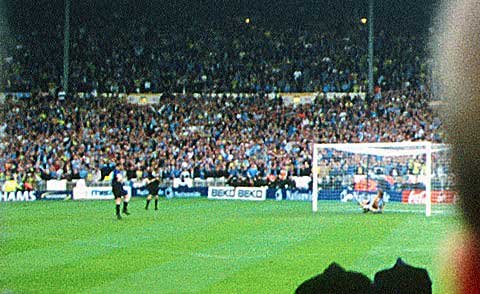 Weaver saves from Butters and City are promoted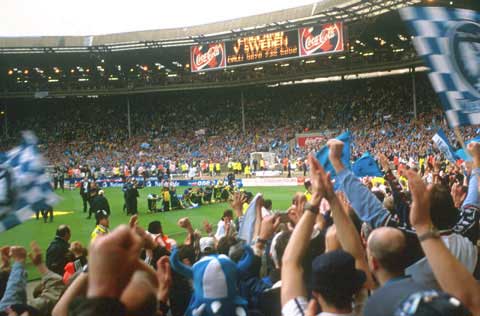 The victorious City team prostrate themselves before their fans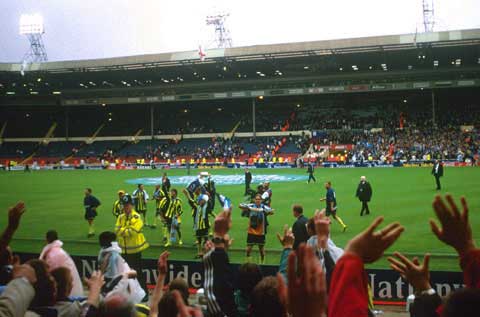 The final farewell - Division One here we come