City 1 FC Basel 2
March 7th 2018 att.49,411
Champions League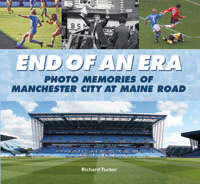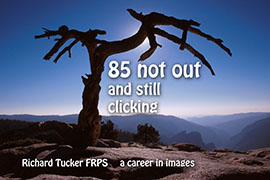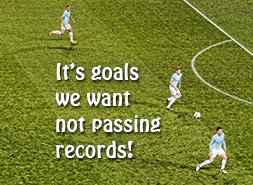 With a four goal lead from the first leg we expected City would make several changes to the regular team but we did not expect such a poor effort to equalize when Basel went ahead in the second half. It is a long time since I heard boos when the game ended. It was the first time City had been beaten at home since the Chelsea match 459 days ago - December 3rd 2016!
City did achieve a record - 978 passes - Champions League record! Oh and Phil Foden became the youngest English player to play in the tournament at 17 years 283 days.
When Jesus scored an easy goal early in the match we thought it was going to be another easy win but Basel helped by magnificent support by their fans equalized shortly after and it appeared that when the visitors took the lead City were quite happy to pass the ball about in the middle of the park and there was a distinct lack of urgency. It was a shame that Aguero did not come on so that he could have celebrated his 200th goal in front of the home fans! In fact we brought on a defender for Foden in the final minutes!
Not the best of second halves to remember for City fans.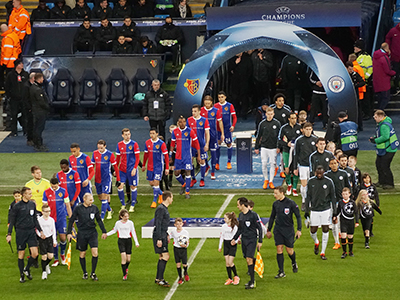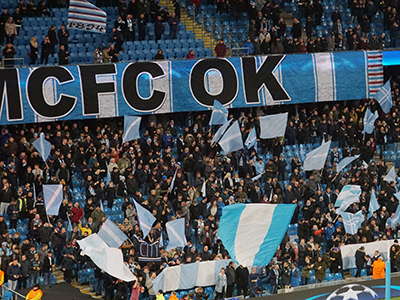 Of the first choice team only Sane started the game. Toure was skipper and there was a start for Phil Foden. There were six changes from the Chelsea match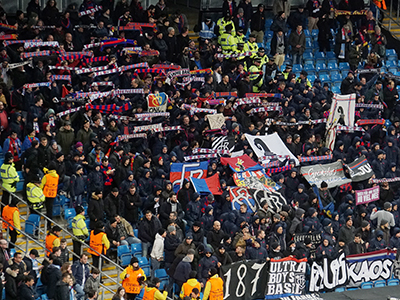 Considering the first leg score there was a very big turnout of Basel fans and they certainly made their presence felt!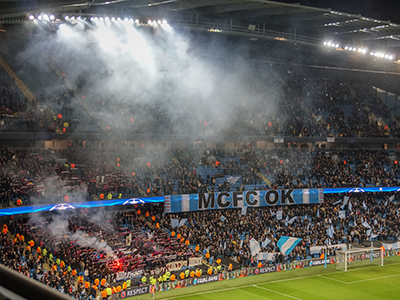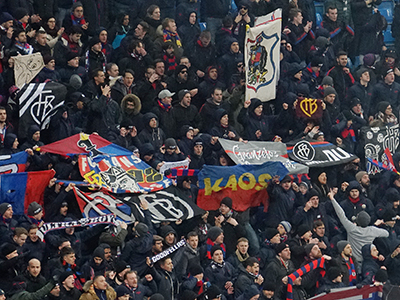 Their leader -btm right in grey - certainly had them organized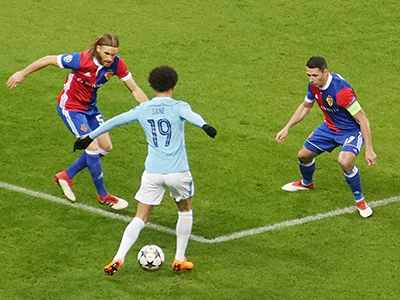 An early cross from Sane is saved by the keeper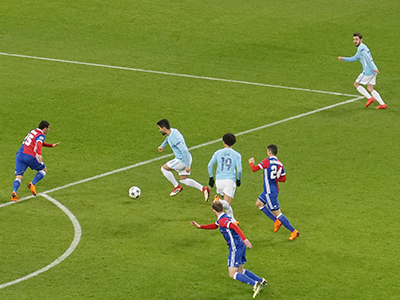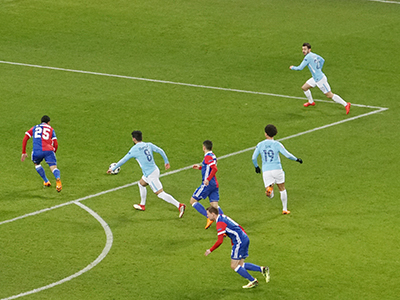 On 8 minutes Gundogan passes to Benardo Silva.....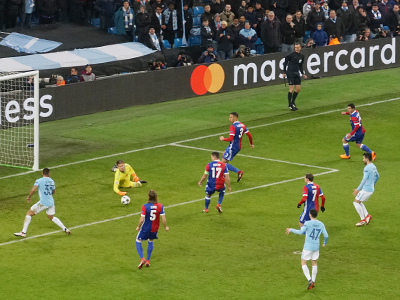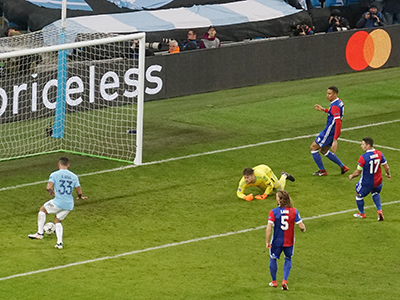 ......who crosses and the ball somehow evades 2 defenders and runs to the unmarked Jesus.....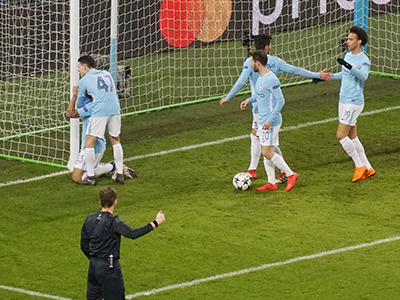 ..who has the easy task of placing the ball into an empty net and City are one up - five nil on aggregate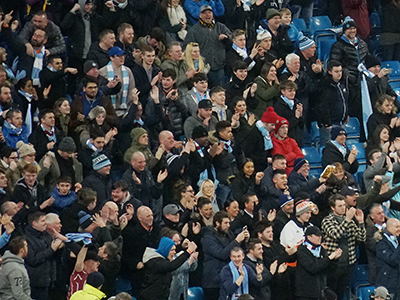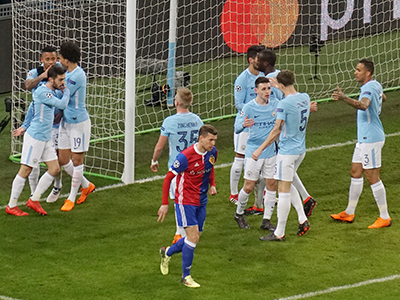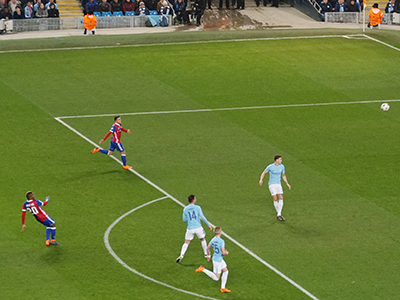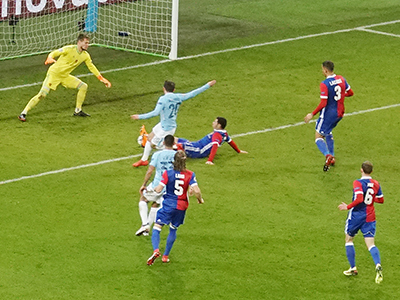 Serey Die shoots well over the bar
Benardo Silva has an effort blocked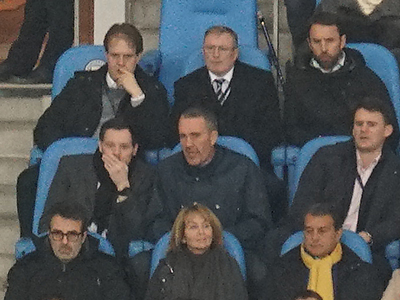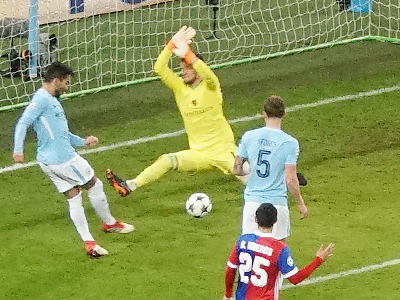 So who is the England manager watching today!
On 16 minutes Gundogan has a good chance.....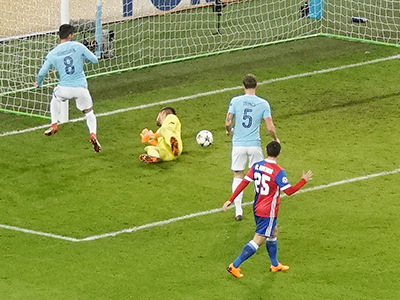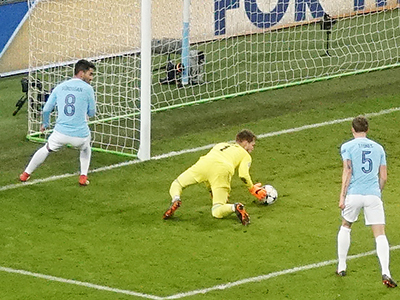 ...following a corner but the keeper manages to save in the end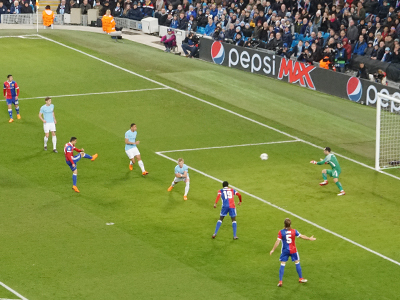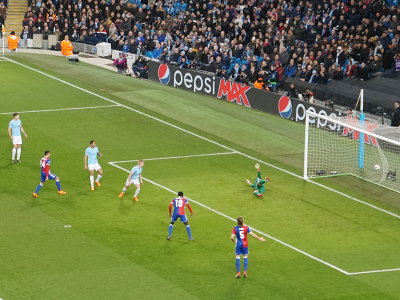 A minute later an unmarked Elyounoussi cracks in a shot and goodness me it hits the back of the net and it's one all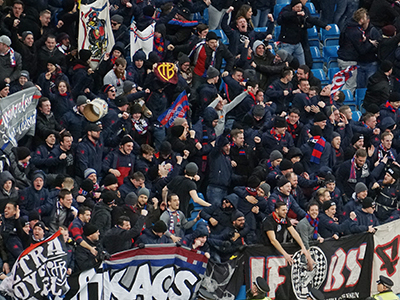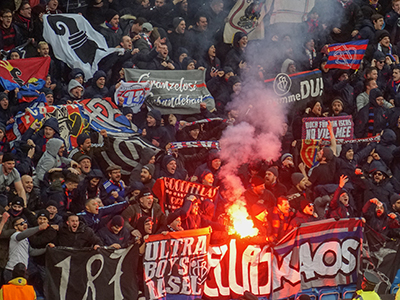 The Basel fans seem to be quite pleased about that!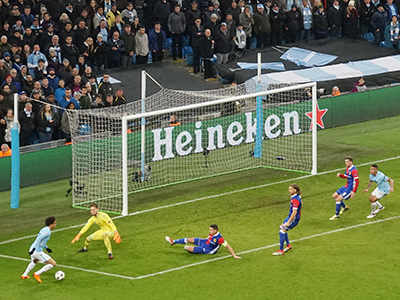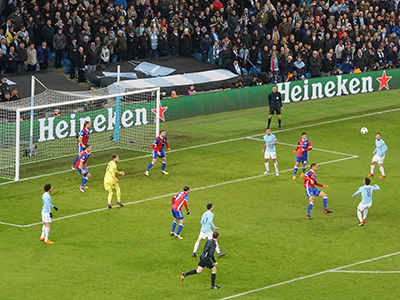 On 29 minutes Sane passes to Gundogan but his effort is blocked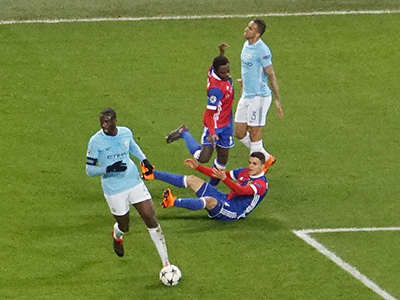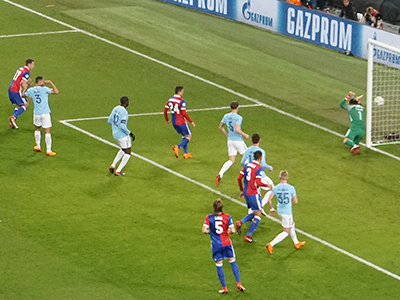 Danilo brings down Elyounoussi and the free kick goes just wide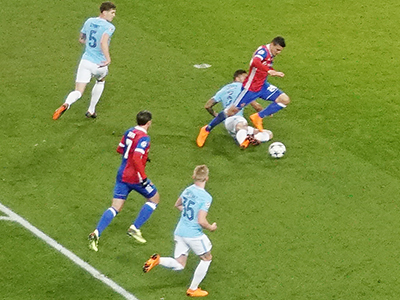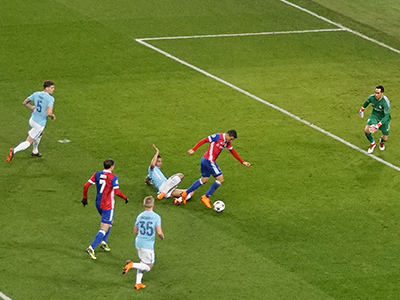 Elyounoussi beats Danilo....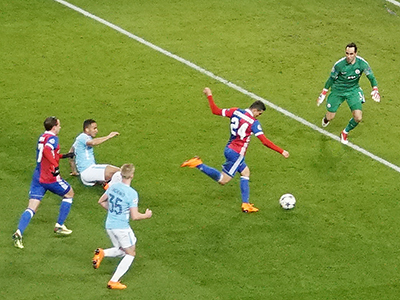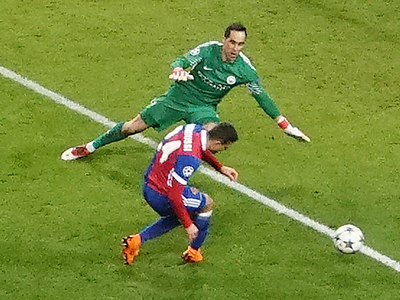 ...and looks certain to score but somehow he fails - thank heavens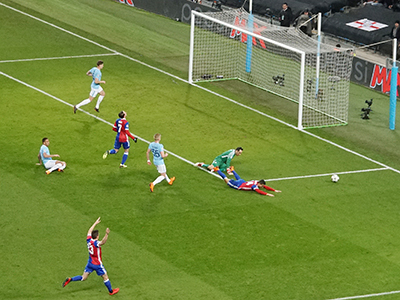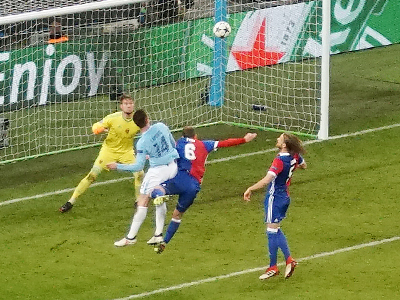 Basel clear a City corner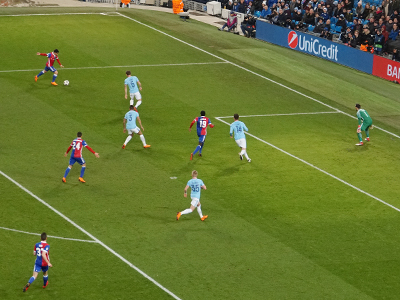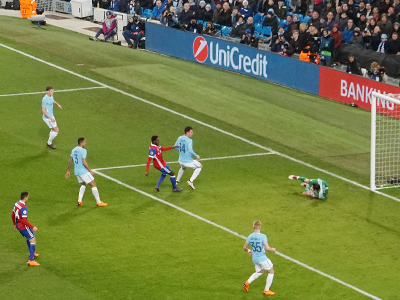 Riveros shoots but Bravo saves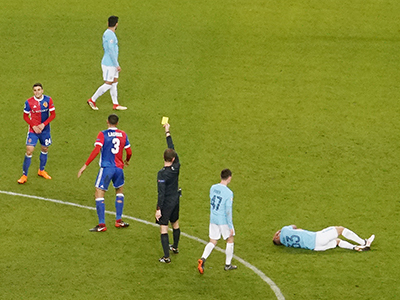 Bravo has to come out to clear with his chest!
Lacroix gets a yellow for a foul on Jesus just before half time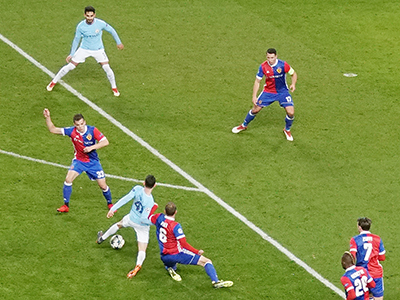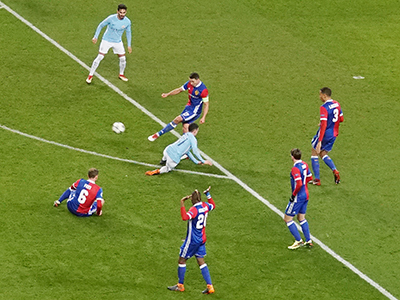 Foden tries to break through but cannot get in a shot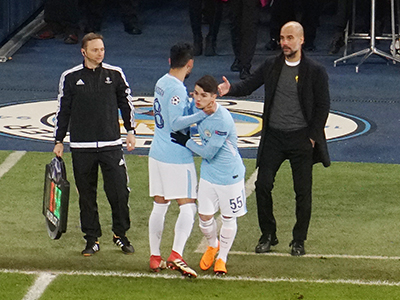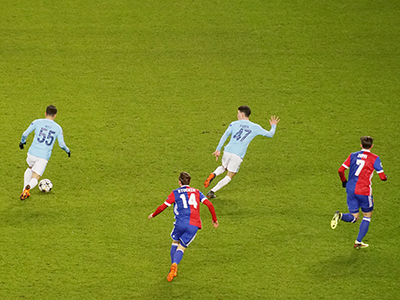 Off goes Gundogan and on comes Diaz
A glimpse of two of City's up and coming youngsters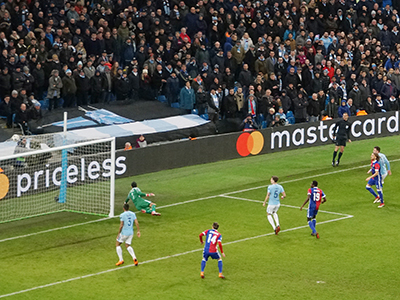 71 minutes and there looked to be no danger when suddenly the ball flew into the back of the net from a narrow angle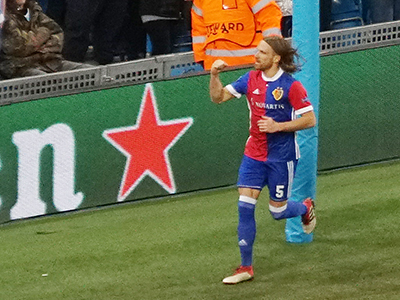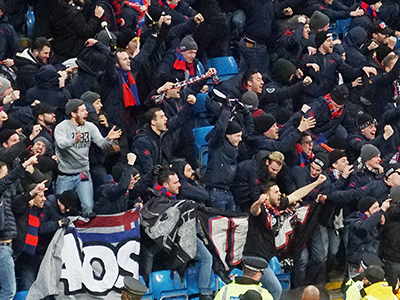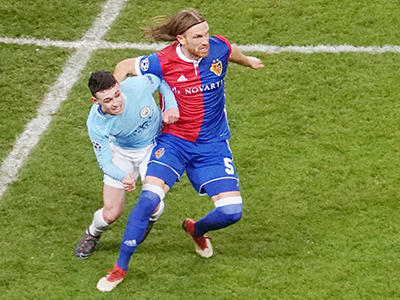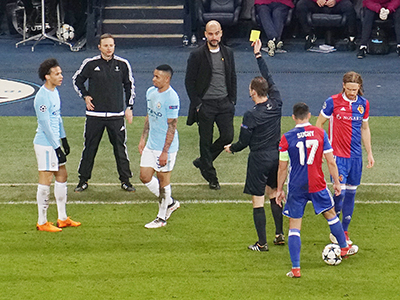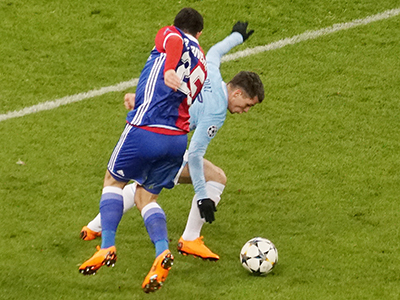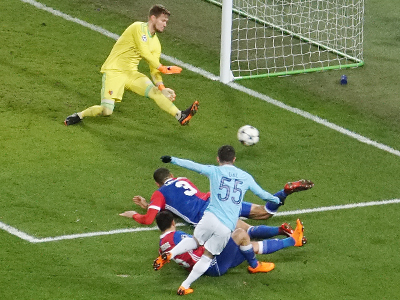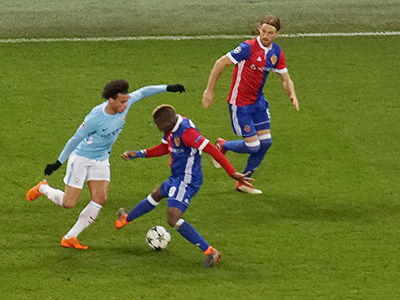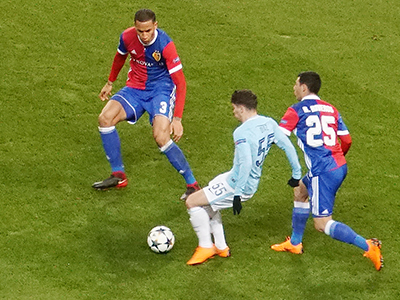 Lang was the man who won the game for Basel and I'm sure the Basel fans went home happy despite losing the tie
Foden tries to get past Lang
Jesus gets a yellow card for a foul on Lang
Diaz has a shot saved - City's last effort!
Sane fails to break through
Diaz keeps trying to the end
team
Bravo 6: Danilo 6, Stones 6, Laporte 6, Zinchenko 6.5: Toure 6, Gundogan 6.5 ( Diaz) Foden 7.5 (Adarabioyo) , Sane 7.5, Bernardo Silva 7, Jesus 5