City 1 Chelsea 0
March 4th 2018 att.54,328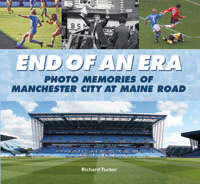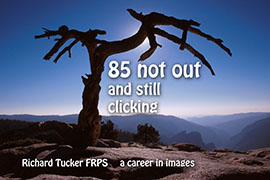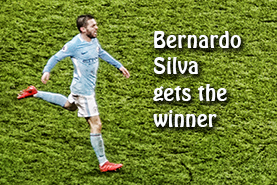 It took a record number of passes - over 900 - and 71% possession to score one goal to get past a record number of Chelsea buses keeping City at bay. Fortunately the sky blues caught the buses napping 30 odd seconds into the second half. A defensive error let David Silva in and his cross was met by Bernardo Silva who bundled the ball past Courtois.
One would have thought Chelsea would have attacked with more venom after going behind but Ederson did not have to make a save all match. After a good display against Arsenal in midweek Sane and Bernardo Silva once again showed fine form. David Silva and Kevin De Bruyne bossed the middle of the park and while Aguero failed to get his 200th goal for City he worked hard and supplied a good pass to Silva to set up the vital goal.
The win puts City 18 points ahead of Liverpool and needing just 4 more wins to claim the Premiership Title. City were brilliant at chasing down every time Chelsea had possession.
A couple of bad lunges by Zinchenko spoilt a good game by the youngster. He will have to do some homework on his defensive ability!
In the absence of the injured Fernandinho, Gundogan did well in front of the back four who had one of their quieter games. Gundogan made a record number of passes - 174 - during the match.
The way Chelsea played gave the impression they were in danger of relegation and were desperate for a point! One felt sorry for their fans who had made the journey North.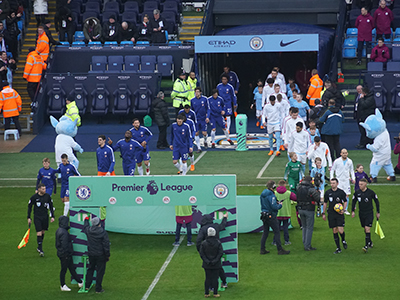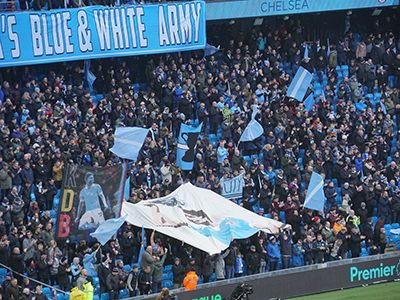 City made 2 changes from the Arsenal win - Laporte came in for Kompany and Zinchenko was in for Danilo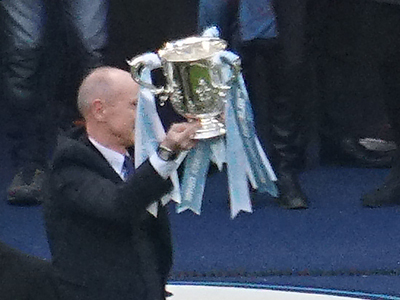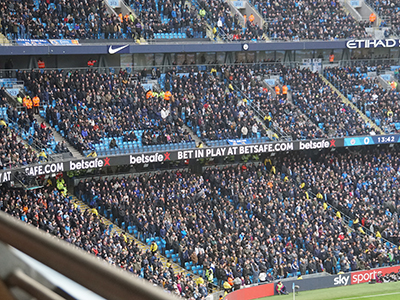 Denis Tueart brought out the Carabao Cup we had won a week ago - pics
HERE
Chelsea had a fair number of supporters in the stand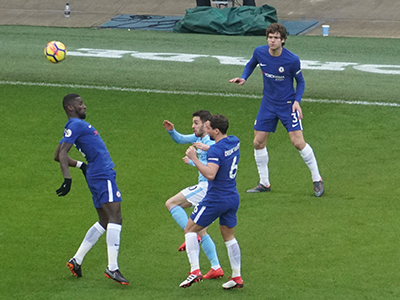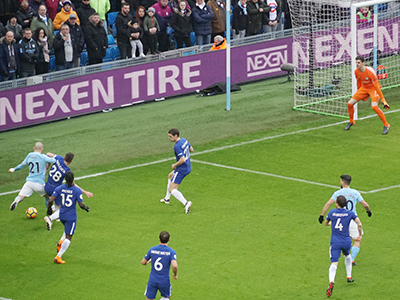 City were soon on the attack and a cross from David Silva went straight to the keeper alas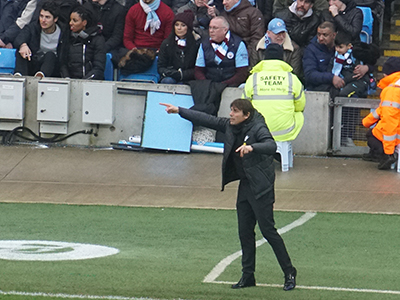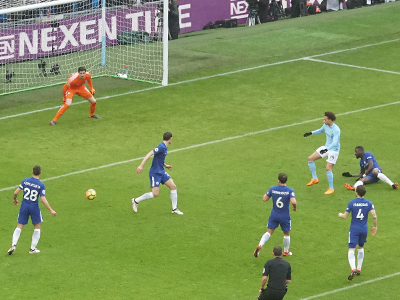 Chelsea manager Conte was urging his team to really park the buses!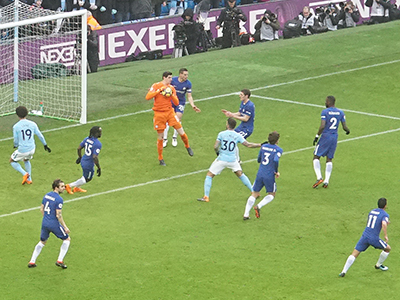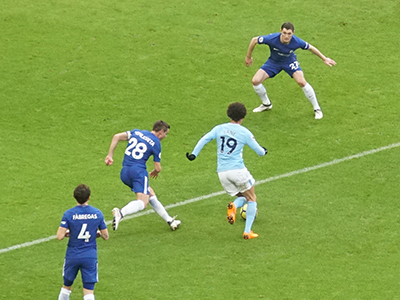 Courtois takes a cross easily
Sane takes on defenders.....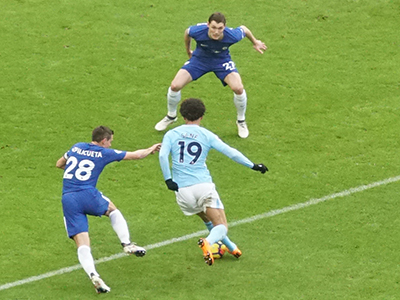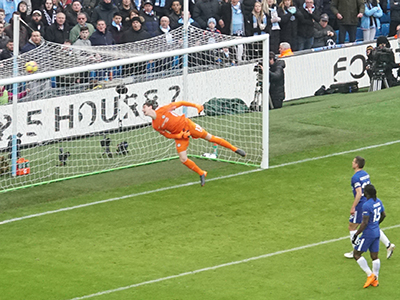 .....he passes to Bernardo Silva who shoots just over the bar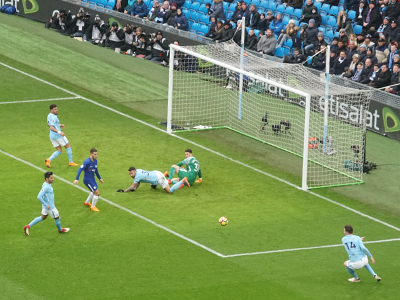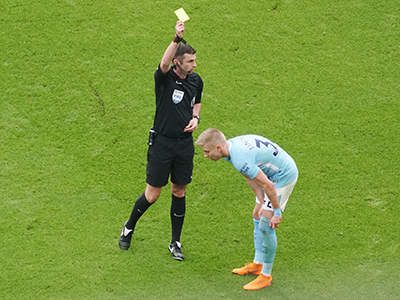 Gosh - Chelsea get in our half but the danger is cleared and Zinchenko gets a yellow for a lunge that missed fortunately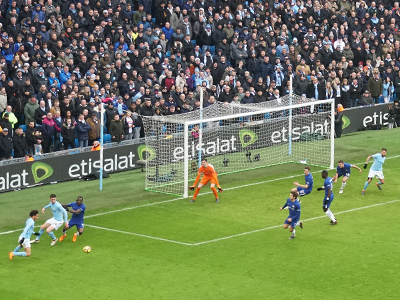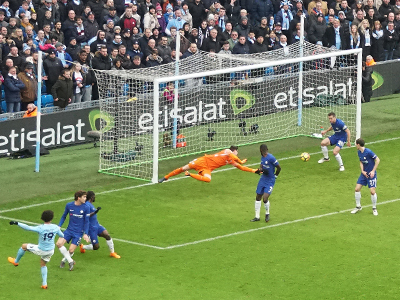 On 27 minutes Sane gets in a shot which beats Courtois.....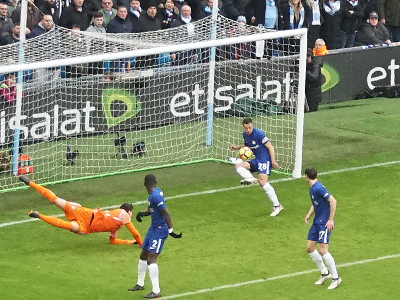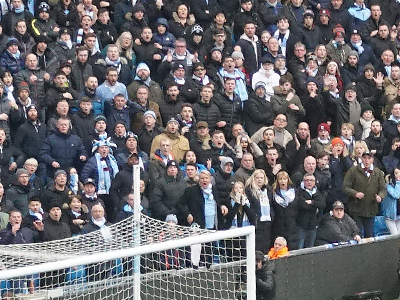 .....but luckily for Chelsea Azilicueta is on the line and he keeps the ball out much to the shock of City fans in the South Stand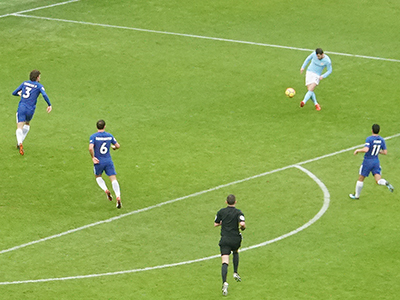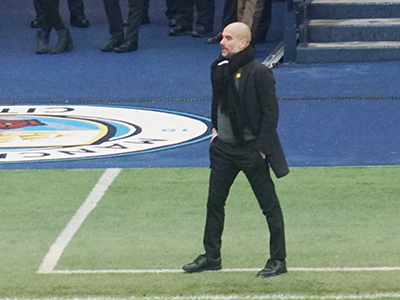 A shot from Bernardo Silva alas goes too high and wide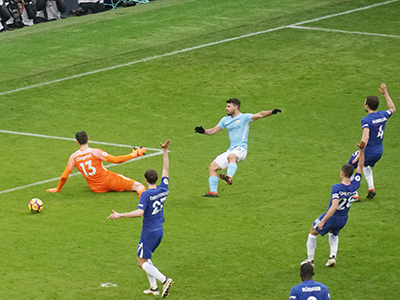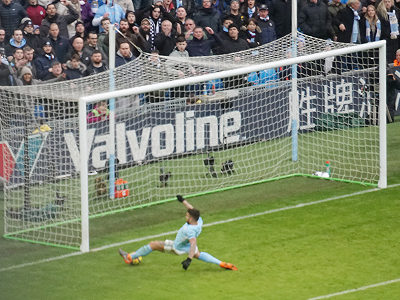 On 42 minutes City did get the ball in the net but alas.....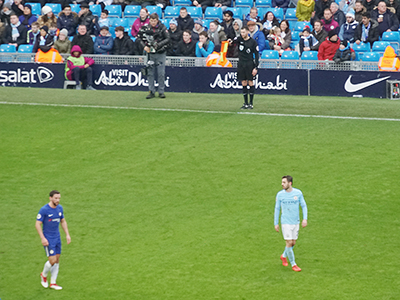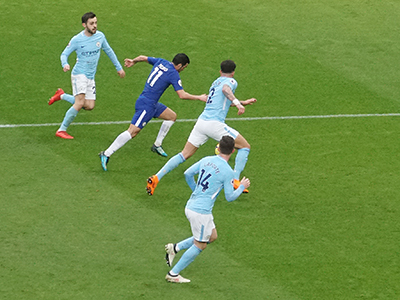 ......the flag was up for offside and Chelsea just manage to get inside our half once more before half time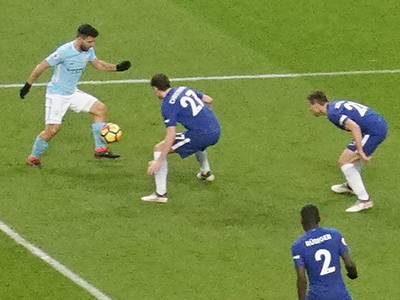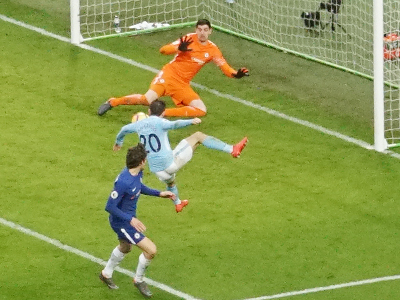 Thirty seconds into the second half Aguero gets the ball to David Silva who crosses to Bernardo Silva.......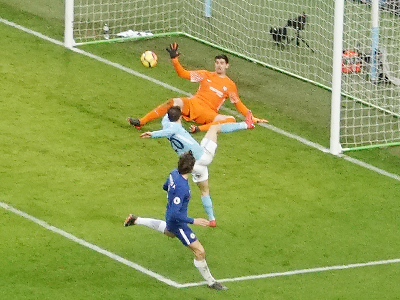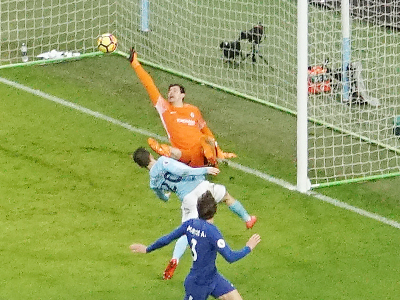 ......who manages to get the ball past the keeper and into the net! At last!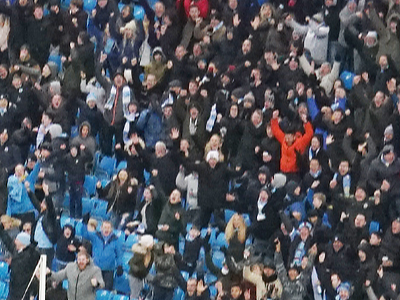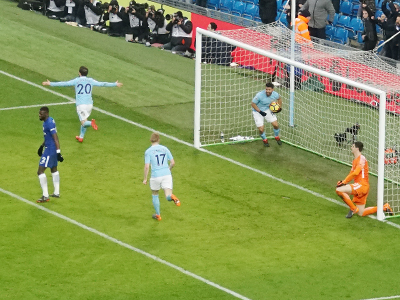 Bernardo Silva celebrates his 4th league goal and the North Stand at last have something to celebrate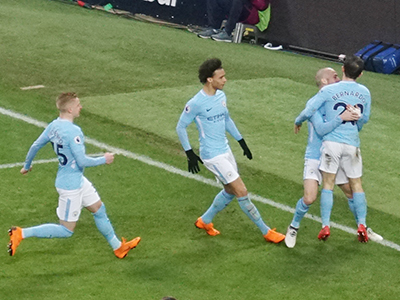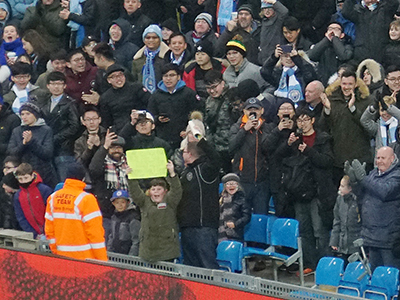 Sorry son ! I can't read your sign!
Time for phones out!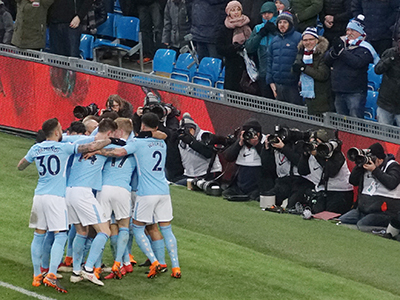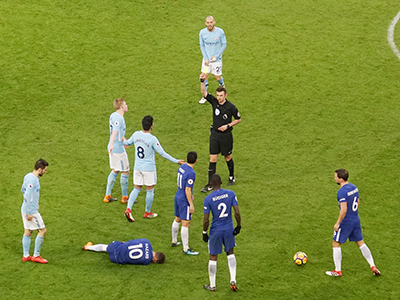 The team enjoy the special moment
Oh dear Hazard is down and Gundogan gets a yellow card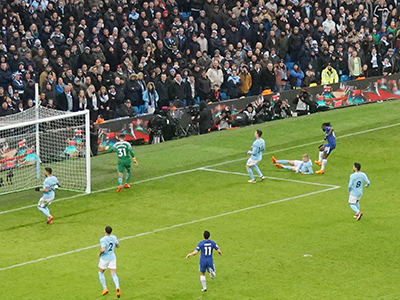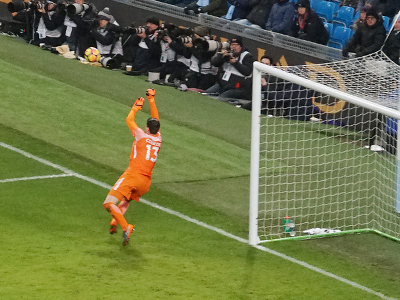 Moses misses in a rare attack
Courtois saves from David Silva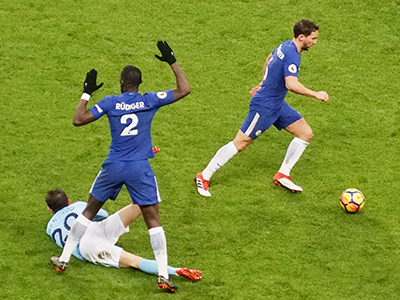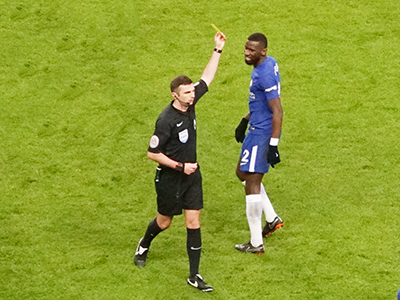 Bernardo Silva is brought down by Rudiger who gets a caution for the foul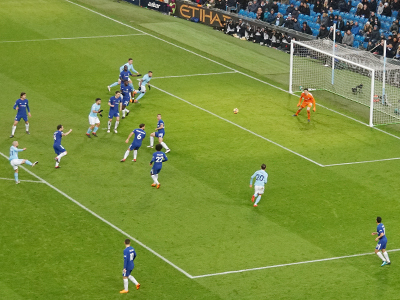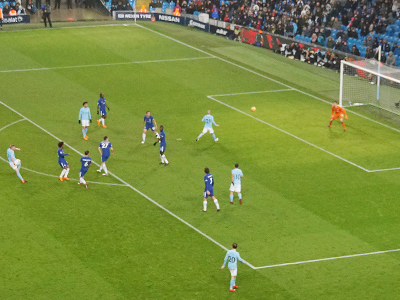 A shot from David Silva is blocked and goes for a corner
De Bruyne shoots over the bar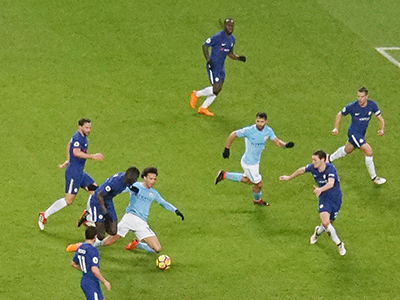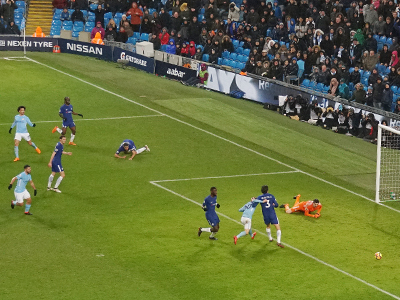 Sane appears to be brought down but no free kick
a good cross but Bernardo can't reach it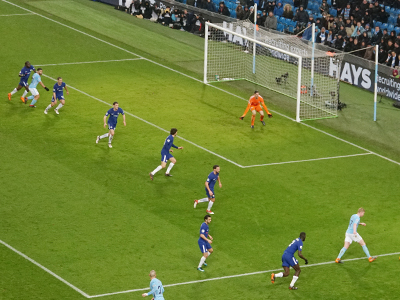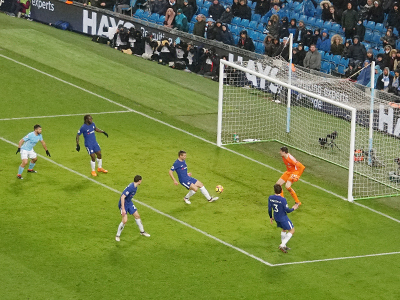 Aguero waits for a cross from De Bruyne but it is intercepted and he will have to wait for his 200th!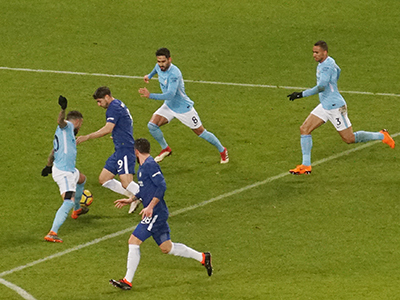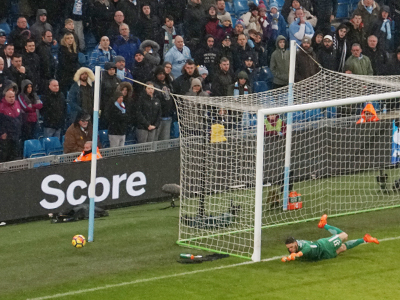 Good heavens! Chelsea attack but Otamendi clears
Ederson actually had to dive but the ball went well wide from this shot from Alonso in added time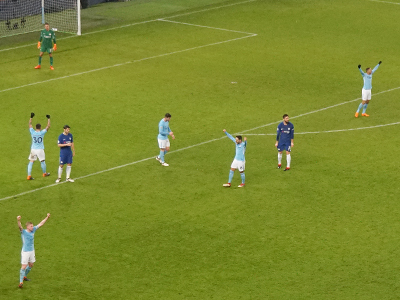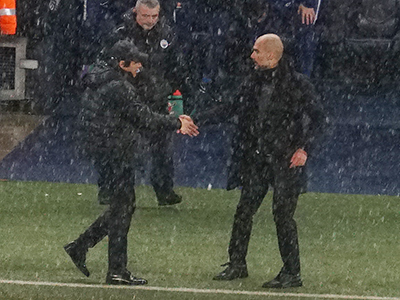 There goes the final whistle and City have won
The two managers shake hands as the rain pours down
team
Ederson 6.5: Walker 7, Otamendi 7.5, Laporte 7, Zinchenko 6.5 (Danilo) Gundogan 7.5,
De Bruyne 7.5, Silva 8, (Foden) Bernardo 7.5, Sane 8, Aguero 7.5 (Jesus)