City 5 Leicester City 1
February 10th 2018 att.54,416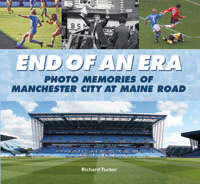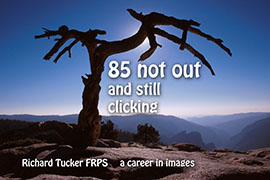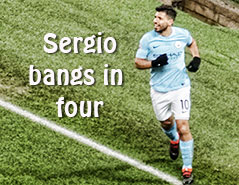 Well we had the perfect response to Leicester refusing to let Mahrez join the sky blues for a reasonable fee last month as City thrashed Leicester 5-1 with Sergio Aguero scoring four in the second half. It could have been even more.
In addition to Aguero we had another star and of course it was Kevin De Bruyne who made the first three goals. Sergio has now scored four in a Premier League game three times and it is a league record. He has also now scored in 7 consecutive home games in all competitions.
Sterling opening the scoring early on which was good for his confidence after his horrific miss in the last game against Burnley. Vardy equalized for the visitors when he broke away following a City attack at the other end. So at half time we were slightly concerned but we need not have worried as a terrific display by City and particularly Aguero sent Leicester packing.
One of the goals was a gift by Schmeichel whose distribution was one of the worst seen at the ground for a while. A vast contrast to Edison in the City goal who never ceases to amaze me with his passing technique, quick decision making and overall he must be one of City's best signings in recent years.
Leicester rarely extended the City defence and they only had 30% possession during the game.
Mahrez came on in the second half and was greeted with cheers from both sets of fans!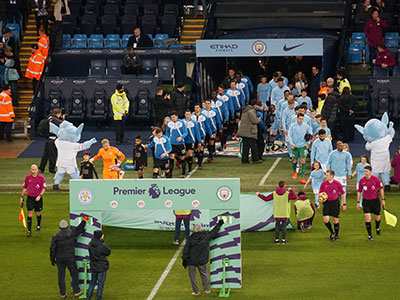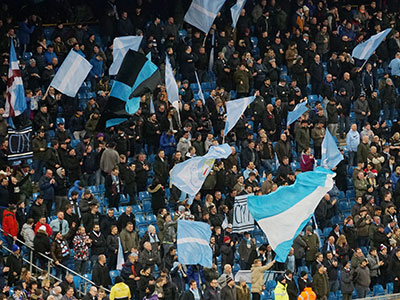 City were still without Sane, David Silva and Jesus but it was a strong team with Laporte and Zinchenko returning to the defence. Both Kompany and Stones were on the bench as was Foden now fit.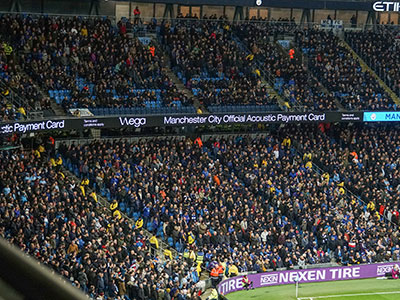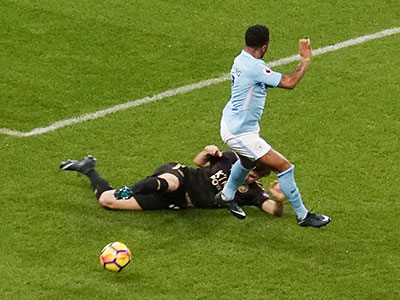 The visitors had a good number of fans present
Sterling was frustrated by a tackle in the opening minutes........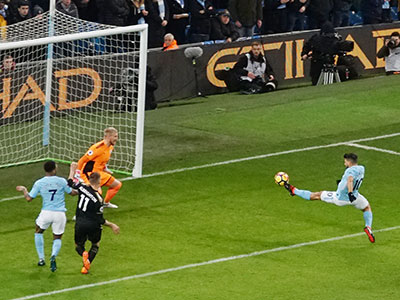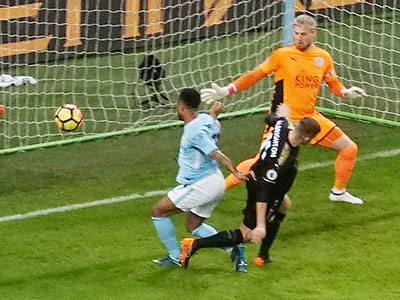 .......but a minute or so later a great cross by De Bruyne was just missed by Aguero but Sterling was at hand to get the ball past the keeper and it was first blood to City - great stuff -just what we wanted - an early goal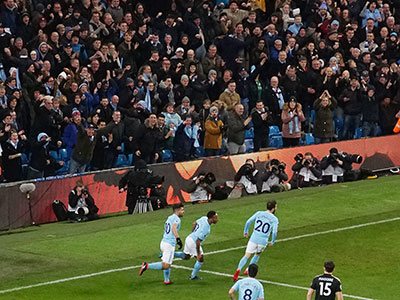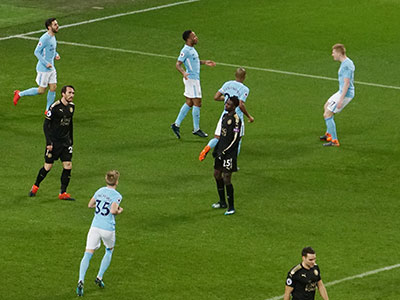 The South Stand cheer as Sterling goes to Kevin for a thank you!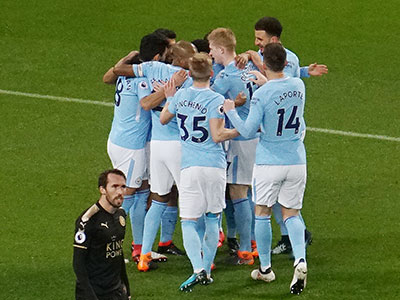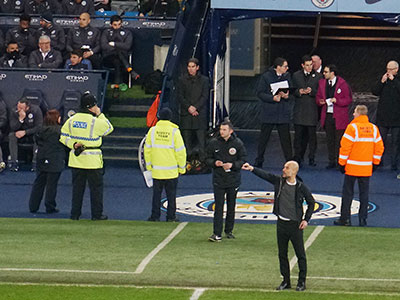 Mahrez ( top left) tells a colleague he should be in sky blue!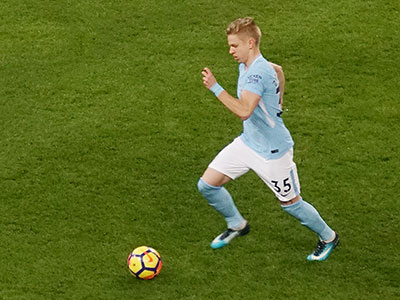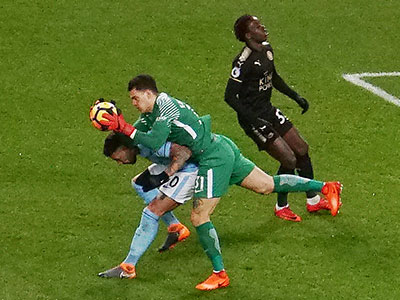 Zinchenko is fitting in well at left back
Ederson clears despite a colleague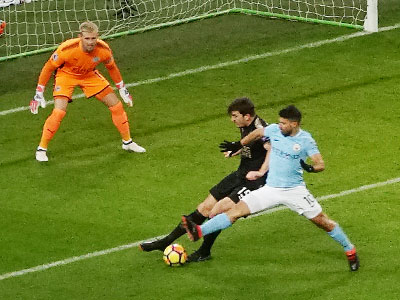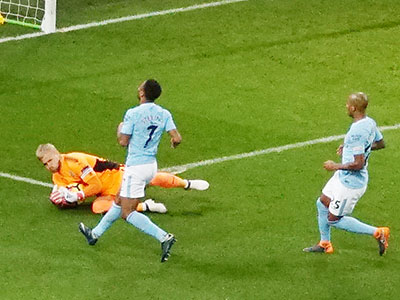 Maguire manages to clear from Aguero
Schmeichel saves from Sterling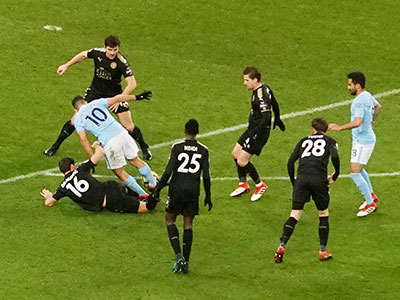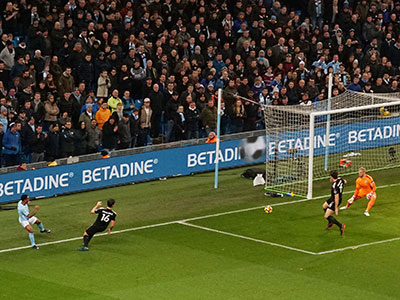 Aguero is rather outnumbered!
Schmeichel about to save a cross from Sterling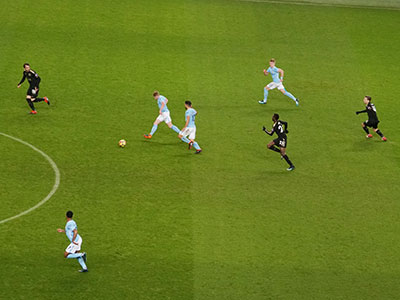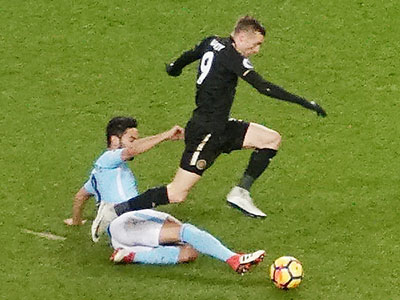 De Bruyne lead a City attack which ended with Aguero losing the ball and ended up at the other end with
Vardy beating Gundogan.....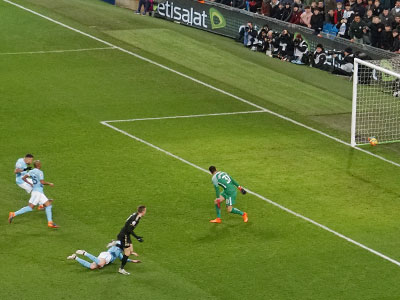 ......and shooting past Ederson to make it one all - disaster!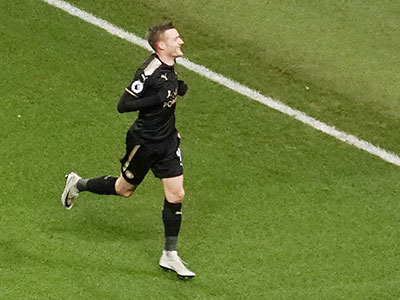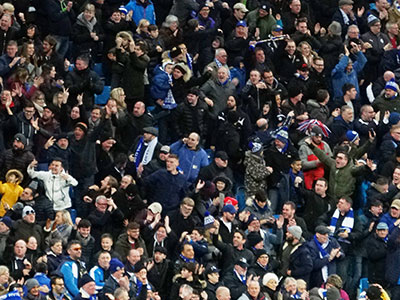 Vardy was rather naughty smiling at the City fans but at least the visiting supporters had something to cheer about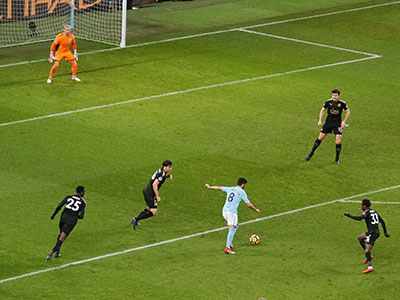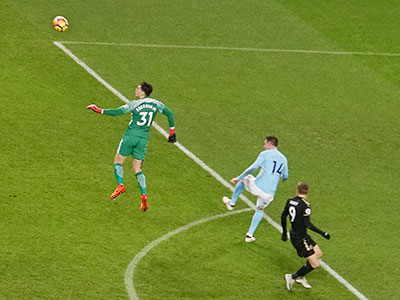 Gundogan's shot is easily saved by the keeper
Ederson has some heading practice!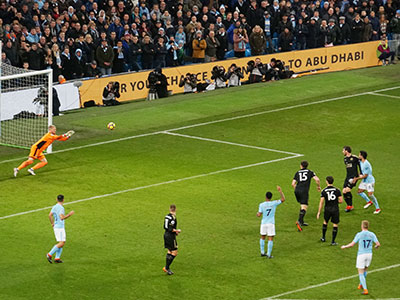 A dangerous cross is saved by Schmeichel
Schmeichel in action again saving from Fernandinho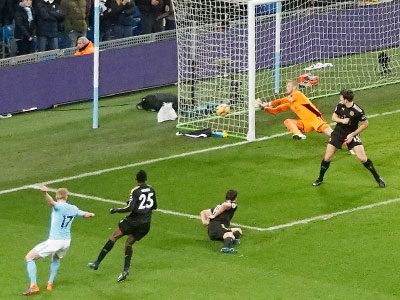 No penalty as Sterling goes down
Schmeichel saves from De Bruyne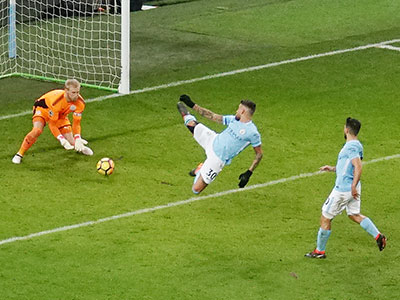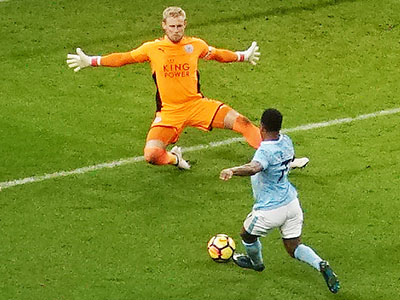 Otamendi just fails to hit the ball
Sterling is through .......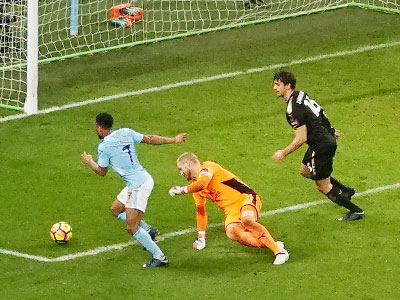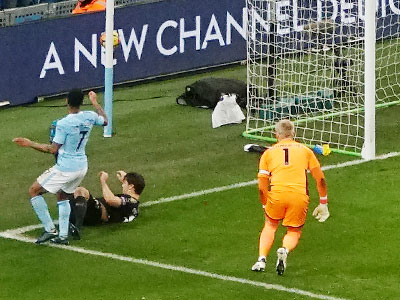 ...he rounds the keeper but his final effort is blocked and it's soon half time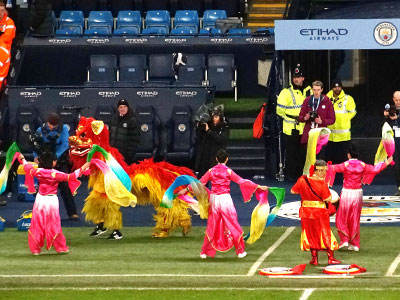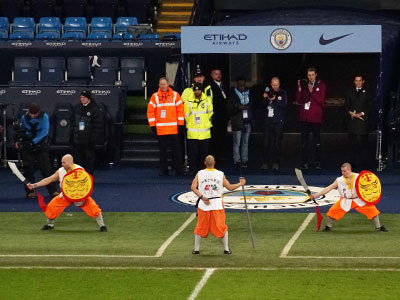 As it is Chinese New Year ( Year of the dog ) we had some colorful performers to entertain us at half time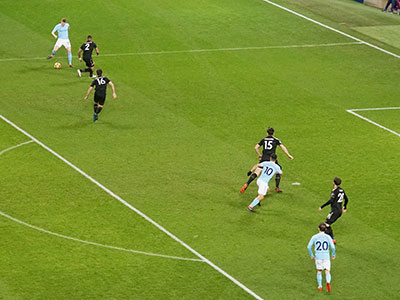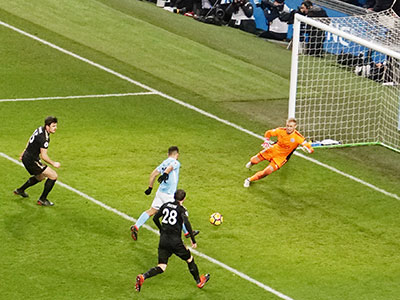 Right at the start of the second half a great pass from Kevin De Bruyne found Aguero who shot past the keeper.....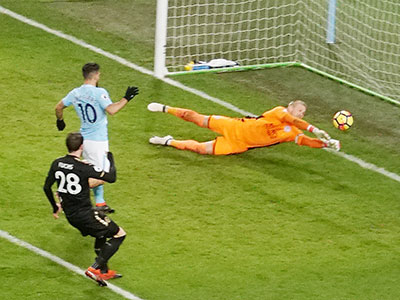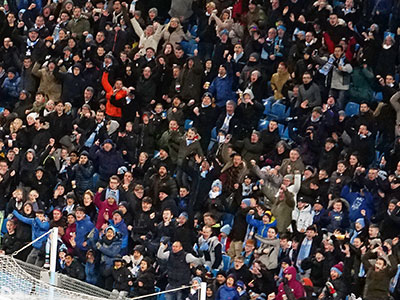 ...and City were ahead much to the delight of the North Stand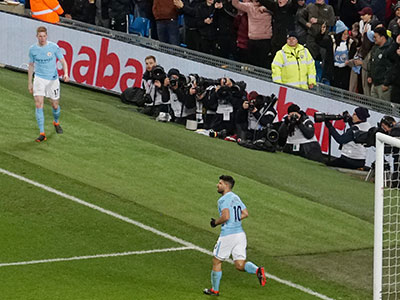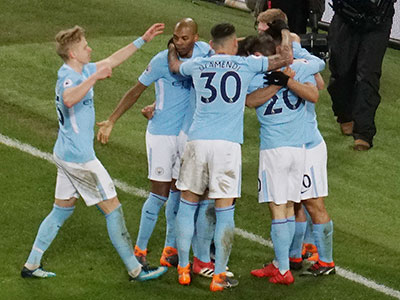 Aguero ran to thank Kevin De Bruyne before the rest of the team celebrated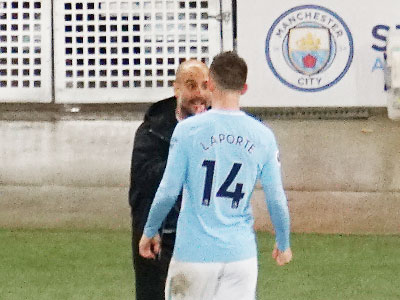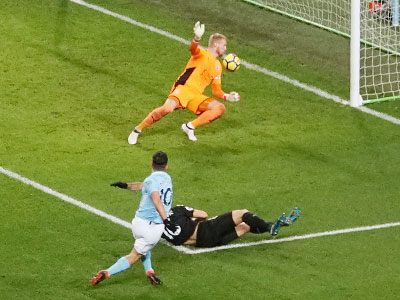 While the rest of the players were celebrating Pep was telling Laporte to tell Aguero to score another!
What about that ! Kevin gives Aguero another pass and lo and behold Sergio cracks it past Schmeichel.....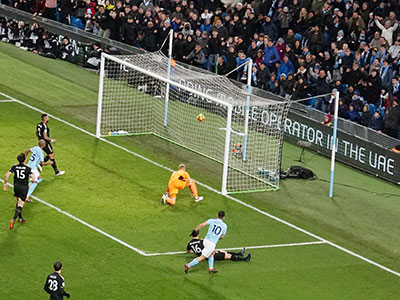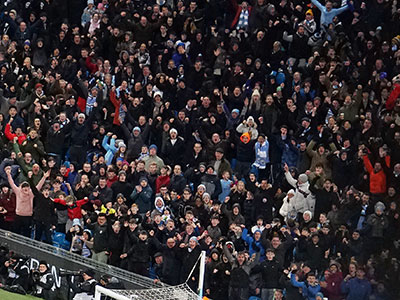 ......and it's 3-1 to City and the North Stand can start celebrating yet again!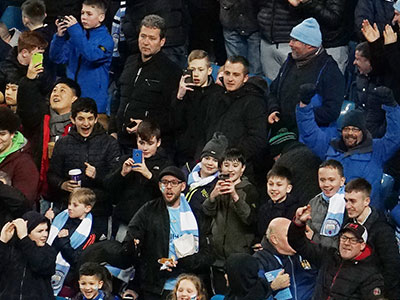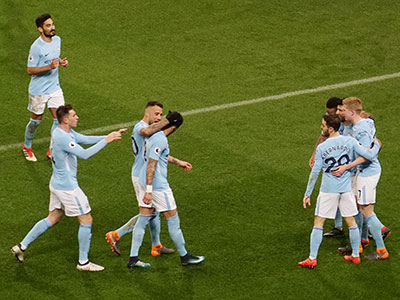 Out come the phones as the players celebrate yet again- magic!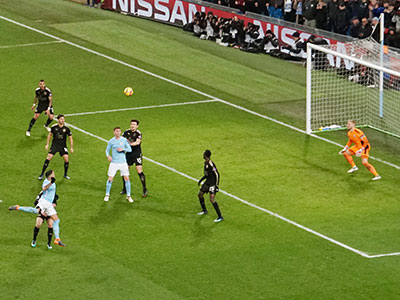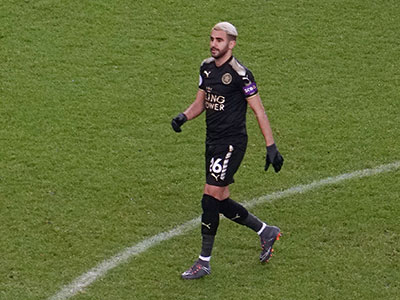 On comes Mahrez to cheers from everybody!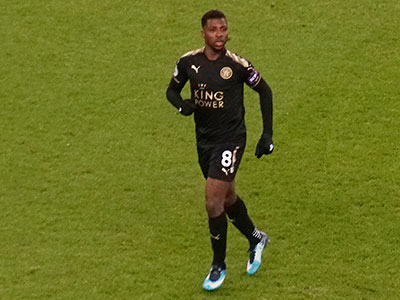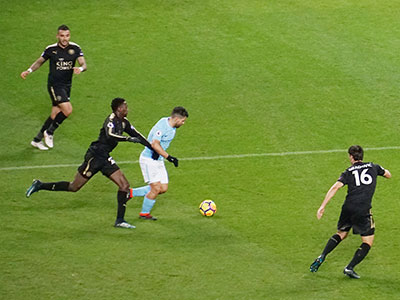 Not many cheers when ex City player Iheanacho comes on
Aguero has another effort but it goes too high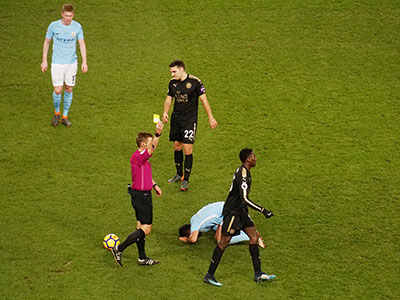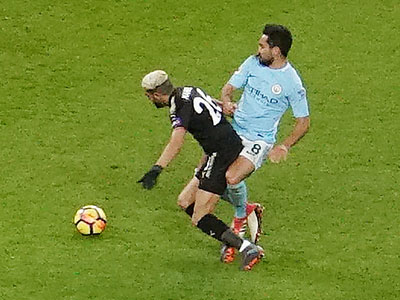 Ndiddi gets a yellow card for a foul on Gundogan
A minute or so later he fouls Mahrez and guess what.......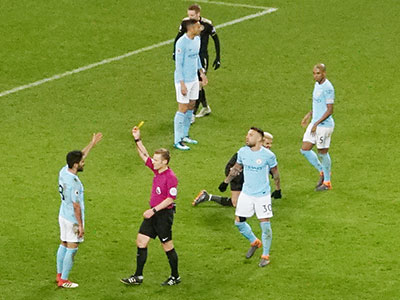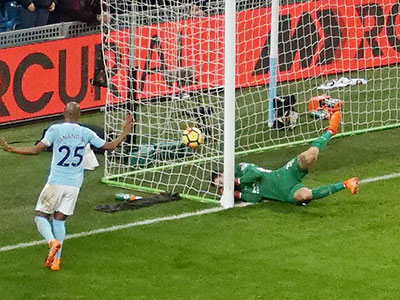 From the free kick the ball goes wide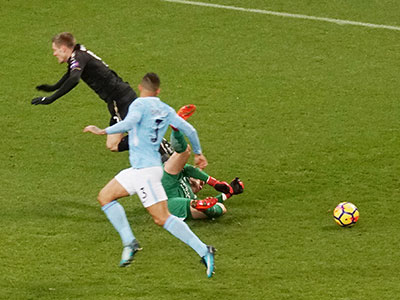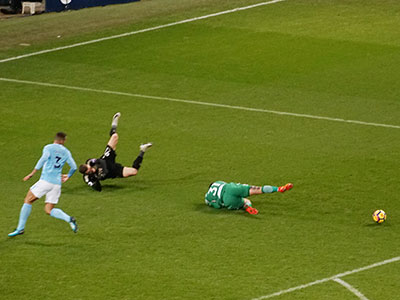 Ederson saves at the feet of Vardy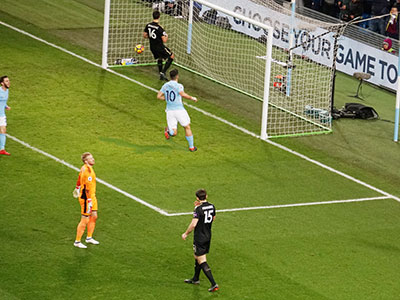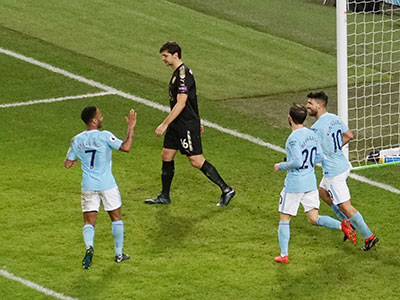 On 77 minutes Schmeichel misplaces a simple pass straight to Aguero who says thank you and puts the ball into the back of the net and it's his hat-trick 4- 1 to City - amazing error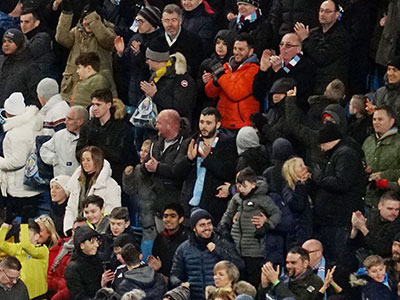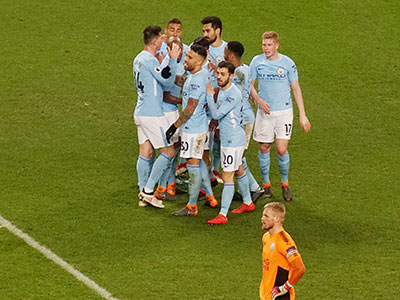 More celebrations in the North Stand
The City players enjoy the moment while Schmeichel thinks about what he has done!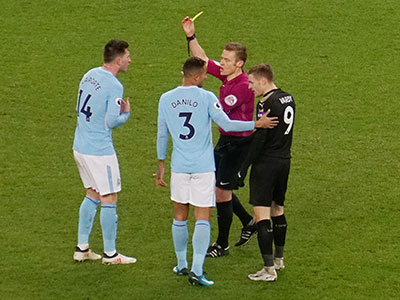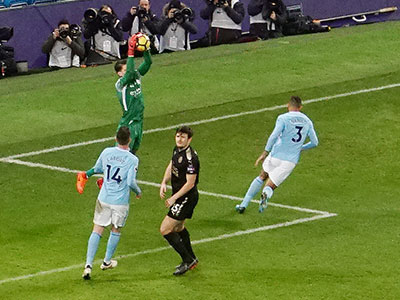 Ederson has to make a catch
Ederson and Vardy get booked for something I did not see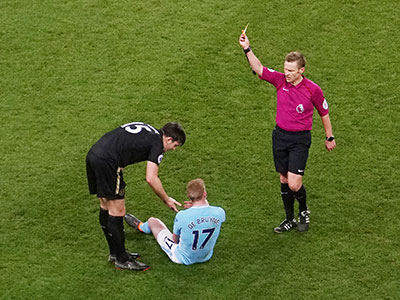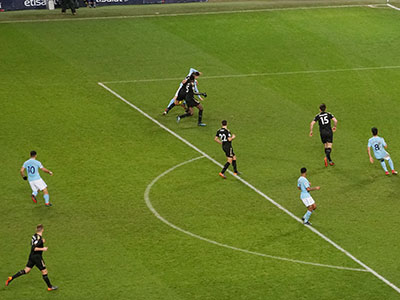 Maguire gets a yellow or a foul on De Bruyne
just on full time Foden (on for Fernandinho) attacks down the left wing.....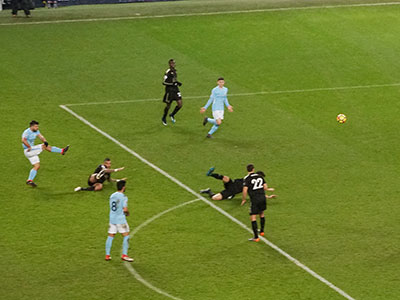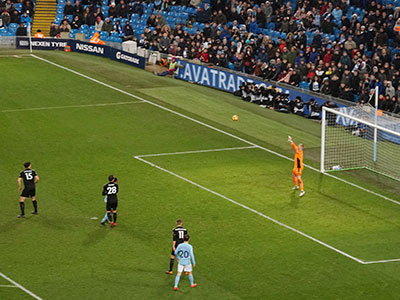 ......and he passes to Aguero who shoots from outside the penalty area.....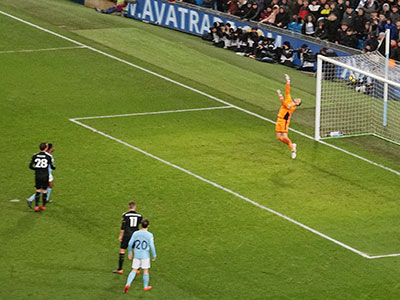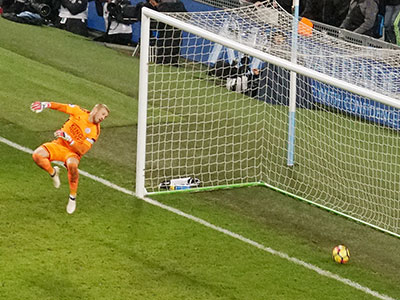 The ball goes over the arms of Kasper and hits the bar bouncing down over the line.....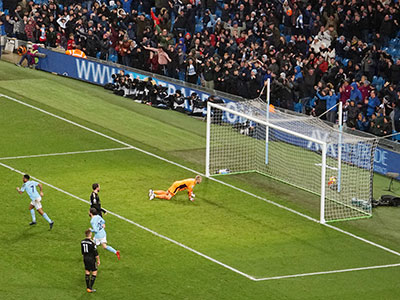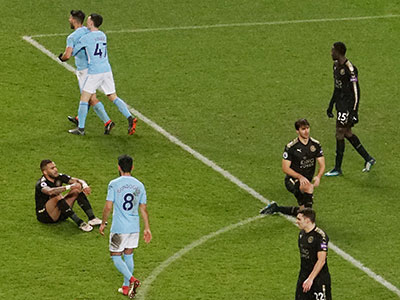 ...and it's a fourth goal for Aguero who gets a hug from Foden - 5-1 to City - did we expect that at half time!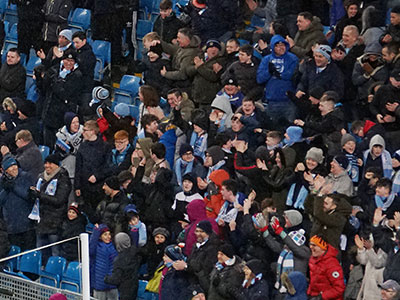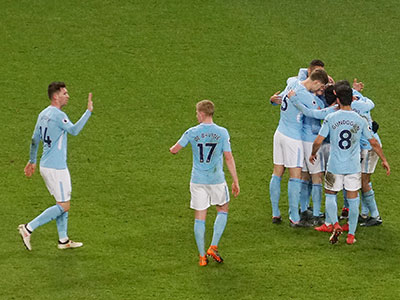 Once again it is time to celebrate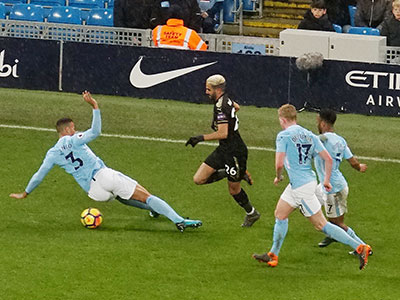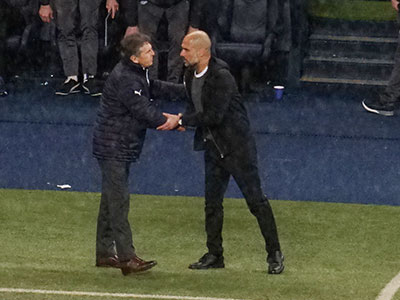 There is just time to see a glimpse of Mahrez in action before the managers shake hands at full time
team
Ederson 7: Walker 7.5, Otamendi 7 (Stones), Laporte 7, Zinchenko 7 (Danilo) : Fernandinho 8 (Foden) , Gundogan 7.5, De Bruyne 9.5, Benardo Silva 8, Sterling 8, Aguero 9.5