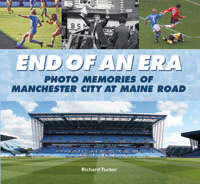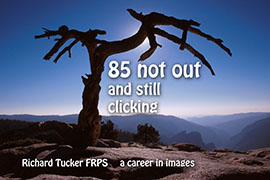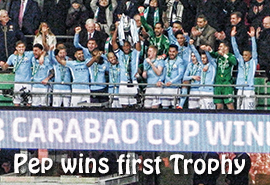 An exceedingly long cold day ( from 6-30am to 1-30am) ended with an excellent easy win over Arsenal at Wembley before a crowd of nearly 86,000. Goals from long service City favorites Aguero, Kompany and Silva gave manager Pep Gladiola his first City trophy. With the Premier League almost secured things are looking quite promising! After an early let-off a very good goal by Aguero - his 199th for City - gave the sky blues an advantage. The City passing in the first half was well below their best but after the break City really took over the game and when top man Vincent Kompany scored following a corner it was really game over as Bravo was rarely troubled. David Silva scored an excellent third goal that must have made Piers Morgan even more concerned about his precious Arsenal!
The City defence led by Kompany played well and big signing Aubameyang was pretty anonymous.De Bruyne was a little below his best for a change but Sane ,Silva and Aguero were on song.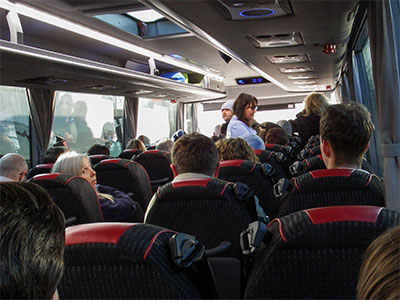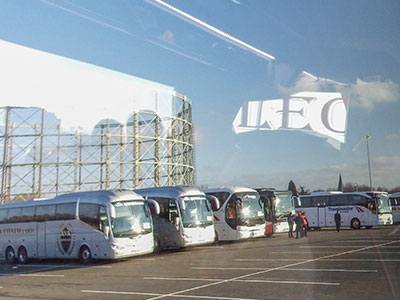 All aboard the coach and we were away a little after 9am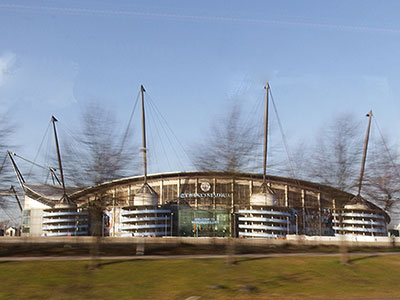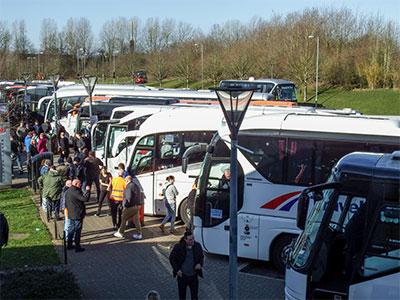 A farewell glimpse of the Etihad Stadium before heading down the motorway and a stop for a break at a service station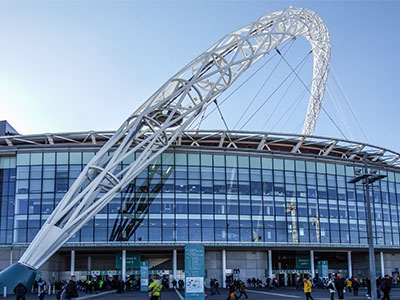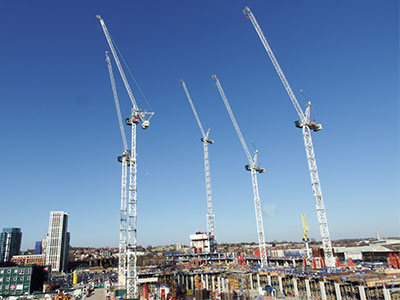 We were at Wembley in plenty of time and there is still a lot of building going on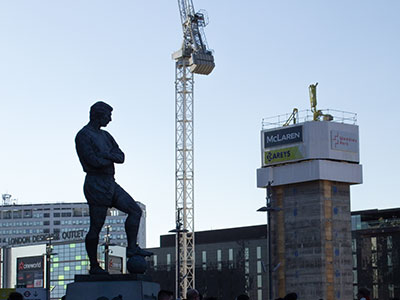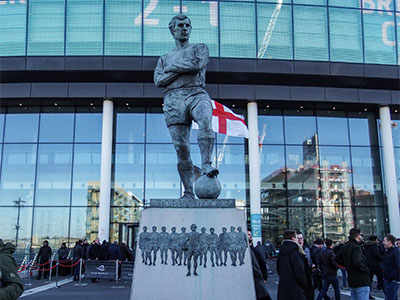 The Bobby Moore statue still attracts plenty of viewers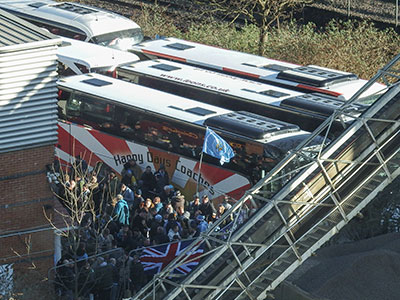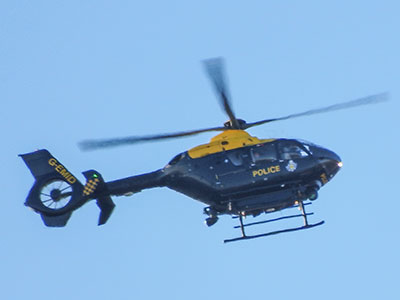 I spotted my coach not far from the ground and a police helicopter was above - obviously checking that the doors were locked!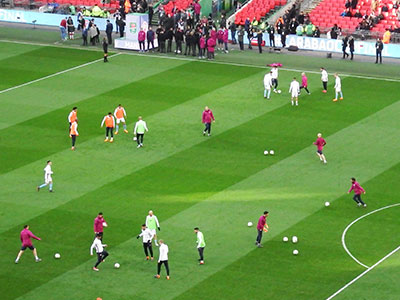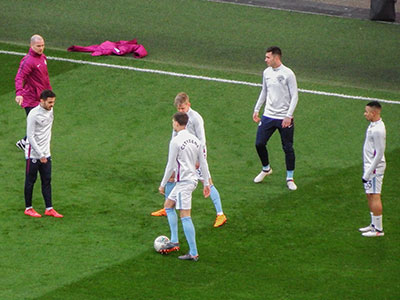 By the time I got to my seat the players were out warming up and good to see Jesus and Foden back from injury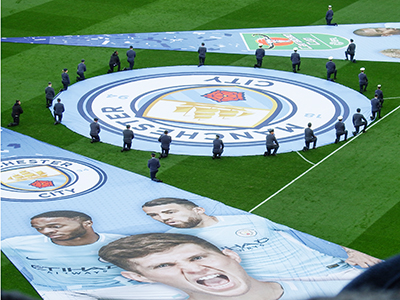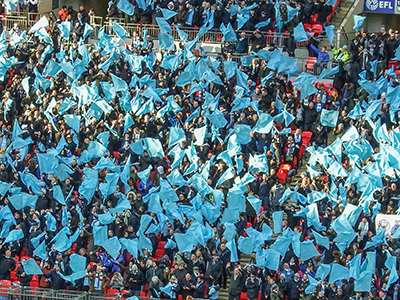 Plenty of atmosphere inside the ground with the City fans showing off their flags!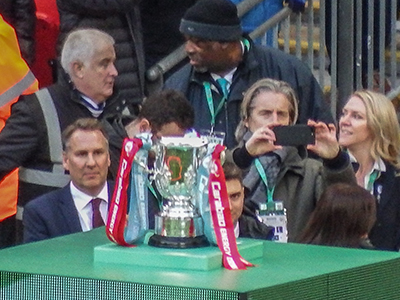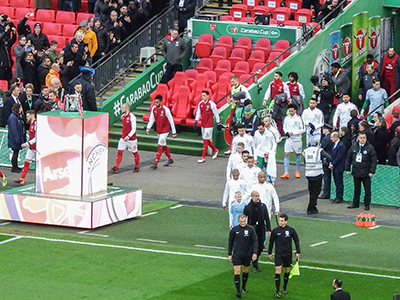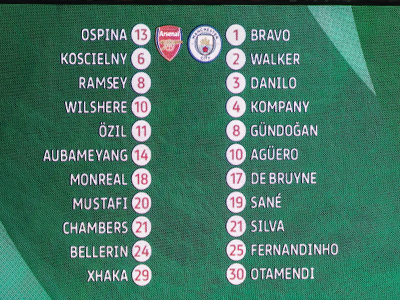 Well there's the Cup we are playing for
City had Kompany and Otamendi in the centre of defence and Danilo stood in for the suspended Delph. With Sterling injured Gundogan was chosen ahead of Benardo Silva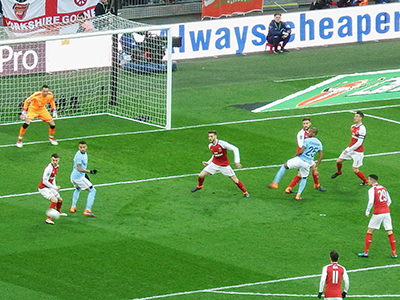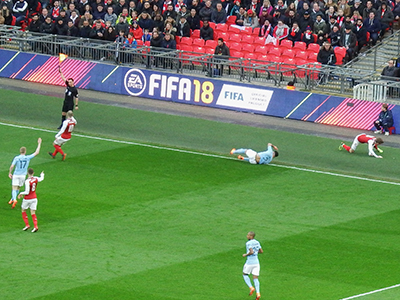 Arsenal clear an early City attack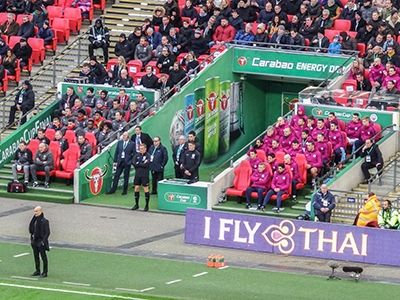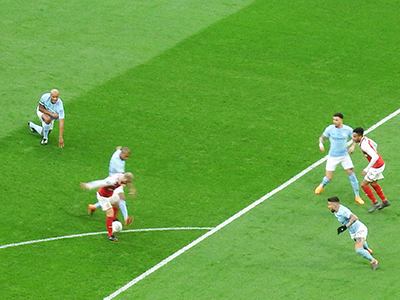 Pep is keeping an eye on the opening moments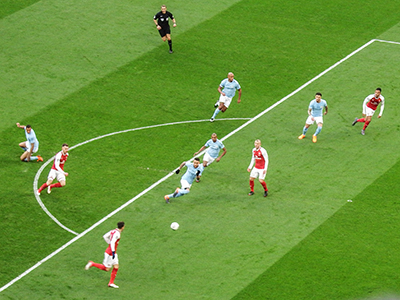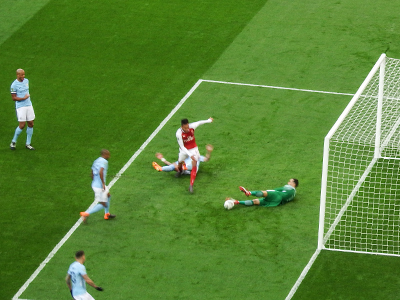 ....as the ball gets to Aubameyang but he misses his chance and City escape .......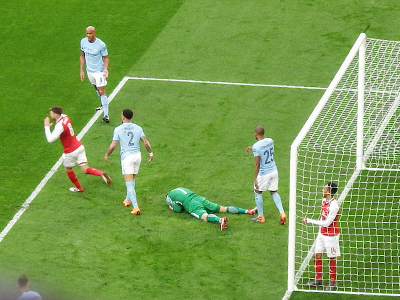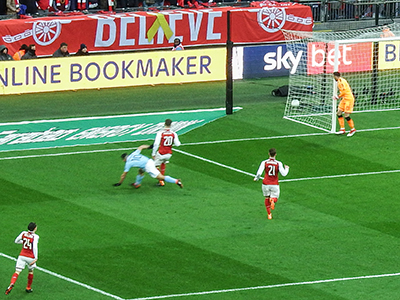 ....and finally Bravo drops on the ball
Aguero hits the side netting with a shot on 8 minutes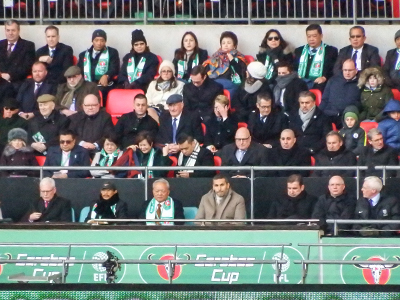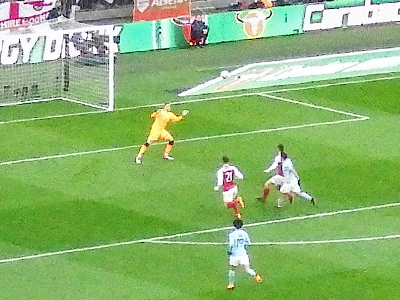 Taking a shot of the dignitaries in the royal box I almost missed the Aguero goal as he chipped it over the keeper in the 18th minute to give City the lead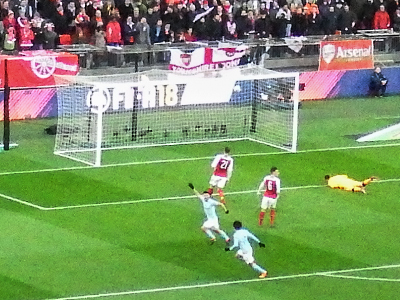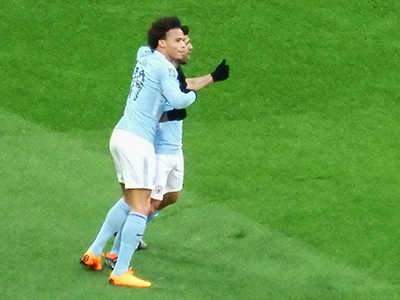 Arsenal were stunned as Aguero notched his 199th goal for City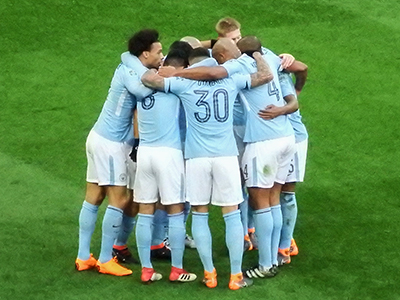 Time for a team huddle after such a good effort
Arsenal of course protest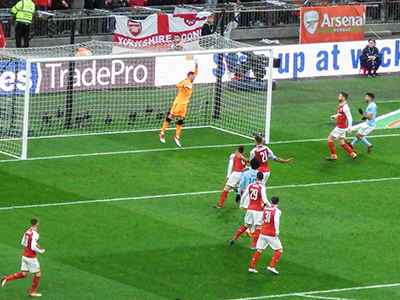 Bravo saves easily from Ramsey
A Kompany header goes over the bar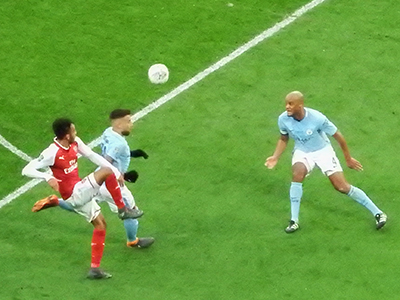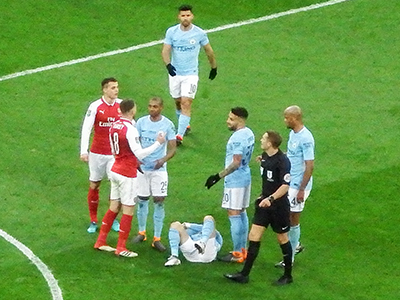 Aubameyang fails to get the better of Otamendi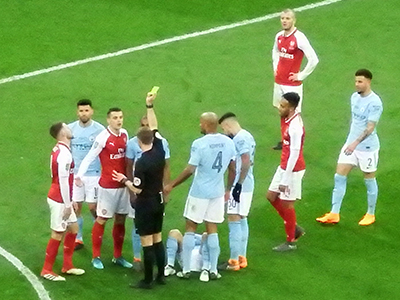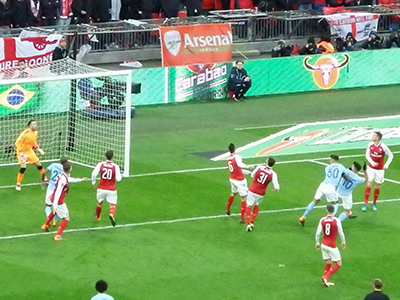 ..and he gets a yellow card
A header by Aguero goes too high and wide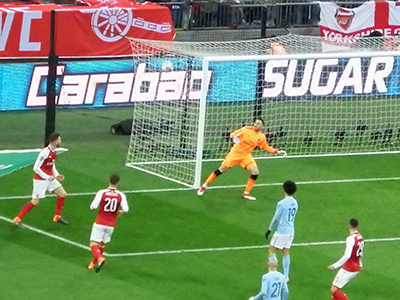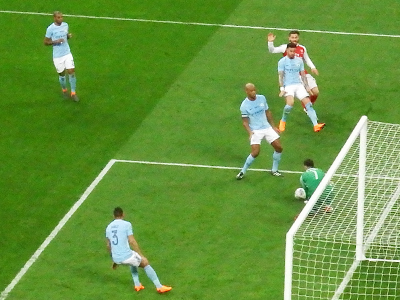 A shot from De Bruyne goes wide
Bravo has an easy stop to make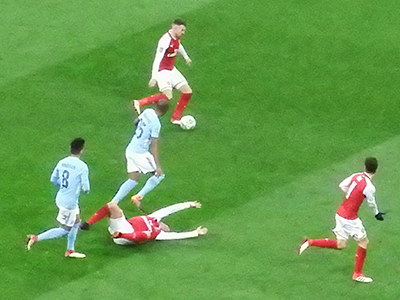 Oh dear Wilshere has done a dive and Fernandinho is not pleased!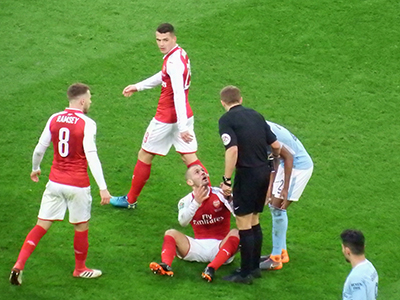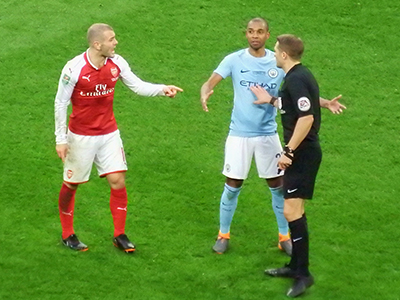 As Fernandinho had already got a yellow card Wilshere was obviously trying to get him sent off - naughty!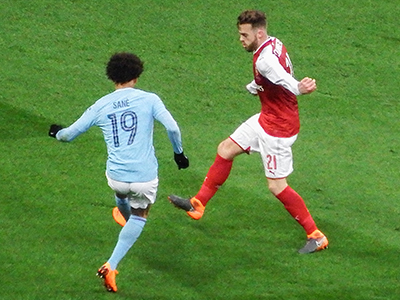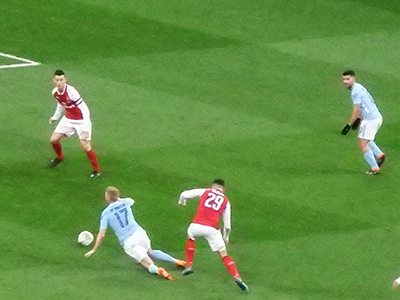 Chambers goes to tackle Sane
Just before half time De Bruyne is brought down by Xhaka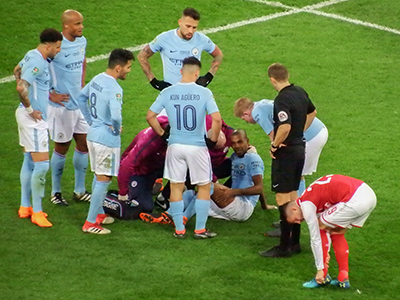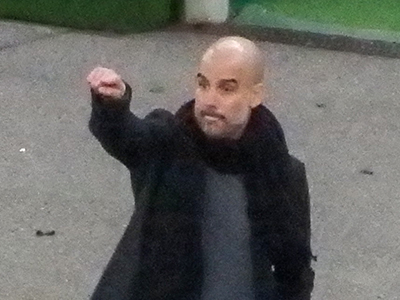 Early in the second half Fernandinho goes down injured and Pep has to do some reorganizing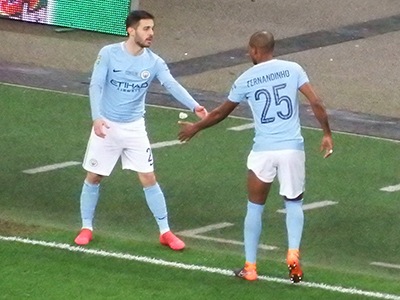 Benardo Silva comes on for Fernandinho
Arsenal manage to clear a City attack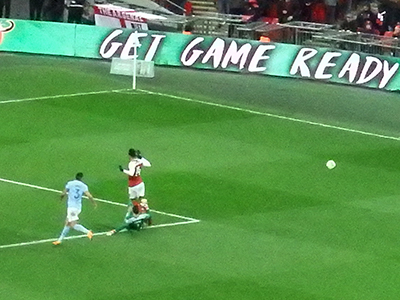 Bravo manages to retrieve a difficult situation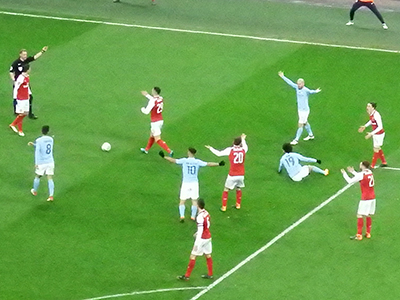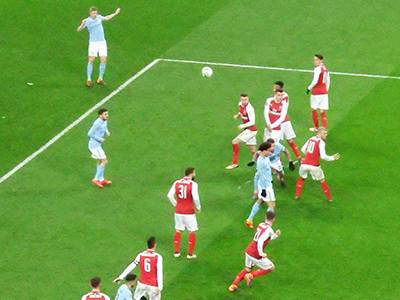 Lots of appeals but City get the free kick
From the free kick Arsenal concede a corner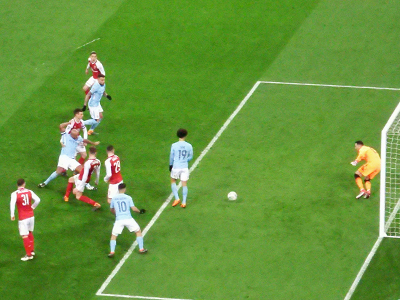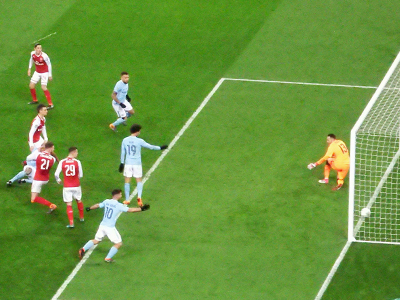 Following the corner Kompany manages to get in a shot which beats the keeper....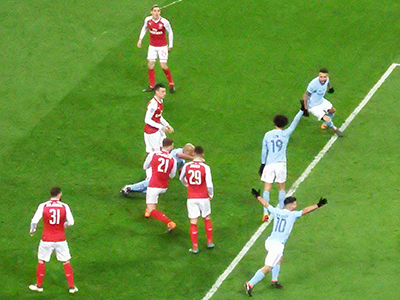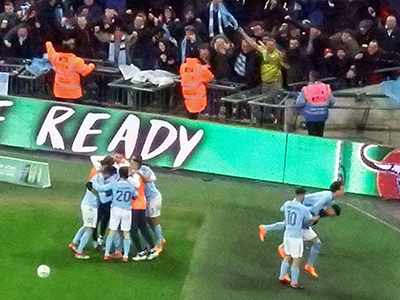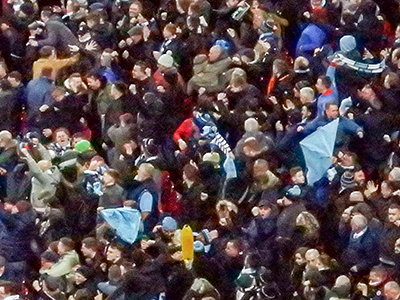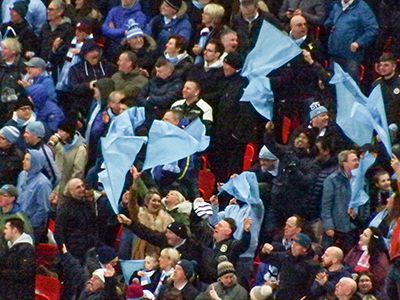 ...and City are two up after 58 minutes - terrific stuff!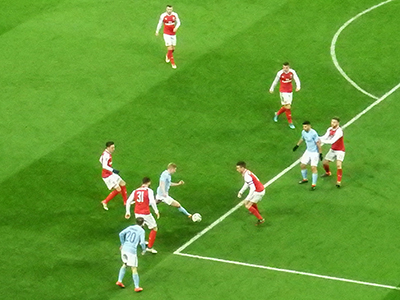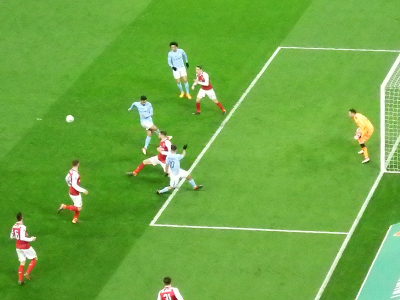 City continue to pound the Arsenal goal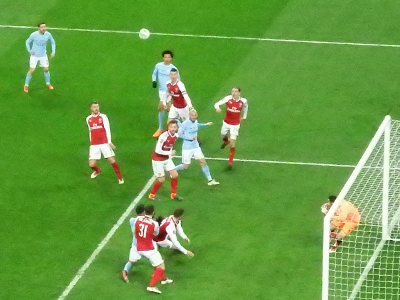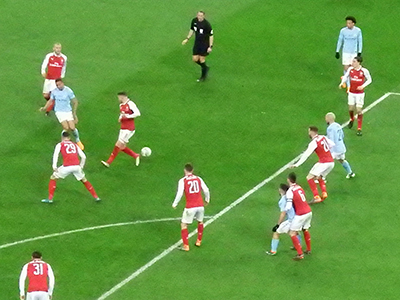 City continue to attack and then on 65 minutes Danilo puts the ball through to Silva.....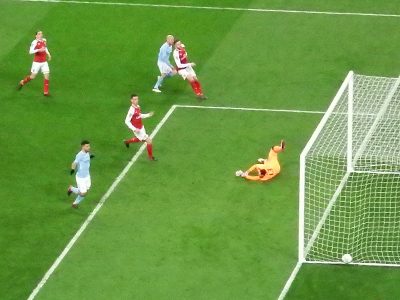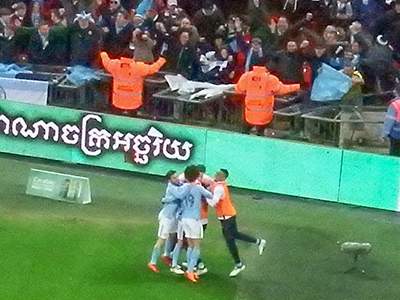 .......who brilliantly slots the ball past the keeper and City are three ahead - game over!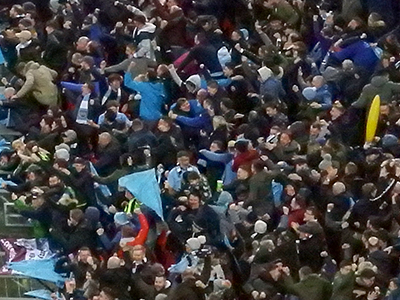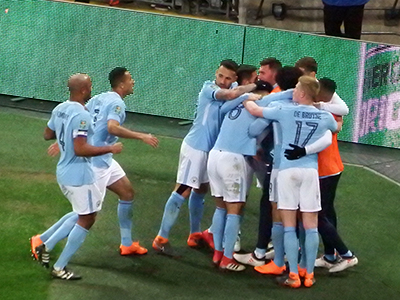 Fans and players celebrate the moment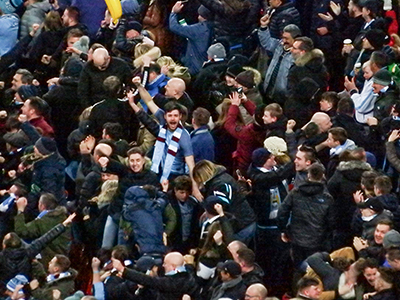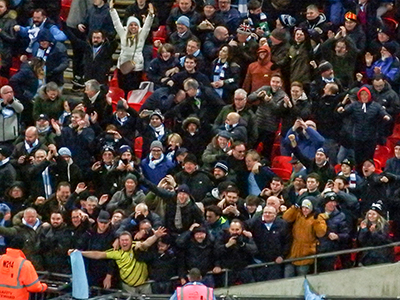 It does look as though the Cup is ours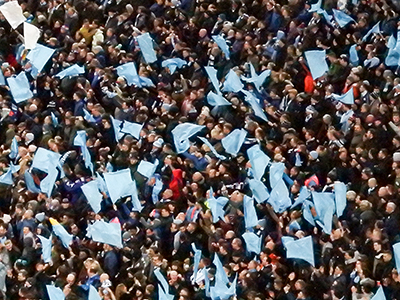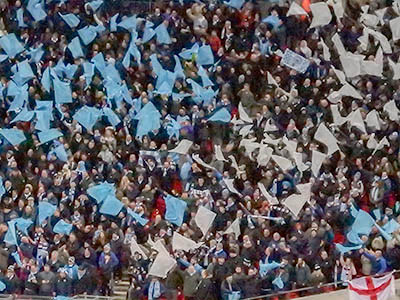 It's time to wave those flags!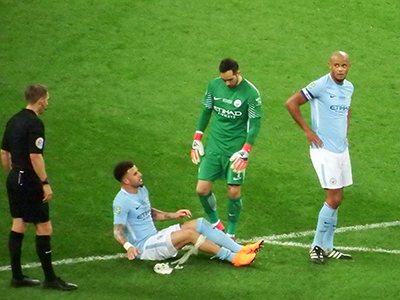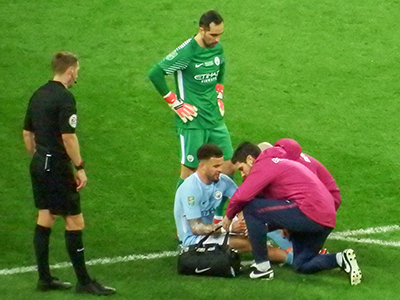 Walker is injured and has to have some treatment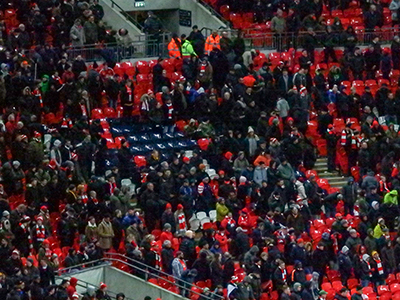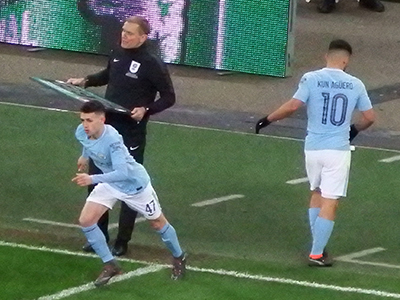 The Arsenal fans start to leave
With only a few minutes to go Pep subs Aguero with young Foden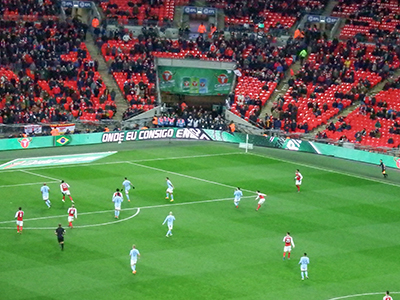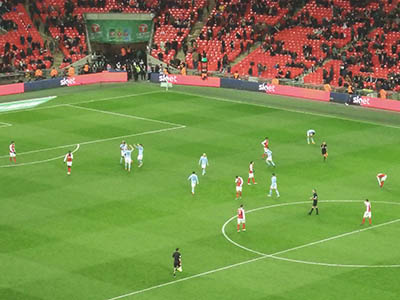 The Arsenal side is nearly empty now!
There goes the final whistle -City win the Cup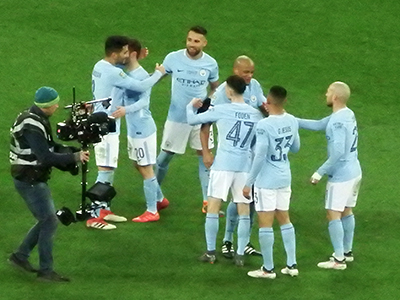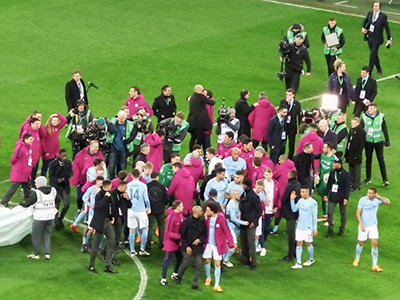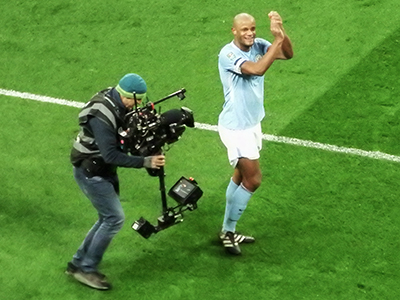 All the staff are on the pitch now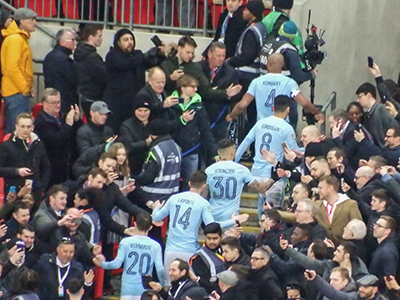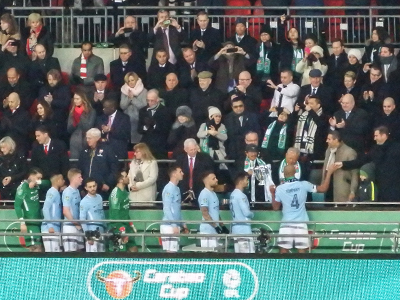 The players go up the stairs to collect their medals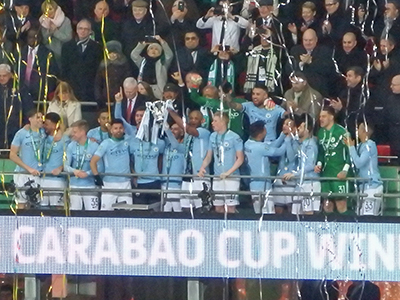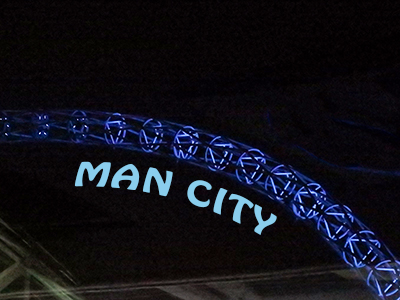 City win their 5th League Cup Trophy and three nil is their biggest Cup Final victory
Team:
Bravo 7.5, Walker 7.5, Kompany 8.5, Otamendi 7.5, Danilo 7.5: Fernandinho 7
(Benardo Silva 7), Gundogan 7, Sane 7.5 (Jesus) De Bruyne 7.5, Silva 8, Aguero 7.5 (Foden)