City 0 United 1
March 20th 2016 54,557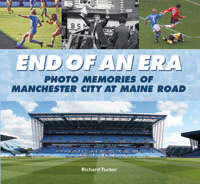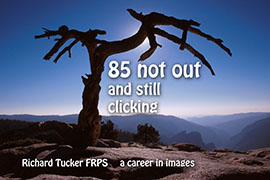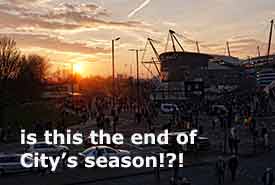 It was disaster day at the Etihad as City failed to score for the third game in succession. To be beaten by an average United side is bad enough but injuries to Hart and Sterling made matters a lot worse. Winning the league is now out of the question and even qualification for the Champions League next season will need a major rethink by players and management. Despite City having the edge in possession their umpteen efforts on goal rarely caused De Gea much concern. The absence of Kompany and Otamendi left us with Demichelis and Mangala and I am afraid Demichelis had an awful game. His failure to stop Rashford for United's goal and a terrible back pass to Hart which led to Joe having to be stretched off with an injury did not inspire confidence. An Aguero header which hit the post was the nearest City got to a goal and bringing on Bony rather than Iheanacho was a decision the City fans did not want. Both Silva and Toure failed to play at their best and Navas rushed around a lot but rarely put in a good cross. Fernandinho ended up playing in defence when Demichelis was subbed so it was a slightly disorganized midfield. Aguero went close a couple of times but I don't think he is getting the support he needs. I just hope Kevin will be fit soon. Since De Bruyne was injured we have rarely played well.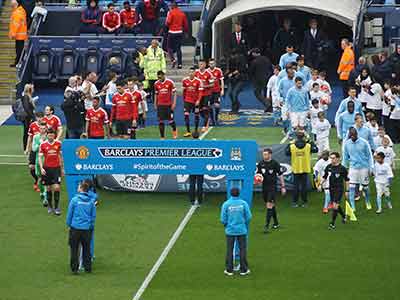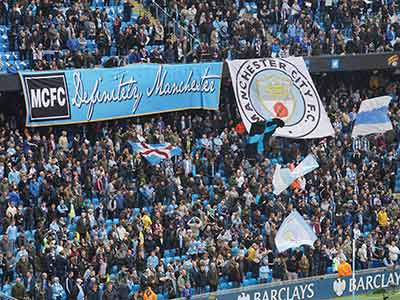 City were without the injured Kompany and Otamendi but Sterling was back in the team and Sagna replaced Zabaleta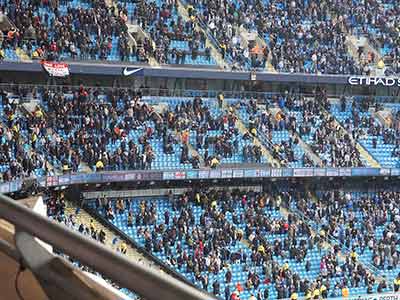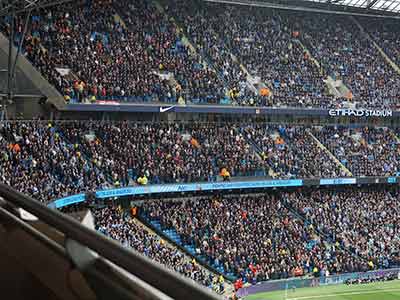 There were lots of spaces in the United section at the start no doubt due to all their fans from London being held up by the M6 closure near Stafford!
An early City corner is cleared
a supporter seemed to hurl himself into the United section of Tier 2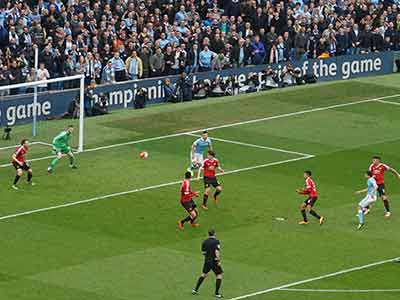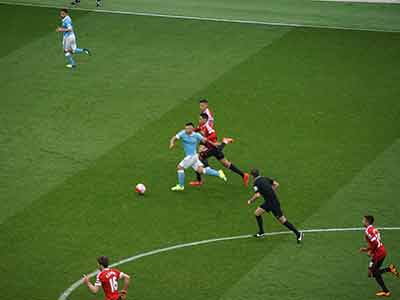 Navas shoots wide after 6 minutes
Aguero is pulled back by Smalling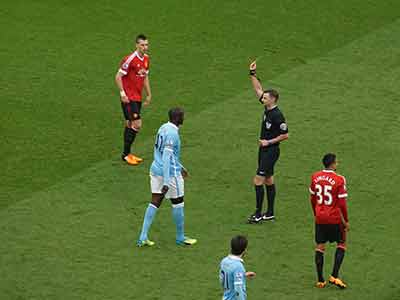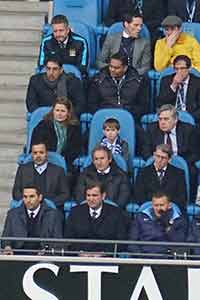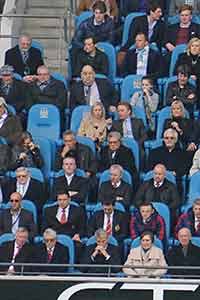 The first yellow card goes to Smalling
It looks like Gordon Brown on the third row of the City side and among the usual suspects on the other side are Fergie, Charlton and Rooney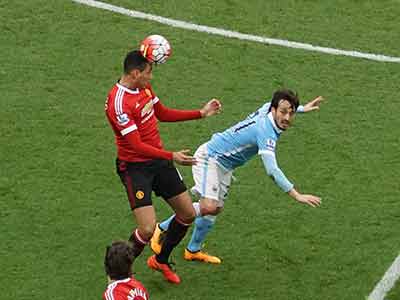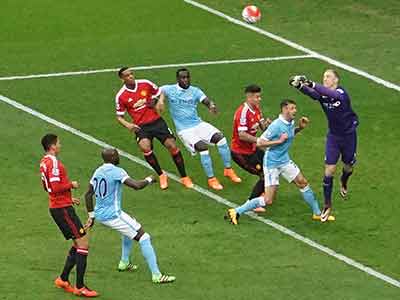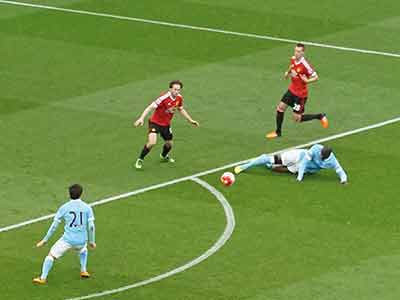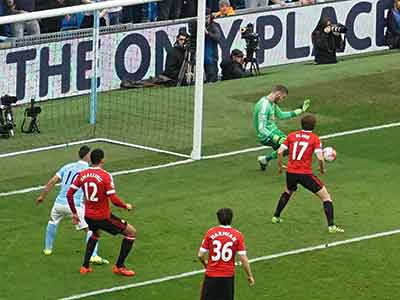 Toure slips as he breaks through but manages to get the ball to Silva and eventually Navas gets in a shot but De Gea saves with his feet - I think that was the only save he had to make!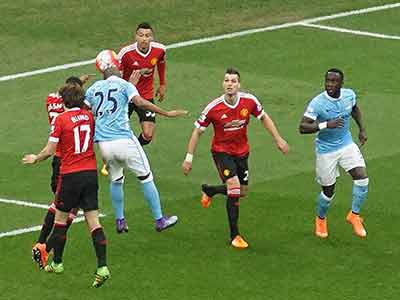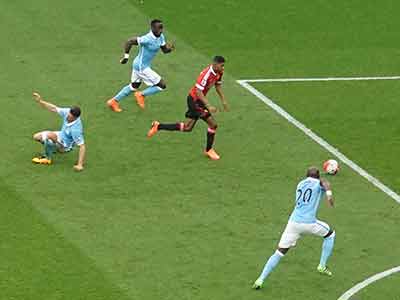 From the corner Fernandinho heads wide
Then on 16 minutes Mata passes to Rashford who beats Demichelis too easily .....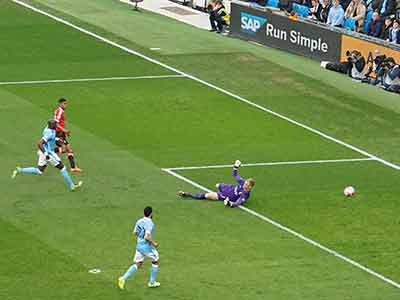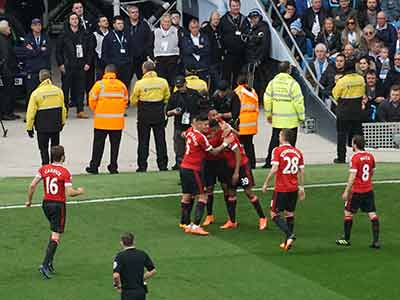 ... and he then shoots past Joe Hart to give United the lead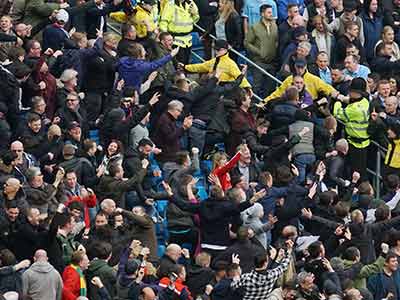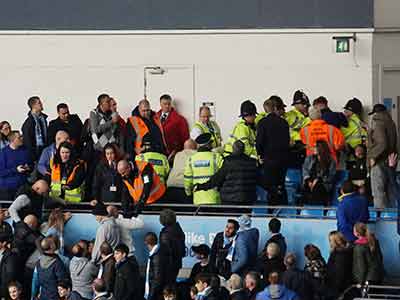 The United fans celebrate and there is one in the Family Stand Tier 2 who is caught out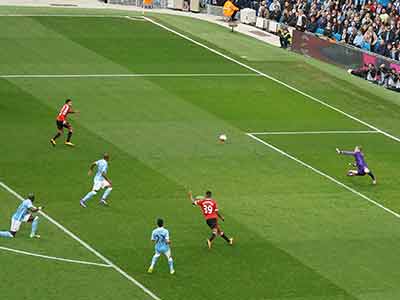 Sterling is fouled by Mata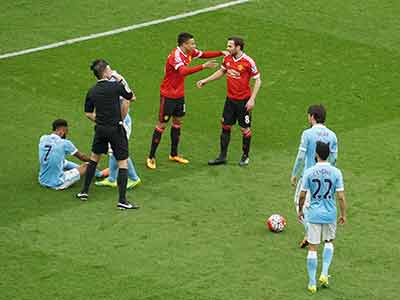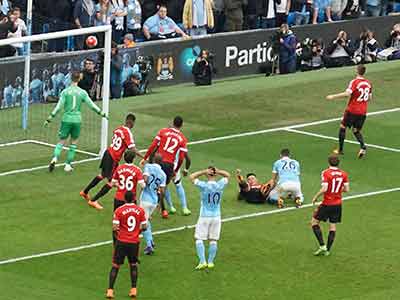 Mata is thanked for putting Sterling out of the game!
Following the free kick Demichelis heads wide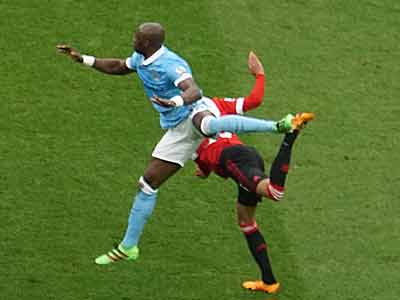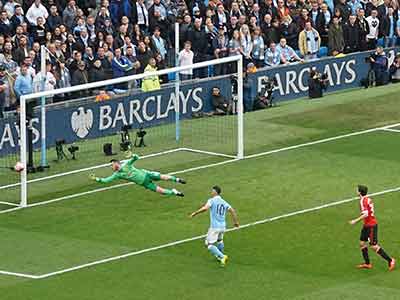 A shot from yaya Toure goes just wide after 32 minutes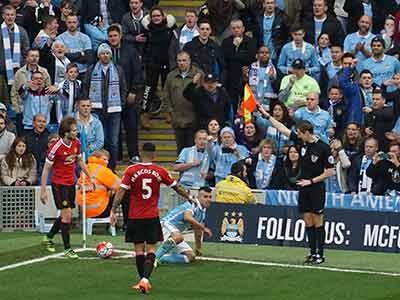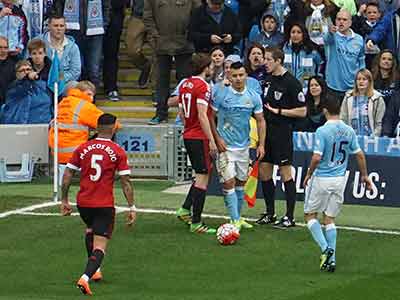 Trouble in the corner when Aguero is pushed over by Blind but no card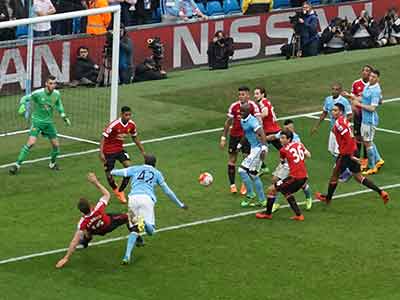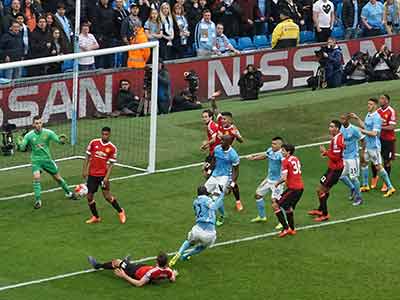 Just before half time it looks like Carrick fouls Toure who manages to get in a shot....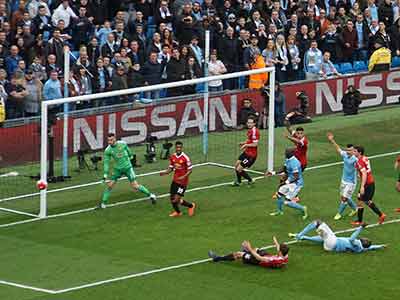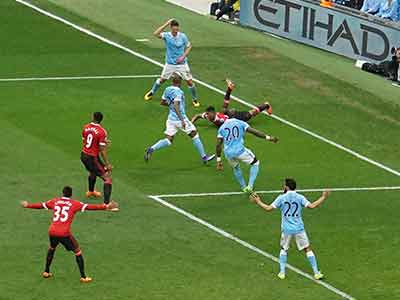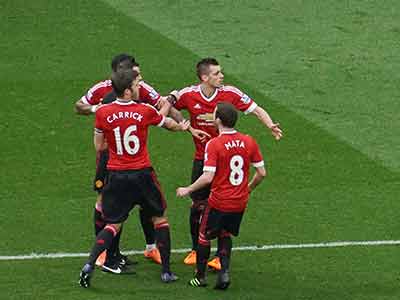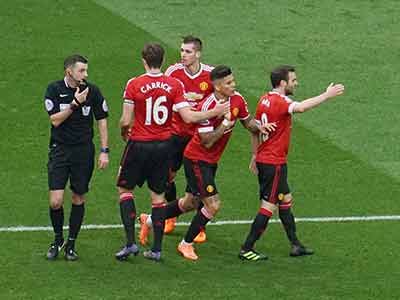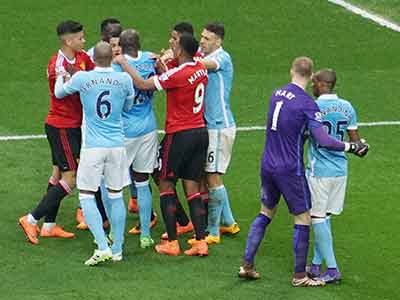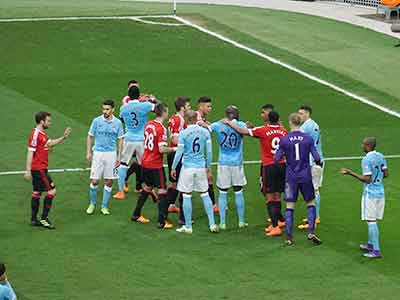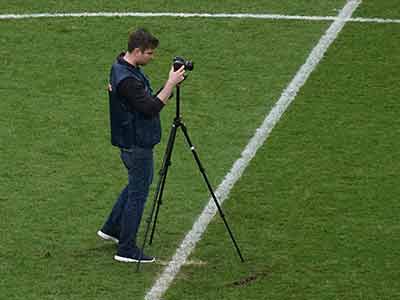 At the other end Demichelis body checks Rashford
The United players surround the ref -yes he is in there somewhere
He comes out -unharmed I think!
Then handbags at 10 cm breaks out and Joe Hart has to hold back Fernandinho from using his water pistol
In the end the local CSI have to come out and record the scene at half time!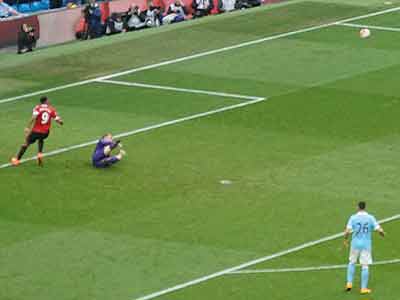 Right at the start of the second half Demichelis fails to pass back to Hart with the right pace and Joe is hurt from the clash with Martial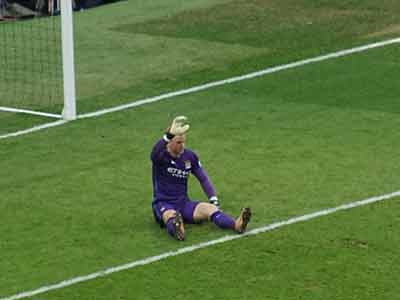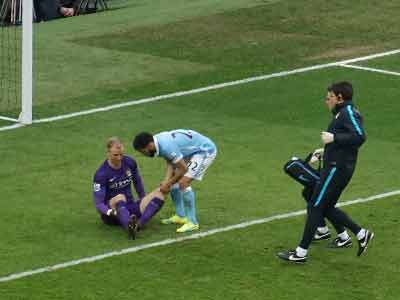 While play is at the other end Hart calls for attention and eventually the ref stops play and on come the medical team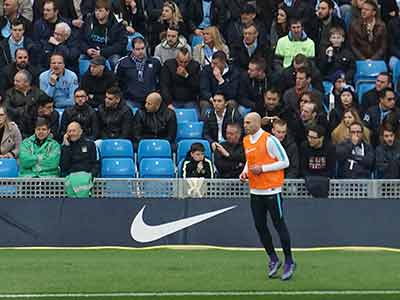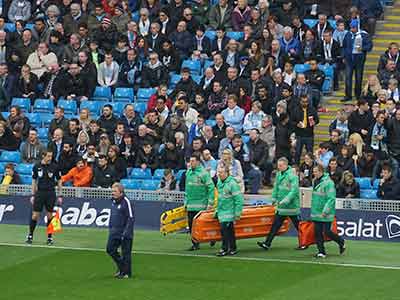 Things don't look good as Caballero warms up and the stretcher bearers are called on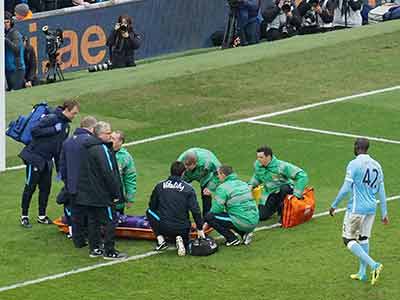 It looks like a substitution now as Pellegrini updates tactics and Willy prepares to come on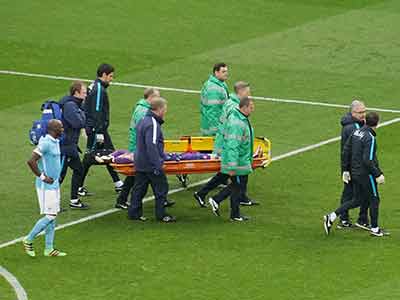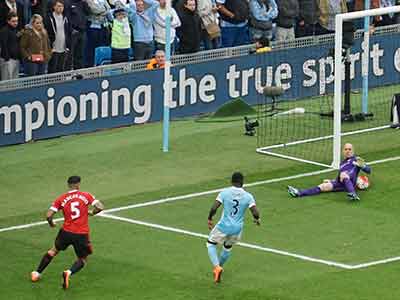 Not the best of sights for City fans as Joe is taken off and almost straight away Caballero is called into action saving from Rojo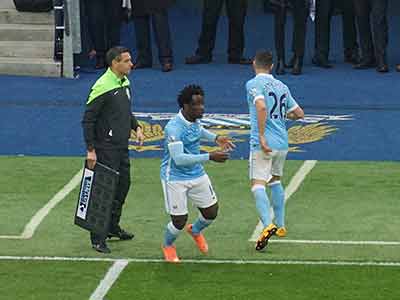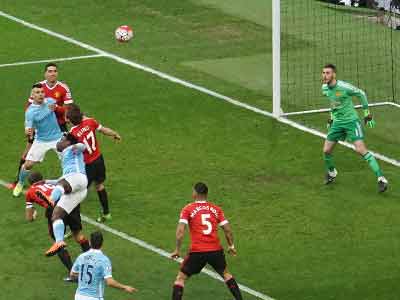 After 53 minutes on came Bony for Demichelis and straight away he had a chance but his header.....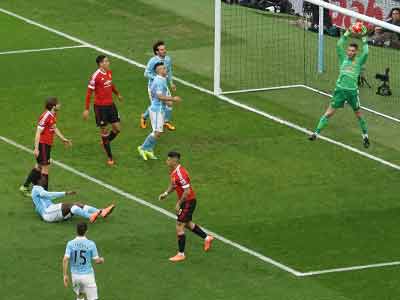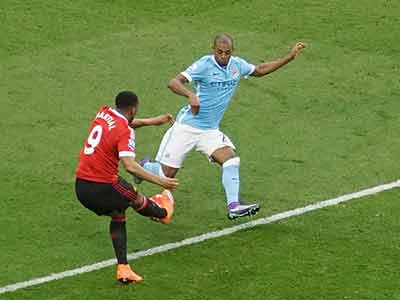 ....was easily saved by De Gea
Fernandinho went to central defence and was soon busy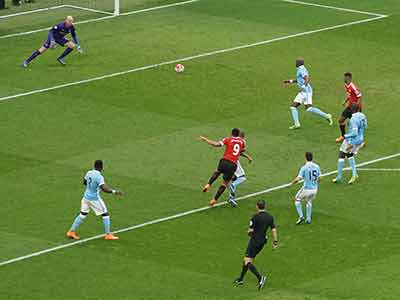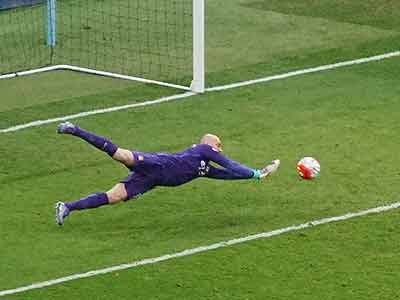 Martial gets in a shot which is well saved by Caballero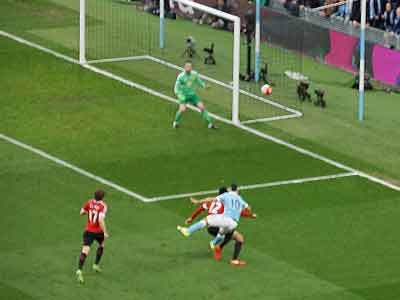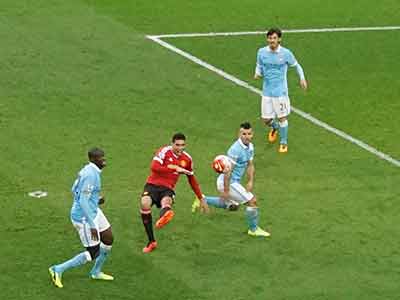 Smalling clears under pressure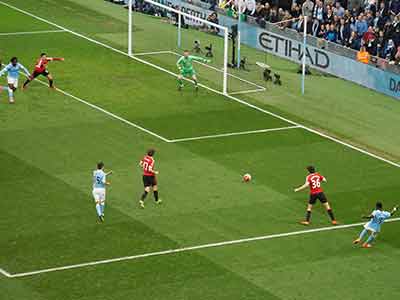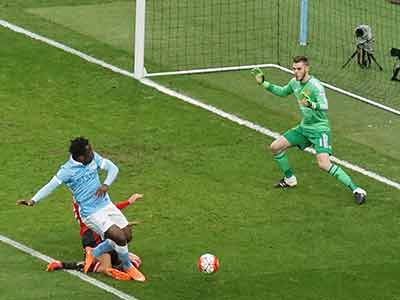 A good cross from Sagna but Bony fails to hit the target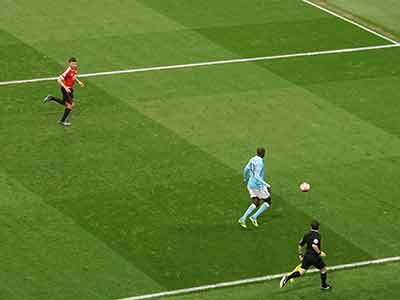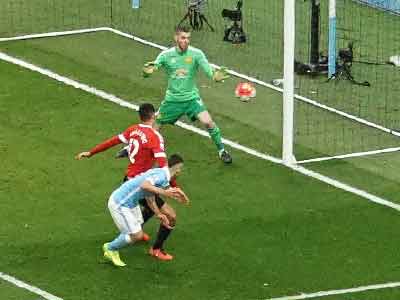 On 66 minutes had had their best chance when a cross by Toure was headed onto the post by Aguero
The City fans behind the goal show their frustration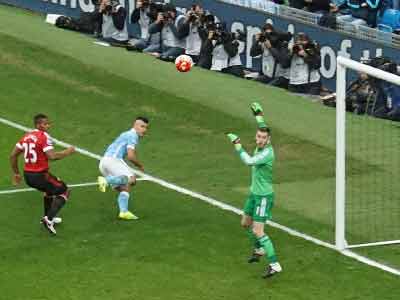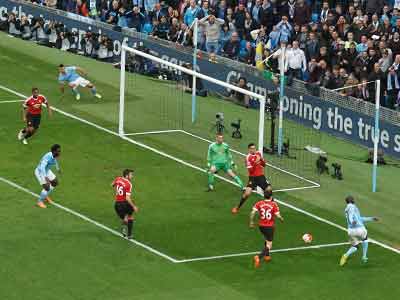 a headed cross by Aguero reaches Toure who crosses....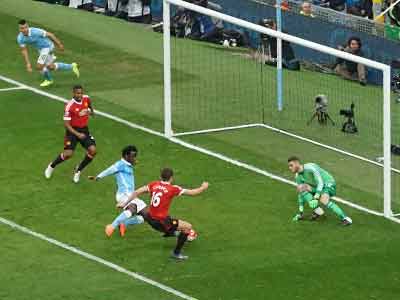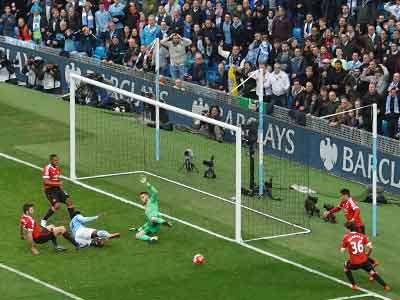 ... and yes you guessed it - Bony fails to net!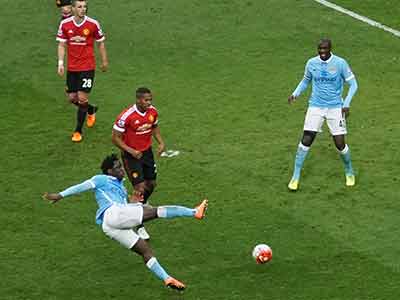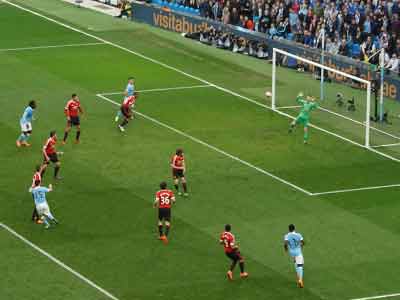 This time Bony slips as he shoots and the ball is blocked
A Navas effort goes well over the bal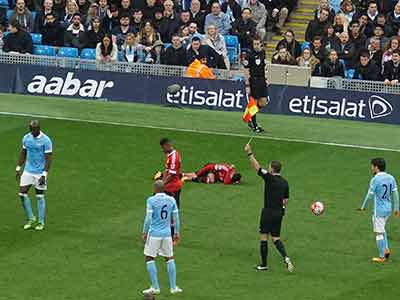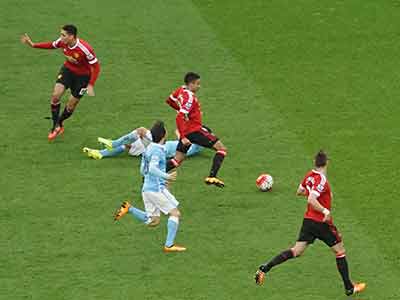 Mangala is booked for a foul
Smalling brings down Aguero and is lucky to stay on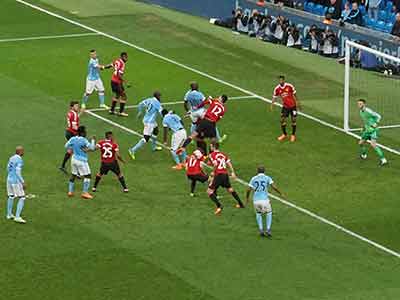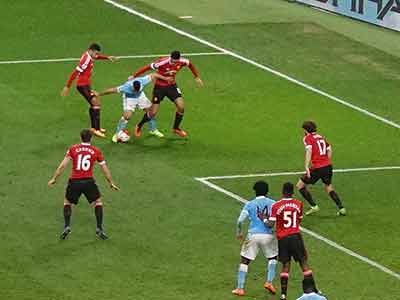 City continued to pile on pressure but alas no goal was forthcoming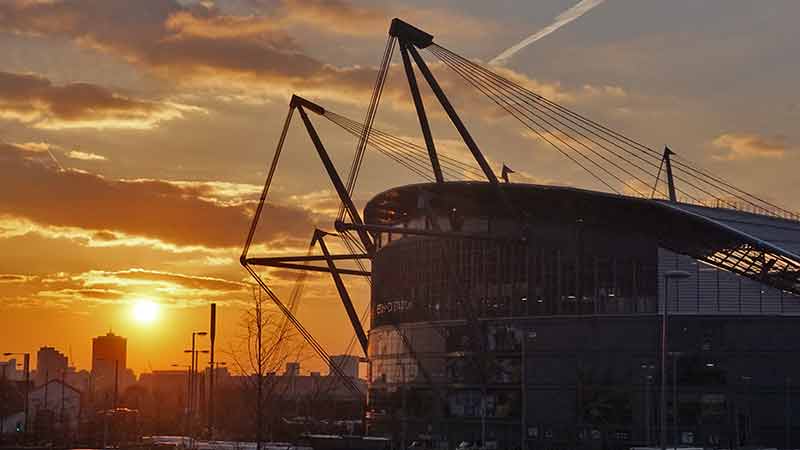 Not the best of memories from this 'derby' game unfortunately
Team
Hart 6.5 (Caballero 7) Sagna 6.5, Demichelis 4 ( Bony 5 ) Mangala 6.5, Clichy 6.5: Toure 7, Fernandinho 7 Navas 6.5, Silva 6.5, Sterling 6 ( Fernando 6.5) Aguero 7