City 4 Aston Villa 0
March 5th 2016 53,892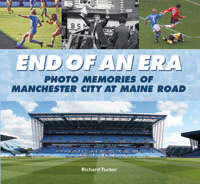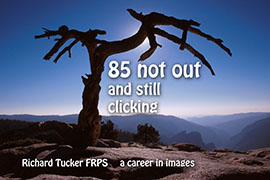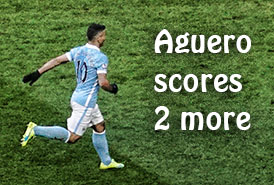 This could not have been easier though at half time we were a little worried as City had been unable to break through the packed Villa defence . Then 4 goals in 16 minutes in the second half put paid to Villa's survival effort. The first two were a little fortunate but then Aguero notched a beauty and then sub Sterling scored the 4th. Aguero should have made it 5 but his hat-trick effort from the penalty spot hit the post. It will be a miracle if Aston Villa escape relegation. They had little possession and Joe Hart had one of his easiest days having to make but one save. Even when the sun came out City hardly broke into a sweat with Fernandinho and Toure easily running the midfield ably helped by Silva - still not quite back to his best. Navas had a better game causing lots of problems for the visitors down the right flank but Bony did not have the best of games and it was no surprise when he was subbed by Sterling. Many thought Iheanacho should have been in the starting eleven in place of Bony. Easily man-of-the-match was Sergio Aguero who took his total of league goals for the season to 16. He now has 94 Premier league goals so we are sure to see number 100 this season. It was a shame he missed the penalty.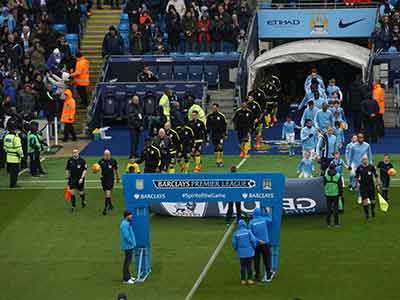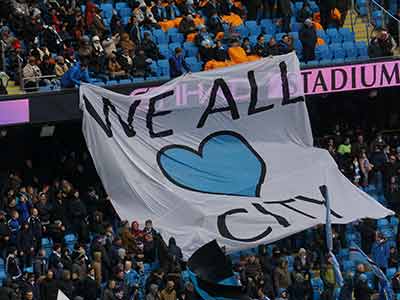 City had an attacking look with Bony coming in to partner Aguero and with Toure back and Sagna in for Zabaleta we were hoping for goals
a new South Stand Production!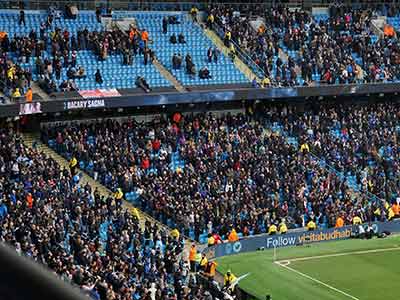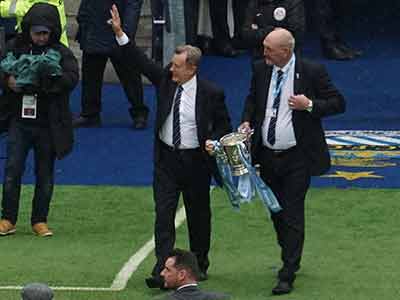 Peter Barnes and Joe Corrigan bring on the Capital Cup
The visitors had only average support -
not surprising really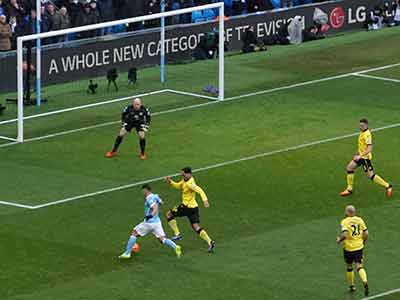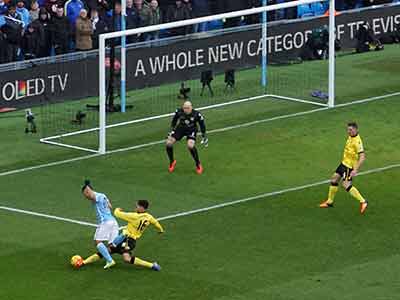 a late tackle by Lescott saves the day early on for Villa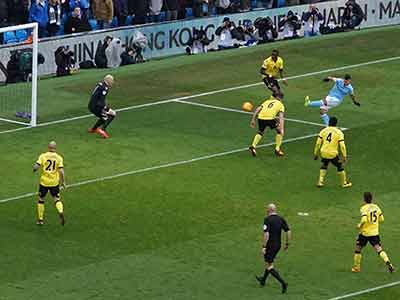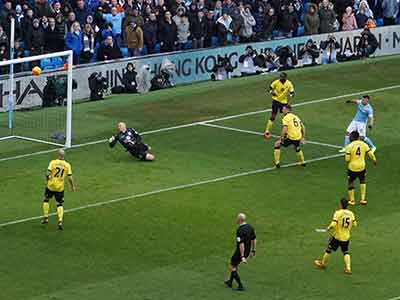 After just 11 minutes Aguero had a good chance but Guzan managed to tip the ball over the bar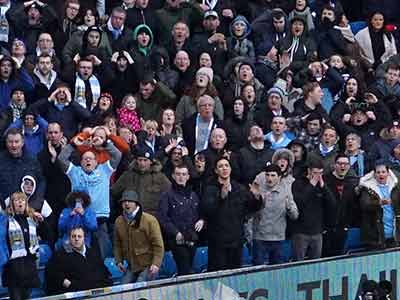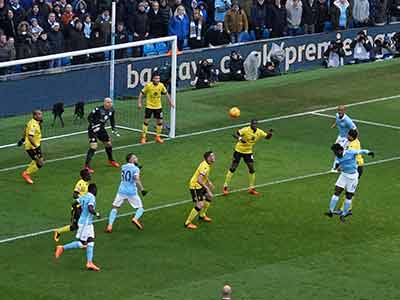 The South Stand were a bit disappointed !
From the corner Bony heads wide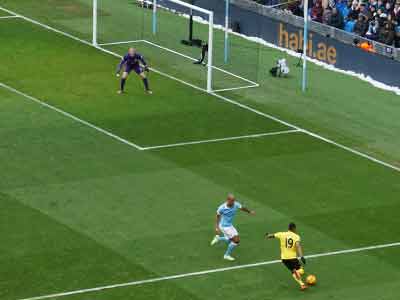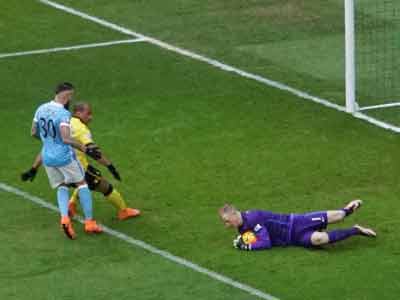 a rare moment when Hart has to deal with a cross from Ayew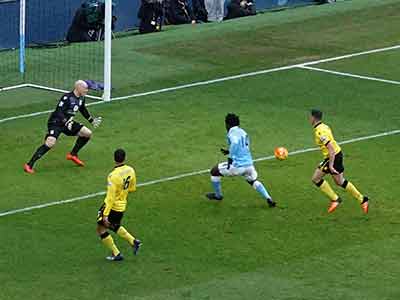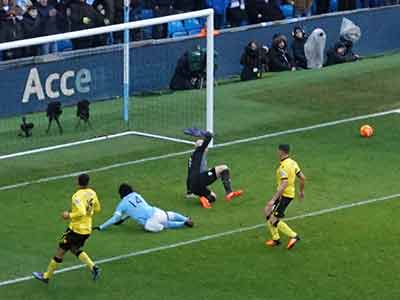 A great cross by Clichy is missed by Bony - another chance gone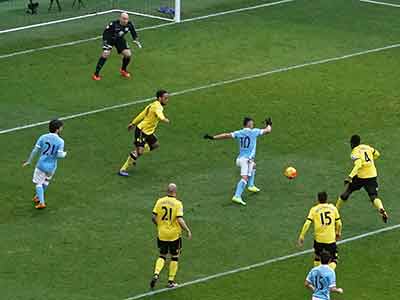 The Villa goal is under constant threat
17 minutes on the clock and Aguero has a shot....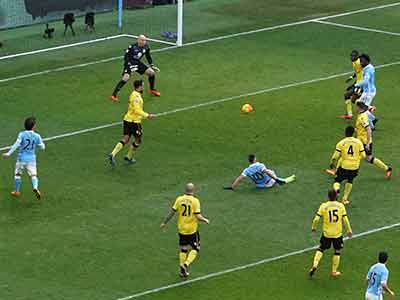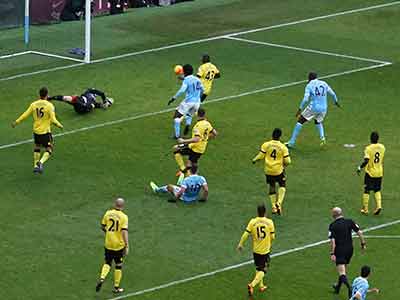 ....but alas Guzan makes another very good save and Villa continue to hold out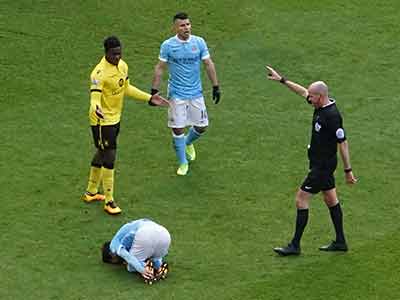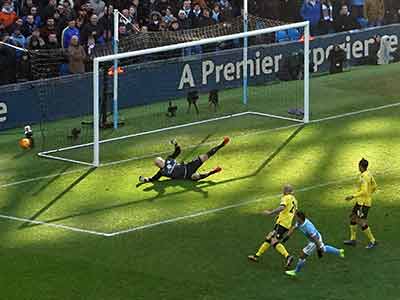 Richards fouls Silva but City waste the free kick
Then the blinding sun comes out but Aguero shoots wide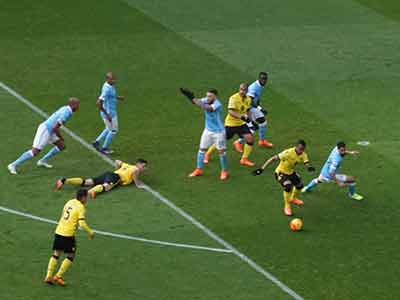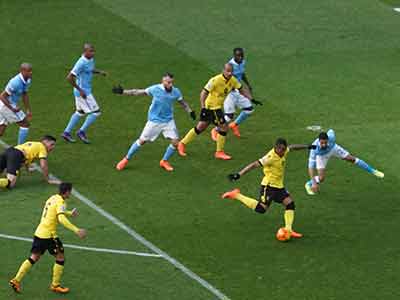 On 25 minutes Villa actually got into our penalty area and Ayew managed to get in a shot.....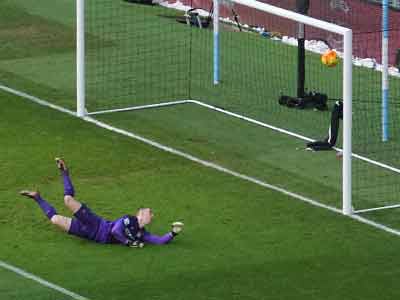 ...and Joe Hart had to make his one save of the match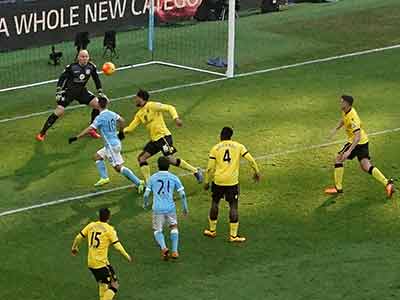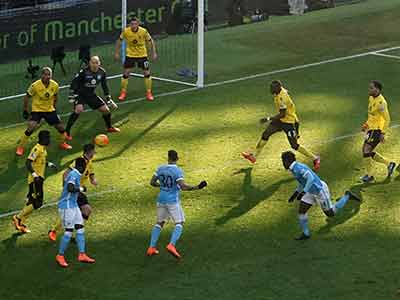 Villa continue to soak up pressure
33 minutes and Bony misses with a header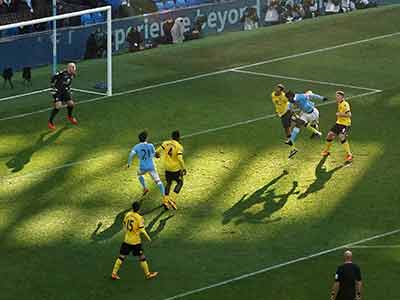 Bony misses with yet another header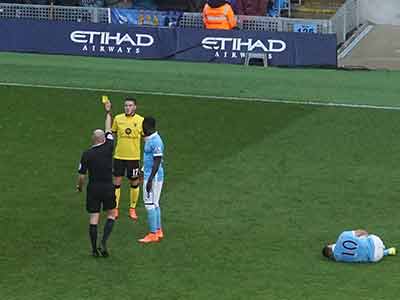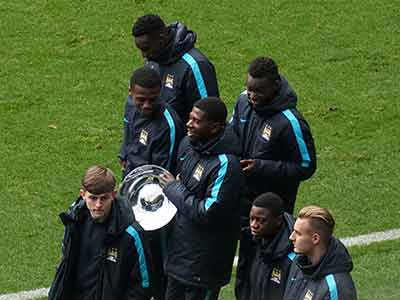 City youngsters show off another trophy win
The only yellow card of the game is shown to Veretout for a foul on Aguero and it's half time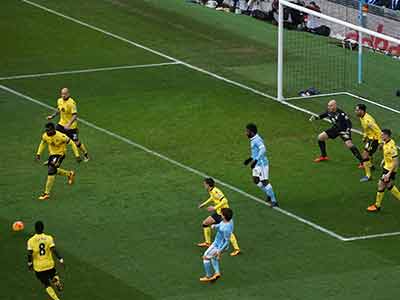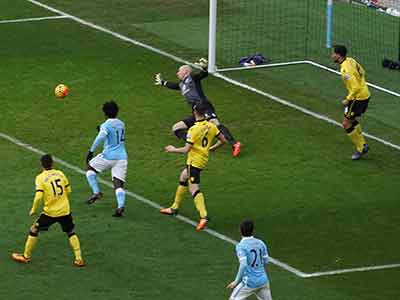 Three minutes into the second half Silva passes to Toure (just out of shot alas) who shot from the edge of the area into the corner....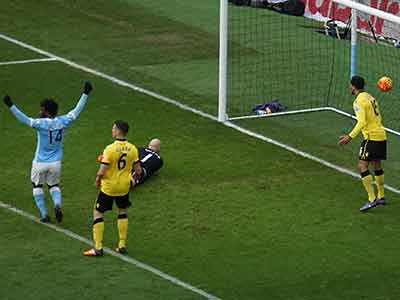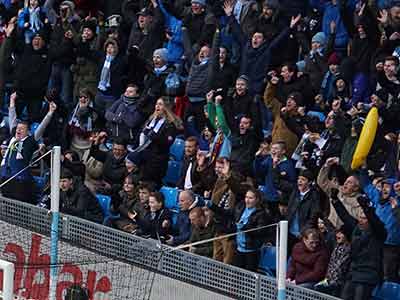 ....and City were one up -at last!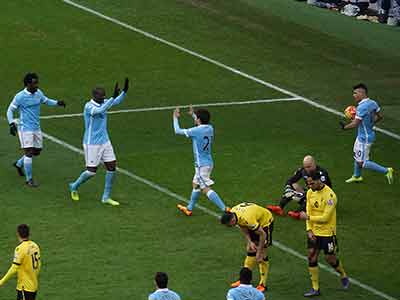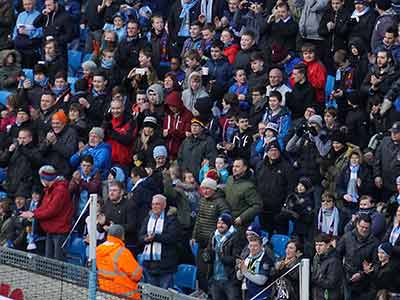 I'm sure there was relief among both players and fans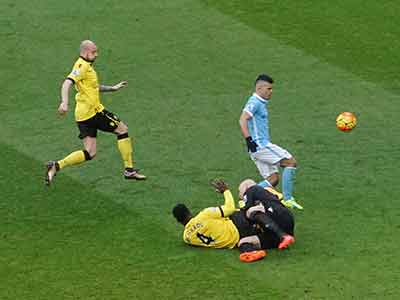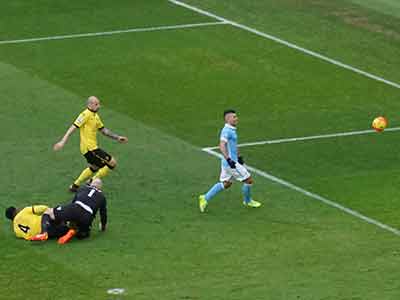 We hardly had chance to sit down again when Aguero chased a long pass from Bony and Richards trying to clear hit the ball against Aguero and it bounced perfectly for Aguero....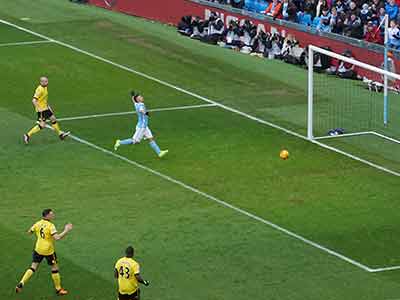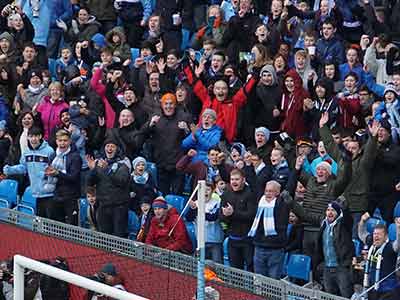 ...to make it two nil -what a bit of luck - the fans could hardly believe it!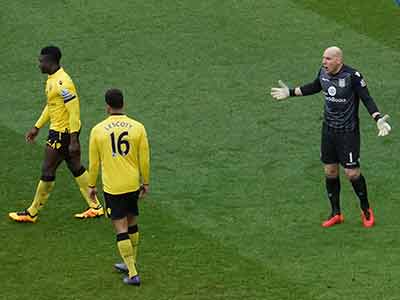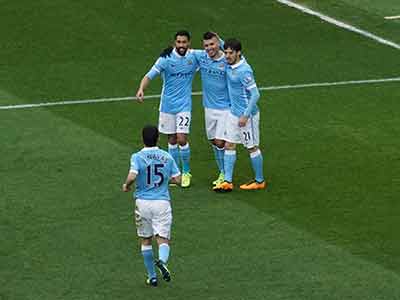 I don't think Guzan is very happy but the City players are!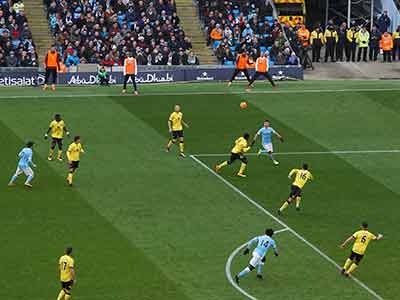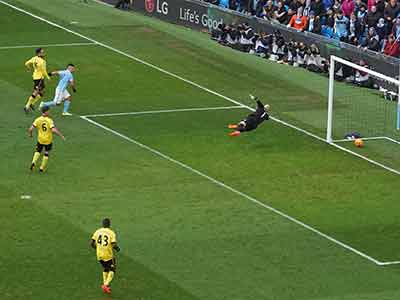 ten minutes later and a brilliant bit of play between Silva and Aguero ended with Sergio cracking the ball past Guzan for number three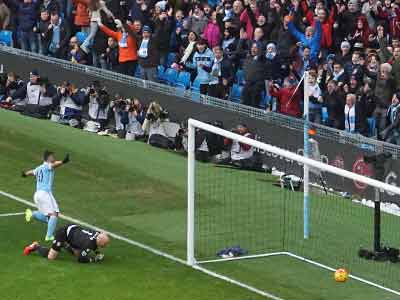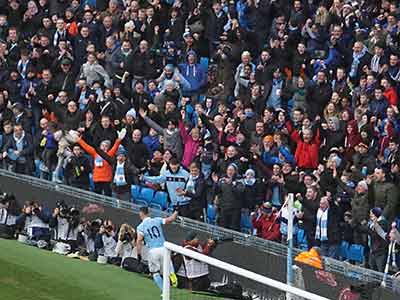 It was a cracking goal greeted with much enthusiasm by the City fans in the North Stand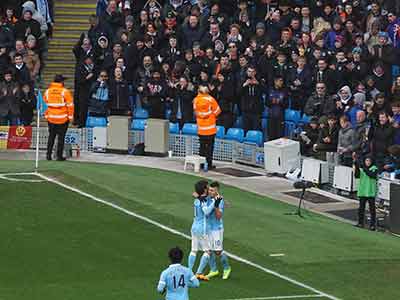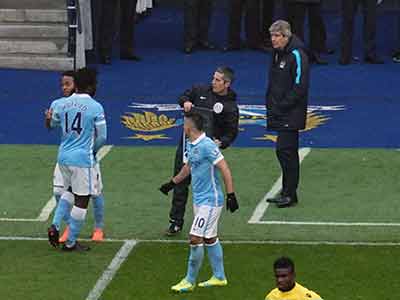 It was a well deserved goal and it was time for Bony to be subbed by Sterling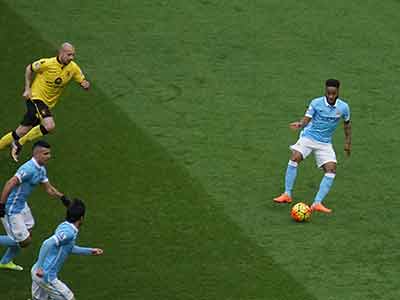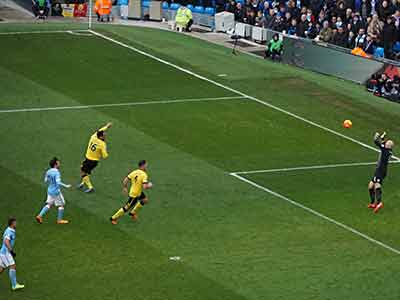 Within minutes of coming on Sterling tested the Villa keeper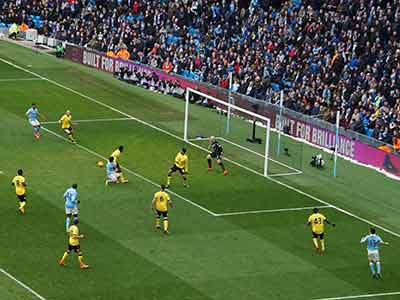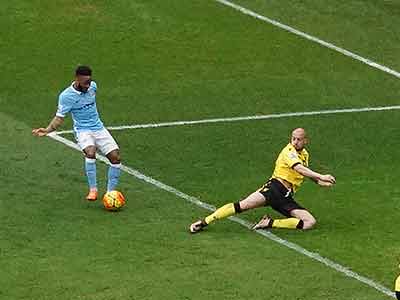 on 66 minutes Navas crossed and there was Sterling ready and waiting.....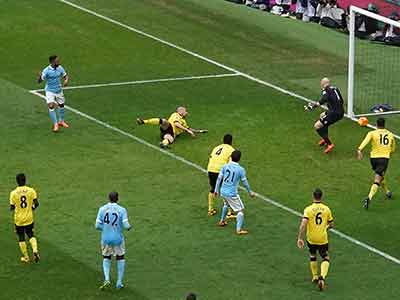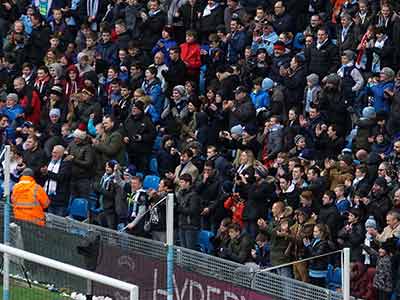 ....to shoot past Guzan and it was four nil to City - game over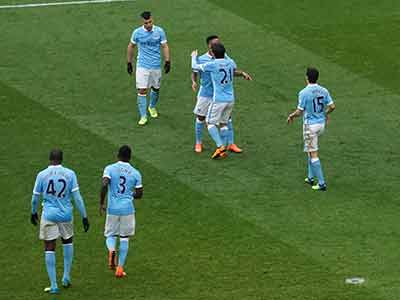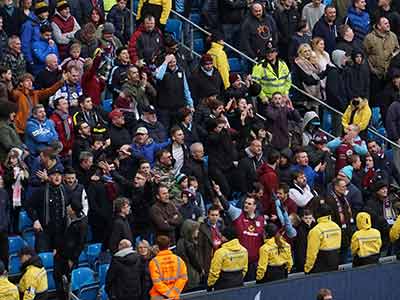 While there was celebration among the City players some of the away fans had mixed reactions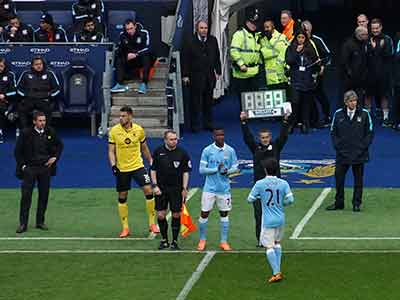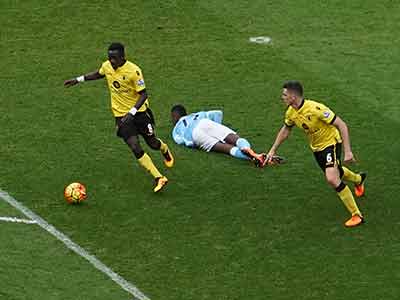 Two minutes after coming on Iheanacho is brought down by Clark in the area and its a penalty!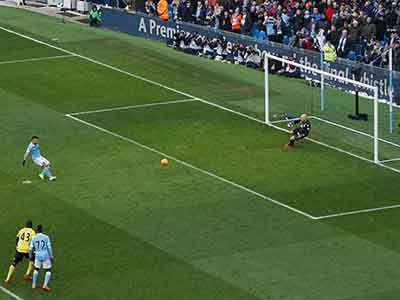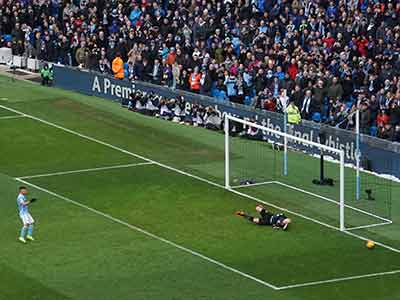 For once Aguero missed the penalty hitting the post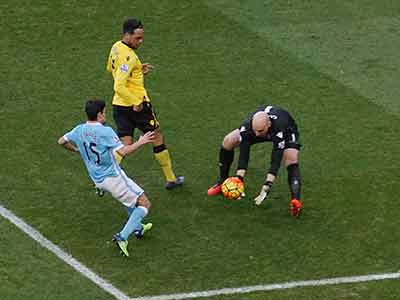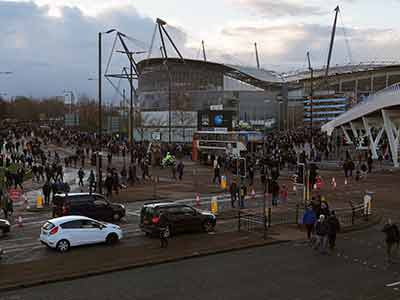 a Navas sprint just fails in beating Guzan to the ball
At last City fans can leave with a smile on their faces
Team
Hart 7: Sagna 6.5, Kompany 7.5, Otamendi 7, Clichy 7: Toure 7.5 (Garcia) , Fernandinho 7.5, Navas 7.5, Silva 7.5 (Iheanacho), Bony 5 (Sterling 7), Aguero 8