City 0 Dynamo Kyiv 0
Champions League
March 15th 2016 43,630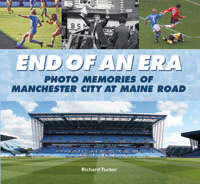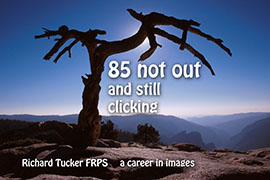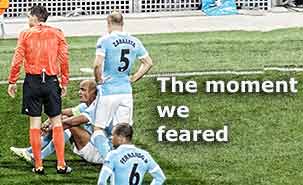 My word what an incredible match this was! Exciting from the first minute!
Sorry about that! I was having a moment of madness!
The only positive thing to come out of this game was the fact that we had qualified for the quarter finals of the Champions League for the first time. The draw will be made in the next few days and what's the betting we will be drawn against a team from Munich!
The major negative moment came very early on when Kompany had to leave the field with a calf injury after just five minutes. On came Mangala and it got worse when Otamendi had to go off with an injury after 24 minutes. So on came Demichelis and the scene was set for the visitors to reduce their first leg arrears. But no - they had made up their minds that they were out of the tournament so Joe Hart hardly had a save to make. I am afraid City rarely troubled the Kiev keeper so this was a game that will be remembered only for the injuries to two central defenders. Yaya Toure had a better game than of late and Aguero and Silva tried hard but we rarely shoot from distance and it was bad luck when a Navas effort hit the post.
It is vital that we finish in the top four so the game against that team from Salford next Sunday takes on extra importance with the defensive injury situation.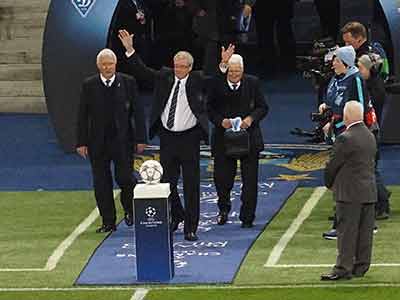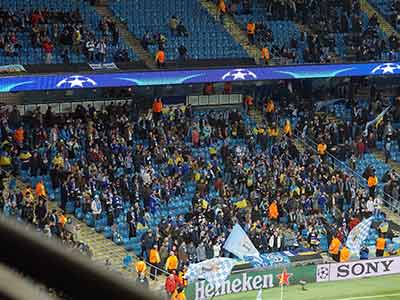 Colin Bell supported by Mike Summerbee and Tony Book collects a special award before the game
Its a long way to the Ukraine so it was not surprising that only about 1000 of their fans turned up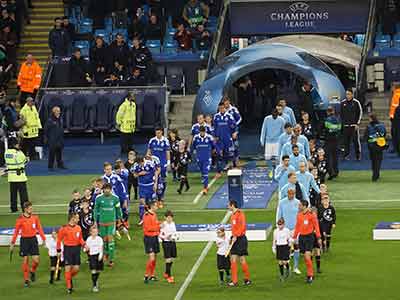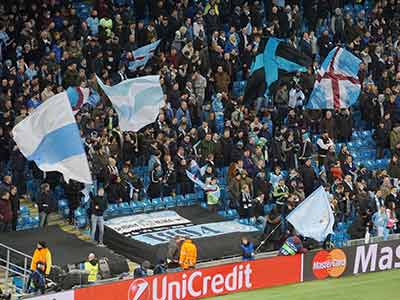 Toure returned from injury and Zabaleta was at right back. Strange that Iheanacho was not on the bench
There were many empty seats in the stadium I am afraid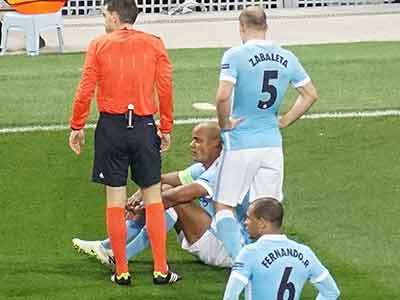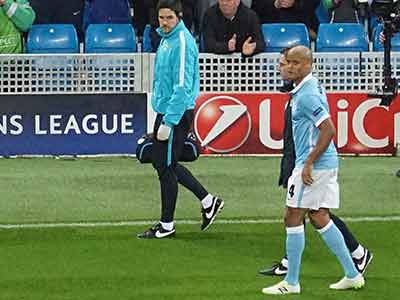 Could this be the end of Kompany's season and City's chances of finishing in the top four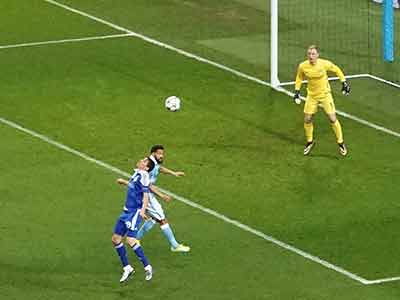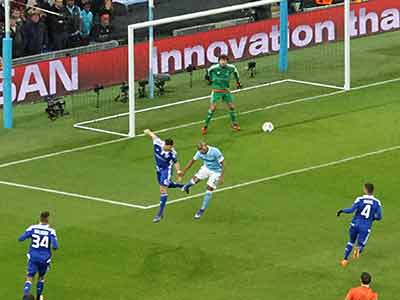 There was early action in both penalty areas as clearances were made by defenders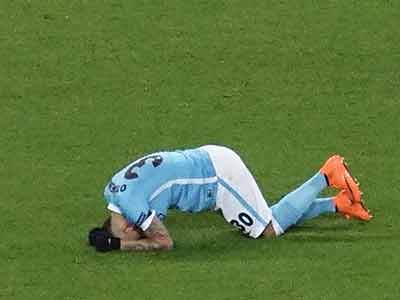 on 15 minutes Otamendi fouls Buyalskiy and is both injured and yellow carded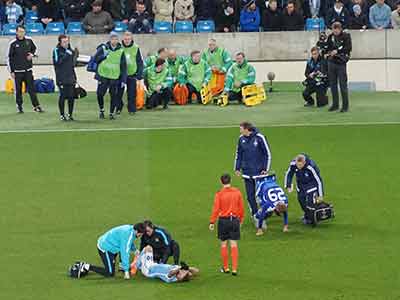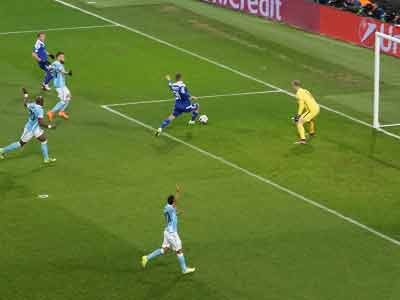 Both players resume but Otamendi does not appear 100%
Teodorczyk has a chance but is offside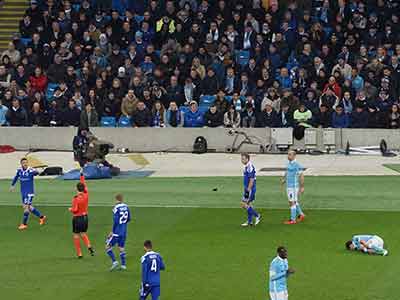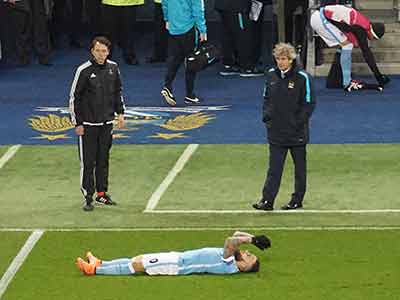 21 minutes and Antunes is booked for a foul on Navas
a few minutes later and Otamendi has to go off and is replaced by Demichelis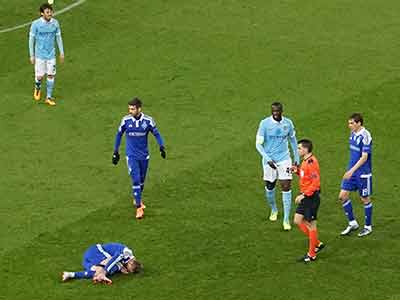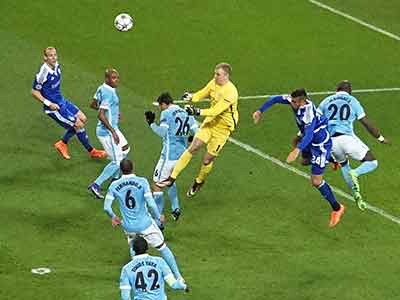 Oh dear -another Ukrainian down - the Putin sniper has been at it again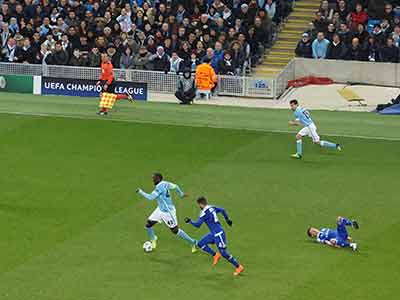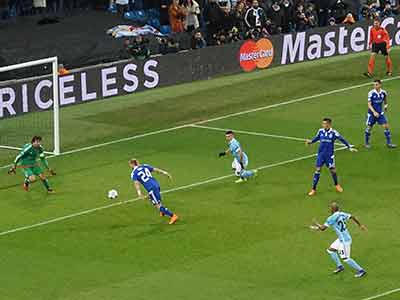 Away goes Yaya on one of his runs but alas the end result is not a goal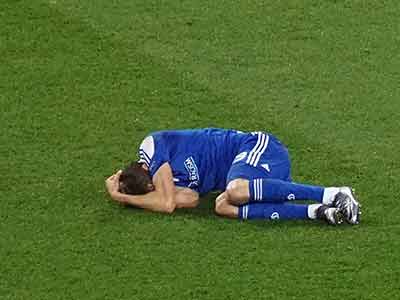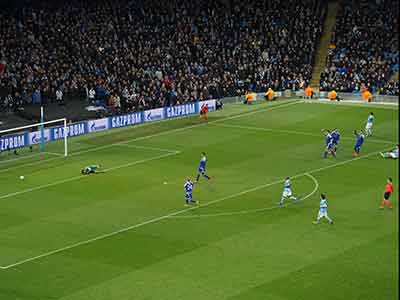 Watch out -there's a Putin sniper about!
A shot from Aguero goes wide of the mark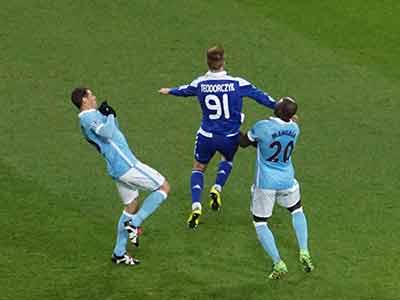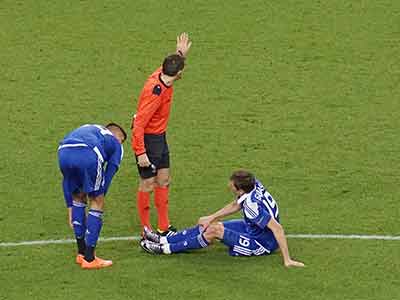 Mangala and Demichelis have to deal with number 91
The ref tells the bench that it's ok - the sniper missed!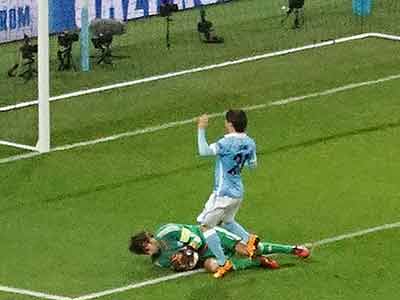 The keeper just beats Silva to the ball and it's no score at half time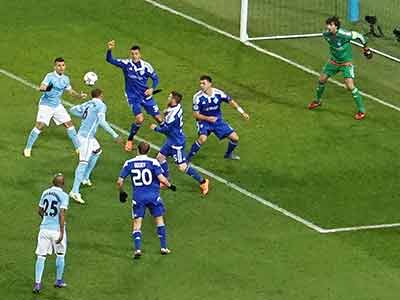 Kiev manage to clear a City corner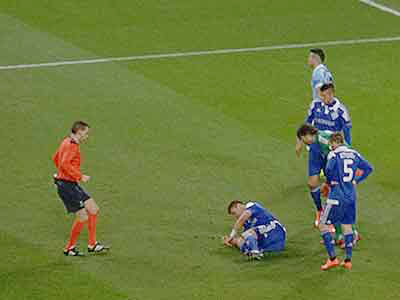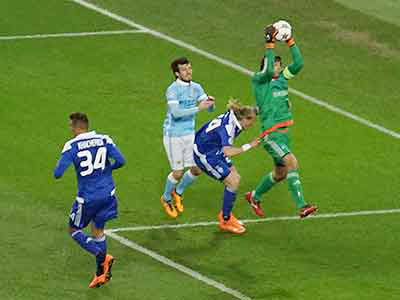 Oh dear the sniper at it again
Their keeper actually has to make a catch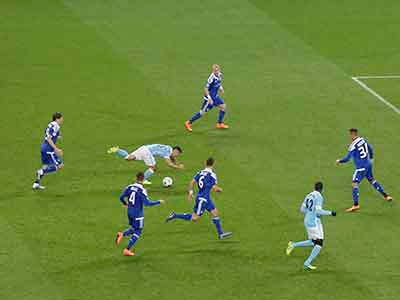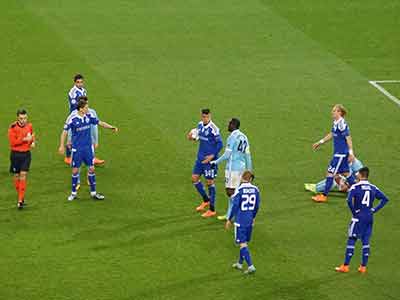 It's Aguero going down this time
Yaya wants the ball back and its a yellow card for Garmash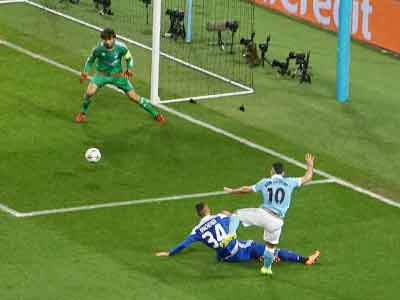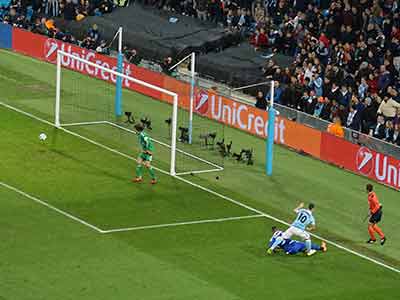 on 60 minutes Aguero has a shot from a narrow angle but it goes wide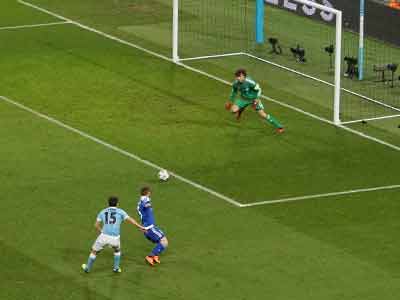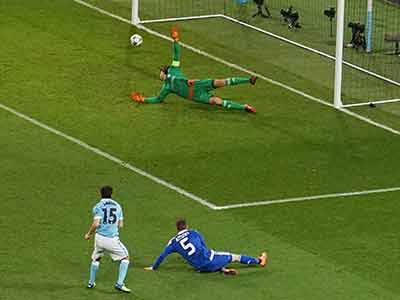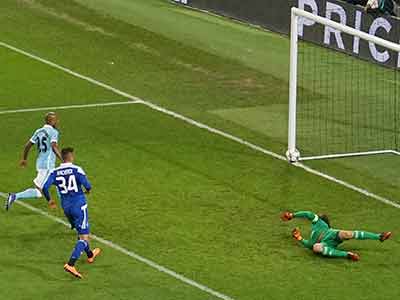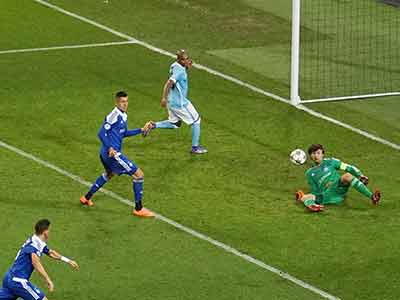 A minute later came the moment City went nearest a goal when an effort by Navas hit the post and was cleared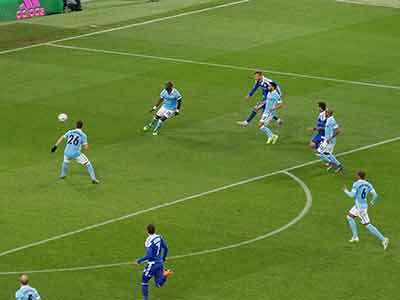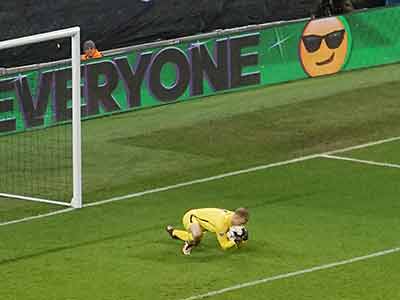 A minute later there was excitement at the other end when Yarmolenko had a shot saved by Hart and all this action woke three people up near me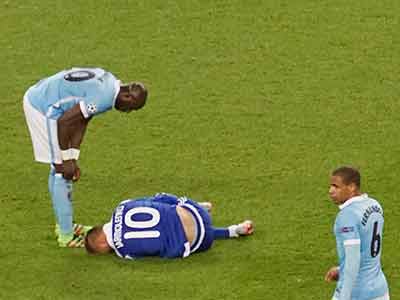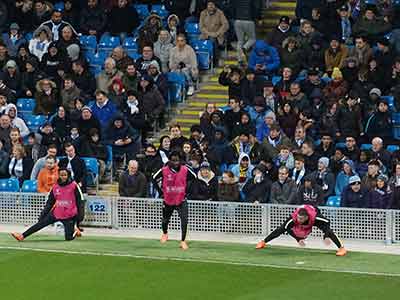 Another one down as Mangala checks him out
There were several worried faces near me when we saw Bony warming up!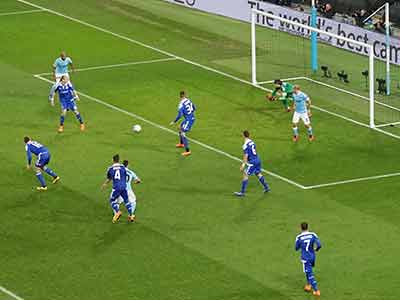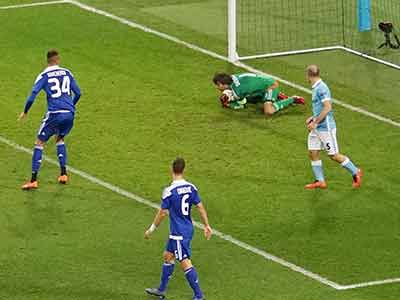 A shot by Toure from outside the box goes straight to the keeper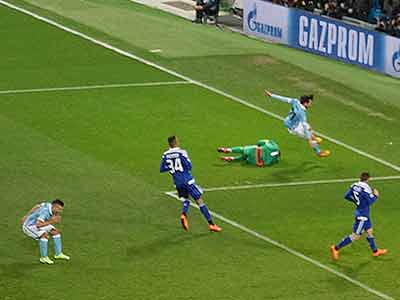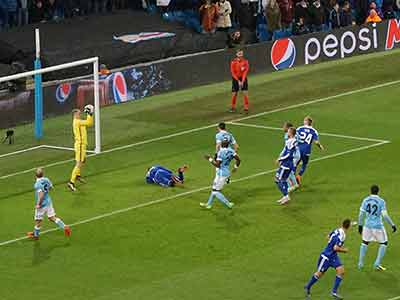 Silva has to leap over the keeper
As Hart takes the ball another Kiev player goes down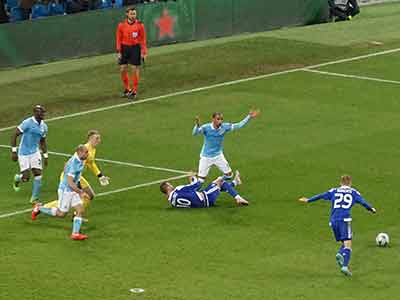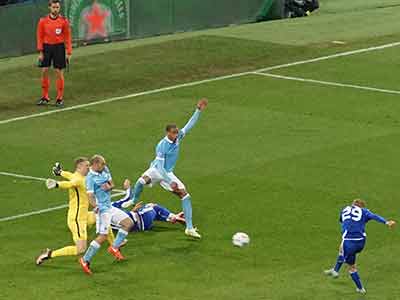 It's all hands to the pump to block this effort from Buyalskiy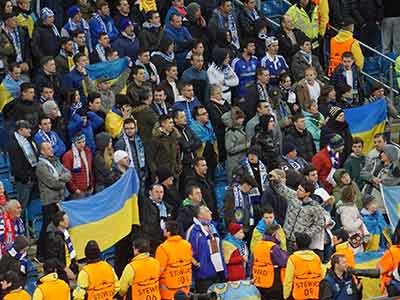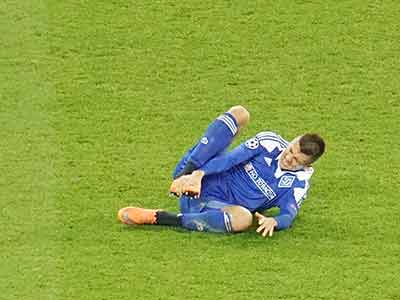 and so the game ends goal-less with yet another Kiev player having a problem - I wonder where that sniper is!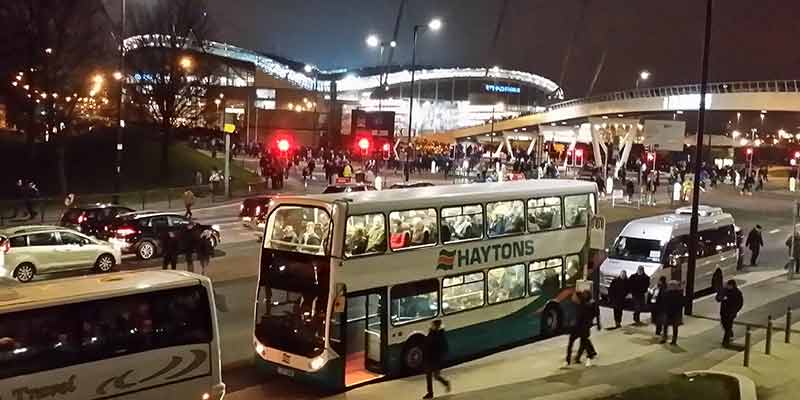 As City fans make their way home the thing on their minds is the injury to Kompany with the 'derby' coming up on Sunday
team
Hart 7: Zabaleta 7, Kompany ( Mangala 6.5) Otamendi 7 (Demichelis 6.5) Clichy 7.5: Fernando 7, Fernandinho 7, Toure 8 Silva 7 ( Sterling) Navas 7, Aguero 7