City 3 Watford 1
January 2nd 2018 att.53,556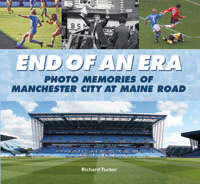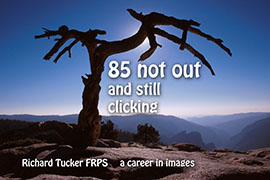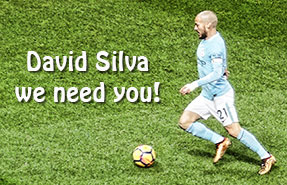 Those arriving a minute late would have missed City's opening goal. In just 38 seconds Sterling had the ball in the net from a great cross from Sane and it is now the fastest goal scored in the Premier League.What a start! After the draw against Crystal Palace which put an end to the winning run of the sky blues we were expecting a revival and it was City's strongest team out there today. The return of Stones and Delph to the defence and Silva to the attack was good news but the biggest shock was De Bruyne being in the line-up after his injury against Palace a day or so before.
It really should have been game over at half time as City missed some good chances but City did enough to win with comfort and to save some energy for the important games coming up.
City took the foot off the pedal late on to enable Watford to get a consolation goal but with almost 80% possession City really had full control and it was a good team performance once more with some great passing moves for fans to enjoy. David Silva showed once more how important he is to the team and with him and Kevan running the game City were ready to start another winning run.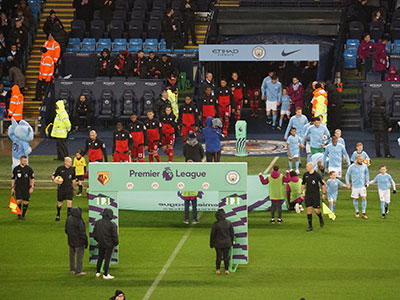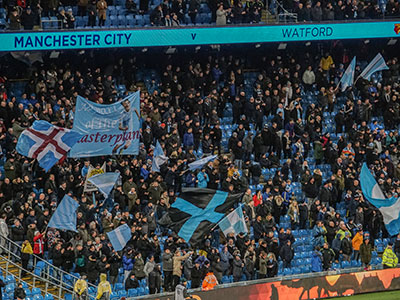 All the usual suspects were on show today with the return from injury of Delph and Stones in defence. With both Silva and De Bruyne playing and Aguero up front we could expect a few goals.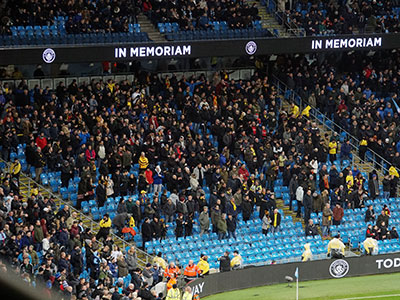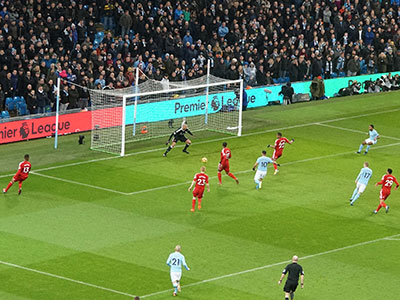 Only a few hundred Watford fans had bravely made the trip to watch their team
City made an early attack and when Silva fed Sane his cross was met........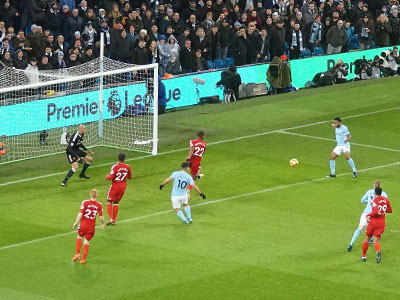 ....by top scorer Raheem Sterling .......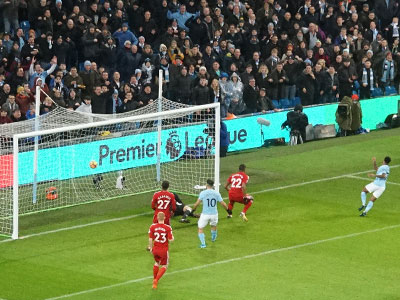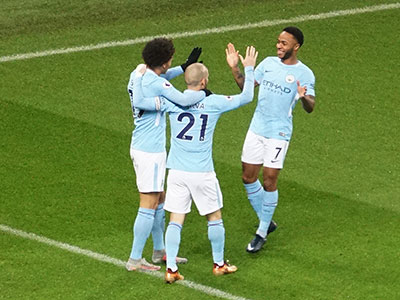 ....who banged it into the net and City were one up in 38 seconds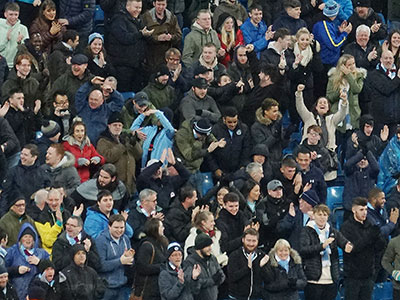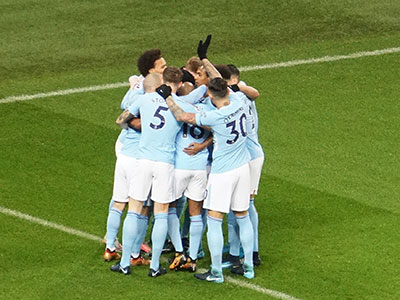 It was early celebration time for fans and the team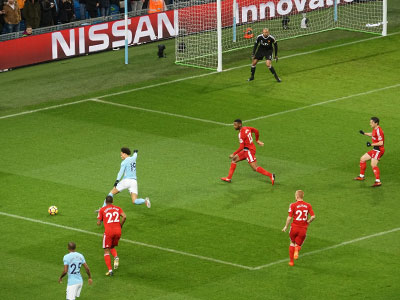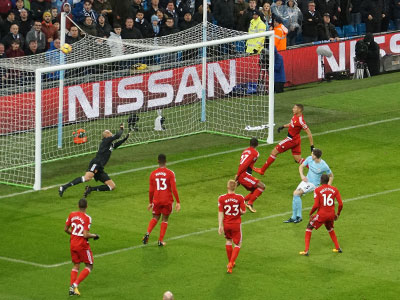 5 minutes later another cross by Sane was met by Stones but alas he shot well over the bar from close range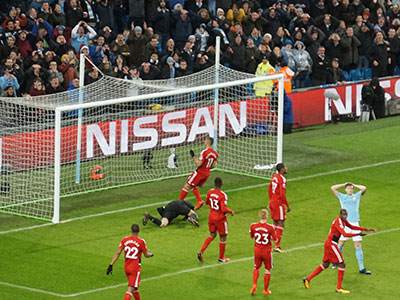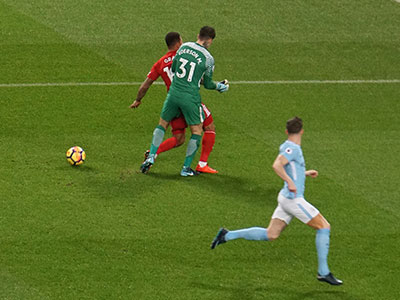 Oh dear that was a bad miss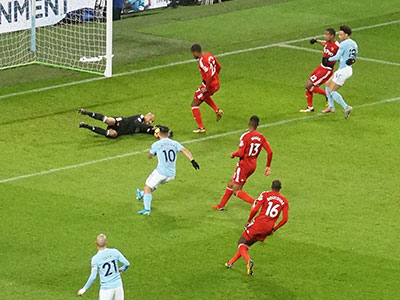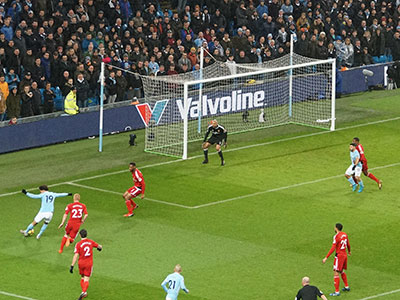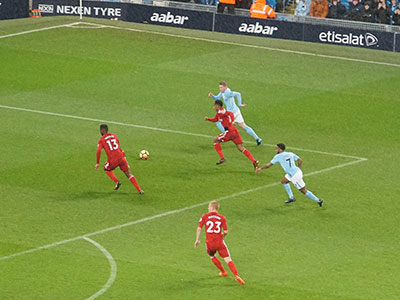 Another cross from Sane but it beats everybody !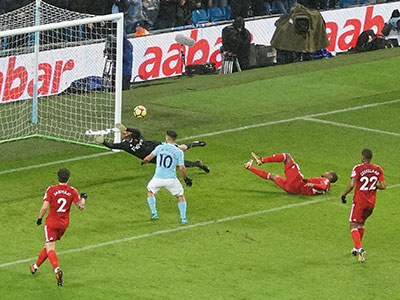 On 13 minutes De Bruyne dashes down the right wing and crosses to a waiting Aguero but Kabasele tries to clear.....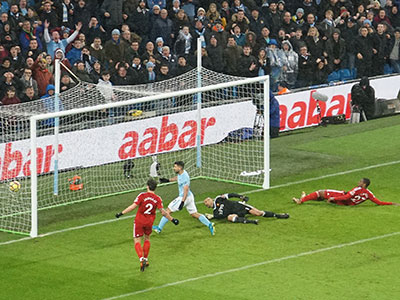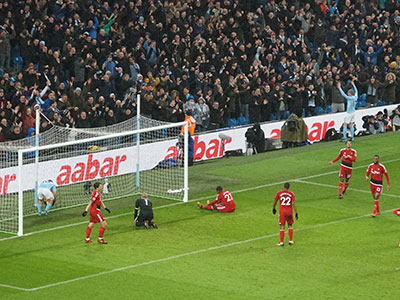 ...and slices the ball into the goal and it's two nil to City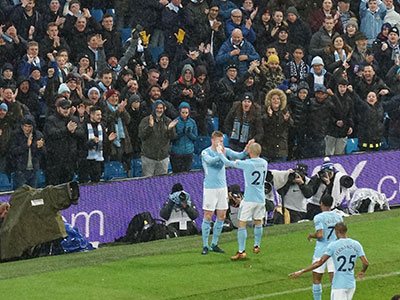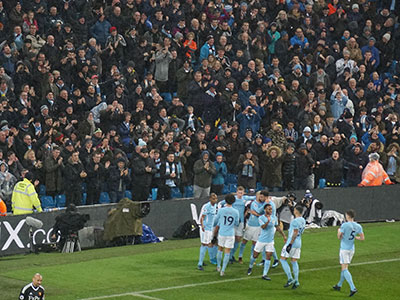 It was Kevin's 10th assist of the season and he gets the thanks of his team mates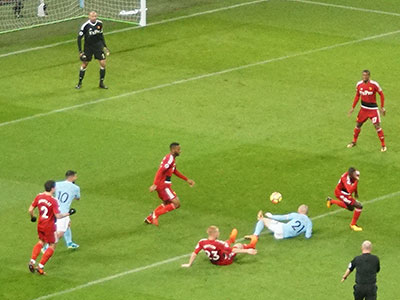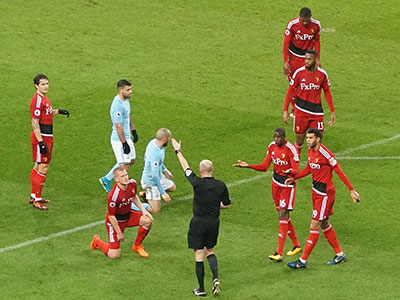 Silva gets clattered on the edge of the penalty area and it's a free kick despite the protests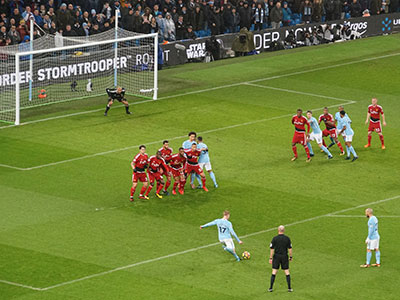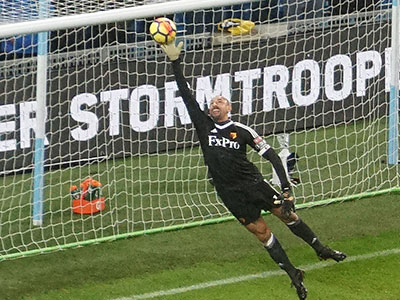 De Bruyne takes the kick and the ball is tipped over the bar by Gomes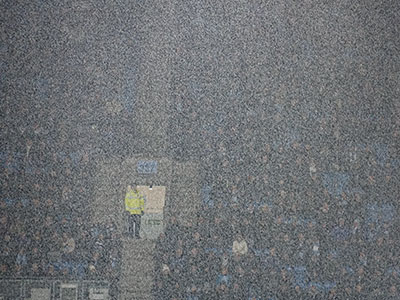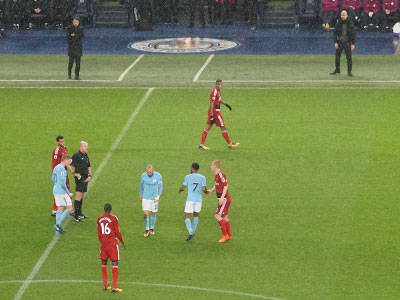 Silva is about to get a yellow card for a foul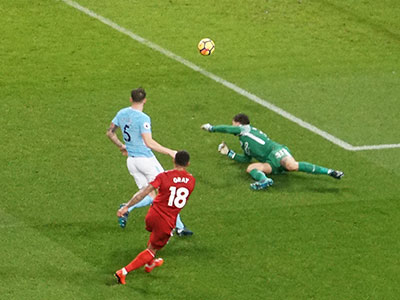 Gray has a good chance but his shot is well saved by Ederson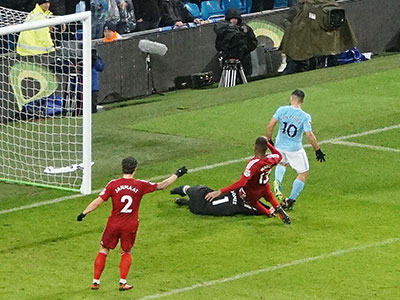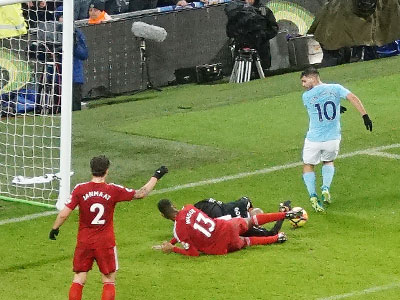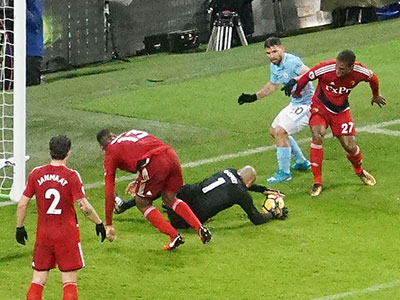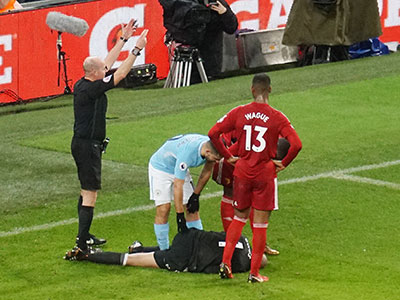 Aguero had a chance from a cross by De Bruyne but Gomes saved and got injured in doing so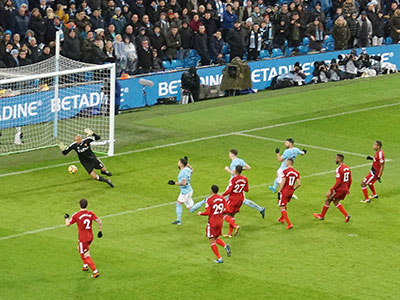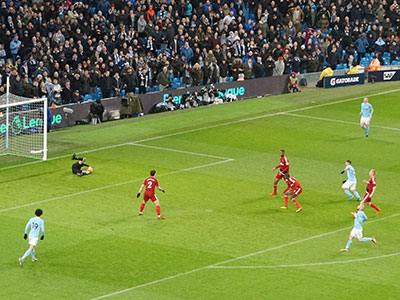 Gomes soon recovered and had to make more saves before half time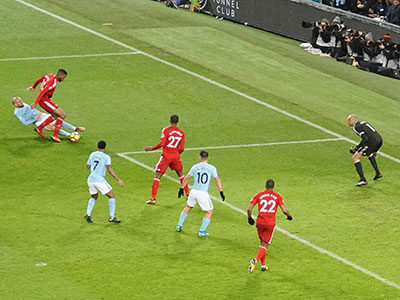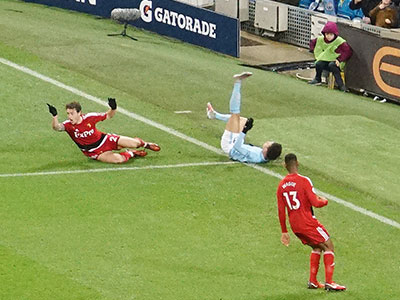 a defender manages to stop Silva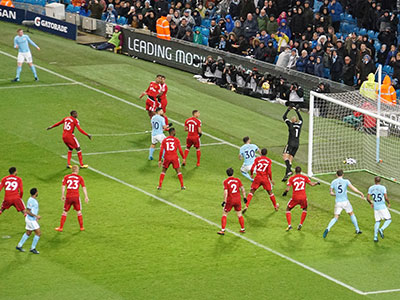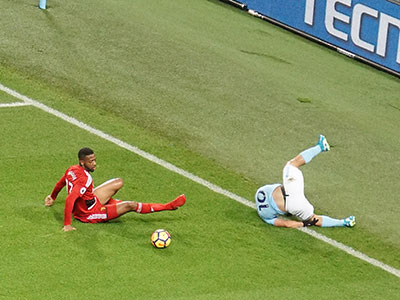 De Bruyne tries a narrow angle shot but it goes into the side netting
Aguero's down but no penalty given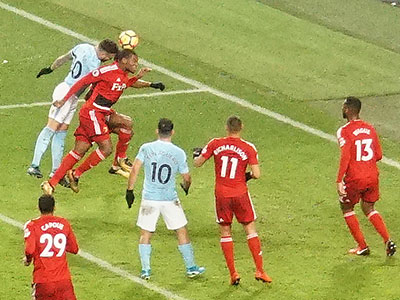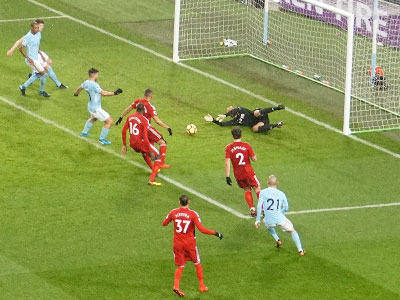 Otamendi tries his luck at a corner
Following a corner Gomes is unable to hold a cross......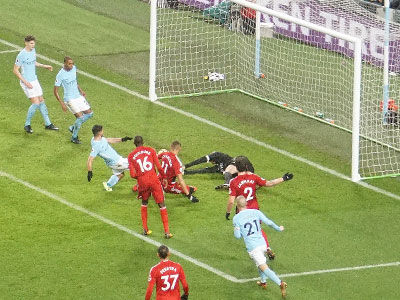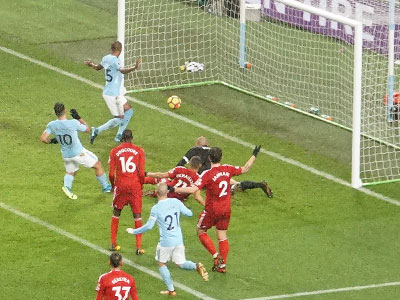 ....and Aguero says thank you and puts the all into the net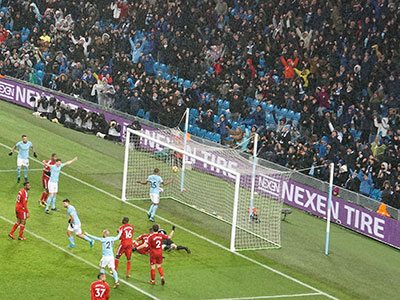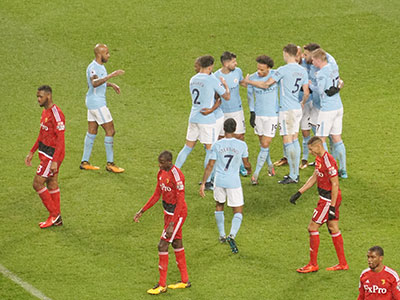 The rain soaked North Stand and players celebrate City's third goal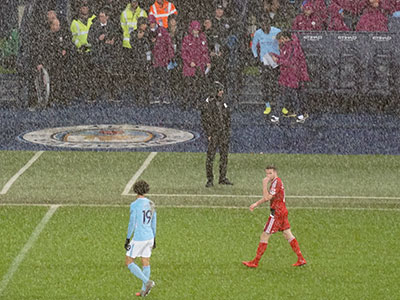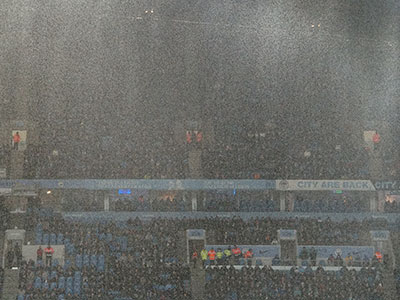 It's not often Pep has to take refuge under a hood!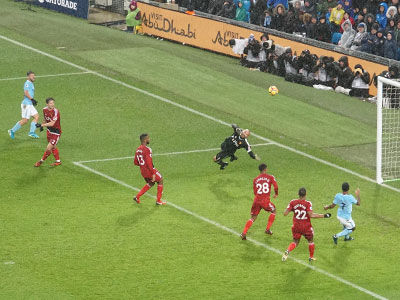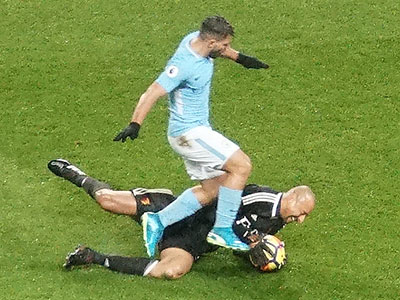 Gomes is kept busy as City continue to attack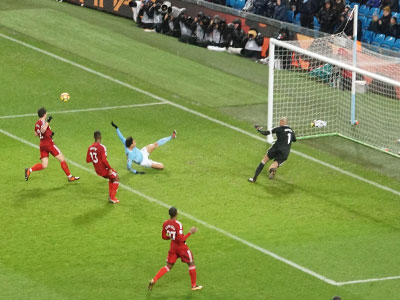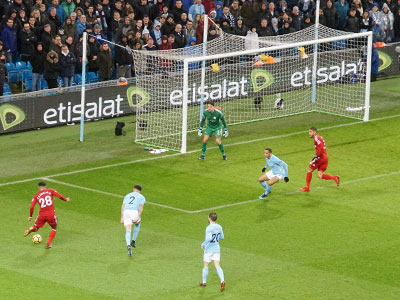 Then surprise surprise on 82 minutes Carrilo beats Walker and crosses.....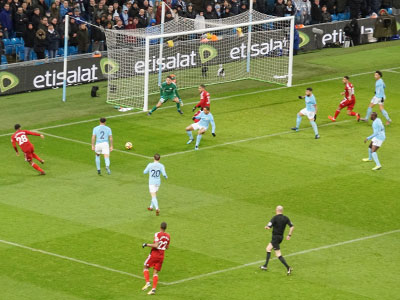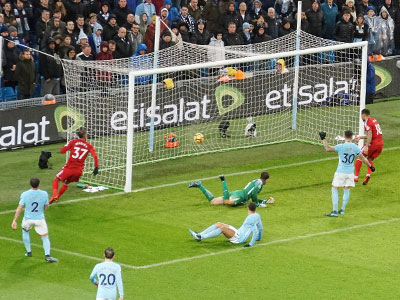 ....and the ball runs to Gray who scores from close range - oh dear - the defence went asleep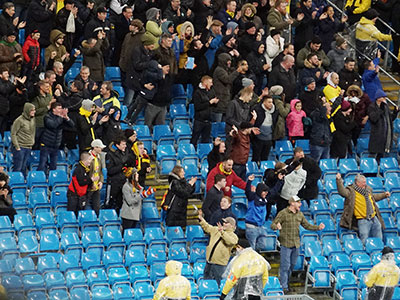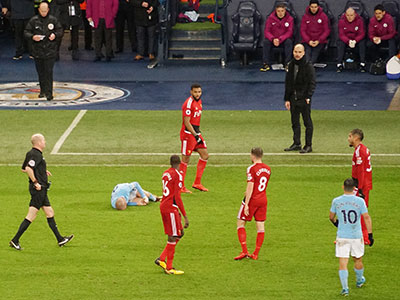 At least the Watford fans have something to cheer about
Silva is down -fouled by Pereyra.....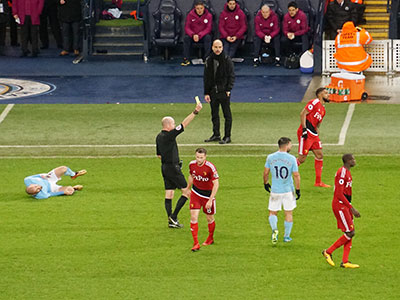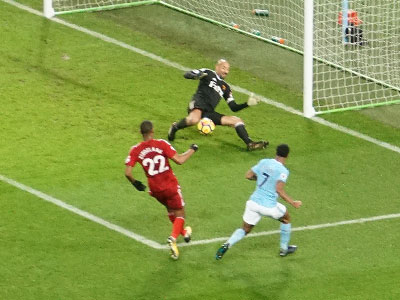 .....and he gets a yellow card
Just before the end Sterling had a good chance but he shot straight at Gomes
Ederson 7.5: Walker 7, Stones 7.5 (Danilo) , Otamendi 7.5, Delph 7: De Bruyne 8.5 (Benardo), Fernandinho 8 (Toure), Silva 8.5, Sane 8, Sterling 7, Aguero 7,