City 4 Bournemouth 0
December 23rd 2017 att.54,270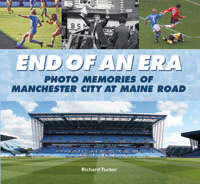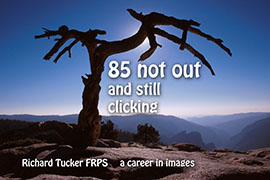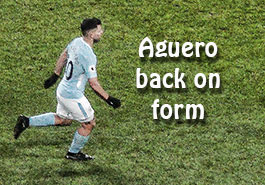 City notched their 17th league win on the run with a comfortable win over Bournemouth. It was so good to see Aguero back to form with two goals and an assist. His first half header was his 100th goal at the Etihad and now he has 15 for the season. He worked hard all game and was easily man-of-the-match. After all the recent speculation as to his future he started and played his heart out to answer any critics.
Sterling took his goal well and now has 16 for the season. The visitors were well outplayed and they often had ten men behind the ball. City rarely had to get into first gear and they have now scored over 100 goals during 2017. Liverpool were the last ones in 1982 with 106. With two games to go City could beat that!
Ederson hardly had a save to make and his passing continues to be very accurate. Fernandinho was once again excellent all over the park and it was his pass that Aguero headed home for the first goal. Delph too continues his good form while Kompany and Otamendi helped keep a clean sheet. Danilo on late for Delph scored number four for City - it was his very first goal for the club. Silva and De Bruyne ruled the midfield as normal to complete a good team effort.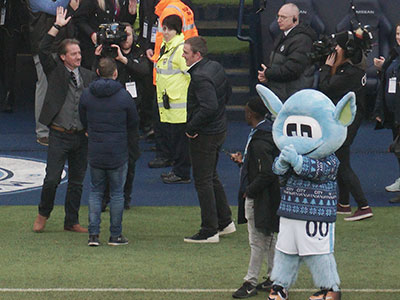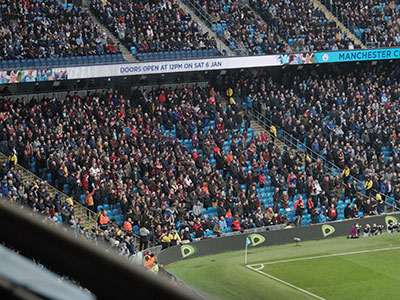 Special guests were Richard Dunne and Ian Bishop
The visiting fans were pretty quiet throughout the game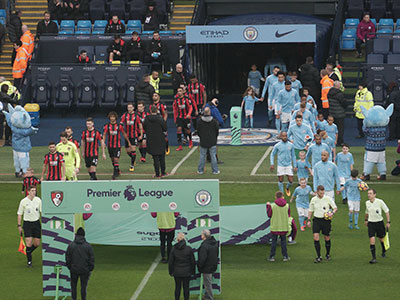 It was good to see the return of Kompany and Silva and with Aguero up front it was a strong City team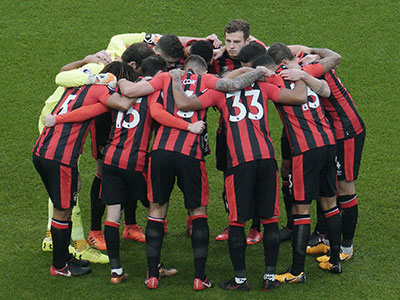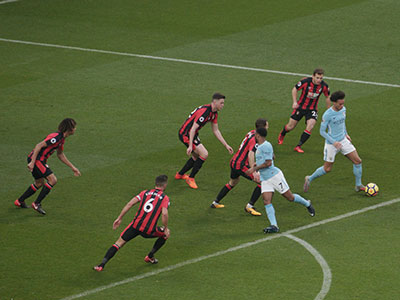 Ok lads - remember we must not concede more than ten!
We soon saw the visitors defensive strategy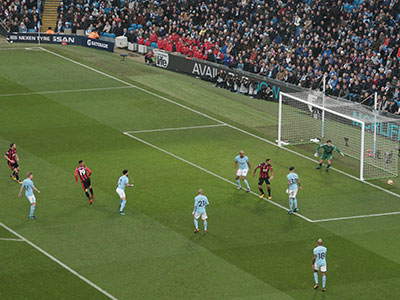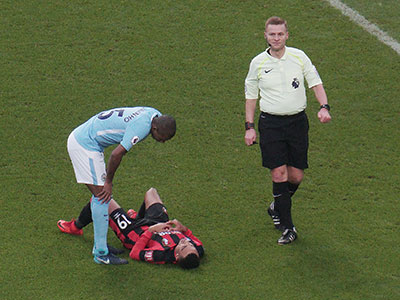 Bournemouth had the first chance and Stanislas shot just wide but in doing so he injured himself ( or was it the secret sniper) and he was subbed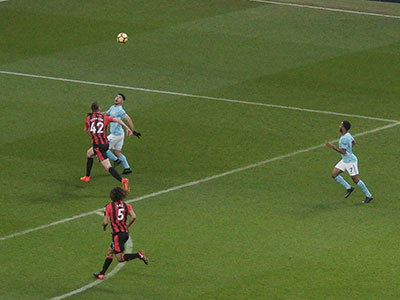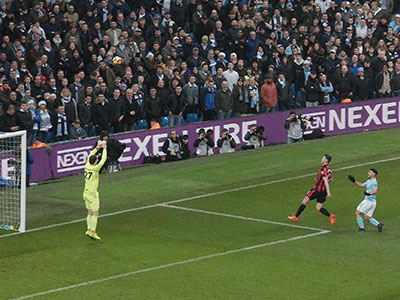 On 20 minutes Otamendi put a good pass through to Aguero who shot over the bar - very difficult chance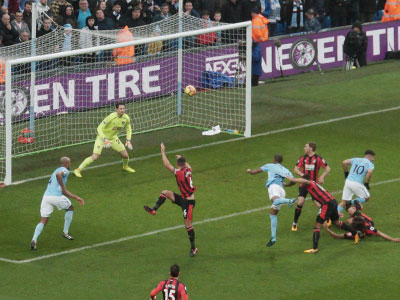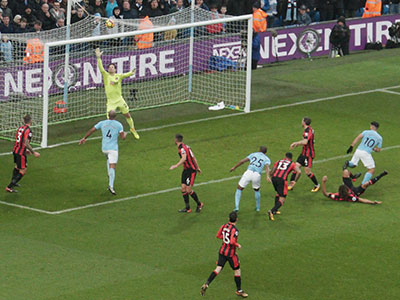 At a City corner Fernandinho heads over the bar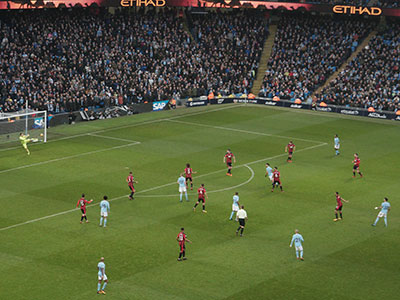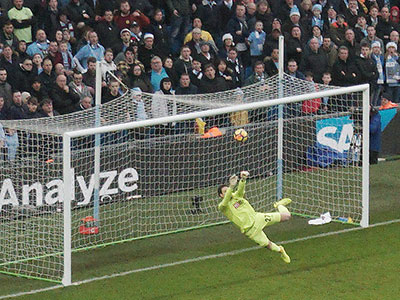 Five minutes later a terrific long range shot by Otamendi is saved by Begovic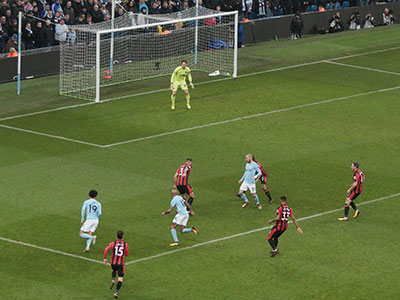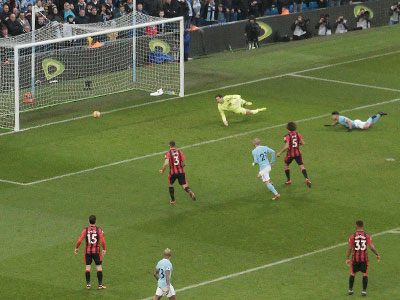 On 27 minutes Fernandinho passes to Aguero who dives to head the ball past the keeper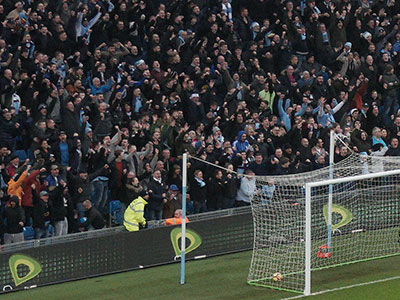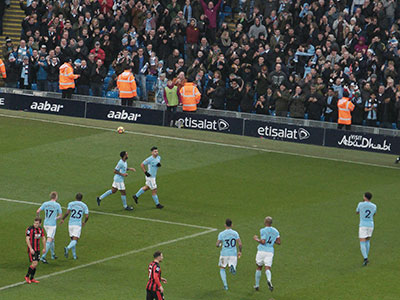 It was Aguero's 100th goal at the Etihad and there were celebrations all round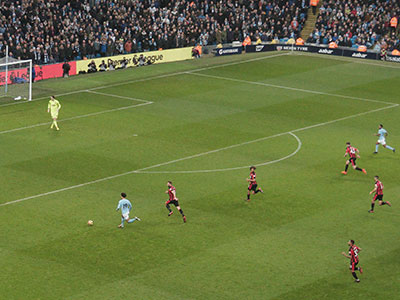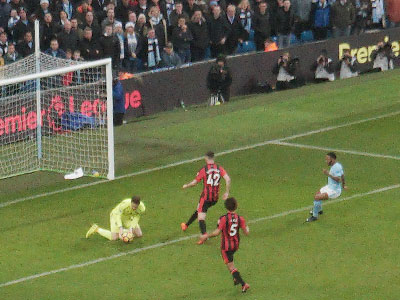 Sane breaks down the left wing but his cross is taken by the keeper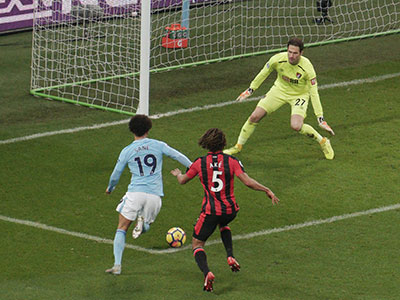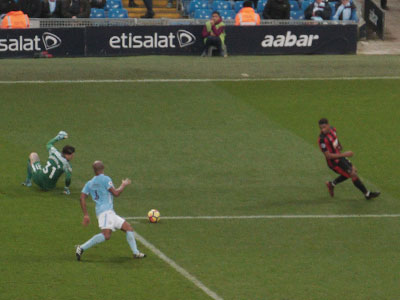 Sane has another chance but he is caught offside
oooops a slight error by Ederson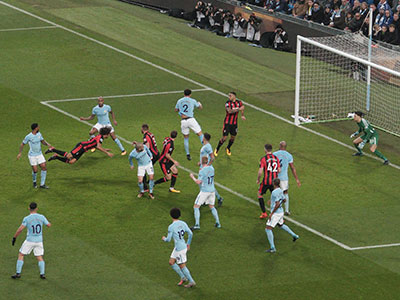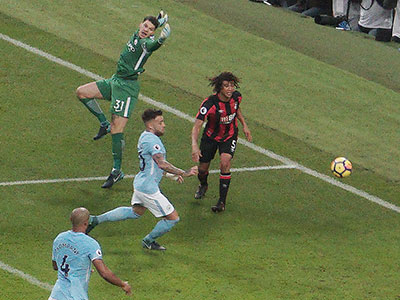 Bournemouth put City under a bit of pressure but the sky blues survive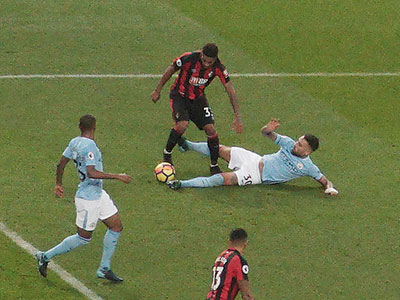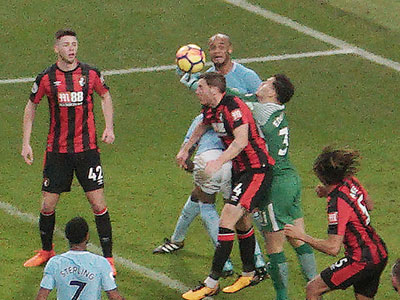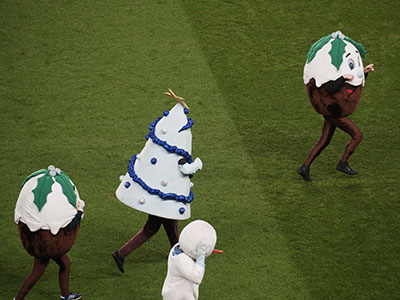 Looks like Christmas pudding is winning
The secret sniper strikes again just before half time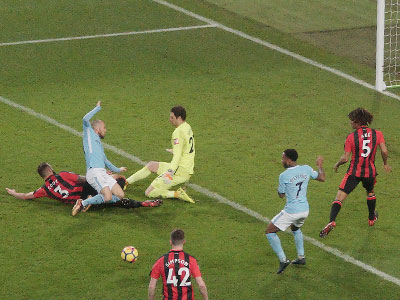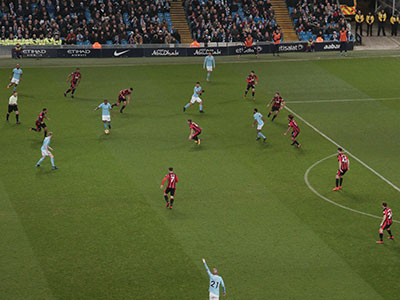 Bournemouth manage to clear an early second half attack by City
On 53 minutes Fernandinho gets the ball to Aguero who passes to Sterling......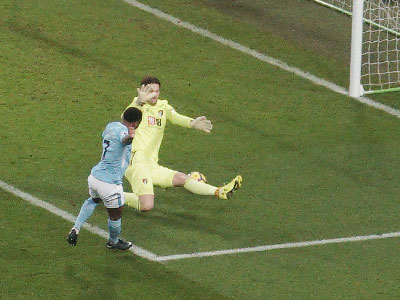 ....who has only the keeper to beat and it's goal number two for City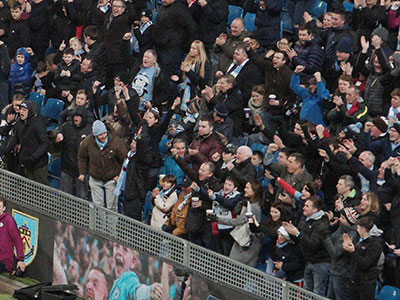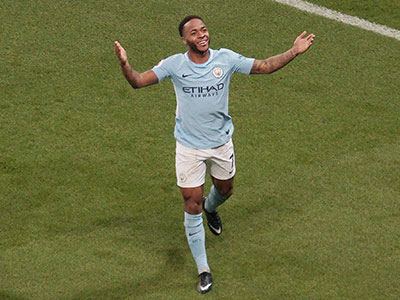 The North Stand celebrate as Sterling enjoys the moment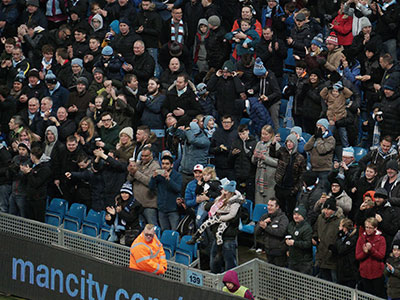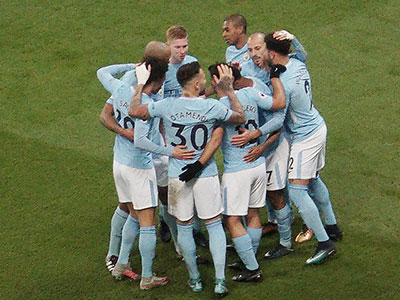 A second goal early in the second half was just what we needed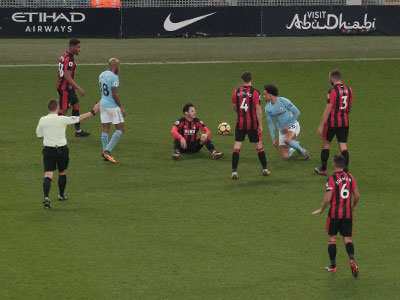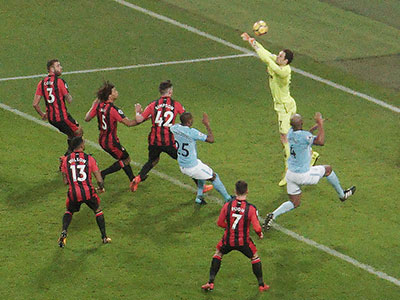 Sane is fouled by Smith but the free kick taken by KDB is punched clear by Begovic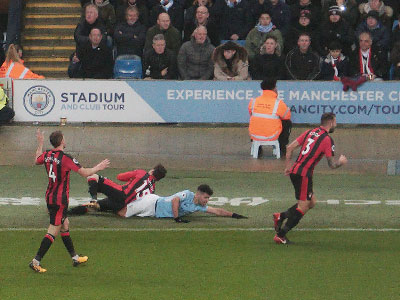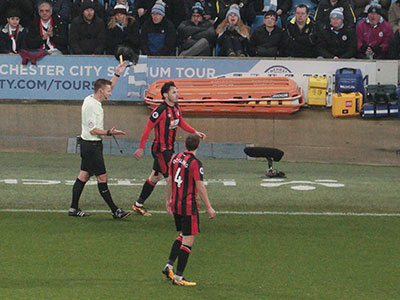 Aguero is brought down and its yellow card time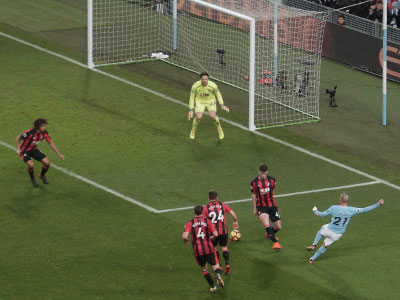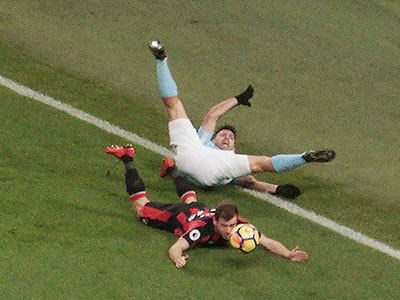 A cross by Silva is blocked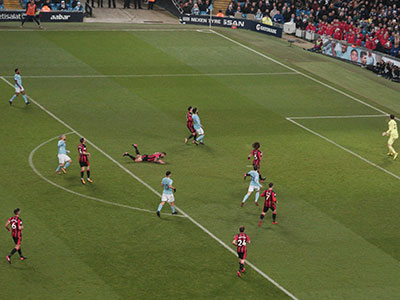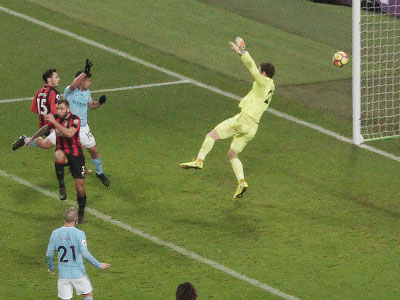 Davis Silva shoots over the bar on 77 minutes
Two minutes later Benardo Silva crosses for Aguero......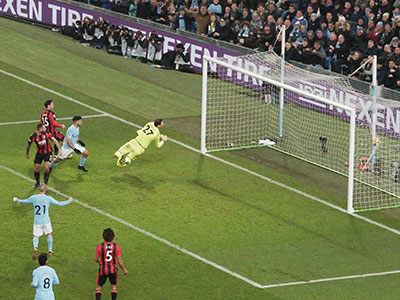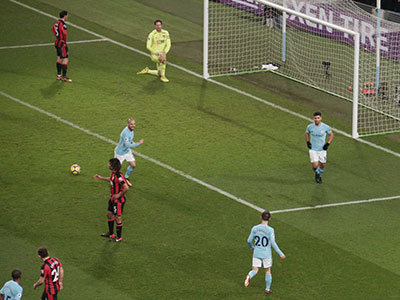 ....to head past Begovic to make it three nil
Aguero goes to thank his provider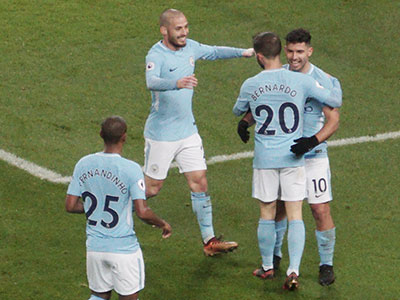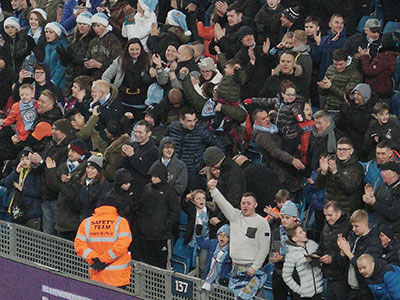 Celebrations all round and it's game over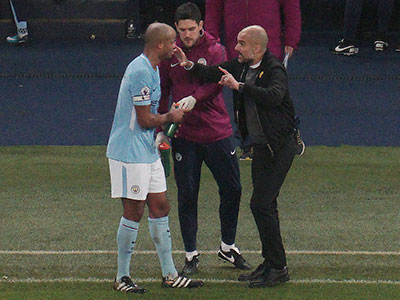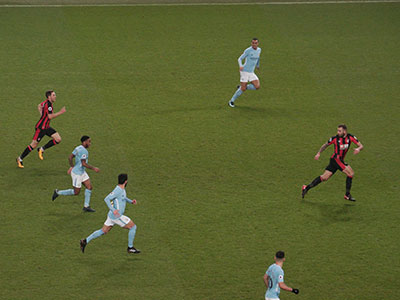 Pep has a word with the skipper
City break again and Sterling passes to Danilo....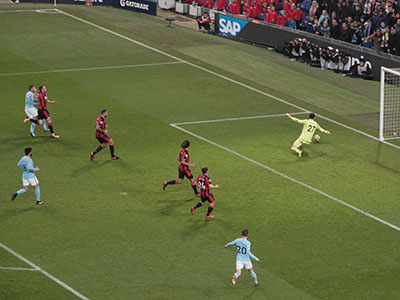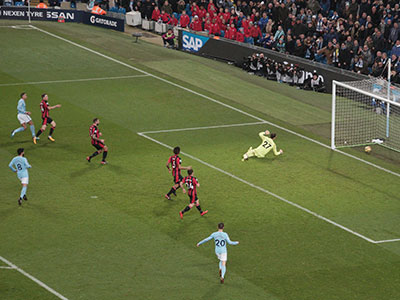 ...and Danilo cuts in and shoots past the keeper to make it four nil - Brilliant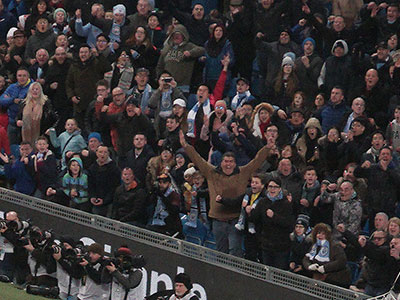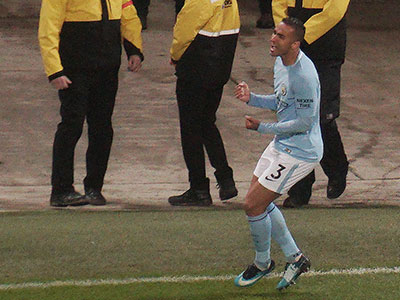 More cheers from the North Stand
It was his first goal for the club so he liked the moment!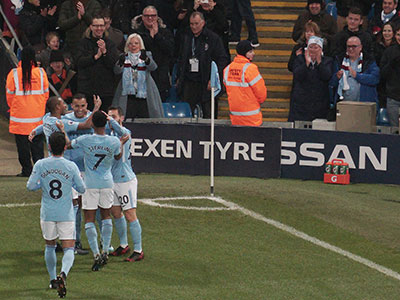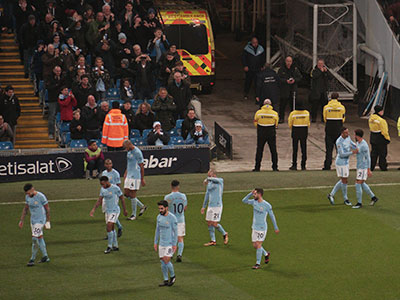 The players congratulate Danilo on his first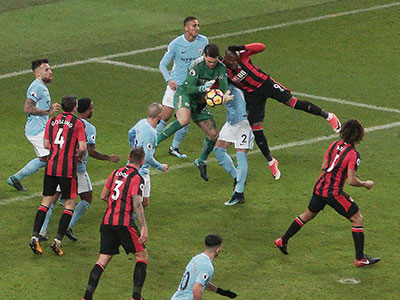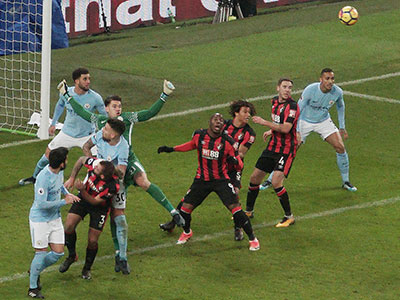 Ederson has some late work to do as Bournemouth manage to get some corners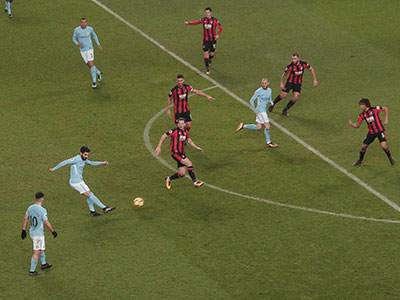 The two managers shake at the end
Gundogan on for De Bruyne has a shot blocked
team
Ederson 7: Walker 7, Kompany 7, Otamendi 7, Delph 7.5 (Danilo) Fernandinho 8, Silva 7.5, De Bruyne 7.5 ( Gundogan) Sane 7 (Benardo) , Sterling 7.5, Aguero 8.5