City 3 Newcastle U 1
January 20th 2018 att.54,452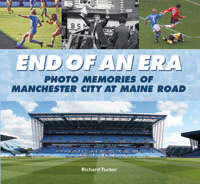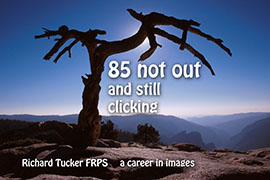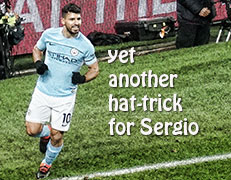 After the defeat at Liverpool we were expecting a win against a Newcastle side hovering in the relegation zone but it was not the most comfortable of wins as the visitors often had 11 men behind the ball and it was difficult to set up goal scoring opportunities. City pretty well dominated the first half but had to be content with a single effort by the slightest of touches by Aguero to a cross by De Bruyne that beat the keeper. Aguero made it two nil with a penalty after Sterling had been brought down and he completed his hat-trick after great work by Sane. It was his 11th hat-trick for City.
Making his first Premier League start was young 21 year old Zinchenko coming in for the injured Delph and he played really well linking with Silva and Sane on the left wing especially in the first half.
It was important that David Silva was back in the team and with De Bruyne they ruled the midfield.
De Bruyne must have run miles! He seemed to be everywhere!
Ederson did not have too much to do as Newcastle rarely got into our half but they did manage a goal on a breakwhich caught us napping.
At least we are still 12 points ahead of that team from Salford!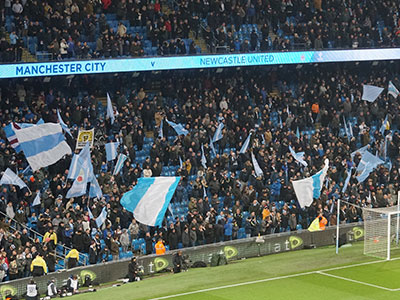 City almost had a full strength team out - the only player missing being Delph. Zinchenko was preferred to Danilo as his replacement. Silva was back in place of Gundagon.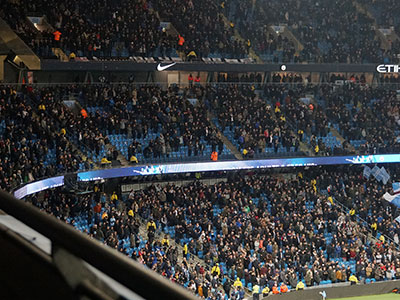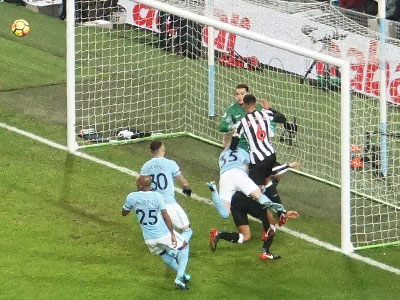 As usual Newcastle had strong support
An early free kick to the visitors caused a bit of trouble for City but the danger was cleared.....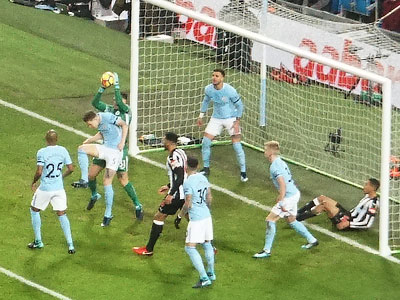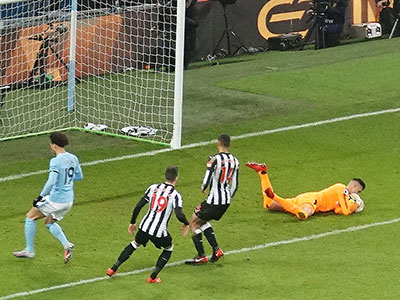 At the other end Darlow has an early save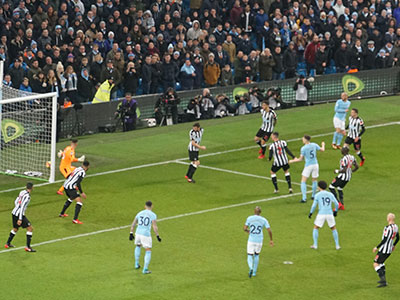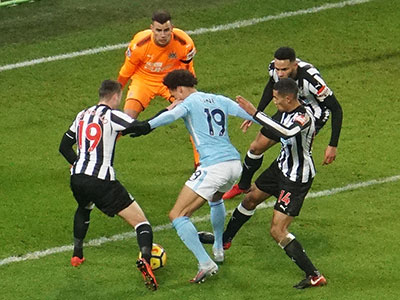 At a corner Stones shoots just wide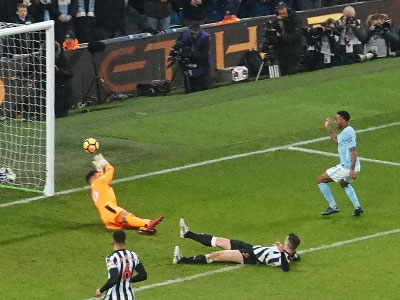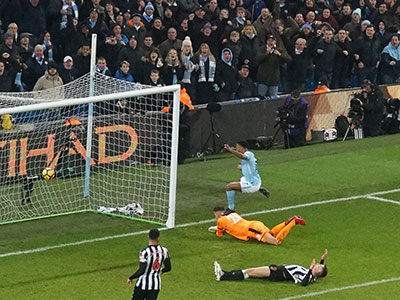 on 18 minutes it looked like City had scored through Sterling.....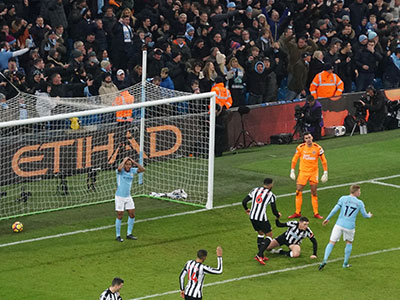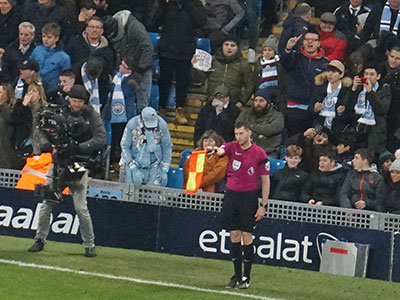 ....but his big toe was offside so no goal - a tough call!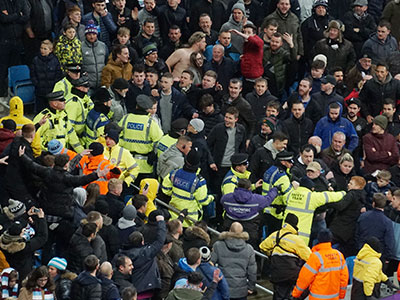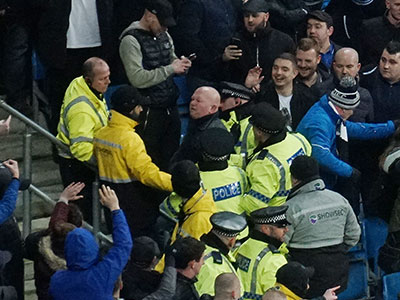 A few minutes later there was a bit of trouble in the crowd and a Newcastle fan was taken for a steak supper!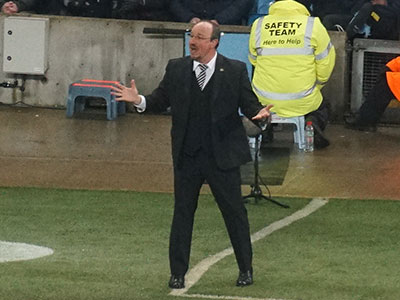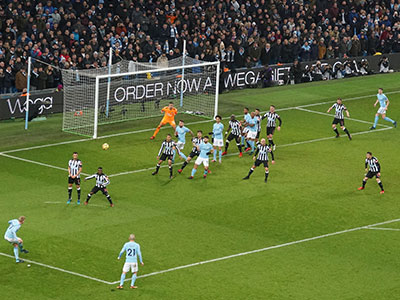 Newcastle manager Rafael Benitez is getting a bit agitated
A De Bruyne free kick goes over the bar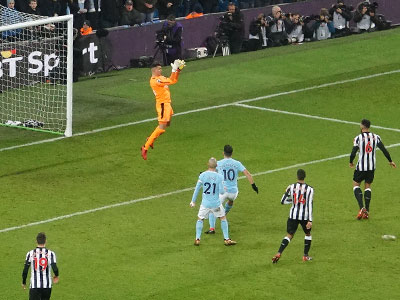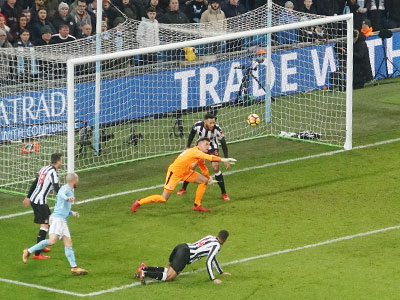 The Newcastle keeper has to save from first Sterling and then Silva as City press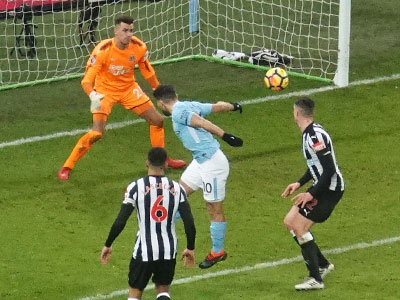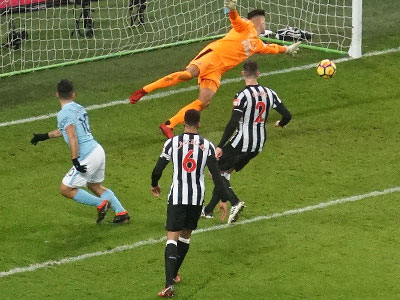 On 34 minutes a cross from Kevin De Bruyne is glanced by Aguero into the bottom corner......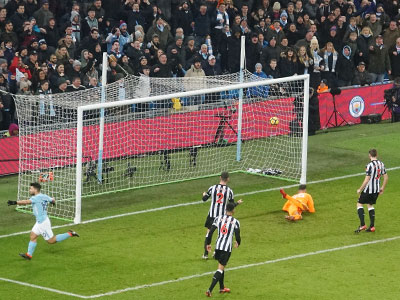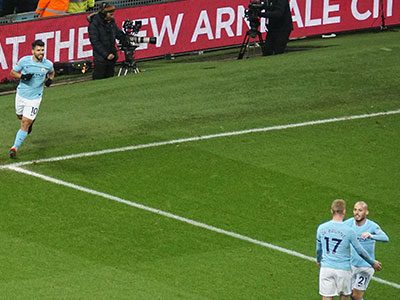 ...and City have a much needed lead at last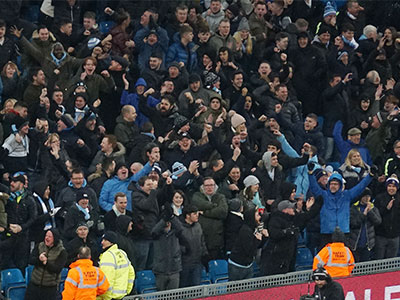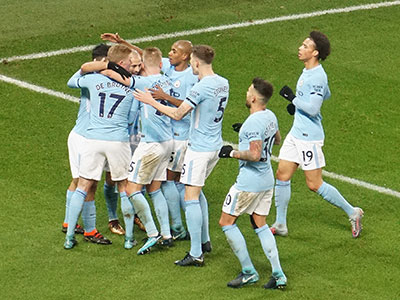 Time to celebrate for City players and fans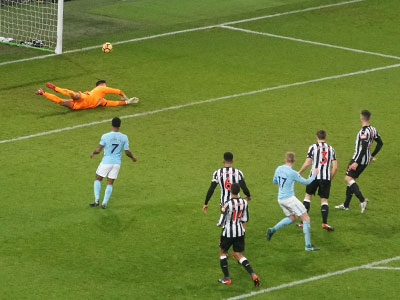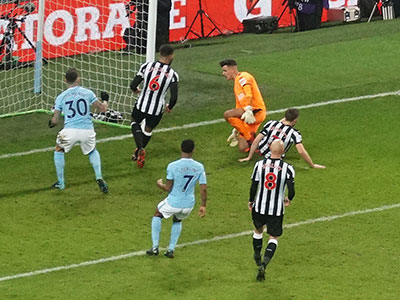 Darlow saves from De Bruyne
Newcastle manage to stop City scoring just before half time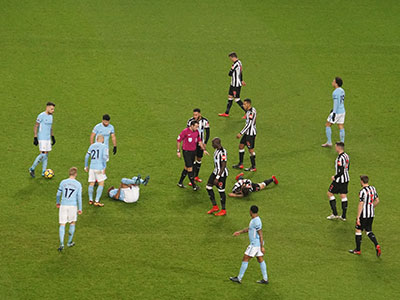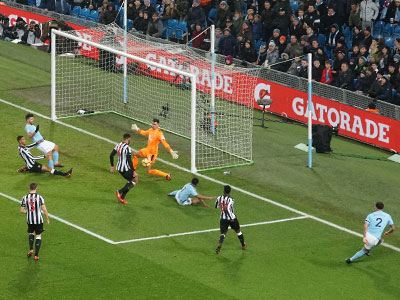 Joselu and Fernandinho are injured in a clash
A Walker cross goes out for a corner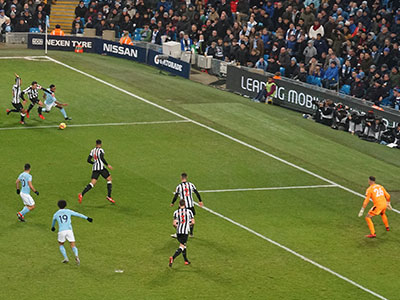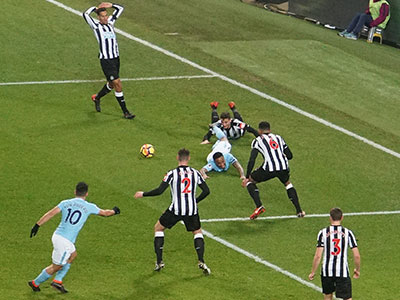 On 62 minutes Sterling breaks into the area but is brought down by Manquillo....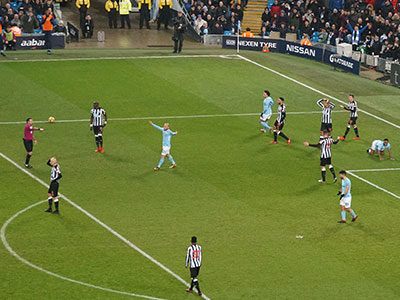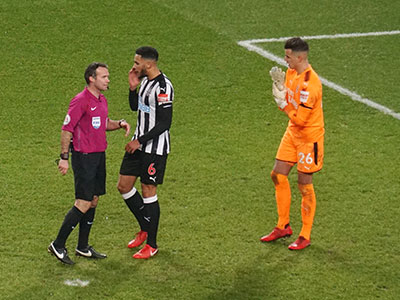 ...and the referee gives a penalty and Lascelles has a quiet word with the ref!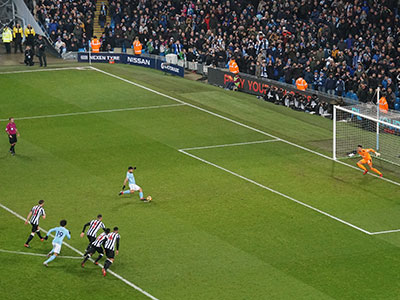 The keeper goes the right way but is beaten by the power and City are two up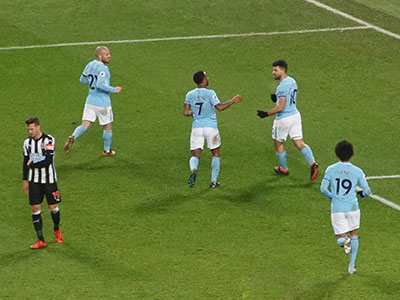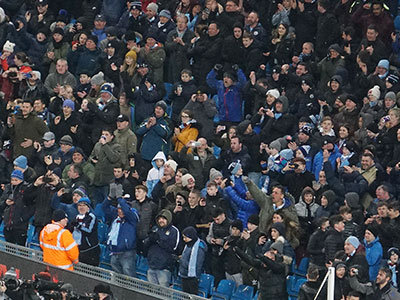 Yes it's celebration time once more!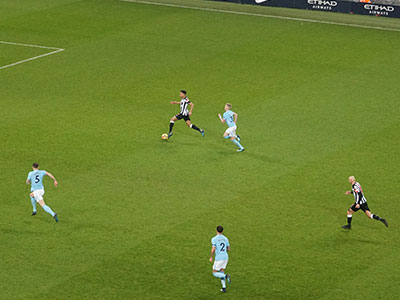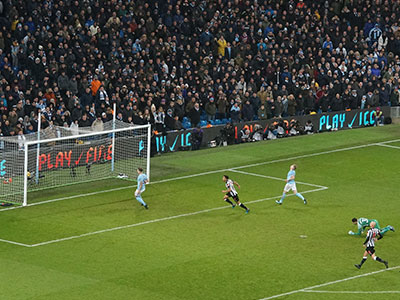 Four minutes later and a pass from Clark finds Murphy clear and he chips the ball over Ederson to score - oh dear!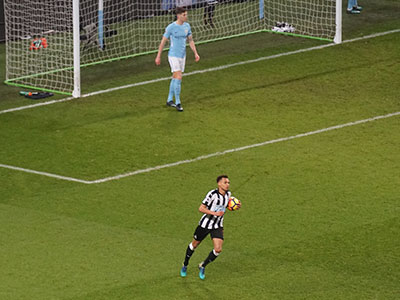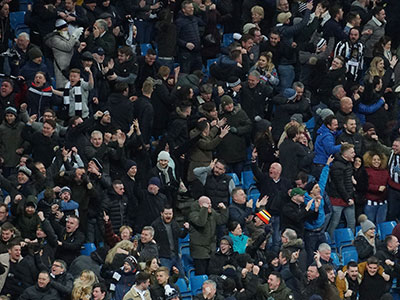 Now that was a surprise and the Newcastle fans cannot quite believe it either!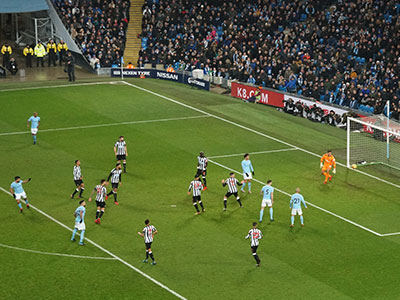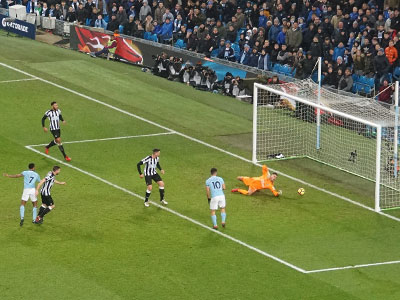 A shot from Aguero goes just wide
A shot from Sterling is saved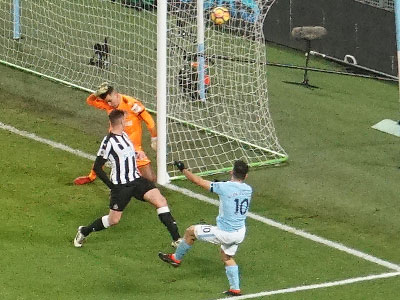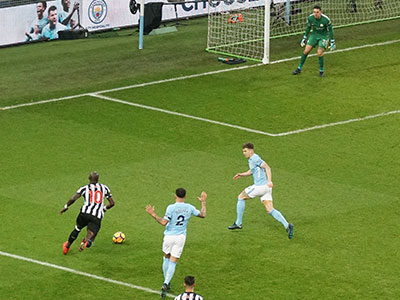 Aguero hits the side netting with an effort
Diame cuts in and shoots.....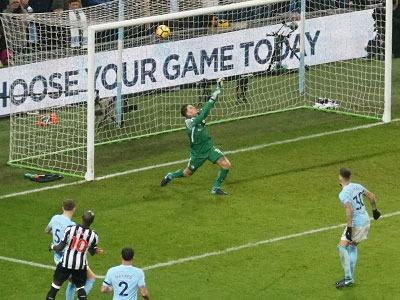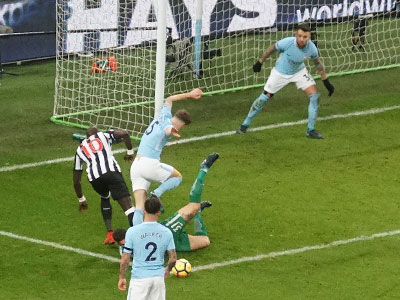 .....but Ederson saves and eventually City clear the danger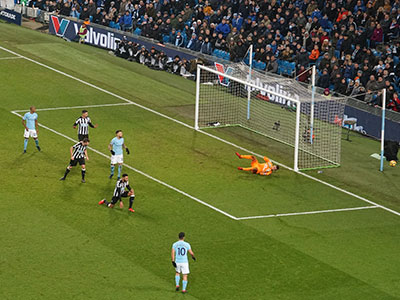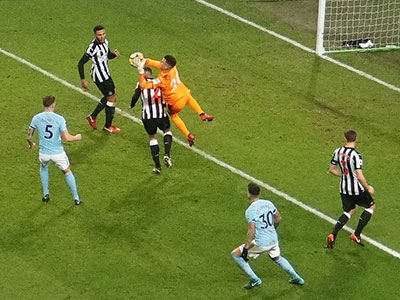 A De Bruyne effort is saved
The Newcastle keeper is kept busy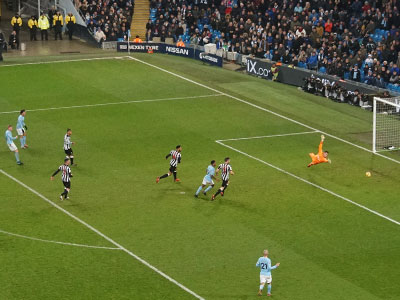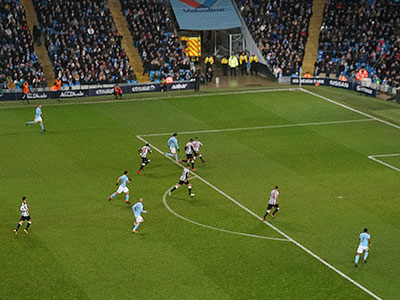 City continue to put on the pressure and on 83 minutes a brilliant dribble by Sane gives a chance to Aguero........
....who slots the ball home to give City their third goal and his hat-trick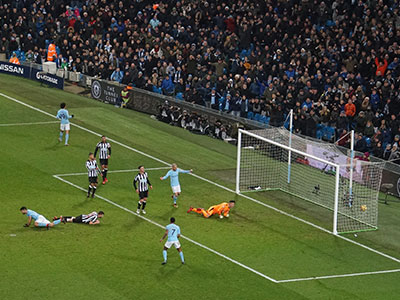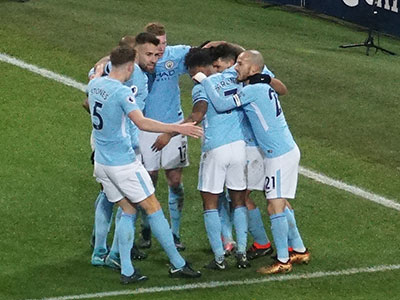 The goal came from the brilliance of Sane and the North Stand appreciated it
At last it looked as though the game was won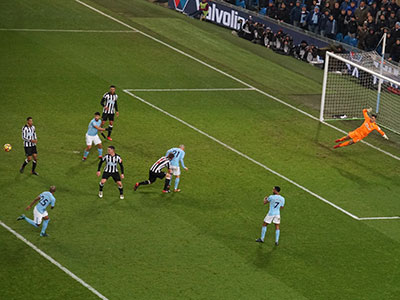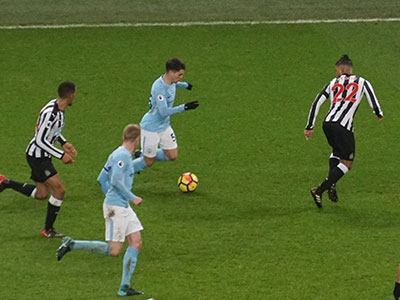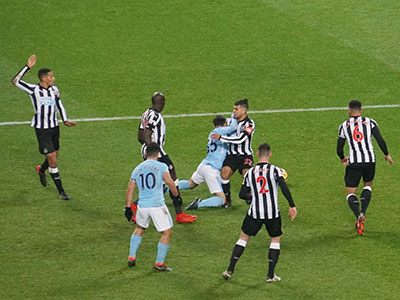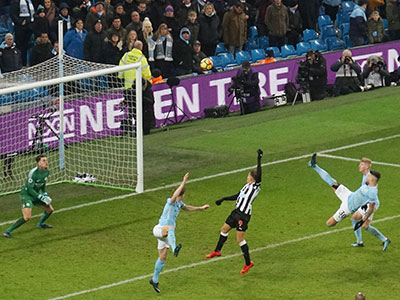 A shot from Fernandinho is blocked
Diaz came on for Sterling and he had a run......
......but he just could not make it through!
A header by Gayle goes wide in added time
team
Ederson 6.5: Walker 6.5, Stones 7, Otamendi 7, Zinchenko 7.5: De Bruyne 8, Fernandinho 7.5, Silva 8 (Benardo), Sterling 7 (Diaz) , Sane 8, Aguero 8.5