City 2 Bristol City 1
Semi-Final 1st leg Carabao Cup
January 9th 2018 att.43,570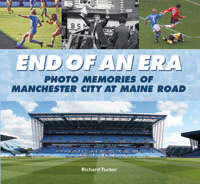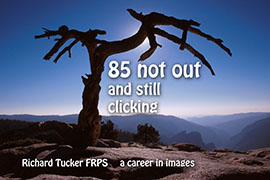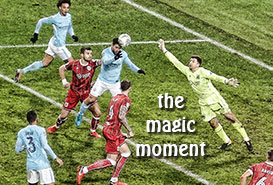 Bristol City proved to be better opponents than many Premier teams that have visited the Etihad this season and City only won this first leg in the final seconds. I think we really missed the creativity of David Silva and playing without a proper centre forward did not help. The visitors did not defend from the start like many teams we play against and we also missed the work rate of Fernandinho in midfield.
Bristol City took the lead just before half time when Stones brought down Reid after an error by Mangala.For once Bravo failed to stop the penalty and like the Burnley game we were a goal down at the interval.
Ten minutes into the second half De Bruyne scored a good goal and for a while City looked as though they would add to the score but no we had to wait until two minutes into injury time for Aguero who had come on for Toure on 69 minutes to score the winner with an excellent header from the cross by Benardo Silva. It is certainly going to be tough in the second leg at Ashton Gate in a couple of weeks. I just hope we play a stronger team as it's ages since I went to Wembley!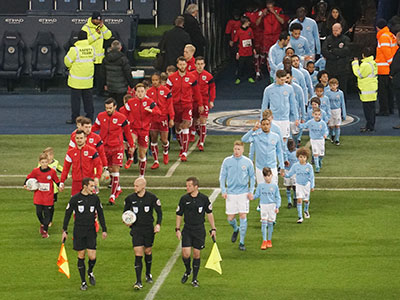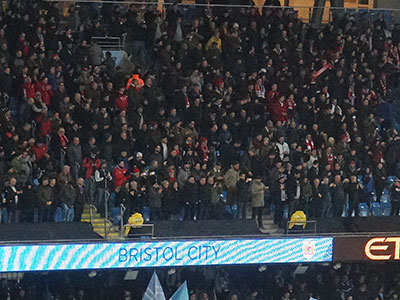 City were missing several key players with the game at Liverpool in mind. No Aguero,Fernandinho, Silva, Delph, Walker and Otamendi.
The visitors had brought almost 7000 fans with them and they were quite noisy!

There were lots of gaps in other parts of the Stadium with almost 10,000 City fans absent without leave!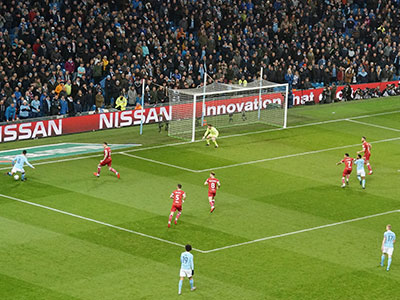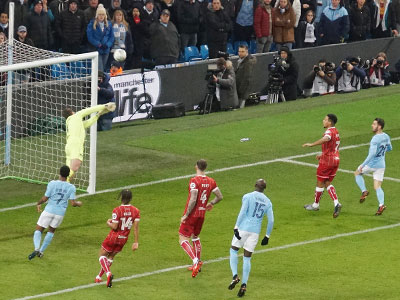 An early cross by Gundogan gives Fielding a problem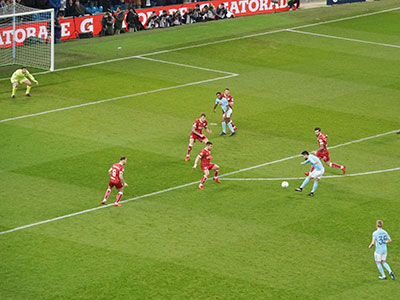 More problems for keeper Fielding
A shot by Gundagon went wide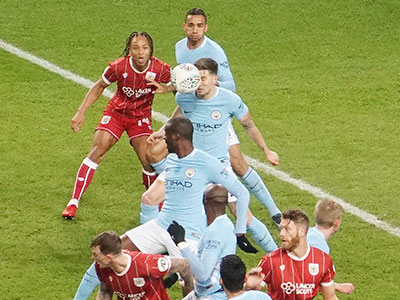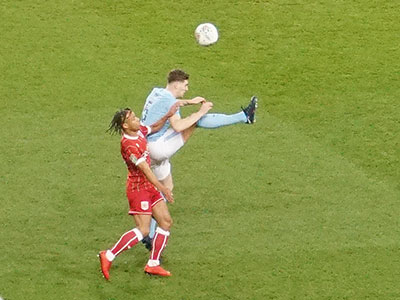 At the other end Stones is kept busy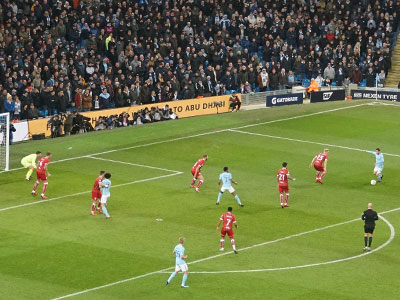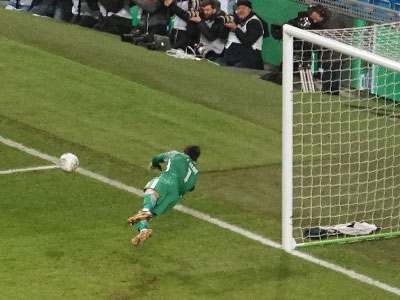 An effort by Benardo Silva is blocked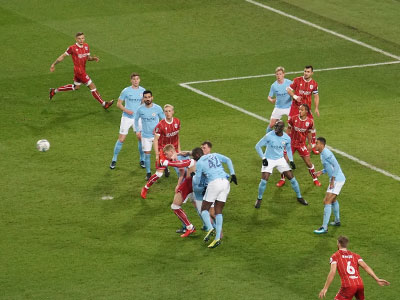 Kevin De Bruyne is forced to work in defence to keep the visitors at bay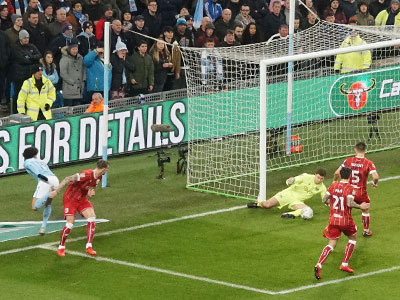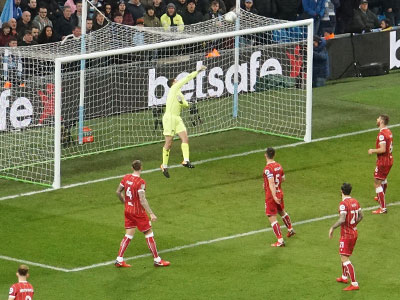 Fielding earns his keep saving from Sane and then De Bruyne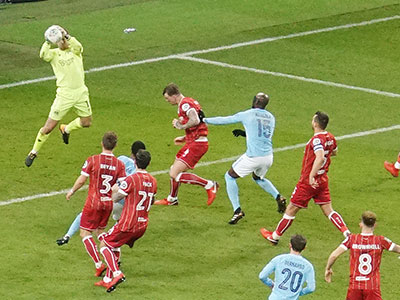 Young Zinchenko in action
Fielding takes the cross at a corner......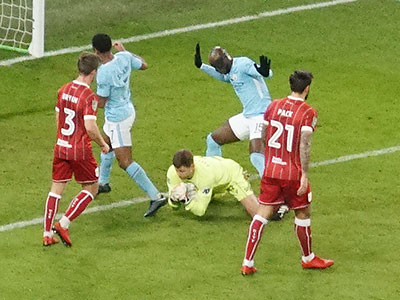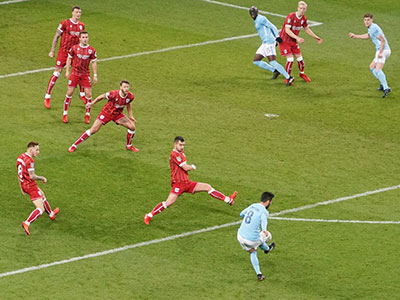 ...and has some follow -up action to deal with
Gundagon's shot is blocked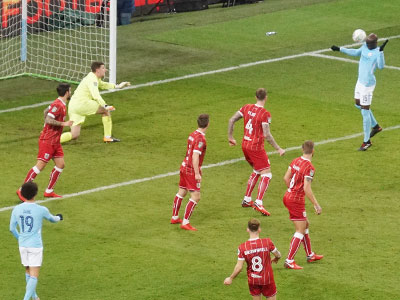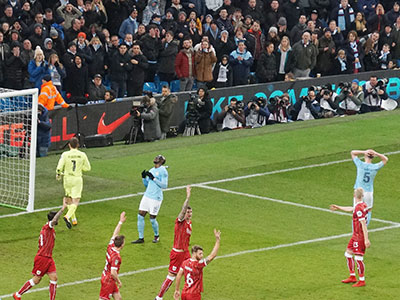 Following a corner Mangala had a good chance but sent it wide much to everybody's dismay!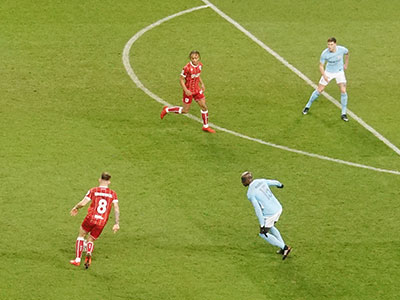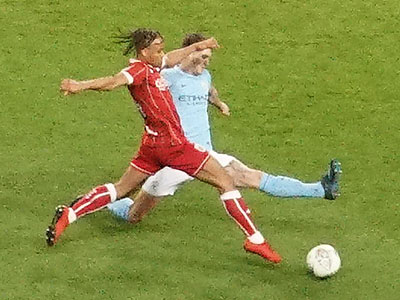 Mangala gave the ball away to Brownhill who passed to Reid and in went Stones to tackle......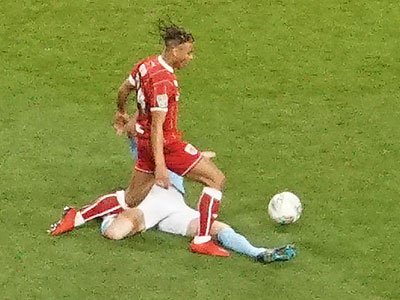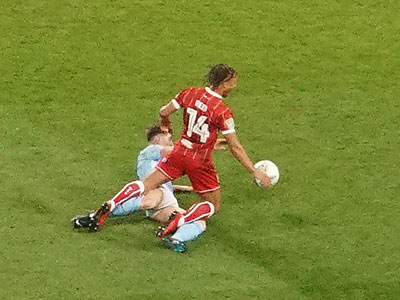 Stones brought down Reid.....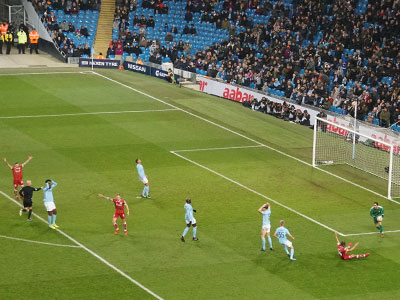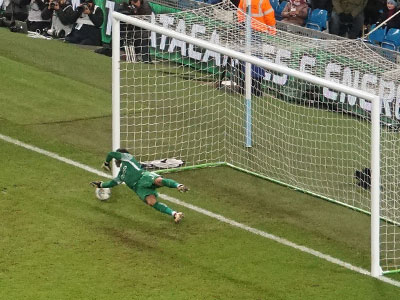 The referee pointed to the spot and Bravo was beaten by the penalty kick taken by Reid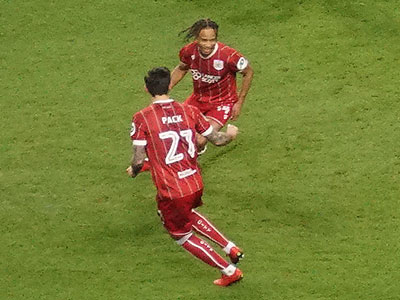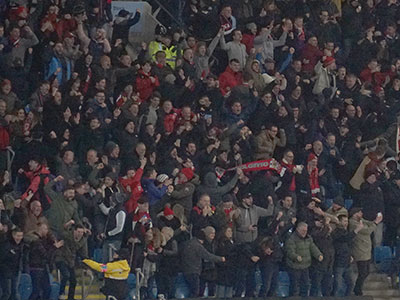 Oh dear an away goal -that is not good - but the visitors enjoyed the moment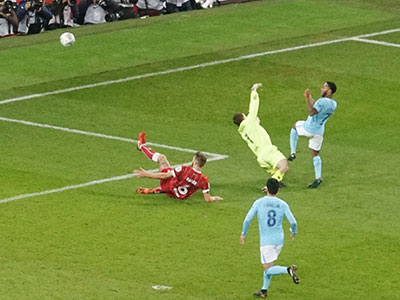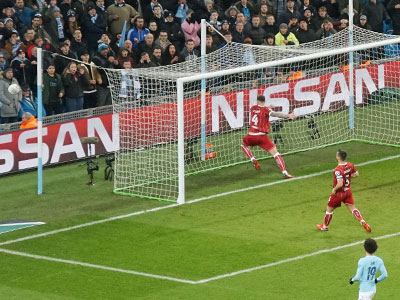 City hit back straight away but alas a good effort by Sterling was deflected on the line by Flint for a corner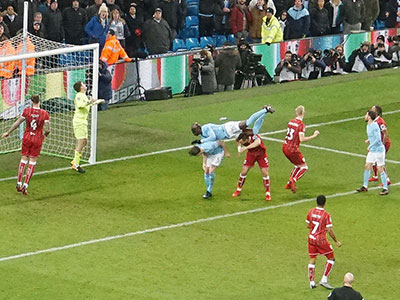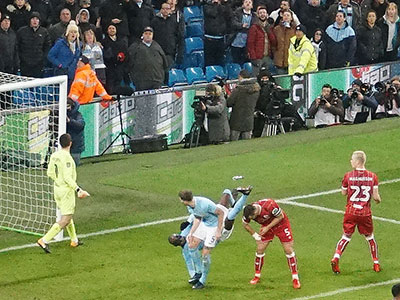 From the corner a Mangala header goes wide and we are a goal down at half time!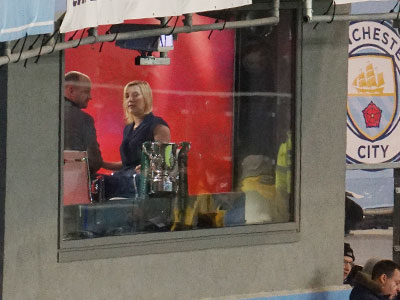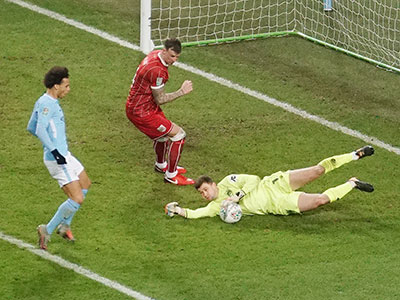 Now there is the cup we are playing for!
Fielding saves a shot from Sterling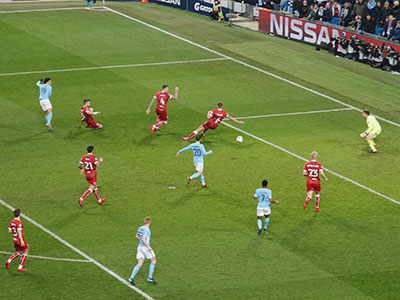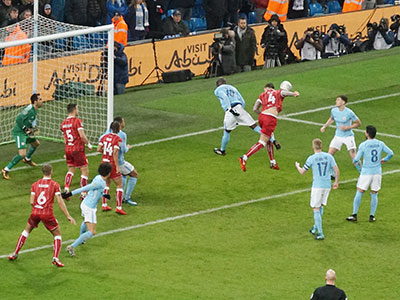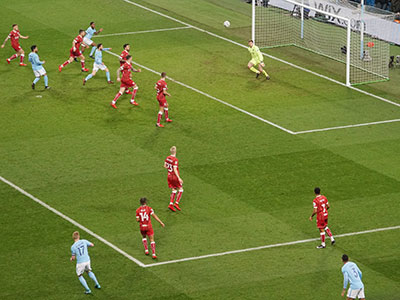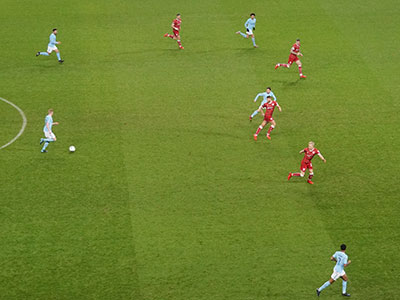 Fielding about to save from Sterling
On 55 minutes De Bruyne breaks down the centre passes to Sterling....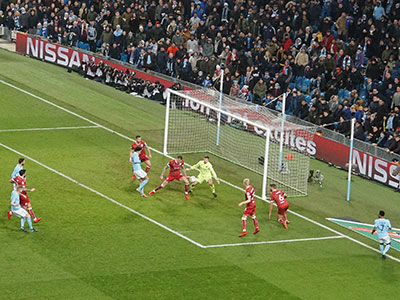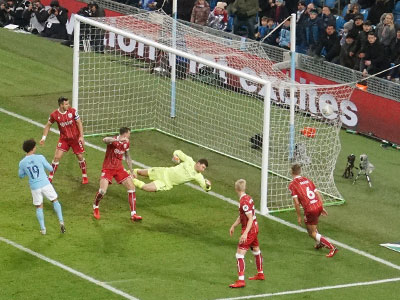 ....and when Sterling passes back to him Kevin cracks the ball into the back of the net and its one all - hurrah!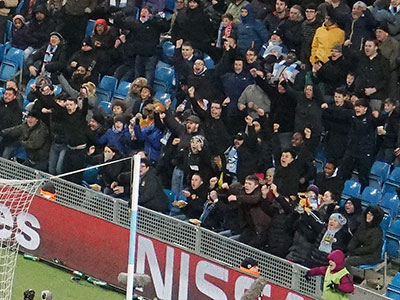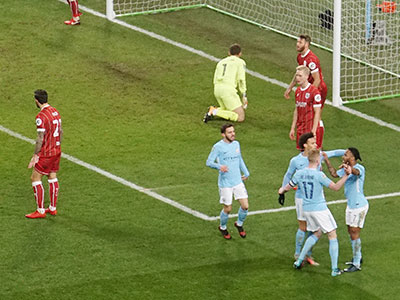 At last we have something to cheer about!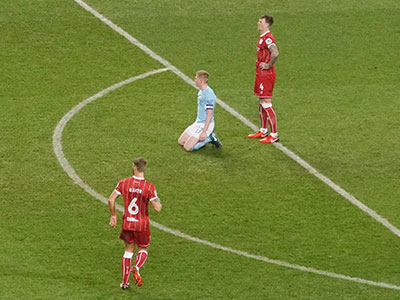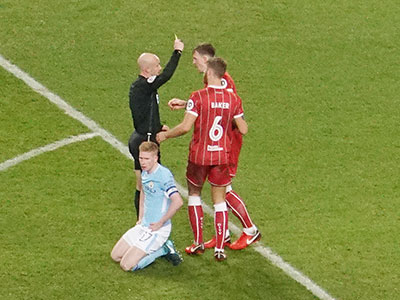 De Bruyne is brought down right on the edge of the area and Flint gets a yellow card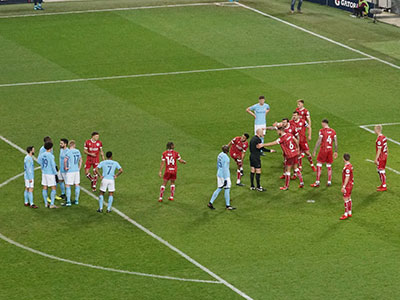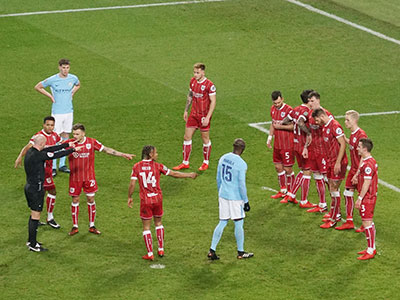 For some reason the Bristol City players are moaning about the ten yards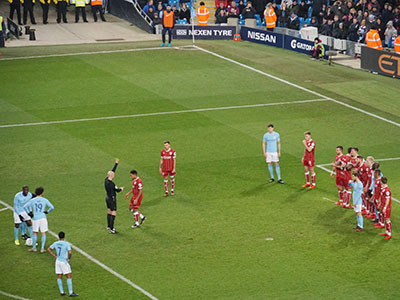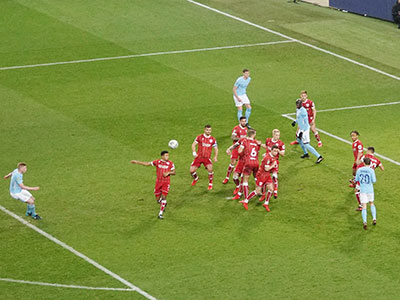 In the end Smith gets a yellow card too but the free kick is blocked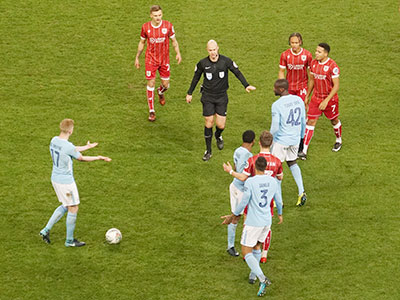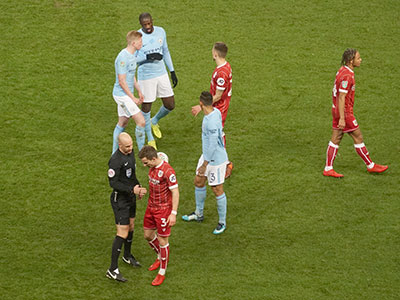 Another Bristol foul and Bryan gets a talking too!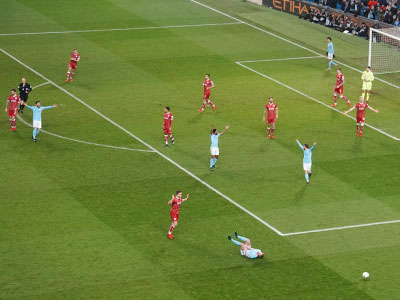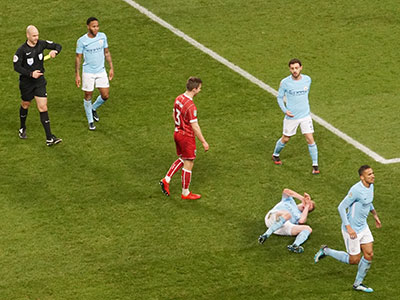 Kevin is down yet again but this time Bryan gets a yellow card shown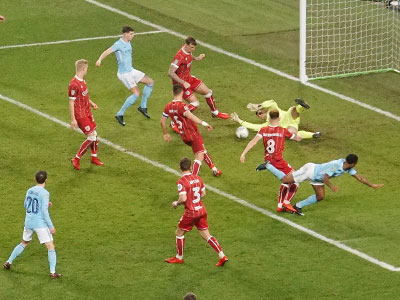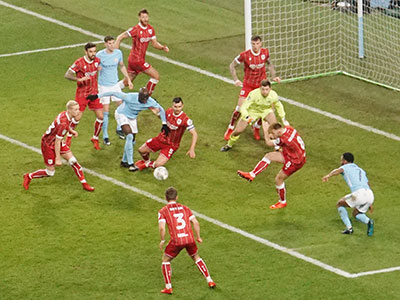 At last City are putting more pressure on the visitors but they manage to clear this attack
City continue to attack but shots are blocked or go just wide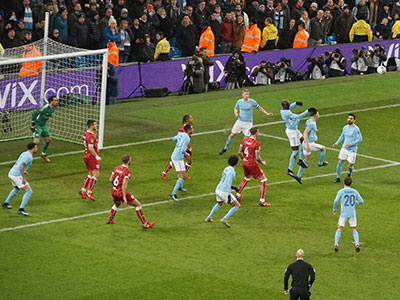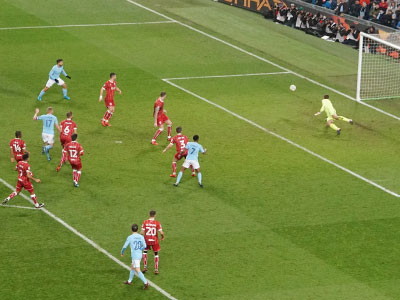 a shot from De Bruyne is deflected but no corner given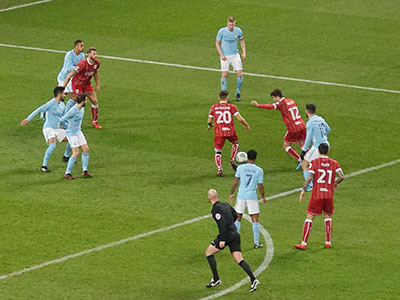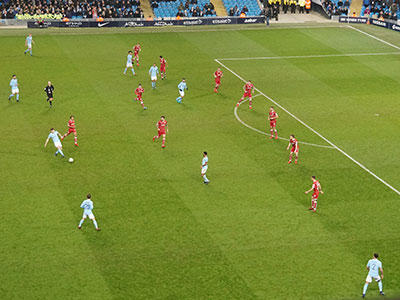 A shot by Walsh goes wide
Two minutes into added time Stones passed to Bernardo Silva....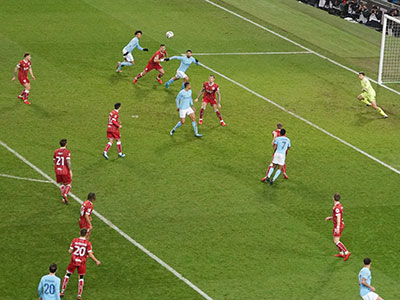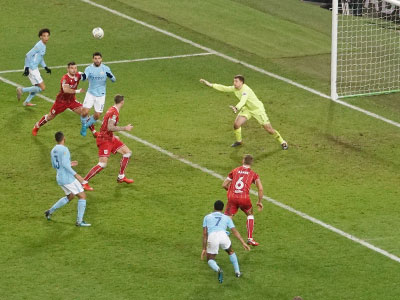 Benardo Silva crossed and out came the keeper ........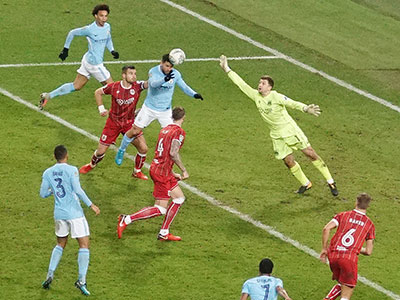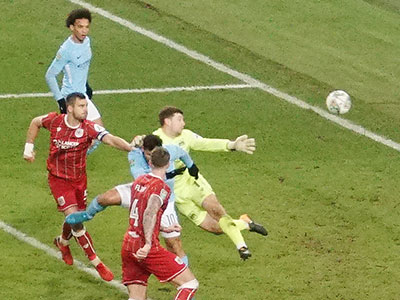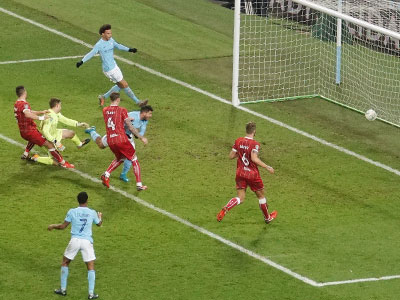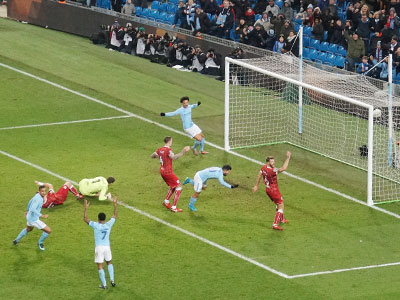 ...but Fielding misjudged it and Aguero was able to head home the winner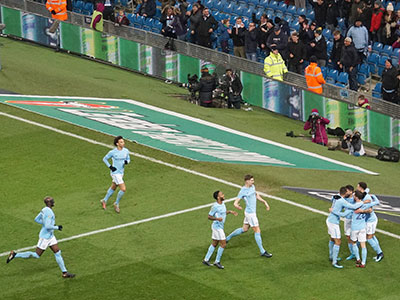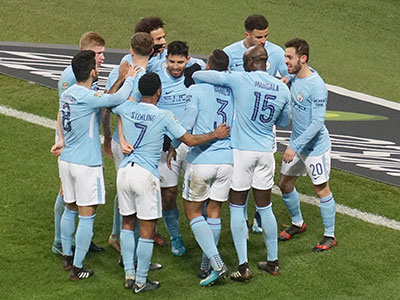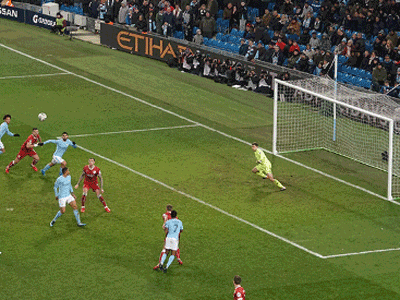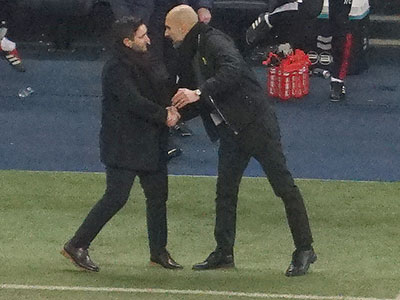 The two managers shake hands after a good match
team
Bravo 7: Danilo 6.5, Stones 6, Mangala 5, Zinchenko 6.5 (Walker) Toure 5.5 (Aguero) , Gundagon 6, De Bruyne 7.5, Benardo Silva 6, Sane 6, Sterling 7