City 3 Barcelona 1
Champions League
November 1st 2016 att 53,340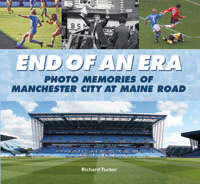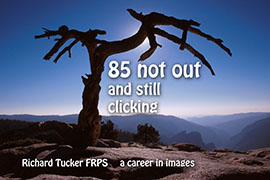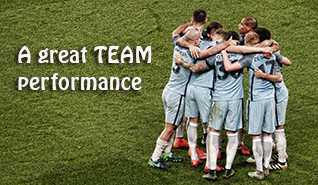 What a result! A terrific display in the second half by City to fight back after being a Messi goal down ended with a well deserved 3-1 victory over Barcelona. There was a terrific atmosphere in the Stadium lifted by a gutsy fight back after a early set back when Sterling was booked for a dive when it should have been a penalty and then Messi scored and we were just a bit worried but after Gundogan equalized City grew in confidence and in the second half we ran rings round the visitors and it could have been more than 3-1. A wonderful free kick by Kevin De Bruyne gave City the lead and Gundogan added to the score. To notice that we had 65% possession against a team like Barcelona shows how good City were.
Aguero worked hard up front as did Sterling but overall it was a wonderful team effort that made it an evening to remember.
The defence too did well keeping forwards like Messi, Neymar and Suarez to just one goal. Stones did make a couple of errors but made up for it with some great blocks. Full marks to Gundogan who again scored a couple of goals.
There were some strange decisions by the referee who did not have the best of games.

The flags were flying when the players came out to great atmosphere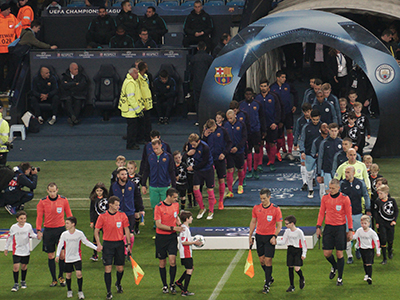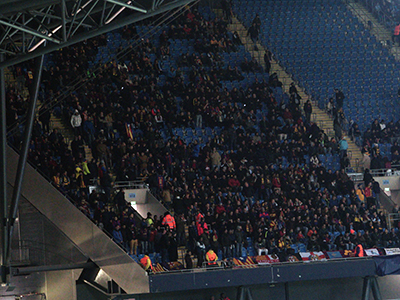 City had Caballero in goal for the suspended Bravo and there was a return for Zabaleta.
The visiting Barcelona fans were put in the top tier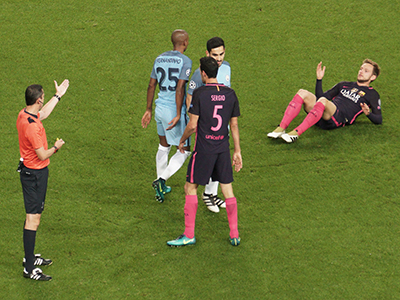 Sterling is fouled and the ref has a word with the offender
This time its Fernandinho's turn to give away a free kick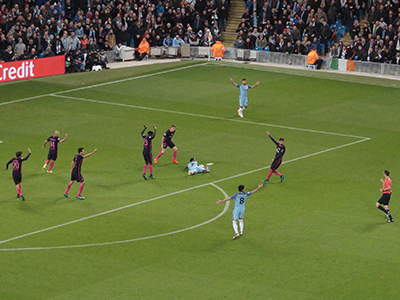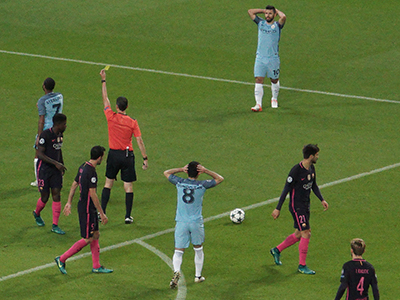 on 11 minutes Sterling is brought down in the penalty area but gets a yellow card for diving !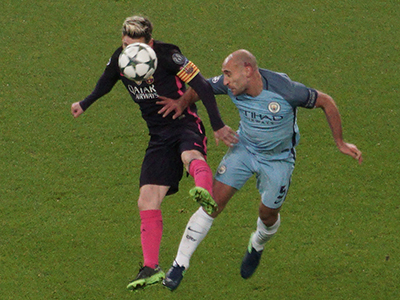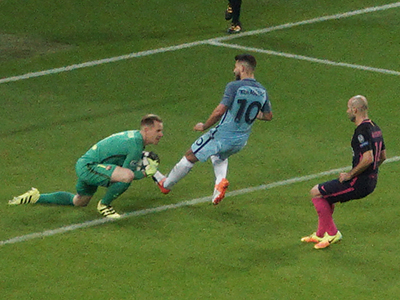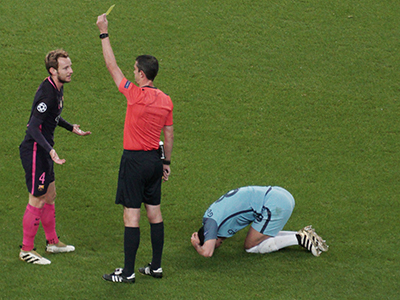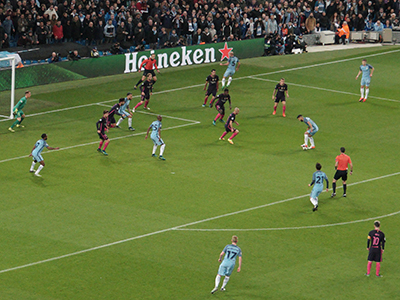 Rakitic gets a yellow card for a foul on Gundagon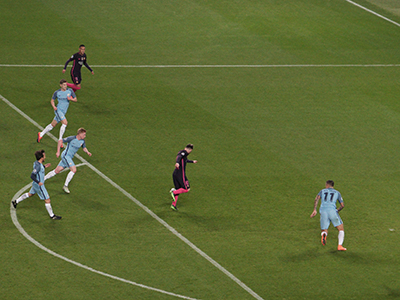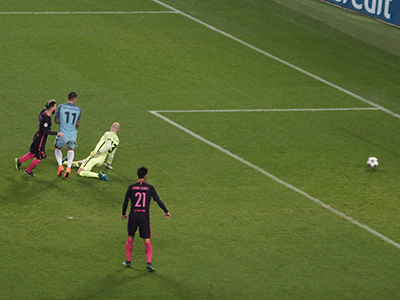 On 21 minutes from the shot that was blocked at one end Barcelona counter attacked and Messi had the easiest of chances to score past the City keeper.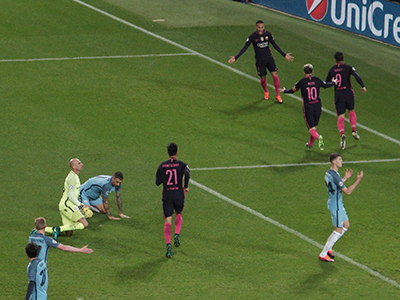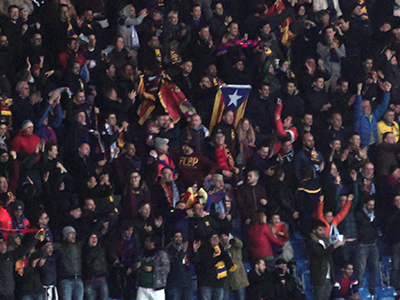 Oh dear! Barcelona were in front and playing well - what was to come ?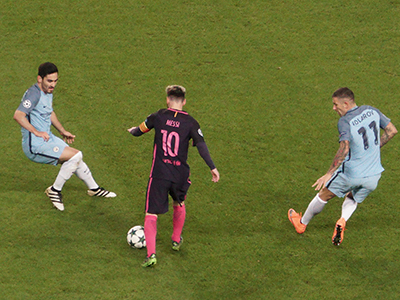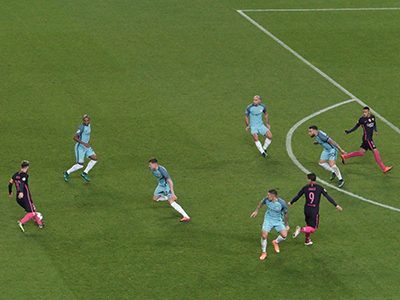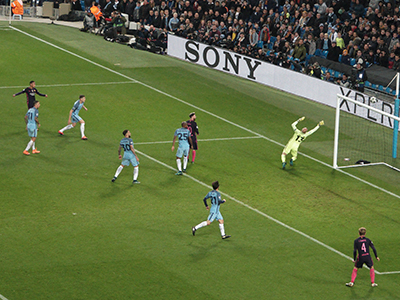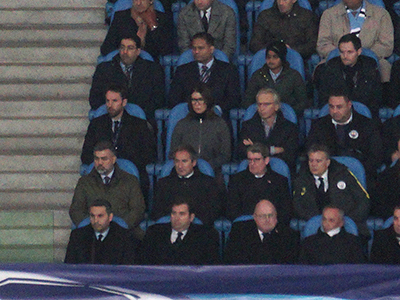 The England manager was in the stand
on 28 minutes Barcelona attacked again and the move ended with Caballero saving from Neymar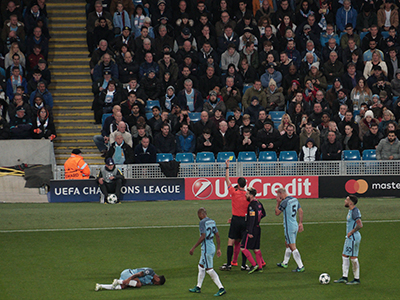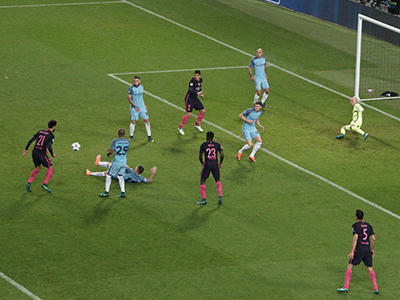 Neymar gets a caution for a foul on Sterling
City manage to block another attack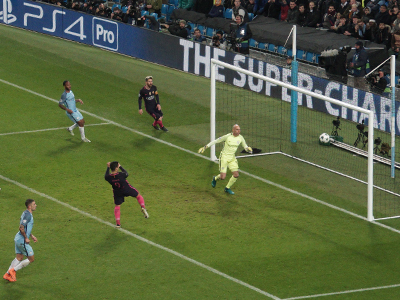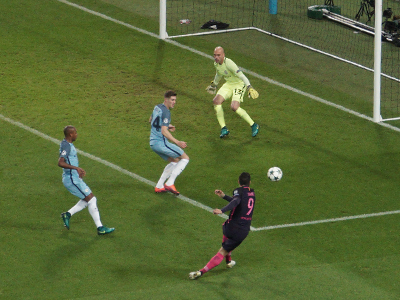 Suarez misses a sitter heading wide from a good position
a minute later and he has another attempt blocked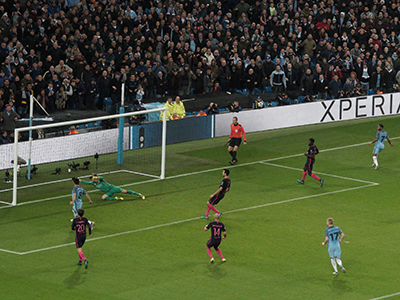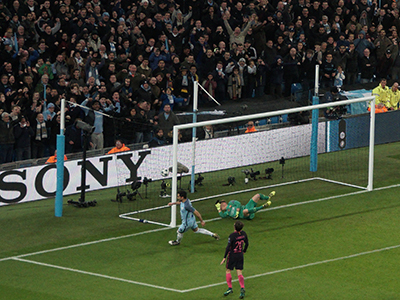 Then on 39 minutes a defensive error lets Sterling cross to Gundogan who scores from close range to equalize for City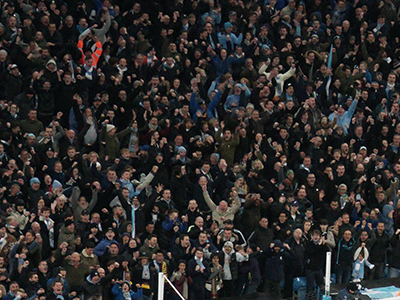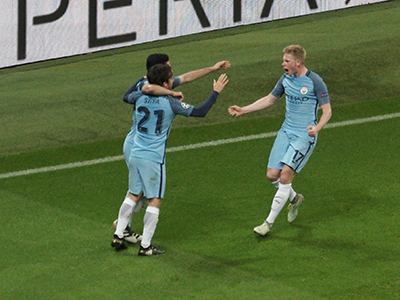 The stadium erupts as fans and players celebrate the moment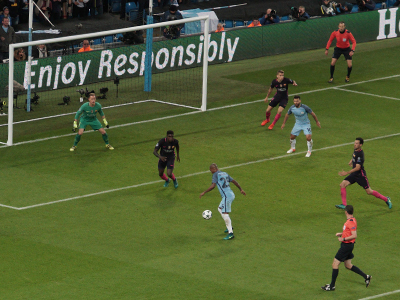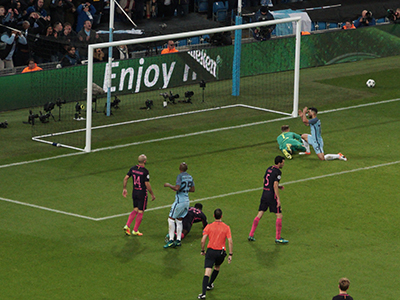 Then Fernandinho has a chance which goes very near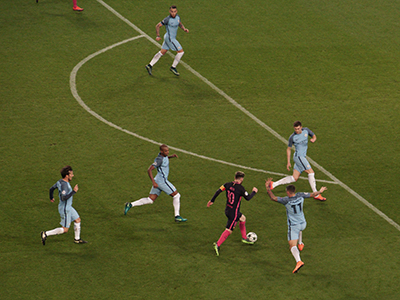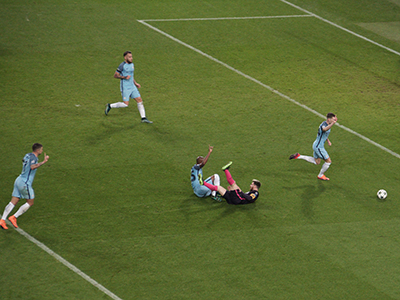 Just before half time Messi goes on a run and is tackled by Fernandinho but no penalty thank goodness!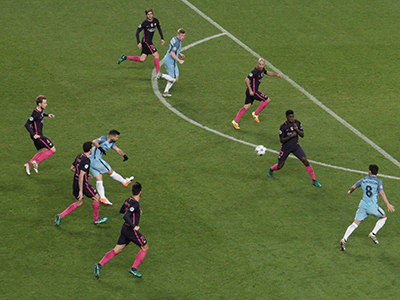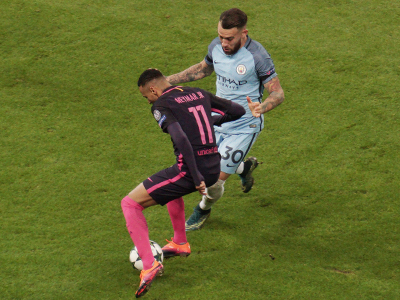 Otamendi and Neymar battle for the ball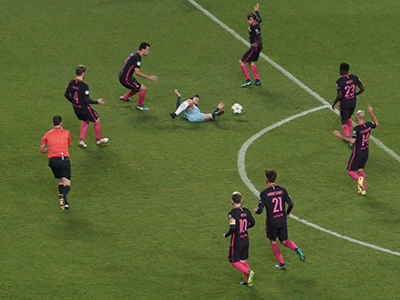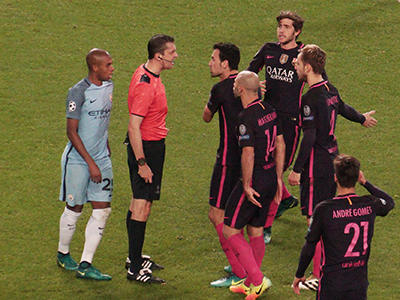 Silva is brought down by Busquets just outside the area
The Barcelona players have a moan!







What a magnificent free kick by Kevin - right in the top corner - and I just knew it was going in!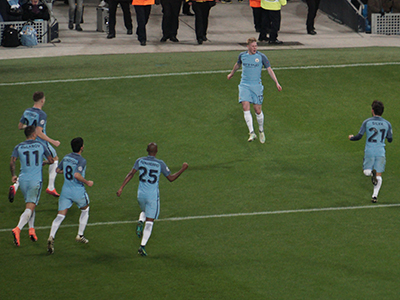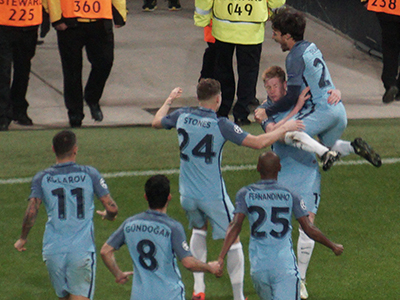 The City players show their appreciation of this wonderful goal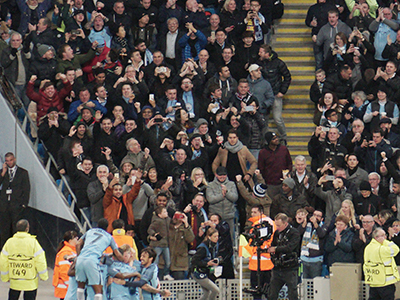 City are ahead - unbelievable - and the crowd celebrate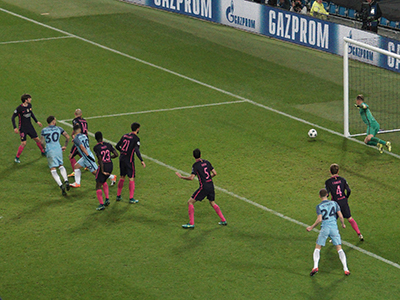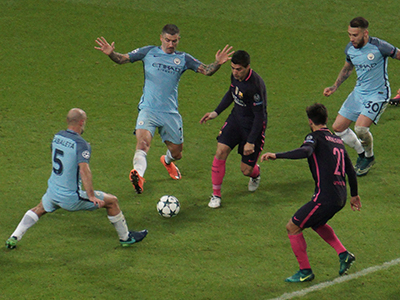 Kolarov steps in to clear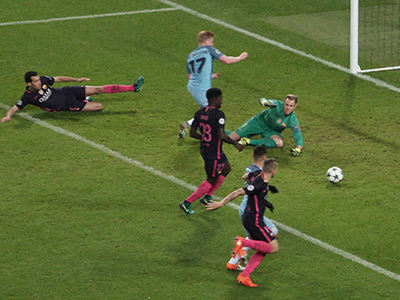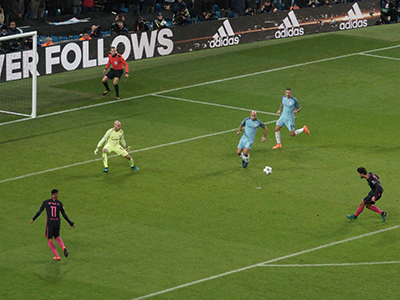 Barcelona manage to clear another City attack
Gomes hits the bar with this shot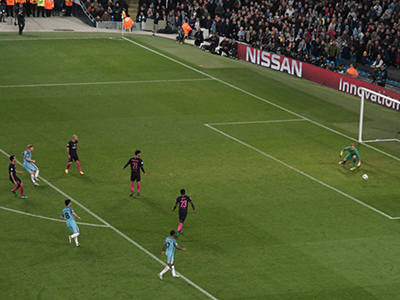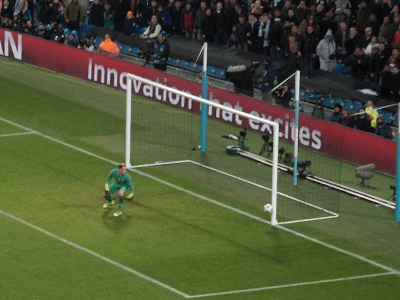 On 66 minutes De Bruyne hits the post with a shot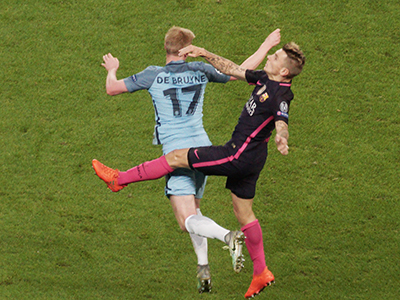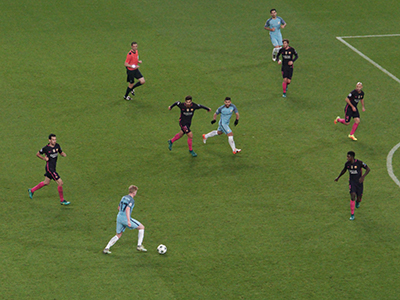 De Bruyne is beaten for once
But he is soon back in business and passes to Navas .......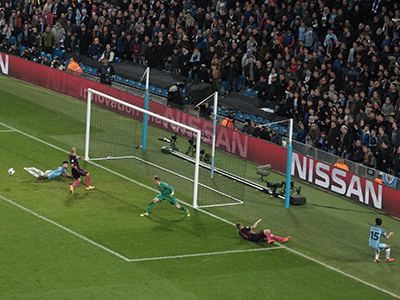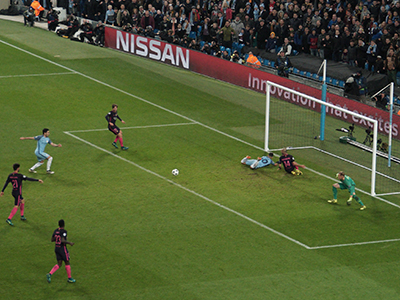 Navas crosses and the ball hits Aguero and bounces out.....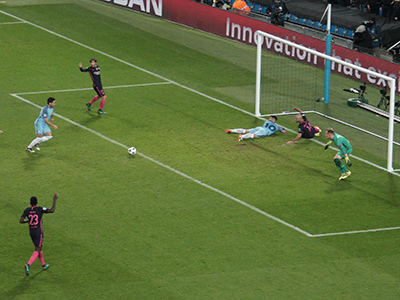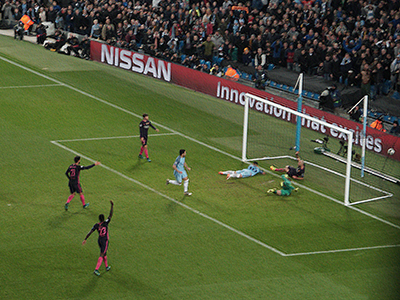 ......to the onrushing Gundogan who shoots into net to make it 3-1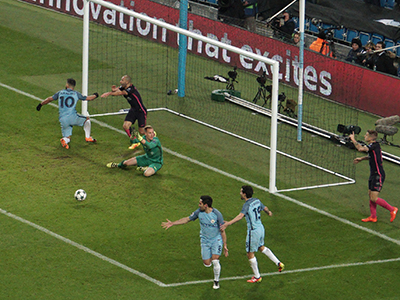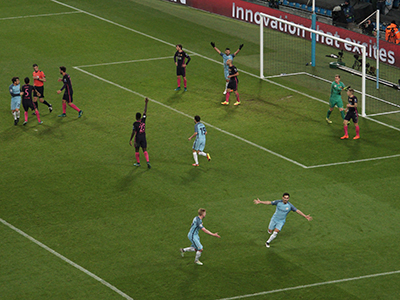 Barcelona think Aguero handled the ball but a goal is given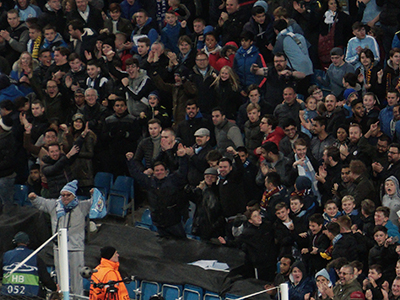 The City fans celebrate the 3-1 lead - amazing!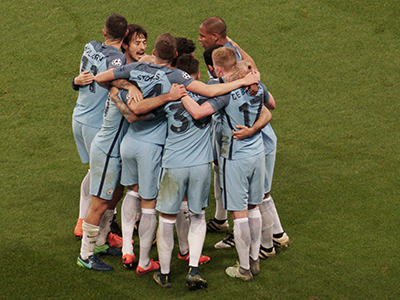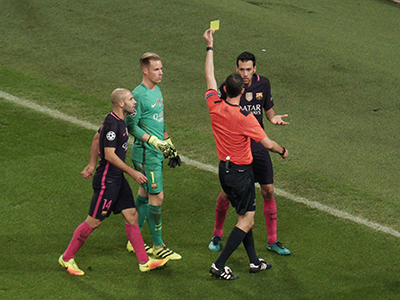 As the City team celebrate the referee gives a yellow card to Busquets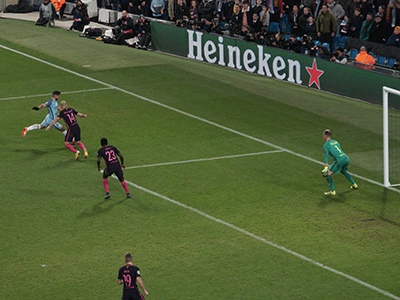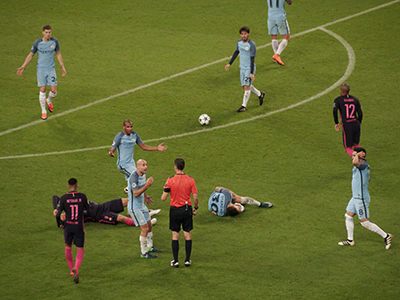 Aguero hits the side netting with this effort
The ref gives a free kick when two players collide...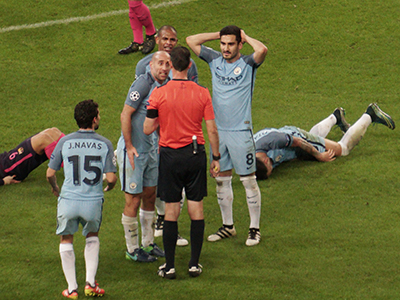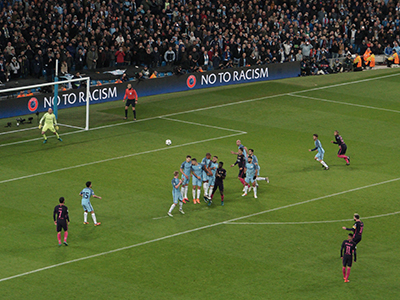 Zabaleta gives his point of view but in the end Messi shoots over the bar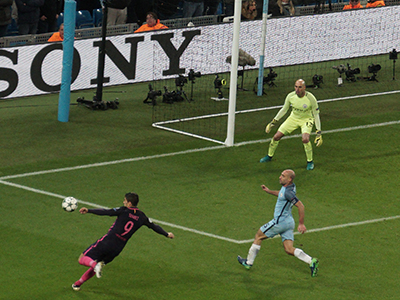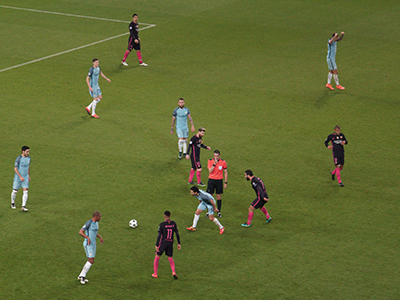 Suarez has a chance but is offside
The ref blows the final whistle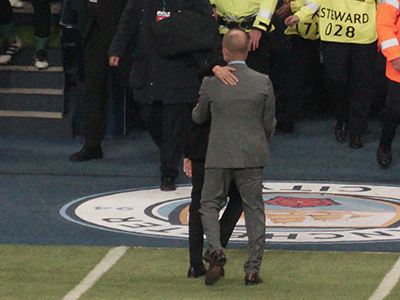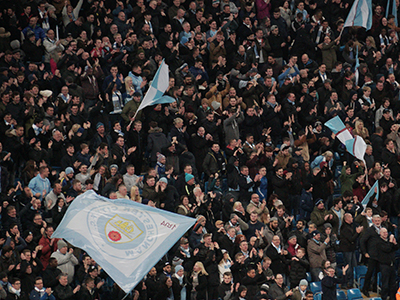 The two managers shake hands and the City fans thank the players for their magnificent fight back to win 3-1
Team
Caballero 7: Zabaleta 7, Otamendi 7, Stones 7.5, Kolarov 7: Fernandinho 7 ( Fernando 7) Gundogan 8.5, Sterling 7.5 ( Navas), Silva 7, De Bruyne 8.5 (Nolito) Aguero 8